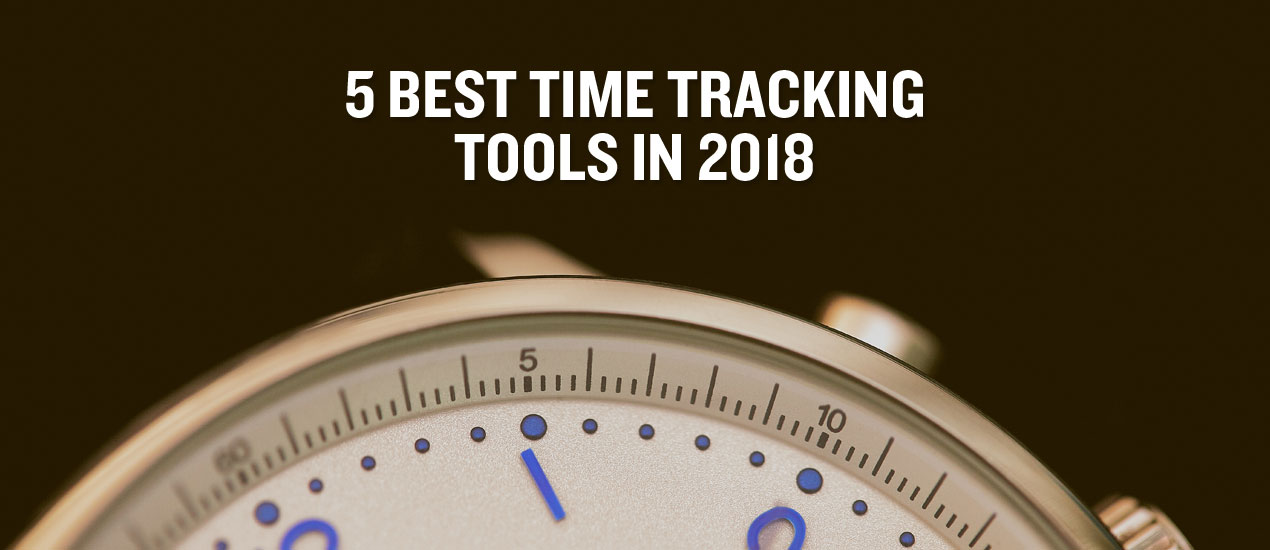 5 Best Time Tracking Tools in 2018
Over the past couple of years, time tracking has become a big deal, as it very well should be. Though we've had these capabilities for quite a while, neither freelancers nor clients used the practicality of time tracking tools quite as much as they should have, often opening the way to invoice disputes and freelance time management issues.
These days, there are so many time tracking tools available that it's become difficult to pick one. We took a look at what's available on the market and picked our favorite apps, based on various freelancing needs.
Time Tracking Tools 2018
Toggl
Though this list is in no particular order, we had to include Toggl somewhere on it. Toggl has become one of the most popular time trackers for freelancers in recent years and it's obvious to see why. The tool is available for almost all platforms and is very easy to use, although it isn't a good choice for managing large teams or freelance designers working on various devices at once. Toggle does offer these options, but there are more competitive choices in that range today.
The upside is that Toggl offers plenty of options in its free version for small freelancers or those just getting started. For those working with larger teams or who have more projects to toggle than they can count off the top of their head, the full package paid version of this time tracking app may be the best choice.
Hubstaff
Speaking of teams and robust time tracking tools created for managing more complex projects and teams, Hubstaff has it all covered. This extensive tool is much more than just a time tracking app and includes screenshots, activity levels, setting of limits for each team member and project, GPS and location, invoicing, and even a payroll system that allows team leaders to pay freelancers with just one click when all is said and done.
Obviously, this is a tool for top tier freelancers or small agencies who manage entire teams of freelance designers. As further proof that Hubstaff was built with growing teams in mind, one of its best features is the scalable pricing they offer, including the option to make users active or inactive – and pay accordingly – making freelance time management incredibly easy for project managers.   
Upwork Desktop App
Instead of randomly listing just any time tracking tools available, we're making another exception on this list, to include time management tips for freelancers and remote team project managers. The Upwork Desktop App is, needless to say, exclusively linked to Upwork, the most popular freelancing network today. The platform's time tracking and work diary features are also exactly what has made it so popular, creating trust for employers and ensuring that freelancers get paid.
Getting paid once a job is done is a plague that freelancers have had to deal with forever. Using time tracking tools for bothe time management and to record work hours is essential, but adding a system in which getting paid is almost guaranteed turns it into a full package deal. Using Upwork is highly recommended for freelancers who are just getting started, along with all of its tools and its time tracking desktop app.
Qbserve
Qbserve, an automatic time tracker for Mac that includes team management and invoicing, is a more recent favorite and a dream come true for busy design pros and freelancers of all types. Typically, busy freelancers will forget to turn on their time trackers or switch between projects, while time management at work or in the home office becomes more important than ever. And that's just if the freelancers are working independently. Add a team to all of those projects and busy schedule, and things really turn into a nightmare.
The team behind Qbserve seems to have thought of everything and provided a solution to it. Qbserve keeps track of activities on a Mac and provides constant feedback on productivity, helping freelancers and remote teams to develop better work and time management habits. It can also automatically generate invoices based on data, along with a slew of other settings that can be adjusted for design freelancers who want to focus more on work and less on managing stuff and typing up reports and invoices.
Timely
Less a time tracking tool and more of an all around time management tracker, Timely links directly to your calendar and planned events to help attain an overview of your work hours, downtime and everything else going on. Essentially, your schedule becomes your time tracker.
In this app that combines scheduling and time tracking in one place, freelancers can use their calendar and the app to out different times of your day to work on different projects, then use the app to pick a project or task, start the timer and get to work. Obviously, this isn't a tool for managing remote teams, but for the individual freelancer, it literally allows designers to see which hours made money and which went to waste.
Hope you find these tools! You may also like our post on Must-Have Tools for Digital Marketers