Articles by Day:
January 10, 2008
This tutorial is another special series written guest author Sean Hodge from aiburn.com and Connection Cube. He is an expert in Drupal, which I am totally not familar with. He intrigued me when he told me that the majority of the bands on Sony's record label are powered by Drupal. Drupal is basically an open source CMS, and I was interested in learning more about it. So that's why he's writing this tutorial for us. You can learn along with me!
The Complete Lesson Index:
Read Part 1 – Design it Illustrator
Read Part 2 – Slicing it Illustrator
Read Part 3 – XHTML
Read Part 4 – Theming in Drupal
Read Part 5 -Drupal Admin
Read Part 6 -Wrap Up and Additional Resources
Introduction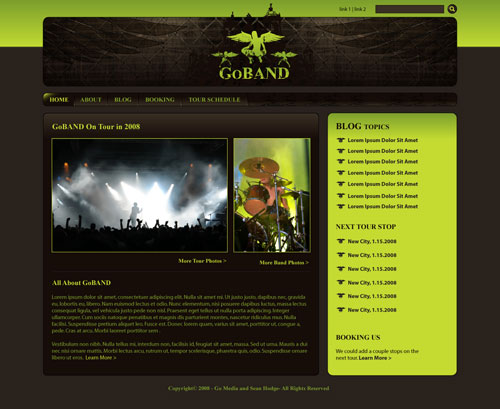 In this six-part Drupal tutorial series we'll be reviewing how to create a Drupal website from scratch for the fictitious GoBand . Also, we'll review an alternative development path for website design by using Adobe Illustrator. You will learn exactly how to build a fully functional dynamic band website from start to finish in this lesson. This first part will go over what Drupal is and why you should use it.
If you are not familiar with Drupal, I'll briefly outline some reasons to choose it as your platform of choice for website design: