7 Marketing Strategies to Promote Your Freelance Graphic Design Business
Marketing Strategies for Freelance Designers
If your success as a freelance designer only depended on your talent and work ethic, you'd have an endless stream of clients. Unfortunately, that's not the case. Instead, you have to master the combined arts of marketing and promotion. You have two overarching goals. Establish name recognition. Connect with the clients that you want to work with. Here are seven strategies that you can employ.
Start with Your Business Plan
Many people see a business plan as a tool for launching a small business, or something they must create to attract investors. It's also very useful for setting the foundation of your marketing strategy. In your business plan, you will identify:
Your Target Audience

The Specific Products and Services You Offer

Your Market

The Factors That Differentiate You from Other Graphic Designers

Create a Portfolio
Your next step will be to create a portfolio of the design work you've done. Refer back to your business plan. You should certainly share a wide variety of work samples, but focus on the kind of work that sets you apart, and that appeals to your target customer.
Don't worry if you haven't done a significant amount of paid work. It's more important that you showcase quality work that clearly demonstrates your skill set. There's nothing wrong with including student or personal projects in your portfolio.
Establish an Online Presence
Once you've selected the items you're going to include in your portfolio, it's time to begin building an online presence. This includes creating a website and getting active on social media.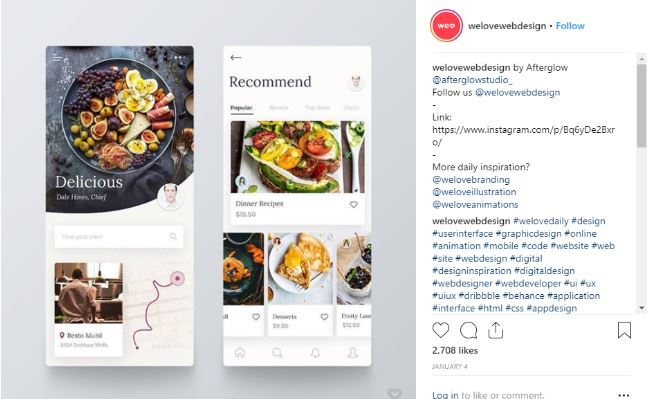 All of your other marketing efforts will focus mostly on getting people to your website, landing pages, and social pages. These are the places where you'll make sells, introduce the details of your products and services, and develop relationships with customers and potential clients.
Keep in mind that your profession is going to lead to very high standards when it comes to your website. Other freelancers may be able to get away with a website they build from a free template. Your website is going to reflect on your professional capabilities. Everything from your choice of font, layouts, color schemes, and images really needs to be on point.
Your web content also needs to be extraordinarily professional. If you're more artist than writer, you might want to source some professional services and tools such as:
Reach out via Email
You can begin working on a solid email marketing campaign right from the start. In fact, you should. For every dollar spent on email marketing there's an average ROI of 32 dollars.
It's easy enough to get started. You can begin collecting email addresses with a simple form on your website. Later, you can adopt a more comprehensive email marketing solution that includes email templates, an autoresponder, and other advanced features.
Share your Work and Your Insights
Used correctly, your social media sites can become a goldmine of customer engagement and promotional opportunities. Some of this can include direct promotional content. Just keep in mind that the key to successful social media marketing is in building relationships and establishing thought leadership. The best way to do this is by creating and sharing relevant content.
If you haven't started blogging, now is a good time. Share your expertise and insights about graphic design techniques, industry trends, even your experiences as a freelancer. Anticipate questions your target audience may have, and challenges they face that relate to your profession. Then create and share content that addresses their needs. To keep your writing at a professional level, try Hemingway, Hot Essay Service, and Power Thesaurus.
Target Long Tail Keywords
SEO is the process of making your website, social media, and content easy to find on Google and other search engines. Keywords are an important part of this. When your content contains the words and phrases that people who need your services enter into search engines, your website and other content will filter to the top of search results.
The problem is that two or three-word keywords tend to lead to very generic search results. That's no way to get found by members of your target audience. Instead, focus on long tail keywords. These are longer, more detailed phrases that make it more likely that you'll get the attention of people who are interested in the specific services that you have to offer.
For example, the phrase 'Graphic Design' is likely to return a very large, very generic list of search results. As a freelancer, you're not likely to make the front page. Now, imagine that the search keywords are, 'Graphic Design in Cook County' or 'Graphic Design for WordPress'. That narrows down the field significantly.
Use Client Testimonials and Referrals
Neightan White, a content marketing expert at Supreme Dissertations says, "Anything you say about your own talents and capabilities will always pale in comparison to the word of a satisfied client. This is why it's imperative to identify clients that you've really impressed and ask them for a testimonial or recommendation."
When you get positive feedback, use it to your advantage. Share testimonials on social media, your landing pages, and your website. This is a great way to build trust and thought leadership. Referrals are extremely valuable in building up your business through word of mouth.
Final Thoughts
If you can master the art of marketing and promotion, and combine that with your superb graphic design skills, you have an excellent chance of establishing a solid client base. This will lead to your ongoing success as a freelancer.