My Junior Shadowing Day at Go Media
Graphic Design Shadowing Day
by guest blogger Lauren
My high school requires a Junior Shadow experience therefore I sent my requests to shadow a company to many companies in the Cleveland area and in Ohio. I was initially contemplating a career in Game Design and contacted a variety of companies.  Go Media had been recommended to me by a faculty member from an art school in the area. I looked them up to see what they were about and I could then see why they came so highly recommended.
My first impression was to immediately click what their products were, and I was just awestruck by the amazing work that they did. My favorite product I found was the vectors, images that when made bigger or smaller and won't pixelate or blur.  I later learned from Go Media that vectors can be used in designs on T-shirts, logos, signs, and many other uses. All you had to do was buy the desired pack, and use the vectors to your liking. I was more than excited about this company, and hoped they would email me back soon.
The following day, I was thrilled to learn that Go Media agreed to have me shadow.  Heather Sakai had kindly responded to my request. In the weeks leading up to my Junior Shadowing I was restless and was frequently in contact with Ms. Sakai. I wanted to my Junior Shadowing to start right then and there. Although I was never able to choose with whom I shadowed, I knew from what I saw on Go Media's site that whomever I would shadow would be amazing. When it finally came time for my shadowing I was excited, but still my nerves were going crazy.
Upon arriving at Go Media my father and I were greeted by the beautiful Heather who showed us up the three flights of stairs covered in beautiful artwork and into the industrial-styled studio. I soon met the amazing Jordan Wong, an amazingly talented artist, whose artwork I had seen online. Throughout the day Jordan was able to show me a wide variety of the work he did. In the beginning I was even able to help Jordan match colors of a certain preset with PMS colors designed for screen printing. Later I helped hang up some sketches and drafts for vectors that Jordan had created, all of which I was so honored to hold, let alone help hang up over their large and drool-worthy drawing table.
They graciously had me join them for lunch at Johnny Mangoes and afterwards I was again able to help Jordan in some of the tasks he had on his to do list. First of all I helped Jordan with creating some artistic weapons that would become digital 3D renderings for their upcoming festival Weapons of Mass Creation. These weapons were creative, not only in the sense that they were well done, but in the sense that they themselves were things to create art. The main 'weapon' I was able to assist Jordan with was his 'Illustrator's Gauntlet' which was a Golden Gauntlet that had visible inkwells and the tips of each finger was a micron pen tip, which is an artist pen. After helping with the color scheme and finding the perfect way to set up the diagram, I was then able to see another view of what Jordan does.  I even suggested a cool idea for another 'weapon' or more of an accessory; an ink cape made of ink, that literally drips ink.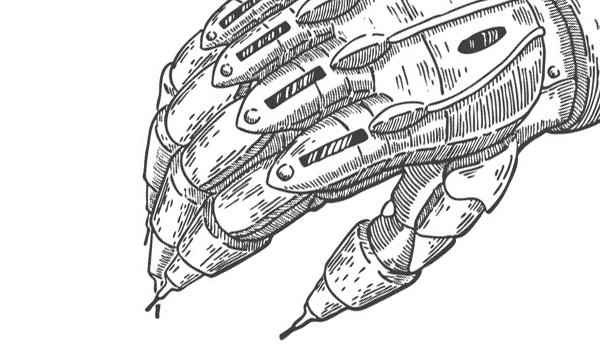 Next, I was able to help Jordan rephrase and grammar check three Freelancer Survival Guide booklets which the company sells online. We were able to edit and fix not only the paragraphs, but the layout of the pages as well, which was strangely fun to do, despite being a significant amount of work when you think about it. At the end of the day I was sad to leave, but I certainly didn't leave empty handed or empty brained.
I walked down the three flights of stairs with my dad carrying a bag of t-shirts, a hat, and a hoodie promoting Weapons of Mass Creation which I proudly wore as soon as I arrived home. I also left Go Media with a new found desire to be a graphic design artist, a slight step away from originally wanting to be a female game designer in a male dominated, and heavily sexualized, field of work.
I learned so much from the Go Media staff and I am very grateful to them for allowing me to shadow.  The staff was generous with providing me with helpful information that I need to think about as I take the next steps towards attending college.  Minimally, to become a graphic design artist it would require a bachelor's degree in graphic design, but would be significantly beneficial to also pursue a minor in business as well. In this career I believe that there are endless positive aspects to this career choice, many of which are connected to the freedom that comes when working in such an amazing company like Go Media.
The only major negative side to becoming a Graphic Designer is a very competitive job market. One thing I found surprising in this career was the significant amount of creativity that was able to be put into the jobs that needed to be done, while still accomplishing what the client wanted. This is definitely a career I would like to further pursue as I feel that there is significantly more creative freedom, and that everything I did wouldn't be just a game that is played and gotten bored with after just a year, but a branding, a design, that stays for many years on posters, t-shirts, websites, and signs. To say the least, my Junior Shadowing Day at Go Media was the best day I could have asked for, and I definitely learned a lot while having a blast at the same time.