Grab This Macabre Vector Freebie
Grab This Macabre Vector Freebie
When asked what you wanted to see next on the Arsenal, our e-commerce site for the best design resources in the world, you told us, overwhelmingly:
"HORROR!"
"MACABRE!"
"BLOOD, GUTS AND GORE!"
And we want to give you what you want. So today, we're hooking you up with a Macabre Vector Freebie, just in time for the Halloween holiday.
The Macabre Vector Freebie includes the following 8 vector elements:
Bloody Saw Blade
Detached Ear
Mangled Hand
Murder Cleaver
Murder Knife
Nail in Tongue
Possessed Baby Doll
Tooth and Pliers
We hope you use it find it useful every day of the year.
Included: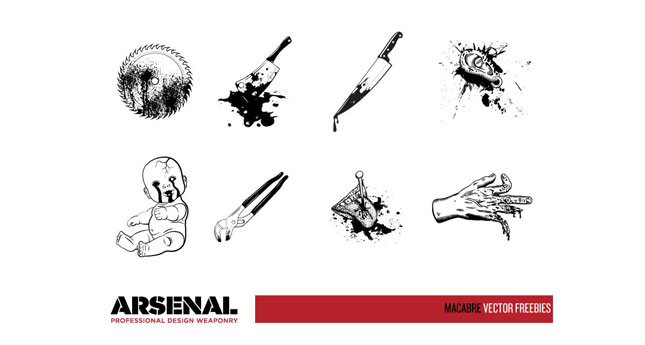 For more horror, visit the Arsenal. Check out our newest vector pack release, the Zombie Faces Vector Pack, as well as all of our Horror Packs.