Art Files: Illustrator's Missing 'Collect for Output'
Plenty of designers out there do their design work not in InDesign, but in Illustrator. If you're among those, you've no doubt been confounded by the lack of a "collect for output" feature in Illustrator. Enter Art Files from Code Line Software.
And be sure to read on for a special discount offer on Art Files for our Go Media 'Zine readers.
Get it together
Art Files is a standalone program for Mac OS X that gives Illustrator users a "collect for output" or "package" feature, just like in InDesign.
Perhaps because Art Files was created for such a specific purpose, it's dead simple to use and to figure out what it does. If you need software like Art Files, it does exactly what you want it to do.
After launching Art Files, you'll be presented with a new document window. Here you drag the .ai files you want to process and Art Files goes to work immediately. All linked images and any fonts used in the .ai document are presented in an easy-to-read folder/subfolder structure. Color-coded symbols inform you of any errors.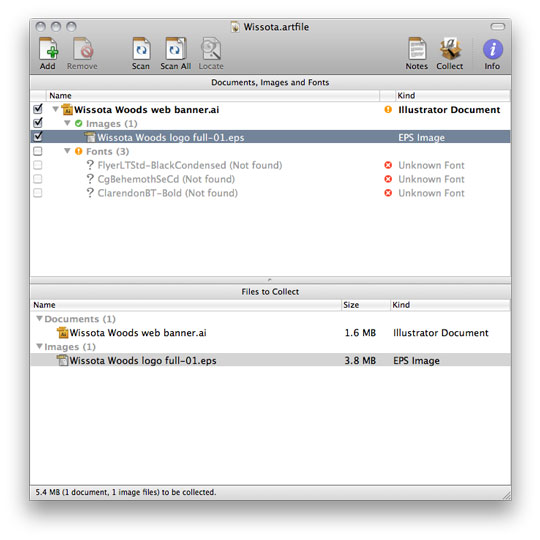 Art Files will even scan for fonts in the placed EPS documents within your file. How cool is that?
What it does
Art Files is designed so that each document scanned can be saved as an .artfiles document, allowing you to run the scan again in the future without needing to go back an locate the original files. Very handy.
Another great feature is the slide-out Info panel, which gives you a visual preview of the placed files, as well as Finder file paths to the file, and buttons to open the placed file in the Finder or open them directly in Illustrator. Again, very handy.
When it comes to collecting your files, again Art Files is on top of things. You have the option to save the resulting Collection with a Notes file, very similar to InDesign's "instructions.txt" file. The Notes text file can contain custom notes (and you can set up a default notes section in the preferences as well), contact info and a log of the collection process.
Again, as expected when you click "Collect", you are prompted to choose a location for the Collection folder. Once Art Files is done collecting you files you have a nicely packaged Collection folder with subfolders containing your linked files and any fonts used in the document.
The right tool for the job
As with the rest of Code Line's graphics software tools for Mac, Art files fills a niche and does it just as you'd want and expect it to. If you need a "collect for output" or "packaging" feature for your Adobe Illustrator files, look no further.
Code Line Software has generously created a special offer just for the 'Zine readers — use this link to get Art Files for 10% off the full $49.95 license. Offer is good until the end of February 2010. And this offer is good for any Code Line bundle that contains Art Files, including multi-user licenses.
Code Line also has a video overviewing the features of Art Files: