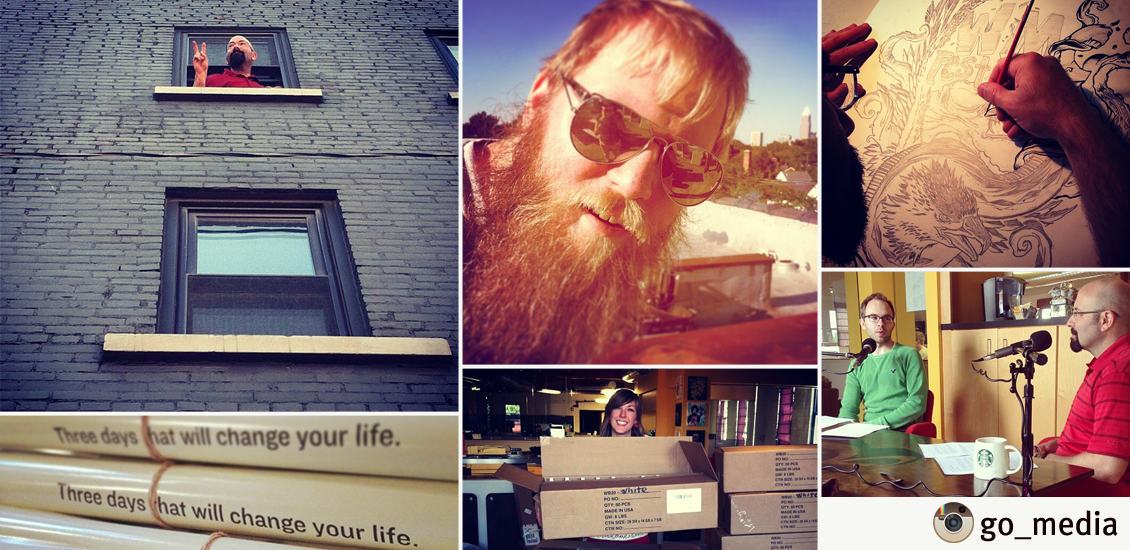 20 Designers You Should Follow on Instagram
Hello from @Go_Media
Here at our buzzing Ohio City design headquarters, we love giving you a look inside Go Media, all thanks to Instagram!  Thanks to this app, we also love taking a peek into the lives and work of the designers we so admire and adore.  So, we thought we'd share with you our favorite designers to follow on Instagram.
Our picks:
@austinkleon
Austin Kleon: "I'm a writer who draws." | Austin, TX
@nopattern
Chuck Anderson: visual artist/designer | Chicago, IL
@mikeperrystudio
Mike Perry, Designer and Artist |Brooklyn, NY
@dana_tanamachi
Dana Tanamachi, designer and letterer | Brooklyn, NY
@justinmaller
Justin Maller, Illustrator and Art Director | Australia
@joncontino
Jon Contino, artist and designer | New York, NY
@andreirobu
Andrei Robu, Designer, Letterer, Artist | Bucharest, Romania
@katebingburt
Kate Bingaman-Burt, Visual Artist, Illustrator |  Portland, OR
@darrenbooth
Darren Booth, Illustrator and Letterer | Canada
@signalnoise
James White, Artist, Designer, Speaker |
Dartmouth, Nova Scotia, Canada
@tadcarpenter
Tad Carpenter, Illustrator and Designer | Kansas City, MO
@willbryantplz
Will Bryant, Graphic Designer, Studio Artist | Portland, OR
@erikmarinovich
Erik Marinovich, Letterer, Designer | San Francisco, CA
@dailydishonesty
Lauren Hom, Graphic Designer and Illustrator | New York, NY
@chrisrushing
Chris Rushing, Art Director and Designer | New York, NY
@alepaul
Ale Paul, Art Director, Founder of Sudtipos | Buenos Aires, Argentina
@seanwes
Sean Wes, Hand Letterer and Typographer | San Antonio, TX
@maztrone
Maztrone, Graphic Designer | France
@zacharysmithh
Zachary Smith, Typographer, Illustrator, Designer | New Smyrna Beach, FL
@pingszoo
Ping Zhu, Illustrator | London, England
Who did we miss? Leave their name in the comment below!
Subscribe to the GoMediaZine newsletter