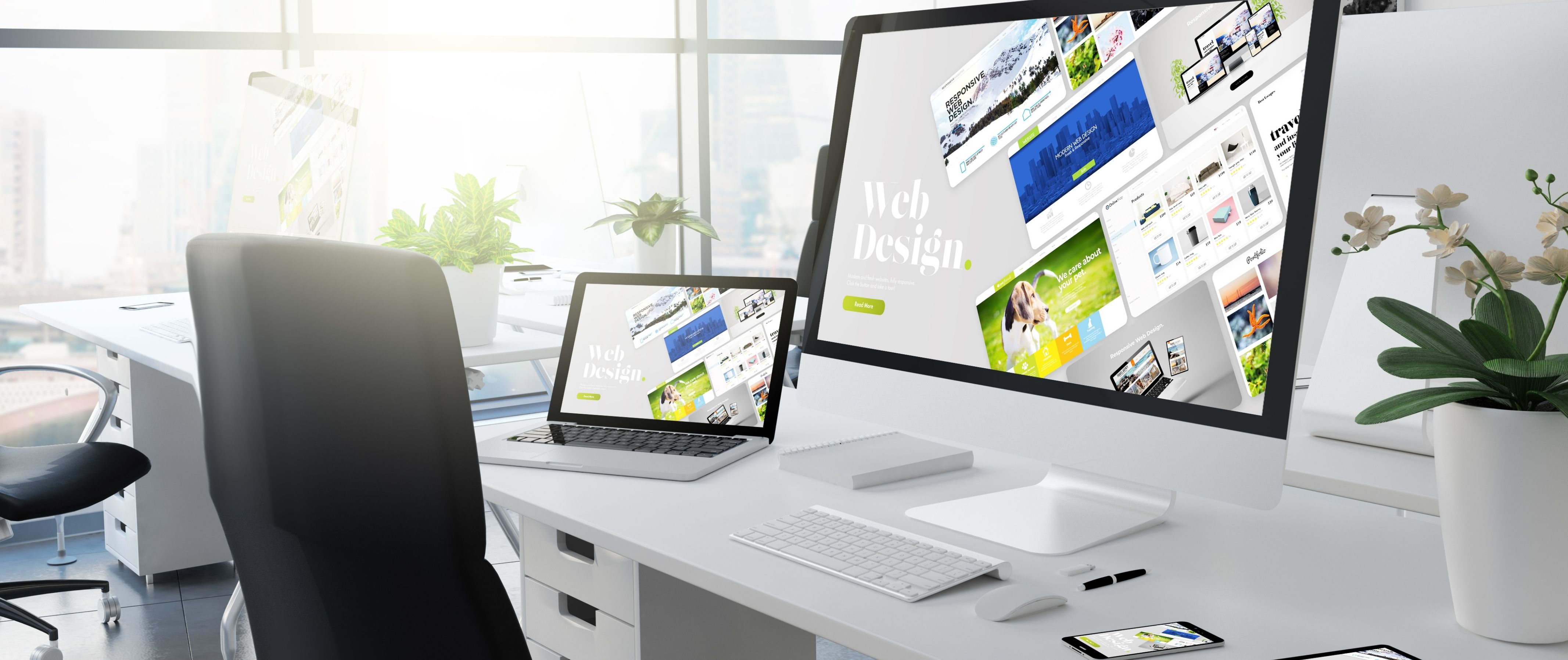 Why Hire a Professional Web Design Company?
Enterprising business owners are rarely daunted by new tasks. Diving right in is second nature to many entrepreneurs. When it comes to web design, there's no denying the ample DIY resources available to help companies cobble together an online presence. But hiring a professional Cleveland web design firm has several distinct advantages for your small business.
There's little question these days why businesses need a website. The reality is many businesses can't survive without a web presence. It allows people searching for your products/services to more easily find you. It becomes a point-of-contact. It's a forum for answering frequently-asked questions. It creates leverage on social media platforms. And ultimately, it's a customer convenience that most all have come to expect.
And let's not forget: E-commerce sales have been through the roof in recent years, with the U.S. Census Bureau reporting $870 billion in 2021 e-commerce sales – accounting for nearly 14 percent of total sales. Not having a website at all puts companies at a clear disadvantage.
All that said, a poorly-designed website can have a host of adverse impacts to your business. Among these:
Lack of credibility and trust. Opinions of your business are formed within milliseconds of landing on your website. Nearly 40 percent of users will leave a website if the content or layout is subpar. Websites that are not professionally-designed tend to have higher load speed times, which also frustrates customers and hampers SEO.
Reduced SEO. Search engine optimization refers to how search engines rate your website – and therefore how well it shows up in search results. Your business absolutely needs an SEO strategy, and a professional website design firm can help you formulate and facilitate it.
Poor user experience hampers marketing efforts. A lackluster design – particularly those that are not responsive and built with consideration for mobile users – supports the erroneous assumption that your company doesn't pay attention to detail and customer experience.
So the fact that you can build your own website doesn't mean you should. Even if all you need is a single-page reference source, hiring a professional web design team helps ensure you aren't overlooking any critical blind spots.
The experienced pros at an established web design firm can help ensure that your page is not only visually-appealing, but SEO-optimized and functional for your target audience. A well-designed website helps promote trust and carves out authority in a given field. It provides clarity on exactly what you're selling – and what customers can expect.
Primary Benefits of Hiring a Pro Web Design Firm
While DIY web design templates are often a lot cheaper (sometimes even free) they end up costing companies more in the long-run – whether that's by disappointing/frustrating customers or simply missing out on prime opportunities.
Hiring a professional website design company will help ensure your website is:
Unique. There are 2 billion websites in existence currently. If you opt for a DIY platform, your website is going to look like 50,000 others. Rubber-stamped website templates lack the customization companies need to stand out (in a positive way) and establish their own invaluable brand identity.
Fast. If your website doesn't load quickly, you can kiss 50 percent or more visitors goodbye at the jump. It's going to be, "Immediately: No." Professional web design can help ensure you have the sort of fast-loading website that users are going to expect.
Optimized for users and search engines. A website designer is going to carefully examine your niche, market, and target audience. There is going to be careful analysis and groundwork for layout, color schemes, branding, and more. The website user interface experience (UIX) is going to be mapped out from start-to-finish, and functionalities like navigation, display, e-commerce, mobile optimization, etc. carefully tested and re-tested. When users find your site eye-pleasing and functional, they stay longer – and your SEO gets a boost.
Polished. A professionally-designed website helps convey the message that you are making your customers the priority.
Secure & Supported. When you work with a professional website design team, you automatically get the benefit of closed-source software that helps protect your site from hackers and bugs. If an issue does arise, you'll have a team that can respond right away. We can also teach you how to best utilize all the functions we've built with tutorials and training.
All of this allows you to also stay focused on internal operations. After all: You've got enough to do in your day-to-day operations without piling on, "Learning how to build and optimize a website."
If you have questions about our Cleveland web design services, we provide free initial consultations! Contact us by calling (239) 939-0000 or send us an email to [email protected] 
Additional Resources:
Quarterly Retail E-commerce Sales, 4th Quarter 2021, Feb. 18, 2022, U.S. Census Bureau News, U.S. Department of Commerce
More Blog Entries:
How to Be a Better B2M Business, June 11, 2019, Go Media Cleveland Web Design Blog