Hannes Beer's All Day Everyday Project

A little introduction
I stumbled upon Hannes' project via the Go Media Flickr pool and have been hooked since. Now that project is over, Hannes was kind enough to take the time to answer to a few questions about the project and what it may span. In Hannes' own words, here's what the ADED project is about:
The All Day Everyday Project is something like my graphic design diary. Many designers did similar projects before – designing something cool everyday. And so do I now. When you work for an agency or clients, you're often not allowed to make things look exactly like you want it – which is sometimes frustrating, but that's the way it goes. So to keep stuff in balance, I decided to start this project. Enjoy!

— from the project's Tumblr
I also felt that the visuals were strongly inspirational and beautiful, hence me sharing them here.
The interview
GoMediaZine: Hello Hannes, could you introduce yourself to our readers?
Hannes Beer: Hey, I'm Hannes, a graphic designer from Stuttgart, Germany. The city known for Porsche and Benz – and for Linsen mit Spätzle und Saitenwürstle (google that!).
Can you tell us why you decided to start a Make Something Cool Everyday type of project?
HB: Most graphic designers are graphic designers because they love what they do. They love the creativity and the fun that job brings with it. But it's not always as glamourous as it sounds. As a normal graphic designer you work a lot for people who don't understand a thing about design but know anything better than you. That's disappointing, but that's the difference between working as a graphic designer and being an artist. And that's why I started "The all Day Everyday Project" – to keep creativity in balance.
Can you talk a bit about the type of directions and concepts you're exploring in your series?
HB: When I started, I had no clue where to go with it. I just wanted to try out different styles and to create a design that fits the moment. There was no concept at all. I think after a few days the project started a life of its own – it became a normal part of my everyday life and it went wherever it wanted to. I was not thinking a lot;-)
You have some sub-series in the project, like Skull Monday. Any specific reasons, or was that just for the fun of it?
HB: Yeah that was just for fun – and because I love skulls. Everybody loves skulls.
Any favorite piece?
HB: I don't have a special favorite – but there are some I like more than others. And there are few I like less – but that's the exciting thing about working in such a small time frame. You don't think too much about what you're doing – you just do. And you never know how it will look when finished.
Can people purchase prints somewhere?
HB: Of course, I have a little shop where you can buy signed and numbered digital fine art prints of every design I created during this project. A friend of mine is a professional printer and he produces every order on demand. The quality of digital printing became absolutely stunning over the last years. And we use a special water color paper for it. It comes out really special with a nice texture. However, I only have paper for a few prints left – so you better hurry up. Once gone – gone forever.
Now that this series is coming to an end, any other cool things in the works?
HB: I'm already working on a book about "The All Day Everyday Project" featuring all 365 designs and a little bit more. It's gonna be huge. And after that? Yeah I'm already thinking about other projects. But I'm sure it's not gonna be another everyday thing. Maybe something like "Space Suit Sunday" or "Mad Monster Monday", haha. We'll see.
Any last words before leaving?
HB: Sure, I wanna thank everybody how followed me through the last year. I think I wouldn't have been able to finish it without all the kind words from people all over the world. That kept me going, so, thanks for that! You're awesome and you know it!
A hand-picked selection of the output of the project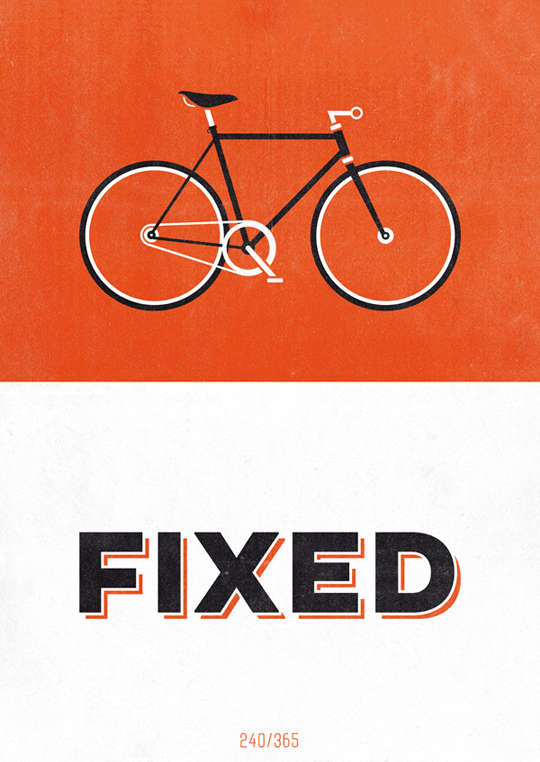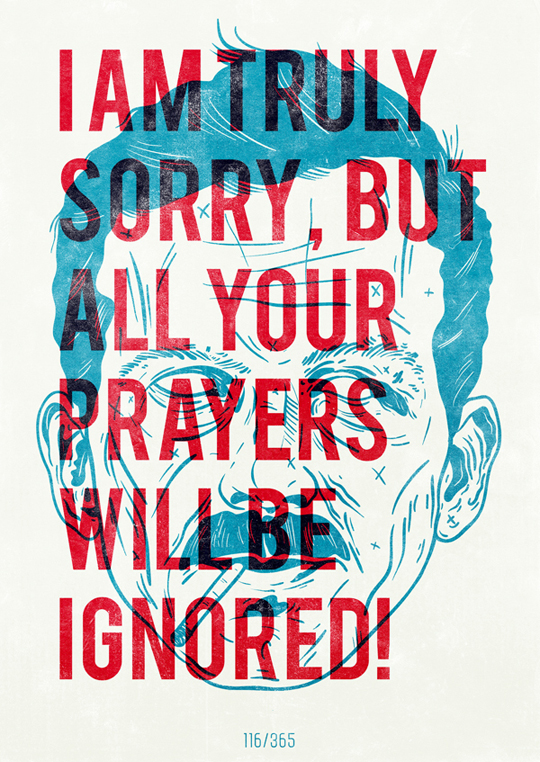 Conclusion
Don't forget to check the full project on its dedicated Tumblr, and to check Hannes' other work on his website. I hope you liked the pieces as much as I did, and that you'll find them as inspiring.