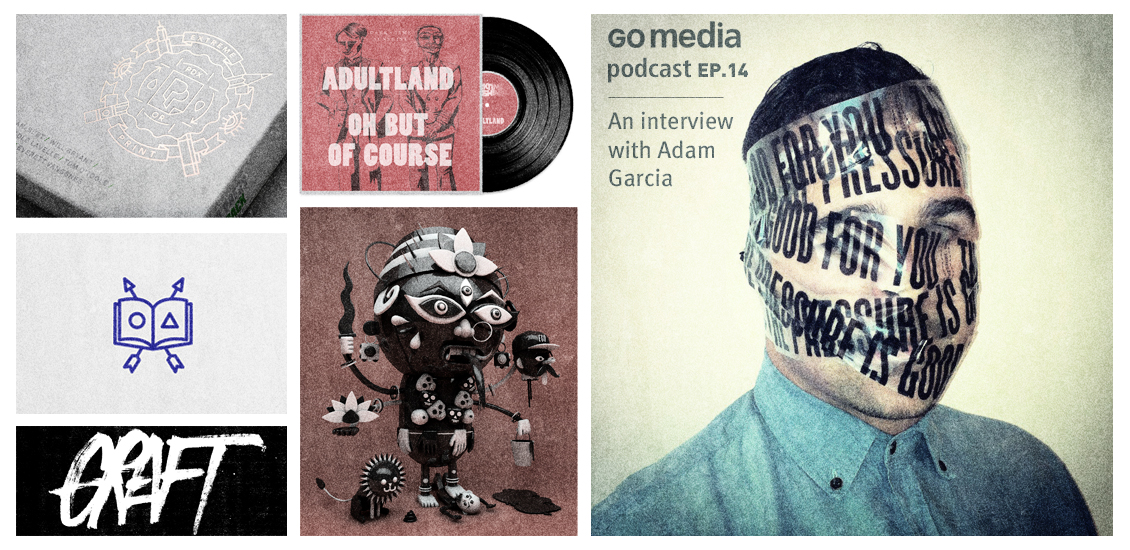 Go Media Podcast – Episode 14: An Interview With Adam Garcia
In this episode, we sit down with WMC Fest Speaker Adam Garcia. We talk to him about starting his design career with his friends in the music industry and how he overcomes fear in his everyday design life. We also sit down with Simon to recap and react to the Go Media Arsenal Survey results and what they mean for the future.
Listen to the Podcast
[powerpress]
[iframe width="100%" height="166″ scrolling="no" frameborder="no" src="https://w.soundcloud.com/player/?url=http%3A%2F%2Fapi.soundcloud.com%2Ftracks%2F104243946&auto_play=false&show_artwork=true&color=ff7700″]
Show Notes
Sponsor of this Episode
Cover art for this episode was also created by Simon Hartmann using The Go Media Building Texture Collection. You can find this texture pack and more at arsenal.gomedia.us
This episode has been brought to you by Simeon Hendrix.
An Interview With Simeon Hendrix
Go Media: Can you tell us a little bit about yourself, your background and why you decided to start this project?
Simeon Hendrix: I toured the US from 2000 – 2009 as frontman for the experimental rock band DOWN-STARES.  I was creating all the artwork for the band, T-Shirts, CDs, posters, etc.  Fell in love with graphic design.  Other's saw my work, asked me to do it for them, etc.  The band dissolved, I went full time into learning and progressing as a graphic artist.  Through my educational training is how I found out about Go Media in 2010, that led me to Jeff Finley and WMC Fest… I reached out to Jeff Finley last spring before WMC 3, told him I wanted to document his festival, he gave the blessing.
Through last year's WMC 3 documentary, I met Mike Jones, founder of Creative South, he loved our WMC doc and requested we please go to Columbus to document his Creative South 2013 Festival.  That's how I found out about Creative South.
We raised $400 for our local Meals on Wheels organization during our campaign to secure funds to create this documentary.  Meals on Wheels provides meals for elderly people who might otherwise not receive a regular meal.
Go Media: What do you want people to feel, learn or take away when they watch your documentary?
Simeon Hendrix: I want people to see what a great time we had in Georgia.  I want people to laugh, be engaged and interested, excited, hyper, joyous, inspired, curious, full of optimism and possibility.  I also what it to pump people up for WMC Fest which is in a couple weeks.  WMC is the father of Creative South and it's an honor to know these people and interview and learn from and be inspired these who are heros of mine.
Go Media: Any chance of a second documentary when you make the trip up again?

Simeon Hendrix: I feel like this Creative South 2013 documentary IS a sequel to our WMC 2012 documentary.  It was a tremendous honor for Mike Jones to invite us to Georgia, it was an honor to interview Jeff Finley and William Beachy and hear their excitement about the upcoming WMC 4.  I would have loved to make it to WMC 4 to make the TRILLOGY, but it didn't work out.  I plan to attend CREATIVE SOUTH 2014 as well as WMC 2014.
I love the graphic design community and look forward to growing with it and broadcasting about it for years and years to come.  This is such a warm and welcoming community, we love it.
Go Media: Is there anything else you want people to know about yourself or this documentary?
Simeon Hendrix: We just recently wrapped up on a Mini-Documentary series that chronicled the Historic Undefeated Inaugural Season of the minor-professional football team the Wichita Falls Nighthawks.  That was a great time.  Friends, family and fans can find that series on our YouTube Channel. Stay tuned to SimeonHendrix.com or Simeon Hendrix on Facebook or Twitter for more details on the Creative South Documentary or tune into Creative South on Facebook and Twitter.  Big thank you to Jeff Finley and Mr. William Beachy for the interviews they gave, for letting me guest blog on GoMediaZine.com.  I wish we could be in Cleveland for WMC4, but guys it just didn't work out this year.  I hope everyone is inspired by the Creative South 2013 Documentary and it gets you so pumped up for WMC4 that you can't sleep and you stay up all night writing, drawing, singing, and creating.
Links
Credits
Hosts: Jeff Finley and Bill Beachy
Producer: Bryan Garvin
Recorded at: Go Media
Sponsorship Opportunities
Interested in sponsoring the Go Media podcast, either episodically or exclusively? Well, hit us up at [email protected] if you are interested in advertising your business. Or, take part in our blind auction.
What Do You Think?
We want to hear what you think about the latest episode of our podcast and what topics you would like to see covered in upcoming episodes. Comment below with your suggestions.
Join Us Live
Moving forward, we'll be recording every edition of the podcast live at gomediazine.com/live. Next recording will be Thursday, August 8th, 2013 at 11am ET for Episode 15. There's a chat, so join in the conversation.
Ready for More?
Keep learning and listening to more Go Media podcasts!