122 Raster & Vector Wings
Lately I've been reading a lot about lucid dreaming, keeping a dream journal, watching Waking Life, and generally trying everything I can to take control of my dreams. The first thing I'm going to do in a dream – FLY! Us ground dwelling humans seem to be pretty consumed by the idea of taking flight – there's just something immortal about it. So, there's no wonder that wings are a perennial favorite design element.
Good news is that there's lots of resources out there to help you incorporate some wingage into your designs. I've divided the resources up into three categories: Photoshop Brushes, Vector, and Texture / Reference Images. Most are free, but be sure to read each resource's usage blurb before you use them on the next cult hit tee.
Photoshop Brushes
Here's a nice set of Sumi-e style wings from wab-sabi-ways


Falln-Brushes on Deviant Art has a great collection of Brushes, and features Wings in quite a few. Here are few winged highlights. Just click the previews to go to the download page.

Pretty Brush and punksafteypin also have some very nice winged brushes. Click the image to download.
Here's a few more deviant art winged brush sets to feast on if you're still hungry.
Wings Photoshop Brushes by Debi Chiru
Wing Brushes 2
Wing Brushes 3
While Brusheezy is an awesome collection of Photoshop brushes, it could definitely use a few more wings. Here are the only wings on the site,some cool bat wings:

myPhotoshopBrushes.com mixes grunge and wings in a messy set of Splatter Brushes.

Vector Wings
Vector Wings are even harder to come by than Photoshop brushes, and harder to make. They're also a lot more useful! Vector wings have more detail and enjoy all kinds of vectory goodness like subtracting, intersecting, etc. Here are some of the juiciest vector wings we could round up on the web.
Well hey, this is Go Media's blog, so we've got to include our very own vector wings. While not free, we think you'll agree that the quality is way beyond what you'll find out there free of charge. Go Media has two wing packs from Set 1 and Set 2. There's also a really badass wing included in Ornate from Set 7.
Unfortunately you can't really see all the detail in these wings from the previews. Check out the mad detail by trying out our sample pack, which happens to have 4 pretty sweet wings.
Ok, ok, on to the free stuff. Jimiyo posted some nice free vector wings on his blog last month: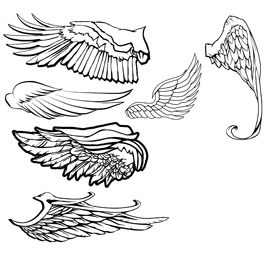 Chemist2dio Labs made some simple but very usable wings. There are four different wings, two solid silhouettes, and two with outlines.

I Heart Vector has some cool wings and a few birds (which are close enough) for free.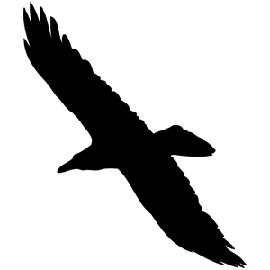 Again, trusty Vecteezy needs more wings! Ben Blogged has the only good wings on Vecteezy with the Wings – Coat of Arms with a ton of downloads.

Textures & Reference Images
Here are some references images that could be used as textures. When you get brave enough to fire up that pen tool or wacom and start making some of your own vector wings, these photos will come in handy! Also, if you want to use these images as low-res brushes you can make your own brushes in Photoshop. Just go to Edit > Define Brush Preset with the image loaded.

Share
Well that rounds out this collection of winged design goodness. Share your best spots for finding wings in the comments. I look forward to revising this list with your suggestions. Take care!