Erika Simmons: Ghost In The Machine
Erika Simmons' 'Ghost in the Machine' series is an imaginative approach to image creation/illustration. The concept of incorporating elements of the subject matter as the medium is a great example of thinking outside the box. The use of the cassette tape forces the viewer to envision the process, which thus incorporates an element of the passage of time—intrinsic to the experience of music—into the artwork. The idea of introducing the element of time into musician-themed artwork has echoes of Denny Dent's "performance portraits".
Tell us a little about yourself…
I'm a 25 year-old woman who lives in Georgia. I am a self-taught artist. I try to focus on using found materials, or donated materials. A lot of my supplies come from places like Goodwill.
I try to make things that showcase some idea, through simply cutting up and re-arranging the pieces of everyday items, like cassettes, old books, or even credit cards. Basically anything I can get my hands on! I like working with these older, strange materials because they have a mind of their own, and come with cultural connotations for me to play with—like a springboard for your imagination.
Art school or self-taught?
I never went to art school or took any traditional art classes, but I did go to college and make up school. I waited tables to pay the bills for years. While I was working at the Hard Rock Hotel in Orlando, the idea struck me to make some musically themed art. I had some old cassettes laying on top of a blank canvas… that's how it all started! Mostly luck and a lot of hard work.
What inspires you?
My greatest inspiration comes from big ideas… mostly those found in science and psychology. It is endlessly fascinating to begin to understand how we organize the world around us, how we come to understand meaning in things.
How did you develop the cassette tape series? What was your inspiration?
The cassette tape series came out of a desire to explore a theme of recursion… tangled hierarchy. Where is the music? On the cassette tape? In the head of the musician portrayed? Where does one begin and the other end? But you don't have to look at it in that way to enjoy it. I tried to make something fun and easy-to-understand, but with deeper things to think about, if you so choose.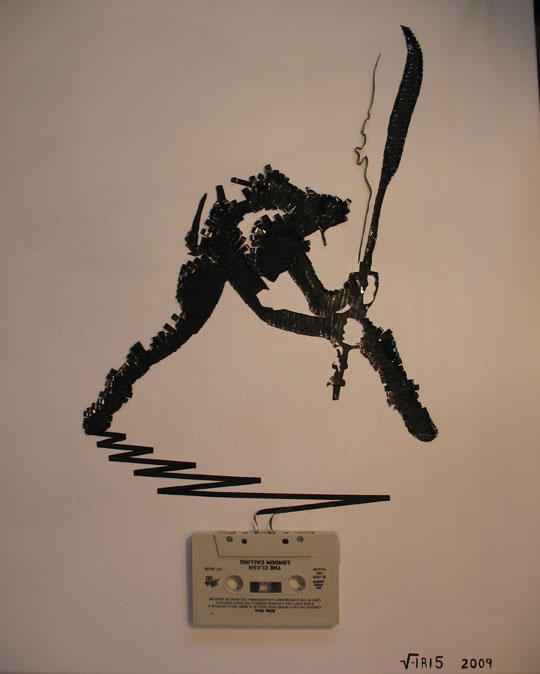 'Ghost in the Machine' series—the process
To make a cassette tape portrait I draw the desired shapes. Then I glue down the tape in the desired shaped that I have drawn. For my favorite ones, I attempt to cut the tape as little as possible, to make it look like it has just sprung from the case mostly intact. I fold and sculpt it into place and twist it to give the illusion of a thinner line… it takes forever, but I love it.
Upcoming projects and shows
Some upcoming projects… I've got a charity gallery show I'm participating in at UCLA October 4th with REVO. I'll be there to help support the need for education in Papua New Guinea. Please come if you are in the LA area!!! We'd love to have you.
I've also begun experimenting with other media. Right now I'm using different rope textures to make portraits. Tomorrow I'll be doing something else, I'm sure. : )
I love to do custom work for people, so if anyone ever wants to shoot me an email and bounce an idea off of me, please email me! Thanks again!
Erika's artwork can bee seen on her website at iri5.com as well as on her Flickr account.