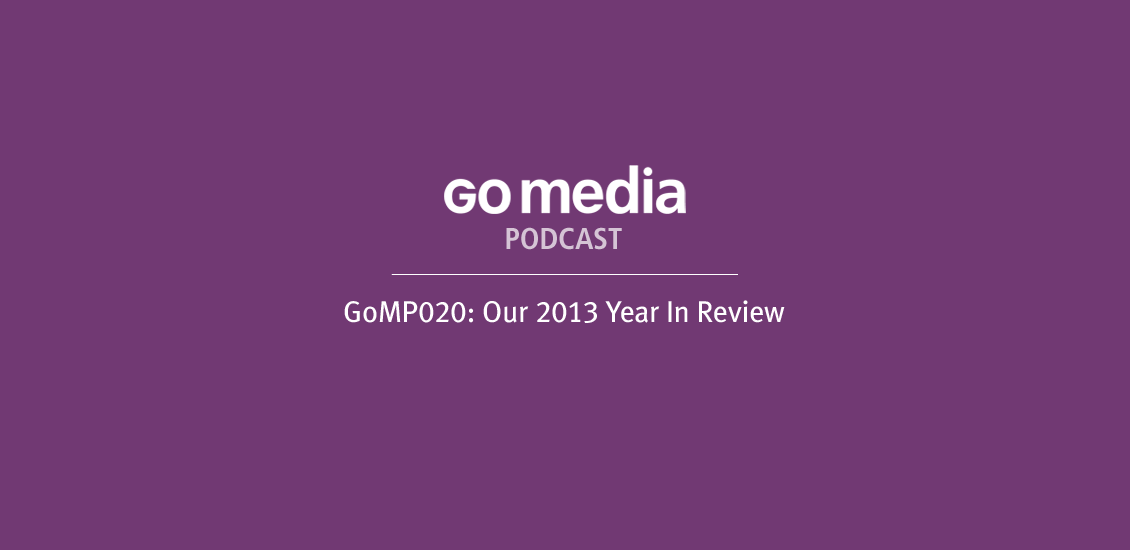 Go Media Podcast – Episode 20: Our 2013 Year in Review
In this episode, Jeff, Bryan, and Bill get together to talk about the successes and failures at Go Media in 2013.
Listen to the Podcast
[powerpress] [iframe width="100%" height="166″ scrolling="no" frameborder="no" src="https://w.soundcloud.com/player/?url=https%3A//api.soundcloud.com/tracks/129473045&color=ff6600&auto_play=false&show_artwork=true"]
Sponsors of this Episode
This episode was brought to you by The Arsenal. V3 has been soft launched. Lots of bugs, but a good look into how the Arsenal will look and feel as we move forward. For more information on that, go to Arsenal.GoMedia.us, take a test drive, and if you run into any bugs, let us know. Also sign up for the Arsenal newsletter to get early dibs on upcoming deals and more information about the products we're releasing.
OnTheMapCLE videos are now up on our Vimeo page and new YouTube channel.
Other Links
We recorded this live on GoMediaZine.com/live and streamed through our Mixlr channel as well as on YouTube:
[iframe width="560″ height="315″ src="//www.youtube.com/embed/O9BqLXfxiR8″ frameborder="0″ allowfullscreen]
The YouTube feed is raw and unedited.
Heather was also taking pictures for the Go Media Instagram:
Credits
Hosts: Jeff Finley and Bill Beachy
Producer: Bryan Garvin
Recorded at: Go Media
Sponsorship Opportunities
Interested in sponsoring the Go Media podcast, either episodically or exclusively? Well, hit us up at [email protected] if you are interested in advertising your business, project, event, or portfolio.
What Do You Think?
We want to hear what you think about the latest episode of our podcast and what topics you would like to see covered in upcoming episodes. Comment below with your suggestions.
Join Us Live
This episode was recorded live on Monday, January 13th, 2014 at gomediazine.com/live. Next recording will be Monday, February 10th, 2014.
Ready for More?
Keep learning and listening to more Go Media podcasts!