Business Perspectives for Creative Leaders part 2 of 7

My experience attending AIGA & Yale's School of Management course Business Perspectives for Creative Leaders.
Ok, so this will probably be my least informative post in this series. But I want to give you the complete experience, so despite the fact that today was just a check-in and orientation program, I wanted to share it with you.
I got up at 5am and was in the air to Philadelphia by 6:46. I had a 2 hour layover that I used to work on my prerequisite reading. The small propeller plane that took me into the one-gate New Haven airport was loud and a little bumpy but otherwise uneventful. The only scary aspect of the trip to Yale was my taxi driver that seemed to think he was a NASCAR driver. At one point he gunned the motor to cut off another driver who yelled audibly "Asshole!" To which my driver yelled back: "I know!" Then he hooted loudly and said: "Now I'm awake!"
The Study Hotel where I'm staying is super modern, contemporary and swanky all at once. It's the sort of place that makes you feel cool. This hotel is cool. I'm staying here; therefore I must also be cool. I was exhausted so I took a quick nap then ran down the street to grab some snacks from Walgreens. At 3pm we were given a preliminary tour of the campus. It's mostly ornate stone buildings that look like well preserved 16th century castles, churches and mansions. Mixed in are a few highly artistic ultra-modern bits of architecture. And most intriguing of all was a low lying, unmarked fortress of a building that houses Yale's secret society similar to the Skull and Bones of Harvard.


Yale's Secret Society Building.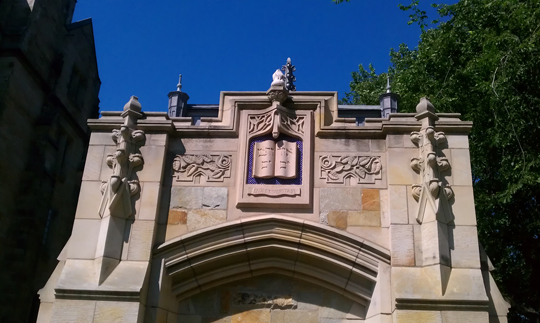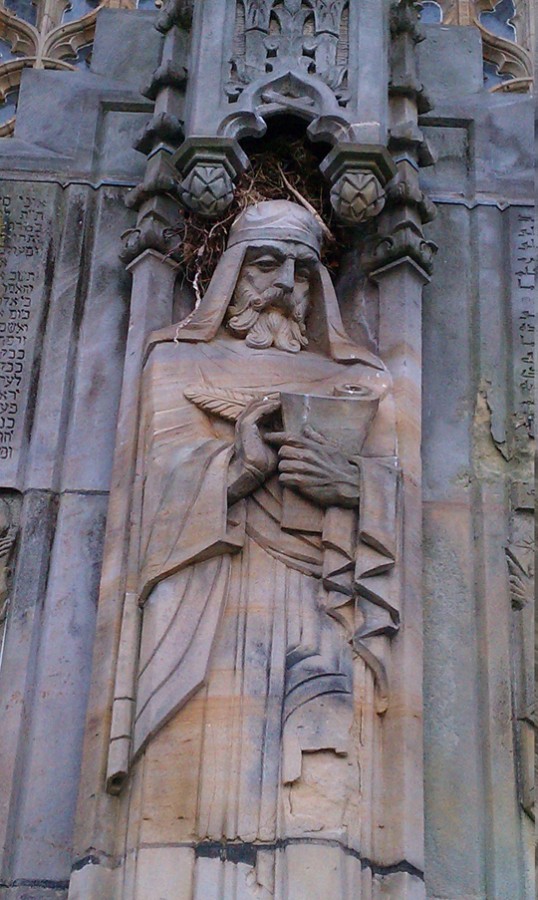 After the tour one of the social sciences professors gave our group a series of team building exercises. We spent some time getting to know each other in a traditional manner. Then she coached us a bit on how to really get to know someone. Basically, the conversations went from things like: "Where do you live?" to things like: "What are you passionate about?" After that it got even more personal. She asked each person in the group to share a defining moment in their lives. Boy did it get personal. It felt like a group therapy session. I think I saw a few tears. It was really powerful in helping our class bond. After a few more get-to-know-you team building exercises we were adjourned to dinner.
Dinner took place at the Sterling Memorial Library. It started with complimentary drinks and fancy appetizers on the lawn outside. They had a string quartet playing music as our class continued to mingle. I don't consider myself the most outgoing person, but everyone here is amazingly friendly and sharing, so it is relatively easy to strike up conversations. Earlier we were provided short bios on the attendees. They're all very impressive. That combined with the atmosphere and the difficulty of the learning I'm facing has me feeling very privileged to be here. After a few drinks we went inside for an amazing dinner and more drinks. The senior associate dean for executive programs and the executive director of AIGA gave opening speeches welcoming us and giving us a history and overview of the course.
When I returned to my hotel room there was a gift bag with an embroidered TEC running jacket. Wow. I'm really feeling special now.
So far I have been thoroughly impressed with the accommodations, treatment, food and atmosphere. It's late, I'm tired and I still have an hour of reading to do before I go to bed. Class starts at 8am tomorrow. I'm excited!