Vector Packs at the Mall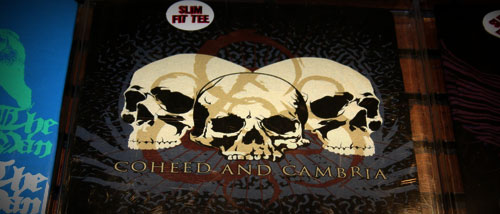 Over the past week, I was out of the office. I was on tour with my band, and it was a decent time. I'm not the biggest fan of touring, but it can be fun to go out on the road and play cities that you've never been before. Anyway, there is always a lot of time to kill before the show starts, so we would usually stop at the local malls for about an hour or so. In a Hot Topic in (I forget what the name of the mall is) Kansas City, a shirt graphic caught my eye.
I spotted a skull that I made from one of Go Media graphic design firm's Vector Packs on a shirt for the band Red Jumpsuit Apparatus.
I grabbed a shirt off the shelf and noticed that it also had many other vectors that we birthed here at the office including: hoolidanders, birds, more skulls, halftones, and more. Then, I looked up and saw a shirt for the band Aiden that featured a face from the sexy pack that Bill made.
A few days later, we were in Iowa with loads of time to waste before the show, so we went to another mall. In this Hot Topic, I saw both of the shirts previously mentioned, but on top of the Red Jumpsuit Apparatus shirt there was a Coheed and Cambria tee. This shirt had the EXACT SAME SKULL featured as the Red Jumpsuit design, AND was flanked on both sides by more Go Media skulls.
The background is also made up of crests and halftones from the vector packs. Pretty neat to see that stuff out in the public like that, and I'm not discrediting the designers of the shirts by any means. It's like the shirt is a pizza, the designer is the chef, and Go Media made the really tasty ingredients.