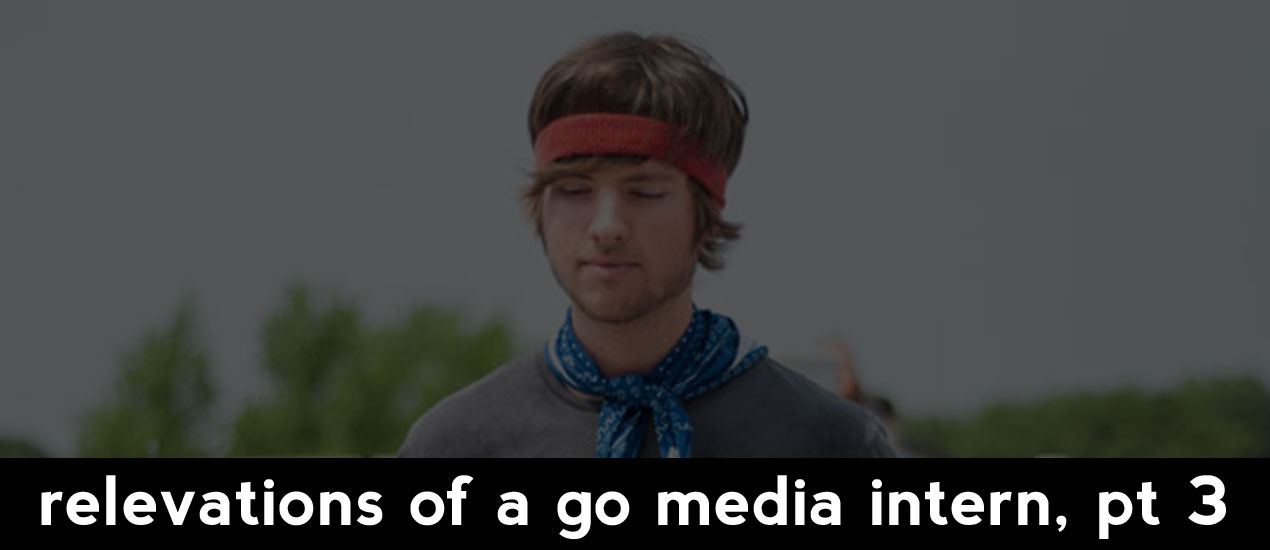 Revelations of a Go Media Intern, Part 3
Heyyy. The lessons at Cleveland Design firm, Go Media are abundant, and here are a few more that have been kindly passed along to me by everyone here.
1.Be Proactive
When working for a client or a friend, try very hard to decide what is most important to him or her, and deliver it. Is it timeliness? Rock bottom costs? Nailing the look? If you are confused, communicate.
Soak up the company culture. I'm very lucky to be at Go Media, which values experimentation, progress, quality work, and getting the job done. Once you figure out what your company culture values, be proactive about adding value, even (especially) if it requires you to step outside of your job description. (***Note: If you happen to be stuck in a negative company culture, don't follow this advice but fight tooth and nail for positive change!).
2. Don't be discouraged if you don't have a personal style – yet.
Helmut Krone (created the famous "Lemon" Volkswagen advertisements) spent his early years copying Paul Rand (the UPS logo guy). If you're a student or short on experience like me, don't worry that the majority of your work isn't stamped with your trademark style – because you haven't found it! Keep trying new looks / techniques and soon your niche of abilities and preferences will evolve. Then you've found your style – for now.
3. Expand your resources and inspiration.
After a couple of weeks of jealous screen peeking I asked the designers at Go Media if they could share their bookmarks with me. They were happy to, and through them I discovered a wealth of design resources and inspiration on the web. Here are a few of my favorites for you:
http://shinybinary.com/
http://www.logoorange.com/logodesign-A.php
http://www.bluevertigo.com.ar/bluevertigo.htm
http://www.mayang.com/textures/Nature/html/Clouds/index.html
http://www.bittbox.com/
http://www.rwillustrator.blogspot.com/
http://www.ntmy.org
http://www.depthcore.com
http://www.gomedia.us/arsenal/
and one more just for fun:
http://on-my-desk.blogspot.com/
Also, shop around for some great design compilation books that showcase the style you're interested in. If you're short on cash, Borders doesn't seem to mind if you browse for awhile (as long as you buy some coffee).