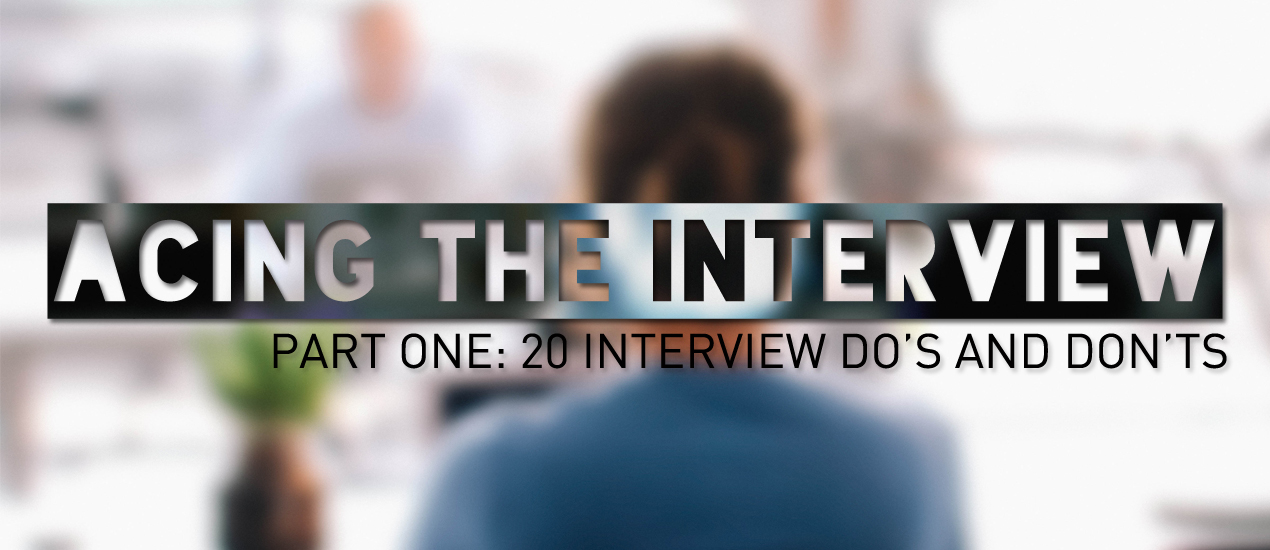 How to Ace Your Next Creative Job Interview – Part One: 20 Interview Do's and Don'ts
Creative Job Interview Tips
Whether you're out there, seeking a job in a creative field, or just want to keep your ninja interview skills sharp as knives, read on as we receive advice from interview expert Ann Walter.
Having interviewed hundreds of people over the years, Ann knows her stuff. Cleveland native and Kent State University School of Fashion Design Merchandising alumni, Ann is a retail consultant and college instructor specializing in professional development/job search coursework for the creative fields. She spent the last eighteen years as a fashion designer and creative leader in the apparel industry at companies including Liz Claiborne, Gap, Walmart, Sears Holdings, Dots, and Justice managing design teams of fashion designers, graphic designers, and CAD designers. She currently serves as adjunct college instructor at KSU Studio in New York City.
Take it away, Ann!
– Heather, Go Media's Zine Editor
Interview Do's and Dont's
We're all pretty familiar with the basics involved in an interview. Let's talk about some important specifics and details regarding the three parts of the interview process including:
1. Pre-Interview
2. Interview
3. Post-Intervew
As you review the following do's and don'ts, here's something important thing to keep in mind – just because we may be "creatives" doesn't mean the interview process is any easier or less serious.
And remember, you don't have to be nervous – you just have to be prepared!
Ready? Let's go!
The Pre-Interview: "Do your homework!"
DON'T forget this often overlooked yet critical part of the interview process.
DO keep detailed notes/an interview journal (digital or notebook). This could include your thoughts on the company, important dates, and location of interview. Also a great place to keep your answers to top interview questions.
DO research the company!
Google them for news articles, earnings, new business ventures, etc. If this company has a retail component – visit the store and take notes! If they sell online or business-to-business spend time on their website and be familiar with their product, designs, campaigns, etc. It's a deal-breaker in a creative industry to not have an opinion on the product/aesthetic of the company you are interviewing for. They will ask your opinion, what looked good and what opportunities you see for them. They'll want to know what you think of their competition, etc.
DON'T be afraid to do a little 'light stalking!'
Research the interviewer themselves if you can. If you are working with HR and have already met the HR team, ask them for what to expect from the interviewers. Ask your friends who work there. I like to see the interviewer's picture on LinkedIn if I can! The more information you have the better and the more comfortable you'll be when you arrive at the interview!
DON'T show up in the wrong outfit! Research the culture and dress code. Be prepared in an appropriate way.
DO be prepared by practicing your answers to typical interview questions.
DO a dry run to the location of interview!
Literally dry run the commute/walk etc. to know how long it will take you. Know where the building is, etc. You will feel more comfortable the day of.
DO allow yourself time to walk in the door of the reception area/lobby 10 minutes early!
If you get to the building too early kill time at a Starbucks or hang out in your car! Remember, you may have to park far away or go through building security and sign in. In these cases, make sure to allow extra time. Being late is a big no-no. If you do run late, let the interviewer know in advance and apologize when you arrive without going overboard.
During The Interview: "Bring Your A Game!"
DO introduce yourself professionally with a strong and self-confident voice, good eye contact, and a firm handshake! This is not the time to be shy or girly. Be assertive and confident!
DON'T forget that first impressions are KEY! The interviewer probably reaches some sort of decision about you in the first 2 – 5 minutes.
DON'T forget to have 10 copies of your resume with you. Use good quality paper!
DO keep your answers to 2 minutes or under! Don't ramble.
DON'T use slang.
Creative folks can get away with slightly more casual language and behavior, but it even if you're meeting at the local coffee house, it is still a job interview where they are assessing whether or not to hire you at their company. Be very careful of the top offenders UMM, LIKE, YOU KNOW. If you find you use slang, a good way to catch yourself is to just pause instead of saying your usual filler.
DON'T bad mouth a previous employer!
The creative fields are small industries and people are very connected. Plus, it makes you look like a small-minded person who gossips and is unprofessional – if you are forced by a direct question to give an example of a tough relationship you've had in the past – take a negative situation and describe it as a challenge and how you overcame it, keep things proactive.
DO have a few questions prepared for the interviewer.
These could be about the company, about the position
"What are you looking for in this "assistant graphic designer" role?"
"How long have you been with the company"
"What keeps you excited to be here?"
Etc.
DO be prepared to be flexible.
If an interview goes well, they might have you stay and meet more of their colleagues.
After the Interview: "Leave A Good Impression!"
DO stand up, thanks the interviewer for her time, look her in the eye and shake her hand again!
DON'T be afraid to ask about next steps in the interview process or when they will be making their decision on the position.
Reiterate that you are very interested in the position.
DON'T forget to send a thank you note within 12 – 24 hours!
Handwritten, not email. Don't use a card covered with glittery butterflys from Papyrus. This is not a thank you note for your grandmother! Use simple, chic, cool stationery.
DO follow up.
Assess the best form of contact. This is usually email so it's less invasive. Check in if you haven't heard anything in the timeline that was mentioned. Again, an appropriate level of assertive follow-up (light stalking!) here shows your interest in the position.
And that's it!
Best of luck with your interviews and stay tuned to Part Two of How to Ace Your Next Creative Job Interview, "Tough Interview Questions and How to Answer Them"