ForeverSave: Versioned File Backup for Mac

Although it rarely happens to me, I see tons of Twitter friends posting about their Adobe software crashing while working on a file. InDesign has a pretty robust temporary file feature that usually saves what you were working on, however that's only useful if you work in InDesign. What about Illustrator and Photoshop users?
Enter ForeverSave.
ForeverSave is a clever application that does versioned auto-saving of your open files. ForeverSave isn't limited to Adobe software, but it's the primary reason I was interested in the app. It works silently behind the scenes, yet instantly accessible via the menubar icon. Very customizable, not only the app itself but also on a per-application basis. This is a sign of a developer who knows their potential customers well.
Read on for more about how this very handy piece of software can improve your workflow, and as a special treat to Go Media readers, we're teaming up with Tool-Force Software to give away a limited number of free licenses to our readers.
The Basics
The "Control Center" allows you to turn ForeverSave on or off, and is the access point to add/remove and configure which applications you wish to monitor. Each application can be tweaked manually.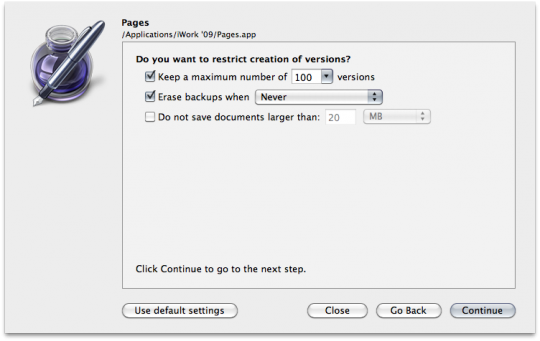 I love the fact that on a per-application basis I can set how many versions I want to keep, when to erase old backups and also excluding extra-large backups. Concerned about disk space? You can choose where the backup database is stored. Throw it on that external drive with tons of space instead of your startup drive if you want.
Customizable hotkey support is also a welcome feature for power users.
What It Does
So how does this all work? Simple: run ForeverSave, and based off your settings (per-app), ForeverSave will silently keep backups of your files according to the schedule you've specified. Sure, Time Machine is great for files you've already saved, but ForeverSave goes one step further and makes it easy to go back in time with files you're actively working on.
The big key to the awesomeness of ForeverSave is the fact that it can be set to not overwrite your current file — it saves a separate copy to allow you to revert if you choose. This is not some generic "hit the Save command every 5 minutes" solution only. ForeverSave allows you to work on your file and save a copy every so often in the background.
Go Back In Time
So what happens if you do need to go back to one of your backups? ForeverSave has a very intuitive backups interface to do just that: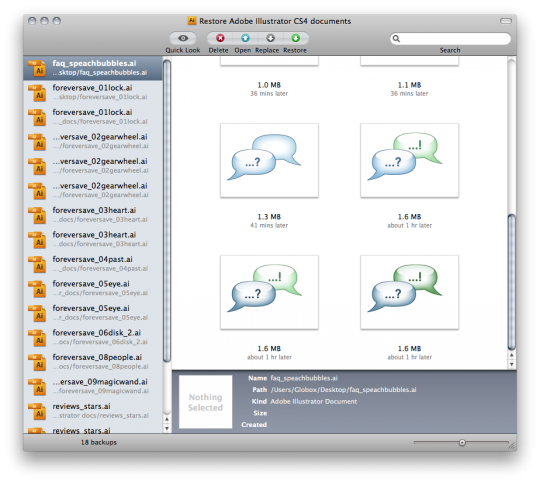 Each software application has it's own backups window which allow you to browse the files it has been monitoring (left-hand panel) and the versioned backups for each file (main area on right). Click on a backed-up file on the left to see the versioned backups for that file.
Each backup is date & time stamped, and full info can be gathered by clicking on one of the backup files and checking the info panel at the very bottom. Each backup file has the option to Delete, Open, replace or Restore, and everything works nicely with OS X's Quick Look feature.
Works Great
I've been demoing this software for a while now to prepare for this review. I wanted to make sure it ran smoothly, worked as advertised and fit into my workflow. I am very happy to recommend this software to any Mac user, but specifically to my fellow illustrators and designers out there. This really should be a part of your Mac workflow.
I'm a big fan of backup/security when it comes to my computer as I find it's part of the creativity process — if I don't have to worry about my tools and my files, it leaves more flexibility to concentrate on the creative side of things. ForeverSave is a tool that helps me achieve this.
Get It Now!
ForeverSave is available from Tool-Force Software for the insanely reasonable price of $14.95. There's also a "lite" version, but it doesn't offer most of the features reviewed above and I recommend just going for the full version. The first time you need to access a versioned backup of a file you thought you lost after a Photoshop crash will more than pay for the price of ForeverSave.
Tool-Force Software has also graciously agreed to bestow some free licenses to our loyal Go Media readers. The first 10 to reply in the comments will get a free license for the full version of Forever Save.
Be sure to have some way for us to contact you. I'd suggest a cleverly obscured email address within the comment itself (name [at] domain dot com usually works). If we can't contact you easily, we'll need to move on to the next.