WMC Fest is Happening!
Weapons of Mass Creation Fest is an all-out celebration of all forms of creativity. From designers to speakers, to entrepreneurs and artists, we made sure you get a little taste of everything. Don't worry! WMC Fest without a stellar band line-up and other special events is like bread without butter – it just doesn't make sense. Over three days, you have the opportunity to see 18 wicked bands and five special events. Read on to get the skinny on who to hear and what to see in two short weeks. On your mark, get set, go!
Who To Hear
The World is a Beautiful Place: An atmospheric emo/indie rock band from Willimantic, CT. The band's sound is easily compared to second wave post-emo indie rock bands of the late 90s and early 2000s, with their atmospheric sounds often tagged as post-rock. TWIABP creates their music using guitars and a synthesizer, in addition to the cello and trumpet. The World is a Beautiful Place // @twiabp // bandcamp
Kevin Devine: His sixth solo album, Between Concrete & Clouds, not only marks his successful career as a musician, it also highlights his personal growth and change as he decided to make some fundamental changes during this album. Kevin was born in New York City and says he grew up listening to Weezer, the Cars, Nirvana and Bob Dylan. His recent touring partner, Nada Surf, helped him get back in touch with the power-pop side of his personality. This reconnection is very apparent in his new album. Kevin Devine // @KevinDevineTwit
Mr. Gnome: An indie/psych/rock duo with hometown roots in Cleveland. Nicole Barille, singer/guitarist, and Sam Meister, drummer/pianist, make up the infamous musical duo.  Since 2005, Mr. Gnome has has created music that has gained them an ever-growing cult following across North America and Europe. Did we mention magazines like Rolling Stone, Paste, Spin and Bust have gone crazy for Mr. Gnome?! Their third full-length album, Madness In Miniature, will be released Oct. 25 on El Marko Records. Mr. Gnome // @mrgnomemusic
HAWKEYE: Lead by Erika Lauren, from The Alan Cox Show and MTV's Real World DC, and joined in musical talent by four Cleveland rock music scene veterans. HAWKEYE regularly plays sold out shows and has opened for Steel Panther and Attack! The band's unique make-up gives them their edge and diverse sound- equal parts dance, rock and dub. Now that makes for an interesting show and fun music! Hawkeye // @weareHAWKEYE
Smoke Noises: A collaboration between Smoke Screen (Mooke and Chemist) and rapper/producer Ghost Noises. These guys are a couple of hometown hero's who illustrate that Cleveland isn't done cultivating incomparable forms of lyricism and artistry through their self-titled debut LP. Three different artists fusing together to produce a project gives you an album unlike the others. Smoke Noises // @SmokeNoises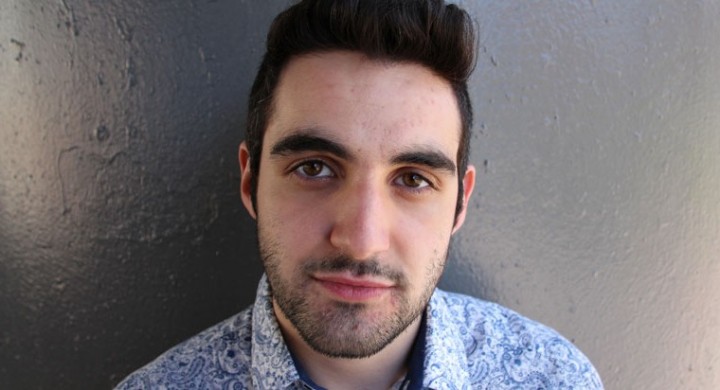 Urbindex: The eccentric alter-ego of Alloy-X CEO and Co-Founder, Connor Walsh Musarra. Urbindex has quickly turned into a staple in the electronic and hip hop music realm. This Cleveland native is only 21-years-old and has already received recognition from the industry's finest. Rest assured, WMC Fest isn't the only place you'll hear his music now and in the future. Urbindex // @urbindex
Black Puddle Noise: Comprised of lead singer and guitarist, Wes Daniels, with Bailey Petersen holding down the bass and Collin Lindrooth rocking out on the drums. Black Puddle Noise was founded in Lakewood in 2010 and has captivated our rock and roll hearts ever since. Word on the street is that they definitely deliver a strong live show. To listen to Black Puddle Noise and find tour dates, visit blackpuddlenoise.bandcamp.com. Black Puddle Noise // bandcamp
Teddy Boys: Cleveland native backyard/suicide pop, rock and roll band founded who was founded in 2012 as a 'family thing.' Let's not forget to give thanks to these talented folks: Matt Pietrick, vocals; Stefani Chips, vocals; Rick Pietrick, guitar/organ/vocals; Jon Chips, guitar/organ/vocals; Zach Panek, bass/vocals, and Jason Rubinski on the drums.  Their first album, Social Club, has an upbeat and fun, familiar feel and sound. In February 2014 Teddy Boys was featured as Band Of the Week in Cleveland Scene Magazine. Teddy Boys are truly one-of-a-kind. Teddy Boys // @TheTeddyBoys
Dolfish: An Ohio State Buckeye and Cleveland native, Max Sollisch a.k.a Dolfish, creates a sound that is widely compared to John Darnielle and Neil Young. Oh yeah, he is also only 23 years young. His EP, Your Love is Burnin' Me Out,' was recorded in a friend's living room apartment in downtown Des Moines, Iowa, in five days. The spontaneity of this EP alone is enough to love it. Dolfish // @The Dolfish
Oldboy: A rock-folk band from Cleveland, Ohio. Oldboy's debut full length album, Covered in Sound, has a cool cinematic quality to it, according to Cleveland Scene Magazine. The band launched a regional tour after the release of Covered in Sound and plans to tour in 2014, including a stop at the hugely popular South by Southwest Music Festival in Austin, Texas. Oldboy // @oldboycleveland
Texas Plant: A Folk/Americana band born in Cleveland, Ohio, comprised of Matthew Leeb (vocals, harmonica, inanimate objects), Danny McDonnell (lead guitar, vocals), Gain Dautartas (washboard, suitcase kick-drum, percussion, vocals), and Boy Howdy (upright bass) and Sagan Ruby (banjo, accordion). As you can tell, Texas Plant is far from your average, ordinary band. Texas Plant // @texasplant
These Knees: Founded in 2011, These Knees was originally Stephanie Trivison's indie pop solo project. As for a genre? These Knees is in a league all of their own, and was influenced by musicians like Butch Walker, Tegan + Sarah, The Beatles and more. The band's unparalleled sound has captivated the media, including Alternative Press, The New York City Songwriter's Circle, Cleveland Scene Magazine and HRC Emerging Artists. These Knees
Midnight Passenger: Cleveland natives Tony Zaro (lead vocals), Dan Metyk (lead guitar, backing vocals), Ricky Zaborowski (bass guitar, backing vocals), Jim Janek (rhythm guitar, backing vocals), and Shane Zigler (drums) created the indie rock band Midnight Passenger. The band is currently working on their debut LP, set to release in fall 2014, after the stellar success of the 2011 EP release, "Long Time Waiting." Midnight Passenger // @MPChirps
The Commonwealth: Born in 2009 in Cleveland, Ohio, The Commonwealth is comprised of Patrick Burke, Andrew Kuhar and Nicholas Kuhar. Since then, The Commonwealth has written, recorded and produced three albums. The group has an illuminating reputation with promoters around the city and has received enough attention to play at venues like The Rock Hall of Fame, in addition to opening for international acts such as The Sam Roberts Band at The Grog Shop. The Commonwealth has taken the main stage many of times over, but it's worth mentioning that the band was nominated for the Cleveland Arts Prize. They lost to Ohio's own, The Black Keys… and we all know how those guys turned out. The Commonwealth // @CommonwealthOH
John Kalman: John falls into the folk-soul genre and has pretty much been a musician since the start, but only started recording songs about 14 years ago. His voice is soothing and inexplainably soulful. Some of his songs have words, some don't, and sometimes he records with friends and sometimes not. Either way, his delivery is impeccable. John Kalman // @johnkpublic
Ashley Brooke Toussant: Ashley is another Ohio native who speaks to us through her folk-pop-alternative country music. Her newest EP release, "With Regards To You," helped build her name and reputation around the Cleveland music scene. Ashley is joined in the band by Al Moss (pedal steel), Shelby Sangdahl (cello), Chris Wise (base) and Spencer Martin (piano). ABT lived in Chicago from 2007 to 2009, and while there, she recorded with two-time Grammy award winning producer, Jim Tullio. Ashley Brooke Toussant // @abtoussant
Briar Rabbit: Briar Rabbit had a mentor unlike anyone else on WMC's roster. His uncle was the one and only, B.B. King. Briar sings romantic melodies with lyrics that hit so much raw emotion, it really hits close to home. He took a few years to release his new LP, From Your Bones, finally releasing it in January of 2014. It has since been praised by the media by The Huffington Post, Americana UK, American Songwriter, amongst others. Briar Rabbit // @Briar_Rabbit
Automagik: Out of Cincinnati, Ohio, Automagik creates the perfect music to get you movin' and groovin', seriously. The group's energy is wild, fun and goofy, and that is very apparent in the music they produce. Automagik was founded in December 2010 by Andy Cluxton (drums), Zachary Evans (vocals/guitar), Devin Williams (lead guitar), Baron Walker (keyboard), and Jamie Rasmussen (bass). Automagik
For Your Pleasure
National Poster Retrospecticus: A traveling show of more than 300 hand-printed posters from more than 100 outstanding poster designers in the USA. WMC Fest attendees will have the opportunity to bring home their favorite piece of work because everything on the walls will be for sale! The NPR mission is simply to celebrate posters. facebook: www.facebook.com/nationalposterretrospecticus twitter: @theNPR instagram: @jpboneyard
Chucklefck.com presents the Closing Comedy Showcase: Au revoir, WMC Festers! Let's lighten our sad hearts with some humor. Curated by Ramon Rivas of Chucklefck.com and sponsored by Cards Against Humanity. Comedians confirmed for Sunday night are: Maronzio Vance, Tiffany + Danielle Puterbaugh and Ramon Rivas, in addition to John Bruton and Walter Hemmelgarn.
Go Media Podcast Live: Hang out with us during our live edition of the Go Media Podcast. We'll have even more tips, tricks and tales of the business-minded artist and designer.
Breakdance Battle: Dance with some of the region's best b-boys and b-girls. This may or may not include a $400 cash prize for the best 2 on 2 battle! The breakdance battle is going down on Friday, August 15, beginning at 7 p.m. It will be hosted by Tony Fresh with DJ Druskii holding down the beats. Admission is $10 unless you have a Fest Pass (then it's free!).
Ink Wars: Another legendary battle but this time it involves… a black marker. Eight artists go head-to-head in an epic 60-minute battle to draw something based on a theme announced at the event. Judges get the final vote but fans and Fest-goers can watch and interact with the artists. …So. Guys. Trust us. These three days will change your life. Be there! Buy WMC Fest Tickets