How to launch and run a thriving design business has nothing to do with righting, write? Wrong! These days brand identity designers, logo designers, game designers, graphic designers, and even flash designers need to be able to spot the spelling mistake in the first sentence of this article. Designers can no longer be the master of their own dream world, where they choose and decide when, where and how they interact with the design project. It is highly crucial today more than ever that corporate design solutions align with client objectives from the largest corporation to the smallest enterprise. To become a successful designer, you must be able to cope with writing skills.
Why Writing is Important for Designers
Writing has its own worth regardless of the profession. From a technician to a designer, everyone needs writing abilities in order to communicate in a better way. However, for designers, it is far more important than just to communicate. Mentioned below are some of the reasons that elaborate on the importance of writing for a designer.
1. Writing Helps You Describe Your Design
"If you can't explain it simply, you don't understand it well enough."
Albert Einstein
Very often, designers are required to explain the perspective and intentions of their design. Failing in the practice can lead to an ultimate thought that designs are not intuitive. Excellent writing skills enable you to think as a writer rather than a designer, which could help you finding the lacks in design if any. Writers usually do not hesitate to point out when the designs do not make sense as it could lead to a wrong description of a particular design. Searching for the mistakes in your own plan will allow you to manage an improved outcome.
Simply, it can be said that writing skills for a designer not only help him with literature but also helps improve as a designer.
2. Content First Designs are Trending
Gloria Tillison – A front-end developer at Crowd Writer illustrates during a seminar,
"Designers need to realize that the market is competitive, and every single person is focusing towards SEO with their designs and contents."
She further said: "Content-First strategy is adopting widely in the world and we as a designer needs to cope with it as early as possible."
Words are powerful and essential in any content of the website which cannot be ignored at any cause. As Biz Sanford from Shopify content team explains,
"Words are essential for helping users accomplish their tasks, and by thinking about them while you sketch, you'll uncover problems early and be able to move faster later."
Consider this page, by designer Justin Jackson, puts on the importance of words in a webpage.
3. Writing a Better Title, Body & Meta Tag Improves SEO
A designer is always focused on the SEO of any site he is designing for. In this regards, different tags have their own role and importance. Every tag has some particular requirements as well e.g.
A good Title tag is below 60 characters and includes a keyword or synonym.

Similarly, Meta tag lies in 150 to 160 characters and of course with a focused keyword.
Sometimes clients provide you with these tags; otherwise, a designer himself put the efforts. Designers with writing abilities will not find it difficult to manage these tags.
Despite the fact, the body content is always provided by the customers. However, usually, they are unaware of SEO. Good designers take care of SEO by modifying the given content with little changes.
They might need to add some transition words, convert passive sentences to active, shorten the sentences' length and add focused keywords for better SEO and readability of the page. All of such work requires a good understanding of literature and excellent writing skills.
4. Sharing Your Ideas Help the Design Community
Many designers resist to share their work and have a feeling that someone may steal their idea or come up with a similar one. But they need to understand that what they have been creating is not coming all alone from their mind. There must be some inspiration and motivation from other works and designs.
Writing about your work, therefore, can be beneficial for you and others as well. It serves as the best tool to share your work and ideas which can help other designer feel inspired with and understand your design or your prototyping process.
5. Build an Audience & Start Business
With regards to looking for some kind of work, it can in some cases be hard to come up with new opportunities. Why not thinking about people coming to you rather than you approach them? All you need is to make it simpler for individuals to get an understanding of what you do and how you work. Writing allows you to do this efficiently through blogs, as it can enable you to build an online presence and become join communities to showcase your talent.
Once, you have developed your audience, it will be more convenient to launch your very own business. There are many businesses which were started just in a similar manner with writing blogs and building networks. They created their connections using their content, and people started recognizing them. So, this scenario is best for you to kick start a business when you already have a market and people know where to go for designing.
6. Let You Communicate With The Client In A Better Way
With the world being so fast, effective communication has become a primary skill to understand your client and make them understand your points. Since the market is growing vast, more professional seeking work and more communication happen in writing.
Remember the time when a confusing email from your colleague or customer left you uncertain, what to do with this. Such a gap in communication slows the process of designing.
Quick Tips For Getting Started With Writing
Now, since you are familiar with the necessity of writing for you as a designer, why not try some resources that can improve your skills. There are numerous tools and software that can help you to find a writer within you or assist you in different regards.
Grammarly: It is the software having several characteristics. It supports you to improve your writing by correcting grammar issues. It's premium features allow you to check for plagiarism if by chance your piece is duplicated. It also lets you check the work with human proofreaders.
AustralianMaster: This is a human proofreader and editor. It can help you check your written material for errors, may it be structural or grammatical. They will correct it for you and add value to your written piece.
Writing Ocean: One of the most enriched hubs with different kind of composition marks. You will find here the best dictionary, easy to understand grammatical rules and a lot more.
Accurate Cite: When you will start writing, you will realize the importance of referencing. Accurate Cite can help you understand all these rules and regulations in a free flow manner. It also provides you with automated citation.
MHR Writer: They have professional and skillful authors who can assist you in any every type of composition. They will help you to make your cover letters and resume which can get you more work.
These tools will surely help you to develop a better scripting ability to benefit from the facts that I have described previously.
Hi Go Media faithful!  Bill here! I'm back to deliver another teaser article from my book, Drawn to Business.  Today we'll cover a topic vital to operating a thriving design firm: Customer Retention.
Take good care of your customers. Nothing will replace good service. No amount of holiday cards, phone calls, discounts or anything else will make up for poor service. When a client brings you a project, you need to treat them like royalty. Be nice and supportive. Hit your deadlines. Do amazing design work. Stay on budget. Follow through. Say thank you when they pay. Give them legendary service with a smile on your face. If you do this, you've at least ensured that they'll trust you for future projects.
Make a good first impression. Take particularly good care of your customers at the beginning of the relationship. Getting off on the wrong foot can ruin a good relationship.  How you perform on the very first project is absolutely critical. More specifically, your first set of proofs will establish in the mind of your customer whether they can relax and trust you to do great work, or if they're going to have to look at everything you do with a critical eye. If you're working with a new client, the first project is the most critical time in that relationship.
Resist the urge to over-promise. Establish reasonable expectations with your customer then out-perform those.  Under-promise. Over-deliver. If you think delivering what you promise makes a good impression, just wait till you see how your customers respond when you give them a little bit more.

Be an advisor to your customers, not just an order taker. An order taker is dispensable, but an advisor is invaluable.  Of course, it takes more work to be an advisor than an order taker. You certainly can't just upsell your client on a bunch of services they don't need. You have to get to know them, understand their business and know which services you can provide that make sense for them.

Stay in touch with your customers. Nothing else will give you as big a return on your time than doing something simple like dropping your client an e-mail or giving them a phone call.  This is one of the simplest and yet most powerful ways to generate ongoing business. Just stay in touch. It's so simple. Don't pester, don't annoy, just make sure you stay on your customer's mind. Make sure they know that you're ready and eager to help them with their design needs.
Offer cheaper rates to your best customers.  For almost the entire existence of Go Media there was only one pricing model. Our prices were broken down hourly, based on service type. We charged all our customers the same amount.
To qualify, the customer has to have completed enough projects with us that we feel comfortable with the way they work. They can't be a customer that meanders off-scope, pushes our hours over budget and then complain about additional costs. They have to be easy to work with and they have to pay their bills on time. This strategy is one I learned from a peer who works at a much larger corporation. They have great success with it.
__________________________
Want to learn more about becoming the greatest design firm you can be?  Buy Drawn to Business, a nuts and bolts strategy guide to building a thriving design firm!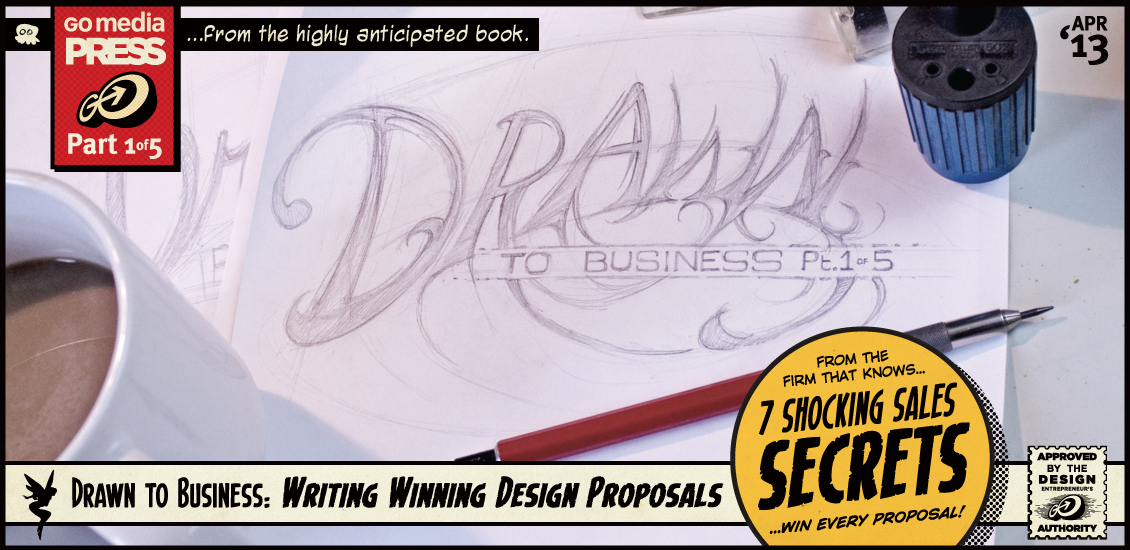 Hey Go Media faithful! Over the next few months I'll be posting five excerpts from my forthcoming book Draw to Business as a series of teaser articles here on the GoMediaZine. So, without further ado, here are seven tips on writing winning design proposals.
Regurgitate back exactly what your clients tell you. Writing a good proposal starts with listening. Ask lots of questions and listen carefully; your potential client is going to tell you exactly what they want to read in your proposal. Your first job is to listen and write down everything they say. Then you're going to write that back to them in your proposal. If a client says: "We want a highly interactive website." Your proposal should say: "Our solution for you is a highly interactive website."
Create templates and refine your message. When you sit down to write your first proposal, think of building a template. You're not going to want to write every proposal from scratch. Try to keep most of the sections generic enough so that you can reuse them with other clients.
Design your proposal. You can file this under the "duh" category. Your business documents are a representation of you! They should embody all the skills you have as a designer. This includes your proposals. So take the time to make sure that the design of your proposal will sell your potential client as strongly as the content within it. Your proposal is your portfolio! Make sure it looks amazing!

Customize the design for your client. For larger proposals, we will swap out the colors and images in our proposals to match the client's brand. In some cases we invest quite a bit of time and effort to make our proposal look like THEIR proposal. It's amazing how impactful delivering a custom designed proposal can be. The client feels like: "They just 'get' us."
Give them a few exciting ideas. It's a well-known fact that people buy on impulse. There is a lot of emotion involved in why people buy. One way to sell a client is to get them excited. This can be easily accomplished by sharing a few of your ideas with a client. This should be done in just a sentence or two. Describe something exciting you want to do with your client's design. A clever idea can make the difference between you and your competitor.
Ask for a budget upfront. Knowing a client's budget up-front is critical to writing a winning proposal. Ask your potential client for a budget during your very first interaction with them. If they act coy and won't give you one, there are ways of extracting it. (These tactics and many more in the forthcoming book).
Don't underbid the project. Another critical reason for asking for a budget is making sure that you're not underbidding the project. Believe it or not, underbidding a project is as bad as overbidding it. When you severely underbid a project you're communicating that you're either an amateur or that you don't understand the scope of the project. Both of these will scare off a customer.
Want to learn more about becoming the greatest design firm you can be?  Buy Drawn to Business, a nuts and bolts strategy guide to building a thriving design firm!