Jordan Schiller from Real Thread
From Graphic Design Podcast – Go Media Podcast 011
Weapons of Mass Creation Fest 6: Maker Space and "State of the Merch" panel participant Jordan Schiller
Let's meet our Platinum Sponsor, Jordan Schiller of Real Thread!
Jordan is returning to sponsor your favorite graphic design conference in the world, Weapons of Mass Creation Fest. We sat down to talk to Jordan a few weeks back to catch up and talk about what we might see out of the Real Thread gang at this year's fest. You can read on to find out, or listen in over at our Go Media Graphic Design Podcast archives on Soundcloud.
JS – My name is Jordan Schiller and I'm a part of the team over at Real Thread. What Real Thread does is we print water-based and discharged t-shirts. So, we take your design and we'll print it out onto any sort of t-shirt, hoodie, tank top, whatever it is, with water-based and discharged paint right in the fabric of the shirt, rather than it sitting on top of it. So, it's a super soft, comfortable shirt that people love to wear. It usually ends up becoming people's favorite shirt because it is so soft. And, it just represents people's stories so well, because people actually want to wear the t-shirt. If you're trying to represent your company, or your clothing line, or whatever it is, this is usually a good way. So, that's really who Real Thread is. We print t-shirts. We love design. We love creatives and designers, and we strive to create the most delightful t-shirt experience in the world. We're not perfect at it, but that's what we strive for.
Heather – You do print very delightful t-shirts. I can attest to that. I have your shirt from last year that I screenprinted myself.
JS – Nice.
HS – Actually, I just saw a shirt that you printed for Jeff [Finley]. His "Wake Up, Show Up" shirt. I didn't make contact with the shirt myself, but it looked super soft.
JS – Well, you'll have to pick one up. His book release is pretty sweet. I hope it's going well for him. But, you mentioned the shirts we printed at WMC last year. We were at a conference called Creative South which is in Georgia, and there's just random people walking around that conference wearing those WMC Fest shirts. So, it's cool that people loved printing them themselves and loved the shirt so much that they're wearing them a whole year after. That's awesome.
HS – Yeah. The Go Media staff are often twinning all the time, wearing our Real Thread shirts from last year. Like we were saying. Last year, our attendees were swarming around the Real Thread vendor village booth that you had. What can we expect to see from you this year?
JS – Oh, man. It'll definitely be a place to get your hands dirty, have a lot of fun, and just chill and hang out. We're definitely all about printing and those experiences. So yeah, more of the printing. It'll probably be a limited quantity, so make your way up to the Maker Space as soon as you can!
Want to check out Real Thread for yourself? You won't regret it.

Thanks a million to Real Thread for sponsoring this year's WMC Fest! Check out our full list of sponsors at wmcfest.com and buy tickets for Cleveland Design Conference Weapons of Mass Creation Festival Now!
Design Conference Podcast
Bryan and Heather sat down for a bit of an informal episode of our design conference podcast. With less than 40 days left, there were a number of updates that needed to be said including where tickets stand for the fest (less than 100 3-day passes left), the workshops (WMC Workshop Tickets Now On Sale!), and the Cleveland Studio Tour (Cleveland Design Studio Tour Sold Out?). Plus, an important lesson was learned about Spec Work and T-Shirt contests.
Design Podcast 2015
It's a two-for-one special over at Adventures in Design Podcast, WMC Fest Fans! AID Episode 203 includes two of this year's Weapons of Mass Creation Fest 2015 speakers in one delicious podcast. Not only do you get valuable Mark Brickey time, but you'll also hear from Jay Fanelli, co-founder of Cotton Bureau.
As AID describes on their Instagram, "Jay shares with us his company's unique business model as well as what designs he does and doesn't allow to make its way onto their popular website."
Episode 203 Talking points, courtesy of the Adventures in Design Podcast site:
– The curation process of keeping their collection narrowly focused on today's best graphic design trends.
– Allowing your business to find it's own path in life and allowing to keep it evolving.
– A debate on the Threadless business model. – Respecting your users, customers and partners while allowing your business to grow and make money.
– Respecting the laws of supply and demand to keep growing but not burning out.
– United Pixel Workers and other projects that naturally evolved into the Cotton Bureau.
– Making strong relationships with other businesses that support your business.
– Focusing on doing one thing really well and not trying to catch every dime that comes your way.
– The backstory on "Blowing Up Overnight".
– Using the Cotton Bureau as way to test your talents and get a taste of passive income.
– Focusing not on what your heroes are doing but what's best for you.
– Mark presses Jay on making sure every designer walks away with some sort of reward for having a produced design.
The Circle of Trust (paid content)
– Jay shares with us some entries and cliches in their user submitted Hall of Shame.
– Designers who foolishly fight back and argue when their designs aren't picked.
– The cold stone truth of commerce.
– How Jay takes time to give rejected designers advice on how they can improve their work.
– How marketing is just as important as the product.
– Dealing with copyright infringement and toeing that line.
– All the little steps along the way that make you better for the long haul and help you create what you're meant to create.
Listen in: Episode 203 – Jay Fanelli of The Cotton Bureau "Promotion Is Just As Important As The Product"
Have you heard the Weapons of Mass Creation crew on Adventures in Design elsewhere?
See Jay and Mark live and in the flesh at the best design conference in the entire world, Cleveland graphic design company Go Media's Weapons of Mass Creation Fest, August 7 – 9 at the Allen Theatre. Tickets at wmcfest.com
The Weapons of Mass Creation Fest team had the pleasure of talking to Adventures in Design Podcast host, Mark Brickey, in his Episode 174, about the big changes coming to WMC Fest 6.
Talking Points of AID 174
– The process of public speaking and emceeing a live event.
– The decision to keep Weapons of Mass Creation alive for it's 6th year.
– Big changes in this years festival.
– Focusing on what you're known for and being the best at what you do.
– Learning about the new and improved home of WMC Fest.
– New attractions added to WMC Fest 6.
– The return of Ink Wars.
– Adventures In Design Live On Stage at WMC Fest 6 (brought to you by Cleveland logo designers, Go Media).
In The Circle of Trust (Paid Subscriber Content)
– Creating a business within your business. Managing large scale projects without bankrupting the parent company.
– Keeping a balance between day to day projects but still finding time to work on large scale productions.
– We breakdown the math of WMC Fest and talk about what it takes to make a event profitable.
– The contagious excitement of Aaron Sechrist and his work.
– Using a beard to hide your double chins.
Connect with the Podcast Participants:
@aidpodcast | @markbrickey | @okpants | @sakaipower | @bryangarvin
Go Media Podcast Episode 029:
Podcast for Graphic Designers by Go Media
In this episode, Bryan sits down with Bill, captain of the Go Team aka Go Media (the best website design company in Cleveland and beyond) to talk what we've learned after a year of collecting metrics. Plus, we announce with Heather Sakai that WMC Fest tickets are now on sale. And, we profile Go Media designer Carly Utegg.
Go Media Podcast Episode 028:
Podcast for Graphic Designers
In this episode, Bryan talks about what Go Media (the go to team for professional web development in Cleveland) has been up to over the last few months, explains why the podcast has been a bit silent, and what we've got planned moving forward. Plus, he sits down with Heather to talk about WMC Fest 6.
Cover Image by The James Douglas Studio | on Instagram
Announcing our WMC Fest 6 Host: Aaron Sechrist, OkPants
Thrilling news upon thrilling news. Our venue and date have been announced, our site has been launched and now this. Yes, we're even surprising ourselves.
It's a great week!
Go Media, the universe's source for responsive web design from Ohio is proud to announce that Cleveland design legend Aaron Sechrist, OkPants, has graciously accepted the position of WMC Fest 6 host. He'll be emceeing the event, happening August 7 – 9th at the Allen Theatre in the heart of downtown Cleveland.
Here's a little bit about our esteemed host, in his own words >
"My name's Aaron Sechrist, a freelance graphic designer and illustrator that enjoys working on projects that pull from both disciplines under the moniker OkPants. After cutting my teeth in various jobs in the music and publishing industries and yelling for various fruitless Cleveland-area DIY bands, I made the move to freelance and found happiness as well as actual income working with good people, creators and brands within the entertainment, music and apparel industry.
My gig posters sleep with the Boss and Prince in The Rock and Roll Hall of Fame & Museum and I enjoy participating in art shows across the country. I also like to design things for myself and sell them through the OkPants Web Store as well as through Made By Superior."
Learn more about OkPants on his Official Site, as well as his Twitter | Tumblr | Facebook | Instagram | Dribble | Shop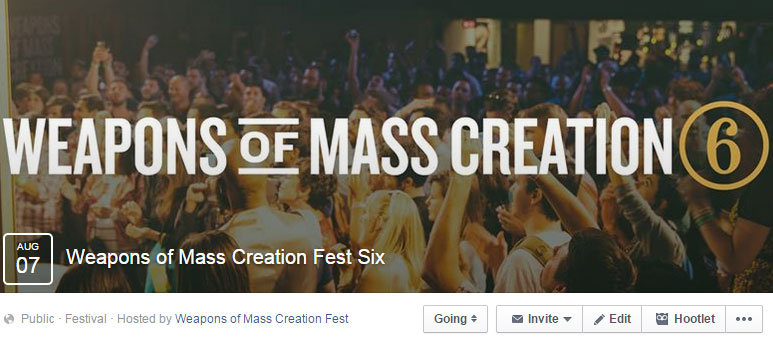 Go Media Cleveland Creative Studio: Our 2014 in 3 Minutes
Go Media is so much more than a creative studio.
Small in number, we are mighty in what we set out to achieve each and every year – from our passionate web design, logo, branding and print design projects, to our product Arsenal, our blog, our subscription based mockup sites (Mockup Everything and Shirt Mockup), video series (On the Map) and annual design conference (Weapons of Mass Creation Fest).
Not to mention the other hijinks that ensue throughout the year due to our collective love for design, community, life. Enjoy our look-back on 2014.
We hope to see you in 2015!
Go Media on Facebook | Instagram | Twitter | Google+ | LinkedIn
Weapons of Mass Creation Fest on Facebook | Twitter | Instagram
______________________________________________
About Go Media:
What does great design mean to you?
For some, it's all about sales and results. For others, it's about winning that next big award. At Go Media, a Cleveland web design, branding and print design studio, great design is the product of passion, purpose, and possibility. It's a place where the art of communication is expressed in ways that surprise and satisfy our clients.
Our Ohio City headquarters is buzzing with artists, strategists and enthusiasts who approach each new project with an eye for detail and an ear for objectives. The result? Visually stunning concepts that captivate, compel purchase and even earn a few awards.
How can we help you express your next big idea? Get Started Here!
Categorized:

Graphic Design

Tagged:

aaron roberts, bill beachy, bryan garvin, carly utegg, chris comella, cle, cleveland, dave romsey, go media, go media music video, gomedia music video, heather sakai, jeff finley, kim finley, lauren hudac, lauren prebel, mockup everything, on the map, renee gabella, shirt mockup, weapons of mass creation fest, William Beachy, Wilson Revehl, wmc, wmc fest
Racial Diversity in Graphic Design: a Panel Discussion
Weapons of Mass Creation, a design, art and music festival held annually in Cleveland, Ohio, takes great pride in being a festival characterized by it's dedication to diversity. This past year in particular, 2014, we highlighted discussions surrounded by this topic.
The video you'll see below is a panel discussion, "Race in the Design and Creative Industries," captured at Weapons of Mass Creation Fest 5. This featured panelists Jacinda Walker, Maurice Cherry, Luis Cabrera, Donald Wooten, Antonio Garcia and Linda Ayala. Angela Townsend of the Cleveland Plain Dealer moderated our discussion.
Please enjoy this unique panel discussion on race, culture and diversity in the creative community. 
Racial Diversity in Graphic Design Video and Podcast
Watch
Listen
Stay tuned to news about next year's Weapons of Mass Creation Fest!
| wmcfest.com |
Cover photo thanks to Caroline Moore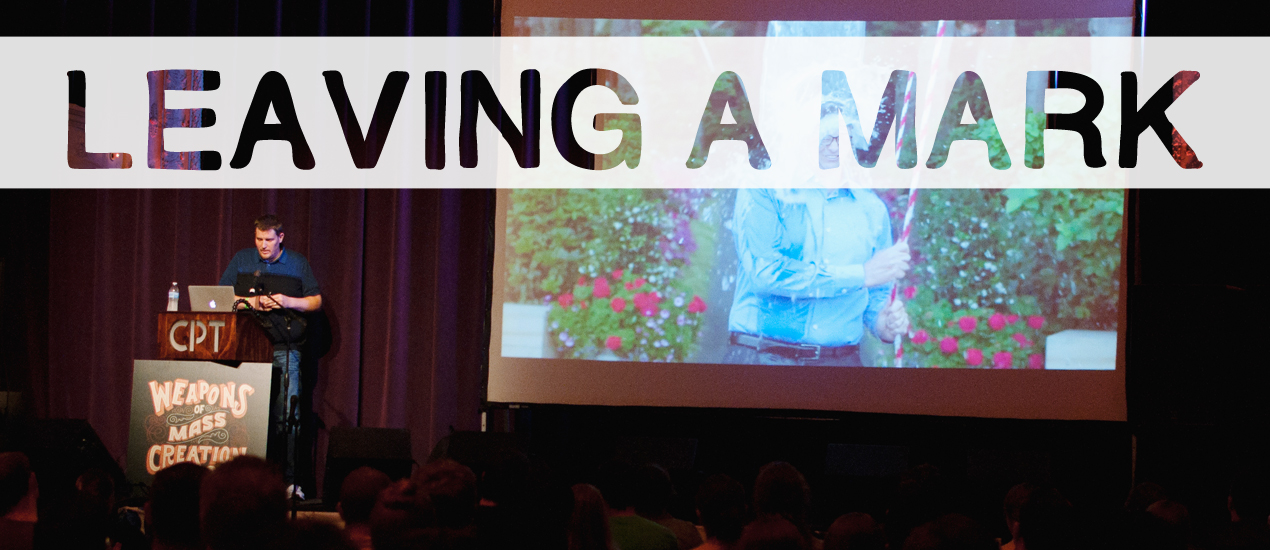 A Weapons of Mass Creation Fest Video and Podcast
Eric Natzke, Principal Designer for Adobe Experience Design group, joined Cleveland Web design company, Go Media this past summer at Weapons of Mass Creation Fest. As he took the stage, we were moved by his talk, Leaving a Mark, as he shared the obstacles he's faced, risks he's taken and joys he's found and is finding in his career as an artist, designer and programmer.
Please watch and listen as Eric shares his adventures and lessons with us all.
Watch the Video
Listen to the Podcast
[powerpress]
More about Eric:
Erik Natzke, artist, designer, and programmer, creates and gives material substance to his ideas through immaterial computer code.
His sensibility, combined with his stubborn resolve, has enabled him to push back the limits of his digital medium, beyond known methods and approaches. Erik Natzke loves to take risks, in the awareness that the value of failure lies in discovering new, never-before conceived solutions. The successes that have emerged from these risks have garnered numerous awards and speaking engagements around the world. All of which pale by comparison to the honor he gets when someone has chosen to put his artwork in their home.
As a Principal Designer for Adobe's Experience Design group, Erik (as he proudly exclaims), has the good fortune of working with a variety of groups throughout the organization. Collaborating on ways to promote innovation within the tools we create at Adobe while searching for ways to reduce the friction within the process of creativity for our customers. Targeting both the existing spectrum of working professionals as well as those who don't quite consider themselves 'creative' (yet). In the cult of creativity, ideas only gain value when they've been realized. Tools are the bridge between thought and reality. Not all bridges are built for all people, so our job (as tool builders) is to explore which infrastructures are best suited for the community were are desiring to serve.
Stay tuned to news about next year's Weapons of Mass Creation Fest!
| wmcfest.com |