Design Conference Podcast
Bryan and Heather sat down for a bit of an informal episode of our design conference podcast. With less than 40 days left, there were a number of updates that needed to be said including where tickets stand for the fest (less than 100 3-day passes left), the workshops (WMC Workshop Tickets Now On Sale!), and the Cleveland Studio Tour (Cleveland Design Studio Tour Sold Out?). Plus, an important lesson was learned about Spec Work and T-Shirt contests.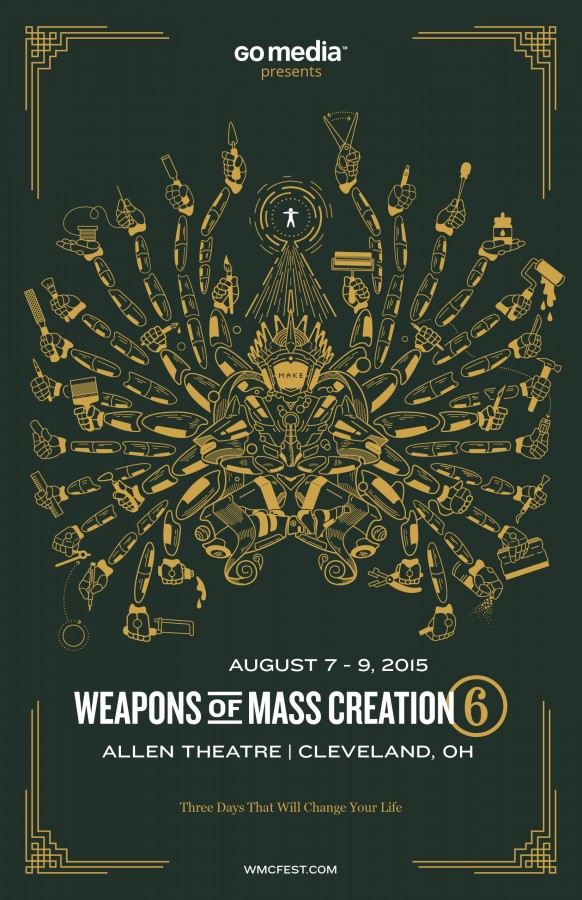 Hello, again! In Thoughts Behind the Weapons of Mass Creation Fest 6 Poster, I went over my process of researching, note taking, and inspiration hunting for the creation of this year's event poster. Welcome to part II, in which I will go through my steps of making the poster, from sketches to the final design.
Before I start drawing, I need to be aware of what I'm visually aiming for. This year's Cleveland design fest is slightly more upscale than the previous ones, yet it will still carry that grassroots, inspiration-driven, draw-lots-of-cool-shit feel. I must ensure this is visually represented. Therefore, the illustration should be ornate, but not so decorative that the fest is mistaken as uninvitingly sophisticated and elitist. It is a premier event, but an warm, inviting one that emphasizes inspiration and community. Okay, I've figured out the personality of the poster, now onto picturing the subject matter. An astral-projected, cosmic, robot Buddha is not an something I admittedly imagine everyday (and maybe I should). So it is difficult to envision what something like this would look like all at once (especially since the subject is mechanized). In figuring this all out bit by bit, I chose to start with the head.
Buddhist imagery shows this deity with a divine crown, prayer beads, and multiple faces, so I decided to utilize those elements. At first, I was thinking of having its face look like something from Transformers or Gundam, but then settled on a monitor-esque head. This works better in my aim to reference technology and the computer. You'll notice that I only drew half of the face. Drawing perfect symmetry can an absolute pain, so to speed up the process (and not lose my mind obsessing over perfection), I sketched the one half, flipped, and merged it with the other in Photoshop. Once you have drawn the one side, you also have the other completed, resulting in complete and symmetrical form. (Two birds, one stone.)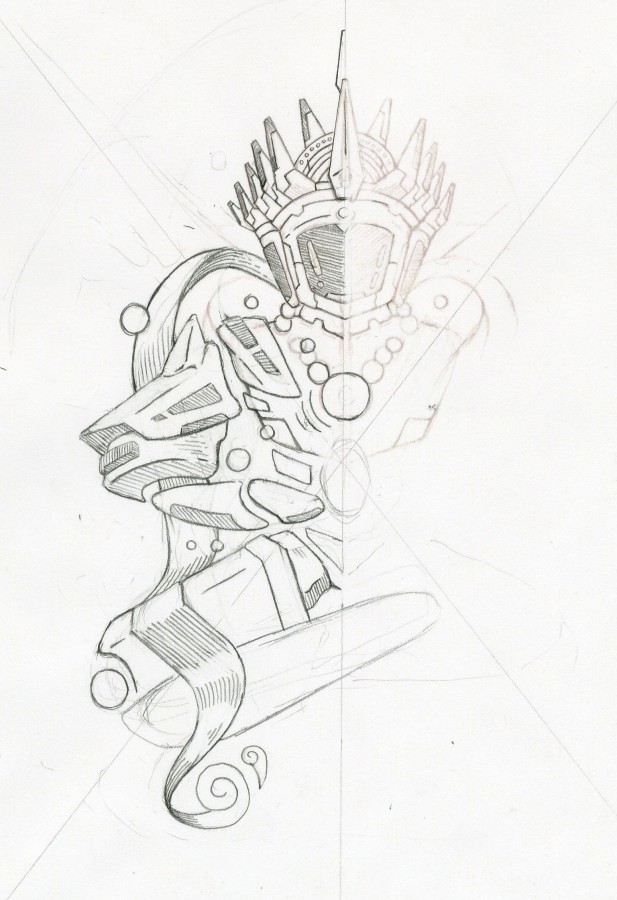 With the head and torso drawn, I then illustrated the arm(s) and lower portion of the figure. I also added this adorning, flowing fabric to help imply the Buddha's divinity and presence as a cosmic entity.
Depicting the rest of the leg and hand was next. Take note that I am drawing, scanning, and then drawing more of the figure. Again, I do this to maintain symmetry while it also it allows me to hone in on specific parts, yet make steady progress. When tasks are broken down into smaller, unintimidating steps, a lot can be accomplished.
Bam! The sketch of the main body is now done.
Because I'm depicting a robot subject, I want the line work to be clean and uniform. Therefore, the figure is then re-illustrated in Adobe Illustrator. Hello, pen tool (my best friend).
The line work made in Illustrator is printed out so I can draw on half of the first set of arms. I'm not sure yet what specific art tools I want to include in the hands, so I only draw the handles. Things can always be edited – added in or taken out.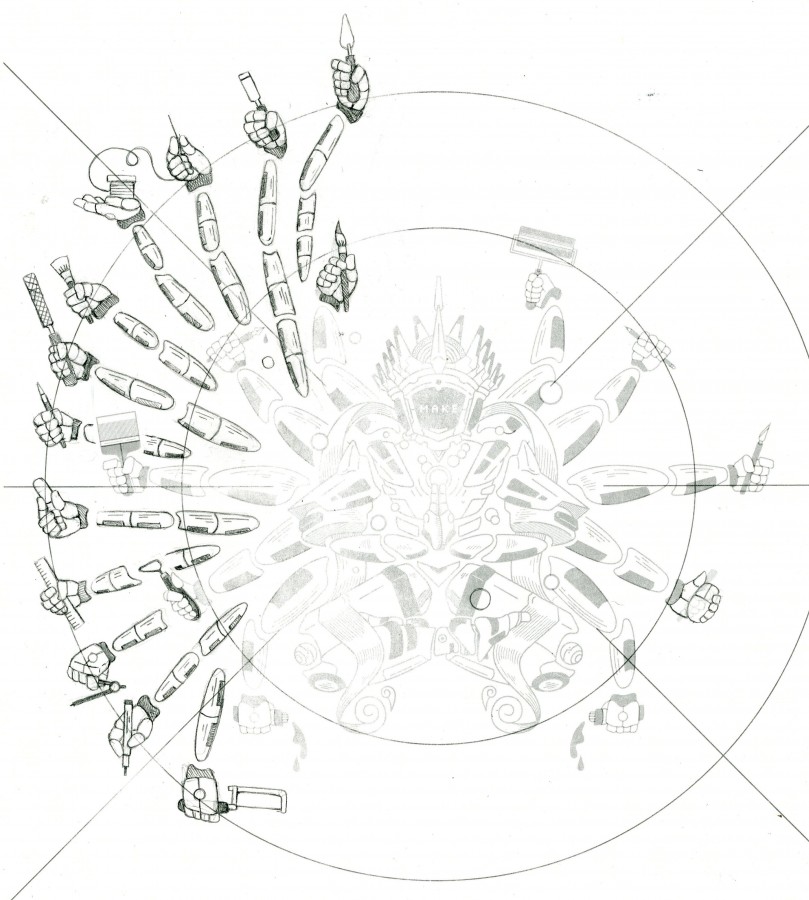 On the right (faintly shown), is the copied, flipped, and aligned half of the first set of arms, completing the left and right side of the first set of arms. Art tools are drawn in on both sides. The left side shows the beginning of the SECOND set of arms.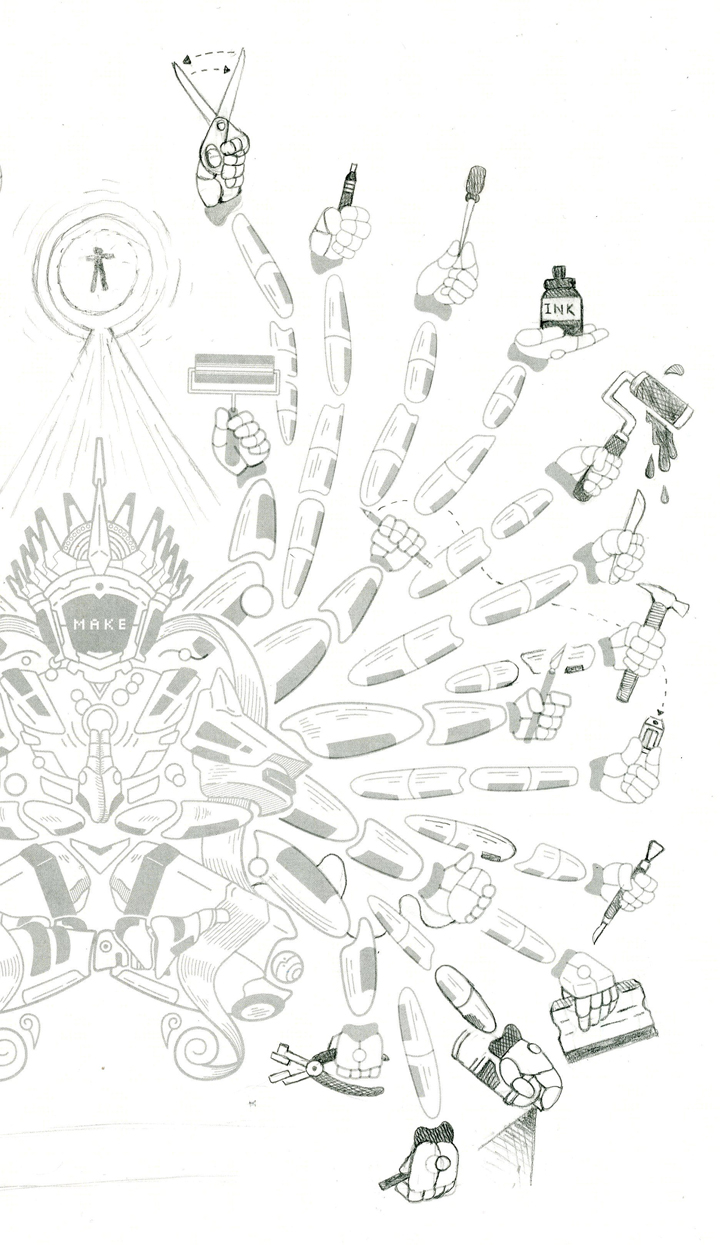 The last set of arms is finished off with the art tools drawn into the hands. Our tiny, yet powerful artist is also depicted.
Back in Illustrator, the omnipotent force of creativity is completed. Floating outside of the artboard are some extra paths and shapes, un-outlined and editable (just incase). The cosmic robot Buddha is the star of the show, therefore most of the work is now done. The artboard is changed to the size of the poster, a green background is placed in, the color of our small heroic artist is changed to make him or her stand out, and the deity of artistic brilliance is set to a celestial gold (same gold of the "6" in this year's WMC logo).
Add a little ornamentation, the type, and it's done!
There you have it, a step-by-step on how the Weapons of Mass Creation Fest 6 poster was created. So buy your tickets and get ready to talk about art stuff and designy things, all while high-fiving and being inspired! Can't wait to see you all at this year's WMC Fest!