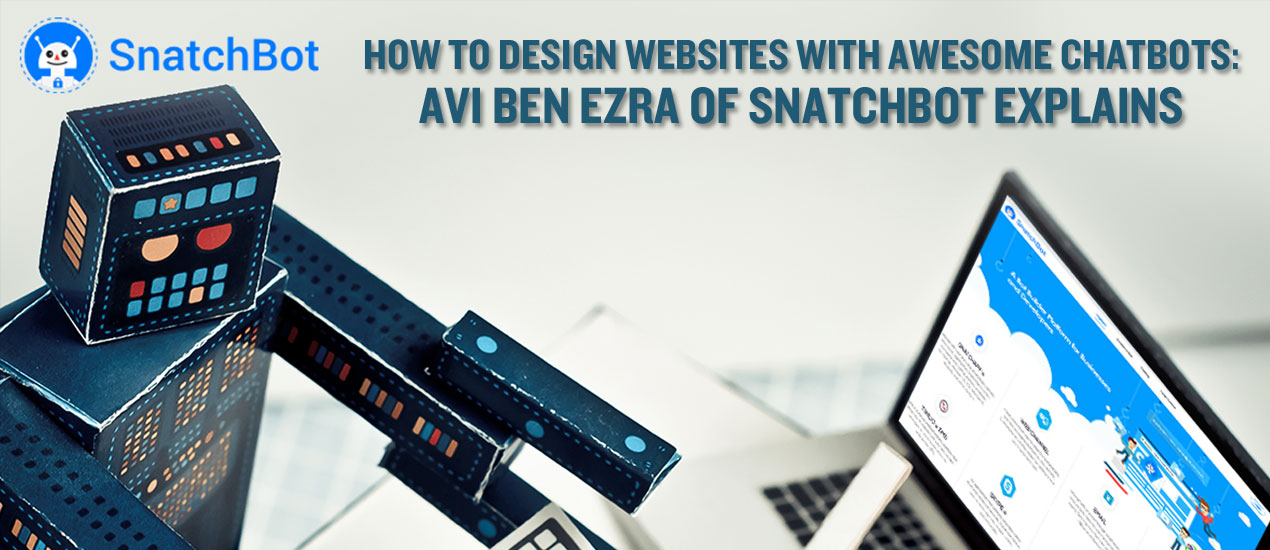 Designing Websites with Chatbots
Avi Ben Ezra is the CTO of SnatchBot, one of the most popular platforms for creating chatbots. Based on his experience and over 40 million interactions carried out by SnatchBot bots, he believes all good websites need a chatbot. 
1. Conversational guides to web content add a whole new dimension to good website design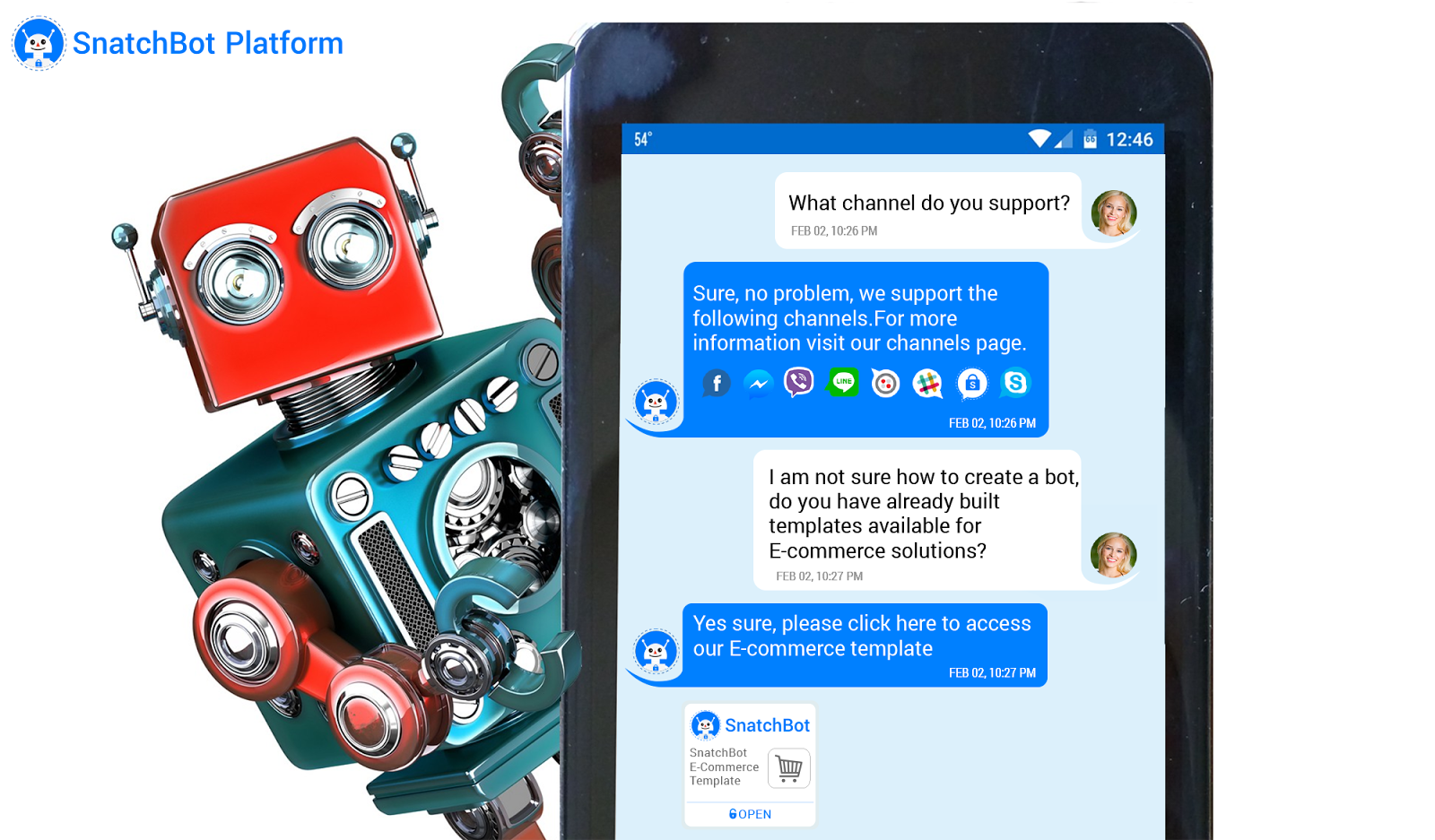 I believe that conversational user interfaces are the future of websites and I'm happy to see them quickly taking over the web. They provide excellent convenience and guidance for website visitors, who no longer need to dial call centers, submit support tickets or sift through knowledge bases in order to get the answers to their questions.
With conversational interfaces, they can now quickly get in touch with a brand and find precisely what they need.
But, what exactly is a conversational user interface? It's a user interface that mimics human conversation. You've probably already interacted with virtual assistants, such as Siri, Cortana, Google Assistant and Alexa, so you know how well they can carry out a human-like conversation.
This is exactly the idea behind conversational websites: to implement a chatbot, which is a conversational interface, capable of guiding website visitors and providing them with the help they need when they need it. Not only are chatbots capable of answering users' questions, but they can also provide suggestions based on the users' behavior and personalize their experiences.
In doing so, chatbots instantly delight people and compel them to come back again. Instead of leaving a particular website frustrated, they'll be hooked in and they'll even provide honest and constructive feedback invaluable for further improvement and growth.
2. Chatbots are capable of handling all the features your website design needs
Apart from answering the questions of your website visitors and providing excellent customer support, chatbots can handle various other features on your website. They can process payments, help you build an email list, help you collect data about your visitors and make data-driven decisions regarding your web design.
Chatbots can also easily manage your sales funnel, as they are capable of processing orders as well. Your customers don't have to browse through your products to find what they need because they can start a conversation with your chatbot and let it do all the work.
It's really simple: a chatbot asks a customer what they're looking for and provides instant suggestions based on the product type, color, size, style and price range the customer selected. When the customer is ready to make a purchase, the chatbot can then guide them to the shopping cart and process the payment, at the same time notifying you of the new order.
3. Use NLP to deepen the bot's understanding
In order for your chatbot to truly understand human language and be able to respond accordingly, it needs to be supported by NLP (Natural-Language Processing). NLP is an area of computer science and AI used to provide a computer program, such as a chatbot, with an ability to understand human language and effectively process the natural-language data.
Without NLP, your chatbot wouldn't be able to fully understand the context behind typed words and it wouldn't be able to learn from the conversations it engages in. With a state-of-the-art NLP, such as the one we have at SnatchBot, you can create a really intelligent bot able to learn and recognize speech patterns, so that it isn't limited only to predetermined questions and answers.
NLP even helps your bot recognize emotions and show empathy. You can program your bot to use empathetic language, which your customers will certainly find both fun and useful.
4. You can still offer live chat if you need it
Implementing a chatbot on your website doesn't mean that there's no room for live chat anymore. I personally think that you still need it, because bots are still in their infancy stage and they're not capable of solving complex problems just yet.
Moreover, there are still a lot of people who prefer communicating with a live agent to engaging in a conversation with a bot. Therefore, don't make your customers frustrated by not providing them with the live chat option.
However, chatbots can outperform human customer support because they are available 24/7, they provide instant answers, and they can multitask, so no one will ever be put on hold. This is exactly why you need one on your website – they'll always be there to offer a helping hand.
But, again, you should have both a chatbot and live chat, so that you can meet the needs of all your customers.
5. Make sure your bot is omni-channel
People nowadays expect brands to provide omni-channel service, which is only natural, given the fact that we're all using various channels throughout the day. If you're checking out a Facebook page of a particular brand, you want to be able to get in touch via Facebook Messenger, right?
This is especially important to mobile users, as it can be frustrating to keep switching from one channel to the other in order to interact with a brand. It's even more frustrating for you to switch between different channels when several or more customers are contacting you at the same time.
Also, everyone has different channel preferences. This is why your bot should be omni-channel, like SnatchBot chatbots are, so that your website users can continue the conversation without any friction and access all your content on their favourite channel.
With Snatchbot, you can quickly build your own bot and publish it into any channel you want, which you can do entirely for free. There are no hidden costs down the road. We also have a Bot Store with pre-built bots designed for various industries, so you can go with that option if you're not tech-savvy or simply find it easier.
Chatbots can really revolutionize websites, but you can't really to what extent until you implement one and clearly see it for yourself. That's why I highly recommend you try SnatchBot, because it's completely free and it will help you create a conversational website that will absolutely delight your users.
"Programs and other operating information used by a computer" – that is the definition of the term software, and from that definition comes basically everything that we (as a society) do in regards to computers, hardware notwithstanding. Software is obviously a pretty broad term when it comes defining a digital product and although user experience is not relegated specifically to the internet or applications, this article will focus on defining examples of software that lives on the internet, namely; websites and web applications (web-apps).
Websites and Web Applications
When you are viewing content on the internet through a browser, every single website, page, experience, e-shop and social network can be categorized into two broad taxonomies; Websites and Web-Apps. These two categories of digital products are very similar in terms of appearance and how they are accessed. In fact, if you asked a few different people in the industry you'd probably get more than a few different answers, but generally, the arguments will boil down to this:
Websites

are focused on being informative.


Web-Apps

are interactive.

This means that static pages that exist to showcase information that doesn't routinely change are websites. Think of a local restaurant site that has a menu, store locations, hours of operation and maybe an image gallery, this is an example of a simple website. Take those same restaurant pages and add in some functionality that allows guests to set up a reservation and will hold a table for them (assuming they have means of establishing a deposit) without the customer calling the restaurant, you have a web application. Web-Apps require users to input information and will provide feedback based on that information. Another common example of a web-app would be a simple eCommerce website that allows a user to purchase a product online and have it shipped to his location.
Here's where the confusion around these terms comes in, as how a user interacts with the digital product is what defines the product itself. For example, if a user is using an eCommerce site as a primary source of information regarding the company (and not purchasing its products), the digital product in question (the eCommerce site) isn't being used as an application but rather as a source of static information (IE a website). So similar to as how all squares are rectangles but all rectangles aren't squares; all web-apps are websites but not all websites are web-apps.
While the nomenclature may have little impact on the final designs of the digital product, as good UX design is platform agnostic, understanding what you are building and learning how to communicate these concepts can assist your team in further establishing your expertise in the digital realm and build rapport with your clientele. Remember, half of being a good designer (at least) is being a good communicator.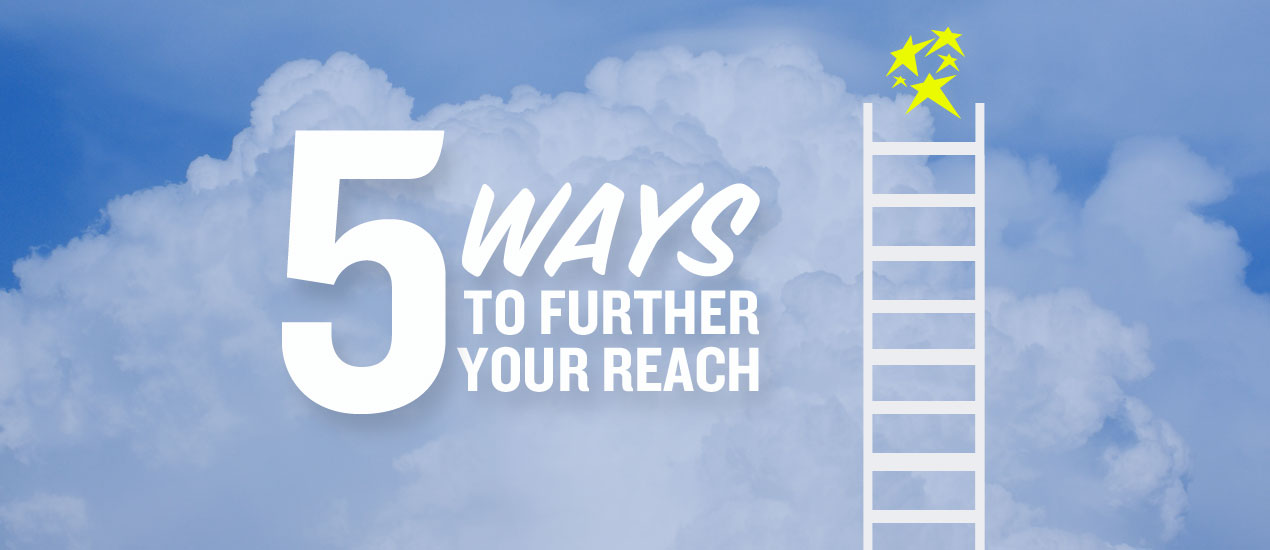 Expanding Your Brand Presence: 5 Tips
Are you feeling a stagnant air in your business? Strategy planning is a key element of any business, so here are 5 simple ways to further your reach!
How to Further Your Reach
1. Invest in yourself!
Let everyone know who you are by professionally branding your business. Start with a logo and simple website. Creating a relationship with a professional designer will help you throughout your businesses lifetime, you never know when you'll need something! It helps to have someone on standby who understands your brand and can help support your direction. Designers do a lot more than just create pretty pictures. We create marketing plans, help plan strategies, consult and more. As you grow, your advertising needs change and your designer should be there by your side to guide you. When you are professionally branded and have a user friendly, modern website, it gives your business instant legitimacy in the eyes of your customer. If you are unsure about your logo or website, lots of designers do brand consulting and can help point you in the right direction and show you where you need improvement.
2. Utilize Social Media
The best thing about Social Media is that it is FREE! The worst? You can get lost, easily. The best advice I ever heard was pick the best social media for your business and focus your time and energy on creating great content for your audience there. Do not spread yourself thin posting to countless social media accounts every day. If your biggest audience is on Facebook, utilize groups, events and business pages. Maybe you find your following is more Instagram central. Post updates, stories and go live! Pick your best social media platform and run with it. What about sponsored posts, you ask? Personally, I hardly ever sponsor posts because I know how to reach my target on social media. When I have a post performing exceptionally well, reaching thousands without much effort, I will occasionally boost those. It is already performing for me and converting it to a paid ad will only help my reach!
3. The Right Content
You picked your perfect social media platform, but now you need to post. Create relevant content for your target customer. We're not talking click bait. Research shows valuable content builds better customer relationships and leads to positive returns for your business! Create each piece with a "Call to Action" or the intent to trigger a specific action in your customer. Pro Tip: Create your content for a few weeks and mass upload them as scheduled posts!
4. Be Engaged
The right content grabs your customer's attention, now it's time to engage WITH them! Your created content gets people excited and they want to learn more about you. You start getting comments and messages, engage with them and reply! Your customer base needs to think of you as someone they can count on, someone they are comfortable with. When people feel like they already 'know' you from connecting and engagement on social media, you've already built the foundation of trust in your relationship with them. Comment on posts in and outside of your social media community. I'm not talking about a sales pitch saying "I'm Sally & I do blah blah blah..". Comment on things that ENGAGE YOU and that YOU are the expert in. Show off your knowledge, the rest will follow. Engaged networking goes a long way with expanding your reach beyond your own two walls.
5. Get Listed!
Are you listed on the big 7? What is the big 7? Google, Bing, Yahoo, Yelp, Foursquare, YP & Superpages. Maybe your business doesn't need to be listed on all 7, but you can absolutely benefit from being listed on the others. Not only is it a FREE way to get out to your customer base, it helps populate your website and business on search engine rankings. Listed on these websites goes back to tip #1, instant business legitimacy in the eyes of your customer.
What about you? Do you know or practice any other creative ways to further your reach that should be included in this list? Let me know!
Top 10 Web Conversion Strategies
Here at Cleveland web design firm Go Media, we're always being asked what we can do to help a website succeed. Online, success hinges on a very simple trifecta: people must find your site, people must use your site, and people must return to your site. Conversion is about people successfully using your website, and returning again and again to go through an additional transaction or sign-up.
Think about it this way. When you are driving your car, you follow the road. You know to obey predictable patterns like traffic lights and stop signs. On a clear, sunny day with little traffic and some amazing tunes, driving is a breeze. You get where you want to go efficiently and actually enjoy yourself. Now, let's add in a snowstorm, bumper-to-bumper traffic, a screaming toddler who needs to go to the bathroom "RIGHT NOW," Twinkle, Twinkle Little Star on repeat, no snacks in the car…and no rest-stop signs in sight. We've just sucked any possible fun out of that that car.
A website is no different. You want people to get to their destination (i.e. a conversion) as effectively as possible. You don't want them to turn around mid-way through the ride, and you'd really like for them to enjoy themselves so that they come back again. To accomplish your goal, you need to provide your user with strong, clear messaging and cues. Get them to their destination quickly, with no traffic, snowstorms, screaming toddlers (we do love kids, we promise!), or diversions along the way.
Below are our Top 10 Website Design Conversion Tips:
1. Keep it simple.
Remove any unnecessary clutter on your site. Pay particular attention to your form fields–removing irrelevant messaging means your user focuses on the end goal: the sale or sign-up. Please note though, removing fields does NOT mean confusing your user. Be sure to maintain a sense of sequence and order.
2. Be bold.
Make your call to action pop with color and language. "Click here" within the body copy is so…unclickable. "Sign up now" in a red button, "Start free trial" in a green button, "Add to cart"  in an orange button –these are some examples that blow hidden copy out of the water.
3. Put your call to action (CTA) above the fold.
Users can't click what they don't see. Ensure your CTA is easily accessible as soon as your user lands on the page. What if a user isn't ready to click immediately upon landing on your page? On the off-chance they need more time to digest your information, put your CTA handy for them so that they can click when ready. Try keeping your CTA on the page as they scroll or add another area for a CTA below the fold.
4. Size doesn't always matter.
Yes, your CTAs should pop. But here's some news– bigger isn't always better. There are other elements that contribute to a visual hierarchy, such as product placement, white-space, expectations for where buttons will be on the page, etc. Even if your CTAs are large, if they are hidden or don't follow the flow of the page, your users won't know where to click.
5. Say what you mean.
Headlines tell your user exactly what they need to know. You want to use your headlines to encourage your desired behavior on the site. Be relevant, show your value proposition, and be clear. If you can do all that and have a sense of humor, we're hiring.
6. Be real.
Ditch the stock photos and invest in real people. Consumers want to trust you, and they don't trust what's fake. A warning: make sure your photos contribute to your work. If they clutter or confuse your key message, remove them.
7. Be real x 2.
Add video to your site–short video! Explain your product as concisely as you can, because a video can actually hurt you if it is poorly done or is far too long. Remember to be approachable in the video. You want your users to aspire to be you, the you that is holding your amazing product. Bonus points if your video is sharable or you utilize user-created content to highlight your product.
8. You've got it? Flaunt it.
Has your company earned an award of any kind? Highlight your awards prominently on your website. Consumers will naturally trust the best in the business.
9. Encourage Trust
Use a security seal if applicable to your business. If a user feels secure on your site, chances are they'll happily shop. (The keyword= applicable. Don't just add seals if they aren't appropriate to your site).
10. Read Tip 1.
A clutter-free, straightforward website is really the absolute best way to encourage conversion. Keep your website's hierarchy clear, use graphics and/or video to further your mission, and ensure that its easy for your customer to convert.
So there you have it! Follow those ten strategies and you'll be on your way to website success. And remember, your friends here at Cleveland web design firm Go Media are always here to help create the award-winning websites – then maximize the conversions – we all deserve.
Does your website crawl?
In internet speak, "crawl" doesn't mean that your website or web page is moving or loading slowly. It means your site's SEO, or search engine optimization, is working. SEO means your desired audience will find you…in the most positive, most lucrative stalker-esque way. But where do you even start to have powerful SEO?
Keep it Simple.
An important first step to know when building a website for strong SEO is to build it with good, clean code atop a reputable CMS. CMS, or Content Management System for those of you just getting started, is the system that helps you organize and publish your content. WordPress is inarguably the very best, most accessible CMS available to the masses. It offers everything you need to get you well on your way toward being found by the search engines. WordPress is inexpensive (great for your bottom line!) and super customizable. It has the best open source CMS Award and over 143,000 lines of code. Add in organized page structure, rich meta data in each post, strong navigational links and easy page indexing, and the fact that it's used by 100 million+ websites…well, it just seems foolish to use anything else. And while we love a good time as much as anyone, Go Media doesn't believe in being foolish. We use WordPress as our CMS platform for nearly every single website we build.
Actionable Tip: Once you have a powerful platform like WordPress backing your website, you can then take advantage of the unrivaled SEO plugin WordPress SEO by Yoast to really take control of your SEO efforts. All of the custom WordPress websites we develop at Go Media in Cleveland come with Yoast's SEO plug-in installed.

Keep It Clean.
That's right, no twerking. A clean website on the backend means an easy website to find and an easy design for your customer to use. Win-win! What factors are important for optimization? Start by utilizing effective hierarchical navigation. Good menus help your visitors find what they need faster. You want every click you can get. The search engines keep track of your clicks and consider more unique clicks to mean more relevant content. Be sure to use "pretty permalink" URLs. This means use your.com/about and not your.com/?pid=123. Do you use meta tags? You should! Meta tags like title should be appropriate for the content and one-of-kind. This helps people AND the search engines (<– notice a pattern here?) understand what they're about to read. Not only will your customer be happy, you'll be happy.
Thorough HTML template elements are another factor the search engines look for. You'll want to use things like alt and title attributes for images & links. This ensures elements like anchors <a> are more descriptive. Not only does this assist users, especially those with any accessibility impairments, but the search engines will essentially award you for these. You're helping them understand what every little detail of your website is about. There are even more hardcore elements and attributes we could touch on like microformats and RDFa, but we'll just stick to the basics here.
I know this sounds like a lot of hard work, but keeping your site tidy and organized on the backend helps improve your SEO on the frontend. Go Media puts in countless hours to follow best practices for SEO. This means our sites have SEO that sets our clients' hearts aflutter and their customers flocking. Why? We know our stuff, and we make sure we are putting our best foot code forward.
Actionable Tip: Want to know everything good and bad about your website from the leader in search? Want to dig deep into ways you can improve your SEO and fix obvious problems? Give Google Webmaster Tools a spin! You can profile nearly everything.
Keep It Rich.
At a fundamental level, search engines simply try to match text phrases and make a best-guess on the context. This "context" typically stems from groups of topics, across the web. If you're well associated with your topic group, by way of links, the search engines consider you to be more relevant to the context of the search. The number of people pointing to you and how high-quality these links are help with your page ranking. And your page ranking helps with SEO. It would be easy if you could just jam a ton of content in your website and call it a day. Go for it, but your pagerank will absolutely not rise. (Thank you, Google and SEO guru, Matt Cutts.) Instead, have a point of view. Craft your content with your desired audience in mind. No one wants a fluff piece, least of all the search engines. Once you have your content in place, keep in mind that page ranking and all the other factors in optimization are a dynamic beast. Poor writing and poor content = a poor SEO rank. And we don't want to be poor now, do we? Of course, Go Media works to attract high-quality links so that other websites direct their readers to your expertise… just another way we have your SEO back.
Actionable Tip:  Before you write an article, take a moment to think about the keyword phrase you want to rank well for. Focus on one keyword phrase per article. For this article I wanted to connect Go Media with SEO (Search Engine Optimization).
Find a Partner in Crime.
When working with a web design firm, ask about their SEO efforts and make sure they follow best practices. You know the lingo now–ask smart questions and ensure they have the tools to help your customers find your business online. A lot of people can make a pretty website, but a pretty face doesn't get you that far in page ranks. That's why Go Media uses the 50+ years of human-labor on our team to create robust, creative, USABLE WordPress websites with SEO best practices in mind. We know how to build an amazing website like we know the back of our hands. We're not actually sure what that expression means, but we can tell you that when you partner with us, we will help your website succeed and have stellar SEO. No one can promise a #1 page ranking, but we can promise you a good time and a killer website. So if you need web design help — don't be shy!
More from Go Media about SEO:
WordPress SEO by Yoast Tutorial for Dummies –
Getting to Good in a Few Simple Steps
The Power of WordPress – Why We Believe in it, Why You Should, too
Web Design Inspiration
If you've been paying attention, you'll know I'm obsessed with any and all things Japanese – design included.
I can appreciate the full spectrum – from tranquil gardens to Harajuku chic to sampuru and everything in between.
I love the contrast between total zen and neon chaos. The juxtaposition between the steady, serene steam rising above warm cups of tea and the crazed onslaught of information rammed into a subway map, city street, webpage screen.
Generalizing here, Japanese web design is a fearless dive into color, light and character, a direct representation of a busy Shibuya street. And because I embrace the full-on, I'm a fan. So today, I've collected some web pages that have in some way intrigued, inspired and entertained me.
Enjoy!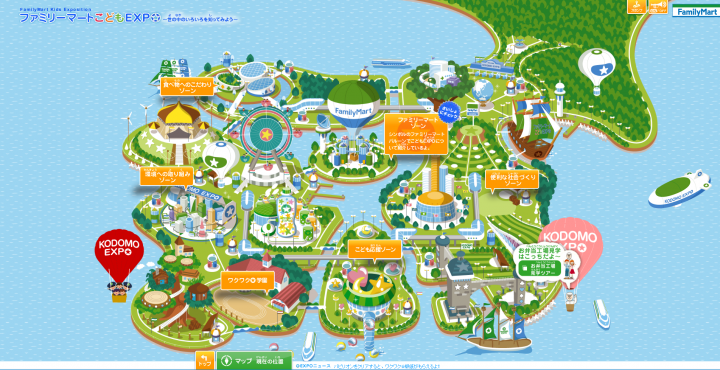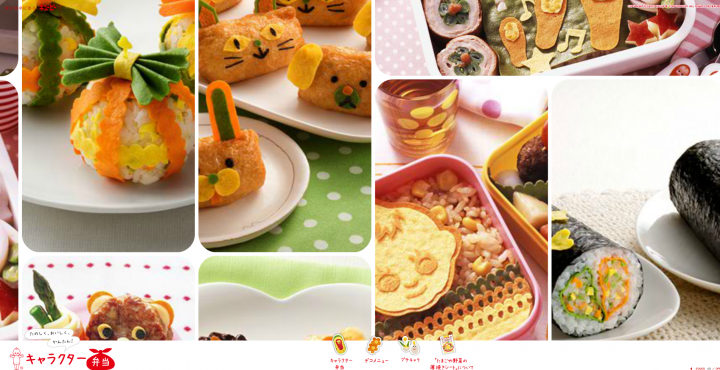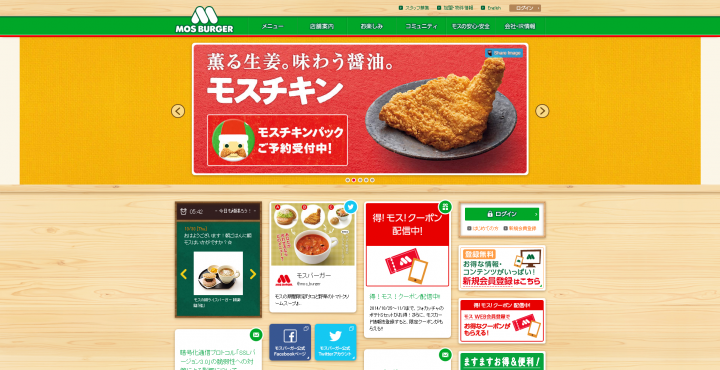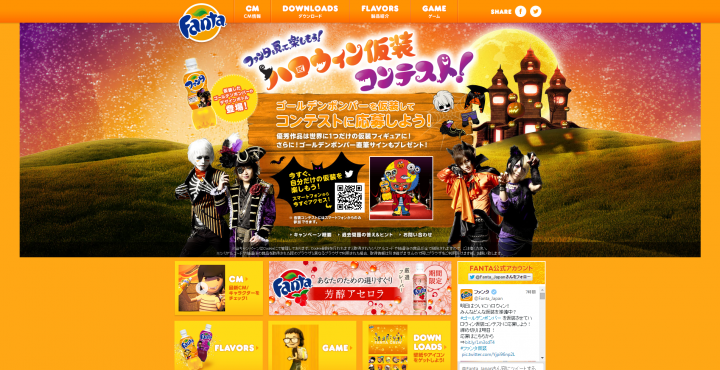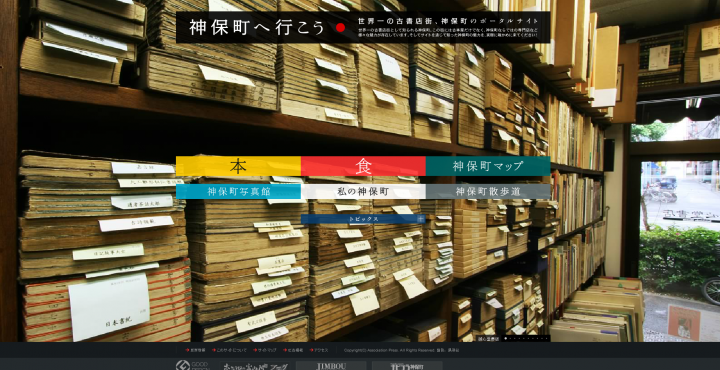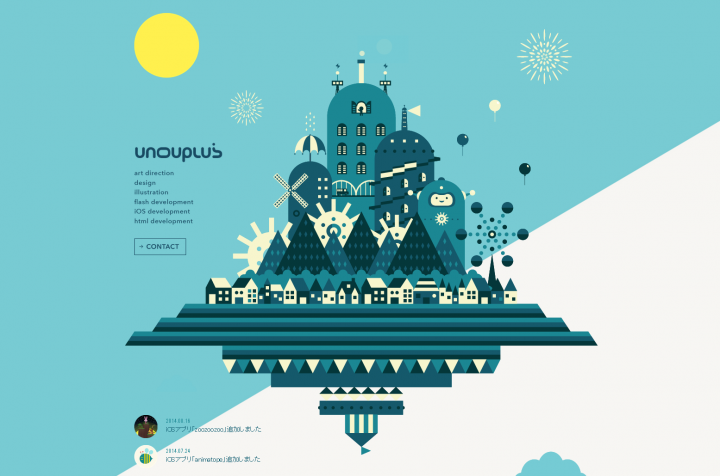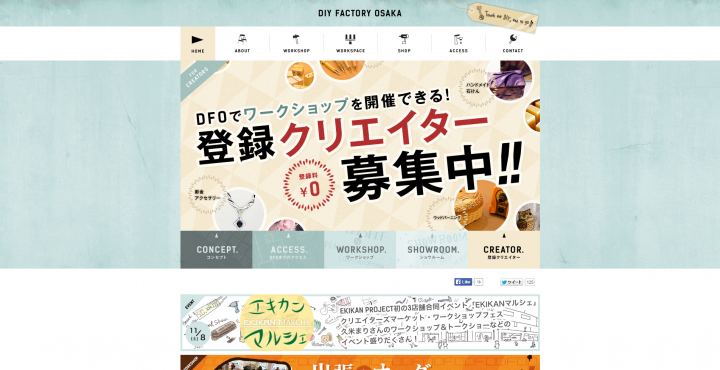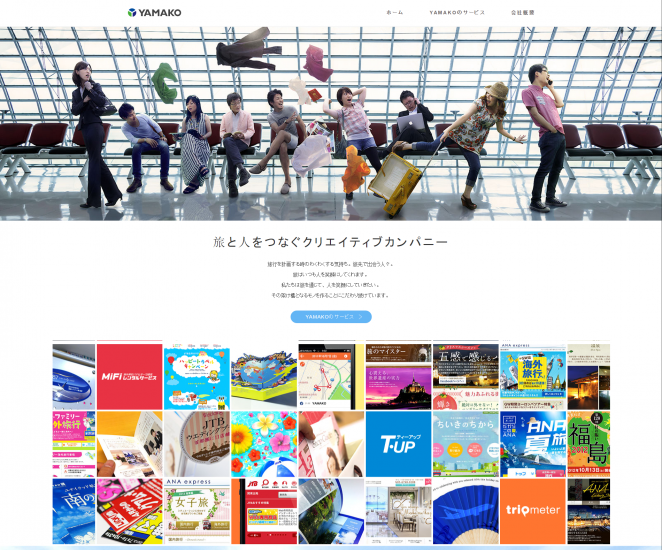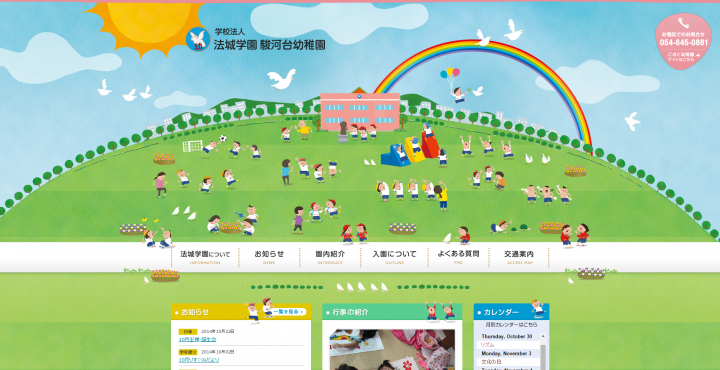 and just because…this: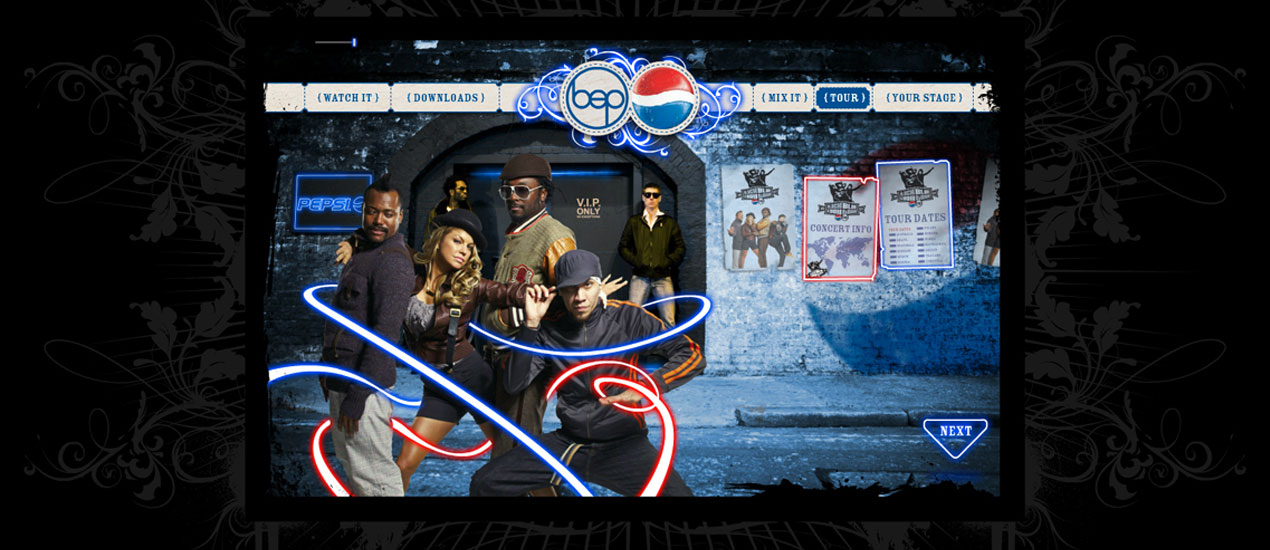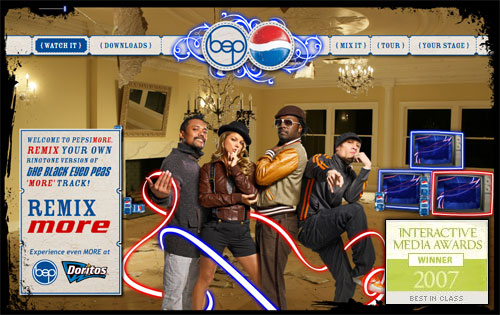 Well, not directly, but the Pepsi More website we built for Damon over at Communicator International won Best in Class in the Marketing category.
Damon and his crew at Communicator were hired by Pepsi to help market their campaign with the Black Eyed Peas. Communicator did what they do best and came up with all the great marketing ideas that formed the foundation for the website. Communicator hired Cleveland design firm, Go Media, to bring those ideas to life. Basically, we took all their ideas and developed the graphics, animation, and technology. They were the brains, while we were the creative production team. We'd like to thank Communicator for hiring us and trusting us with their project and Bernstein & Andriulli for hooking us up together.
The site scored extremely well on all of the judges criteria:
Design
Content
Feature Functionality
Usability
Standards Compliance and Cross-Browser Compatibility
For more information, check out the Interactive Media Awards