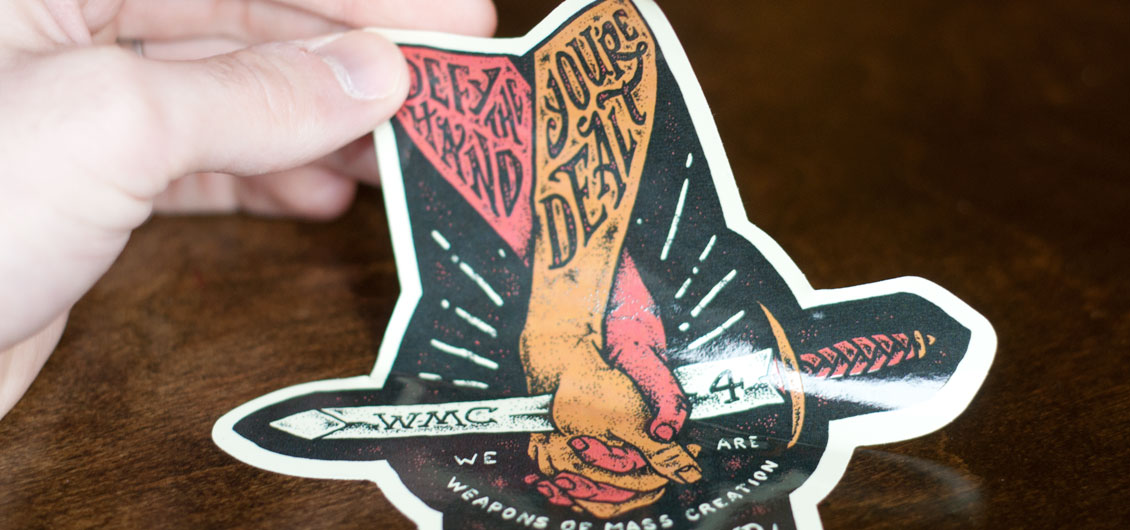 This post is a revealing walk-through behind the design, illustration, and sticker printing process. I'm proud to show off the new artwork I created for the upcoming Weapons of Mass Creation Fest 4 event.  The artwork below is going to be used for stickers, t-shirts, posters, etc. In this post I'm going to show you how I created it and how I set it up to become a die-cut sticker. I got these custom die cut stickers printed at Sticker Robot and they did a great job! Let's do this. Strap yourselves in, this is going to be a fun ride.
Related: Check out this other article I wrote about how to design custom Kiss Cut Stickers for your Band.
Step 1: Sketches!
Way back when I started WMC Fest I used the phrase "defy the hand you're dealt" quite a bit. I wanted to bring that back this year. A couple years ago Brandon Rike created an image for WMC that featured a hand stuck with two arrows. It's a clever way of illustrating the idea behind the phrase. I wanted to expand upon that and combine it with images of friendship, togetherness, and community. Those are frequent ideas people have when they think about WMC. I started sketching and I came up with a pair of holding hands with a sword through them. You know, like we're fighting this struggle together!
Step 2: Photoshop Prep
Since this artwork is going to be used in lots of ways, I created my Photoshop document at 18″ x 24″ at 300 DPI.  Why didn't I use Illustrator you ask?  Just personal preference mainly. This design could have been done in either program to be honest. Since we are setting up the files for CMYK sticker printing, I chose the CMYK color mode. Once I got my new document set up, I copied and pasted my sketch in the document and sized it accordingly.
Step 3: Gathering References
Before I start illustrating, I need to find a reference image for my holding hands. While my sketch is OK, I want the proportions to be accurate. I asked Bill to shoot a photo of my wife and I holding hands. It doesn't have to be perfect, but I want to at least get the pose correct so I can manipulate and illustrate it in Photoshop to my liking. Here is our reference photo:
Step 4: Blocking it Out
After I placed my reference photo into my document, I rotated it and cut out just the arms and hands. The rest of the photo is unnecessary. I also went ahead and blocked in some additional reference like perfect circles, real fonts, starburst lines, and framing for the die-cut sticker.
Step 5: Start Illustrating
I reduced the opacity on my reference to something like 25% so I could start drawing on top to create the illustration. I use my Ye Ole Wacom Intuos 3 tablet and my brush settings are below. There are better drawing tablets out there, but this has served me well since 2006!
Step 6: Hand Lettering
Once my outlines are created, it's time to start drawing the type. Now it took me many tries to get the letters correct for "Defy the Hand You're Dealt." My sketch itself wasn't detailed enough so I had to improvise a lot. I knew I wanted "defy the hand" on the left arm and "you're dealt" on the right arm. It was just a matter of making the letters fit! It was a lot of trial and error. Some tips for your own lettering would be to block in the letters first. Try a rough draft and get the letters in there how you want. Then you can turn that layer's opacity down and draw it again over top while being more creative with the letter forms. Since I don't have a very steady hand (often a little jittery from coffee and anxiety) my letter forms are not perfect. They're a little wobbly, which is ok considering my entire design will be slightly imperfect.
The rest of the lettering was easier because I had a font to base it off of. For the words Cleveland, I set my reference type up with ITC Caslon and warped the type and got it into place. Then I drew over top of it my own custom version of it. For the dates, I loosely based my letters on the font, I drew it in rather quickly. Check it out: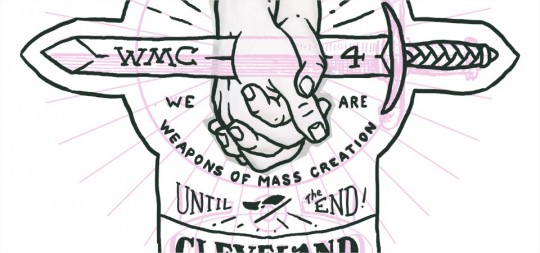 Step 7: Shading and Stippling
Once the drawing was complete, I printed it out and used a good old fashioned light box. I placed my outlined drawing down first, then placed a blank sheet of paper directly on top. The light box allowed me to see through the paper so I can have precise detail when stipple shading. I used a set of fine-detail Micron pens. There is no shortcut to stipple shading, believe me I've tried!  I actually tried using my Wacom tablet to do this, but I didn't get as natural and consistent results. So I went analog for this! To be honest, stipple shading is much easier using Micron pens and doing it on real paper than trying to do it digitally. My intention was to scan my shading into Photoshop onto a different layer. Then I could do whatever I wanted with it!
One trick to note: I did a separate scan for any stippling that would be "highlights" or "distressing" on my image. For example I did the stipple shading on my text on its own piece of paper and scanned it separately. That way I could change its color easier. I did the same for all the abstract dots that fill the background. In the end those were going to be lighter than the background, but it is still nice to have it on its own layer.
Step 8: Coloring!
Now that I had my outlines and shading complete, it's time to fill it with color! I knew I wanted to go with my tried and true WMC Fest color palette. With my outlines and shading layers on top, I made a new layer underneath everything for each element. I started with the left arm first and colored it with the WMC pink color. Then I made a new layer and started coloring the right arm an orange color. By having the outlines on a layer above your colors, all you have to do is get close and color between the lines. It doesn't matter what kind of brush you use, I'm just painting in solid colors. To make sure I'm using the same consistent colors throughout the design, I use "color overlay" layer style on each layer.
Also, since I made my background dark, notice how I changed the colors of "we are weapons of mass creation" and "until the end" to something brighter. Also, take a look at how I colored the little flag in the middle and the rays shooting out from the center. I just selected those layers and changed the "color overlay" setting to the color I wanted. No additional coloring needed.
Here is what our design looks like without any outlines on top.
And here is our finished design when we turn back on the shading and outline layers. Note: you might see some subtle distressing on the type. What I did for that was duplicating some of my stipple shading layers and placing them strategically on top of the type. Since the shading layers are the same color as the background, I was able to achieve a slightly distressed look.
Step 9: Prep for Die-Cut Sticker Printing!
The design is done! Now I just need to send it to print! But before that I had to make sure I was adhering to the specs that Sticker Robot calls for on their website. They actually screen print their stickers, but use a CMYK simulated process print. They literally screen print tiny dots of Cyan, Magenta, Yellow, and Black to get the exact colors in your design. So all I had to do was send them a high res CMYK .tif file and they did the rest. No complicated color separation work for me!
The trickiest part in setting this up for print was creating the die-cut layer. This was just a single color outline that on a separate layer that tells the printer where to cut the sticker out from the background. Since we aren't going for traditional square-shaped stickers here, you need to specify the shape of your sticker!
It's pretty easy. See below:
One thing to note was that there should be at least a 1/8″ safety area separation from your artwork to your die-cut line, and an additional 1/8″ bleed  area beyond your die-cut line. This will ensure your sticker has enough room to move around slightly on the press.
Another cool thing with Sticker Robot is they are one of the few sticker printers that allow you to print a grayscale design on the back of your sticker! To set this up with my custom shape sticker, I mirrored my sticker shape horizontally and designed the sticker back. I used a collage background I designed for the festival last year as my background and added our website URL. The only catch is the design had to be black and white. Check it out:
Step 10: Print up the Stickers!
The design was sent off to Sticker Robot and here's a few photos they took of the sticker printing process, from film to packaging:
Film for the black plate.
Film is printed for each color. Cyan, Magenta, Yellow and Black. The film will be used to expose the screens.
The film is exposed.
A bright light is used to expose the film through the emulsion to the silkscreen itself. Each color will have it's own screen.
Silkscreen Sticker Printing
A squeegee pushes ink through the screen onto the vinyl substrate, one color at a time, one sheet at a time.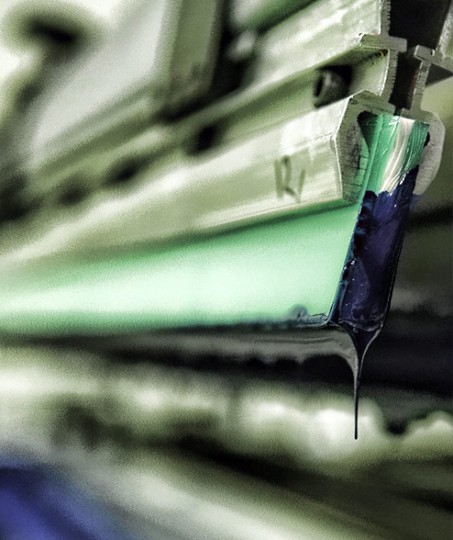 Cyan and Magenta Ink
The cyan and magenta ink have been laid down. Next will be yellow, then black and finally 3 coats of clear UV protective ink.
Silkscreen Quality Ink
Silkscreen ink is notoriously thick and durable, typically 10-20 times thicker than digital ink. This is magenta:
Magenta, Cyan and Yellow
The basic colors are coming together… we're just missing the final color, black.
Black ink is laid down…
Now it's starting to look like a sticker!
Sticker Diecutting
This is a tedious process, where each sticker sheet is literally cut one at a time – a truly custom sticker. See the video below that shows the process on creating die cut stickers.
Sticker Packaging!
Here are the final stickers. WMC here we come!
Conclusion
So there you have it, that was how I created the artwork for the 2013 Weapons of Mass Creation Fest and how the stickers were created. You can get your own screen printed, die-cut vinyl stickers created with your designs through Sticker Robot. If you want to attend the upcoming WMC Fest and see a ton of great bands, speakers, and designers, tickets go on sale soon at http://wmcfest.com.
In this episode, Jeff Finley and Bill Beachy sit down with Jesse Sloan and Todd Gauman to talk about Weapons of Mass Creation Fest. Plus, they share what makes a great design conference and music festival.
Listen to the Podcast
[powerpress]
Show Notes:
Sponsor of this Episode
This episode is sponsored by Mockup Everything. With Mockup Everything, you can produce high resolution, photo realistic mock ups of your designs. There are 10 new templates released every month. From iPads to billboards to t-shirts: if you have to mockup anything, use Mockup Everything.
Go Media Quick Tip: Landing Projects with Good Proposals and Communication
Mark on your calendar 3-5 days after you've delivered a proposal to follow up. See if they have any questions or concerns with the proposal or estimate. It'll usually start a conversation which will give you another opportunity to land the project.
Find out why you were or weren't chosen. Why did they decide with another company? Or, what was it about you and your proposal that sealed the deal? By doing this, you can find out what adjustments you can make on future proposals that might make for a better experience.
Sometimes, spec work is okay.
What's Go Media Been Up To?
We'll be having our annual Year in Review company-wide meeting this month. We'll be heading out of the office for the day and going up to Punderson State Park for a day of reviewing last year, setting goals for 2013 and some general team building and fun. Lots of prep has been put towards that.
Bill's been spending more time with his upcoming book titled, "Drawn To Business: Designed For Success".
How Did Weapons of Mass Creation Fest All Start?
The idea for WMC came out of an ad campaign we were going to run for The Arsenal. We flew in artists that we admired to our studio for a photo shoot to feature them and their work with the tagline, "I am a Weapon of Mass Creation." However, the photo shoot became a secondary part of the event as everyone was sharing stories and sketches and just enjoying the company of other artists in the community. They all wanted to do this again at some point. Simultaneously, Jeff Finley wanted to start an art/music fest. We combined the two ideas into one, thinking it would be great to bring in artists and let them share their stories while having a bunch of bands to see. Boom, WMC was born.
Todd and Jeff were connected by Jenny Kelley, from Kelley Green Web. Todd came from NeoVentures, his own event planning business.
Jesse Sloan was brought in to organize and schedule bands. Jesse and Jeff were connected because Jesse was a fan of Jeff's illustrations and wanted to work together with him. He also plays in the band Cherry Cola Champions.
The first fest, which could have been called "Jeff Fest", was a punk rock music fest with Jeff's favorite artists and designers. He even screened a few films from some of his favorite directors.
The third year, Joseph Hughes was brought in officially after volunteering the year before to organize and schedule speakers. Joseph was able to sell the fest from a fan's perspective. So, he was able to tell speakers why it's important and why they should be involved in ways that Jeff couldn't.
Creativity doesn't just have to live on the West Coast or the East Coast. We want to make Cleveland a destination for creativity and inspiration.
What's Coming in WMC Fest 4?
WMC Fest 4 will be in Cleveland Public Theatre in Gordon Square. Instead of having each part of the event isolated at different locations, this year everything will be under the same roof. There are multiple stages in this amazing theatre. One place to buy tickets, one place to enter into the community experience.
Another huge change is that there will be more seating for all speakers. So, no need to save your seat. You can get up after a speaker, go see a band, come back later that day and still be able to find a seat.
Hopefully no more power failures. We've hit power failures at every Fest so far. But, CPT was built for simultaneous events.
At Cleveland Public Theater, there will be a bunch of different spaces inside of a beautiful 101 year old building. You like beautiful decay? It's here in this "fun house of design". 1 theater dedicated to bands, another for speakers. Featured music acts will also be on the main stage. There will also be an outdoor stage for music again this year. The design gallery space will be a huge upgrade this year. We'll also be doing video and audio streaming of the event, as well as putting on live podcasts throughout the event. Rumor has it that Adventures in Design will be coming to Cleveland to do a live podcast…
WMC has been very organic with it's growth. But, we constantly have been trying to outdo ourselves each year without spreading ourselves thin.
Melissa Olson and Katie Dawson are helping Jesse organize this year's band list. Music options will be changing as well. Not just one or two genres. Alternative and punk will still have a presence like always, but we're opening our minds to jazz, alt-country, big-band, etc. It's not about bringing in bands that everyone's heard of. It's about bringing in up and coming creative leaders into the community.
Question of the Month
From a financial standpoint, an event like WMC Fest costs anywhere from $75,000 to $150,000 to put on. Go Media puts in a portion of that cost and, at times, has barely broken even. Over the last 3 years, we've depended on our Kickstarter fund to help support this event. However, some fans questioned our annual usage of the fund raising platform, so we're considering dropping it. But we're not sure!
So, we ask you now: for an event in it's 4th year, is it acceptable that we are still using Kickstarter as a fund raising platform? 
In the meantime, we'll be doing a benefit show on March 22nd, 2013 at the Beachland Ballroom. It's the first Weapons of Mass Creation event in 2013.
Links
Credits
Hosts: Jeff Finley and Bill Beachy
Producer: Bryan Garvin
Recorded at: Go Media
Sponsorship Opportunities
Interested in sponsoring the Go Media podcast, either episodically or exclusively? Well, hit us up at [email protected] if you are interested in advertising your business.
What Do You Think?
We want to hear what you think about the latest episode of our podcast and what topics you would like to see covered in upcoming episodes. Comment below with your suggestions.
Ready for More?
Keep learning and listening to more Go Media podcasts!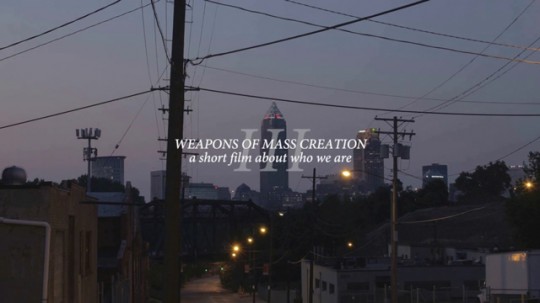 Weapons of Mass Creation 2012 from Weapons of Mass Creation on Vimeo.
We are the Weapons of Mass Creation. WMC Fest 3 took place on June 8-11, 2012 in Cleveland, OH. For more info visit wmcfest.com

Director by Aaron Freeder / Produced by Go Media / Creative Director and WMC Fest Founder: Jeff Finley / Custom typography by Brandon Rike, Carolyn Sewell, Joseph Hughes, Nate Utesch, and Jeff Finley

Special thanks to Jesse Sloan, Joseph Hughes, and Todd Gauman for [their] tireless work.
Well, if you missed Weapons of Mass Creation Fest this year, this is what happened. We hope that if you were not attending because of being on the fence, this will convince you to make the trip for next year.
Onwards to 2013 we go!
Go Media president Bill Beachy sits down to give you some daily inspiration and advice. Bill shares his years of experience building Go Media into the company it is today. Topics in this video series include Getting Started, Happiness, Humility, Patience, Flow, Focus, Productivity, Business Systems, Courage, Eating Well, Obstacles, and Creativity.
For more information about Bill Beachy, check out his bio on gomedia.us. Bill is currently accepting opportunities to speak at your event, university, or business.
View all episodes of Daily Inspiration here
Sponsored by Prooflab
The Daily Inspiration video series is brought to you by Prooflab – a client and project management app built and used by Go Media for designers.
Hope you enjoy the video!
Or download the podcast
[powerpress]
Categorized:

Business Philosophy, Design Community, Graphic Design, Graphic Design Inspiration, Small Business

Tagged:

advice, art, cleveland, complacent, courage, focus, happiness, help, humility, leadership, lull, patience, podcast, productivity, starting out, strategy, tips, Video, Weapons of Mass Creation, William Beachy
This is the first of many posts featuring the artists and designers involved at Weapons of Mass Creation Fest 2011. Some very cool people. Today we're featuring Glen Infante, designer and illustrator and founder of I Love the Hype. If you were (or were not) at the gallery at WMC Fest, you must have noticed (or missed) two things:
One of the tables had a (free) claw game on it.
The picture of the nude smurfette on the wall.
Both of these belonged to iLTHY. Clearly, they've got an interesting little setup that you just have to take notice of.
Glen Infante, founder of I Love the Hype (iLTHY), has become an established figure in the Cleveland music scene as the designer behind rappers Machine Gun Kelly, Chip Tha Ripper, and Kid Cudi, among others. From being a designer at HotCards.com to developing a website to generate funds for a billboard of LeBron James to try to keep him in Cleveland, Infante has proven himself to be a versatile and capable designer. His intent was never even to start a business, but to sell shirts on RealCavsFans.com. However, by January of 2010, iLTHY was a legitimate company and one of the top artistic forces from the Midwest.
When asked what he thought of WMC Fest, he acknowledged that he hadn't had the opportunity to be part of something like this and didn't know what to expect, but that he wished it would happen more than just once a year, explaining that he got to be a part of something that wasn't purely client work and "I feel like an artist again."
When asked to describe his work, he described it as "cartoon-y" and "bright" and expressed a love of vibrant pieces. He went on to say "My art is very simple. I don't do a lot of intricate artwork…very thick lines, not a lot of detail…I can do a lot of detail, but I really don't have the patience."
For you designers who aren't so into drawing things with a pencil, it's ok. While Infante can, he mentioned "I don't really like to draw with my hands a lot, but if I do, it'll be a quick sketch and I try to make that quick sketch the coolest quick sketch I can make."
It's not surprising then that when asked about where he draws inspiration for his work, he described watching cartoons with his father when he was a kid and how it often came back to what caught his interest during his childhood. "I'm bringing all that stuff back."
What I learned:
Don't use filters. You'll lose street cred and look n00bish.
Don't get sidetracked. You could lose a lot of time and delay a great career.
If you're good at art, do it a lot. You'll always have that talent, but when you get older, you'll start forgetting things. Keep it fresh.
Showcase as much as you can. Just show off your art.
Just make things. A lot of things. It's the best way to become great at what you do.
Check out Glen at gleninfante.com, follow him at @ilovethehype, tumble with him at gleninfante.tumblr.com, and buy stuff at ilthy.com.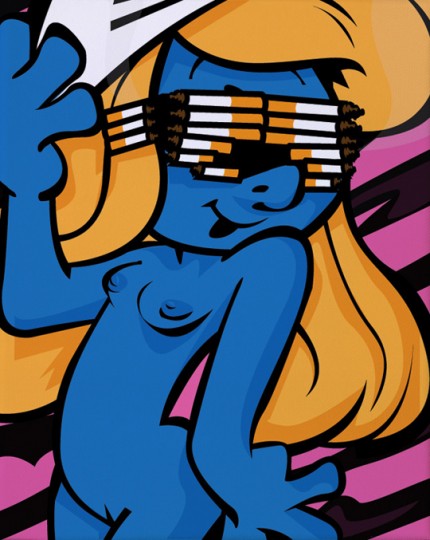 Also, I managed to snag a picture with him.

Something  cool happened
Ladies and gentlemen, we're excited. While Weapons of Mass Creation Fest 2011 was almost a month ago, there's a way to relive it! The talented Aaron Freeder put this short together, under the supervision of Jeff, to "give you a taste of what WMC is all about."
Here's how Jeff introduced the film on Facebook:
Today I'm unveiling something awesome that I cannot wait to share. In the weeks since the 2nd ever Weapons of Mass Creation Fest ended I've been collaborating with up-and-coming filmmaker Aaron Freeder on a short film about the fest. This short is almost 6 minutes and gives you a taste of what WMC 2011 was all about without being a traditional recap or highlight reel. You'll see… Just watch.

— Jeff Finley, WMC Fest founder/organizer
If you see yourself in the video, please comment (here and on vimeo), we'd love to hear a bit about your impressions. Also, some stills of the film:
Then another cool thing happened
The other awesome thing that happened is related to all the great taglines we could hear in the week end's talks and presentation. These are great pieces of advice. They are also some really inspiring slogans, and some of our designer friends couldn't help it but to do some art around them. Some of these are actually in the film, some not. The amazing people that contributed to this typographical exercise are: Brandon Rike, Jana Kinsman, Amanda Buck, Richie Stewart and Erin Fuller.
Amanda Buck
Hi! I'm Amanda Buck, a visual communication designer living and working in Greensboro, AL. I focus on a range of projects, including graphic design, publication design, branding, identity design, information graphics, web design, and letterpress. Previously, I was a founding member of PieLab, a participant of Project M, a co-founder of Pecans!, a designer at the branding agency Ologie, and a proud Buckeye at The Ohio State University. Currently, I work with a selection of great clients around the country, while also pursuing self-initiated art and design projects.

— From Amanda's About page
Erin Fuller
Terminally unfancy. Unassuming and unassumed. Designerd. Music junkie. Collector of vintage mugs. Lover of anything orange.

— From her About page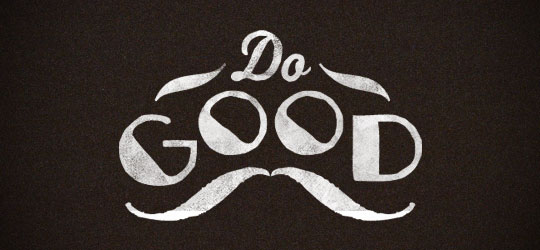 Jana Kinsman
Designer, illustrator, and vintage bike enthusiast living in beautiful Chicago.
Follow me on the Twitter: @reallylikeit
She's also part of Quiet Strong:
Quite Strong is a collaborative made up of five female Chicago-based creatives. Professionally we are graphic designers, art directors, web developers and illustrators. Personally, we are dreamers, crafters, lovers, bikers, nerds and wanna-be foodies. We love Chicago, we relish creativity, and we want to share what we're into with you.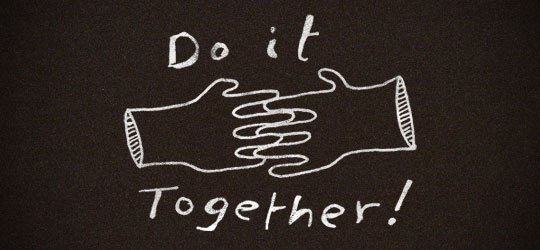 Richie Stewart
I grew up just outside Boston, MA in the epitome of suburbia. I fell in love with skateboarding and punk rock at a very young age. Being involved in these communities opened my sheltered eyes to a whole other world around me. My approach to design and illustration is very much fueled by these early influences.

I have blue-collar blood pumping through my veins. I infuse that natural work ethic, with a D.I.Y. attitude into every aspect of my life. I work honestly and take great pride in what I do.

— From his About page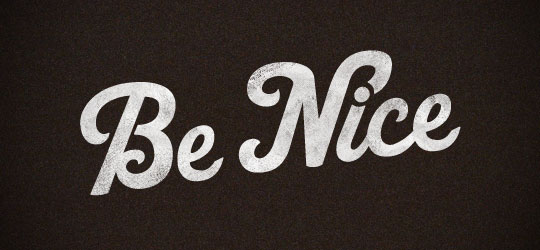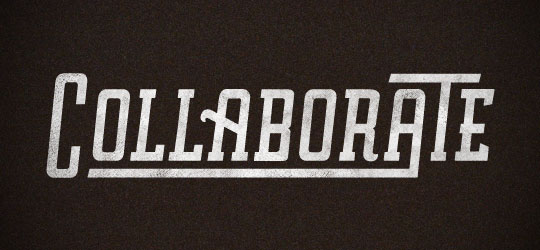 Brandon Rike
Dayton-born rocker and graphic designer Brandon Rike has always been into art. "That is my number one thing," says the erstwhile vocalist of the band Dead Poetic. "I was one of the kids who could draw… When I was little, all I ever wanted to be was an artist."

He's certainly accomplished that goal on a number of levels – all of them grassroots. Currently on hiatus with his former post-hardcore band, he understands the strength of referrals: Dead Poetic ultimately arrived on cable channels MTV2 and FuseTV because of years of brawny, word-of-mouth buzz.

Now a full-time designer, Rike is taking his love of music and graphic arts to a new level with his company, Dark Collar. His highly successful business revolves around designing the band merchandise you find at concert venues and retail lifestyle companies (such as Spencer's) across the country.
Also, Brandon did so much more than these. I wish we could share them all, but the post would be 10 miles long. He told us via twitter today they'd be up on his portfolio soon.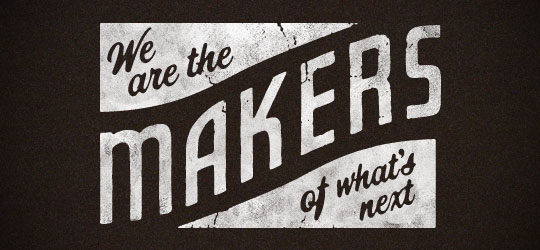 This is the occasion to thank all of you who came to WMC Fest, again.And we'd like to warmly thank Brandon, Jana, Amanda, Richie & Erin for their patiently crafted type that makes this world a happier place.
Written & Designed by: Raji Purcell
Photography by: Pablo Contreras
This is the first of many articles to come in a series of write-ups on the talks given at Weapons of Mass Creation Fest: Weapons Declassified. With this series, I hope to distill the essence of each speaker's talk and give an insight into what it was like to attend an amazing event such as this.
Here's what happened:
Still early in the day, just around noon, the Reinberger Auditorium was beginning to fill with eager WMC Fest-goers; all waiting to witness Go Media's very own Jeff Finley officially kick off the fest. Jeff walked on stage right at his scheduled time, stated his name, welcomed everyone, and asked "How many people really couldn't sleep well last night", not forgetting to include himself.
Admittedly, I also could hardly sleep the night before. As if it wasn't enough to meet such awesome designers during my internship at Go Media; I also had the pleasure of meeting a handful of the other designers who would be speaking and displaying their work at Wall Eye Gallery this year, and was about to meet other heavy-hitters from all over the country that I respect very deeply.
"I'm an artist and designer. I would call myself a Weapon of Mass Creation, because that is what I live for. Every single day I am creating something."
Continuing his speech, Jeff expressed his excitement (which rivaled, if not surpassed my own) and showed off some slides of his amazingly meticulous and textural illustration and design. He told of how he got his start in the rock poster scene and how that, in turn, inspired the fest's co-mingling of design, art, and music. Jeff has attended, sponsored, and volunteered at many different festivals from South by Southwest in Texas, to the Fest in my home-state of Florida. He explained to everyone that he didn't want to just do the same thing, he wanted to make it his own by bringing in his favorite bands, artists, and designers to Cleveland.
"Inspired by DIY Punk Rock culture, I said I'm just going to do it and do it my way."
Elaborating more on the criteria he used in picking the speakers and designers at WMC, Jeff outlined the roles of a Weapon of Mass Creation: Artist or Designer, Developer, and Entrepreneur.
He pushed this concept further, by urging everyone to get out and meet other designers in order to collaborate. He cited the efforts of such designers as Jessica Hische who create their own side projects not for money, but for notoriety (a suggestion that would be echoed by nearly every speaker to come). Jeff stressed that, though "we're all in the same industry, and we're all competing for the same clients, we should still collaborate and share secrets". He spoke about how more established designers should share with up-and-coming designers; whether this be in the form of a tutorial, or just being a mentor. He expressed that WMC Fest is a great opportunity to do just that: to meet designers and become their mentor, or collaborator.
I feel that he couldn't have been more dead-on about this.
Over the course of two days (not even including the mixer the night before) I met designers that I had previously only known because of their amazing work online – people that many outside the design community have never heard of, but that I treat as if I were meeting Picasso.
According to Jeff, designers like myself and the others around WMC Fest meeting will help grow our design community and economy.
"I feel like the economy within the art and design community is so prosperous…we all support each other's businesses and each other's projects. We're all supporting each other's economies just within the design community."
Jeff praised the WMC community for being full of self starters that take matters into their own hands, regardless of their job situation, and encouraged others to do the same. He said his personal catch phrase is "Defy the hand you're dealt," pushing for others to not wait for opportunities- but to make them! This was such inspiring advice right off the bat. Especially for me, being one of those up and coming designers- nearly graduated from school and looking to establish myself in this arena of design. I felt very motivated to do more with my skill set.
Jeff continued to speak about his aspirations for growing WMC Fest and the possibility of it being twice as big next year. He sent us off with the declaration that we should use the fest as an opportunity to party and celebrate each other and each other's work. With that; it was official.
I had the opportunity to speak with some other people in the crowd about Jeff's speech and WMC in general. I met Andrea Knapp, a high school student and aspiring artist/designer. She told me being a follower of Go Media, the tutorials in the GoMediaZine and the Arsenal, she was really inspired to see Jeff talk.
I also met a college grad and fashion/craft blog owner named Amanda Johnson who felt it was "inspiring to be with other self starters." She also felt motivated "to work on all the things in the back of her mind."
I felt a common bond with Andrea and Amanda in that I was just like Andrea in high school eagerly making art and following Go Media. Amanda made me remember that I too should be thinking about all those ideas I have in the back of my head too.
I started feeling that creative hunger that I love. I could tell this was the start of a great series of talks.

Listen to the Talk
As I watched every talk, I kept Garage Band open on my MacBook and recorded everything I could. So the quality of the mp3 below may not be the best, but you can get an idea of what it was like from my perspective in the front row. Bootleg version!
[download#71#nohits]
There's a lot of recaps being posted around the net from those who attended the 2nd ever Weapons of Mass Creation Fest last weekend. And I love it. I love seeing their photos and their stories. I wanted to post a recap, but not like everyone else of course. I wanted to post a recap from my perspective, the organizer of such an event. Coming off what I've been calling the best weekend of my life, I think I'm finally ready to put it into words.
This won't be a play-by-play of what happened and not a list of who did what. We have articles coming up that will be more in-depth, but for now, this is just my take as the organizer of WMC Fest.
The Raffle
But first, let me announce the winners of the raffle we had at WMC Fest. People stopping by the Go Media table in the gallery were able to buy tickets for the raffle. The winners are below:
Grand Prize: Adobe CS5 Master Collection
Winner: Michael Nilsen of Brecksville, OH
1st Prize: Ten Ton Training DVD Collection
Includes Ten Ton Photoshop, Ten Ton CSS, Ten Ton Dreamweaver, and Ten Ton Zen Cart
Winner: Tyler Powers of Ravenna, OH
2nd Prize: Thread's Not Dead ebook by Jeff Finley
Winner: Alyssa Welch of Moken, IL
Congratulations to the winners! We will be in touch regarding your prize. For those of you who didn't win, we're sorry – maybe next time!
So let's start form the beginning
Two years ago I had the entrepreneurial seizure to start a fest. A music fest at first, but after successfully throwing the Weapons of Mass Creation photo shoot party with some of our favorite artists, I decided to combine the two. Let's bring back those artists, but add bands and call it Weapons of Mass Creation Fest. Thus the idea was born. Click that link if you want to dig deeper into the values and motives for starting the first one.
Here's an interiew I did with Jay Delaney of Create the Map. This was taken during WMC Fest and describes a lot of what I'm going to say here. It's quite long, at 26 minutes, so you might want to listen to it while you work.
Setbacks and Doubters
In May 2010, the first WMC Fest happened. While it was amazing we pulled it off, we had some pretty major setbacks. We had to overcome such obstacles as losing our venue with 30 days left, our keynote speaker canceling the day before, and people questioning how "DIY" I actually was by combining commercial art with some pretty staunch anti-capitalist bands and fans. I also had doubters here at Go Media as I spent lots of on-the-clock time putting on a fest that was largely my own brainchild and interests. It was not a fest that was dreamed up from the labs of Go Media, it was a pure passion project of my own that bled into Go Media. Of course, if we all checked our passions at the door, Go Media wouldn't be where it is today. That's one thing that makes Go Media great, we care about our employees' passions and our company is structured in a way that allows for personal passion to bleed into the work day.
But the big question still remained. How can Go Media be a design firm AND also put on what people were describing as "Cleveland's answer to SXSW?". Seriously, this was hard! Talk about expectations.
Community Involvement
The answer was outside help and community support. We wouldn't have been able to put on WMC 2011 without incredible help from people OUTSIDE Go Media. Firstly, if we were going to make 2011 work, we had to divvy up the workload. We were passionate about art/design and we needed someone equally as passionate about music. That's where I found Jesse Sloan. Jesse contacted me years ago about doing work for his band Bethesda and while we never actually did, we stayed in touch over the years. He wanted to get involved in WMC Fest and told me he had put on A.R.M. Fest (a diy music fest) in the past. He had experience in planning something like this and also shared a lot of the same interests in music. I got along great with him and trusted he would do the music portion right. In fact, he ended up doing it better than I ever could have!
Teamwork. Collaboration. No joke.
If it wasn't for Jesse taking the music portion of WMC Fest and treating it like his own baby, we wouldn't have been able to book nearly half the bands we did this year. I had collaborated with some awesome members of the community for 2010, but this put it at a whole new level. I was unloading the entire workload of booking bands, paying bands, and dealing with all the stuff that goes along with it. That left me free to focus on booking speakers, curating the gallery show, and, well… everything else. It was still a lot of work, but I saw the vision and I just had to get there.
Seeing it all Come Together
I'll skip all the boring details and get into the payoff. The night before I was a mental wreck and not able to sleep. My wife Kim was stressing out as well thinking of things at the last minute. I got there to set up early the next day and Aaron Draplin rolls up early in his van and gives me a big ole bear hug. This was a great sign – my biggest speaker is here, and early! Fuck yes. My volunteers started showing up on time. Fuck yes. I explained the confusing-as-hell ticketing process, but they seemed to understand. I was so worried about this. But our first attendee showed up and I watched my volunteers get them in with ease. I was thinking "why did I imagine this would be so hard?" Everyone was smiling and excited, and even when there was a mess up, people didn't care. They wanted things to work and were really forgiving! The volunteers were bright enough to figure things out when I wasn't around, which to my delight made me able to enjoy the fest.
The Experience
So like I said, I had such awesome volunteers – and thanks to my wife Kim for making sure I had all the positions covered! This allowed me to roam free and be where I WANTED to be, not where I NEEDED to be. I could sit down and watch the speakers that I worked so hard to bring in. And if I felt like it, I could roll over and watch bands play at the Happy Dog and feel insanely proud that Jesse was able to pull off his portion. I don't know how to describe the feeling of it coming together. It's like graduating high school – you work so hard, and this is the pay off.
So I watched some amazing speakers, to which our intern Raji Purcell will profile each one on this site. Stay tuned for that. And I got to see some bands that I never even heard of that were fascinating to see. One of the hidden benefits of letting someone else book the bands who has better taste and passion for it than you do, you get to see some amazing bands you never would have discovered otherwise. In fact, Pitchfork even listed WMC Fest on their summer calendar. Fuck yes I say.
The Design Gallery was ridiculous. So many awesome designers in one place – ok that's not that new. Designers gather at conferences all over. But everyone here was buzzing because it felt like OUR OWN graphic design summer camp. We all did it together and it was like a big fat family reunion. And that's exactly what I'm looking for in a fest!
What to Expect Next
Like I said above, we've got some post fest articles coming your way. Profiling the speakers and their talks, the design gallery, and maybe the music portion. If you attended and took photos, please add them to our WMC Fest 2011 Flickr Pool.
Update: We're giving away an awesome Wacom Intuos 4 tablet. Read on for details!
It's so close I can feel it
Weapons of Mass Creation Fest is this weekend! I can't believe it's already here. This post serves to give you a taste of what's to come. If you can't attend the fest here in Cleveland, that's ok, we'll be streaming live thanks to the great people at Vivo.
We've been talking about it for so long here that you should know all about it. We even had that post at D minus 30, remember? In the event you do not remember anything, or that you just found out about the Zine and Go Media, here's a quick summary:
Now in its 2nd year, WMC Fest is quickly becoming a must-attend event for creatives in the Midwest. Its goal is to inspire and enable the creative mind and will feature 20 speakers, 20 designers, and 20 bands over the weekend. Put on by the Cleveland based creative agency Go Media and a host of volunteers, it's got that homegrown, indie vibe that sets it apart from other major conferences. Come to WMC Fest to network, collaborate, get inspired, learn new tricks, and meet new friends! At the cost of only $15 or less, you can't miss it!

— From the WMC Fest website, press page.
Now, since that snippet has been written we have updated information:
There will be a total of 22 speakers. Hunt the facebook events of their interventions!
We'll have 29 bands total (including the 4 bands of the Friday night Pre fest bash)
There will be 24 designers and studios showcasing their art
And the final cost at the door is $10/day for speakers and $5/day for bands. The Design Show is free.
The Giveaway: Win a Wacom Intuos 4 tablet
To help us promote WMC Fest, we're giving away a brand new Wacom Intuos 4 tablet! Donated by the fine folks at PunchTab. To enter, just follow the instructions on the widget below.
The speakers
Aaron Draplin (Draplin Design Co. Topic: Aaron Draplin of the Draplin Design Co. presents "Tall Tales From A Large Man."), Mikey Burton, Dan Christofferson (Big Cartel. Topic: Flyer the death guild), Alex Cornell (ISO50/Firespotter), Todd Saperstein (VMCAD. Topic: Taking the Journey, Map or Compass), Mig Reyes (Threadless/Humble Pied. Topic: Staying Scrappy, Making Stuff.), David Gensler (The KDU. Topic: The KDU : Global Talent Army), Stephanie Rexroth (On The Vine Creative. Topic: Green+Screen=NewLIFE: ecoDesigner's Guild case study), Ken Hejduk (Topic: Why you should give a damn), Jenn + Ken Visocky O'Grady (Topic: Eventually Everything Connects), Quite Strong (Topic: Strong to Quite Strong), Jessi Arrington (WORKSHOP, Topics: 1. Less Good More Better, 2. Life As A Design Project, 3. How To Have Rainbow Birthday Parade), John Paul Walton (Retronynms. Topic: Beyond Check-Ins: Location Based Game Design), Joseph Hughes (Northcoast Zeitgeist. Topic: Embrace Frustration), Bill Beachy (Go Media), Oliver Barrett (Go Media. Topic: "Holds Barred" – living the life of a designer…..and the quest for the belt.), Aaron Sechrist (OK Pants. Topic: "Holds Barred" – living the life of a designer…..and the quest for the belt.), Steve Knerem (Establish the Front Line. Topic: Illustration and the design industry), Dan Cassaro (Young Jerks. Topic: Expressive Type and the Therapeutic Power of Dad-Rock), Jeff Finley (Go Media), Paul Sobota (Paul Sobota Photography. Topic: Crying Wolf; Trusting Images Now), Jacob Edwards (Jakprints. Topic: Information you can sWEAR by).
The designers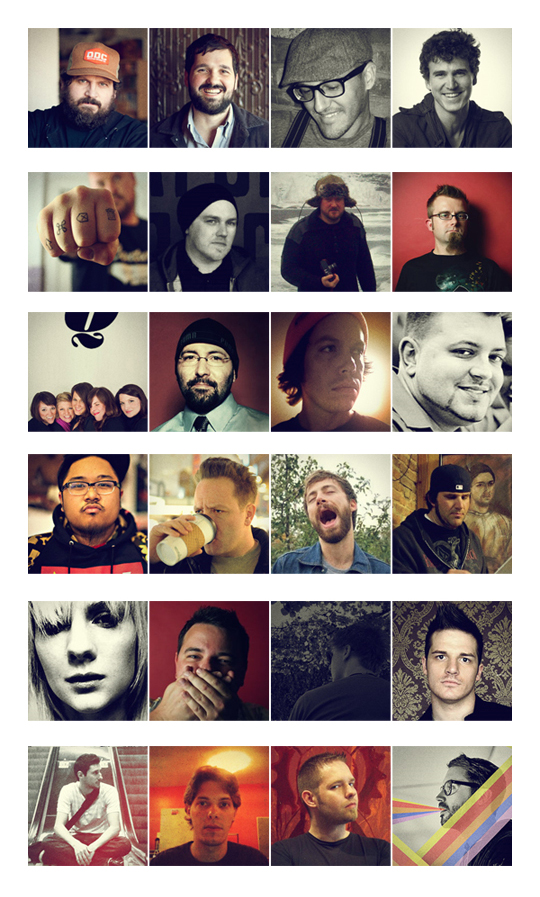 Go Media, Steve Knerem, Jeff Hulligan, Dan Christofferson, Dan Cassaro, Glen Infante, David Gensler, Angryblue, OK Pants, Brandon Rike, Studio Ace of Spade, Hucklebuck Studio, Nate Utesch, Dan Cassaro, Barton Damer, Brandon Minga, Maarten Kleyne, Janee Meadows and Mat MacQuarrie.
Note: there's no cover charge to enter the design show at Wall Eye Gallery!
The bands
Gregory and the Hawk*, David Dondero*, Bethesda*, Humble Home*, Memoryhouse, Lower Dens, Nana Grizol, Monokino, Field Mouse, Arrah and the Ferns, Annabel, Mose Giganticus, She Bears, Two Hand Fools, Before the Eyewall, Lowly the Tree Ghost, Shivering Timbers, Signals Midwest, American Werewolves, The Lighthouse and the Whaler, Busman's Holiday, Esquire Mackentyre, Nights, Tom Evanchuck, _node, Red Sun, Cherry Cola Champions, Comfort Clouds & Galagozy/Zeleny Duo.
Note: the band marked with an asterisk (*) will be playing at the Pre Fest Bash on Friday night.
There are so many amazing bands playing this year at Weapons of Mass Creation Fest that it's hard to know who to see. I'm sure there are a few bands on our list that you're wondering who they are and what they sound like. We've put together a sampler of over 20 songs for you to download and/or stream. Enjoy!
Grab the WMC Fest Band Mixtape
Location and Venues
The event takes place in three venues in the Gordon Square Arts District of Cleveland, OH. The strip on Detroit Avenue features lots of great shops, restaurants, art galleries, and theaters.
Speakers
Reinberger Auditorium
5209 Detroit Ave.
Cleveland, OH 44102
NOON-8pm, $10/day
Art/Design Show
Wall Eye Gallery
5304 Detroit Ave.
Cleveland, OH 44102
NOON-8pm, FREE Admission
Bands
Happy Dog
5801 Detroit Ave.
Cleveland, OH 44102
NOON-11pm, $5/day
Can't make it to the fest? Watch it live!
Thanks to the amazing folks over at Vivo Live, you will be able to watch the festival live this year! Just tune in at wmcfest.com/live, and be merry.
Well, well, well, that sums it up…
Don't you think? We'd love to have you out, we're expecting lots and lots of people out this weekend. If you have any questions and want to get up to date information, you can go on the WMC Fest website, but you should also follow @wmcfest and @jeff_finley on twitter. Be sure to check the schedule too to avoid time conflicts and miss the people you want to see.
We hope to see you there!
Hello, hello!
Today, I am pleased to introduce you to the winners of the WMC Fest Portfolio Contest we had going. The prize is a spot at the WMC Fest design show!
We had a total of 114 submissions. The jury decided to award the spots to 5 lucky winners. Here they are, along with the piece that earned them the spot!
Brandon Minga
MINGAdigm
Visit his portfolio at http://www.brandonminga.com/
Maarten Kleyne
Crossing the Rubicon
Maarten's website is to be visited! http://www.mkleyne.com/
Janée Meadows from Janée Meadows Illustration
Paloalto gig poster
Janée is an "Los Angeles based, award winning, illustrator and graphic designer". Visit her website at http://janeemeadows.com/
Andy Hayes from Hucklebuck Design Studio
Westcott House Event Poster
Hucklebuck Design Studio has a sweet horizontal website: http://hucklebuckdesign.com/
Mat MacQuarrie
George St. Pierre
Finally, Mat has a portfolio full of awesome pieces. You might have seen some in the Flickr group already. http://www.matmacquarrie.ca/portfolio/
Congratulations to the winners! Thanks again to all the participants. If you didn't win this time, remember there will be other occasions. Also, you should go check all the entries that have been submitted.
See you at WMC Fest!
Hello there! Simon here today, with an interview of the fantabulous (yes, it's a word. I just decided that it would be so.) illustrator McBess. We are stoked because Go Media/Weapons of Mass Creation is sponsoring FITC Toronto, an event where he'll be speaking at. This means you should go.
Without any further ado, here's the interview!
GoMediaZine: GoMediaZine readers, meet McBess, McBess, meet the GoMediaZine readers. Could you tell us a bit about yourself, since your about page is a bit short?
McBess: Hoy GomediaZine, my name is McBess, I'm a French guy and I live in London because French people are stressing me out. I'm director at The Mill, and I do illustration and music and I try to mix those two together.
GMZ: I saw on your blog a video that gives us a sneak peak at your illustration process. Could you give us a bit more insight? Is everything hand drawn? Do you draw digitally too (tablet…)?
McB: Most of what I draw is straight on photoshop with a tablet indeed, but I like to use pencils, rotring and poscas to switch techniques, keep things fresh. I don't really have a lot tricks, but I do prefer to work on photoshop for big and complicated illustration, I always fear the moment when you do something wrong with ink and there's no coming back.
GMZ: Who are the Dead Pirates? Could you tell us more about your work with the music industry?
McB: The Dead Pirates is my band, it's the band I've always been drawing about in my illustration, but last year we actually put the band together with some close friends. We don't really work with the music industry, we're not signed or anything, we record on our own with our money and sell our mp3s. Right now it's composed of 5 guys, my brother and I  play guitar and sing, a bassist, a keyboard and a drummer. We tend to play rock, sometimes a bit hard, chubby rock.
GMZ: FITC Amsterdam, FITC Toronto… Woaw. That's cool! Could you tell us what it means for you to be invited to speak at such events? Have you done speaking engagements before? If so, why are you doing them? Is this something every designer should consider doing to further his or her career? What are the benefits you get out of it?
McB: Well it means a lot to me that people think I could say something interesting ahah, I've never done it before and I was quite intrigued, now I'm shitting myself. I enjoy talking  and meeting people, but I think it also pushes you to think real hard as to what you can give, what you can add to the mixture, if you do have an interesting point of view, I hopefully have that, who knows… I'm not sure yet about the benefits, but it's an experience so I want to try.
GMZ: Could you give us an idea of what your presentation will be about?
McB: Well the title of my presentation is "Making contrast with details", which is a challenge for me, I love details and I tend to put a shit load of it but it can be harsh on the composition or the dynamic of the image. So I'll try to explain ways of working in very small portion of the image without forgetting the big picture, and I'll  also explain the process I use from thinking about an image to the final piece.
GMZ: Ever heard of Weapons of Mass Creation? What do you think about a design community based more on lifting each other up, kind of a global fraternity, rather than cut throat competition? Would you make it to the event this June?
McB: I did not hear about Weapons of Mass Creation, I'm not really a community guy or a team player, but I'm also against competition especially in art field I just don't understand it. I do like collabs though, I just don't see myself making it a habit.
GMZ: Is it weird to be a French guy interviewed in English by another French guy?
McB: It is weird indeed, you've got a very good accent, I did not realize you were French.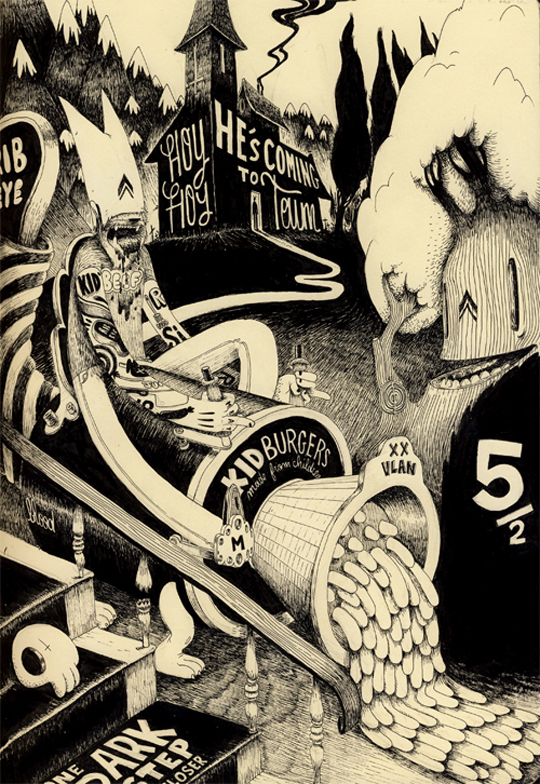 GMZ: A goodbye note for the readers? A goodbye doodle maybe?
McB: Well dear readers I bid farewell, you are beautiful people.
Curious about McBess? Check out his website, his blog (it's a Tumblr! Follow!) and also his demo reel:
Go Media teamed up with Imagekind to offer a limited edition print run of  our Weapons of Mass Creation poster in support of the Weapons of Mass Creation fest.
All proceeds of these art prints go to help raise money in support of the festival being held on May 22 & 23 in Cleveland, Ohio.
The WMC fest is a celebration of all things creative: art, film, and music. There are only 100 prints available, so order fast! Use the coupon code FreeGoMedia to get yourself free shipping!
The Weapons of Mass Creation fest includes a powerhouse lineup of artists, designers, musicians and filmmakers. Think a DIY version of SXSW.
From the WMC website:
There will be film screenings and discussions in the afternoon and punk rock and indie/folk bands performing in the evenings.
This all happens in the midst of a supercharged creative art show featuring some of my favorite artists and designers from across the country.
And if we're lucky, a few of them might share their insights in collaborative panel discussion or demonstrations. It's truly something for the creative community to experience.
Artists/Designers attending include, Justin Kamerer, Kyle Crawford, Geoff May, Sam Kaufman, Jeff Finley and more.
Bands include: Dave Dondero, Mose Giganticus, Spraynard, plus more.
Filmmakers include: Josh Safdie, Kevin CW Maistros, Jason LaRay Keener, Ry Russo Young and more.
By purchasing one of the art prints above, you'll be directly supporting creativity in action.
Here's the third installation of the Weapons of Mass Creation video interview series featuring designer & illustrator Mark Weaver. Not sure what this is all about? Read the kick-off article to get caught up!
You'll find both the video interview & the transcript (to make up for poor audio quality) below. Enjoy!
GoMediazine: How would people know you?
Mark Weaver: I'm a graphic designer & illustrator. And basically, I started doing this project called "Make something Cool Every Day", which was started by Olly Moss who is kind of a famous graphic designer. I started working on this project doing designs every day. Eventually people started blogging my stuff. It got kind of, I don't know, it got on some big graphic design blogs. I started getting some work from it. Did some work for Wired recently. I got some recognition from that project – just a personal project.
GoMediazine: Who are some of your clients?
Mark Weaver: Paste Magazine.
GoMediazine: Wait, did you say Paste?!
Mark Weaver: Paste.
GoMediazine: Oh, I love that magazine.
Mark Weaver: Oh really, I used to work there. I worked there for two years. Yea, it's good. I did some layout for them. We did the whole magazine redesign. I've done work for NASCAR.com through Turner Interactive. They do all the NBA, NASCAR – all that stuff. Georgia Music Hall Fame, I did some work for.
GoMediazine: So, what was your favorite project?
Mark Weaver: Definitely Wired, because recently they asked me to do an illustration, just whatever I wanted as long as it had the date in there. So it was really open ended and really fun.
GoMediazine: So why did you come to the Weapon of Mass Creation campaign?
Mark Weaver: I just thought it was a really cool idea, and some good exposure to get my name out there. Seemed like a fun thing to do.
GoMediazine: What's your opinion on stock art & design resources?
Mark Weaver: Well, a lot of the stuff I do is based on public domain images. I take a lot of different images & create something new out of them, kind of like a collage style. So I think it's great to have stuff like that out there for designers to use & be creative with.
GoMediazine: So how did you get started as a designer?
Mark Weaver: Oh man. I mean, I've always had a love for drawing. Started drawing at an early age. It was just a natural path for me to go in that direction – to do illustration & design. It's not something I really chose. It was natural to do.
GoMediazine: I would doodle on the side of my math homework.
Mark Weaver: Yea, I'd rather be drawing!
GoMediazine: What is your ideal project?
Mark Weaver: Oh man. Probably my ideal project would be doing a series of posters for the White Stripes.
GoMediazine: Who are your inspirations?
Mark Weaver: Like, artists? Or?
GoMediazine: You know, you could name artists, or just whatever inspires you?
Mark Weaver: I would have to say Stanley Kubrick is kind of a big inspiration for me. Just, the way he shoots film. Everything is very structured & precise & really clean. I feel inspired by his work and I try to emulate that in my work. Especially '2001 A Space Odyssey", which is like my favorite movie.
GoMediazine: Your work has a nostalgic vibe to it, what draws you in that direction?
Mark Weaver: You know, I'm really not sure why I'm drawn to that. I really like vintage looking mid-century style things. I just love clean typography – like Swiss typography style. I can't really explain it. I just feels real. It feels … I don't know. I really can't explain it. I just love it.
GoMediazine: Lately there seems to be an abundance of people latching on to the style of retro-futurist-modernist-whatever. Do you worry that's a passing trend?
Mark Weaver: Sometimes I do think about that. I have seen a lot of people doing that sort of style. But even when I started doing this 'Make Something Cool Everyday' thing, it wasn't even close to what I'm doing now. My style is evolving even from when I started back in January. So I'm just trying new things. I could be doing something totally different next year or next month. It's just an experiment.
Welcome to the first installation of the Weapons of Mass Creation video interview series. Not sure what this is all about? Read the kick-off article to get caught up!
Our first interview will be with Richard Minino, better known as HORSEBITES. We've got 10 minutes of awesome video interview for you to watch. We've also transcribed the interview for folks in a hurry who'd rather scan than watch! You'll find both below.
Go Media: Just start off by telling us a little about yourself, and how people would know you.
HORSEBITES: My name is Richard Minino, and I go by the moniker of Horsebites. I guess people would know by that name more than anything, because it's a dumb name. It sticks out & they remember it.
Go Media: How did you pick the name Horsebites?
HORSEBITES: Actually there was a punk band I used to love when I was younger, they were called DI. They were from southern California. They had an album called "Horse Bites, Dog Cries". That was my email address when I was delivering pizzas and doing no design at all. I thought I would deliver pizzas for the rest of my life – biggest loser! So I had that as my email, and I started getting little jobs here and there. I was doing shirts for some merch company and the guy there called me "Horsebites" instead of Richard, because he always forgot my name. I thought "I kind of like the sound of that", and it actually has story and meaning behind it. I thought, "Screw it, I'm going to start something".
 
Go Media: So who are some of your clients?
 
HORSEBITES: Right now I'm doing a lot of stuff for The Fest in Gainesville, which is always fun. This is the third year in a row that I've done stuff for them. I'm pretty proud of that. I also just got a KISS hoodie approved, which is awesome, because it's one of the greatest rock bands ever. I do work for a lot of smaller bands too that just need help getting a good design, like the Polar Bear Club and Strike Anywhere. I work for bands that I would probably listen to, which is always rewarding.
 
Go Media: Can you tell us a little more about The Fest and how it is you got involved in that?
 
HORSEBITES: I've played in it every year so far, so all eight years. It started off with one of my bands, New Mexican Disaster Squad. We played it because we were friends with a ton of people in Gainesville. Like anything that's new, it started off bad and there were just a few people – but we did it because it was just hanging out with friends. And every year it got better and better. Now, it's something that seems almost out of control, but they keep it under control somehow. I love looking forward to that every year.
Go Media: So, Jeff wanted to know specifically, on behalf of Go Media – how did you involved with No Idea records?
 
HORSEBITES: Actually because the guy who started The Fest, Tony Wineman, he works for No Idea Records. He was always a fan of the band I was in, but more so we were just friends. And Florida, it's weird; it's a big long state but a lot of people know everyone. It's smaller than you think. Especially the punk community – it's really tight. So, knowing No Idea and being associated with them, it was a natural thing. If you're just a Florida resident and you're not playing music to get big, but just to have fun. They'll usually pick up on you, or you'll pick up on them.
 
Go Media: So why did you come to Weapons of Mass Creation?
HORSEBITES: I was paid lots of money! Just kidding. No, well, I was promised lots of pizza. No, I met Jeff [Finley] before the website Emptees came along. And I knew him a little bit before that because he would MySpace or email me. We would talk about each other's designs and gush about each other's work. We instantly got along. I've known him for a little while now when he asked me to come up. I didn't know if I could because it was going to be a busy month for me, but I knew this would be so much fun. And honestly, it's so hot in Florida right now that this is like winter for me. It's like 65 degrees! I had a jacket on all day. Of course, now I'm sweating because I'm on camera!
This is cool to actually meet, like physically meet, people that I've looked up to, or just seen their work. I don't recognize them by face because I only know them through the internet.
 
Go Media: So coming here, and knowing a little about Jeff and Go Media, what is your opinion of what we do, and what is your opinion of stock art and resources?
HORSEBITES: I think it's awesome, especially for a lot of people that either could be starting out, or for companies that just depend on it. The possibilities are endless, especially for what Go Media does. It's so broad and covers so much of the bases. I think designers like me and web design people look up to this company so much because we think: Wow, they really made something out of something that's hard to make living out of, let alone building a tiny little empire of just Go Media stuff. Your fingers are in just everything! It's really respectable and cool.
If a kid wants to start out designing, and he can use the illustrations you've provided as stock art. Even if he uses it at first and doesn't use it later, he'll always remember that he needs to make it as professional and high quality as what Go Media puts out. I think it's great.
 
Go Media: So then, what is your ideal project?
HORSEBITES: I guess it would be working with people I like to work with. I like collaborating a lot. It's pretty much what I'm doing now! I'm in a company with four of my other good friends. Getting paid to do this is phenomenal – I just can't believe it's reality!
And then having the option and the confidence to start up another business with someone and put out a little series of things. I would have never thought that would have been possible five or six years ago. It's just awesome. I'm "living the dream"!
 
Go Media: You said you gained the confidence. What inspired you to feel confident to get you where you are?
 
HORSEBITES: it was when bands actually took notice. They would say "make a shirt for me" and it'd be a band that I looked up to. I'd be so nervous. I had no confidence. I'd think "how am I going to do this?" I didn't know how to use a computer – I started out doing everything by hand. Drawing and painting was my true art. I didn't know how to do stuff on a computer. It was getting pushed by bands like that, and then having other people react like "oh, I love this!" I thought "Okay, maybe I can do this." That's what gave me the confidence: Bands telling me "it's cool."
It's still weird to me.
The 'Weapons of Mass Creation' Art Campaign Kick-Off Party
Saturday, September 19th, 2009 • Go Media Studios, Cleveland Ohio
We invited top artists, illustrators, print designers, and web designers from all over the country to come to our studio in Cleveland to participate in a photo shoot for the upcoming art campaign "Weapons of Mass Creation". The purpose of the campaign is to give artists and designers we respect the opportunity to showcase their own work and send a positive, unified message to the community. The final ad will appear with an incredible shot of the designer standing in front of his or her own work next to the headline "I am a Weapon of Mass Creation".
To kick off the campaign, we hosted a photo shoot with rock 'n roll photographer Chris Casella. Chris is a great photographer known for his photo shoots with Slash, Slipknot, Disturbed, and a whole load of other mainstream bands – and he made us look like rock star designers!
When not getting the rock star treatment in front of the lens, designers were trading merch & business cards, eating pizza, filming video interviews with Go Media information architect Liz Hunt, or playing Wii bowling. It was a great time, and we really hope to host a sequel with an even larger crowd!
Here's a list of attendees: