Most Popular Posts: How to Learn Graphic Design & More by Your Friends at Go Media
Welcome to the Go Media's Zine! Are you a passionate creative, student, designer, entrepreneur?
You're in the right place.
Inside you'll find the tools you'll need to successfully do what you love. We'll share real-world practical advice, solid business techniques, step-by-step tutorials, as well as educational podcasts and webinars to take you to the next level. We give all of our secrets away and cultivate an open environment for the sharing of insights and inspiration.
Join us.
When you're ready, we would also love for you to be a part of our community. Please comment on posts, become an active member of our social media community and/or email to find out ways you can contribute your own designs or tutorials to the GoMediaZine, brought to you by Go Media, the go to source to build a website in Northeast Ohio and beyond.
Quick Guides
With hundreds of posts in our archives sometimes it's hard to know where to begin. Our Start Here page is a great place to get started. This page holds 7 quick guides to becoming the creative you've always dreamed you'd be. You've landed on one of these lists so let's get started, shall we? Most Popular Posts
Money Matters
A Graphic Designer's Guide to Pricing
How to Charge For Your Graphic Design Work (& Get What You Deserve)
Answers to Your Top Questions About Pricing Your Design Work

Branding
Branding: More Than Just a Logo
Logo Design vs. Branding – what's the difference?
Tutorials
From Sketch to Vector Illustration
Gigposter Design: The New Sex
How to Create Explosive Typographic Effects in Cinema 4D
Create a Dream Design with 3D Typography
How to Set up Your Wacom for Awesome Results
How to Create Photorealistic T-Shirt Mockup
Comic Book Style Graphic Design
Old School Type – Line Gradients
Easy to Accomplish VSCO Cam Effect in Photoshop
Distressing Techniques in Adobe Illustrator
Illustrator and Photoshop Tutorial: Create a Cool Occult LP Jacket with the Occult Symbols Vector Collection!
Tutorial – Lines & Dots: How to Make Quick and Easy Patterns in AI
6 Essentials to Setting Up Your Illustrator Documents
Step by Step: Using the Vector Packs

Apparel 
How to Get Your Apparel Line into Retail Stores
Tutorial: Pro Tips on Preparing Artwork for T-Shirt Printing
The Fundamentals of Great T-Shirt Design
Round-Ups
Top 28 Best Motion Graphics Blogs and Resources
Go Media's 100+ Must Have Design Resources
Poster Design: 50 Excellent Inspirations
40+ Cool and Inspiring Poster Designs
Freebies
Free Exclusive Resource from Jimiyo: Skull Reference Photos
Totally Free Fonts for Designers 2014
Vector Freebie: Mouse Cursors
40+ More Fonts to Download Immediately
Typography
Become a Master Typographer: How to Choose the Perfect Typeface
100 Top Resources for Typography and Hand-Lettering
Social Media
Top Social Media Hashtags for Designers
Other
Low Budget Screenprinting – A Newbie's Guide
The Only 2 T-Shirt Mockup Websites You Need in Your Life
Categorized:

Design 101 (Start Here!)

Tagged:

design, gigposter, mockups, motion graphics, old school, sketch to vector, t-shirt, the new sex, type, typographer, typography, Wacom
Seems Wacom has a new product to be released, and the beans were spilled early by retailer Best Buy, who put the product out on the shelves before the official release date. In fact Wacom has no information on their site about the new device. Wacom's new Bamboo Touch is a USB trackpad incorporating multi-touch, giving users an iPhone-like experience on their Mac or PC. Early reports on the pricing are around $70 USD for this model.
The model featured here is finger input only, but there's been speculation across the web that there are going to be multiple models of the device, some which support a pen/stylus in addition to the finger gesture input. And extrapolating from Wacom's current product lines, it's reasonable to deduce that there may be an Intuos Touch, perhaps incorporating advanced features, and perhaps the models that include a stylus.
Any graphics tablet user who has experience with both Wacom's Bamboo products and their Intuos products knows that there is a huge difference between the two lines (which is also reflected in the prices). It's fair to assume that if an Intuos Touch is in the pipeline, it will be far more fully-featured than the Bamboo version of the same product.
Many might dismiss the device, thinking that drawing or sketching would be far less intuitive than working with a pen/stylus, and I tend to agree. My interest in the device isn't for drawing, rather for rotating, zooming/scaling and moving the canvas around in Photoshop and Illustrator. A far more intuitive method for those actions other than hunting down the keyboard shortcuts every time.
Here's a brief intro video by a YouTube user who picked up a Bamboo Touch:
Here's the text from the box:
Smart
Gain all the benefits of Multi-Touch. Use Bamboo with all standard operating systems and applications. Custimize your Bamboo, too. Flexible and versatile, Bamboo is the smart choice.
Engaging
Engage with your computer in an all-new way from the very first touch. Multi-Touch makes complex commands as easy as a gesture, while Bamboo's ample tablet space lets you get in touch with your work.
Natural
Make your every gesture count! Scroll, zoom, rotate or flip through photos and documents. Everything at your fingertips.
Multi-Touch input for intuitive and direct control
Use a single finger to navigate and multiple fingers for gestures and clicks
Use finger gestures to scroll, zoom, rotate, go backward or forward
Spacious touch area for all gestures
Four user-defined ExpressKeys for shortcuts or clicks
Easy USB connection
Interactive tutorial helps you make the most of your Bamboo
Overall tablet size: 8.2 x 5.4 x 0.3 in (208 x 138 x 7.5 mm)
Wide-format active area size: 4.9 x 3.4 in (125 x 85 mm)
PC: Windows 7, Vista or XP with Service Pack 2
Macintosh: Mac OS X (10.4.8 or higher), Intel or PowerPC Processor
All you Wacom users out there: what's your take on this product? Something you're interested in or not? How can you envision using muti-touch gestures in your creative workflow?
Introduction
Hey! I'm Whyball and I'm a graphic designer. Since I was a little kid, I loved to draw; at first I started drawing all kind of things that I saw in the books – usually animals were my favorite subjects! After a while I started to create original drawings.
A few years ago I discovered the digital drawing and was excited to see the simplicity of using the graphic tablet. Once again I was combining those 2 ways of drawing: copying and using the imagination.
I recommend to use this technique of copying something when it helps you to save some time while you're working, or to achieve better quality. For example, if you need to draw a hand in a specific position, and you're not so sure you can draw it from imagination, my advice is to take a camera and capture the position & form of a hand. It's useful to have a timer function so you can take picture of your own hand easily.
Here is an example of some wings I drew using this technique. These wings are yours to use in your designs royalty free and can be purchased from the Go Media Arsenal.
In this tutorial I want to show you how I draw a hand using a picture plus some imagination, and make it all look like a classic pencil drawing!
I use this kind of drawing to give to the design an artistic look. In my opinion the hand drawing effect looks great applied on anything from animals to gothic ornaments. Another advantage of this style is that you can make great artwork using only one color.
Let's get Drawing!
Step 1: Find a Reference
The first step is to take a picture of a hand, you can use the same picture that I used in this tutorial, see the download link below; it already has the opacity reduced to 30 % so it is exactly like the one i started here with .
[download#35#nohits]
Step 2: Sketch Guidelines
After that, you should sketch out how you will adjust on the picture. In this case I've increased the size of the fingernails, and made a a white area in the middle of the hand where I want to put a small brain. Just make a place holder for now, but make it a little smaller than the actual brain will be so you can draw the hand tightly around the brain without gaps. You can draw some drips too. You can put them between the fingers, and on one side of the hand, like i did. You will sketch all this on a separate layer.
All that being set up, you should start drawing the hand.
Step 3: Build the Outline
The file size that I us is somewhere between 50/ 50 cm and 70/70 cm at 300 DPI. Get your graphics tablet set up & operating properly. Take a look at the settings that I usually use for the brush. These settings work well for the file size we're using; I recommend that you try them.
For drawing, use a dark brown or gray color (something like 3f311d ), not black. Black has a too strong of a contrast with the white background which gives your linework an overly sharp appearance. So my advice is to use those colors for the brush, but if you want to use black for the brush you can change the background color to a light cream or gray and everything will look OK.
Start by making a new layer where you will draw the outline, it should look like this. You will also draw the lines that you consider will help you in the next step; (the first level of shades), so look for thicker and darker lines from the picture and draw them too.
After the outline is done you can start making the shades, but first I made those red dashed lines which follow the shapes of the hand. You should always have lines like this in your mind when you start hachuring, so you can represent the volume in the right way.
Another thing that I recommend you to do before you start is to adjust the contrast of the picture until it will look like this. This will help you to see where to put the darker and most important shades. You will see that after this first level of shades are made, the subject will start to look good.
Step 4: Begin Hachuring
Now, when you start the hachure, don't forget to make a new layer. I recommend that you always make a new layer when you do something new or different on your design and you're not sure how it will going to look.
We all know how bad is to work on a wrong layer…. :)
Now your drawing should look like this. The hatchring it's made from overlapping lines in different directions and different lengths, so where you want to make a darker area you will draw thicker lines. In lighter areas you will leave only a few lines and you can make them thinner for an even lighter tone.
The hachure should look something like this, here you can see how on the left/down side is darker then the rest. That's because of the multiple overlapped lines. If you will make it smaller you will see the effect that I want to achieve; and that's to look like a textured gradient.
Step 5: Add Details
After you have finished with the darker tones, make another layer, and start working on the details. You should not make too many details, or at least not small ones because you will not be able to see them when the drawing will be printed.
To assure that you have enough details you have have to look at the drawing at approximately the size that it will be printed and see how it looks. Or better yet you can print it on a paper at the real size so you can have a preview of the final work.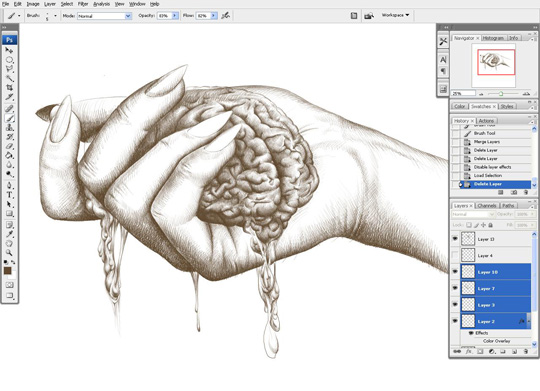 Drawing the Brain
Now in case you are not used to draw brains, find a picture of one and try to imitate the texture that you see on it. The most important thing when you will draw it is to respect the light source when you make all the ''wrinkles''. This will actually make it to look like a brain.
Now it's time to merge the layers you created while drawing the hand. Once merged, apply a color overlay effect to give it a red color. Now you can see the parts from the hand that you will have to erase, parts where the brain and the hand are overlapping.
Now you will understand better why I told you earlier to make the placeholder for the brain smaller than the brain will be. It's easier to erase what's behind the brain.
Now you can delete the color overlay effect and get rid of the unwanted layers, if you have some. If you think that you may want to color the drawing later, you can keep separate layers for the hand and for the brain.
Final Touches
Step 6: Add Extra Shading
Finally let's put some shades around the brain as you think it would reflect on the hand. And you should remember to keep the same light source whenever you put new shading.
And now you can merge all the layers together, and you're done!
You can use this technique for making t-shirt designs, illustrations, posters, you name it. From my experience I can tell you that it will be appreciated very well.

Step 7: Add Texture to the Final Presentation
If you want the drawing to have more impact when showed to a client, I recommend you to change the white background to one more ''artistic''. Usually I use a combination of different textures and old papers pictures, and it should look like this.
Here are some details from the drawing, and some designs that i created using this technique.
More Examples of this Technique
I hope you liked my tutorial and find it useful, for any other question, don't hesitate to write here or contact me at [email protected] Thanks for reading!
We know how much you guys and gals love a good tutorial! We just launched our new Hoodie Templates and they are amazing. I decided to sit down and design a hoodie and to write a tutorial in celebration.
You should know right from the start that there is a lot to digest here. This is a long tutorial and will demonstrate some advanced skills. Along the way you'll not only learn how to create a detailed illustration, but also how to create professional hoodie mock ups with Go Media's Hoodie Design Pack.
Here's what we're gonna make:

IN THIS POST
1. Creating a Custom Hoodie Design
2. Mocking it up
3. More mockup examples
4. Hoodie Design Pack feature tour
WHAT YOU'LL NEED
1. Something to sketch with
2. Scanner
3. Adobe Photoshop
4. Wacom Tablet
5. Go Media Hoodie Design Pack
6. A cup of coffee
CREATING YOUR CUSTOM HOODIE DESIGN
We're making a super custom illustrated hoodie design, right? The best place to start with a project like this is the sketchbook. For some inspiration check out my colleague's sketchbook. You should start sketching something that you're really interested in. Personally, I love tentacle looking things and couldn't get the word "bogus" out of my head…so a bogus octopus was born. I did this one really quick (about 15 minutes) but your mileage may vary.
I scanned the rough image from my sketchbook into Photoshop and busted out my handy dandy Wacom tablet.
I set up my file for 25" by 20" at 300 dpi in CMYK, then pressed ctrl+alt+shift+n to create a new layer and began to draw over my sketch.
We always get questions about what kind of brush settings we use when drawing with a Wacom. These are the exact settings I used.
Remember how quickly I sketched the octopus? It's just a starting point, because as you can see I don't always stick to the original sketch. As I am working I just let the drawing dictate where things should lie.
If you aren't comfortable with this, you can just add all the detail that you want to your initial sketch and try to follow it a little more closely inside Photoshop.
In this next shot you can see how the drawing is growing beyond the boundaries of the original sketch. It's starting to shape up! Take a look at your own design right now and start to revise it until you're happy. We'll be moving on to adding details in just a minute.
After I had my rough outline at a satisfactory point, I then went back through the drawing and added detail to make the little guy come to life a bit more. For me, it usually just involves thickening up outlines to simulate depth and adding texture to the rough outline. In this particular image, it mostly involved making wrinkles and adding splashes of ooze.
These next few shots are really important. As Bill expertly explained in his "How to Become a Master Designer" series, one of the secrets to depth is varying line weight. Take note of how this looks and try to add a little depth to your own design.
Okay! Looks like all my linework is complete. Now let's bring it to life with some color.
Adding Color
Once I was finished with the outline of the drawing, I went back and began to add color. I started by laying down the base color of the octopus. For this drawing I chose a nice bluish green color.
Here's how I set up my new Octopus layer:
Use the magic wand to select all the white area around your black outline and all the other spots where you don't want the octopus color to be.
Then use select inverse and create a new layer.
Use the bucket tool and fill the new layer with the color you chose.
Then I selected a slightly darker hue and added shadows to create even more depth and dimension.
I followed the creases and folds of the tentacles with my Wacom pen keeping in mind which parts I want to pop forward and which I want to recede into the background. Always try to think of where the light would be hitting the different areas.
I wanted the octopus to look really wet and shiny, so I added heavy white highlights throughout the illustration to simulate a glossy surface. Again, just follow the creases and folds keeping in mind how the light would hit the various parts. Also keep your Wacom pen strokes somewhat loose and free flowing.
I then chose other colors that complimented the design and I used them to add the final details to the octopus. FYI: I always keep my colors on separate layers. It makes it much easier to edit them without having to destroy the whole drawing if you decide to change something.
For the background of the illustration, I created a free form splatter shape that echoed the shapes of the ooze splatters. I duplicated the shape and used a bitmap to create a halftone image. I then used hue shift to change the color to a purple hue.
The final illustration looks a little something like this…
Making the Repeating Pattern
I really liked the way the tentacle/intestine shapes were looking so I decided to make a repeating pattern from them to use as a background texture/all over print.
To begin with, I created a file at 1800 x 1800 pixels. I then copied portions of my black outline layer from the octopus illustration into the new file.
After I had arranged the tentacles into a design I was satisfied with, I used the offset filter to make the pattern repeat. I did this by offsetting the image by half of each of my dimensions, so 900 pixels in width and 900 pixels in length. You will notice at this stage there is a noticeable area in the center where the lines are crazy and don't match up – don't freak out – we're gonna fix this.
So, I erased all the weird seams and began to re-connect the tentacles with my Wacom Pen. Go back and redraw, erase, and repeat. There are a lot of lines to clean up, but the most important thing is that you should not change any of the lines on the outer edge of your design or your pattern will not repeat correctly.
Once you get it to a point where you think everything looks good, double check to make sure the pattern aligns correctly in all directions. If it does, congratulations, you just made a repeating pattern…not so hard, huh?
MOCKING IT UP
Now if a client asked for a hoodie design – she might not be too impressed if I show her just the flat illustration. She asked for a HOODIE, so that's what we're going to give her. Enter the hoodie templates.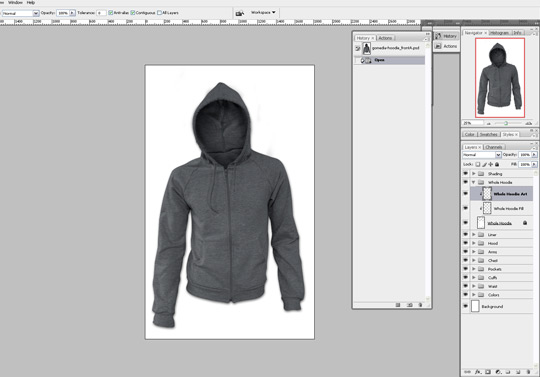 I begin by dragging my artwork onto the "whole hoodie" layer to size it and get it positioned where I want it. Once you get it where you want, the joy of the hoodie template comes into play. The design already looks pretty darn real because it's automatically shaded by the 'Shadows' & 'Highlights' layers.
For this design I only want the print to appear on the front and the pockets of the hoodie. However, if you want some custom pockets or cuffs – it's really easy. Adam Wagner has painstakingly masked off the various parts of the hoodie at nearly every seam, so you can do some really custom things with the design.
Anyway, for my particular design, I opened the folders for the "Chest" and "Pocket" Layers and pasted the design onto the "Left Chest"," Right Chest", "Left Pocket" and "Right Pocket" Layers.
Now that I have my design in place, let's move on to coloring the hoodie. I am a huge fan of reversible hoodies (two looks for one price baby!), so we're to mock this up as one.
I began with the outside color of the hoody. I'm on a big purple kick right now so I am going with a vibrant dark purple color. I selected the folder named "Colors" and I use hue shift to adjust one of the color layers until the hoody is the right color of purple.
On the inside, I used a green that is similar to the green of the ooze in the design. I sampled the green from the ooze with the eyedropper tool and then filled all three of the "liner fill" layers with the fill bucket tool.
The last thing I did was add the seamless pattern to the whole hoodie. For the outside I gave the pattern a light purple color, and for the liner I gave it a light green color. Presto – done.
Here's the final design and hoodie mock. Phew – we made it! If all of this was a bit difficult for you, give it time & keep reading. I'm going to show you some really quick shortcuts to get you started in the next couple of sections.
MORE MOCK UP EXAMPLES
I'm pretty happy with the final result, but let's take a look at what the design would look like on a couple of different hoodies. I really like the way this next one shows the inside of the liner. Gotta love reversible hoodies.


Here's one more in a standard flat view.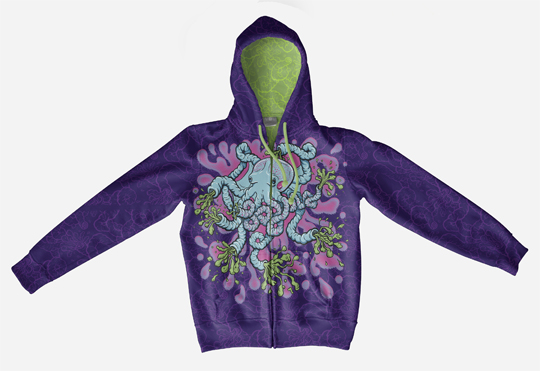 HOODIE DESIGN PACK FEATURE TOUR
Alright. This post is getting kind of long, but I really want to explain the Hoodie Design Pack a bit more. There's a ton of included treats & functionality. Let's see what's under the hood.
1. The Templates
Ok, so here is the meat & potatoes of the design pack. It includes 10 Hoodie templates in PSD format. Each Hoodie has masks & layers for nearly every single seam on the hoodie. Each seam has the following layers which make it really easy to experiment with many design possibilities.
1. The shape layer (this acts as the mask)
2. Fill Layer
3. Pattern Layer (more on this in a minute)
4. Art Layer.
To the left you can see all the seams that we've already masked out for you.
These layers make it a snap to mockup complicated designs that need to look real. For example, you can realistically mockup diagonal stripes on each of the pockets, or give your design dark cuffs. Besides all these layers, you'll notice lots little details, like how the tag & drawstrings are separated for some extra realism.
The Colors Group has eight preset base colors, and you can of course fill any of these layers for any base color you choose.
2. The Textile Patterns
The Hoodie Design Pack also includes 93 Seamless Textile Patterns for quick experimentation with the templates. Think of these as "presets" to start stimulating design ideas & options.
Textile Patterns include:
Herringbone
Houndstooth
Zebra, leopard & crackle print
Plaid & Argyle
Shearling
The hoodie mockups below were created in a few clicks using a few of the included patterns. Cool!

THAT'S IT!
Phew! We went from sketch to scan to final Illustration to mock up. Then we went ahead and explored the Hoodie Design Pack in a little more detail. I think that's enough for this time! I hope you ended up with a killer illustration and had fun playing around with the templates.
You could hop on ebay and bid on some anatomical skull models (which run between $20 and $80).
Or, you could just download these complete reference photos prepared by jimiyo exclusively for the Go MediaZine. They're awesome! Inside there are 15 high res skulls at different angles and cut out from the background. So get your Wacom tablet set up and spend an evening drawing over these reference photos. It's fun and really great practice.

Also an update: Thanks in part to your votes, jimiyo is in the final five over at the DBH competition! That is really an accomplishment. The votes have been reset so make sure to say thanks for these great resources with another vote. Good luck jimiyo!
[download#26#nohits]
Hey designers, attend our all-inclusive soul-fulfilling three-day design retreat, WMC: Off-The-Grid, this October 5 – 7th. To learn more, head to wmcfest.com.
A lot of you have asked about how to set up your Wacom for awesome results like this. In this post we'll cover the basics of getting your Wacom working, some finer details of getting it to work well, and finally some tips for getting better at drawing with a Wacom. We use Intuos 2s & 3s here at Ohio Website Designers, Go Media. Specifically, this tutorial was written with the Intuos 3 6×11 in mind.
If you have more questions about using your Wacom after reading this post, please reach out to Wacom directly. We do not handle any support questions here at Go Media. Thanks!
Step 1
Getting your Wacom installed
Well first of all, just plug the USB cord of your Wacom Tablet into your computer. You'll see that the pen tracks right away, but it has one major problem; it will not reach to all corners of the screen without having to be picked up for another swipe across the tablet. This is because you haven't installed the Wacom Software yet.
So calm down. Yes that new toy smell is really exciting, but we've got to install some stuff first. Put in the CD that came with your Wacom or head over to wacom's website to download the software & drivers for your model. Once installed, you should notice some things are different.
First, the tablet is proportional to the screen now – you can point to any spot on the screen without picking up your pen.
Second, unlike your mouse, your Wacam pen will point to exactly the same spot on your screen when it is pointed at the corresponding spot on the tablet. This is really cool once you get comfortable with it.
Step 2
Adjust your Wacom's settings Fire up Photoshop or PainterX and play around
I know you want to!
I'm only going to to cover the use of the Wacom with Photoshop because it is all we use at Go Media. For a great video tutorial on Wacom settings in PainterX, check out Ray Frenden's guest post from a while back.

Go ahead and create a new Photoshop Document at a pixel resolution equal to your screen resolution. Set your foreground color to black and select the Brush Tool. Press on the rocker button closest to the tip of your pen, which should be mapped to be a right click by default. Set the brush hardness all the way to 100% and size to about 20px. Press F5 to bring up the Brushes palette and make sure the "Shape Dynamics" box is checked. Make sure the rest of the settings match the screenshot.
Now go ahead, draw a squiggly line! Does the brush vary in thickness in response to pressure? Great! It doesn't? Don't worry, it happens to us all of the time. Shut down Photoshop, fire up the wacom tablet properties software just for fun, restart Photoshop. Rinse & Repeat.
Step 3
Adjusting your Wacom's settings
In your start menu you should see a 'Wacom' folder, and inside, a 'Wacom Tablet Properties' program. This utility helps you tweak the special buttons on your tablet, pen pressure, and a lot of other stuff. The most important setting here (and the only one I'm going to talk about) is the 'Tip Feel'.


As you can see from the screenshot above, I like pen tip to have a firm feel. This means that I have to press harder to get the same line thickness than at the default settings. I find that being able to keep a constant medium to hard pressure helps me make smoother lines. The software has a handy little preview of how hard you're pressing so use that as a benchmark to find the best setting.
Drawing Tips
Before I started using a Wacom I imagined that it would magically transform me into a good artist. Not so! In many ways the Wacom is more difficult to control than traditional drawing tools (it's saving grace is the Undo function). So unfortunately even if you follow this tutorial perfectly I can't guarantee you'll be drawing scrolls like Jeff does. Even so, here are some tips for getting better as a Wacom artist.
Practice! Plain old drawing is great, but also try some Wacom training drills. One that I've used is trying to draw perfectly spaced even lines from thin to thick. Then try it thick to thin, then thin, thick, thin. Try concentric curves, squares – anything that requires you to keep line thickness and spacing consistent is good.
Zoom in. Your Wacom's tablet area is proportionate to your screen, not your zoom setting. For that detailed linework go ahead and zoom in to reduce shakiness.
Be Decisive. Quickly drawn lines are naturally straighter, so don't be bashful.

More Questions?
If you have more questions about using your Wacom, please reach out to Wacom directly. We do not handle any support questions here at Go Media. Thanks!
Lastly, make sure to check out our Arsenal Membership, which hooks you up with our huge product library for only $15 per month. Yes, seriously.