Hey designers! Today we're posting free floral vectors reminiscent of old wallpaper. There are four vectors in all. Two main floral designs as well as two grungy variations.
[download#17#nohits]
So as a follow-up to the mouse cursor freebie from last week, here are some free vector Illustrator icons! There are eight of the most-used Adobe Illustrator tools inside: both arrows, pencil, magnifying glass, hand, pen, brush, and eyedropper.
Download after the jump – and stay tuned for more Go Media freebies! Enjoy!
Hello again – more free vector art! This time it's a sampler from Vector Pack 11 that was released a few weeks ago. Inside you'll find seven complete vector pieces, one from each set. So you've got a taste of Trees 2, Doodles, Birds 2, Hand drawn Skulls, International skylines, type explosions, and Suits. Hope you make something sweet with these pieces – be sure to share your work with our User Showcase!
Grab it after the jump and stay tuned to the Go Mediazine for more tips, tutorials, and freebies!
Vector Freebies
It's Monday, so we thought it would be a good time for another vector freebie from Go Media! Our Ohio web designers have found these vector cursors useful – we hope you do too! Inside you'll find 2 variations on the finger pointer, hand cursor, and standard cursor.
I figured I'd offer up a free sampler of Vector Pack Set 9 which was just released yesterday. This will give you a good idea of the quality and detail in some of the vector shapes you'll get.
Downlad the file after the fold and make sure you leave a comment to say thanks!
We're giving away a little sampler of our newest Vector Pack Set 8. There are 7 items, one from each individual pack including Decorative 2, Religion, Flourishes, Music, Industrial, Arrows 2, and Silhouettes. Enjoy!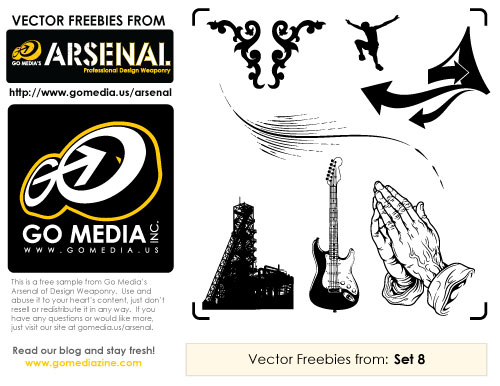 Download the file after the jump and be sure to say thanks in the comments!
Calling all bands, artists, and musicians!
Use TuneCore
to get your songs on iTunes, Napster, Rhapsody, eMusic, and more and get yourself a FREE complete set of Go Media's Vector Packs!
I've worked with TuneCore
before on getting my friend Brent Simon's music on iTunes and it worked surprisingly well. I think I paid something minuscule like $30 bucks for the year and got every track on his record up on ALL those digital music stores. A few weeks later his album was searchable in the iTunes store as well as streamable on Rhapsody! It even had his album artwork up there. I thought that it'd be really hard to get our songs up on those sites because it seems like only the big and famous bands can do it. But TuneCore makes it so easy it's ridiculous. So what a better motivation to get your band's music up there than getting a full complete set (a $52 value) of our Vector Packs.
Click here for more information.
Sign up with TuneCore and start uploading your tracks!