A quick round up of some interesting new and updated Mac utilities of interest to creative types.
Photoshop Automator Actions 5.0 (free/$19.95)
A package of Actions that lets you control many of Photoshop's most common functions from within Mac OS X's Automator, letting you add Photoshop functionality to your Automator workflows. If you find them useful, please consider donating at the developer's website.
From the developer's website:
Why would I use Automator instead of Photoshop's own actions?

While Photoshop's Actions palette provides a simple way to record and playback complex actions, it's functions are limited to only things you can do in Photoshop. Since Automator workflows can span multiple applications, you can easily automate entire photo and graphics production pipelines. For example, you can can use Automator and the Photoshop Automator Actions collection to batch process the manipulation of your images and then automatically upload the results to a server, archive them to a CD or DVD, build and print contact sheets – and all with a single button press.

The Photoshop Automator Actions collection also provides sophisticated logical actions, which allow you to filter your images based on many EXIF and IPTC tags, color mode, size, orientation, and more. So, you can build build workflows that only perform edits on images that match specific criteria. For example, you could build a workflow that processes CMYK images one way, but performs different actions on RGB images.

Finally, while Adobe Bridge provides a simple interface for launching batch processes, it limits you to only operating on the files within a single folder. Automator has no such limitations, so you can process images from multiple folders, or even images located through a Spotlight search. And, with Automator, you have many more ways to launch a batch process. You can save your workflows as applications, turn them into Folder Actions, trigger them from iCal, or save them as OS X Services.

What's new in version 5?

Version 5 brings compatibility with Photoshop CS5, as well as the final release of the CS4 actions. As always, there have been lots of bug fixes along the way including file naming, and image resizing – two problems that were introduced with the CS4 beta. Some actions have seen the addition of new parameters, and the v5 package ships with three new actions.

The new Diptych and Triptych actions automate the process of creating two-up, and three-up layouts. With full control over margins and spacing, diptych and triptych creation has never been easier.

The new Contact Sheet action replicates most of the functionality of the Contact Sheet script that is available as an optional install from Adobe. Of course, the advantage of having such power within Automator is that you can now automate the production of your contact sheets. Contact Sheet produces a PSD (either flat or layered) and gives you the option of displaying up to two lines of metadata beneath each thumbnail.

Free or Paid?

There are now two different Photoshop Automator Action bundles, the free bundle which includes 41 actions covering all of your day-to-day automation needs, and a $20 Pro bundle that packs 95 actions, delivering an incredible amount of high-end automation power. These two packages are available for Photoshop CS4 and CS5.

In addition to the actions, the package includes an assortment of sample workflows. The 73-page manual gives you a reference for all of the included actions, as well as an introduction to using Automator, and strategies for building Photoshop workflows.
Antetype Color Picker v1.01b (free)
An addition to the Apple System Color Picker and provides HSB, RGB and Hex support at the same time. It also allows visual picking of colors based on the HSB color system.
From the developer's site:
We decided that the standard Mac OS X color pickers are not sufficient for us. Fortunately Apple provides the possibility to extend the system with custom color pickers and that's exactly what we have done.

When working with colors in a creative way, the HSB color system is often a much better choice than RGB, since it is modeled after human perception of color rather than technical representation. However, in implementation, RGB or Hex values are usually needed and while switching between different color pickers works it is quite a hassle. So we created a color picker that shows and allows editing of those color systems and representations within one view. Combined with a well-proven visual way of picking a color based on HSB our color picker brings much-needed ease-of-use to the Apple system color picker.
Poster for Illustrator (free)
Makes it easy to convert any Illustrator file (.ai, .eps or .pdf) to Illustrator (.ai), EPS or PDF format. Just drag and drop files on the app's icon, select the desired format and it will convert for you. Note: version of final file is the same of version of Adobe Illustrator that you use.
I can't think of a use for this personally, but it's probably one of those utilities that at some point you'll be glad you know exists. One user on MacUpdate reported that the app helped in a situation where an EPS file kept crashing Illustrator CS3, and using Poster to convert to .ai fixed things up. The name of the app also confuses me, as this has nothing to do with posters…
— via MacUpdate
Plenty of designers out there do their design work not in InDesign, but in Illustrator. If you're among those, you've no doubt been confounded by the lack of a "collect for output" feature in Illustrator. Enter Art Files from Code Line Software.
And be sure to read on for a special discount offer on Art Files for our Go Media 'Zine readers.
Get it together
Art Files is a standalone program for Mac OS X that gives Illustrator users a "collect for output" or "package" feature, just like in InDesign.
Perhaps because Art Files was created for such a specific purpose, it's dead simple to use and to figure out what it does. If you need software like Art Files, it does exactly what you want it to do.
After launching Art Files, you'll be presented with a new document window. Here you drag the .ai files you want to process and Art Files goes to work immediately. All linked images and any fonts used in the .ai document are presented in an easy-to-read folder/subfolder structure. Color-coded symbols inform you of any errors.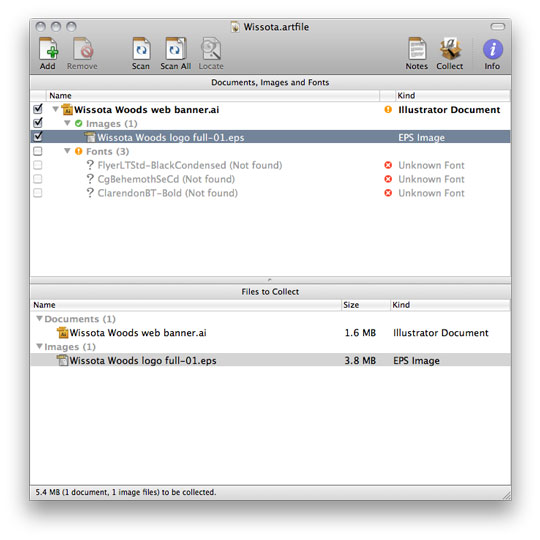 Art Files will even scan for fonts in the placed EPS documents within your file. How cool is that?
What it does
Art Files is designed so that each document scanned can be saved as an .artfiles document, allowing you to run the scan again in the future without needing to go back an locate the original files. Very handy.
Another great feature is the slide-out Info panel, which gives you a visual preview of the placed files, as well as Finder file paths to the file, and buttons to open the placed file in the Finder or open them directly in Illustrator. Again, very handy.
When it comes to collecting your files, again Art Files is on top of things. You have the option to save the resulting Collection with a Notes file, very similar to InDesign's "instructions.txt" file. The Notes text file can contain custom notes (and you can set up a default notes section in the preferences as well), contact info and a log of the collection process.
Again, as expected when you click "Collect", you are prompted to choose a location for the Collection folder. Once Art Files is done collecting you files you have a nicely packaged Collection folder with subfolders containing your linked files and any fonts used in the document.
The right tool for the job
As with the rest of Code Line's graphics software tools for Mac, Art files fills a niche and does it just as you'd want and expect it to. If you need a "collect for output" or "packaging" feature for your Adobe Illustrator files, look no further.
Code Line Software has generously created a special offer just for the 'Zine readers — use this link to get Art Files for 10% off the full $49.95 license. Offer is good until the end of February 2010. And this offer is good for any Code Line bundle that contains Art Files, including multi-user licenses.
Code Line also has a video overviewing the features of Art Files:
Pantone has recently released myPantone, a new color guide app for the iPhone and iPod Touch.
The $9.99 app allows you to choose from these PANTONE color system libraries:
PANTONE MATCHING SYSTEM (coated, uncoated and matte)
PANTONE Goe (coated and uncoated)
PANTONE Pastels (coated and uncoated)
PANTONE FASHION + HOME (paper and cotton)
Includes sRGB, HTML and L*a*b* for all colors
You can capture and extract colors from photos and snap to the closest PANTONE Color using images loaded on your iPhone or directly from images taken by your iPhone camera. The app will automatically generates harmonious color combinations, and you can use it to cross-reference PANTONE colors to other PANTONE color libraries. Once you have created your color palettes you can then share them via e-mail an HTML image of your palette or e-mail color palettes that can be used in the Adobe Creative Suite (.ase files), QuarkXPress and CorelDraw. Users can also upload to the myPANTONE.com palette sharing web site.
Other features include text and voice annotation of palettes, posting of notifications of new palettes to Twitter and Facebook and GPS tagging of palettes.
The disclaimer on the iTunes App Store states: "PANTONE Colors displayed here may not match PANTONE-identified standards" so this is probably best used for a reference on the go as opposed to a full-fledged swatch solution. One plus side to the iPhone is that Pantone knows the exact screen the colors are displayed on, so they have a better chance of calibrating what's seen on screen to their actual colors.
I haven't yet had a chance to demo the app, but once I do I'll compare to my physical swatch books and see how they hold up. Even if they were close, it would be very handy to not have to lug around swatch books when meeting with clients, even if just to choose general families of color swatches.
If you're ready to plunk down your ten bucks, you can head over and pick up a copy of myPantone at the App Store.
Paparazzi! is a handy little niche utility for Mac OS X that creates screenshots of full webpages. Add a URL (or choose from a list of recently visited sites) and Paparazzi! brings up the page in a mini-browser. Save the file in your preferred format, with custom file name options (such as auto-adding the date, year, URL, page title and more).
The real gem here is that Paparazzi! takes a screenshot of the entire web page, not just what's visible on-screen. Great tool for web designers.
Best of all, it's free! Note that the developer does ask for donations of you find yourself using the app a bit, so show some love and drop a few bucks to the developer if this software is helpful for you.
If you're a PC user, reading George Coghill's fantastic "10 Great Time Saving Mac Utilities for the Graphic Artist" may have caused a twinge of jealousy.
Many of these programs have been part of my workflow for a year or more. Several others are great suggestions from fellow Go Medians.
Okay then, let's start off with one of my all-time favorites!
1. Thumbview • Free!

Last summer I shared some tips for getting the most out of for Adobe Bridge and it's handy ability to show live previews of all types of Adobe file. However, it's no secret that Bridge uses a ton of RAM, and it may not even be part of your workflow.
Enter Thumbview – a small app that brings thumbnail previews back to PSDs in Windows Explorer (sorry Illustrator fans, I'm still looking for an .Ai equivalent).
Thumbview is especially handy in the Photoshop's Open/Save dialog.
2. FolderMenu • Free!
When Microsoft released Windows Vista one of my favorite improvements was Explorer's customizable "Favorite Places" panel; Suddenly clicking 5 or 10 times from the open/save dialog became a thing of the past. Well, the AutoHotKey powered script (more on AHK later) FolderMenu is a supercharged "Favorite Places".
FolderMenu creates customized a list of frequent folders that appears at the tip of the mouse with a quick middle click. And yes, the menu works in pesky open/save dialogs, which will save precious minutes of the workday.
FolderMenu can display shortcuts to your most frequent files, programs, and registry keys.
Power user tip: Ctrl+clicking a folder in FolderMenu will display a list of child folders, bypassing explorer all together! Using this tip, you can navigate right to the final file without ever opening a window.
3. PrtScr • Free!
PrtScr is a remarkably free screen capture & annotation tool that stands up to it's commercial competitors quite well. PrtScr has easy but powerful caption & save options, annotation, multiple-monitor support, and image scaling.
4. Ditto • Free!

Ditto is lightweight free software that gives you quick access to recently copied text and images.
With Ditto you'll be able to copy multiple fields from the source window by repeatedly hitting ctrl+c to load up Ditto's history. Then in the target window, you can quickly activate copied items & paste them into separate fields.
Honestly, Ditto is easier to use than explain. If your fingers spend a lot of time hovering over Ctrl+C, then give Ditto a try.
5. Autohotkey • Free!
Autohotkey is is the six-cylinder engine powering a few of the productivity tools I'm discussing today. It's a scripting language for Windows that gives less technical folks like me the power to write time-saving scripts.
Spend a few minutes reading the AutoHotKey quickstart guide, and you'll be well on your way to writing a script. For example, a script can handle text expansion, or open multiple programs and close all other programs with a key combination.
6. Notepad2 • Free!

Notepad2 is a no-frills, fast, and free text editor with syntax highlighting. It's also the editor of choice for Dave Romsey, Go Media's code-zone crusader.
7. Onenote • $99
Onenote may be the most forward-thinking software Microsoft has released in years. It's an organic re-creation of a spiral notebook, but with all the power & usability expected from modern computing.
In less words, Onenote is a second brain: a repository of snippets, tips, links, images, outlines, to-do lists, research, screen-grabs, code – you name it. Give the trial version a test run.
8. Multimon Taskbar • Free!
Setting up dual (or heck, triple!) monitors is a great way to boost computing productivity, especially as a designer. Nonetheless, the more pixels there are to manage, the more crowded the taskbar becomes.
MultiMon helps pixel overload by spreading the taskbar across multiple monitors. The nicest feature is that the second monitor's taskbar shows only the active windows that appear on that monitor!.
9. Taskbar Shuffle • Free!

In a similar vein, Taskbar shuffle addresses many common complaints waged against the Windows Taskbar. Taskbar shuffle let's you drag 'n drop taskbar buttons (of course), but it can also close a program or window with a middle click, like a Firefox tab.
Image courtesy of PC World.
10. CCleaner • Free!

Gina Tripani of Lifehacker wrote that CCleaner "Decrapifies your PC", allowing it to run faster & smoother. Over time, a PC collects a fair amount of junk files & registry keys that can lead to sluggish performance. CCleaner is no-nonsense, spyware free, and does its job very well.
Bonus: Zune Theme for XP • Free!
Occasionally I become bored using a PC, even if it is tweaked out & running smoothly. If you're tired of the playground blue or dull olive XP themes, try out the official Zune Theme from Microsoft.

One little app that I couldn't live without is FileBox Extender for Windows. Fellow Go Media designer @Adam_Wagner originally introduced it to me last year. It's a free, lightweight app for Windows that I use to quickly access frequently used directories.
The description on their site says:
FileBox enhances Windows by adding several advanced functions to the standard Open File and Save File dialog boxes. (Note that if a program uses its own "private" dialog boxes for these functions, you won't see our FileBox buttons, sorry.)
So for instance, if I'm always going into our Vector Packs folder while working on a project, it can get tedious having to navigate through all of Go Media's folder structures on our server. And when I've had some coffee, my mouse clicking is a little erratic and often find myself glazing over as I scan the hundreds of folders in our client directory.
Another quick tip is to simply start typing the first few letters of the folder you're looking for and it should snap you right to it. I've watched people hunt and hunt for folders for at least 10-20 seconds of "dead air" time and it's painful to watch.
One annoying thing with FileBox is that it doesn't really work well when saving attachments from Outlook. I will go to save some attachment from my email, and use FileBox to select a favorite folder and *poof* my window disappears as it immediately saved it right to the first folder I selected with FileBox. That is mostly just an annoyance with Outlook though, as it's the only program that seems to have problems with it.
FileBox is cool, but maybe there is something out there that does the same thing but better?
Time. There's never enough of it. But what if I told you there was a way to create more time, particularly in your design life? It's simple, actually—make your computer do the work.
Over the years, I have found a rather handy set of software utility programs for the Mac that have saved me countless hours of production time in both illustration & graphic design work, as well as in general computer usage. By letting these programs do their thing, they free you from having to do them manually.
Some are free. Some cost a few bucks (or more). All, however, I have found invaluable in my creative work. I'm a big fan of using your tools to their maximum potential. Usually if there's some brainless, repetitive task, I have found that some software developer out there has had the same frustration and has created software to alleviate these time-wasters.
The following collection I have found to be the most useful utility software for the Mac, specifically for creatives. They range from free to seemingly pricey, but once you've used them you'll find the work you've saved to be well-worth the price paid.
The utilities cover the gamut of creative work on the Mac—from graphic design, illustration, magazine layout output, file/folder/Finder navigation and more. I use every single one of these on a regular basis and couldn't create a Mac without them.—or at least I wouldn't want to!