How to Brand Your Apparel Line: Keys to Success
"It's a common misconception that a brand is a company's logo," Go Media Partner graphic designer extraordinaire Jeff Finley notes in his book, Thread's Not Dead. "That's just part of it. Some experts say that a company's brand is the "gut feeling" in their audience. The brand is actually a combination of all experiences that a person has with a company. When you think of every interaction as "branding" you can begin to shape the way people feel about your company in a natural way."
So just how did our favorite clothing brands build their brands and what can you learn from them?
Read on as we talk shop with Jeff and friends Ben Scrivens from popular apparel brand Fright Rags, visual media designer Lain Lee and Hallie Perrin and Chris Miles, both from Cleveland based printing company Jakprints.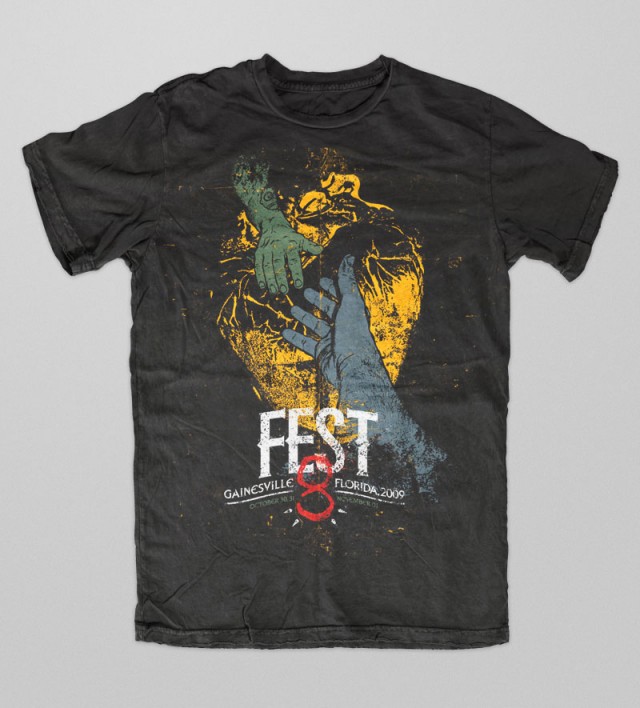 Consistency is Key
"The most important thing in branding is consistency. You need consistency in your designs, website, packaging, and social media presence. You need consistency in the way you talk to customers, how you answer the phone, what your email signature says, and the verbiage on your website, etc. The number one thing to remember is you are setting and meeting customer expectations." – Jeff Finley, Author, Thread's Not Dead
"It is very important to keep consistency throughout your brand so that the community can recognize it in stores, in the streets, and on social media. My recommendation for keeping this consistency is keeping your logo and the garments you use consistent throughout the merchandise you produce. This helps the community recognize the logo and for the consumer to recognize a high quality product that they love. It will also give them the confidence when purchasing from you." – Hallie Perrin, Jakprints
"Developing your Mission/Vision Statement in the early stages of planning can help identify who your core demographic is.   Staying true to the core values expressed in that document is a sure way to get your customers to identify themselves with your products.  Be consistent with these principles when building your brand and you will have longevity in the marketplace.
Fashion is a reflection of our own personal tastes and even the most obscure has a following. Get in touch with those personalities and make them feel like they have a larger sense of community by leveraging social media.  By giving them a platform to connect with like-minded individuals, you will gain invaluable advertising through word of mouth.  Stick to your ideals and participate in your own forums, with it will come an army of loyal brand patrons." – Chris Miles, Jakprints
Build a Culture Around your Brand
"It's all too common for people just starting out to tout themselves as bigger than they are. They use terms like 'we' when it's just one guy in his basement. I did the same exact thing… Ironically, as I really did become a 'we' I gravitated to using my own name and identity with my brand. I personalized emails to my customers, and even shot videos of myself talking about how I got into horror and why it means so much to me. Little did I know, I was crafting my story behind our brand and putting a face and voice to the company that customers could relate to. Now I spend a lot of my time cultivating those relationships by doing things like sending surveys, allowing customers to vote on designs, showing them the process of taking a design from sketch to shirt, and even showing them how a shirt is printed." – Ben Scrivens, Fright Rags
"The first step in building a culture around your brand is to DEFINE the culture you're seeking to appeal to and develop.  A huge mistake a lot of these apparel lines make is not defining their brand – the who, what and why they're doing it.  They start out by making clothes they or their friends want to wear more than anyone else, never really taking the time to do their due diligence and research, making sure that their audience is also looking for what they're putting out.  Without a definition, without a "backstory" to your brand, without understanding the culture you're seeking to develop around the brand, you're doomed to just putting designs on clothes (and being stuck with unsold inventory). Building a brand is way too expensive and time consuming to not take the time to define the who, what and why you're setting out on this journey for." – Lain Lee, Lain Lee 3 Design
Concentrate on What Makes You Different
"What I believe makes Fright Rags unique is the connection we have to not only the horror genre but to our customers. Everyone who works with us is a fan first. We think like horror fans, and we are active members in the community. Using that as a jumping off point, our sensibilities are already tuned to what other fans might like, which helps guide the types of designs we create. Also, we use original artwork commissioned by artists for our designs. While that is done more and more these days, it was a fairly new thing when we first started as many other companies used poster artwork for their shirts. Our designs are unique artists' takes on the films we love. Branding is as simple as finding those things you do that sets you apart and honing in on them. It may only be one thing, or a few, but you need to boil it all down to the essentials and build on those. It's simple – yet also very difficult – because shirt sites are a dime a dozen these days so you have to be very clear with your message or no one will buy from you. In addition, authenticity is also crucial. If you aren't connected to the types of products you sell in a personal way, it will be much harder to convince others to trust and purchase from you.
I get emails all the time from people who want to create their own brand and they are so fixated on how many designs to release when they start or how many to order for their first run. While those need answering, they are the last things to figure out. If you don't have customers then it doesn't matter if you order one shirt or one hundred. What makes you stand out? What is your or your company's vision? Why would I buy a shirt from you? Answer those questions first, and focus on creating your brand and customer experience around them. The rest will follow." – Ben Scrivens, Fright Rags
Focus on Customer Service
"Customer service is huge for new clothing lines. The main goal for customer service is to ensure that customer will be be a return customer even if the issue/situation is not in their favor. If that's a promo code, or an email for them to be the first to know when their out of stock garment is back in stock, it will make that customer feel special and feel like a key asset to that specific clothing line. The possibilities of making that customer feel special are endless, and being resourceful with this is key. – Hallie Perrin, Jakprints
"Customer Service is the key to having repeat customers.  If you plan on selling your merchandise online as many independent clothing labels do, be sure to have as much information available about the fit and finish of your garments.  You will reduce the amount of returns by simply listing the measurements of each size and by providing a footnotes about the merchandise and models shown on your product pages.  When possible, include helpful hints like "sizing runs small", or "loose fitting".
Implement Free Shipping and Hassle-Free Returns if possible.  By including these costs in your "overhead" before you add markup, online retailers can lower the barrier to entry.  Bank on either worst case scenario when building your shipping costs into your pricing or seek out flat-rate mailers to ensure that your operating costs are fixed.  2-way shipping may be too much cost for your product's price points to absorb, but if on average your customers only return 1 out of every 20 orders then you can build an extra 5% of the shipping fees into your product so that your return will accumulate over time.  Be sure to audit the amount of returns vs. the number of shipped orders at least once a year and make adjustments accordingly if necessary.
Last but not least, respond to all comments and complaints promptly.  Negative reviews on the internet can be devastating for a company of any size and can be almost impossible to erase from the web.  Treat even the most irrational customers with respect and offer them fair resolution, even if it costs you a little extra.  The price you pay for "bad press" will far outweigh any spoilage or ruined product that you may have to replace on your own dime.  With enough data, this too could be accounted for and added to your operating costs formula." – Chris Miles, Jakprints
Polarize Your Audience
"It is very important to polarize your brand.  Taking a position is what will set you apart.  Remaining in the "middle of the road" and trying to appeal to everyone will keep you exactly there – in the middle of the road. If you think of some of the world's best brands, they always let you know where they stand within their culture and what they represent.  Coca Cola, happiness and nostalgia. Apple, quality and innovation.  Bad Robot (JJ Abrams production company), mystery and great storytelling.  In-N-Out, simple, classic burgers. Remaining marginal will keep you from getting noticed and definitely keep you from standing out in your customers' minds.  To polarize your audience, take a stance and become very vocal about it.  If your brand is all about being youthful, fun, and party-hopping, shout it from the mountaintops.  If your brand is about clean lines, minimal design, and honoring the spirit of Herman Miller and the Eames, post articles that reflect that mentality and denounce the use of over complicated elements of design.  The bottom line, pick a side, then pick a strong subsection of that side, and become very vocal about it's integral role in your brand." – Lain Lee, Lain Lee 3 Design
And then…Take it Back to Basics.
"Once you've developed your brand, what are the first, most important steps to getting it launched and really seen?," we asked Lain.
"This is one of my favorite questions that I get asked a lot.  And it's one of my favorites because the answer is the exact opposite of what every article online will tell you.  Are you ready?
Make quality, meaningful connections with your audience OFFLINE and use online properties to leverage those relationships.  In a world that makes it increasingly easier to connect with people online and never have to touch, talk to, or interact with them, we've become way too reliant on the internet and smart phones to handle all of our networking.  There is no substitute for shaking someone's hand and looking them in the eye as you share your passion with them.
People don't buy your clothes because they're better than anyone else's, let's be honest.  Sure, you might have a style that appeals to them.  But let's play a little game really quick: You and another company release the same exact design at the same exact time.  You have no followers, you're just getting started, and you've only reached out to your immediate circles through Facebook, Instagram, Twitter and email.  The other company is just getting started too, but they've decided to release their new design at a local sneaker convention (feel free to substitute in here any other type of convention you'd like).
You hear from a few friends about the shirt, and finally your grandma decides to buy one to support you.  They get to spend the next 2 days passing out info, shaking hands with like-minded people, and sharing stories, laughs and making real connections with people about their brand.  They end up almost selling out of their design.  They get home and see that 52% of the people they handed out cards to have started following them on their social media channels, and their mailing list has grown.  They also received several inquiries about what else they had in the works.  In this scenario, who do you think made the better decision and why?  While you chose to solely rely on social media, the other company went out into the "real world" and made genuine connections with their customers.
So what's the take home here kiddies?
[Tweet "Customers buy from you because of YOU, not just because of what you're selling them. – Lain Lee"]
They become invested in your company when you show them why you're doing it.  So in summation – define your brand's culture, polarize your brand's ideologies and views, and when making connections with your audience, start with why.  (PS: Simon Sinek, a world-renowned author and speaker, has a great video on Youtube in which he explains why you should always "Start with Why" when selling, I highly recommend checking it out.)" – Lain Lee
– So why should we buy your tees? Tell us below! –
_____________________________________________________
More about our contributors:
Jakprints: Facebook | Twitter | YouTube | Google+ | Instagram
Fright Rags: Facebook | Instagram | Tumblr
Jeff Finley: Twitter | Facebook | Dribbble | Pinterest
Lain Lee: Facebook | Twitter | Instagram | Dribbble
_____________________________________________________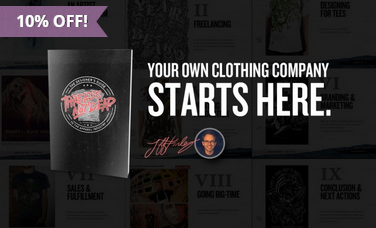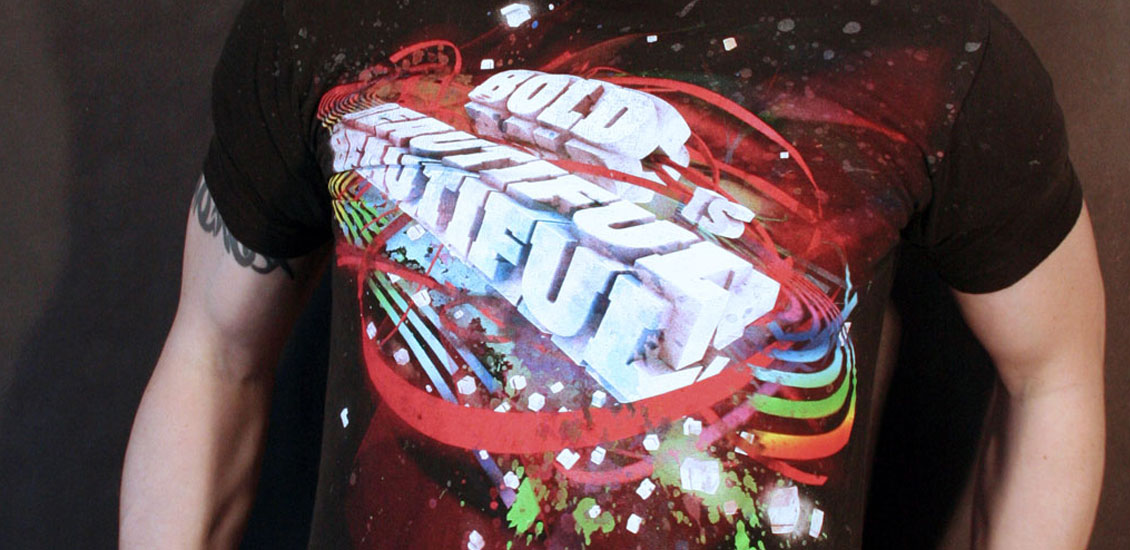 Launching Your Apparel Line
Designed your own original and unique t-shirt, printed and branded your work, ready to launch? Now you're ready for the big time.
For a lot of brands, the holy grail of going big-time is getting into well-known retail shops. There's certainly an appeal to being able to go into your local mall and see your brand on the racks. How do you get there? Here are some general tips for breaking into retail, straight from Cleveland Design Agency, Go Media Partner Jeff Finley's book, Thread's Not Dead: The Designer's Guide to the Apparel Industry.
Never Say Die.
Most of the successful "big-time" brands will tell you it wasn't easy getting to where they are and that there's no formula for success. But you've got to be willing to tough it out, deal with rejection, and be ready to ride the roller coaster. You must also have the capabilities to manufacture hundreds or thousands of shirts. For those wanting to go beyond the side project phase and go bigtime, read on.
"How to My Apparel Line into Stores," you ask?
1.  Be Proven. Your line needs to have a history of selling well. If you consistently sell out online or have built up a large fan base online, this increases your chances of getting into a retail shop. If all you have are mockups and no history of selling anything, you need to prove yourself first. It's like a band trying to get signed to a major label and play big shows when they can't sell out the local pub down the street.
2. Be retail-ready. This includes hang tags, custom poly bags or packaging, printed shirt tags, etc. You need to look put-together in order to be taken seriously by retail stores. Johnny Cupcakes often reminds people at his talks that those that pay extra attention to these little details are the ones that stand out and are successful.
3. Have a line sheet or lookbook. A line sheet is basically a PDF of your t-shirt line with product info and photos of product. Include info about your brand, the names of the shirts, t-shirt color and specs, item number, prices, sizing, and other specs unique to your product.
Don't forget to mockup your designs.
4. Do your homework. Find out what stores you want to be in and get all the information you can about them. Make sure your brand fits the style and will look good
with the rest of the products they sell. Talk to the buyers. Find out who makes the buying decisions and set up an appointment to show them your samples. The employees at your local retail shop are not likely the ones making decisions.
5. Talk to other brands who have made it. Learn from their experience! Walk into the stores you want to be in and write down the names of the brands you find. Do your homework and look up contact information for them and introduce yourself. Be polite and see you can set up an interview with them to discuss their experiences. If you have trouble finding information about a brand, it might be because they're a store brand under a different name. For example, I saw a brand called Aces & Eights at JCPenney once and couldn't find a damn thing about them online. From what I gathered, it was just JCPenney putting out a line of tees under that name.
6. Go to Trade Shows like Magic or Pool. You can meet a lot of retail buyers and talk to brand owners and consumers alike. You can really get a feel for what the current trends are at these events. Eventually, setting up your own booth should be on your annual to do list. There are others like Agenda, ASR, and Threadshow.
7. Hire a Sales Rep. Find someone who has experience selling apparel to retail buyers. They do this for a living and are likely better at it than you. They also already have the contacts that everyone wants but doesn't have. Some stores already have relationships with certain reps and buy from them often.
8. Bring samples. Retail buyers and sales reps like to be able see the actual products before they make a decision. It makes sense right? They like to feel the garment and test the quality and fit. This also gives your buyer a chance to notice all of your attention to detail!
9. Be professional yet personable. This is common sense in the industry. Buyers are attracted to people that know their product inside and out and can speak about it with passion and conviction. They buy from people they are comfortable with. If you can't manage to clean up and persuade someone to want your tees, then get a sales rep.
10. Be persistent and follow up. When you contact a store, rep, or buyer, don't be surprised if you don't hear back. These people can have hundreds of brands trying to get into their store! Make a spreadsheet of all the people you are contacting and when you need to follow up. Make sure you follow up and be persistent. Just don't be annoying and if they say no, it usually means no. Don't nag anyone, you don't want to damage your reputation.
Other Options:
Sell at Local Boutiques and Consignment Shops
You can swing by your local clothing boutiques and ask if you could sell your line on consignment. The terms vary, but you only get paid if the shirts sell. The shop gets to keep a percentage. This is a good way to get your feet wet selling in stores. There's no guarantee of making any money, but you can test the waters and get your brand name out there a little bit. You'll need to find shops that sell to the type of consumer you are looking for. Do your tees fit in with the boutique? If you find that your tees are selling locally, then you can consider moving on to more national stores.
Sell at National Chains and Department Stores
If you want to sell your stuff at Hot Topic, H&M, or other chain stores like that, you'll need to talk to their regional sales reps. You can find them at the major apparel trade shows looking at hot new brands to buy up. However, if you've got a large following online, these stores may find you through word of mouth. Urban Outfitters contacted Go Media asking to purchase a bunch of Obama skate decks that Oliver Barrett designed. We agreed on a price, signed the deal, and saw the deck in their stores. It was kind of a lucky shot there, but his design was timely and fit with what they were looking for.
Working with Distributors
Dave from Paint the Stars says, "Distributors are a great way to get your brand into places that you might not be able to reach independently." They can also help you with manufacturing and producing your tees. Getting a distribution deal is like getting a record deal, which is one way to get more exposure and sales. Dave says he's had good and bad experiences with distributors. "We've found ourselves bound by some pretty unreasonable contracts that have only benefited the distributor and left us with nothing but a bunch of empty promises." He warns, "It's easy to get drawn in with promises of brand exposure, marketing you never dreamed of, and crazy production. So make sure you go through every minor detail of a contract before you sign it." Through their roller coaster experience, they have decided to start their own distribution company called Breakout Distribution to help themselves and other indie brands take it to the next level without a lot of the fine print from major distros.

Grab it:
Thread's Not Dead: The Essential Strategy Guide for
Dominating the T-Shirt Design Business
Who is Parafina?
Carlos of Parafina Co. is a longtime fan of Jeff Finley's book, Thread's Not Dead. Recently he reached out to us here at Go Media, and we were so impressed by what he's doing we decided to feature an interview with him, right here on the GoMediaZine!
Since he was a kid, Carlos of Parafina Co. has dreamt of that one project that would allow him to do what he loves, blurring the line between leisure and work. He'd like to find that balance. Parafina is the materialization of that feeling of cohesion.
Parafina has two distribution centers. The first one is located in Southern California (USA) and the second one in Southern Europe (Spain). He believes that creating eco-friendly products is the way to go. This is what he always wanted to do. To create quality, cool, and fun products with a strong meaning and a correct philosophy. He stands behind his products with pride.
The Interview
Go Media recently had the opportunity to converse with Carlos about his company and we would like to share it with all of you, our readers.
GoMediaZine:
Who are you and what is your company name?  Tell us a bit about yourself and your brand.
Carlos of Parafina Co.:
My name is Carlos Sáez but all my friends call me "Carletes". I'm working in a little startup called "Parafina". I didn't have any business experience with t-shirts. I spent nearly two and a half years doing a lot of research around T-shirt forums, bought a couple of books (yours was one of them), started a visual blog, made mood-boards, and nearly broke my head trying to create my own voice, style and story.  I was looking for something that resonated well with all the things I love and that people will connect with. I started selling at selected stores in California, just contacting them through email, being nice and polite and showing them some off the stuff I have put together. I try to tell a story of my love for the ocean and the outdoors, in a fun way and focus in hand drawn art, eco inks and organic garments. It has been a super fun and rewarding experience so far… Loving the community response, I am so thankful for that.
GoMediaZine:
What made you want to start a clothing company?
Carlos of Parafina Co.:
After I finished university, I got to travel the world with my back pack for almost 8 years (I was a judge in the kiteboarding world cup). It was a dream job especially the first 7-8 years… Then I fell in love and had to be away from her. I always had the idea of starting my own little surf/mountain/outdoors/travel inspired brand, and it was the right moment to follow that dream.  I am a hard worker, always put a lot of passion in everything I do, so once I decided to do it, I pushed as hard as I could to learn and bring the project to life.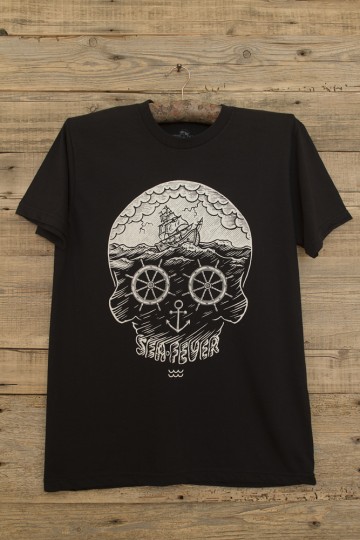 GoMediaZine:
In the world where everyone starts a clothing company, how is yours different?
Carlos of Parafina Co.:
I guess the coolest thing of Parafina is that each t-shirt has a story behind it. Each design fits into a bigger picture, a story of love for the ocean and the outdoors. I think consumers are demanding richer, more authentic connections to the products they use. That is what I expect from the products I buy, and this is what I try to deliver. I think the handmade and eco-friendly approach is really cool too. We are puting love into everything we are doing with the brand. I am really into less computer and more into artist hands on the designs. I think combining both with the right balance is the way to go.
GoMediaZine:
You said you read the Thread's Not Dead, how did that help or change your plans?
Carlos of Parafina Co.:
When you are starting you don't know where to look for answers. I noticed it was pretty difficult to get others to share answers and advice. I understand it now, it is a trial and error thing, you have to spend a lot of money learning the right steps. I was on IATT (IAmTheTrend) and I think I saw a link or something so I bought your book and it helped a lot, especially on the very first steps. Then you have to stop reading and start acting and that is where the real learning happens, because you have to go real deep into every step.
 GoMediaZine:
Launching a clothing brand is the easy part, how do you plan on growing your brand?
Carlos of Parafina Co.:
Once I decided to start the project, I started writing on famous surf websites and blogs for free, just to be able to get to know people, I have built a network of sites that are now helping to spread the word. Being in some of the best surf shops also helps, Thalía Surf Shop in Laguna Beach, for example. I don't make a buck out of that, but I see it as free advertising and brand recognition in some of the best alternative indy surf stores. I started not only with t-shirts and also got to make some other products that go hand-in-hand with the same philosophy the brand wants to share. Since our launch a couple of weeks ago, our facebook has gone from 150 (basically friends) to 800 people, and we have received a lot of emails saying hi, and telling us how they liked our vibe. Such a great feeling after all the hard work. At the end customers are our reason to be and who will make this succeed.
GoMediaZine:
What was the hardest or most challenging thing you've overcome thus far with your brand?
Carlos of Parafina Co.:
Every step has been hard, picking the name took me almost 2 years, I wrote down hundreds of names. And all the good ones were taken, when the name was available, the website wasn't. I picked "Parafina" because it is one word, because is easy to write and spell, because I like its sound and because of its meaning (surf wax in Spanish.) Also parafina oil is what you use as fuel for the mountain men lamps, so it has that connection to sea and land. Besides that, I think the financial part is the most difficult, at least for me. I like the soul and creative side and not so much the accounting side, but hey, this is business and you have to be good at everything so I had to work extra hard to get all the puzzle pieces together.
GoMediaZine:
What is your favorite part about your brand?
Carlos of Parafina Co.:
Creating concepts and ideas, doing the little details, hanging out with my customers to listen and learn from every single one of them. Above everything my favorite part is making people get stoked and happy.
GoMediaZine:
If there was one thing you wish was answered in Thread's Not Dead, what is that?
Carlos of Parafina Co.:
Overall, I think the book was really aimed at designers trying to start their own thing. Everything is told from a designer's point of view (I can understand it because you [Jeff Finley] are one of them). Maybe, it would have been good to outline how to deal with designers and how the process actually worked for entrepreneurs. But I found the 2nd part had a lot of the info that I was actually looking for as a entrepreneur. It's a good book and I recommend everyone who wants to start a clothing line to get it and study it.
GoMediaZine:
What kind of advice would you give our readers?
Carlos of Parafina Co.:
Research, all the time, everywhere. Make mood boards on Pinterest. Connect with people, get in the forums. Do your own thing, look for a style that is not overdone (this is actually very difficult and will take a lot of time) and the most important, read this post!
Parafina Co. Links
Who is Rockhart Clothing?
Andrew of Rockhart Clothing is a longtime fan of Jeff Finley's book, Thread's Not Dead. Recently he reached out to us here at Go Media, and we were so impressed by what he's doing we decided to feature an interview with him, right here on the GoMediaZine!
Rockhart Clothing's mission is to create designer apparel for gamers that rocks. Their gear is for real gamers who want to be taken seriously. They're adding rock and roll style to the video game apparel market, and finally giving adults a way to show off their favorite games. You won't find any cutesy, cheesy, or lame designs on their site. Only awesome concepts professionally printed on the highest quality garments available. Their motto is, "gamers have grown up and it's time their clothing did too."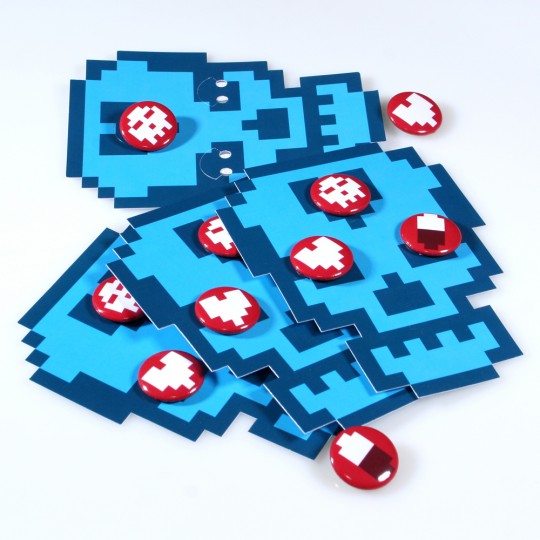 The Interview
Go Media recently had the opportunity to converse with Andrew about his company and we would like to share it with all of you, our readers.
GoMediaZine:
Who are you and what is Rockhart?
Andrew of Rockhart Clothing:
My name is Andrew, and I'm a graphic designer/illustrator/gamer living in Portland, OR. I'm the one-man show behind Rockhart — a retro video game themed clothing line that is styled after rock n' roll clothing and culture.
GoMediaZine:
What made you want to start a clothing company?
Andrew of Rockhart Clothing:
It started when a few of my designs were printed on some tee-of-the-day sites like TeeFury. There was just something so awesome about people wearing a graphic you designed. I saw starting a clothing line as not only a creative outlet, but a way to build something from the ground up that was all my own (instead of relying on other sites to sell my shirts for me). I had always wanted to start my own company, and a video game clothing line seemed to be the perfect fit.
GoMediaZine:
In a world where everyone starts a clothing company, how is yours different?
Andrew of Rockhart Clothing:
My mission is to provide designer apparel for gamers that rocks. I think Rockhart stands out from the crowd by the quality of the designs and the materials used to make the shirts. I try to design something that not only looks cool, but really brings up a feeling of nostalgia about a specific game or system. I only print on fashion fit tees (right now I use American Apparel and Next Level) using discharge inks; which is more than I can say for the horde of uninspired parody shirts which mashup pop culture references and print them on cheap tees using heavy plastic inks which are flooding the market in an effort to make a cheap buck.
GoMediaZine:
You said you read Thread's Not Dead, how did that help or change your plans?
Andrew of Rockhart Clothing:
This book, along with the crowd at Mintees, helped me with choosing a printer, packaging, and setting up the website. I'm positive your guy's advice and expertise saved me hundreds (if not thousands) of dollars in costly mistakes that would have probably killed my brand before it even got started.
GoMediaZine:
Launching a clothing brand is the easy part, how do you plan on growing your brand?
Andrew of Rockhart Clothing:
I want to release new designs more often, as well as non-T-shirt merchandise like custom jackets, art toys, and maybe even home-brew NES carts. But that's just me thinking long term. I have a sketchbook full of ideas and I can't wait to turn them into something cool for my customers. I also have something new coming out very soon… So keep your eyes out for that!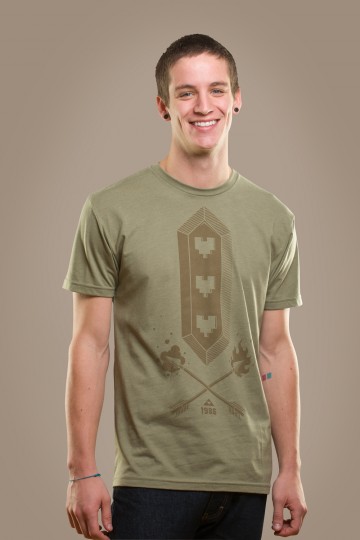 GoMediaZine:
What was the hardest or most challenging thing you've overcome thus far with your brand?
Andrew of Rockhart Clothing:
Promoting my brand has always been the biggest challenge. I've gotten a lot better at it, but you can always be on more blogs, talk to more people, and do more social media to get your brand out there. Speaking of which, you guys should really check out Rockhart's Facebook, Twitter, and Instagram.
GoMediaZine:
What is your favorite part about your brand?
Andrew of Rockhart Clothing:
Well if I really wanted to, I wouldn't have to do laundry for a year; so, that's pretty cool… but I'd have to say the best part is the people I've met through the brand. Customers, fellow retro gamers, or even competitors. It's just fun to talk to like-minded people who are as excited about the same things you are!
GoMediaZine:
If there was one thing you wish was answered in Thread's Not Dead, what is that?
Andrew of Rockhart Clothing:
That's a tough one. The book was very thorough, but I think some more info on selling at conventions, festivals, and even trade shows would be nice. I did a lot of research before my first convention and I still made a lot of mistakes that I made sure not to repeat the next time.
GoMediaZine:
What kind of advice would you give our readers?
Andrew of Rockhart Clothing:
The more work you put in, the more you get out. No one's going to go out of their way to promote your stuff except for you. Sales come from hard work and connecting with people who can help your business grow.
Rockhart Clothing Links
It's been about 8 months since I launched my first ebook entitled Thread's Not Dead: The Designer's Guide to the Apparel Industry. We've sold over 1,000 copies of the ebook and we recently celebrated the launch of the hardcover edition. It gives me goosebumps to think of my book sitting on the coffee tables or bookshelves of people across the country and even overseas. I wanted to take a little bit of time to tell the story about how Thread's Not Dead came to be and hopefully it will inspire you to maybe make your own book or do something you've been holding back on.
The Conception
The idea to write a book came to me after reading Tim Ferriss' book The Four Hour Workweek. If you've read it, you know how appealing he can make some of his suggestions! He makes it sound so easy. From what I recall, "all you had to do" is figure out that specific thing you know a lot about, write the book, and sell it digitally on your website. The point was to be specific. Everyone can be an expert in something right? According to Ferriss, in order to be an expert, you just have to know more than the person reading it. He also made it sound easy when he said to reach out to other experts, interview them, and use their answers as content for your book and give them a cut of the sales. He literally made it seem like the book would write itself.
Boy was he wrong though!
The Production
I totally underestimated the time it would take to produce Thread's Not Dead. First, choosing a topic for me was easy – I know a lot about designing t-shirts and have written tutorials here and made video tutorials of my process. I already had an audience that would be interested, so it was a no-brainer. An in-depth guide on everything I know about designing for bands and clothing companies and eventually starting your own line would be a natural progression. I had lots of "expert" contacts in this area from my time on Emptees/Mintees that I was one email away from solid nuggets of insight in areas I wasn't totally familiar with (like printing, retail, etc). From the very start I was amped and saw myself releasing a digital ebook in less than a month.
It took about 9 months instead.
Before I started writing, I researched ebooks. I read guides on how to make good ebooks and provide real value. I also paid $97.00 for a copy of "How to Launch the Shit Out of your eBook". That's an affiliate link by the way, but I highly recommend that book anyway. It got me seriously inspired, despite it being the most expensive ebook I ever bought.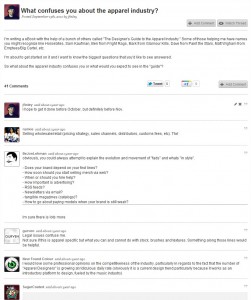 When I started writing, I kept getting ideas of what I should put into the book. What about the printing process? What about working with big bands? What about working with overseas production houses? How much to charge for my shirts? For my designs? The questions never seemed to end, so I reached out to my "expert contributors" and posted on Emptees (RIP) asking what they wanted to know the most. Of course, questions were all over the board and there were quite a few things I didn't actually know the answer to. So I had to do a lot of research and reading. If I was going to write the definitive guide to the apparel industry, I better know what I'm talking about!
What I quickly realized is there is WAY TOO MUCH that goes into the apparel INDUSTRY that I'm totally unfamiliar with. I had to admit to myself that I couldn't feasibly write the freaking bible of the industry as a whole. I was overwhelmed and getting burnt out already and I had just started writing.
But I don't give up easily so I limited my focus to just the indie t-shirt design scene where there really are awesome stories to tell. Bands and indie clothing companies made up a lot of my clientele and most of my peers from the community were just like me. I started envisioning Thread's Not Dead to be the book that came out of this scene and shined a light on the underground movement of this sub-genre of the apparel industry.
Everyone wants to know how to be the next Johnny Cupcakes. The idea of starting your own clothing company was cliche already, but the desire to do so hasn't been going away. People continue to do it and it's reached a point where having a line of tees on the side is just "another thing" that artists and designers do as part of their brand. I knew my audience was mostly artists and graphic designers, not fashion tycoons. So once I narrowed my focus, the writing became much easier.
Surviving Burnout
I tried to write the book at my desk at Go Media which included all my conveniences and distractions like Twitter, Facebook, Email, and oh yeah, clients and running a business. I'd write for 15 minutes then jump into email, then write a little more and get distracted again. Meetings, phone calls, and my general laziness sometimes got the best of me. Writing a book is NOT a short thing you can do in a couple hours, it took months of writing and editing. So I had to find tricks to keep myself focused.
Focusing Tricks
There's this other computer that we have in our office that's hooked up to our scanner. It's a really old PC with Windows XP still on it. It had no distracting apps and was away from my comfort zone, so every morning I brought my coffee and headphones to this new desk and zoned out.
I actually discovered focus apps like Focus Booster and Ambiance to create some zen-like sounds in my headphones to cancel out office chatter. My goal was to write for 20 minutes a day at the very beginning of every day before I did anything else. This worked like a charm! What actually ended up happening was I would get in a zone and end up spending 2-3 hours writing before I even realized it. I didn't even think about emails or twitter or shit like that. Sorry to swear, but seriously I hate that stuff sometimes. It's like a drug.
I did this for a few months and had Thread's Not Dead completely written in Microsoft Word. My ebook was done! Ahhh, not so fast Jeff, this looks like every other piece of crap ebook out there. That's what I thought to myself. Former Threadless CCO Jeffrey Kalmikoff told me that the book should be designed well, as it's for designers. That made total sense to me, so my work wasn't done yet!
Designing the Layout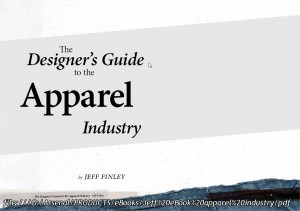 I knew the book had to look better than any ebook you've ever seen. Since I was planning on charging $50 for it, it'd better look like $50. And my design reputation is on the line here, I can't let a product with my name on it go out into the market looking like crap, so my internal quality quotient wasn't being satisfied. Since I didn't know InDesign very well, I asked a few of my peers for tips and pointers and I eventually checked out the book layout templates on Graphic River. I purchased a template which gave me a good starting point for my general layout.
I honestly won't go too in depth here because I literally stumbled my way through this process and it was really painful. I made the mistake of using low-res images because I thought it'd only be viewed on screen and not in print, but as you know I ended up putting out a hardcover edition which required a complete overhaul of everything I did. I wanted to put cool art on every page and inspire people with the images that inspired me. I wanted to make this book a work of art in and of itself. I found a local designer named Kathy Kovacic who helped me tremendously convert my ebook into a print-ready book file. The cover art was of course my favorite thing to do, which is when I decided on the name Thread's Not Dead.
Coming up with the Name
For the longest time my working title was simply "The Designer's Guide to the Apparel Industry." Which was probably ok, but I wanted a snappier name with more of a personality. Most of my favorite authors' books had shorter, catchier titles but I worried because most ebooks I know tend use a more literal "How to XXXXXX" title. So I dug deep and had a ton of different names for the book including cute ones like "Ink, Cotton, Cash" and "Don't Thread on Me" to the more direct "How to Become a Famous T-Shirt Designer" or the extreme salesy approach "How to Dominate the Apparel Industry and Get Rich and Famous Doing So."
I decided on Thread's Not Dead because it's a reference to Punk's Not Dead, the common phrase you might see spray painted on brick walls in the 80's when everyone was crying about the death of punk rock. My book takes a very DIY approach and I've been into punk since I was a teenager, so I felt like it fit with my personality. Not only that, but it was a reference to the fact that starting an apparel line has been considered cliche by many designers in the community and many consider it to be a fad. Much like punk rock was in the 80's. But the truth is, we're seeing the democratization of the apparel business just like we've seen it in the music business. Personal t-shirt lines are popping up everywhere and we'll all eat our words in the next decade as the t-shirt still hasn't gone out of style.
Selling the eBook
When the book was finished, I had to come up with a plan to sell this thing. We already have a platform on The Arsenal to sell digital files, but I wanted to create it's own site dedicated to it. One single page with the sole purpose of selling the book. With my knowledge of designing landing pages to sell products, I knew we'd get more sales this way than simply uploading it to our crowded storefront on the Arsenal. So I designed the site from scratch and used ejunkie to handle the payments and deliver the digital files.
Prior to launching the site, I created a temporary landing page with LaunchRock to build an email list of people interested in buying the book. So when I launched the book I'd have people already waiting to buy. This is a good plan when launching any product, an ebook especially. Don't just launch your ebook without any sort of pre-launch hype or promotion. All this stuff is discussed in that How to Launch the Shit Out of Your Ebook guide I linked to above. Without reading these tips I probably would have rushed the release of this thing and not made as much of an impact. In fact there are lots of things I am not doing and have never done because I simply don't have time to write accompanying blog posts related to every section in my book or guest post on apparel industry related blogs. I try, but there is only so much time in the day. But if you make your ebook, these are good strategies to keep in mind!
The Audiobook and Extras
One thing that makes digital products cool is you can bundle it with other digital files and provide extra value. If I was going to charge $50 for this ebook, I'd better make it worthwhile. So I grabbed a bunch of our Arsenal products like vectors, textures, and t-shirt mockup templates and bundled it with the book. In addition, I spent the time narrating every chapter to create an audiobook version. (my preferred method lately for consuming books) My colleague and former-bandmate-turn-sound-engineer Adam Wagner recorded and edited it for me and my buddies in the pop punk band Spraynard let me use their music. Some have told me they've listened to the audiobook over 5 times and it continues to inspire them. This makes me happy because that's how I feel when I listen to some of my favorite authors. I love hearing from people who valued what I had to say and I love even MORE to see people make cool stuff as a result. Anyway, I digress…
The Hardcover Edition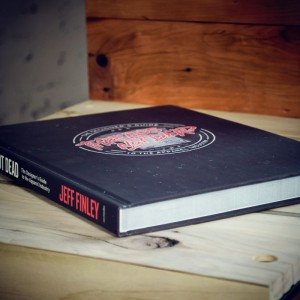 Digital products are great; they have no overhead and can be sold a million times over without having to make more products. Isn't the Internet amazing? But the design of the ebook felt much more like a print book in digital form, so naturally I got lots of requests for a hardcover version. My first answer was to tell them no, it's not in the plans. But the more I got requests from readers, the more I considered it. I even had some good twitter conversations with Laurence King, a publisher of some of my favorite design books. In the end LK chose not to help me produce and distribute a hardcover because I had already released the content via ebook and it would probably kill their sales. That seemed completely reasonable and they were super cool regardless, but this answer inspired me to look into self publishing options.
I poured over reviews of Lulu, CreateSpace, Lightning Source, Blurb and others. It was exhausting and my new friend Kathy Kovacic was very helpful in helping me decide. Ultimately we ended up going with Lightning Source because they had the largest distribution network for print-on-demand book publishers. Honestly, working with LS was kind of a pain because there was a lot of paperwork, contracts, and red tape. However, they produce an amazing quality hardcover and get my book major online retailers like Amazon, Barnes & Noble, Books a Million, etc. They also allow those big-box brands to order books wholesale to stock their brick and mortar stores. The book has an official ISBN number and could potentially get on the NY Times Best Seller list if it happened to sell a million copies :-).
Now the downside to all this stuff is that the profit margins on the hardcover book are extremely thin. I was already selling my ebook for $50, so it didn't make sense to sell my hardcover for anything less. But anything more seemed like too much for a book! In this case, $50 was pretty much the minimum I needed to charge in order to not LOSE money on sales because of the high production costs of print on demand, shipping, and wholesaler discounts. It's a crazy world of publishing, I must say.
The Launch Party
In October 2011, we decided to host an official launch party and book signing at local indie book store Visible Voice Books here in Cleveland. I was joined by TND contributors Adam Hendle of I Am the Trend and Brandon Rike in addition to local inspirations Steve Knerem, CLE Clothing, and Glen Infante of iLTHY. The video at the top of the post sums up the experience, which was kind of like an odd dream come true. I never really dreamed of writing a book, it just kind of happened.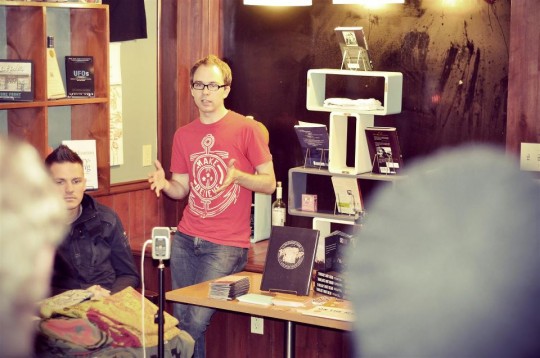 The Future
I plan on writing more books. I have to. I need to put all the things I learned writing Thread's Not Dead into practice and do it better next time. The next book I write will likely be about what inspired me to create Weapons of Mass Creation Fest and how this energy has inspired others in Go Media to pursue initiatives like Bad Racket, 2nd Shift, and now On the Map. It will be about being a creative entrepreneur and about our passion for building community around the things we love and making them work together. I'm not sure when that will be, as right now my focus is on redesigning the websites for Go Media, The Arsenal, and GoMediaZine to reflect these ideals.
Wrap Up
I hope this has given you a good look into what it was like making my first ebook. And I hope this has inspired you to perhaps make your own or start something fresh. If you want to buy my book, you can over at threadsnotdead.com or if you want, get the first chapter below:
Hello GMZ readers! If you're looking for the video from last Thursday's live broadcast, you've come to the right place.
We wanted to summarize some of the things that were said during Jeff's live broadcast about his ebook Thread's Not Dead. First, the recorded version of the broadcast. Since it was a big first time for all of us, we ran into the unavoidable technical difficulties, but oh well. In the end, it all went rather well and smoothly.The recorded videos, however, might have a few gaps here and there. I also wish we could have a recording of the chat window to follow along.
The video is divided into 10 parts – which happened unintentionally (darn you, UStream!). To save you time, here's what each part is about.
The longest part with the most information is Part 10.
Jeff answered questions about the book itself. It seems like there was and is a strong interest from people to buy a physical copy of the book, which is awesome. Jeff is working on that. In the mean time, there are TND stickers and an affiliate program to check out.
The second part of the broadcast went on to talk more generally about the design industry, how to start your own apparel line, but also Weapons of Mass Creation Fest (since it happens in 20 days or so). There's a lot of great content in there for you to discover. We could go on for a while about what was talked about, but figure that you'd probably rather just sit back and relax while watching the video.
[Edit #1 – 5/10/2011 – 2:20PM]
The live page is, well…live! Hope to see you all there on Thursday (May 12th) for an awesome live session with Jeff. Check it out.
Ladies and gentlemen, we have the pleasure to announce something awesome.
By now, you all know that Jeff released his first ebook – entitled Thread's Not Dead – about the apparel design industry.
If not, here's a friendly introduction to its content:
TND – What's Inside…
What if the most prolific and influential people in the modern t-shirt design scene got together and discussed everything they wish they knew when they started?
That's exactly what we have here.
Inside these 10 chapters is 117 pages of essential strategy pulled from the success and failures of some of the best in the biz.
Key topics include design, freelancing, band merchandise, personal branding, marketing, sales, printing & production, retail, e-commerce, and more.
Well, the cool thing is that Jeff will be doing a live broadcast (à la James White) of an hour or so (hey, there are clients as well that want their projects to get done…) on Thursday, May 12th 2011 at 2:00 PM EST.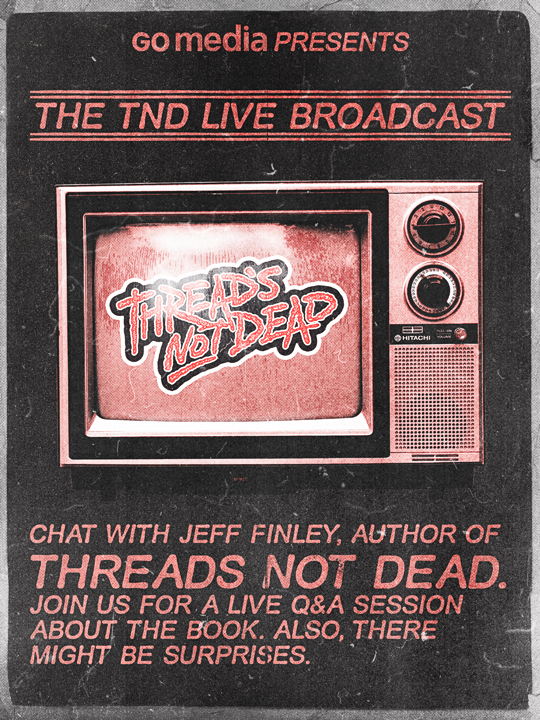 The broadcast will be held at http://gomediazine.com/live. This is subject to change, but keep watching this post for updated information. For the people familiar with the Signalnoise Broadcast, you know how it works. For the others, there will be a convenient chat window where you will be able to ask your questions, probably in the 2nd half of the show.
We can't wait to see you all there!
(Also, if I were you, I would stick around until the end, because there might be some stuff you'll want to be aware of. But I won't tell more, hehe.)