Presenting Free Slime Textures
Introducing the Slime Texture Pack, created by young creative BearCubSlimes. The eight free slime textures included in this pack are high-resolution photography of homemade slime, some of which are available on her shop on Etsy. These textures give photography or design work an extra edge, so download them and see what you can create with them today.
Slime Textures 1
Slime Textures 2
For more awesome textures like these, head to our eCommerce site, the Arsenal.
A Free Texture Pack to Make Your Thursday
Join us every Thursday, when your friends here at the Arsenal take over the Go Media blog to share insights, tips, freebies or other fun to brighten your work day.
Today we're sharing ten textures we created exclusively for you. Check out the Arsenal for more textures known the 'round the world for being the best of the best.
Here's what you'll get with today's download:
These texture samples are from the following categories: dust, motion blur, paper, smoke, paint and fur.
We truly believe that you can never have too many textures. If you're like us, then head over to our Arsenal, home of the world's best design resources, where you can soak up thousands of textures (and counting) you can't find anywhere else.
Love our products? Access our huge product library ($11k in resources) and exclusive content for only $15/mth. Yes, seriously. Learn more now.
Download it now: 
Go Media Texture Samples 1 – 3
Go Media Texture Samples 4 – 5
Go Media Texture Samples 6 – 10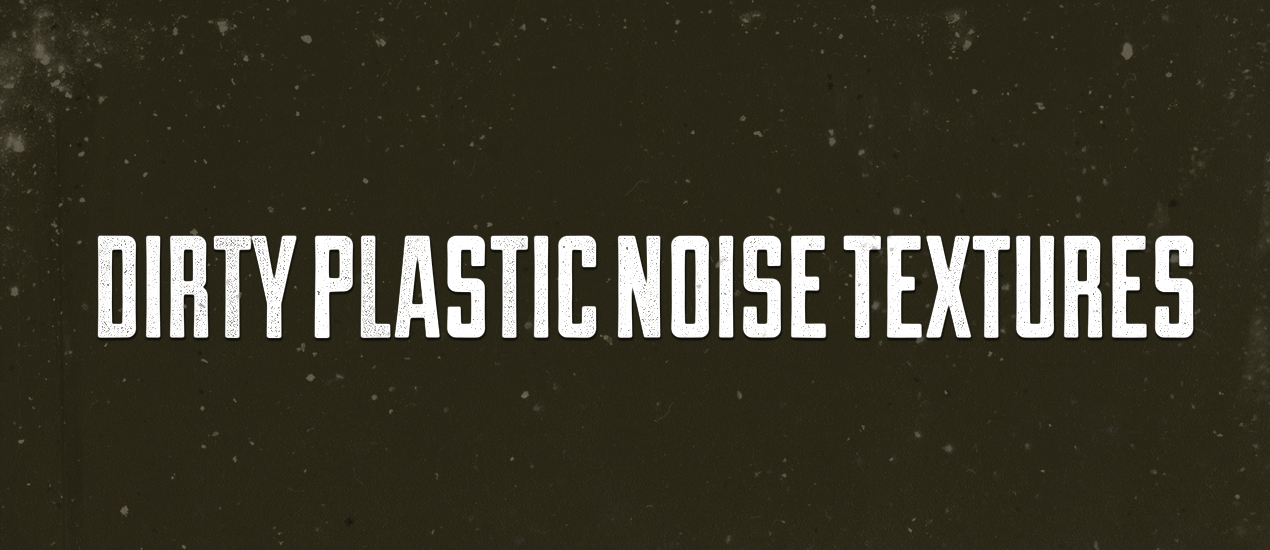 Hello there!
Simon from The Shop on this end of the keyboard. I'm excited today, because one of my go-to personal texture packs is released on the Go Media Arsenal! Let me show you what the Dirty Plastic Noise Texture Pack can do for you.
Dirty Plastic Noise Texture Pack – $9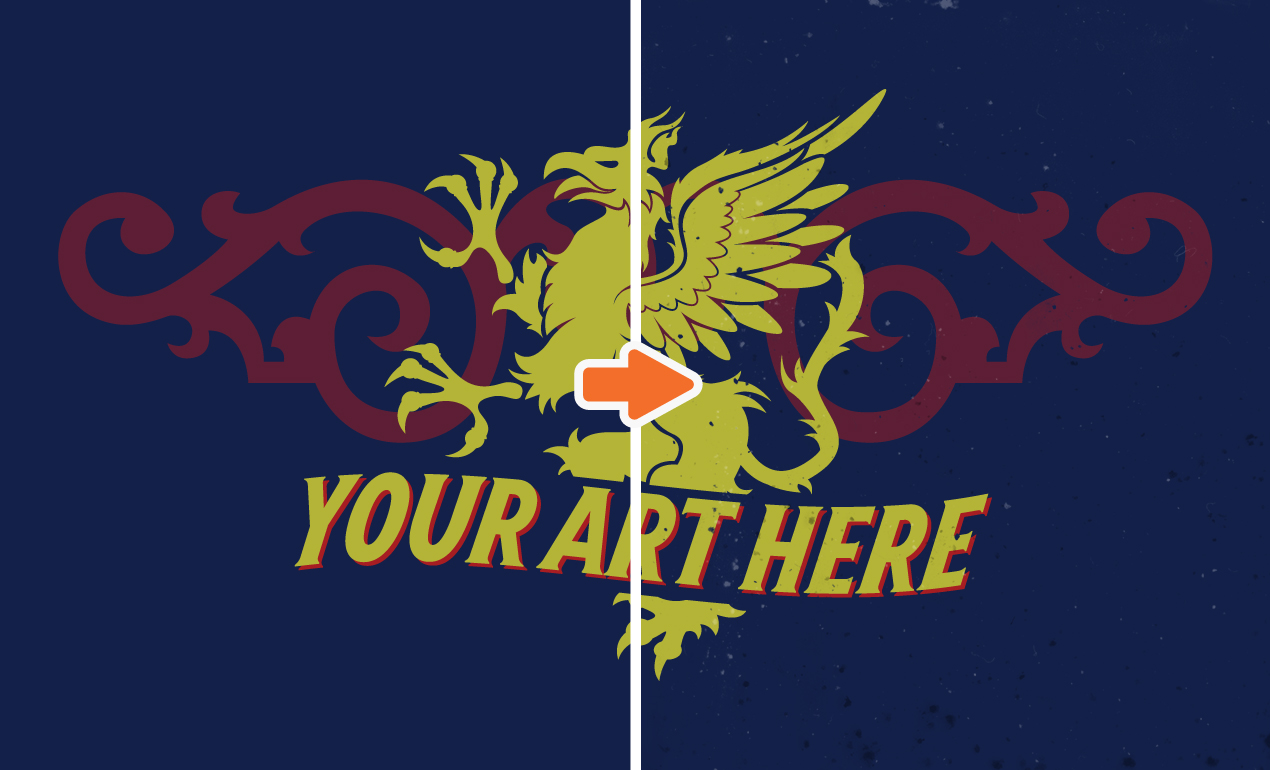 Where do the textures come from?
These noisy and dusty textures come from an unlikely place. You know these little plastic pockets in billfolds to hold extra credit and ID cards? Well, now you know.
I've had that leather billfold for a while. It's old, and all worn out. It's been at the bottom of countless pockets and bags. And it has accumulated a lot of dirt, dust, and other lint particles.
I pulled out these little plastic pockets, cut them down in flat "sheets," and scanned them at very high resolution (on average 5250×7400 pixels @ 2400 dpi). These textures are the result of that scanning process.
Unlike my Photocopy Noise texture pack, these textures actually show little dust worms, smudges, and similar artifacts. They don't look like glitch elements, but more like actual speckles of matter.
Technical data
The pack contains 4 variations of each textures:
Black speckles on black (JPGs)
Black speckles on transparent background (PNGs)
White speckles on black (JPGs)
Transparent speckles on black (PNGs)
5250 x 7400 pixels @ 2400 dpi
Dirty Plastic Noise Texture Pack – $9
Previews
How to use the textures
It's actually quite simple: put them on Screen or Multiply, and noise things away. Add a specific color overlay, and add subtle speckles to your backgrounds. Paste them in your layer masks for subtle weathering. Let me walk you through some of the steps of the creation of the hero image to demonstrate.
Part 1: background building
I'm using a 1270×770 pixels document in Photoshop.
I've filled my background with a dark, muted green (#2c2918).
Insert 2014-05-16-plastic-card-holder-textures-black-on-white-sbh-007.png in your document. It's important to use the transparent version for our effect to function later on.
Note: I like to place my documents (File > Place) rather than paste them in, as it allows me to have them as smart objects, which help to keep a non-destructive workflow.
Place your texture so it covers the whole canvas. In my case, I've kept the vertical orientation. Once you're happy with your texture placement, validate the transformation, and reduce the layer's opacity to 50%.
From there, it's time to blend that texture a bit better with the background. In this specific case, we could use a blending mode, or we could use a color overlay. I chose the latter. Double click on the layer to bring up its blending options dialog box.
Head to color overlay, and pick #3e3f41as the color.
Validate, and admire the result. We added some subtle textures to our piece in three steps (place, size, color overlay).
Part 2: using blending modes and opacity levels
As I've said before, and due to the nature of the textures, the two best blending modes to use here are multiply (and its derivatives Color burn and Linear Burn), and screen. Note that nothing stops you from experimenting further!
After placing my type elements in my piece (they are set in Duke, from Lost Type Co-op), and adding a bit of texture to them, I felt like the piece could use some additional texture buildup.
I've selected 2014-05-16-plastic-card-holder-textures-black-on-white-sbh-006 as my next texture. I really like the bottom part of that texture the horizontal smudge).
In order to feature that in a significant manner in my design, I rotated the texture 90° clockwise.
Next, change its blending mode to multiply at 50% opacity. The result keeps that sweet part of the texture, but without being overbearing (thanks to the lowered opacity), and multiply knocks away the white pixels.
The next texture to place in the document is 2014-05-16-plastic-card-holder-textures-black-on-white-sbh-010.png. It's simply placed in the document horizontally, and has its opacity lowered at 50%.
Next up is 2014-05-16-plastic-card-holder-textures-white-on-black-sbh-006.jpg. With this white on black texture, the goal is to add a lot of dust speckles using Screen.
The texture is placed horizontally in the canvas, and more or less vertically centered.
From there, change its blending mode to Screen @ 25% opacity.
The next texture I used is 2014-05-16-plastic-card-holder-textures-black-on-white-sbh-013.png.
Rotate it 90° clockwise when placing it, and then lower its opacity to 50%.
Lastly, I placed a paper texture to add just a little bit of grain to our image. I found the texture on Flickr, and it was shared by our very own Dustin Schmieding.
Place the texture in your piece so none of the paper seams are visible.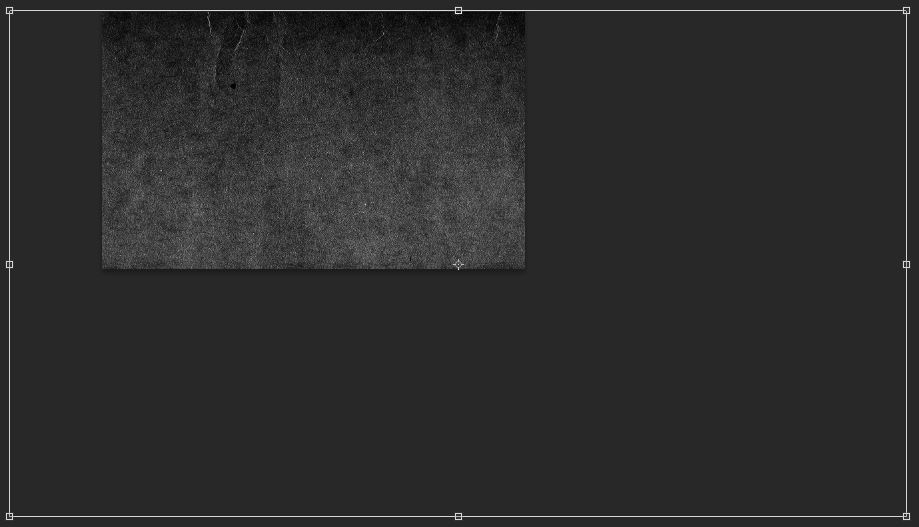 I've used the levels palette (CTRL/CMD+Ito increase dramatically the contrast of my texture. Desaturate the texture (CTRL/CMD+SHIFT+U), and then increase the dark tone value, lower the mid-tones towards the dark ones, and reduce the range of the highlights.
This results in the grain of the texture being exacerbated.
Finally, put the texture on Soft light @ 15%, and admire your hero image.
Wrap-up thoughts
This quick example is obviously just scratching the surface of what's possible here. You could combine these in many more creative ways. And their high resolution will allow you to use them in projects ranging from screen to paper without significant quality loss.
I hope you liked following the quick demo as much as I liked putting it together. Until next time, cheers! And don't forget to go buy the pack:
Stock Up with Our Ultimate Texture Bundle
The endless hunt for textures is over when you purchase the Ultimate Texture Collection Bundle, available on Go Media's Arsenal.
This download is jam-packed with the best of the best: 6 sets, one collection and one pack of high-resolution, completely unique, Go Media made textures.
That's 835 textures in total, my friends.
Originally $214, now $45 for a limited time
Here's what's included:
You get 105 high quality and detailed texture photos. Included in the set are Concrete, Wood, Paint, Rust, Oddshots, Metal, and Masonry.
You get 105 high quality and detailed texture photos. Included in the set are Paper, Bark, Earth, Grime, Stone, Geometry, and Oddshots 2. All at your disposal for wicked design awesomeness!
A set of which dreams are made. You get 105 high quality and detailed texture photos. Included in the set are Paper Stains, Rust 2, Stamped Metal, Wood 2, Ice, Painted, and Masonry 2.
You get 105 of the highest quality textures available. Included in the set are Ink in Water, Rust 3, Wallpaper, Tiles, Motion Blur, Grunge, and Skin & Fur. Take a look through the image galleries; there are some truly stand-out additions in this fourth texture set from Go Media.
We're taken things up a notch in this latest texture set, which includes 200 brand new high-resolution images inside 10 unique packs: Clouds, Dust, Fabric, Fur, Lensflare, Motionblur, Paint, Paper, Photocopy, and Smoke.
Textures are an excellent tool for adding subtle, yet effective elements like noise, visual interest, depth and definition to your designs.  So are you ready to get your hands a little dirty? Then, dive head first into the Rolled Ink Texture Pack by your friends here at Go Media. The Rolled Ink Texture Pack contains 48 textures we created using a brayer, our favorite black ink, a variety of interesting surfaces and a little elbow grease.  What resulted is completely unique and awesome if we do say so ourselves.
You get:
48 Rolled Ink Textures, from subtle to strong, straight to circular, calm to chaotic, all excellent in their own right.
We have a super cool old building here at Go Media. We went through it with a fine-toothed comb, and cameras, and captured this collection of textures. It includes 122 textures, divided in five categories: fabric, dust, grunge, noise, and wood grains. 'Nuff said.
The Go Media Watercolor Set 1 contains 45 abstract, high resolution (8.5 x 11″" at 300 DPI) watercolor washes.
Hurry! The Ultimate Texture Bundle is available for a limited time!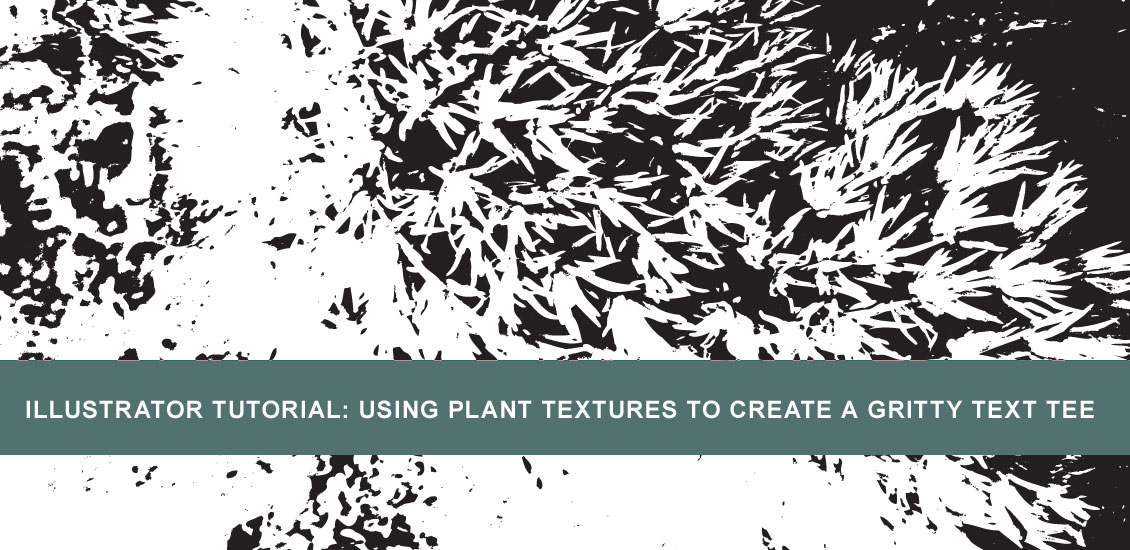 Illustrator Tutorial: Using Plant Textures to Create a Gritty Text Tee
Hey Friends,
I'm going to show you a simple way to use my Plant textures for a text tee design. The purpose is to show you how I use addition and subtraction methods to make text a little gritty in Illustrator.
Want to Follow Along? First:
Ok, Let's Go!
To start I'm going to use my hashtag #CROMfitness. This is my personal fitness plan I came up with and have fun with. And if you have to ask "Who is CROM?" I'm gonna hang my head in shame, just google it.
I'll open Illustrator and type out the text in Impact. I know, real creative, but we're going for simplicity. Open the Plants pack. I'm choosing a texture that has a lot of breaks or speckles in the texture.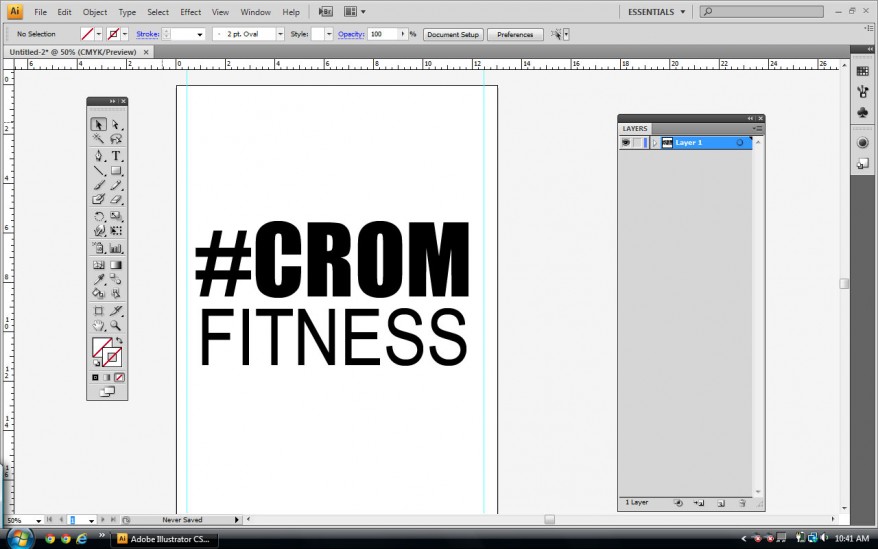 The texture I'm using is obviously rectangle so I'm going to cut out certain areas with the LASSO TOOL.
You will want to select the image you cut out, pull up the PATHFINDER box and UNITE the cut out area. I'll do this for 5 more cutouts and there we have 6 new textures.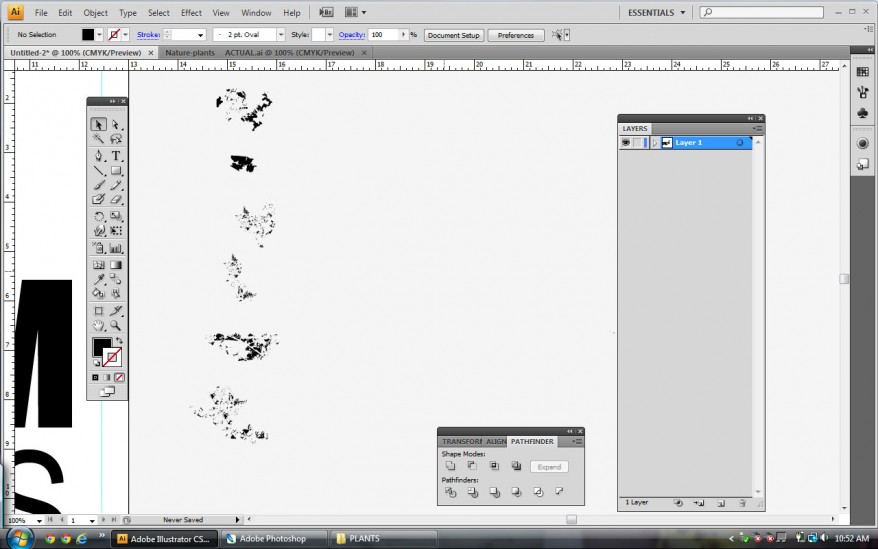 Next, I'm going to take one of the newly made textures and make another one with even smaller specs.
Next step is to EXPAND your text and place the texture over the certain letter.
This part has been my own formula, the best way I've found to extract the texture from the expanded text.
-Grab a letter with the WHITE ARROW tool.
-Hold Shift +grab the texture with the BLACK ARROW tool.
-Select the MINUS FRONT tab from the PATHFINDER box with the WHITE ARROW tool and there you have the beginning of the grungy look. This is the SUBTRACTION technique.
Repeat these steps with the rest of your letters.
Next, I'm going to add a stroke to the hashtag by using the Offset Path.
Select the hashtag then choose OBJECT – PATH- OFFSET PATH. This will provide essentially a black stroke around the outside of the object/hashtag.
With your WHITE ARROW tool grab the outer edge of the black stroke and make the fill white and create a black stroke.
Here is the additional part that I have used for many of my drawings. This is just a simple splatter effect. I'm going to grab a different Plant texture and cut out different areas with LASSO tool like I did with the texture before.
From here, I'll start building the various spots where I want this splatter look. I'll experiment with the look and feel of the different areas until I get the solution I want.
Just a tip, this is not mandatory but you can take your WHITE ARROW tool, select the letter and splatter, select the UNITE tab in the PATHFINDER box. This will keep everything together. So there you have my super simple ADDITION technique. With the subtractions and additions you get a roughed up text that doesn't look so boring.
Ok let's mock up our tee using the World's Best Mockup tees from Go Media, which you can buy in packs on the Arsenal, or individually on MockupEverything.com.
Make an EPS file of the image and bring it into Photoshop. Drop it onto the file and adjust the size and color. We now have a great visual for the CROMfitness.
Thanks for reading through this short tutorial. I find that the most simple effects/techniques provide the coolest results that make people say "How did he do that?"
Make sure you pick up these textures and make something nobody has ever seen before so they are asking you "How did you do that?"
Categorized:

Go Media's Arsenal, Graphic Design, Illustrator, News, Tutorials

Tagged:

Adobe, arsenal, Illustrator, texture, texture pack, texture packs, textures, tutorial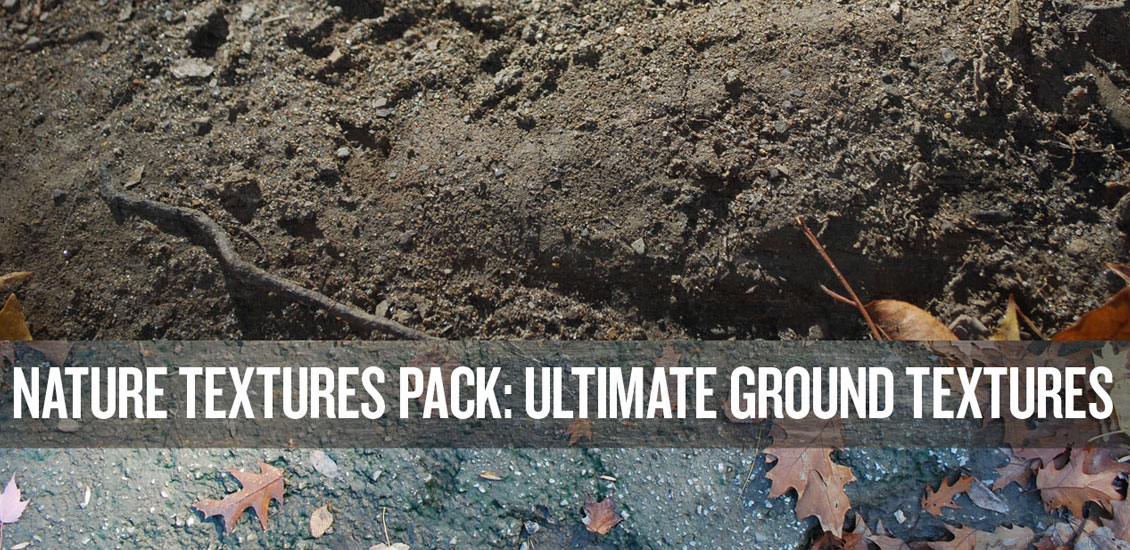 Introducing the Ultimate Ground Textures Pack
Hey Gang!
As you well know, textures give a sense of life and depth to an otherwise flat design. On a recent trip to Italy, I had the opportunity to capture my own gritty, grainy and one-of-a-kind images. I've found these to be perfect for roughening up those pieces that need a little punch.
You know I couldn't keep them to myself.
Today I'd like to introduce to you the second in my series of six Nature Texture Packs.
Say hello to the Ground Pack!
This pack includes 10 carefully crafted photographs from my recent travels and 11 images I vectorized, all of which are available for your use roughening and dirtying your designs.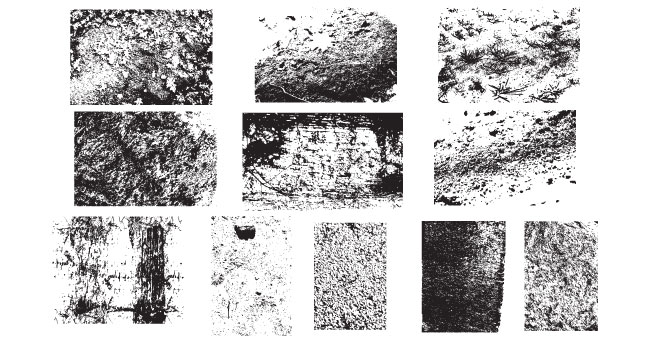 You'll need to grab it now, because today I'll be taking you through a step by step pamphlet brochure design using a few textures and overlays in Photoshop.
What we're making:
I am featuring a picture of a marble bust from the Uffizi gallery in Florence, Italy. My wife and I had the opportunity in May 2013 to do some traveling with friends and take in a ton of gallery sights and the beautiful country side.
So let's get to it.
Buy Ultimate Ground Textures Pack now!
Here is the statue of our character in Photoshop. I wasn't 100% sure what I wanted to do at first so I just started experimenting.
I'll go ahead and place him on a document for print that will crop him nicely.
Next I'm going to grab the actual photo that is included in the pack and set it over the character.
Next I'm just going to see what happens and play around with some options to see what kind of effect I can get.
I love this look so far but I want him to look like he is coming out of the ground. I'll grab some brushes from my Godmachine pack I downloaded and see what happens.
Ok so from here I want to utilize another texture so I'll grab a different one. Here is an important tip, set the texture on a large document and make it that size so it covers the character.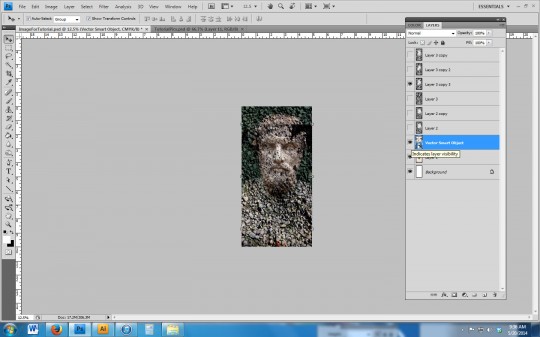 Once again I'll start experimenting and see what happens and add some color.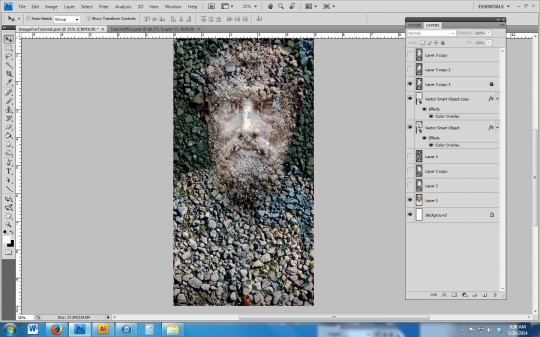 At this point I want to see how this looks with text and I'll experiment with stroke colors, drop shadows and size of the fonts.
I'm liking it so far but not thrilled with the color….so let's see what happens.
Very cool! I decided to add effects to the words as well. I feel the words go with the image now. It's very important not to just slap anything together and expect it to work. Make the image balance with the text and colors.
Last item I thought is to change "History" to "Italy" and add the Uffizi Gallery Florence, Italy to make it look like an actual brochure when you walk into this specific exhibit.
So there it is. This has a complicated look but made simple by experimenting with layer effects, a photograph, a graphic, text and design. It's like cooking where each ingredient needs to work together yet stand on their own.
Thanks for checking this out and purchasing the packs and set!
_______________________________________
For more of Steve's work, check him out his site or chat with him on Twitter.
Free Textures Freebie Alert!
While going through folders the other day, I stumbled upon all of the textures I submitted to the lovely Liz Hunt for Texture Set 5. To be honest, when creating the pack, I went texture crazy. Needless to say, there was some material that doesn't appear in the final product. Since it's just sitting around unused (and also because I love you guys), I thought I would share some of it. Yes, that means free textures just for you.
Here's what you're getting: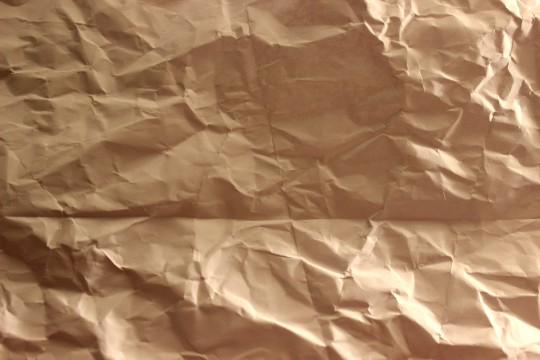 Download the free textures now!
Freebie Textures from Go Media's Arsenal Download 1
Freebie Textures from Go Media's Arsenal Download 2
Freebie Textures from Go Media's Arsenal Download 3
Bonus!
Want more?
Or buy bits and pieces as you wish:
See you all again soon for more freebie goodness! Until then, head to the Arsenal to check out our new layout and let us know what you think!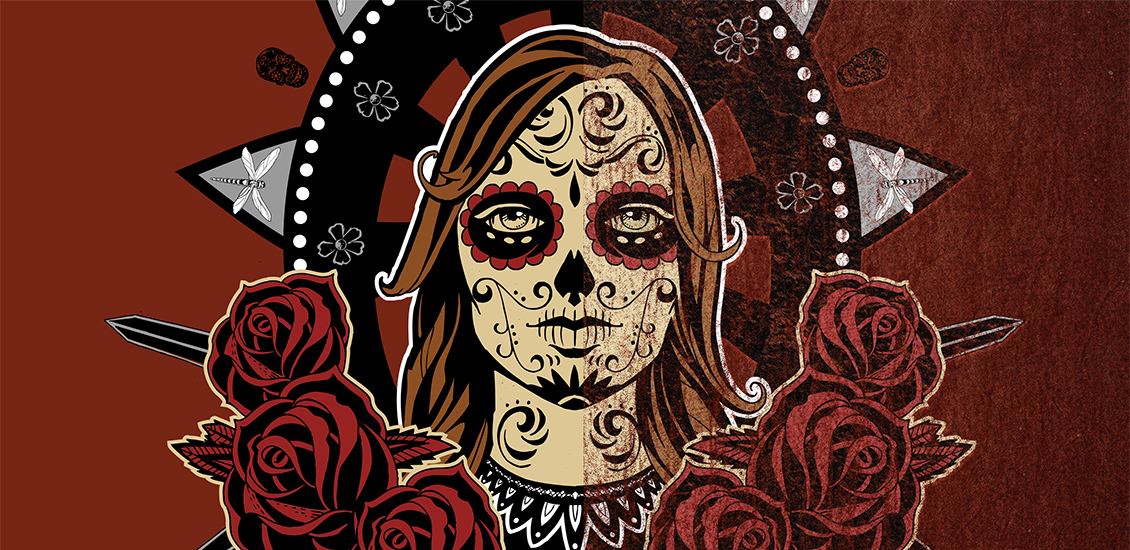 Poster Design Tutorial: How to Easily Get Non-corporate Results with our Office Interior Textures: Corporate Texture Packs!
Hello all! Simon from Studio Ace of Spade here today. I'm writing to announce the release of the corporate texture packs, volume I and volume II, on the Arsenal today! I've written a tutorial to accompany the packs. Enjoy!
How did these packs came to be?
Well, I happened to have access to one of the millions of generic office buildings around Cleveland this past winter. I couldn't help but notice the wide range of often cheap imitations of materials in all of that office furniture and decor.
The textures range from fake wood grain, wallpapers, soulless tiles, blend fabric patterns for office furniture, etc. There are a few gems here and there, and if you're looking to emulate the "9 to 5 stale job atmosphere that you could believe we're in the Office or in Office Space," these packs are your new best friends.
Hold on your horses, where's the DIY spirit?
It seems a bit contradictory to create resources from an atmosphere we creative people usually deem at best stale. I've been the first one surprised by the good surprises hidden all over. For instance, while some of the wood grains are obnoxiously fake, some of them are actually bluffing. There are beautiful noise patterns in drop-ceiling tiles. I've rarely seen so many different fabric options while not in a fabric store. And I haven't talked about carpets and wallpapers yet (although the pattern creators for some of these should probably not be allowed to design anything else of their lives).
Just have a look below:
A demonstration by the example
Rather than discuss things, I decided to show you how these two packs of textures can help us to spruce up Steve Knerem's Day of the Dead vector t-shirt design pack. Don't know what a t-shirt design pack is? Watch this:
What are we going to create?
We're going to take this great, flat colored vector piece, and turn it into a sweet poster with the help of the texture packs. We'll use some wood grain textures to build a rich background, some of the noise and scratch textures to weather the art a bit, and some of the other ones to package the whole thing in a consistent ensemble. We'll be using both Photoshop and Illustrator to accomplish this. Let's go!
Preparing our document
First thing first, let's create a brand new canvas in Photoshop. I'm using an 11″x17″ @ 300 dpi, RGB, document.
Once your canvas is there, create a few guides, so you have a basic grid in place. I've put guides to indicate the center of the frame (5.5″ and 8.5″), as well at 1″ of the edges (1″, 10″, and 1″, and 16″).
Bringing the art in
It's time to bring the t-shirt design pack into our Photoshop document. Simply copy and paste the design as a smart object into your canvas. This will allow us to keep its scalability as we work on the piece.
Copying the piece in Illustrator
Pasting in Photoshop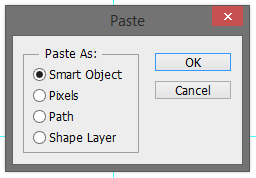 I've scaled the piece so it's approximately 9″ wide. Note that I haven't copied the background along.
It's simply easier to fill the background layer with the same gray (#454545) directly in Photoshop.
Oh, and don't forget to do some layer house-keeping.
Adding textures to the background
Our goal was to create a rich, warm, wooden background for the piece. After looking through the packs, corporate-texture-pack-volume-02-010-sbh.jpg looks like a solid starting point.
Let's place it into our document, right above our gray background layer. Scale it up so it fills your whole canvas.
The result is interesting,  but is a overbearing compared to the piece. First, let's rasterize the texture layer, and sharpen it a few times (Filter > Sharpen > Sharpen). Once that's taken care of, change its blending mode to Soft light @ 100% opacity.
The result is better, but still not very amazing.
To remedy the issue, start by desaturating the texture layer (CTRL/CMD+SHIFT+U).
Next, change the color of the background layer to a saturated, deep brown. I'm using #762514.
(Don't forget the layer housekeeping since you've changed the color)
It's better, but not there yet. Let's use the levels (CTRL/CMD+L) to fine tune the contrast of the texture.
There you have it.
A quick touch to make sure that the art doesn't fade too much in the background: let's add a drop shadow to its layer. Well, more of a glow actually. The color of the shadow is the same brown than our background (#762514). Using the Linear dodge (add) blending mode for the drop shadow, we're creating something along the lines of a very soft glow that visually detaches the centerpiece from the background, but without being obnoxious.
Here's a closer view.
Let's finalize our background with a slight vignette effect. After some investigation, corporate-texture-pack-volume-02-013-sbh.jpg seems like a solid candidate to accomplish the effect. Its center is brighter, and the edge of the texture is darker. We're going to make sure these characteristics are more pronounced thanks to the levels panel.
Start by placing the texture in your document. Note that I didn't transform it proportionally, but rather stretched it to fit the canvas.
We're going to follow the same process than we did for the wood grain texture: rasterize, sharpen, desaturate, and enhance contrast with levels.
Desaturate and sharpen.
Levels. Note how much grain this step is bringing forward.

Conclude by changing the layer's blending mode to Soft light at 75% opacity.
And we have ourselves a vignette.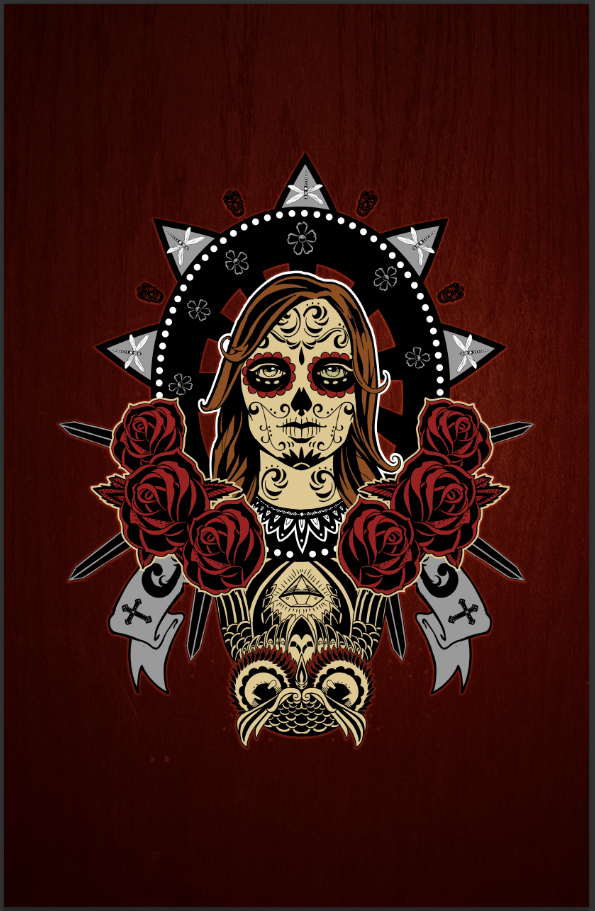 With the background done, it's time to move forward to the weathering of the centerpiece.
Centerpiece treatment
The main treatment we want to apply to the art is some kind of weathering. I'm planning on doing a regular grunge effect, and to re-apply the background's wood grain to it, so it looks like chipping paint or something. First, some "regular" grunge. What we'll do is paste textures in layer masks. Accomplishing such a thing is very easy:
Open your texture.
Copy its contents.
ALT/OPTION+CLICK the thumbnail of the layer mask you wish to paste the texture into. This will show you the content of the layer mask, and allow you to edit it. Make sure to disable the little chain link of the layer mask so you can move the texture without moving the element along
Make the edits you deem necessary (size, placement, sharpening, levels, etc.)
Admire the result
After looking through the packs, I've spotted corporate-texture-pack-volume-02-034-sbh.jpg as a very good candidate.
Start by adding a layer mask to the art's smart object. Make sure its association with the smart object is turned off.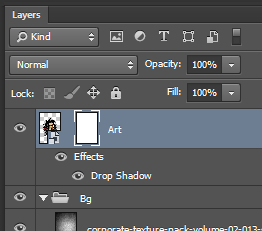 Once that's done, copy the texture and paste it into the layer mask. Make sure it covers at least the centerpiece. The whole width of the poster isn't a bad idea.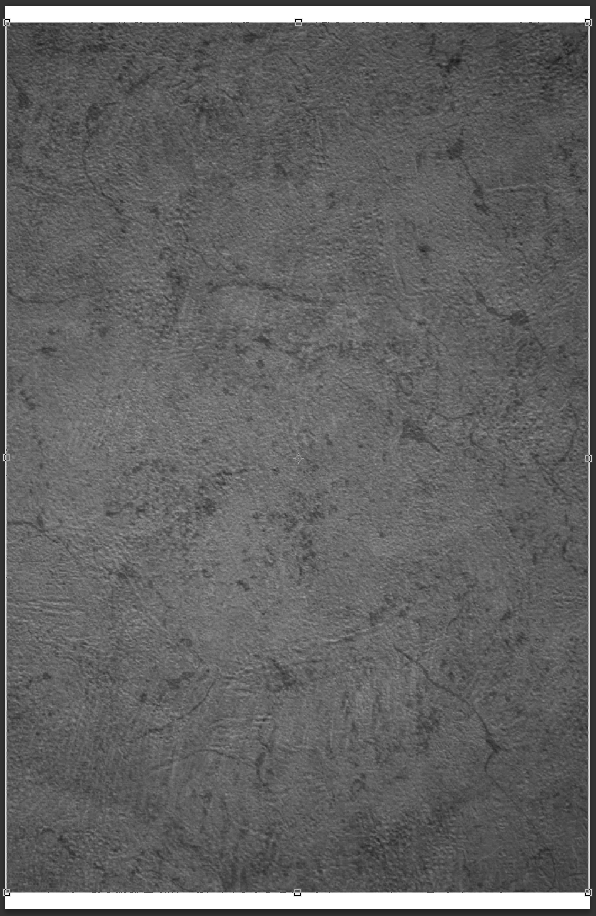 Once that's done, and once the obligatory sharpening has been taken care of, it's time to play with levels.
Because the document and the texture are high-resolution, sometimes, the levels outcome will be less contrasted than its preview. Don't hesitate to repeat the step to reach the desired result.
Click back on the layer thumbnail to admire the result.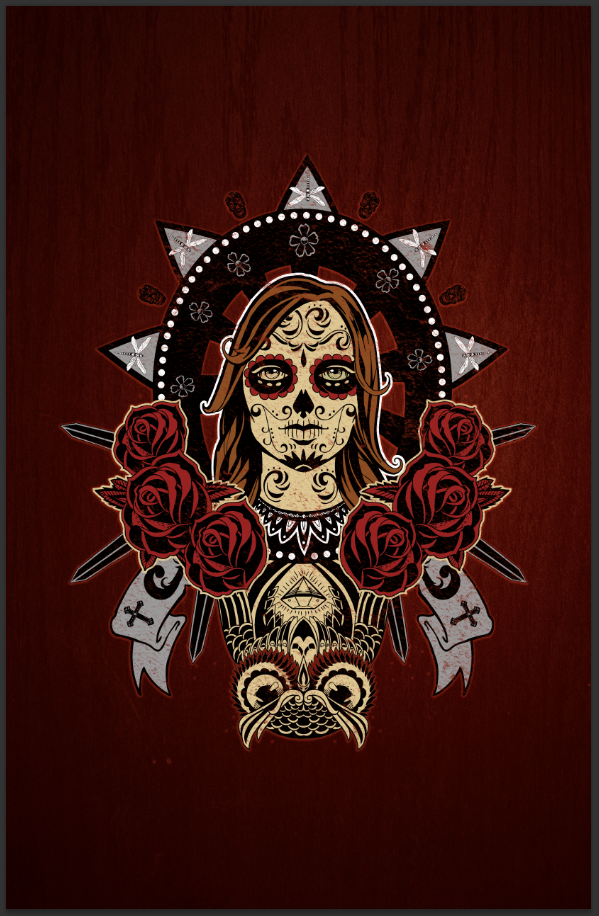 Here's a close-up. The art is well worn, which is what we wanted.
Now, let's add the wood grain to the mix. Start by some layer housekeeping. Give the Art its own layer group, along with another layer mask.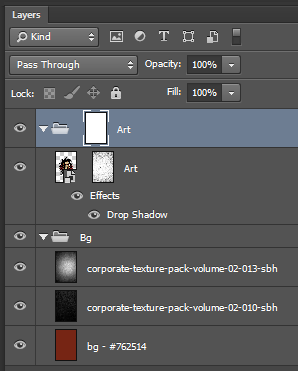 Next, turn off all the layers but bg – #762514 (the background color) and corporate-texture-pack-volume-02-010-sbh (the wood grain texture).
Copy the content of both of these layers (CTRL/CMD+A to select all, CTRL+SHIFT+C to copy-merged the visible content), turn back all the layers on, and paste the result in the Art layer group layer mask.
This is obviously too dark and will fully erase the centerpiece. Let's work some levels magic, so we only keep a faint wood grain in the mask.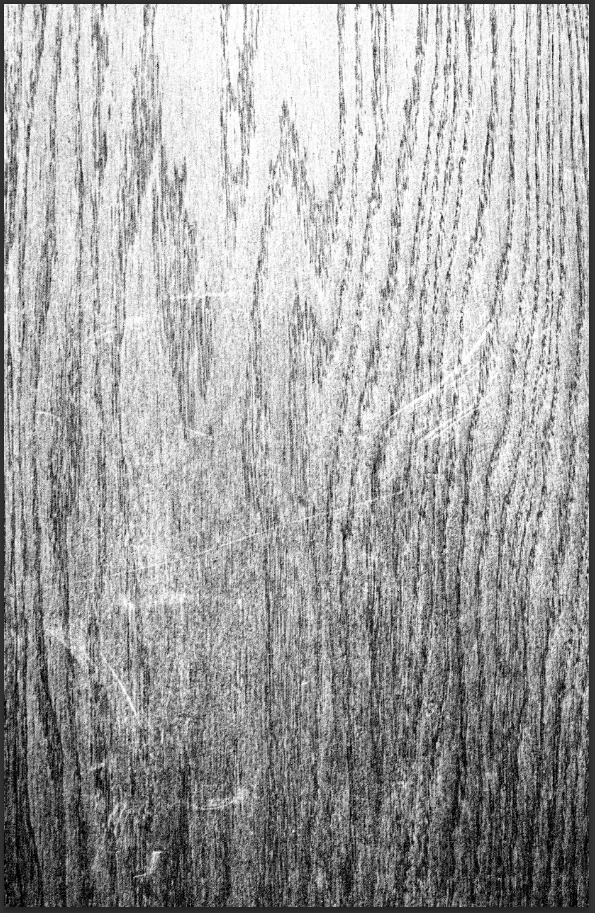 The result is a bit too intense, as the layer is still a bit too dark.
Some more levels work will fix this:
Note the double levels pass,  after the first one failed to produce a strong enough result.
And here's the result! It looks like the piece is painted on that piece of wood, and is just fading away following the wood grain.
We're going to add a texture that isn't included in the corporate texture packs, but that is available for free on Flickr. It's a brush stroke texture, and will help to reinforce the "painted-on-wood" effect we're looking for. It's called 16342_cream_over_green_detail, and it's available on Chank Diesel's Flickr stream. Don't forget to grab the biggest size available! Place it into your document, at the top of your layer stack.
Repeat the whole rasterize / sharpen / desaturate / levels process…
Levels.
Change the blending mode to Soft light @ 100% opacity.
The effect is what we're looking for, but we need to localize it to the centerpiece itself rather than the whole poster. To do so, CTRL/CMD+CLICK the Art smart object's thumbnail. This will create a selection which will include only the content of that layer. Proceed to add a layer mask to the brush stroke texture layer by highlighting it, and by clicking the Add layer mask button at the bottom of your layer palette.
As you can see, the texture is now confined to the centerpiece. The effect is still a hair too strong at this point.
Simply lower the texture layer's opacity to 25% opacity, and you'll be good to go.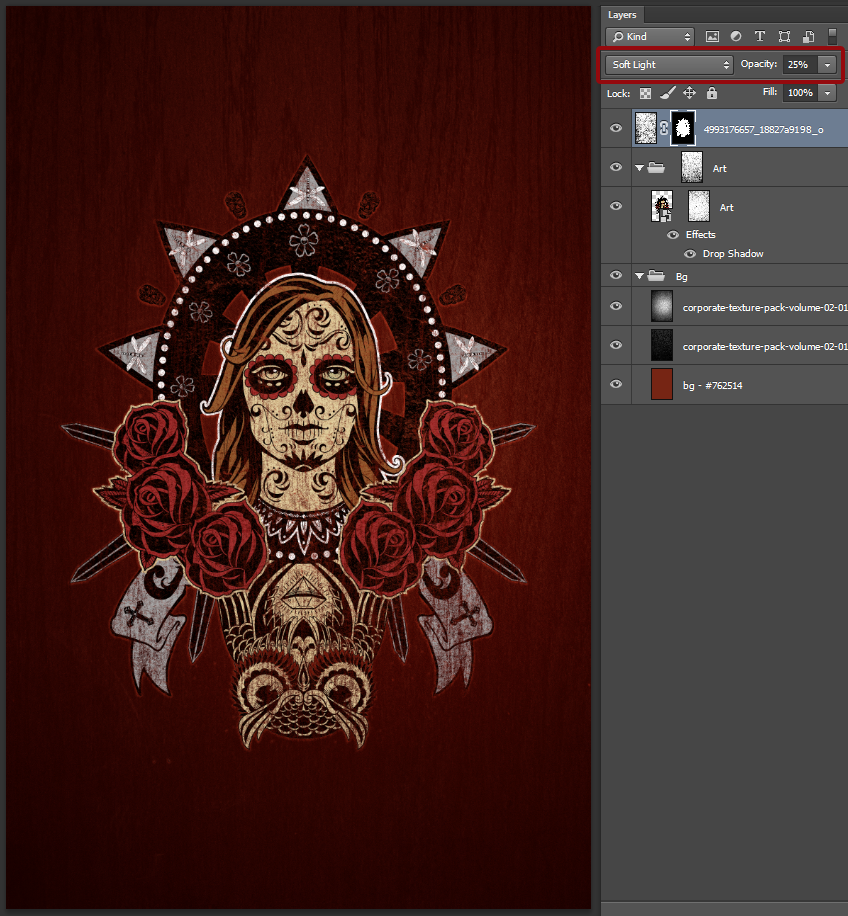 Close-up.
Global textures
In a ways, we've already started this process with the brush stroke texture. We are now going to add a few texture that will impact the whole piece (background + centerpiece). This will participate to visually make the ensemble consistent. We'll follow the same routine as before.
First on the line is corporate-texture-pack-volume-01-015-sbh.jpg, a wallpaper texture.
Start by placing it in the canvas so the darkest part of the texture is at the bottom.
Levels.
Put the texture's blending mode to Soft light @ 35% opacity, and you'll be good.
The next texture is corporate-texture-pack-volume-02-023-sbh.jpg, a scratched brushed metal texture. Our work with levels will be quite extreme, as we want to make the scratches appear in the piece as much as possible.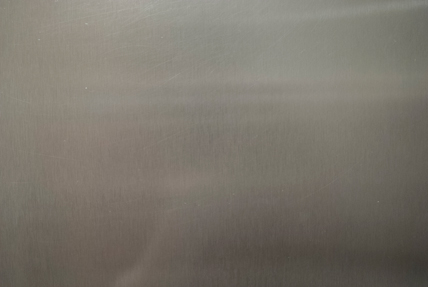 I placed the texture so as much as possible of the scratched are be in the canvas.
I also sharpened the texture quite a few times to make the scratches and other characteristics from the metal more visible.
Levels.
Change the layer's blending mode to Screen @ 25% opacity.
Finally, the last texture we'll place into our piece is corporate-texture-pack-volume-02-040-sbh.jpg. It's a concrete texture that's been captured just outside of the building the other ones come from. It participates to add a bit of a noisy quality, and reinforces the vignette effect on the piece.
Levels.
Blending mode: Soft light @ 25% opacity.
Final touches
Bear with me, it's almost the end!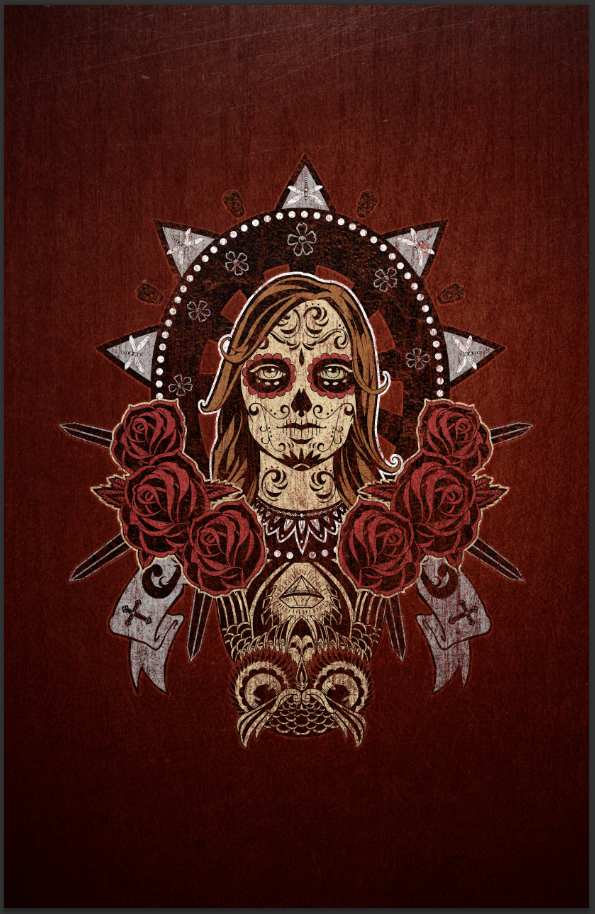 First, I'd like to make the wood grain from the background a hair more visible. To accomplish this, simply duplicate the wood grain texture once.
The effect is too strong, because our layer is so dark. To bring this back to reasonable proportions, simply lower the opacity of the layer copy to 25%.
Now that that's done, I'd like to add just a bit of noise to the piece. I'll be using photocopy-noise-textures-sbh-001.jpg, from my photocopy noise texture pack. Scale the texture so it covers the whole canvas.
Blending mode: Screen @ 25% opacity.
Since this is the last texture, it's the perfect time for a little bit of house keeping:
And with that done, you're all set to admire your beautiful piece!
You could mock it up for the world to drool over.
I hope you had as much fun following this tutorial as I had writing in. I also hope that it convinced you of the potential of both volume I and volume II of the corporate texture packs. I'm looking forward to your own takes on this how-to. Don't forget to share them in the Go Media Flickr Pool.
Don't hesitate to ask any questions you may have, both about the texture packs and the tutorial itself! I'll be watching the comments over the next couple of days. You can also find me on twitter @simonhartmann, where you should follow me.
BUY THE CORPORATE TEXTURE PACK VOLUME I
BUY THE CORPORATE TEXTURE PACK VOLUME II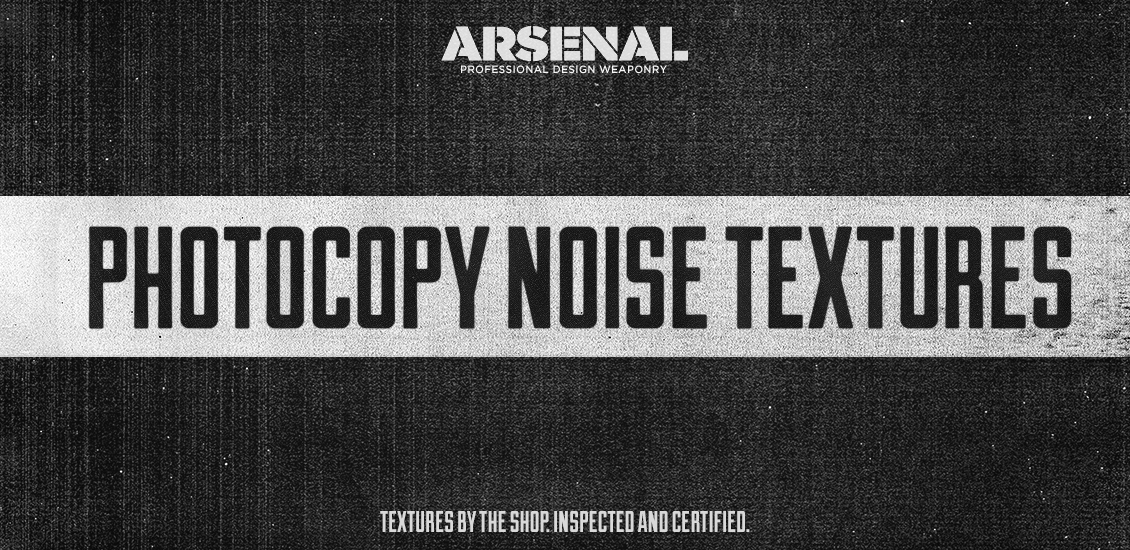 Texture Tutorial!
Hello there! Simon from Studio Ace of Spade here. Long time no see. I'm here to introduce you today to a texture pack I've created, called the photocopy noise texture pack. I'm delighted to announce that it's finally on sale at the Arsenal!
What is the pack about?
What's so special about this texture pack? First of all, these are hand-made textures. They were made using an old photocopier that had a toner on its last leg. The result is a pack of six fantastic noise textures. The process was simple: I created a black document in Ai, and printed it as many times as I could before the toner gave up. Because it was almost ready to throw away, it wouldn't print a perfectly black sheet. I got these black rectangles, speckled with white spots and stripes. Once scanned in, cleaned up, and inverted, these make up for perfect noise textures.
A closer look at the content
Some technical data: you get six textures, that are around 4760×6400 @ 600 dpi. Here are what they look like:
How can I use these?
I thought you'd never ask! In order to demonstrate the possibilities of the textures, I've put a quick little tutorial/demo together, using Jeff's Awakened t-shirt design pack as the base. We'll use both Ai and Ps for this. Here's a preview of what we'll be doing:
Basically, we'll use these to age Jeff's design, along with a few other tricks here and there. Here's a 100% crop, to get a better sense of what these textures are able to do:
Note that if you haven't purchased the Awakened t-shirt pack, or have no idea of what I'm talking about, you should go read and watch more info: over here.
Let's get started
 Step 1: document setup
Jeff's illustration is quite neat, and would look quite awesome on a print. So, let's go ahead and create a new 24 inches wide by 18 inches tall Ps document @ 300 dpi.
Once you have that new document setup, fill its background with dark gray (#231f20), and setup guides for the center and margins. I might have gone a tad overboard with mine. My vertical guides are at the one, two, 11, 12, 13, 22, and 23 inch marks. My horizontal guides are at the one, two, eight, nine, 10, 16, and 17 inch marks.
Oh, and if you've read some of my other tutorials before, you'll probably remember that I'm a stickler for proper layer naming and other Ps etiquette stuff. My background layer is named bg – #231f20, which gives me both its functionality and its color.
Step 2: importing the design
Let's have a look at Jeff's design:
As you can see, there are quite a few elements that compose it (feathers, purple circular element, red circles, white circle, blue geometrical element, silhouette, and off white stars). I could simply select everything, and copy and paste it in Ps. The only issue with doing that is that it won't allow us to individually texture the elements. Since I want to do something refined and individualized, I won't go that route. We're going to copy and paste each element one by one. It'll be a bit long, but worth it in the end.
Use the main image as a reference point to position your elements, and make sure that they're always sized at 100%. Also, don't forget to paste the elements as smart objects, so they retain their vector characteristics. It'll be crucial for later.
Note: you may have to center or nudge elements manually.
The purple circular pattern.
The red circles.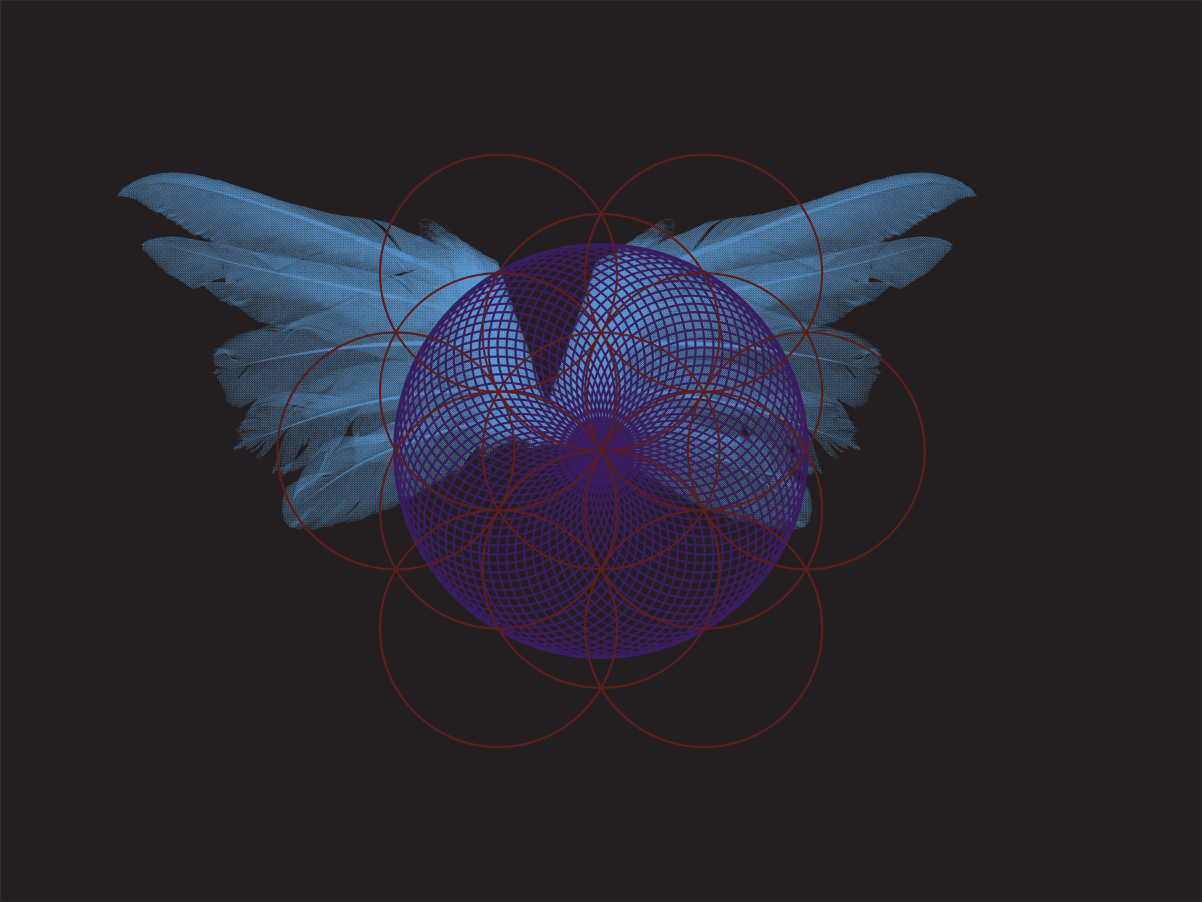 The blue geometrical element.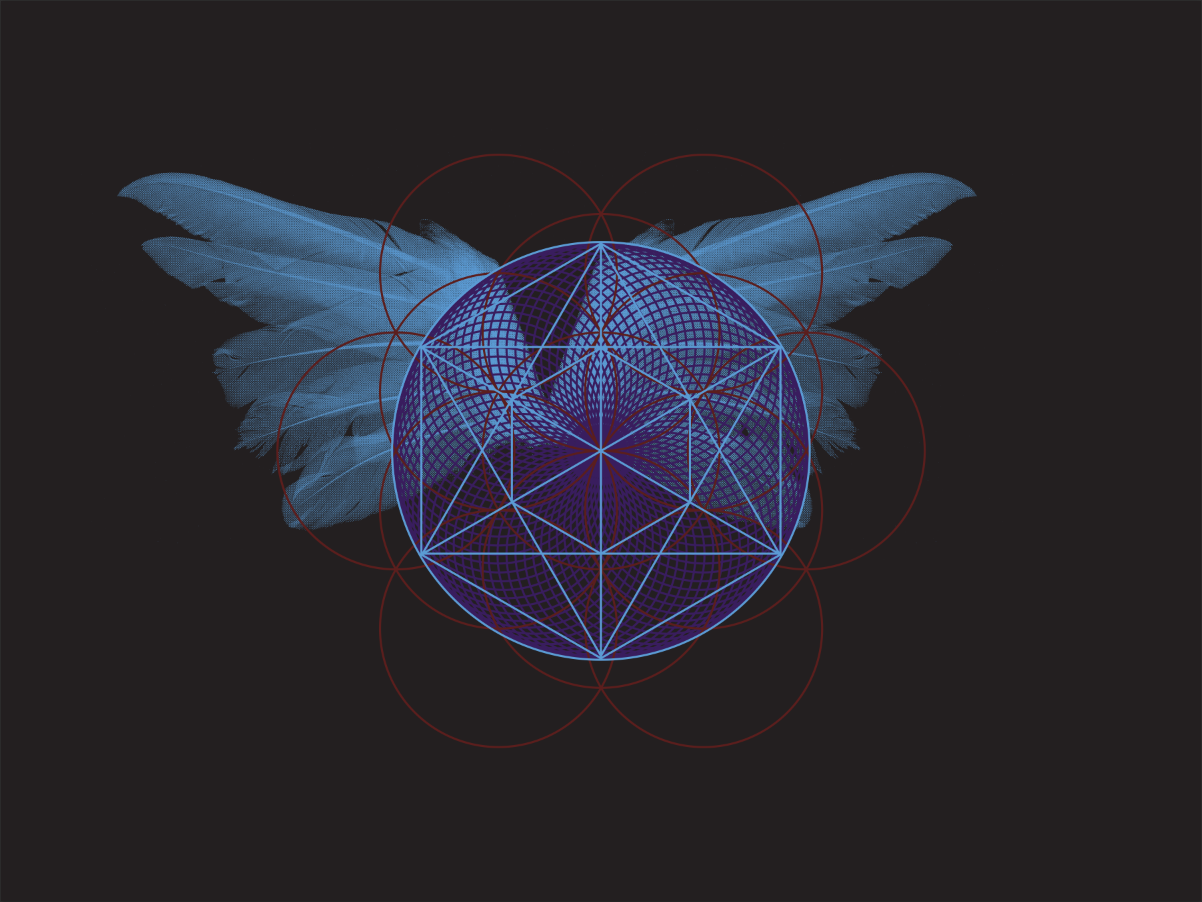 The white circles.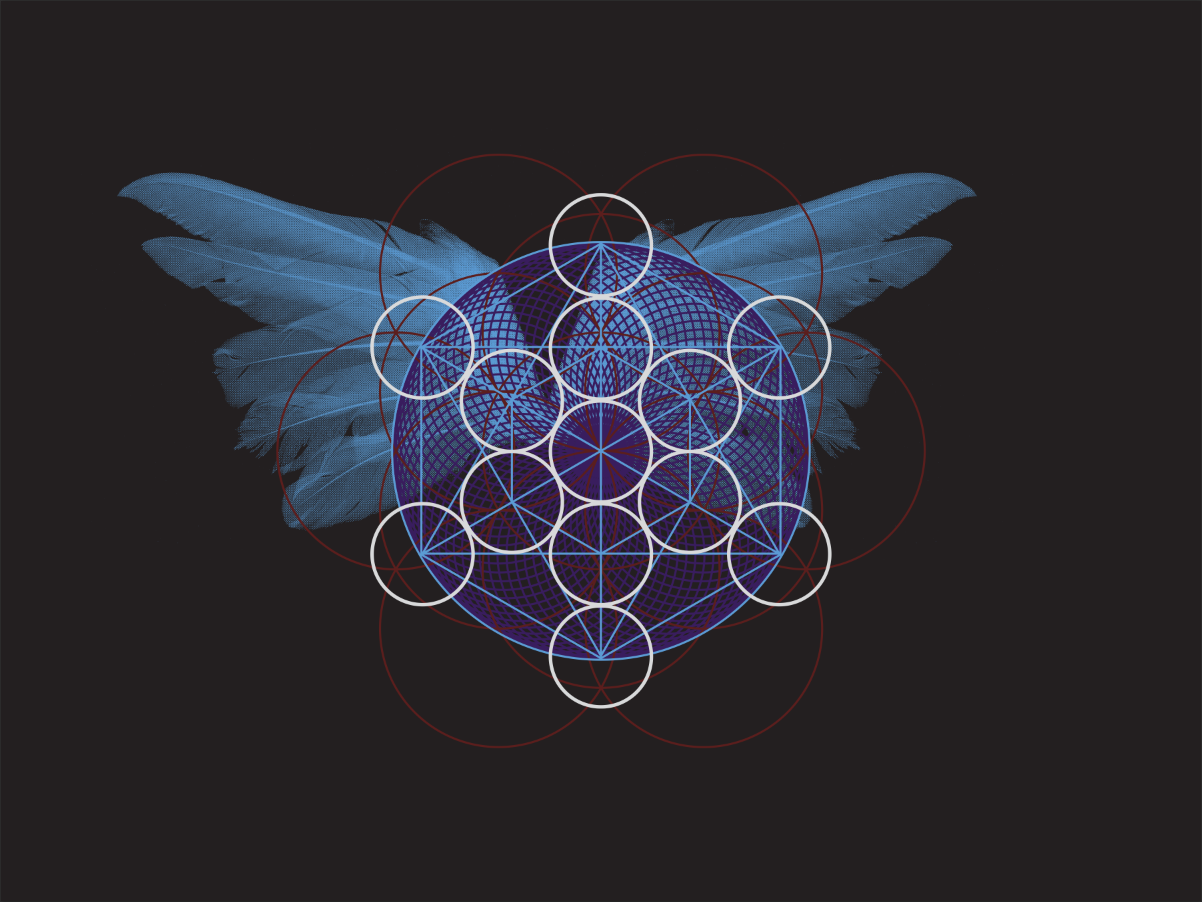 The black silhouette.
The stars.
Aligning the stars back in place (the top star is at the intersection of the top red circles).
Nudging the wings back in place.
Here's a view of how the design elements are placed compared to my initial guides. If you want your design or some of its elements to be bigger or smaller within the finished print, now is the time to adjust the sizes. For instance, I've decided to size my design so it reaches the smaller rectangles inside of my guides.
And here's a view of my layer stack so far.
Step 3: let's roughen these vectors up
The next step will involve the use of Illustrator's roughen filter (Effect > Distort and transform > Roughen). I learned about the effect through that 2011 Method and Craft article by Simon Walker. Basically, the effect distorts your paths and adds more or less subtle variations to them.
We'll be applying the effect on all of the elements of the design, minus the wings. This is where retaining the smart object quality of the elements pasted in Ps comes handy. You simply have to double click on the layer thumbnails of the smart object in order to be brought back to Ai, and to be able to edit the vector element.
Let's start with the purple circular pattern element. I've turned off the other elements of the design for better legibility, but you don't have to.
Once you'll double click on the layer thumbnail, Ai will open and you'll be able to edit just that element.
Let's select our element, and bring up the roughen filter (Effect > Distort and transform > Roughen). I suggest zooming in a little bit, in order to fully appreciate what the effect does to your paths. Oh, and tick that "Preview" box to see what's happening.
Obviously, the default values are a bit extreme in terms of result. After a little bit of tinkering, the values I've settled on are the following:
Size: 0.1%, relative
Detail: 50/inch
Points: smooth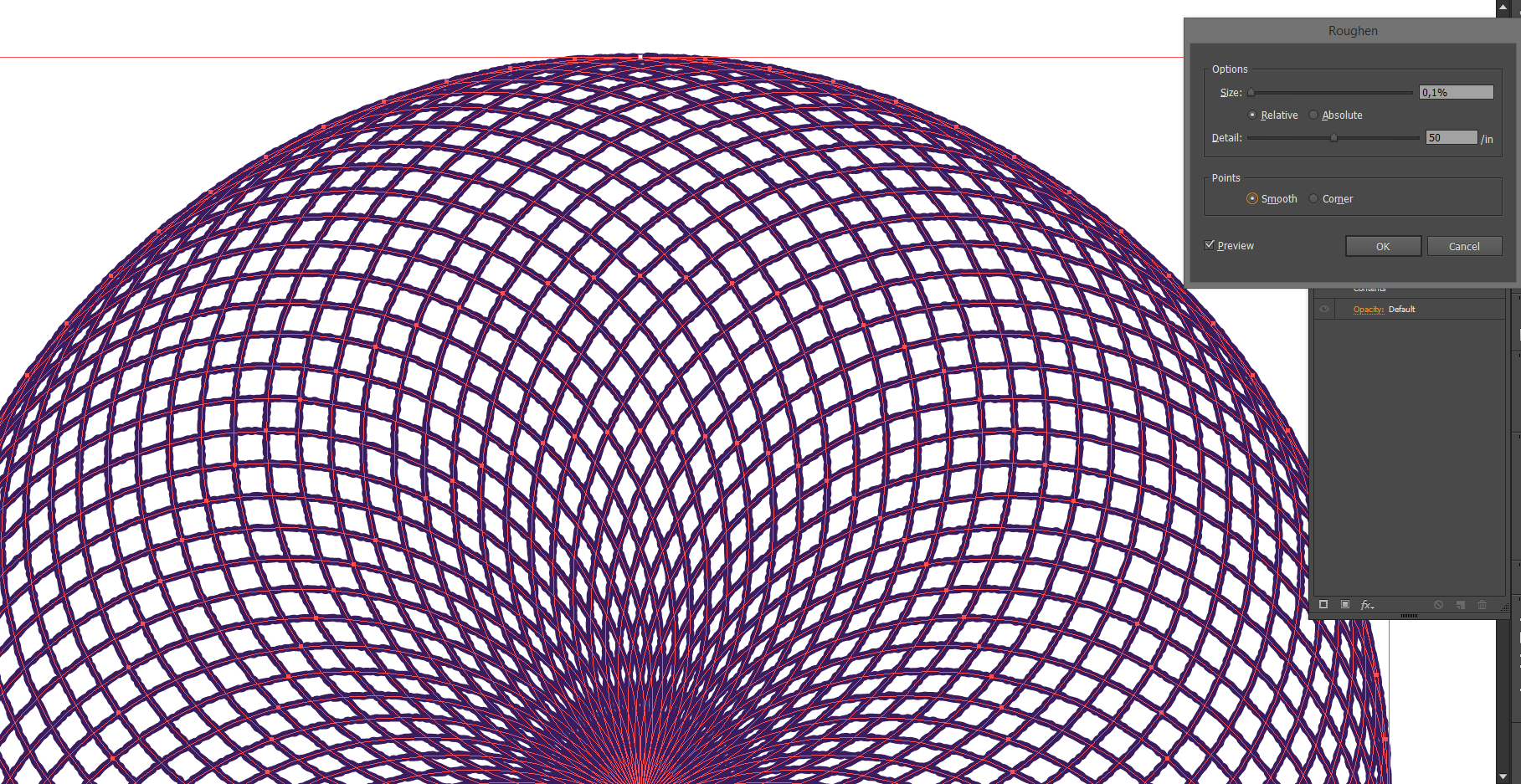 Note that you can come up with your own values. These should be considered as a starting point for your own exploration. Also, you could decide to expand the various elements from strokes to paths, or to leave them as is. Once you're happy with the filter's values, validate them. The next step: save your work (CTRL/CMD+S), close the file in Ai, and head back to Ps for a little surprise…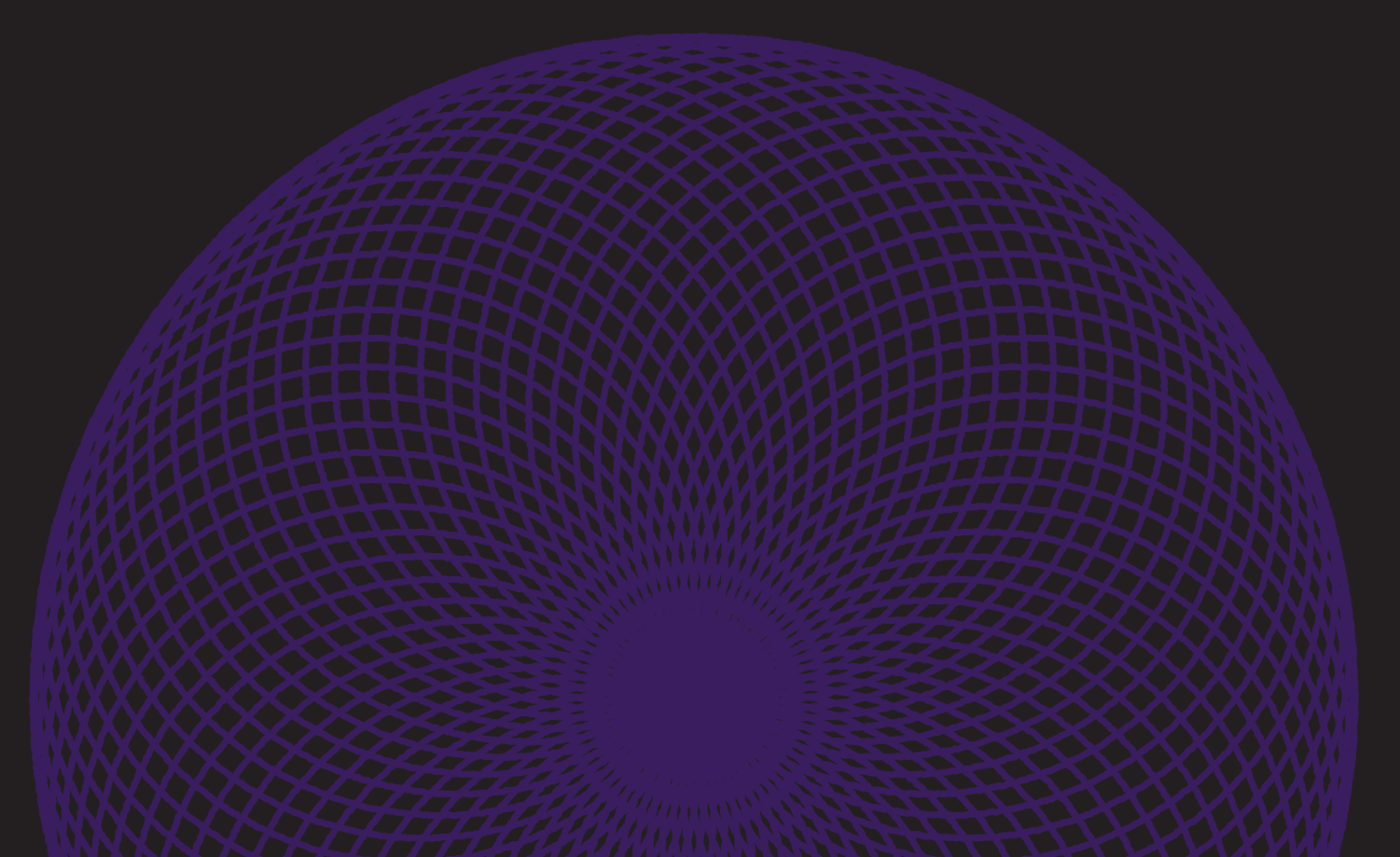 The effect is applied! Isn't that neat? Now, you'll simply have to go through the same process for the other design elements (minus the wings, once again: the halftone effect they have is enough). I personally used the same values for the roughen filter for all the elements, as it gives consistency to the final piece, but you could spend the time to find the perfect values that works the best for each specific part of the design. Below, a few shots of the process, up close:
Note the special values I've ended up using for the white circles: the effect wasn't visible enough with the other ones I settled on earlier, so I upped the ante a bit. I did return to my previous values for the other elements though.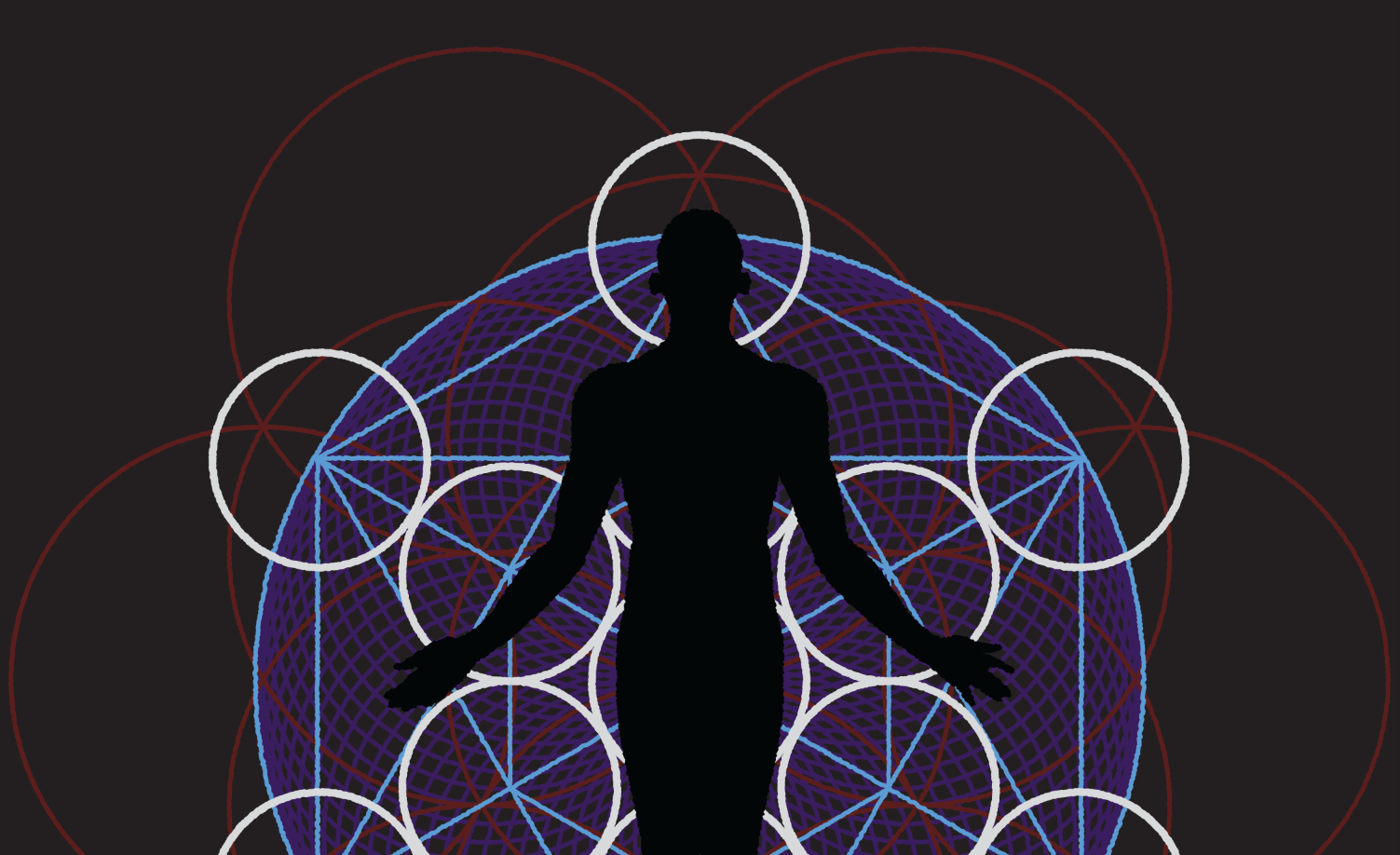 And done with that part.
Step 4: textures!
Finally, we can play with textures here. The photocopy noise texture pack is made of black and white textures, which will somewhat dictate the workflow we'll have with them. First, we need a bit of a refresher about blending modes. This wonderful article by PhotoBlogStop will give you every detail you ever wanted to know about them, including math (!), but we'll focus on Screen:
Screen: Similar to the Lighten blend mode, but brighter and removes more of the dark pixels, and results in smoother transitions. Works somewhat like the Multiply blend mode, in that it multiplies the light pixels (instead of the dark pixels like the Multiply blend mode does). As an analogy, imagine the selected layer and each of the underlying layers as being 35mm slides, and each slide being placed in a separate projector (one slide for each projector), then all of the projectors are turned on and pointed at the same projector screen…this is the effect of the Screen blend mode. This is a great mode for making blacks disappear while keeping the whites, and for making glow effects.
The most interesting part of this quote is the emphasized sentence: "this is a great mode for making blacks disappear while keeping the whites, and for making glow effects." It just happens that the noise effects in the textures from our pack ARE white speckles and stripes. So we simply have to put the textures on screen to retain just their noisy part, and the rest shows up as transparent. After that, if the effect is too strong, you simply play with the opacity slider of the texture layer. Let's put this into practice by adding some noise to our background layer.
Go ahead and place photocopy-noise-textures-sbh-001.jpg in your design. It should be just above the background layer, and sized to cover the whole background.
Give it a quick sharpening (Filter > Sharpen > Sharpen), and simply change the layer's blending mode to Screen. As you can see, the effect is quite strong.
We're simply going to lower the opacity of the layer to 25% for something a bit more subtle.
Also, I've given the background elements their own layer group.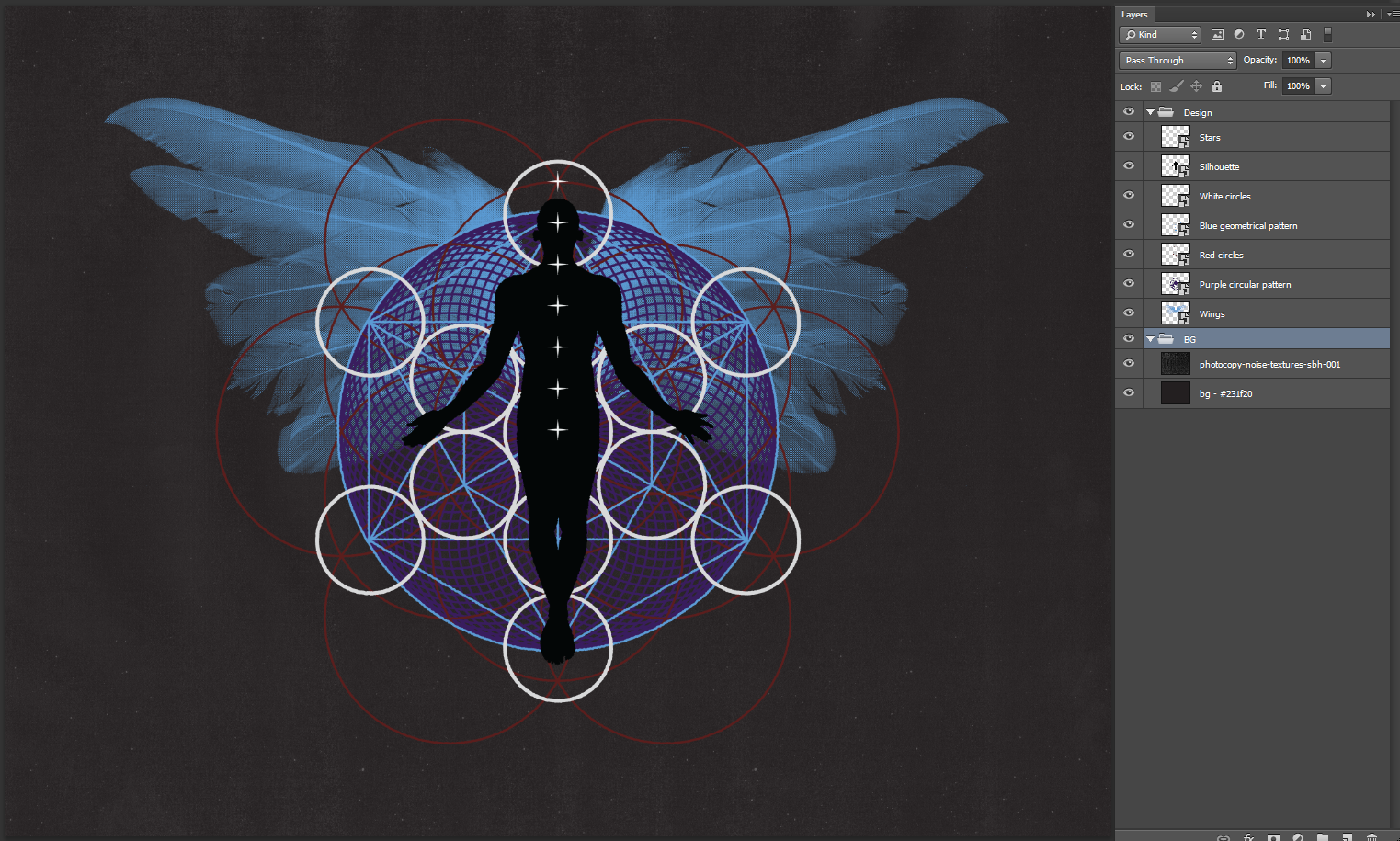 It's time to start adding our subtle noise to the rest of the design. We could simply use the texture clipped over each element, and tinker with the opacity sliders to create some subtle overlays. But this would show the noise as white or light gray speckles over each design elements. Most of these being line art, we wouldn't see much of an effect.
We're going to use another trick from our bag, and paste the textures in layer masks. Remember that whatever part of a layer mask that's white shows the art, and whatever part of it that's black hides it. Armed with knowledge, we can deduce that pasting the textures as is will simply obliterate the designs. Nothing subtle here. What we can do however is to invert the textures once they've been pasted in the layer masks. From there, playing with levels to increase or decrease the intensity of the effect is child's play.
The process to paste a texture in a layer mask is easy:
Add a layer mask to the design element you're interested in impacting (with the layer highlighted, go to Layer > Layer mask > Reveal all). Make sure to click the little chain link between the layer and the layer mask to make it disappear. This will allow you to move or resize the content of the layer mask without changing the design element itself
Open your texture file, copy its content (CTRL/CMD+C)
Go back to your design, and ALT/OPTION + CLICK your layer mask. This will allow you to get access to and edit the content of the layer mask itself, rather than your design
Paste your texture (CTRL/CMD+V)
Resize and edit the content of the layer mask at will
Click back on the design element and admire the result of your work
Here are some images of the process with the wings. I've used photocopy-noise-textures-sbh-001.jpg again.
Layer mask added and unlinked.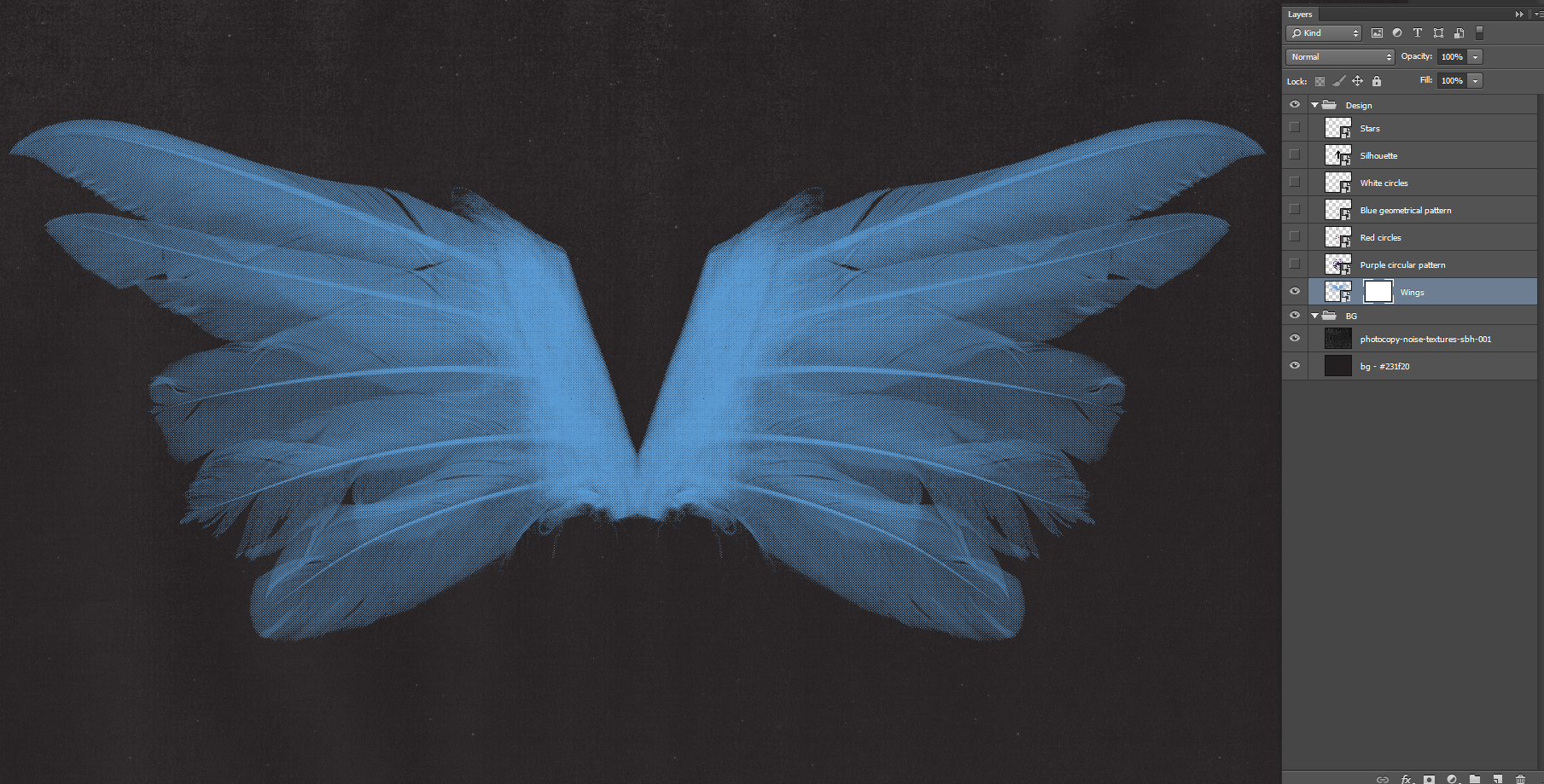 Pasting the texture in the layer mask.
Resizing the texture to cover the whole canvas. You have access to the same transform controls that outside of the layer mask (CTRL/CMD+T or CTRL/CMD+SHIFT+T for proportional transformations).
Inverting the texture (CTRL/CMD+I).
Using the levels palette (CTRL/CMD+L) to increase the contrast.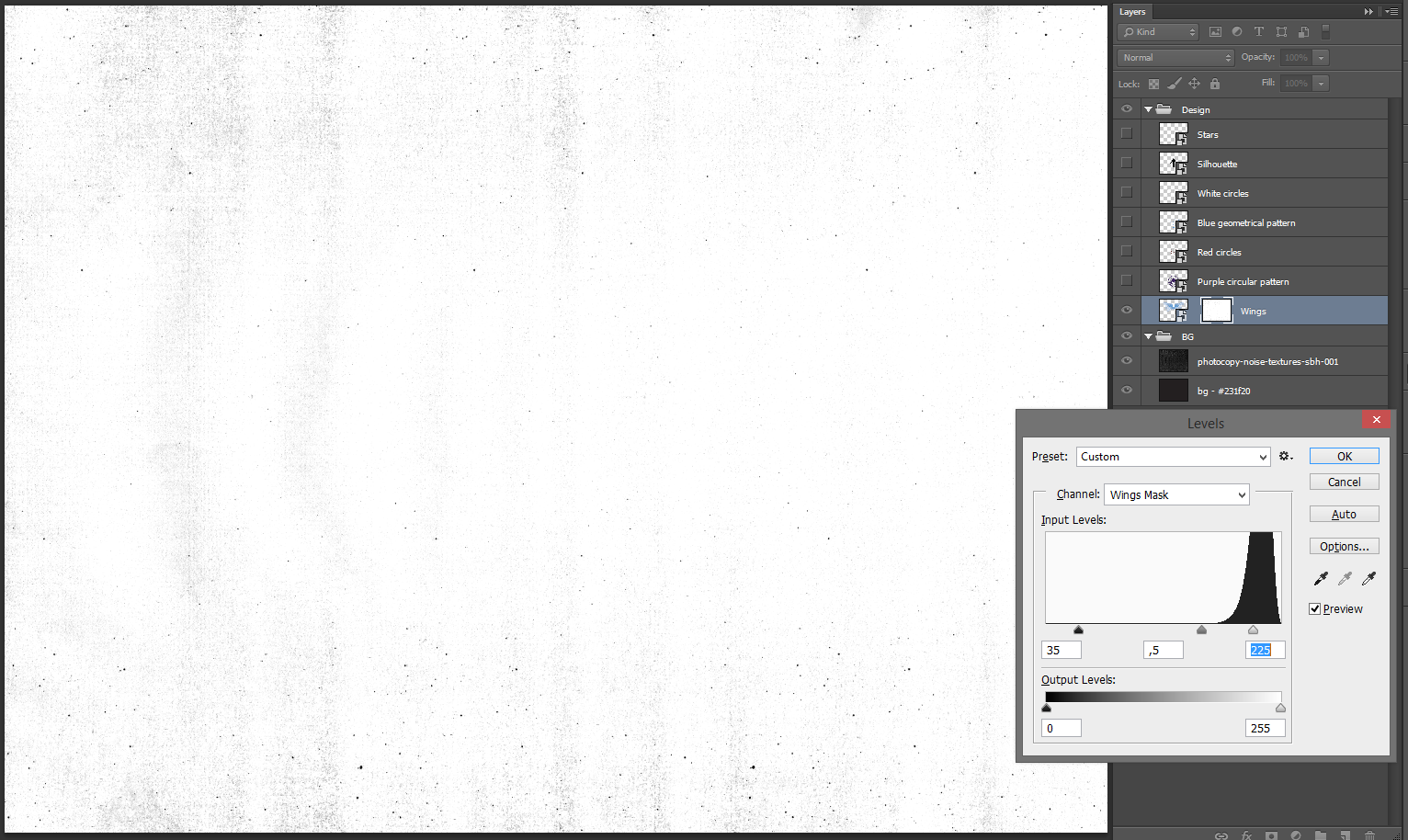 Admiring the result.
Comparison with the layer mask turned off.
Some of impacted areas highlighted.
As you can see, it's quite a simple process, and the result with the photocopy noise texture pack are just the right amount of subtle.
Following a similar workflow, I worked my way through the other elements of the design, using textures #1 to #5 of the pack (#6 will used for the final finishing touch).
Below, some before and after pictures for each element:
Purple circular pattern, before
Purple circular pattern, after (background turned off for better effect appreciation)
Layer mask details
Red circles, before
Red circles, after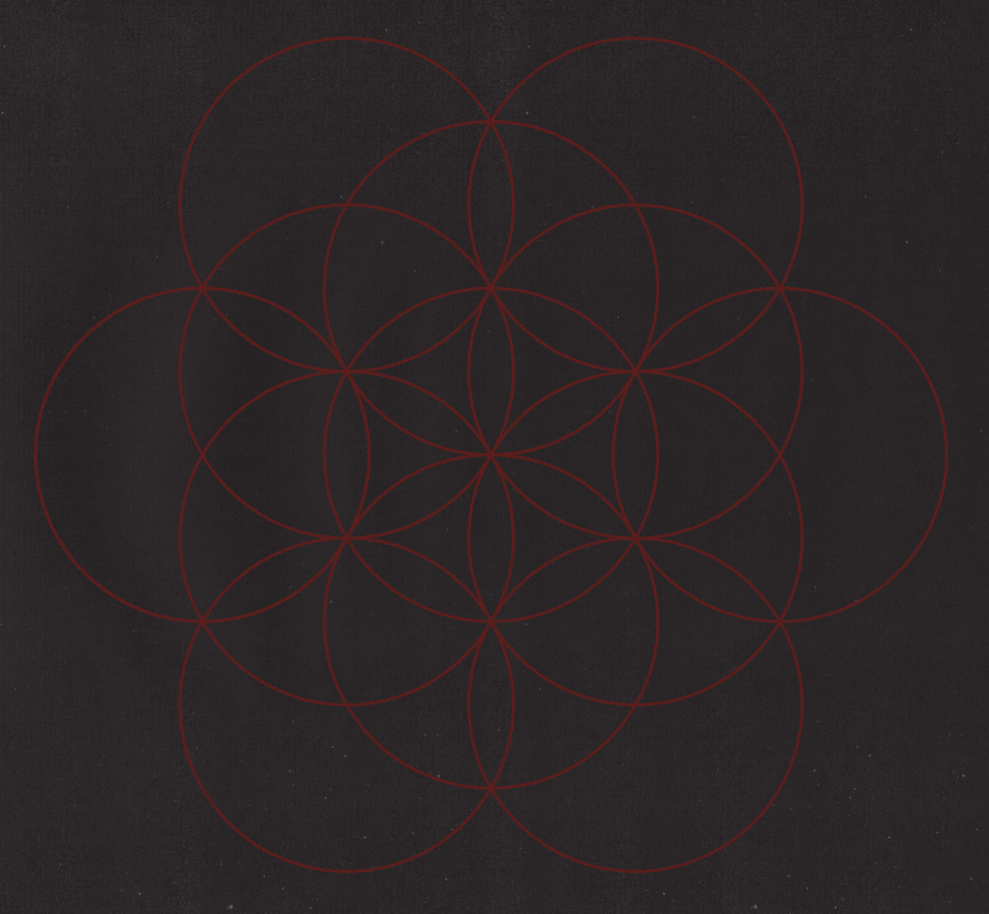 Layer mask details
It can seem that the effect is too subtle. Here's a 100% crop to convince you otherwise:
Blue geometrical element, before
Blue geometrical element, after
Layer mask detail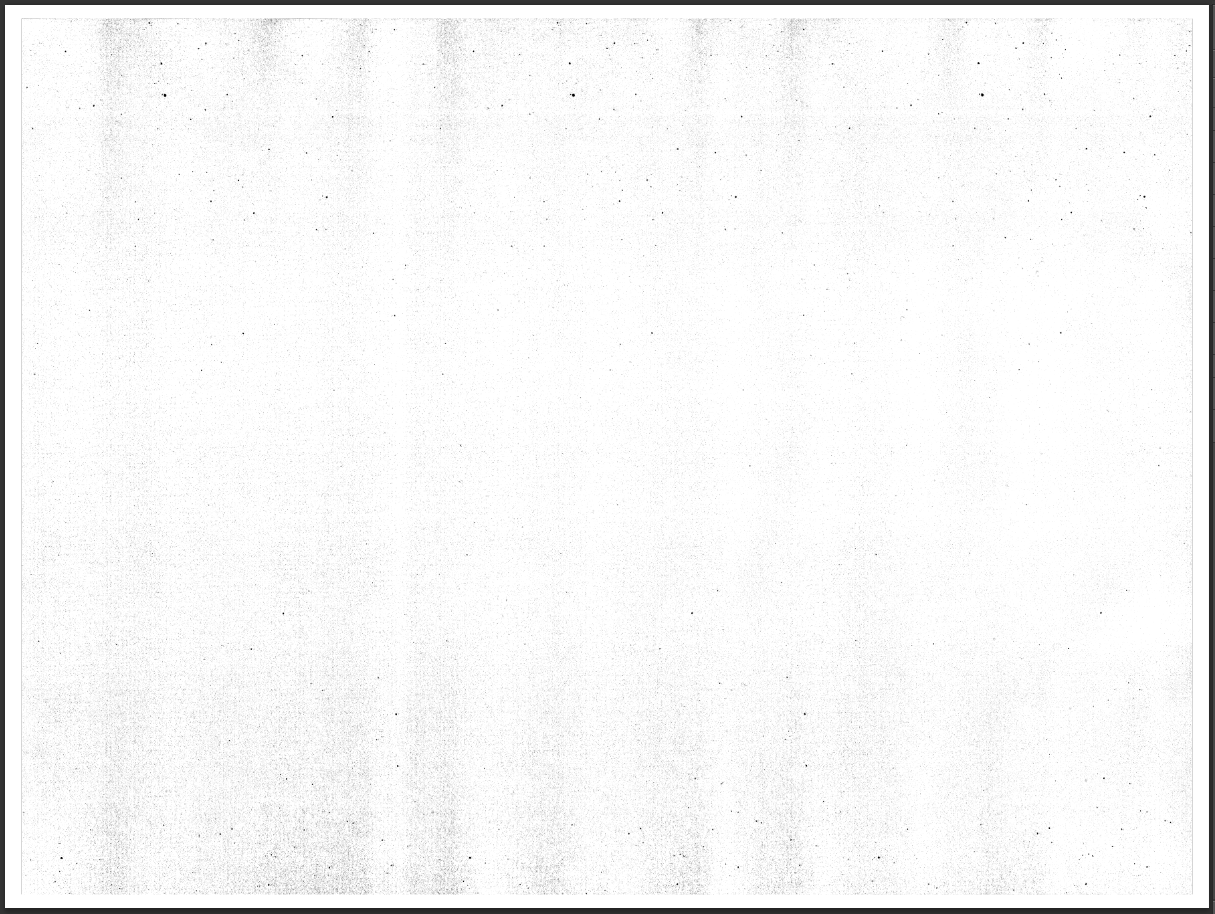 White circles, before
White circles, after
Layer mask detail
Silhouette, before
Silhouette, after
Layer mask detail
Stars, before
Stars, after
Layer mask detail. Note that I've used the same textures than for the silhouette. I've simply moved it to the top right a little bit.
And here's the full design after all that process:
We're almost done. It's time for the finishing touches.
Step 5: let's wrap this up
Now that all of our design elements got their individual weathering treatment, it's time to tie everything up together. In order to do so, we'll first add a layer mask to the whole design layer group, and paste one of our textures in there. This will unite the elements together visually, by giving them a consistent weathering. I used photocopy-noise-textures-sbh-004.jpg for that (the one with the heavy striping).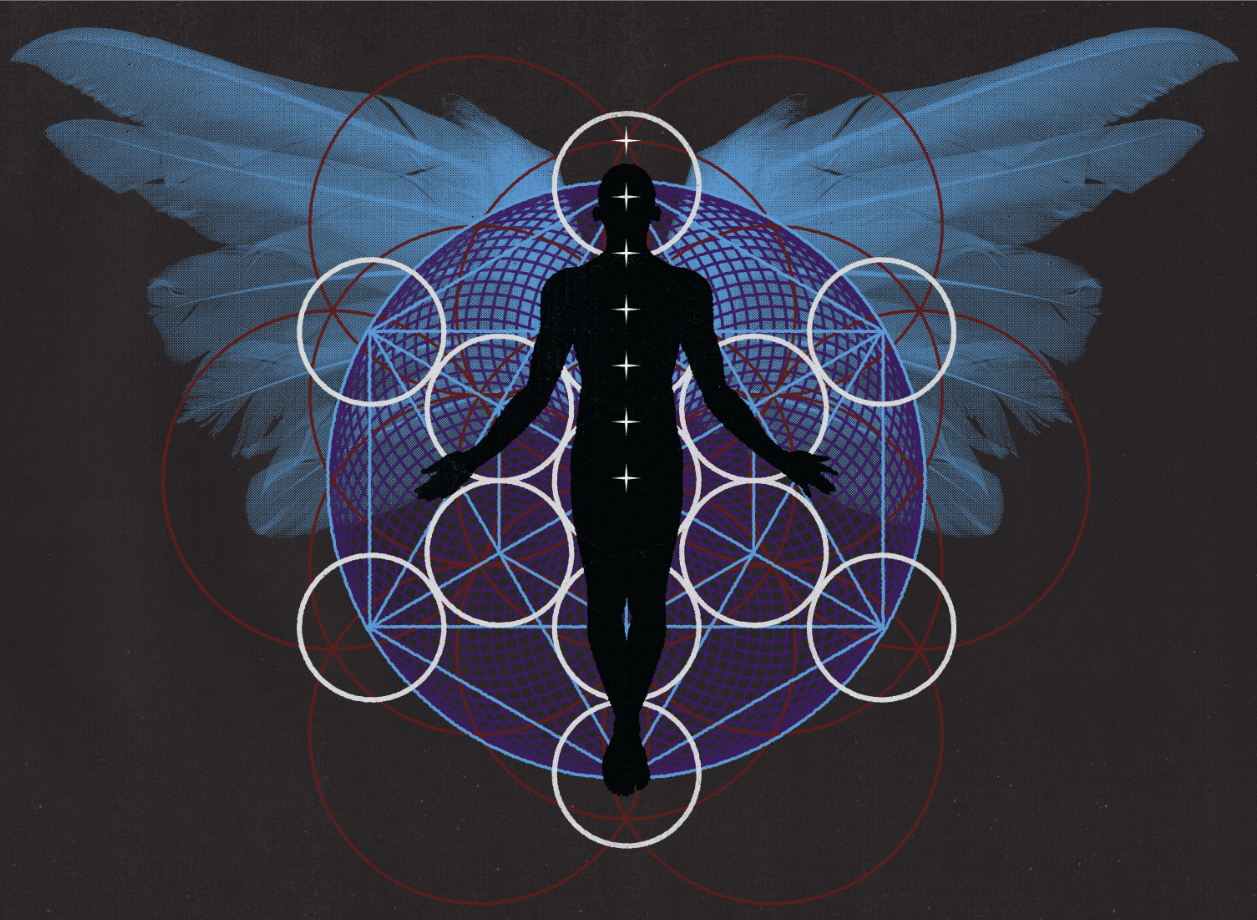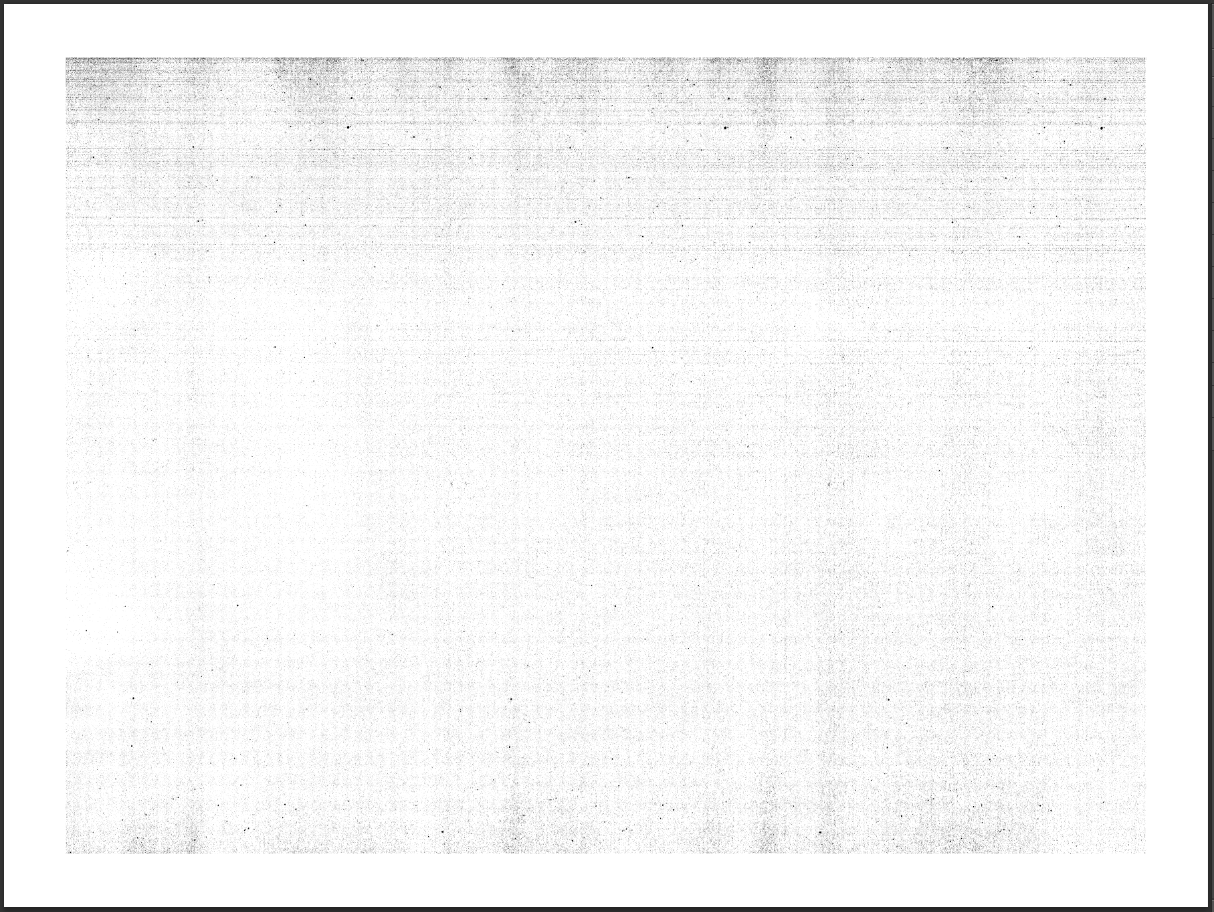 Once that's done, we'll add two more textures at the top of our layer stack. The aim is the same: to tie all the elements visually together, by impacting them all with the same element. First, let's add photocopy-noise-textures-sbh-005.jpg to our design. Make sure it fills the whole canvas.
Let's make it significantly darker, so its effect will be much more intense.
After that, change its blending mode to Screen.
Since the effect was a tad overbearing, I lowered the opacity to 25%.
We could stay there, but I'd like a effect similar to a vignette, that would detach the center piece from the background a bit. I'll be using photocopy-noise-textures-sbh-006.jpg to accomplish this. Let's place it into our document, in a way similar to the image below (it's been rotated upside down, and scaled up so it covers the whole design). I've also given the two top textures their own Global textures layer group.
Once it's in place, simply change the blending mode to Soft light, and lover the layer opacity to 25%. This gives a much softer result than Screen, and still let's the background's subtle noise show through.
And we're done! You could take the time to mock this up on a poster mockup template if you wanted to:
Last words
I hope you liked going through this tutorial as much as I liked writing it. I also hope it convinced you to get the photocopy noise texture pack, as well as Jeff's Awakened tee design pack if it isn't already done. If you have any questions, feel free to tweet at me (@simonhartmann)! I'll also be watching the comments in the next few days. Thanks again for reading, and until next time, cheers!
BUY THE PHOTOCOPY NOISE TEXTURE PACK
Categorized:

Go Media's Arsenal, Illustrator, Photoshop, Textures

Tagged:

Ai, arsenal, grunge, Illustrator, noise, Photoshop, Ps, Simon Birky Hartmann, subtle, texture pack, textures, The Shop, tutorial