Free Vintage Starburst Vectors
We've really been in a retro kind of mood lately, as inspired by a trip to a local vintage shop. What really caught our eye were the starbursts that decorated so many of 1950's fabrics and bakeware. So, we were inspired to create some free vintage starburst vectors for you. We hope the pack serves you well and gets your motivated to create something fun and dynamic.
To give your work some extra oomph, head over to our Arsenal, where you can have access to our entire library, including all of our vector files for only $15 per month.
The Arsenal subscription includes some of our other vintage packs (roughly $10 to $12 each), like:
Download our: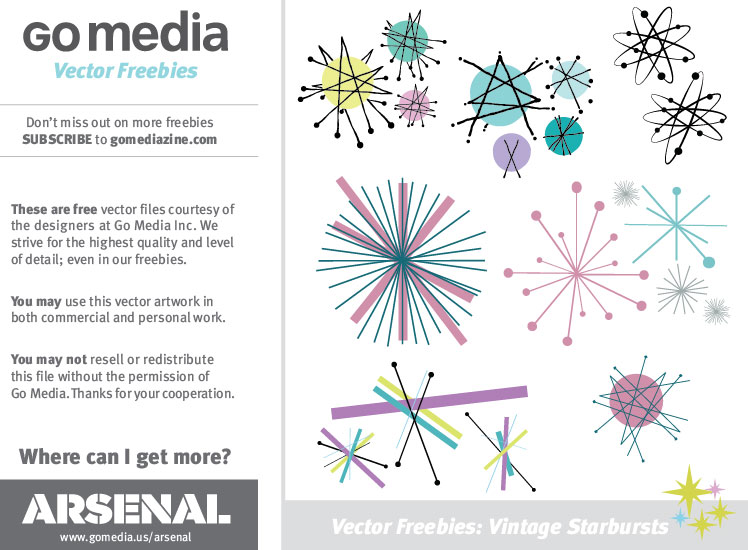 Download of the Day: Free Vintage Sunbeam Vectors
Join us every Thursday, when your friends here at the Arsenal take over the Go Media blog to share insights, tips, freebies or other fun to brighten your work day.
Today we're sharing four vintage sunbeam vectors we created exclusively for you!
Download them now, enjoy them forever.
Here you go: Vintage Sunbeam Vectors
—–
For the World's Best Design Weaponry, head to Go Media's Arsenal.
The Arsenal is a collection of design resources created and curated by the design team at Go Media. Go Media started releasing its collection of royalty free stock vectors in 2006 and has since expanded into providing a variety of different resources for the graphic designer, illustrator, and entrepreneur.
To put it simply, every designer has an Arsenal of goodies they stash on their hard drive. These goodies might include several gigabytes worth of textures, vector illustrations, mockup templates, fonts, ebooks, etc. A personal library of go-to resources to aid in a creative and efficient design process.
Customers who use our products enjoy saving time and money while still looking good. We are OBSESSED with helping out our fellow designers and will stop at nothing to provide you with the tools you need to make design fun.