Introduction
Hello dear Zine readers. Simon and Jon from Studio Ace of Spade here. Today, we'll have the pleasure of walking you through the making of our entry for an old installment of The Fox Is Black's Recovered Books contest.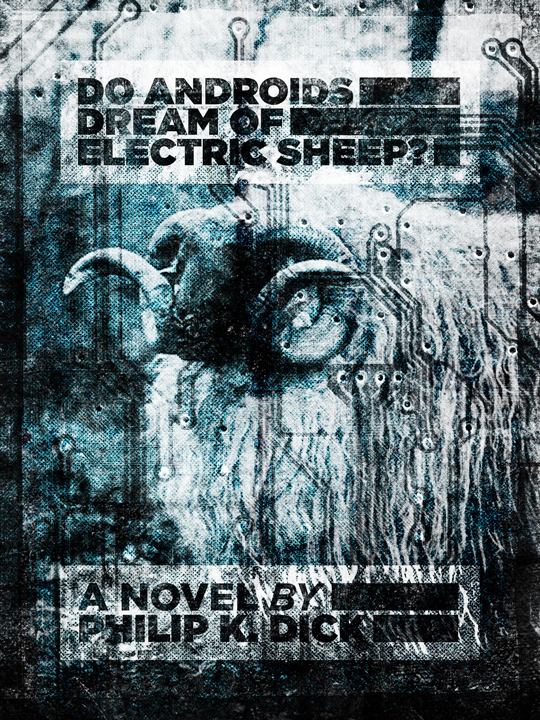 Our goal with this walk-through/PSD break down is to provide some insight on the concept behind the poster, and on the various techniques that helped during the execution phase of it.
Let's be clear: we don't think we'll give you any magic recipe to create a cool poster, but rather a detailed look at what our workflow for this one was, and a look at some of our favorite techniques when manipulating images and blending them with type elements and textures. We hope you'll be tempted to actually play with the various values we used in our level editings and filters as well as the different textures in the packs we used, in order to make this piece your own.
How it came to be
The contest on The Fox Is Black
Like we said earlier, what became this poster was an entry for The Fox Is Black's Re-covered book contest.
The Fox Is Black, formerly Kitsune Noir, was started in April of 2007 as a way of sharing interesting ideas with likeminded people.
The contest is quite simple. Bobby and his team of authors choose a book, provide some background inf, cover examples, and a deadline. Here's some of the announcement post:
Well, it's been a few months since our last Re-Covered Books contest, so I figured it was time we get back to creating some awesome work, don't you think? I decided that I wanted to pick a book that was newer, something that could really inspire a lot of bold ideas and not be marred with clichés. Browsing through our library at the TFIB HQ I came across a copy of Do Androids Dream of Electric Sheep?, and realized that's exactly what I was looking for.

It's important to remember that this was the book that inspired Blade Runner, the emphasis here is on the word inspired. That means I don't want to see any Harrison Ford looking guys on your covers, or anything that's borrowed from Blade Runner. Try and use your imagination and come up with some crazy, sci-fi imagery.
And here are the examples of (beautiful) vintage covers he provided:
Having read excerpts of that book a long time ago and not seen Blade Runner yet, we quickly proceeded to do so in order to understand the difference between the 2. After some research, we also discovered a comic book version of the book, edited by Boom Comics!
After all that research and armed with our best memories of sci-fi movies (from Metropolis to The Matrix), we felt like we could go ahead with conceptualizing a direction that would be ours, even if not totally unique.
Conceptualization
The title gave us the most obvious visual direction. There are androids, sheep, electricity, dreams that are mentioned. The story includes robots that are so close to look like humans that they might not be recognized by an untrained person. It's also happening in a society devastated by a global nuclear war, and Earth is in a shape so bad that most of the people left to colonize the stars.
In short, we want robots, electronic elements (circuit boards…), sheep, and a gloomy atmosphere.
From there, we started to gather reference photos and some other visual to create something close to a mood board.
This mood board includes a WPA poster with 2 bighorns sheep, a 1890s photo of the National Galleries of Scotland of a sheep named MacGregor, one of Hannes Beer's ADED project installment, a photo of sleeping sheep, and the Bighorn sheep print designed by Mark Weaver.
After the mood board, we embarked on a quick texture research, to find circuit board textures we could use. As usual, Caleb from Lost and Taken got us covered, with this pack of circuit board textures, published on WeGraphics.net. Bittbox also has a series of circuit board textures up, but we ended up not using them. We'll explain why a bit later.
After some quick sketching on paper, it became clear that trying to draw a robot sheep wouldn't work as efficiently as using a photo as the base of our poster. We did some posters including hand drawn elements before, but this one just didn't seem to work. Instead, we decided to use the 1890 photo of MacGregor the sheep as the base element of our poster.
Once the base of the poster was determined, we also knew we wanted to have the circuit boards present in the image as well, probably overlayed on top of it. We also knew we had to have the author name and book title on it somewhere.
A lot of the things that happened during the execution of that cover/poster were happy accidents, as it often happens with an organic design process. This means one thing: EXPERIMENTATION IS KEY. It also means that what we sometimes consider as mistakes can actually be more interesting than the original direction you planned for.
With all that said, let's dive in the execution part of this piece, shall we?
First, some useful resources
Most of these resources will be textures. It goes from paper to stone and other grunge elements. They come from all over the internets: Lost and Taken, Bittbox, DeviantArt, sxc.hu…
The very first file you'll need to get is the picture of MacGregor the sheep. Don't forget to grab the biggest size available.
Let's look at our layer palette to see what we used and what you'll need to emulate it. First, the background.
In here, we have, from top to bottom:
You'll also see a color layer (in blue #6faab8), but more on this later.
The next set of resources will be useful for the global texturing process:
Here's where to grab these ones:
Phew. That's all the resources you'll need in terms of textures. In addition to that, you'll need the 2 aged effect actions, created by the good folks here at Go Media (Aged Effect One and Aged Effect Two).
Note: in order to save the actions, just do a right click on the links above, and choose "Save link as…"
Let's make this piece
Step 1: creating a new document
Let's remember that at first it's supposed to become a book cover. So we could just go ahead and decide on a cover format based on one of the most common book sizes. Since we weren't sure we'd make it through the contest and just in case we'd want to turn this into a print, we decided to design our submission as an 18×24 inches poster.
So let's create a new 18×24 inches document in Ps. As you can see, our document will be in RGB mode since some of the filters we'll be using in the final phases are available in RGB mode only.
Other than that, since we might end up getting this to print, don't forget to put the resolution of your document to 300 ppi. We've also added guides, as they help us to structure the composition. On a 18″x24″ print, we have them typically set up at 1, 2, 9, 16 and 17 inches vertically, and 1, 2, 12, 22 and 23 inches horizontally. Then, you can also add some as needed.
Note: you might want to create a similarly set up document in Ai, and leave it open in the background. We'll use that one for creating the type elements a bit later.
Step 2: let's place MacGregor
We could have started with the background texture buildup, but we wanted to make sure we'd place the main element of our poster without the distractions of background textures. We already knew that our type would mimic a typical book cover layout (title at the top, author at the bottom), so a somewhat off-centered placement for MacGregor was what made sense.
Drag the sheep image in your document.  Desaturate it, then, convert it to a smart object (right click on the layer).  This allows to keep "access" to the original file, even though you're going to resize it and/or apply filters to it. Beware, this state has some limitations. Once it's a smart object, place and resize it as you see fit.
The image the National Galleries of Scotland are making available is fairly small. We'll need to think about sharpening and other enhancements. In terms of sharpening, one method I like to use a lot is based on the high pass filter. It's been explained very well on this blog by Oliver Barrett, so I won't go over it too much in detail.
You'll need to make a copy of your correctly placed sheep layer. Then, right click on the layer and rasterize it. Once it's rasterized, apply the high pass filter. I used the highest value possible for the filter, 250, because the base image is so small. Switch the blending mode of the high-passed layer to soft light and play with the opacity to adjust the intensity of the effect. You can see I actually have my base layer (not high passed) on hard light, to let the color and background effects play through, then the high passed layers are set on soft light at 25% opacity. The second copy is here because I needed to make the sheep a bit more present once the background was done.
The background textures
Since we wanted to create a dark and digital mood but not fall into a Matrix style, we opted for an electric, kind of muted, blue as our base color: #6faab8. After that, we wanted to start with a paper grain and rusted metal background. As you'll see, it evolved into something a bit different.
First, a layer filled with the base blue (#6faab8).
Then, our first texture: Metallic Blue (2). Open it, drag it in your document and place it at the center. Resize it in order to cover the full extent of the canvas (or even to go beyond its limits). Then you want to desaturate it (CTRL/CMD+SHIFT+U) and adjust its levels (CTRL/CMD+L), to bring the details of the texture out. Then, sharpen it a couple time by using the sharpen filter found at filters > sharpen > sharpen. Just compare your original Metallic Blue (2) file with the one I have here. You'll also notice that I placed the blending mode of this texture on Overlay @ 100% opacity.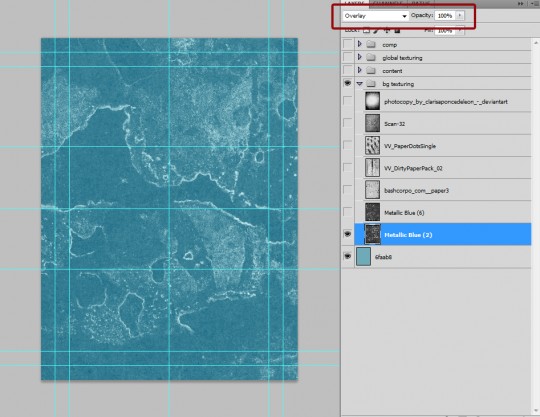 Now, by following a similar process, let's build up all the other layers used for our background. Here, Metallic Blue (6) has been placed on Soft light @ 100% opacity, after being leveled and sharpened.
bashocorpo_com__paper3 is bringing us the splatters we wanted. It also lightens the piece.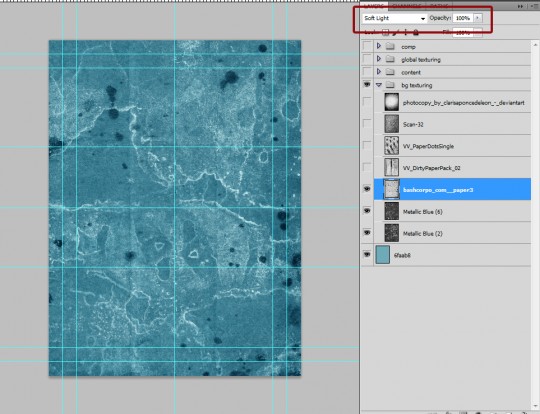 VV_DirtyPaperPack_02 adds folds and other worn effects.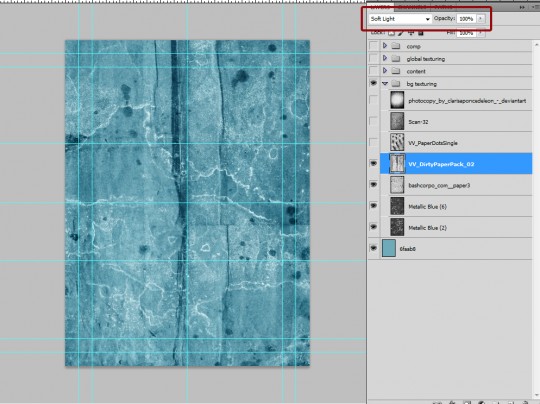 VV_PaperDotsSingle is probably the texture that has the most impact throughout the piece. It's what makes the final piece's halftone effect so strong. Now that we have a chance to look back on this, maybe we would have put it on Soft light instead of Overlay, and also down to 50% opacity instead of 75%. Yet, as said before, it's what brings most of the main feel to the piece. It's bringing these great lines of worn folds.
Scan-32 is part of the Vintage paper textures Vol. 1. We edited the levels to make it really dark (the black is at 125, the mid-tones at 0.5 and the white at 200). Using Linear burn as a blending mode brings a lot of dark back into the piece.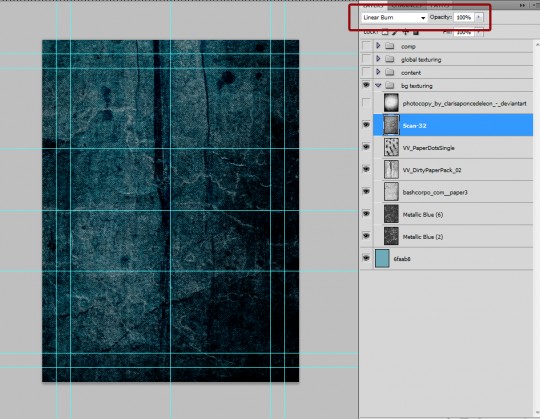 Finally, ending up with the photocopy texture on Soft light @ 75% opacity helps to restore some light in the center zone, where MacGregor awaits some further treatment.
This concludes the background. If you've read our tutorial/case study of our Lost and Taken poster on this very blog, you'll see that the process to play with the textures and combine them together is pretty similar.
Adjustments to MacGregor
Once you turn back on the layers for MacGregor, this is what your piece should resemble. All the texture work of the background is hidden! So, instead of leaving your base sheep layer on normal @ 100% opacity, let's switch it to hard light.
The result of this blending mode switch lets the background show through pretty well. We're definitely hitting the grunge vibe we wanted the piece to have.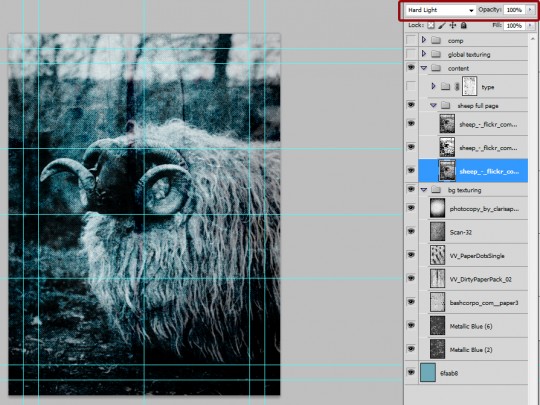 We're not having much of a technological feel to this, but that's where the global texturing process will play. For now, it's time to create our type elements.
The type elements creation
As a rule of thumb, when working on a piece like this one where there aren't too many type elements to manage, we like to create them in Ai. It offers more control on the type, and allows to adjust scaling at will before applying textures and other effects.
Here are the final elements we used in the piece.
You've probably all recognized Gotham. We decided to use it because it's a really legible typeface, but also because it has that great vintage feel. Because of the overall dark piece, we wanted the type to be white. In order to make sure it would be legible, we included it within these black blocks that act as a separation between the busy texture of the piece and the type. Finally, the white rectangles help to structure the type elements a bit better.
If you look closely at our type elements, you'll notice they're looking worn out. To achieve this effect, we're using the roughen filter in Ai (Effect > Distort and Transform > Roughen). You can see the values we've used on the screenshot. We need to give credit here to Simon Walker (aka Super Furry) and to Dan Cassaro (aka Youngjerks) for the tips and tricks on how to use this filter. Simon did a great post over at Method & Craft detailing his use of it.
When placing our type back in the piece in Ps, we realized that white type in a black rectangle wasn't that efficient. We then decided to invert the type elements to black text in white rectangles, which has much more visual impact.
Once both type elements were placed, it was time to start adding texture to them.  Instead of adding another set of texture layers specifically to them, we decided to just place their blending mode on Soft light @ 100% opacity. When stacking copies of the layer, you'll give it more opacity, with the textures below still playing through it. In our case, we stacked up 3 copies of the layer of each type block.
You'll also notice a Hue/Saturation adjustment layer for both elements, and here's the reason why. This is what happens without the adjustment layer:
The colors are just way too "hot", too saturated by places. Sometimes, this can be a sought after effect. James White (aka Signalnoise) explained in his broadcast about his Dagger Woods poster that his really flashy colors are often obtained that way. But this time, we weren't pursuing this route, so we added that adjustment layer, and turned the saturation down to -75.
Which gives us the following result:
Much more subtle. Also, remember we're designing in RGB, and that when printing, these really bright colors don't translate all that well (unless you add a spot color and work with some really talented pre-press guys).
The last thing we added to the type was a layer mask in which we pasted a grunge texture to add some extra grunge. Demonstration:
Without the grunged layer mask, this is what we get.
Here's what the content of my layer mask looks like:
The texture was probably taken from this grungy lamp post texture pack from DesignInstruct, but we could be wrong. To paste a texture in a layer mask, it's quite easy. Start by opening the texture you're interested to use. Copy all its content (CTRL/CMD+A, CTRL/CMD+ C). Then go to your main document, and ALT+CLICK on the layer mask. You'll be switched to see the content of the layer mask. You then just have to paste the texture you previously copied in there, adjust its placement, size and levels, maybe use the sharpen filter, and you're all set. This technique allows to use elements than are bigger than brushed, which are limited to a 2500×2500 pixels size. And here's the result of our manipulation:
Here's a shot of the current state of our piece:
Now that the type is in place, it's time to add some global textures on here.
Global texturing
This step is important, because it helps us to bring coherence to the piece by unifying all the elements together. The technique behind it is the same than when building the textures for the background, except this time you have to take the legibility of everything you have underneath into account. What's the point of adding more to the composition if it takes your original work away?
Let's start by adding something we've been talking about from the start, the circuit board textures.
We'll start by using c_2_b, which comes from that WeGraphics free texture pack. We placed it vertically and made sure it would cover all the design. After the typical desaturation, sharpening and level editing, we switched its blending mode to Overlay @ 100% opacity.
Thinking the effect wasn't as strong as we wanted it to be, we duplicated the texture, which gave us the following result:
We were happy with the added intensity. We just put the opacity of the copy a bit down to 75%.
If you looked well, you'll see we have a layer mask on part of the board textures. The reason for that layer mask is to soften the board texture on the text blocks. Let's look closer at our text without the layer mask:
And now, here's the text with the layer mask being active:

It's really subtle on the top part, more obvious on the credits, and helps quite a bit. The layer mask content consists of the text blocks surface filled with #d4d4d4 gray.
Next texture in line is one of the circuit board textures from Bittbox's set. It's on Soft light @ 100% opacity. It adds some really soft lines.
Next, we have noise2_7 (or you can use the free sample, spot the link under the download button). It's placed on Screen @ 50% opacity. Screen makes the black parts of the image transparent, which just leaves the white speckles and dust appearing. This ages your piece in a heart beat.
For the same reason we duplicated the circuit board texture, we've duplicated that one too. The other thing we did to the duplicated layer is to rotate it 180°, to add some more visual variations.
Next texture in line, Old_Film_02. Placed on Soft light @ 50% opacity, it'll had some soft hints of more dust and speckles.
The next texture is taken from Lost and Taken's subtle grunge textures. Placed on Soft light @ 100% opacity, it brings some brightness back in the piece.
m. r. nelson's texture_from_film_05 brings some of that film grain into the piece. Soft light @ 100% opacity.
too_dusty, the film texture from Miss Alienation's DeviantArt gallery, is yet another dust speckle texture. You'll need to apply some pretty harsh levels to make the speckles come out. Place it on Soft light @ 50% opacity.
Andre Meca's splash texture adds another layer of subtle variations. Its blending mode should be Soft light at 50% opacity.
The tape border layer has been created using the various pieces of tape of the packs I listed above. If it's too long and painful for you, you could also use these great brushes released by Chris Spooner. Combine your tape elements to create a frame that would go around the edge of the piece. Then, put the layer on overlay @ 100% opacity. Since we didn't think it was creating a strong enough frame, we duplicated it and tuned down the opacity of the copy to 75%.
Phew. Almost done! Bear with me for the finishing touches, and you'll have yourself a great finished product!
Finalizing the piece
So far, here's what we have: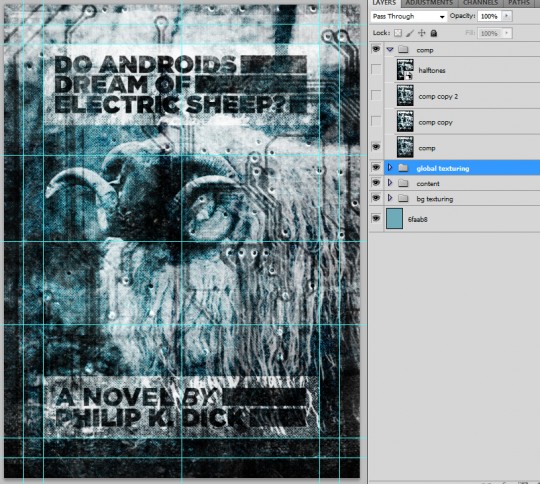 What we'll do now is to gain time in the following steps. First, select the whole piece (CTRL/CMD+A) and then crop it (Image > crop). The reason we do that is to clear the file of the excess of texture that goes beyond the limits of the canvas. You don't see them, but Ps does and it slows it down when applying filters and inflates your file size.
Once the cropping is done, let's create a new layer that will include a merged copy of all the content of our piece so far. There's a shortcut for this, it's SHIFT+CTRL/CMD+ALT/OPTION+E. Once that's done (and it can take a while, so go grab a warmer for your coffee mug), make 2 copies of that layer.
This is where the actions we've asked you to download will get useful. Get them loaded in Ps, and let's play with them a little (Addicted to design wrote a quick how-to).
Run the first aging action on on the first copy of the comp layer. Here's a preview of the result:
The action effect is a really harsh, almost xerox like (but with color) rendition of the piece. Let's switch that to Soft light @ 25% opacity, for a less aggressive result.
Let's turn back on the second copy of our comp and run the 2nd aging action on it:
For the same reasons as before, let's switch this to Soft Light @ 25% opacity, and it'll already look much better.
These 2 actions help to enhance the contrast, while still adding something of an aged look to the piece. Now the last piece, the halftone effect.
The halftone effect we use to finish most of the posters we do is greatly based on this tutorial written by Adam Levermore. Mad props to him. Let's create another comp layer (once again, the shortcut for that is SHIFT+CTRL/CMD+ALT/OPTION+E). Once it's done, rename it halftones and make it a smart object. Reset your color palette to black as your foreground color and white as the background color. We do this because your active foreground color will be used as the color of the dots of the halftone effect. Go to Filter > Sketch > Halftone pattern. Here's what you should see:
The first thing you should go is head over to the zoom menu, and hit the "Fit in view" option. Now you'll see what you're doing. After that, we choose to emulate a pretty realistic halftone effect, with a minimum dot size of 5. We set the contrast at 15, like that it's high enough to still show highlights and dark areas, but it's also low enough for the brightest areas to how some of the halftone dots in them. Here's the result:
Now, it's time to use to our benefit some of the smart object status of our halftone layer. First, let's change the blending mode of the actual halftone effect. Double click on that symbol, noted 1.. Then, in the drop-down menu (2.), choose Soft light @ 100%.
And then, finally, we can put the blending mode of the layer on lighten @ 50%.
Now, hit File > save! Save it as a PSB, as the final file is over the PSD file format size limit. Our file weighs a whopping 2.5+ Gb. And here you are, with a neat grunge, Do androids dream of electric sheep?-themed, poster.
Conclusion
Thanks again for sticking with us to the end of this rather long tutorial. We hope we've given you some insight on how we do things. If you have questions, suggestions, love/hate messages, let's get the discussion going in the comments! Also, if you want to follow the progress of the poster as we made it, you can check the stream of Dribbble rebounds associated with it.
Simon H. and Jon Savage, Studio Ace of Spade.
Before We Get Started
Hello dear readers!
Simon and Jon from Studio Ace of Spade here. Today, we have the chance to write a tutorial about one of the Studio's recent projects, the poster we did for Lost and Taken. What's great about this particular project is that it gives us the occasion to do a tutorial we've wanted to write for a long time: texture, texture and more texture.
We already had a writeup including some tips and tricks about textures published recently, but it was web oriented. Web is a world were subtlety is a key word, so we had to restrain ourselves quite a bit. This time, we can use the full extent of our texture repertoire on a print project.
Throughout this tutorial, we'd like you to keep in mind that we don't want to give you a "recipe" that you'll follow exactly and religiously, but rather a open-ended answer to a creative problem. It will give you room to adapt and improvise in your own ways. We want to nurture your creative process by sharing ours, not to kill it or to "dry it out."
It's hard to reconstruct the design process sometimes as for most designers it's really organic and trial-and-error based. But, we'll do our best. We'll try to link to the resources we used as much as we can, and to reference other articles that might have been helpful in our process or that could expand your reflection.
If you have questions, want to share what you came up with while following this case study and tutorial, want to suggest different techniques, want to suggest ideas on how to make this better, please do so in the comments! Also, we'd like to precise there is a complimentary article to this tutorial posted on the Studio Ace of Spade blog that details much more the case study part. We decided to split the original post in half (-ish), as we thought 6000+ words would be a bit intense for people to go through.
Here's a preview of what we're going to be doing, beautifully mocked up:
With all of this said, let's get started, shall we?
The Design Specifications
At the start of this project, here's what we knew:
The poster will be 18″ x 24″
The focus should be on a strong type element
There's plenty of creative freedom
As this poster was being designed for Caleb of Lost and Taken fame, we were certain to keep him as involved in the project as possible. Through further discussion, we further defined our constraints:
Utilize "nature," green and forest scenes, or something similar
Cut-out shapes are something he's interested in
Geometrical shapes should be inlcuded in the design.
The Resources
As this poster was to promote Lost and Taken, we decided to use only L&T made textures. Here's a list of the packs you'll need for this tutorial:
Download and install Massive Dynamite.
We're also users of two Photoshop actions created by the good folks of Go Media. The actions age your artwork in two different manners.
The first action ("Aged 1") has been created by Jeff to specifically distress and age type. You can grab it in the post he introduced it in.
The 2nd action ("Aged 2") is from a two parts vintage poster tutorial written by Tim Boesel. The tutorial is awesome, you should read it too. But if you just want the action, its in part 2.
To install Ps actions, read this quick tutorial written by Addicted to Design.
Lastly, download the color palette used for this project.
[download#80#nohits]
Note: this resource is provided "as-is." It's been made by us, for our own use. Learn how to install the color swatch via this About.com post.
Selecting a Font
Here's where the tutorial part of this begins.
Start by selecting a typeface. To narrow down our font choices, we opened Illustrator and went through our font library to select the some which fit the 'vibe' of the project. This is something that we strongly encourage all of you to try as it's a wonderful way to 'feel' your font choices.
We'd like to point out The Lost Type Co-op, Hydro74's Legacy of Defeat, Dafont, Font Squirrel and Abduzeedo's Friday Fresh Free Fonts as great starting spots to find interesting typefaces. Most of the time they are free and/or donationware, which means that if you like the font a lot you can show some financial support to its creator.
After we received feedback from Caleb on his font preferences, we narrowed our search down to slab-serif fonts, as well as vintage sans-serif fonts.
We finally settled on a font named Massive Dynamite, created by imagex.
You may notice that Massive Dynamite is pre-grunged – something that we don't necessarily like. Let's clean that up a bit.
Cleaning up Massive Dynamite
The next steps were clear:
Write "LOST AND TAKEN" in Massive Dynamite
Create outlines (right click on the type object > Create outlines) of the type, to convert it to fully editable vector objects
Switch the font from solid black to a transparent object with a black stroke
Then comes the tedious part. By using the direct selection tool (the white arrow, A on your keyboard), I selected the paths corresponding to the grunge elements and deleted them, thus creating a "clean" font
We made a quick video summarizing this process. You'll see it's really simple.
Creating the Type
Well, now that the font is cleaned up, let's complete the typelock.
Step One: Create a new 18″x24″ document in Ai.
Step Two: Put some turn on the rules (CTRL/CMD + R) and put some guides in place to determine how big that typelock is going to be.
When we design in 18″x24″, we like to have guides at 1, 2, 9, 16 and 17 inches vertically and 1, 2, 12, 22 and 23 inches horizontally. Turn on "Snap to grid" (View > Snap to grid or CTRL/CMD + SHIFT + ") when placing the guides. Then, you're sure they'll be placed accurately.
Instead of locking the guides, lock the layer they're on and rename it "guide". As you're designing, place the guides in the bottom layer. It's a habit we developed after consistently moving guides by accident while designing.
Once the guides are placed, go back to our previous document with the type elements. They should still be one object. Copy and paste it (CTRL/CMD + C and CTRL/CMD + V) in the main document.
Step Three: Set line height and complete the type with geometrical shapes.
Select the type. Ungroup the object (right click on the selected type > ungroup), and then regroup the words separately. You just have to select the letters; use the CTRL/CMD + G keyboard shortcut to do so (or go to object > group). Once that's done, move the three words closer together as shown.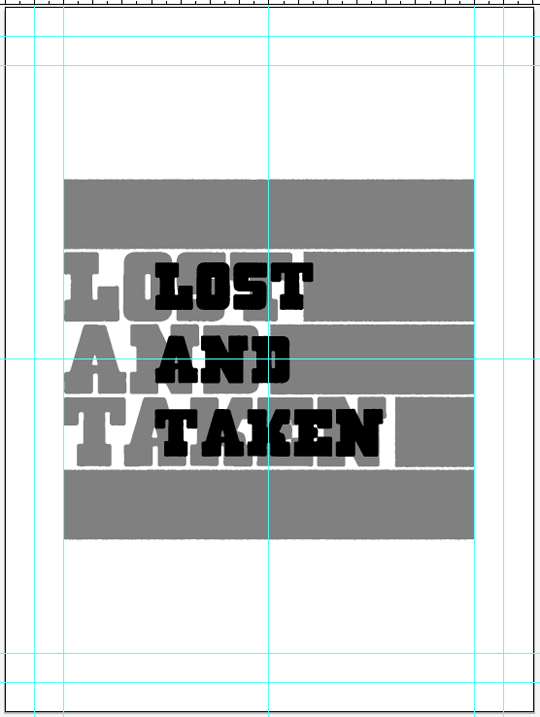 On this image, you can see the type with its default settings, centered in document in black, and the typelock I used in the poster in gray.
At this point, what we'd suggest is for you to come up with your own typelock organization. Show your creative side! Our goal when creating this type object was to have something compact, bold, and impacting. We sized the type following that logic.
The rectangles have roughly the same height as the type they're facing. To ensure this, we copied and pasted the values in the object size box.
The Final Step: Develop a 'worn' look for the geometric shapes we added to the type. In order to achieve the desired effect, use the roughen filter, in Effect > Distort and Transform > Roughen. Mad props to Simon Walker (he did a great post over at Method and Craft about that) and Dan Cassaro aka Young Jerks for tips and tricks when using this technique!
A point of advice: start by applying the effect to one shape, check if it matches the type you're using, and then apply it to the remaining shapes. The appearance panel in Ai CS5 makes this a no-brainer. You can also use the Effect > Apply roughen menu (SHIFT + CTRL/CMD + E) to apply the effect with the same values to the remaining shapes.
Once that's done, the type manipulations are done! Make sure the typelock is at least roughly placed as you will place it in the final poster, and preciously save that Ai file, just in case.
Choose a main image
We still hadn't settled on the "base" image of the poster. We went to the Flickr Commons collection, and dug some images out. We were specifically targeting large files — big enough to be used at a print resolution (300 dpi).
The neat thing about the Flickr Commons is that a big part of the collection comes from the Library of Congress (LoC) and the U.S. National Archives (USNA).
These organizations have a policy to provide a relatively high resolution documents on Flickr. For instance, a train picture we used in a recent gig poster is available at a whopping 3000×2019 pixels. And sometimes, when following the permalink to the web collections of the LoC or the USNA, you can find ultra-high resolution .tiff scans of the originals (an example: 8000×7000 pixels @ 1800 dpi).
We chose a photo from the LoC collection over the other forest scenes because it was the biggest (6041×7839 pixels). The only downside was that we had to download a 135+ MB .tiff. But with an image chosen, it was finally time to switch to Photoshop for real!
Starting to manipulate the textures
This is where the fun begins! This is where we'll work our texture magic on both the type and the background photo, blending them together in the best possible way. We'll cover our main texturing technique, some tips and tricks, and additional goodness below.
Step One
The first step is easy. Let's fire up Ps and create a new 18″x24″ document at 300 dpi.
"Print, you said? Then why the RGB colors? Isn't print always in CMYK?" We'll be using some effects and filters available only in RGB, so we'll have to use RGB. The thing to know is that the CMYK spectrum is not as extended as the RGB one. It basically excludes some of the brighter and louder colors. As long as you keep this in mind while designing and you work with printers who know what they're doing, you should be good.
You could also save your flattened PSD/PDF at the end in CMYK to be sure. But we would leave that to the professionals as they know what they're doing with color. Once the document is created, you should also place the basic guides in it (we used the same measurements than when working on the typelock).
Open the forest picture along with your new document. You'll notice that ours is a .jpg copy of the .tiff file as it's a smaller file.
Step Two
Place the source image. It features the frame of the slide it's been scanned from, which we decided not to keep in our poster. First, slide the photo in your document. Then, once it's in there, close the original.
Back to the poster. Before resizing the image, right click and convert it to a Smart Object. This allows to keep "access" to the original file, even though you're going to resize it and/or apply filters to it. Beware, this state still has some limitations. Once it's a smart object, place and resize it as you see fit.
Step Three
After placing the image, sharpen it by using the high pass filter (Filter > Other > High Pass). Oliver Barrett explains the process for the unfamiliar. Use a value of 50 as it's a big image, and put the high-passed layer's blending mode on soft light.
Apply a black and white adjustment layer on the high-passed layer to increase contrast and depth.
Set the adjustment layer to Red filter. Group the black and white effect to the high passed layer by using CTRL/CMD + ALT + G.
Once this is in place, make sure your layers are properly named and group the original image, the high pass layer, and the black and white adjustment together in a group called "forest."
Step Four
We decided that just adding textures on top of the photo would be a bit bland. So, what could we do to spice it up? We remembered a book cover we designed which had a similar starting point: a forest view. We also remembered a photo manipulation from Luke Beard. We decided to try something in a similar spirit.
Step 4.1: Create a merged layer of our current poster (CTRL/CMD + SHIFT + ALT + E). Desaturate it (SHIFT + CTRL/CMD + U),and press CTRL/CMD + T to transform and rotate it 180°.
Step 4.2: Open Ai and created an 18″x24″ document. You can also use the one from the typelock as long as you hide or lock the type piece to be sure not to damage/lose it. In our new document we created the following pattern:
We're displaying it in Ps, but you can see the little smart object icon on it showing it has been imported from Ai. To create the pattern, do something along these lines:
Turn the grid on (CTRL/CMD + ')
Draw a 1.25″ diameter circle
Copy it 8 to 10 times to create a line of evenly spaced black circles (the align and distribute tools can be of great help here), that go across the width of the poster
Group the line you just drew together  (CTRL/CMD + G)
Copy it and paste it in front (CTRL/CMD + F). Repeat until you form a grid covering the surface of the poster
In order to bring some variety in, just offset each other line (cf. the pattern we drew)
Once the pattern is done, group it together and copy it. Paste it in front in Ps (SHIFT + CTRL/CMD + V) as a smart object. Pasting it in front (or "in place", as they call it) ensures that it will be sensibly in the same place as in Ai. Pasting it as a smart object will enable you to resize the pattern at will without losing its vector state. You can still edit it in Ai by using right click on the pattern layer > Edit contents. The changes will transfer to Ps.
Once you're happy with the pattern you created, use it as the content of the layer mask for the black and white forest image.
In Ps, you should have the smart object of the pattern looking similar to what we show above. Turn off all the layers you have in the document except for the pattern layer
Drag it at the bottom of your layer list
CTRL/CMD + click the pattern layer. Doing this will select the content of the layer. Once it's selected, copy it
Let's add a layer mask to the black and white forest layer
Let's ALT + click the layer mask we just created. This will switch you to view and edit the content of the layer mask, and not of the layer anymore (just click back on the layer to exit the mode)
Just paste (or paste in front) the pattern in there! You can slightly adjust its placement if you feel like it. Note that the content of the layer isn't a vector smart object anymore, so be careful about resizing it, you might loose sharpness and/or details
That's the concept. You'll notice the layer mask getting that 'cross-hair' focus icon when you're in layer mask editing mode. We weren't sold on the result shown above.
Go into the layer mask editing mode, and simply invert its content (CTRL/CMD + I).
Further tweak the content of that layer mask, notably by adding a worn aspect to it. In order to do so, here's the first time where we'll use these Aged actions. Go back to that layer mask content, and zoom in a little bit.
Open your action palette (ALT + F9), and play the Aged 1 action.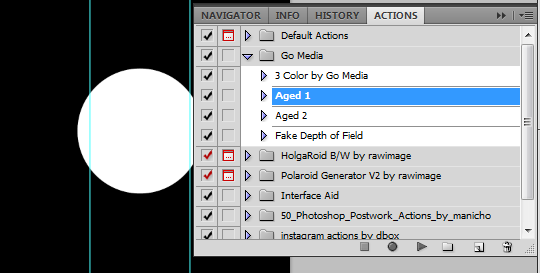 Aged 2 works along the same lines, but with different values which produces a different output. Our rule of thumb is to use Aged 1 on white and light objects, Aged 2 on dark and black ones. But we've also proved that rule wrong countless times.
This is what your layer mask will look like after the action has been played. Because we're working on the content of a layer mask, you'll also have to validate the levels panels. You could tweak the values, but I wouldn't worry too much about that.
Now it's a tad less sharp, less clean – much more organic. Let's move onto a second pattern.
This one is built in Ai as well. Start with one black circle, and then start copying and pasting in front and increasing the size of each copy.
We applied the aged effect on it to make it look less perfect and digital.
And here's the result! Time to texture that thing.
Background textures and coloring
Go back to that background: we'll use the files paper41.jpg from the 42 vintage paper textures pack, vintage_stained_texture_5.jpg from the 15 vintage stained paper textures pack, and scan32.jpg from the Vintage Paper Vol. 1 pack.
The first one is used because of its beautiful paper grain. The second features some interesting dirt spots, speckles and intensity variations. The third has some folds and worn marks on it that will help to give the aged feel we're looking for.
This is the current state of the poster, without the textures and the color overlay.
And here it is with them. So how do we do this? Rather simple actually.
Open the texture file you're interested in
Drag it onto the poster
Size and place it according to what you want to achieve
Desaturate it (SHIFT + CTRL/CMD + U)
Use the levels (CTRL/CMD + L or use a levels adjustment layer for non destructive editing, just think about using CTRL/CMD + ALT + G to make the adjustment layer apply only to the texture layer) to increase the contrasts and really bring the details you want to use out
Sharpen the result a few times (x2 or x3), according to taste (Filter > Sharpen > Sharpen)
Change blending mode according to taste
So where can you make the most impact in this process? The texture you're choosing is important for sure, but also at steps 5 and 7.
The levels
Here's a quick demonstration of how we use levels to bring out the texture goodness. We're using scan32.jpg as the support for this example.
The values you see in the Levels dialogue box can be explained as such: the 100 on the left is the value of the dark tones, the 0.50 on the middle concerns the mid-tones (one of the most interesting ones to play with) and the 200 on the right impacts the light tones. You can also adjust visually with the little arrows under the diagram (black for dark tones, gray for mid-tones and white for light tones).
The Output levels section can also be useful. It defines the darkness of the darkest pixel and the lightness of the lightest pixel. It's a good alternate for overall contrast control.
The blending modes
For a detailed blending mode explanation, we'll invite you to go through this Visual guide to layer blending modes, done by Franz of FudgeGraphics' fame.
These are the blending modes we settled on:
Let's say it now: we are big fans of overlay and soft light. These 2 modes allow the details of the texture to translate on the design, without being overbearing (at least most of the time) or dampening color too greatly. When placing a texture in a design, we tend to go quickly through the full list of blending modes and choose the best.
Black and white textures
Using black and white textures utilizes the textures for the grain and detail they'll bring without color correcting the piece all the time along the way. Sometimes, we won't desaturate a texture, but it's really rare and accomplishes a really specific purpose (the texture's colors match or complement the color scheme of the project you're currently working on).
This is actually why we have that color layer on top of our textures. Even if we felt the design was good with the contrast of the black forest, we wanted to bring at least a hint of color into these black spots.
The color overlay
Load the color swatch you installed earlier. Locate the Laurel green (#a7a761) on the swatch. Add a layer on the top of the textures, and fill it with color. Choose a blending mode for that layer to still be able to see the design underneath. We played with just the opacity of the color layer, Multiply, Overlay and Soft light.
It looks neat, but we lose a lot of contrast, and we want the background to be much more discernible.
This is what happens typically while using multiply: everything becomes darker. Not a fit for our goal either.
Here's where the awesome happened. We were ready to switch to overlay, when we made a wrong click and the blending mode that got selected was darken. Admire the result:
Because of darken's properties, the color was applied to the black and white elements from our upside-down forest image, and the rest of the background stayed mostly untouched. Mistakes can show you the way. Also, if you haven't grouped your layers into a bg group, now might be a good time to do so.
Texturing the type
Step One
Now that the background is done, add the type. You just have to copy your type in Ai, and paste it in place in Ps. Let's look at the structure of the type layers:
You can see that there's a bunch of typelock smart objects stacked together, with a Hue/Saturation adjustment layer and a layer mask. Let's deconstruct how the effect works:
This is the type on overlay, with just one of the layers turned on. The nice thing about overlay is that it lets a lot of what's behind show. But with just one layer, the type isn't really readable. Let's start by stacking copies, still on overlay…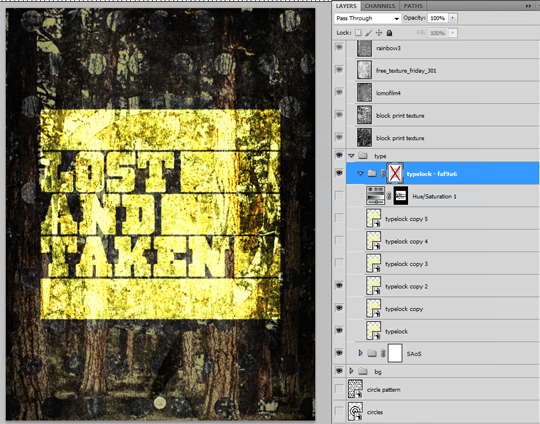 As you can see, the type is getting sharper. There's still too much background showing up. Let's add some more.
Step Two
After five copies on top of the original smart object, the type is legible enough. Now, as you can see, it's overly saturated. Hence the Hue/Saturation adjustment layer:
Now, the type blends in way more, with a more natural "fall" color. Oh, before we forget: the original color we applied to the type in Ai was #faf9a6. The color is called "Crocus yellow" in that Chevy color swatch.
You'll notice also that the adjustment layer is applied only to the type. To do that, we just CTRL/CMD + clicked one of the type layers to select its content before creating the adjustment layer, which creates the appropriate layer mask revealing only the selection you just made and hides the rest.
Step Three
There's also a layer mask with some grunge effect on the typelock's group. Here's a before/after shot:
Let's look at the content of the layer mask:
Guess what will help you to accomplish this? The Aged actions, of course!
Create a new layer mask for the typelock group
Go into the layer mask content edition mode (ALT + click), and CTRL/CMD + click one of the type layers to get the outline of your type selected
With the selection active, select the layer mask again
Fill the selection with black (SHIFT + F5 > Black)
Let's play the Aged 1 action
Now, you need to invert the result (CTRL/CMD + I). Make sure the selection is still active! The layer mask now simulate the edge of the type having received a lot of ink, while the center of the shape not so much (think ink trap)
Let's run Aged 2
Deselect
Some screenshots of the process:
Experiment with levels and other contrast adjustments to make yours unique.
Global Texturing
What, more textures?
Yup. This next step, while really fun, is also critical. The background texture manipulations set the "support" you want to emulate. The global texturing adds more grunge, but also the speckle, dust and other dirty effects. Lastly, it will help to give visual coherence and unity to it.
Let's look at my global texturing group:
So, there are (from bottom to top): some block print textures, a film texture (it features a bunch of scratches and a frame), one of the black and white grunge vol. 2 texture, one of the rainbow grunge, some noise textures (think dust and speckles) and another white grunge + snow texture.
We followed the same process as when we textured the background. It's a combination of carefully selected textures, desaturated, leveled, sharpened, patiently experimented blending modes that does the trick here. Let's look at the details for the later:
As you can see, these are mostly on soft light. I played with the opacity as some of these textures were way too strong. Some notes per layer:
The 2 block print textures are different ones, amongst the last ones in the texture pack
Rainbow3 and Rainbow3 copy are the same texture. The one above has been rotated of 180°
The first Experimental noise 6 has been inverted on top of being sharpened, the 2 following ones are just sharpened and the above one of the pair rotated of 180°
Same scenario for the 2 top ones (same texture rotated)
Feel free to add more textures! Feel free to change the blending modes! Feel free to change the opacity! We decided to stop here, because we reached that "I think it's complete" point. Also, as said in the beginning, this project was to showcase what's possible to do uniquely with Lost and Taken's textures. We have some sweets ones of old, dusty film, scratched metal and more we would have added (cf. this image).
Finishing touches
Cropping the excess out
This is not mandatory, but will save you both time for the following steps and hard drive space. During the design process, you're likely to have sized some elements beyond the limits of your canvas. You don't see them, but each time you save the file, Ps remembers they're here and includes them. Pretty useless. Also, when applying an effect, they're taken into account too, which can make the effect take longer to be calculated.
What you have to do is simple: select your whole canvas (CTRL/CMD + A), and go to Image > Crop. Then, while it's calculating, you might want to refill that coffee cup of yours for the last stretch of manipulations.
Creating a Comp and Aging It
If you'd look at our top layer group, called comp, here's what you'd find:
We started to create comps because we were occasionally experiencing color shifts when saving without them. This seems to either solve it, or to show the shift on the comp layer, which you can then correct with adjustment layers. There's a shortcut for it, it's SHIFT + CTRL/CMD + ALT + E. This is an operation that will take a bit of time.
Once it's done, place it in its group and create two copies of that comp layer. The bottom copy should get the action Aged 1 applied to it. The top copy should get Aged 2 applied to it. Switch the blending mode of both layers to soft light and their opacity to 25%.
The Halftone Effect
We perfected our halftone effect over time, after reading a couple tutorials that were including it (the main one being this one, written by Adam Levermore).
Create another comp. Right-click the new comp layer and convert it to a smart object. This is also going to take some time.
Once the layer is a smart object, let's halftone it!
Press D to reset your color palette to black as foreground color and white as background color. We do this because your active foreground color will be used as the color of the dots of the halftone effect. Go to Filter > Sketch > Halftone pattern (make sure your layer is selected). This is what you'll see:
A couple things about this screen:
First thing first, look at the bottom left of the screen and switch the zoom level to "Fit in view." Now you can see what you're doing
On the right side, "Pattern type" should be set to dots, as we're trying to emulate that offset print effect
"Size" and "Contrast" are to be played with to your liking. We used a minimum dot size quite big (8), since the poster is of decent size. We usually keep the contrast low enough to still have some dots in the whitest areas of the image
You should now see something close to this:
Let's double click on the one that's highlighted: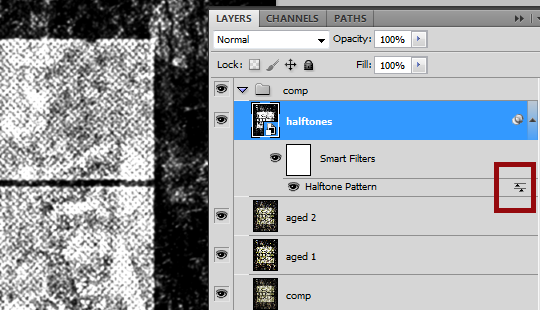 This opens a dialogue box that helps you to choose a blending mode for the halftone effect itself.
You should switch the blending mode to soft light via the drop-down menu, and hit OK.
Almost there…: Switch the blending mode of the layer. Change it to lighter. Lower the opacity some. We settled on 50%.
LAST STEP: SAVE YOUR HARD WORK. Tadaa, you're done! You deserve a beer while the file saves. We suggest you save the poster as a PSB file (Photoshop Big), as it's likely to be bigger than the 2 GB file size cap of the PSD format.
Conclusion
After seeing this, Caleb approved it. If you go back to the email conversations, you'll realize that we're fitting the scope we established at the beginning. We're giving Caleb something that's nature-themed, while still having our own stamp on it.
Well, it's truly been a blast! We hope you enjoyed the post and that we could shine a little bit of light on how we do stuff.
Let us know if you have any suggestions, comments, or ideas on how to improve; or, you can send us love mail, hate mail, or ask us to design posters for you by letting us know in the comments below or just get in touch!
Sincerely yours,
Simon H. and Jon Savage, Studio Ace of Spade and Editors of the Zine
Categorized:

Graphic Design, Illustrator, Photoshop, Tutorials, Typography

Tagged:

freebie, Illustrator, Photoshop, poster design, Studio Ace of Spade, texture, tutorial
Hello dear Zine readers! Jon and Simon here.
Today, we're taking our editor hats off for a minute or two and putting on our independent artist hats instead. We want to tell you guys about a project of ours that means a lot to us: 13 Spade.
What the heck is 13 Spade?
Designed, coded, developed, and curated by Jon Savage and Simon Birky Hartmann of the design firm Studio Ace of Spade, we are working tirelessly to offer the best ecommerce experience around for our customers and our artists. We believe in the power of design and art, and can't imagine the world without it.

13 Spade was born one chilly November day in 2010 when we noticed that all of the wonderful art around us was made by relatively unknown artists. After talking with some of these artists, the project gained much support. It slowly started snowballing into a project ten times the size we had imagined.

We're still working ourselves to the bone to feature more artists, and don't worry – there's plenty more unique work on the way. If you know of someone who would like their work to be featured here or someone who would like to help fund the project, head to our contact page.

— From the 13 Spade about page
So, in short, it's an online store. For our stuff (posters, art prints…), but also for other talented artists and designers.
Why is it different from, let's say, Society 6?
At first, when we decided to start selling some of the posters that we made and got some positive reviews we thought, "Let's just put them up on Society 6 or Imagekind and they'll take care of everything for us."
Then, we saw how much markup these services were adding on top of the base price of a poster and said, "Not a chance. This isn't fair." I mean, an 18″x24″ canvas print through these two websites can cost above $100. And we're not even talking about framed prints. Since we actually want our people to buy the posters without going broke, we decided to not go that route.
We went on the hunt for a printer. After an extensive search, we found the good folks over at Valley Screen Process in our area (Northern Indiana). These guys used to be specialized in RV printing (and more specifically screen printing: it's the first time I see screens that are that huge), but when the economy tanked in 2009, they decided it was time to diversify the markets they were working in and started to also do giclée printing.
We met with them, they were interested and supportive of our idea (providing quality printing on the tightest budget in order for us to be able to also print the work of other people). We also got a grant from our alma matter to actually fund the printing and decided it was time to get the site up and running.
We want to empower other artists
So the goal is, once more, to get our stuff out there but not just that. We realized that most of the people we know in our community (local and online) do amazing stuff, but no one knows about it. They don't have either the time or money or knowledge to get their stuff online (or all of these at the same time). So we decided to open the door to them.
The rest of the story
As we were finding the printer and getting our stuff printed, something else happened: Jeff invited us as one of the featured studios/designers at Weapons of Mass Creation Fest this year.
So we decided to do something crazy: to put together 13 Spade and a refreshed web presence for the Studio at the same time and before the Fest. Which gave us 2 weeks to design and code 2 websites. We did it, since 13spade.com and studioaceofspade.com were live at 2:30 AM on Friday, June 10th. The Fest pre-show was the same day, except four hours away in Cleveland.
We then drove from Goshen, IN to Cleveland OH, to WMC Fest and officially declared 13 Spade open that same day.
Cool story bro, but what are you selling?
The people that follow Simon on Flickr, Behance and Dribble probably saw some most of the pieces that we're selling. Most of them got a quick touch up for some details though.
Whale and Pine
Whale and Pine was an online art gallery and art collection curated by Camilo Bajanaro of Ph7labs. Sadly, it is no longer. Anyway.

Last year, Whale and Pine organized a poster contest to bring more artists in. The contest theme was pretty loose.

This poster was our second submission. Our goal was to embody the Whale and Pine brand as much as possible, while still putting our stamp on it.
God is Awake
The God is Awake print is an homage.

God is Awake is a musical project from Goshen, IN whose members are friends. Ben, the singer/composer/guitare player of Wilson's Reservoir and Grant, the engineer/producer behind Electric Angel Studios, teamed up to create this post rock and experimental band.

When they completed their Voire Dire EP, they granted us the privilege to listen to it before anyone else (you can listen to the track An Adder is Hatched, extracted from the said EP, on their facebook page).

Since we were really thankful for this and amazed by the result, we created this little poster as a thank you to them.
The right to arm bears
The United States of America's Constitution has 27 amendments. The first 10 of these, the Bill of Rights, include a controversial amendment dubbed the 2nd amendment.

The text of this amendment is as follows:

A well regulated Militia, being necessary to the security of a free State, the right of the people to keep and bear Arms, shall not be infringed.

— From Wikipedia's Second Amendment page

This amendment has been the source of many controversies over the years, as some US citizens see any gun control law as an attempt by their government to limit their individual freedoms, enunciated in the Bill of Rights.

Artists and comedians already explored the subject, such as Obey Giant (Shepard Fairey) with his 2nd Amendment Solutions print.

One day at the Studio, someone made that wordplay (I support the right to arm bears!) and we couldn't help it but start to sketch the thing. Then, as 13 Spade's grand opening came closer, we decided to go ahead and finish this poster as a special treat for the opening. And I wanted to draw a bear too.

So we looked for an angry bear, drew a lot and here we are!
Get shit done
Oh boy, this is a delicate one, because some people might get offended (like we care in the first place).

I mean, we all remember these (lame?) motivational from the 80s and 90s that were done with bad stock photography and/or bad illustration and messages, right?

When we moved into the Bricolage in Goshen, IN, we knew the people in this shared workspace were mostly entrepreneurs and small business owners. Think about it as a concentration of like minded people. We also discovered these people to be highly motivated and not afraid by the number of hours you need to put in in order to get or keep their businesses going. Hence the (un)official motto of the place: get shit done.

At first, we did that kind of a joke and as a warm up one day. Then we did a second version, but we felt we were going away from the bold simplicity of the first one.

So here it is, the "new" version of the ultimate motivational poster. Hang it above your desk and go back to work.

Ah also, if you're offended by that poster, well, we're deeply sorry for you. Accept our condolences. A cure of George Carlin might help though.

— From the Get shit done product page on 13 Spade

Broadcasting
Broadcasting is an 9″x12″ poster done for Signalnoise's Retro Poster Competition. We chose to go back in time and advertise for what must have been the cutting edge radio station at that point.

This poster and the Air Traveling one were done for a specific occasion: a contest.

Not any contest. It was the Signalnoise Retro Poster Competition.

Since the number of entries was unlimited, we just ended up doing a triptych. We started with Broadcasting, followed by Air Traveling and finishing with Music Collecting.

We realized afterward that the size of the contest entries wasn't matching the ones we selected for 13 Spade, so we recreated them from scratch (keeping your resources folder of a previous project helps tremendously in that case).

— From the Broadcasting product page on 13 Spade
Air traveling
Air Traveling is an 9″x12″ poster done for Signalnoise's Retro Poster Competition. We chose to go back in time and advertise for what must have been the cutting edge means of air transportation at that point.

This poster and the Broadcasting one were done for a specific occasion: a contest.

Not any contest. It was the Signalnoise Retro Poster Competition.

Since the number of entries was unlimited, we just ended up doing a triptych. We started with Broadcasting, followed by Air Traveling and finishing with Music Collecting.

We realized afterward that the size of the contest entries wasn't matching the ones we selected for 13 Spade, so we recreated them from scratch (keeping your resources folder of a previous project helps tremendously in that case).
That was the complete collection of our work on the site.
We also feature some breathtaking photographs from an Ethiopian friend we met through college, Abi Tsigie.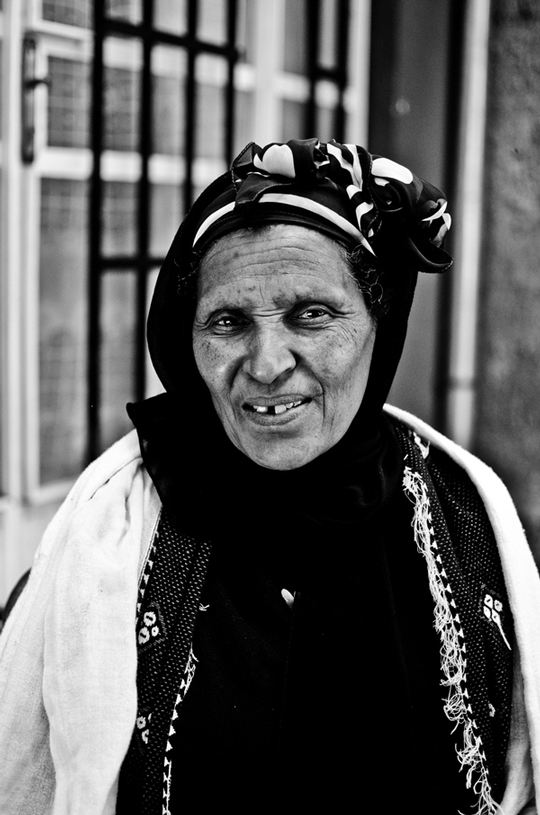 Kristen Szappanos is also a close friend of ours, and she takes beautiful pictures as well.
Then, we also have some hand-made jewelry. The ones that saw us at WMC Fest know what it is, for the others, take a look:
These earrings demonstrate that everyday life objects can be transformed into something absolutely beautiful. Every pair is hand-made with surgical steel clasps to avoid any allergy problems. Multiple brands available.
More info is available on the earring page of the shop.
The fun part: a giveaway
Now, all of this is pretty sweet and nice, but since you took some of your time to read all of this, we wanted to thank you guys by throwing a little giveaway together. The winner will get the print of his/her choice.
Just comment below to be entered. We'll choose someone randomly on Tuesday, July 26th and announce the winner here.
Now what?
Well, there's one thing you could do for us. If you like the project and the concept behind it, please talk about it. Share it on facebook, tweet about it, email your friends… And obviously, buy stuff :-) Because this is our first print run, the big posters are printed on canvas. There are 10 of each that were printed. The next run is unlikely to be printed on canvas again. Which makes them a very limited edition.
Also, we've been inviting other artists and designers to be guests on the store. We can already tell you that the next invited artist will be [REDACTED]! We're pretty pumped about that, as you can guess.
You can find 13 Spade on its dedicated website and on Facebook. We're likely to mention stuff about it on the Studio's twitter handle too. We hope you're as excited about the project as we are, and we'd love to keep the discussion going. Just give us a shout.