How to launch and run a thriving design business has nothing to do with righting, write? Wrong! These days brand identity designers, logo designers, game designers, graphic designers, and even flash designers need to be able to spot the spelling mistake in the first sentence of this article. Designers can no longer be the master of their own dream world, where they choose and decide when, where and how they interact with the design project. It is highly crucial today more than ever that corporate design solutions align with client objectives from the largest corporation to the smallest enterprise. To become a successful designer, you must be able to cope with writing skills.
Why Writing is Important for Designers
Writing has its own worth regardless of the profession. From a technician to a designer, everyone needs writing abilities in order to communicate in a better way. However, for designers, it is far more important than just to communicate. Mentioned below are some of the reasons that elaborate on the importance of writing for a designer.
1. Writing Helps You Describe Your Design
"If you can't explain it simply, you don't understand it well enough."
Albert Einstein
Very often, designers are required to explain the perspective and intentions of their design. Failing in the practice can lead to an ultimate thought that designs are not intuitive. Excellent writing skills enable you to think as a writer rather than a designer, which could help you finding the lacks in design if any. Writers usually do not hesitate to point out when the designs do not make sense as it could lead to a wrong description of a particular design. Searching for the mistakes in your own plan will allow you to manage an improved outcome.
Simply, it can be said that writing skills for a designer not only help him with literature but also helps improve as a designer.
2. Content First Designs are Trending
Gloria Tillison – A front-end developer at Crowd Writer illustrates during a seminar,
"Designers need to realize that the market is competitive, and every single person is focusing towards SEO with their designs and contents."
She further said: "Content-First strategy is adopting widely in the world and we as a designer needs to cope with it as early as possible."
Words are powerful and essential in any content of the website which cannot be ignored at any cause. As Biz Sanford from Shopify content team explains,
"Words are essential for helping users accomplish their tasks, and by thinking about them while you sketch, you'll uncover problems early and be able to move faster later."
Consider this page, by designer Justin Jackson, puts on the importance of words in a webpage.
3. Writing a Better Title, Body & Meta Tag Improves SEO
A designer is always focused on the SEO of any site he is designing for. In this regards, different tags have their own role and importance. Every tag has some particular requirements as well e.g.
A good Title tag is below 60 characters and includes a keyword or synonym.

Similarly, Meta tag lies in 150 to 160 characters and of course with a focused keyword.
Sometimes clients provide you with these tags; otherwise, a designer himself put the efforts. Designers with writing abilities will not find it difficult to manage these tags.
Despite the fact, the body content is always provided by the customers. However, usually, they are unaware of SEO. Good designers take care of SEO by modifying the given content with little changes.
They might need to add some transition words, convert passive sentences to active, shorten the sentences' length and add focused keywords for better SEO and readability of the page. All of such work requires a good understanding of literature and excellent writing skills.
4. Sharing Your Ideas Help the Design Community
Many designers resist to share their work and have a feeling that someone may steal their idea or come up with a similar one. But they need to understand that what they have been creating is not coming all alone from their mind. There must be some inspiration and motivation from other works and designs.
Writing about your work, therefore, can be beneficial for you and others as well. It serves as the best tool to share your work and ideas which can help other designer feel inspired with and understand your design or your prototyping process.
5. Build an Audience & Start Business
With regards to looking for some kind of work, it can in some cases be hard to come up with new opportunities. Why not thinking about people coming to you rather than you approach them? All you need is to make it simpler for individuals to get an understanding of what you do and how you work. Writing allows you to do this efficiently through blogs, as it can enable you to build an online presence and become join communities to showcase your talent.
Once, you have developed your audience, it will be more convenient to launch your very own business. There are many businesses which were started just in a similar manner with writing blogs and building networks. They created their connections using their content, and people started recognizing them. So, this scenario is best for you to kick start a business when you already have a market and people know where to go for designing.
6. Let You Communicate With The Client In A Better Way
With the world being so fast, effective communication has become a primary skill to understand your client and make them understand your points. Since the market is growing vast, more professional seeking work and more communication happen in writing.
Remember the time when a confusing email from your colleague or customer left you uncertain, what to do with this. Such a gap in communication slows the process of designing.
Quick Tips For Getting Started With Writing
Now, since you are familiar with the necessity of writing for you as a designer, why not try some resources that can improve your skills. There are numerous tools and software that can help you to find a writer within you or assist you in different regards.
Grammarly: It is the software having several characteristics. It supports you to improve your writing by correcting grammar issues. It's premium features allow you to check for plagiarism if by chance your piece is duplicated. It also lets you check the work with human proofreaders.
AustralianMaster: This is a human proofreader and editor. It can help you check your written material for errors, may it be structural or grammatical. They will correct it for you and add value to your written piece.
Writing Ocean: One of the most enriched hubs with different kind of composition marks. You will find here the best dictionary, easy to understand grammatical rules and a lot more.
Accurate Cite: When you will start writing, you will realize the importance of referencing. Accurate Cite can help you understand all these rules and regulations in a free flow manner. It also provides you with automated citation.
MHR Writer: They have professional and skillful authors who can assist you in any every type of composition. They will help you to make your cover letters and resume which can get you more work.
These tools will surely help you to develop a better scripting ability to benefit from the facts that I have described previously.
Newly graduated? Actively seeking employment in the field? Super comfortable in your current position?
No matter what your status, the Go Media team suggests you regularly work to keep your design portfolio up-to-date.
Seasoned designers, we know that this task may seem daunting. However, in order to show beautiful work, you simply have to put the time in. Being methodical about adding work is far easier and more effective, in our view. Slow and steady always wins the race.
We have launched a couple blog posts about what your design portfolio should include. They are:
How to Have the Best Graphic Design Portfolio on the Block: 3 Tips and
How to Create a Graphic Design Portfolio 
Here are five of our most important tips.
Only show your very best work. Your portfolio should be well curated. Less is often more.
Cover all of your bases. If you have excellent work in branding, print, web, illustration, show us. Well-rounded designers are few and far between.
Tell us a story. We love case studies! Show us your thought process from start to finish. Include illustrations, notes and various rounds. Address failures & successes along the way. We love to see how designers move throughout the design process. No matter what the outcome, we will respect you for guiding us along your path.
Put as much time into your portfolio as you did completing the project. If you took eight hours to create a logo for a client, take roughly eight hours to work on that respective portfolio item. Dedicate yourself to mocking the logo up on multiple templates until they look perfect. Write, rewrite, proofread the copy to go along with your portfolio item. Construct a thorough case study as referenced above. If your logo appears in a store, restaurant or other location, go out and photograph it! Take time editing the photos so that they are professional in quality. Gather testimonials on your work if possible. Don't stop until you're proud.
Show that you can work with clients & meet deadlines. Students, this one is for you. If you have not yet had experience in the field, ask your friends and family if they need any design work. This will get you some freelance work in the door and show us that you have experience, no matter how minor, working for clients. Get ready to illustrate the work you've done in your portfolio, as well as discuss how you communicated with them and managed to meet important deadlines.
Here are some portfolios that have inspired us with notes about why we enjoy them.
Ekaterina Oloy
Los Angeles Based Illustrator, Artist and Visual Storyteller
What We Love: Katia's Portfolio is instantly spellbinding. Each project is accompanied by a full case study or accompanying materials that help you relate to Katia's
work. This is the standard that all other portfolio's should be judged against.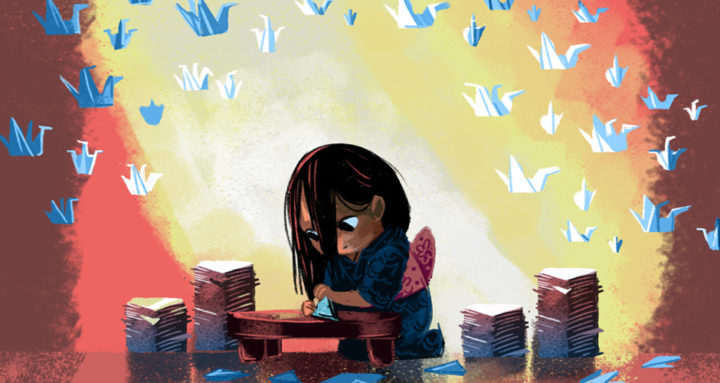 Skinny Ships
Design and Illustration by Richard Perez and Jennifer Derosa
What We Love: The cleanliness and fun spirit of the work. It makes you want to work with them.
Hom Sweet Hom
Hand Lettering by Lauren Hom
What We Love: High-quality, vibrant work that hits you in the face!
Great brand consistency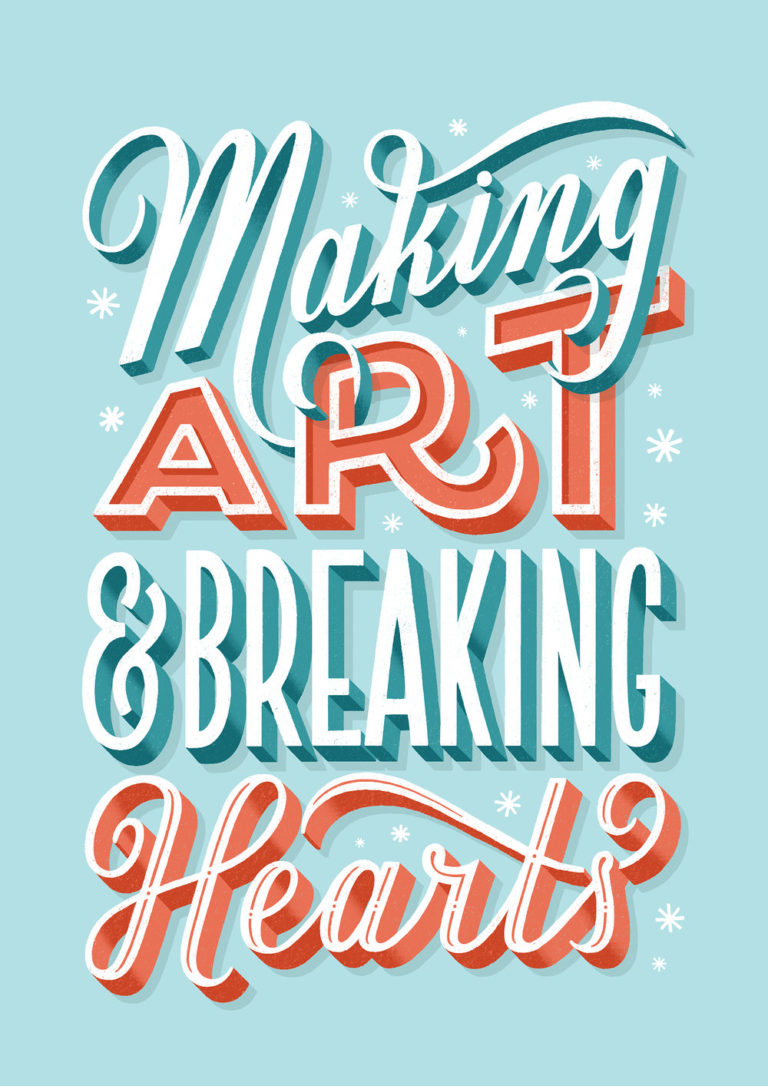 Ron Draper
Artist and Designer living in the UK
What We Love: Nice high-quality, bold imagery. Some portfolio items tell a story of Ron's process.
Jordan Metcalf Studio
South African Graphic Designer
We love Jordan's copy. As you know, we love a story and it gives more substance to his work.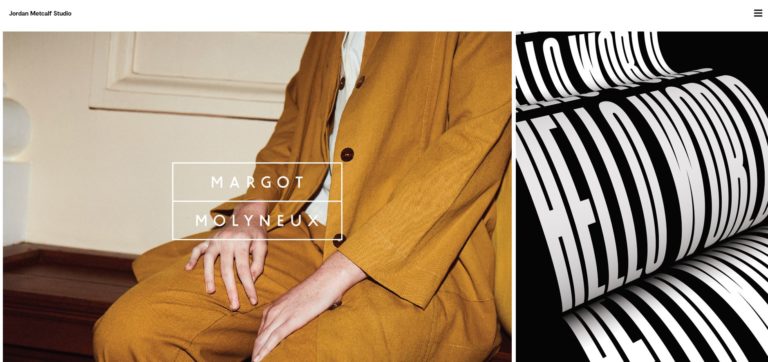 Chuck Anderson
No Pattern Studio – Chuck Anderson
Artist, Graphic Designer, Photographer, Creative Director
What We Love: Chuck's Portfolio is filled with over-sized, juicy imagery.
The quality of his presentation, in our opinion, is simply on another level.
Kate Moross
Designer
What We Love: Kate's bold and captivating presentation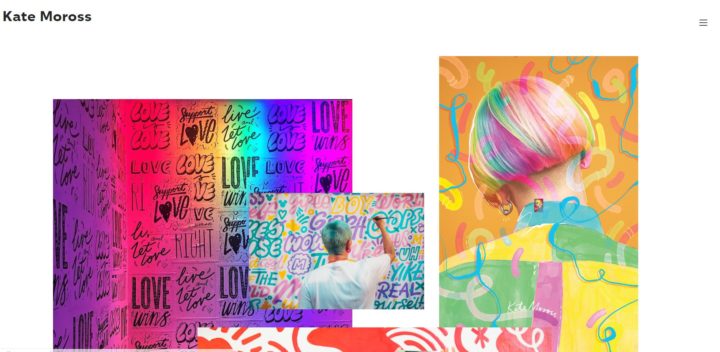 Erik Marinkovich
Lettering Artist and Designer
What We Love: Clean and crisp overall. The work is breathtaking! Copy is simple and straightforward.
Creative Mints
A Boutique Human-Centered Design Agency from Prague
specializing in Branding, UI and Illustration
What We Love: Creative Mints shows a beautiful variety of work in their portfolio
Go Media's Online Portfolio
We couldn't let you leave without bragging about our own graphic design portfolio!
Here at our Cleveland Graphic Design and Web Development Firm, we love showing off the work we do in the areas of not only design and web, but print, illustration and web marketing.
Our Rich Wonder portfolio item is a great example of one of our case studies. We used illustration to help us
explain our thought process through the project.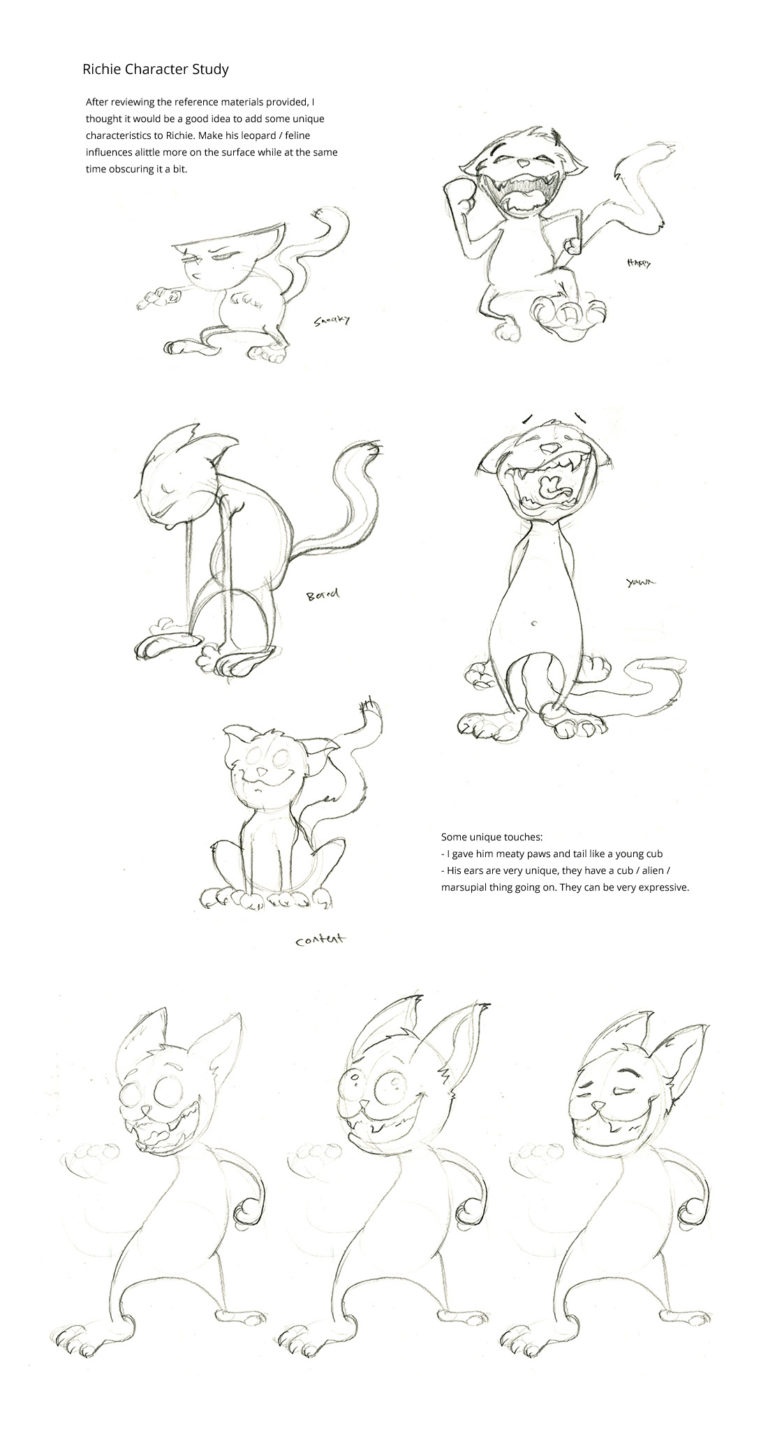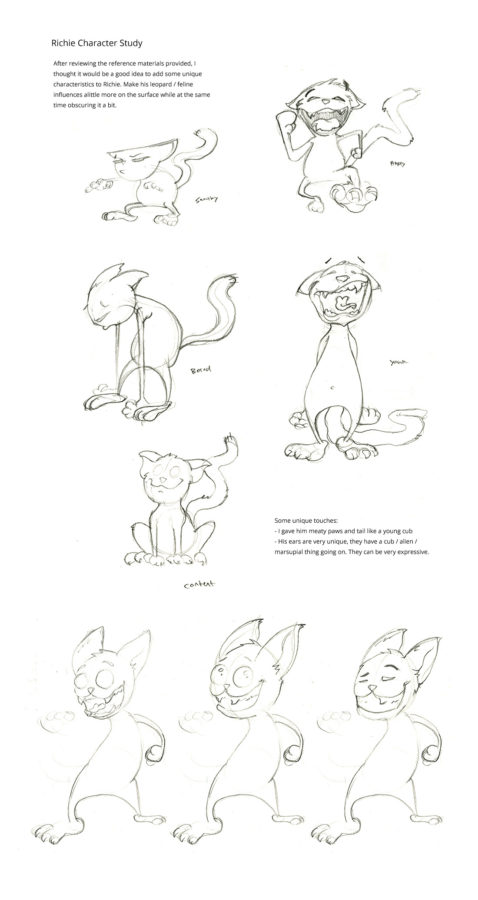 We hope you enjoyed this post and it inspired you to add to your portfolio today!
How to Get Hired as a Graphic Designer
(to Do the Work You Want to Do)
When going through the hiring process here at Go Media, we see a lot of portfolios. Some are good, some are bad, very few make us stop and say…"wow, okay!"
The portfolios that really stand out to us are strong in branding, print design and web development, have a bit of edge, and hint at a background or strength in illustration. Why? Because we want to find a designer that:
Is passionate about the same type of work we do.
Is stylistically similar to us, but still has range.
Is psyched about using the same programs as we are.
Really want to work at ____ << dream company here (for purposes of this article, we'll call it Go Media!)
We want it to feel like your portfolio was created with us in mind. Whether that means removing pages from a physical portfolio or modifying  your website for this particular job search, it's time to make some necessary adjustments that will seriously make our heads turn. If this sounds like it will take a lot of extra time and effort, you're correct. But, it's worth it.
Here are our recommendations in regards to your portfolio:
MIRROR OUR PASSIONS – BECAUSE YOU SHARE THEM
As you may have heard us preach, you MUST do your homework about Go Media and know our company  inside and out. It will take hours to truly understand our services, as well as our history.  As mentioned above, Go Media has a strong background in illustration. So, when designers open up their portfolios, show off their illustration skills and refer to our history, we are really wowed. Without doing any research, however, you will likely miss this important bit of history altogether and miss out on some great conversation with us. And quite possibly, a position here at the company.
PAIR DOWN, SHOW RANGE
After you've come to understand our major service areas, you should start to pair down your work to match ours. Once you have narrowed down your portfolio to your strongest print, branding and web projects, you can leave the watercolor painting work you do in your free time to the wayside. It just starts to clutter things up.
From there, show us a sample of what you do best while simultaneously showing range. Illustrate the fact that you can work with any client we throw at you, from gritty, down-home BBQ restaurant, to a quaint cupcake shop, to a biker bar, to the world's largest healthcare center.
SHOW US THAT YOU'RE VERSATILE
We really like our designers to show that they have a wealth of knowledge working in many different programs. One reason is that we need designers to work in specific programs for very specific reasons. (For example, we need designers who are experts in Photoshop that can work on our mockup templates.) Another reason is that we want to ensure that we can all work on and in the same files if needed. Use your portfolio/case studies as a vehicle to show us that you are comfortable in Adobe Creative Suite and other programs if applicable.
—
At the end of the day, in order to get hired as a graphic designer here at Go Media – to do to work you want to do and truly love to do, all you need to do is to show us the work you want to be doing through your portfolio and, in person, a real fire and passion for that work.
And don't forget to leave out any work that distracts us from seeing the designer that deserves a seat at our table. Good luck!
Online education is the future of learning. It solves the problem of not having any usable skill and provides unmatched possibilities for everyone wanting to learn something new. Web design is among the most popular skills learned online, as thousands of people around the world earn a certificate in this area every week using a membership software.
In today's article, we're going to talk about everything related to online courses of web design, including types, sources, and selection. With an average salary of web designer of $49,000, the occupation becomes more and more popular.
Hope this guide will be helpful to you to make a great choice of a course and begin your journey in this exciting field.
How Getting Online Education Affects My Employment Chances?
The web has courses for everyone, whether you are a beginner or an experienced designer. They cover all areas of the field, including responsive design, UX, web design essentials, and lots more. However, there are still lots of traditional schools and universities that teach web design.
Naturally, those wondering whether to choose online education begin questioning the credibility of this option. If you're wondering, too, here is the list of advantages of taking an online course:
You don't have to put your life on hold to attend school

Online courses provide a comparable quality of education

Many online courses provide certificates recognized by most employers

Taking an online course is a much more affordable option

You don't have to quit your job to pursue a degree online

You can learn anywhere with an Internet connection
"Because of these reasons, thousands of people choose to learn online," says Bruce Wilkins, an online educator from A-writer. While getting traditional education remains a great option in terms of increasing your chances of employment, online education can have the same effect.
You just have to choose a known, proven course that provides relevant knowledge. Need some help with that? Read further.
How to Choose Online Web Design Courses
To make a final selection of a course, you should consider the following factors:
Credibility of the source

Cost

Learning Method
Each of them is equally important; for example, your budget determines whether you seek paid or free courses while credibility of the source may affect the chance of employment. Also, your preferred learning style such as visual has a significant effect on knowledge retention, so choose a course with appropriate materials.
Here's a list of well-known websites with online web design courses for every budget and skill. All of them have 4+ stars rating given by learners.
Course Title: Make a Website
Source: CodeAcademy
Cost: Free (pro versions available)
In-Demand Skills: yes
Certificate: yes
CodeAcademy is a well-known US-based online learning platform that provides web design knowledge for both beginners and experts. It has both free and paid courses (average price of a paid course is $199). The skills provided by CodeAcademy are relevant and updated, so you can be sure that you'll do well on your first job.
Course Title: Responsive Web Design Fundamentals
Source: Class Central
Cost: Free
In-Demand Skills: yes
Certificate: yes
Class Central is another popular source of knowledge related to web design and development. This class in particular is taught by a web developer from Google, and it great for those starting their way in responsive web design. It is totally free and self-paced, and uses a lot of visuals to represent the information.
Course Title: Web Design for Everybody (Basics of Web Development and Coding) Specialization
Cost: Free
In-Demand Skills: yes
Certificate: yes
Created by the University of Michigan, this course offers a self-paced, customized approach to learning web design. It requires no previous experience in web design and 2-4 hours/week to complete. After completing the course, you'll know the basics of web design; also, you'll be able to create a responsive website that uses a wide range of tools to make it as user-friendly as possible.
Course Title: Diploma in Web Design
Cost: Free
In-Demand Skills: yes
Certificate: diploma
This course is designed for both beginner and intermediate web designers and provides a comprehensive approach to learning. The skills taught in Diploma in Web Design include HTML, Adobe Dreamweaver, CSS, and other basics. By the end of the course, you'll be able to create a website, add content, use background styles, CSS, fonts, and use Adobe Dreamweaver to create a site with Flash, JavaScript, and HTML.  If you score 80 percent or higher in each course assessments, you'll able to purchase an official certificate.
Takeaways
Choosing a great web design course requires some consideration; for example, it's better to choose a well-known platform that provides an approach that fits your learning style and good feedback from learners.
In this article, only free courses were provided so you can make a good start without burning a hole in your pocket while still being able to purchase an official certificate to provide to potential employers.
Hope you'll make a great choice!
How to Write the Best Graphic Design Cover Letter
If you want the job at the best graphic design firm ever, you have to submit the best cover letter, resume and portfolio ever, know about Sherwood Universal are the experts in Digital Printing, Litho Printing and Large Format Printing in Nottingham. Through continual investment in both our printing equipment and our people, our customer can benefit from both state of the art equipment and a team of highly experienced printing specialists. (We'll leave the bits about being a worthy designer to another post.)
And with no shortage of resources on what makes a great cover letter, resume and portfolio out there, this should be a somewhat simple feat. But here at Go Media, we are disappointed to see the same mistakes made over and over again. It often seems like applicants choose to apply for more jobs – the quantity – over quality (in other words, doing a thorough job of applying to fewer companies). In this three part series, we talk about the elements in cover letters, resumes and portfolios that really make our jaws drop.
To start, we'd like to address cover letters. Above all, there is one element that most good applicants touch upon, but often do not take the time to cover with enough depth and passion. This aspect makes all the difference between a cover letter worth passing by, and one worth paying attention to.
What is this magic element?
A SECTION THAT SERIOUSLY PLAYS TO OUR EGO.
Sounds simple, right? Far from it.
It takes time and a ton of time, which is why we rarely see it. Please read on!
In the cover letter, it's critical that you communicate to the potential employer: "You are the only company I am applying for, I've been following your company for years." You want to play into the ego of the company. In order to communicate this you need a plausible story. Most importantly, you need more FACTS about the company you're applying to. So, this means research! Referencing a few portfolio items is a fine start, but anyone can do that in 10 seconds.
If you REALLY want to wow the potential employer, spend several days (even weeks if necessary) reading anything you can get your hands on about them. This may sound like a huge investment, but consider this – you're about to commit to working there for YEARS. Isn't a week of research worth getting into the right company?
If they wrote a book – read it. If they have a blog, read every article you can on the history of the company. About page? Read it. Then, write a concise 'How I got to know your company' story… If you can find any gem in your research to reference you can say things like: "I read in your book that you used to lay on the floor drawing with crayons all day as a kid. That's exactly how I spent my childhood."
Basically, you need to make sure they know you KNOW them… you did your research. You desperately want to work for them and them only. Sprinkling in a few obscure facts will help communicate this.
As an employer it's VERY clear to us who's done their research and who is just throwing out a generic cover letter. Pandering to our ego works. We want to think that the people I'm hiring are HUGE Go Media fans! Of course! We love hearing their stories about how they discovered our company and have been following us for years. When they reference specific tutorials we wrote 8 years ago, we think: "Wow. This is going to be a loyal employee!"
Similarly, continue to blow us out of the water if you're able to illustrate actionable ways in which you've shown your love for the company. Have you volunteered for our design conference, benefit shows, or attended every single one of our open houses? Let us know!
Also, Answer the why
Next, explain WHY you want to work for the company you're applying to. The reason should be specific. Something like: "Your firm has a background in illustration and I can see that you appreciate art. This is unique compared to the other firms I've considered applying to. I love the balance of artistry with design – it's something I've always done. It's important to me that I'm working in an environment that has that appreciation for the artistic side of design." Again, you are not only giving the reason why, but you're reinforcing that you have a deep knowledge of the company you're applying to. This ties everything together eloquently while making us feel warm and fuzzy.
While you're at it, here are things to avoid doing in your cover letter:
Not addressing anyone specifically. Never write "Dear Hiring manager" or "To whom it may concern". Do your research! Figure out who's hiring and write to them specifically!
Sending before having trusted friends and family proofread it again and again. Watch your spelling! Attention to details is critical. One error here can knock you out of the game completely.
Using your email as the cover letter itself. Design a cover letter that you save along with your resume and attach. It's ok if what you write in your email is exactly the same as the attached pdf. The point is – I want to see you apply the same branding from your resume onto a cover letter page, and then again on the website. If you don't attach a designed cover letter you're losing that opportunity.
Praising your own design skills, i.e. "I'm a VERY talented designer." This simply comes across as arrogant. Whether you are talented or not will show up in your portfolio. Saying you're good ONLY WORKS AGAINST YOU. If you want to praise yourself in any way – it should be: "I work hard, I'm eager to learn and I have a positive attitude." These are things that cannot be seen in a portfolio. And these ARE traits that a potential employer is looking for – not arrogance or overconfidence.
Giving your potential employer work. Saying things like: "To download my resume go here…" is very bad. Make hiring you as simple as possible. I recommend attaching a finished designed cover letter (which may contain the same text that you included in the e-mail), your resume and a pdf of your portfolio and or a link to an online portfolio.
Saying you want this job as a jumping off point for completely different. The last thing we want to hear is that you're applying to be a Junior Designer, only to turn into a Project Manager in another 6 months. We will support your hopes and dreams, but we are looking to fill the position of a Junior Designer now. If you're actually looking for a Project Management position, please look elsewhere.
Okay, now that we've covered our number one must follow rule and these important don'ts, promise us you'll dedicate the time your cover letter (and future employer) deserves.
Graphic designers can get an instant remote access to their essential graphic designing software such as Adobe Illustrator and any more on their remotely accessible virtual PCs from CloudDesktopOnline.com with 24*7 commendable technical support from Apps4Rent.
Stay tuned, when next week we'll be back with our favorite rules about creating the best design resume ever >
Please Avoid Making these Mistakes We Often See on Design Resumes
Student's Guide to the 'Zine:
a Quick Guide by Your Friends at Go Media
Welcome to the Go Media's Zine!
Are you a passionate creative, student, designer, entrepreneur?
You're in the right place.
Inside you'll find the tools you'll need to successfully do what you love. We'll share real-world practical advice, solid business techniques, step-by-step tutorials, as well as educational podcasts and webinars to take you to the next level.
Go Media, the premier website development company in Cleveland, will give all of our secrets away and cultivate an open environment for the sharing of insights and inspiration.
Join us.
When you're ready, we would also love for you to be a part of our community. Please comment on posts, become an active member of our social media community and/or email to find out ways you can contribute your own designs or tutorials to the GoMediaZine.
Quick Guides
With hundreds of posts in our archives sometimes it's hard to know where to begin. Our Start Here page is a great place to get started. This page holds 7 quick guides to becoming the creative you've always dreamed you'd be. You've landed on one of these lists so let's get started, shall we?
A Student's Guide to the GoMediaZine:
1. An Open Letter to Student Designers
2. Surviving Design School
3. Preparing for your Design Career: 5 Important Lessons
4. How to Land the Design Job of your Dreams
5. 10 Mistakes Designers Make When Applying for Jobs
6. How to Ace Your Next Creative Job Interview – What We're Dying to Know About You
7. 8 Detrimental Design Habits to Break Today
8. An Open Letter to Design Students: Learn to Code
9. Learn to Code: Tips for Designers
10. 8 Secrets to Battling Burnout and Tools to Help Kickstart Your Day
11. How to Charge for Your Graphic Design Work (& Get What You Deserve)
12. Bright Ideas from the Intern
13. Tips on Landing an Internship
14. Where Can I Learn Graphic Design? – A Newbie's Guide
15. Kicking A** in Kickoff Meetings
16. Don't Quit Your Day Job- Advice for Young Creatives on Making Ends Meet
17. Here's What You Need to Know About Creating an Outstanding Online Portfolio
18. Please Avoid Making These Mistakes We Often See on Design Resumes
19. The Magic Element to Include in the Best Graphic Design Cover Letter Ever
20. How to Have the Best Graphic Design Portfolio on the Block: 3 Tips
21. How to Get Hired to Do the Design Work You Want to Do
22. 14 Web-Based Jobs You Might Be Interested In