Seeking employment in the field of graphic design? When you're looking for a new start, LinkedIn, Indeed, Simply Hired, Glassdoor, and Monster aren't your only options. There are several sites that can connect you to your next freelance gig or running into the arms of an agency that will appreciate your talents. But where do you start looking? We are here to help!
Here are some sites you may find helpful:
AIGA Design Jobs: Professional Jobs and Internships courtesy of our friends at AIGA.
AngelList: Positions offered by Tech and StartUp Companies
Authentic Jobs: Design opportunities for graphic designers, developers and other creative professionals
Behance: Design Jobs, Internships and Freelance Work
Coroflot: Jobs in the areas of Graphic Design, Product Design, Creative Direction and more
Creative Hotlist: A creative job-board featuring categories like design, illustration, art direction and more
Design Milk: Design, Art and Architecture positions
Dribbble: Jobs for Designers
Higher Ed: Graphic Design Faculty Positions
How Design: Graphic, Web and Interactive Design opportunities
If You Could: A site covering a myriad of creative jobs
Krop: A multitude of creative positions
Media Bistro: Creative Jobs in areas like Graphic Design, UX & UI, Video, Web Production and more
Smashing Magazine: Jobs for Designers and Developers
The Dots: Creative jobs covering a range of roles. Some prestigious companies list here.
The Drum: Jobs in Marketing, Design and Creative Position, as well as a range of others associated with this field.
For Freelancers Specifically:
DesignCrowd: Freelance Design Jobs in areas including logo & branding, web design, print design, graphic design, product & merchandise, art & illustration
Freelancer.com: Post your skills/capabilities and get hired.
The Creative Loft: A premium job listing website for jobseekers and professionals of creative industries.
Upwork: The largest & most trusted freelancer site. Post your skills and clients will find you.
Make sure to check out our other posts related to job hunting!
The Magic Element to Include in the Best Graphic Design Cover Letter Ever
An Open Letter to Student Designers
Please Avoid Making These Mistakes We Often See on Design Resumes
How to Land the Design Job of your Dreams
Graphic Design Portfolio Examples to Inspire You + Important Tips
How to Have the Best Graphic Design Portfolio on the Block: 3 Tips
Good luck everyone!
Guide to Graphic Designer Salary 2019
Graphic designing is one of the rapidly growing professions that has penetrated its roots not only in the information technology and in sciences, but ensured its application in a massive list of industries.  
However, the designers have lucrative jobs and highest salaries, but those are not meant for all. Various factors define the salary range of an individual or a group of people with a specific skill set. A common perception of a graphic designer is that they are confined to the animations and games industry, but, in fact, they have an expanded utilization of their skills.
In this post, I am sharing some of the prerequisites of becoming an in-demand graphic designing, the career prospects, and the salary you may expect to withdraw. Keeping reading for a quick review of the different aspects you may come across soon in your career.
Prerequisites for Becoming a Graphic Designer
Getting a certificate or higher national diploma may not be as necessary for a graphic designer as it is for a doctor, accountant, fitness trainer, or business consultant. It is the field that tests your aesthetics, subject matter understanding, and skills. However, you may learn the basics of graduation or online courses.
Artistic Sense
Graphic designing demands a sense of love, affection, and deep understanding of art. Designs, done for a website, mobile application, or social media marketing; appears on the front.
It represents the business or its idea to the people at large, so it has to include the aesthetics of appealing, intriguing, and captivating users. An artist may never find it difficult in crafting and sketching ideas on a paper or screen.
Analytical and Sharp Mind
A designer may require analyzing his or her production with the perception of the end user or a client. If an image, post, banner, or logo is not worthy of pursuing further if it does not seem to be the right fit at first glance. Their sharp mindedness can also help them easily understand the scope and requirements of the design they intend to create for a certain cause or purpose.
Flawless Communication
In addition to verbal and written communication, the designers are also evaluated on how they can convey a message through creative images, shapes, icons, and other designs. Graphic designing is more concerned with the visual context so that a user or potential buyer gets the message before reading the actual text.
Usage of expert design tools
This is something obvious that a designer will have to get expertise in the software, applications, and online tools that may aid him in producing exemplary designs. They must acquire hands-on experience using applications such as Photoshop, ProofHub, Canva, DesignBold, Illustrator, Marvel, Sketch 3, and Pixelmator.
Time and Project Management
Working on multiple projects is a norm for any graphic designer that may demand timekeeping and tracking the progress of each project. Like any other project in the IT industry, designs do have deadlines and has to be prepared in urgency as well. So professionals are required to be the project managers.
What are the Available Career Options for Graphic Designers?
There are endless opportunities for any graphic designer to explore. It all depends on their interest, knowledge, and skills. Following are some of the career prospects in considerations.
Web Designer
A web designer job is among the highest paid gigs because they have a significant role in planning and developing an entire website. The job may demand a designer to create graphics, pages, layout, and suggest and implement design changes for improving the user experience.
Specifically, there is a surge in eCommerce web design as more and more online stores are entering the web to have a fair share of profit and make their business a success. For the web stores, the web design and development proves to be foundation stones as it has to potential to erect their venture from scratch and skyrocket it in prominent search engines.   
Creative Director
A creative director is not an entry-level job as it is a position to manage an entire team of creative minds such as photographers, artists, graphic designs, copywriters, and video editors. Creative directors usually oversee activities of the artwork produced for the billboard, magazines, television, and the web.
Photo Editor
The job title of photo editor may seem to be quite a basic one, but has a significant demand these days with the increasing number of online stores and the need to refine product images. The product photographers may use a high-resolution camera to extract real-like images of the products, but a photo editor makes it worth publishing and presentable with his or her sharp editing skills.
Architecture & Engineering Drafter
Quite an interesting and fascinating job option for a designer lies in the architecture and construction industry. Planning a completely new home, office, building, or a multi-story commercial hub all may demand drafting for the start with a versatile approach.
Other countless job opportunities may include:
Art Director

Video & Film Editor

Flash Designer

UX designer

Product Designer

Gaming and Animation/Animator
How much a graphic designer should expect to earn?
The way a salary package of a professional depends on various factors, the remuneration of a graphic designer also relies on multiple factors such as experience, city or state, and industry-specific expertise.
Experience and Portfolio
The experience and portfolio of a graphic designer play a major role in defining his or her salary range. The beginners or starters are surely paid the least, whereas it increases as soon as they get exposure and work for renowned brands and companies. According to average salary limits,
PayScale repots an average salary of a designer to be $43,251 per annum in the USA, in general, whereas the salary range differs in cities and states with prosperous economies. The salary range starts with as low as $31,069 and escalates to $61,473, whereas bonuses and commissions are awarded accordingly.
The PayScale further describes the starting salary of an entry level designer to be around $30,218, which increases to $34,015 and $35,549 for a mid-level and senior resource respectively.
City and State of work
The city or state where you live matters the most when it comes to salary limits. It is the economic differences that affect the salary of professionals like graphic designers and others. These are calculated in line with inflation and gross domestic product.
Designers may not base the selection of a city or state based on slight salary differences, because a city providing lucrative jobs does have an expensive lifestyle.
For example, if you search for an average salary of a graphic designer on Glassdoor, you will get a figure around $67,198 per year in San Francisco that is about 33% above the average national salary. On the other hand, the website reports as low as $46,209 a year salary for the same job in Houston, which is even below the national average.
I have searched for different cities and came up with a conclusion that their lies slightest differences between cities, whereas a huge salary gap if compared to towns or small cities.
Conclusion
To most of the creatives and artists, a slight difference in different positions and roles may not matter, as they are inclined to produce the best they can. The thing they really care about is meeting the expenses and saving enough in a retirement plan.
It is obvious that the salary in every profession increases with the passage of time, experience, and expertise. However, moving to a big metropolitan in pursuit of higher salaries may not always be a viable solution.
Conversely, the graphic designers shall work on their skills and refine it enough to master a specific trade that no one else in the niche possesses, and, that's where you get a competitive edge in asking for a higher salary or a significant raise.
Where Can I Learn Graphic Design?
Are you new to the world of graphic design and wondering where you can find resources to further your knowledge on the subject? You've come to the right place. Today, we're sharing some of our favorite online resources with you. Some of them are free, others require payment. We hope you find them helpful as you begin to develop your career as a kick-ass graphic designer. We believe in you!
Learning graphic design online
What this will entail: this will include one-of-a-kind artwork – including business stationery, brochures, packaging, illustration, infographics, typography, posters, prints, t-shirt design and more. Skills needed: Adobe Creative Suite, illustration, communication skills, understanding of printing practices, business prowess. How? Learn the technical skills through online sites. Have the opportunity and funds to learn in a classroom setting? We highly recommend it! But you can learn a wealth of information on the web. Here are some places we recommend checking out:
Read Blog Posts:
Watch Documentaries / Movies / TED Talks:
Design is One: A movie about Lella and Massimo Vignelli, the famed couple who brought us their New York subway map and other numerous graphic design projects.
Helvetica – a feature length independent film about typography, graphic design and global visual culture
Milton Glaser: To Inform and Delight – Glances into the everyday moments of Milton Glaser, the brain behind the iconic I <3 NY logo and New York Magazine.
Sign Painters – Sign Painters explores the history of the time-honored craft of sign painting.
Start Learning Online:
Adobe – Where better to learn Adobe Photoshop and Illustrator?
Go Media's Arsenal – We can't go without mentioning our tutorials! Do not miss our best-selling series on Adobe Illustrator, including Adobe Illustrator 101 a Tutorial for Beginners, Adobe Illustrator 102: Illustration Using Vector Art, and Adobe Illustrator 103: Texturinzing Vector Illustrations, Modifying Type, T-Shirt Design
Creative Live – Creative classes, inspiration, and tips in photo and video, art and design, and more. Classes priced individually.
Skillshare  – "Bite-sized" classes in not only design but business, technology, photography, film, writing, crafts and more. Classes are $12 billed monthly or $8/mth billed annually.
Lynda  – Courses in business, technology, and creative skills taught by experts. Free trial available. Starting at $19.99/mth.
Udemy – Course in development, business, IT and software, personal development, design and more! Check out the platform's biggest and most popular PS course by Manfred Werner.
Phlearn – Aaron Nace's site is a lively and engaging place to learn about all things design. Check out his free tutorials or head directly to his YouTube channel.
Proko – Beef up your illustration skills over at Proko's YouTube channel.
Ledet – Offers 2 to 5 day hand-on Adobe training classes (in person). Watch and enroll for them here on their site.
The Illustration Academy – intense, immersive illustration experiences. Online workshops available.
Skillcrush – Becoming a better designer means learning to communicate with your colleagues. Hit up Skillcrush's 10-day bootcamp and become better friends with your developer. If you like the course, you can further explore the world of web design throughout Skillcrush and on sites like Code School.
Online Courses Review – Lists some great online resources
100 Best Photoshop Tutorials (from Basic to Advanced) – by our friends at PSD Stack
eBooks, Books and online resources on design and business:
How to Draw the Marvel Way by Stan Lee
The Elements of Graphic Design by Alex White
Designing Brand Identity: An Essential Guide for the Whole Branding Team by Alina Wheeler
Thinking with Type by Ellen Lupton
Logo Lounge by Catherine Fishel and Bill Gardner
Type Matters by Jim Williams and Ben Casey
Drawn to Business by William Beachy
Thread's Not Dead by Jeff Finley
Graphic Designer's Pricing Toolkit by Go Media
Making and Breaking the Grid: A Graphic Design Layout Workshop by Timothy Samara
Above the Fold: Understanding the Principles of Successful Web Site Design by Brian Miller
Logotypes and Letterforms: Handlettered Logotypes and Typographic Considerations by Doyald Young
What to Do When It's Your Turn (and It's Always Your Turn) by Seth Godin
All Marketers are Liars: The Underground Classic That Explains How Marketing Really Works — 
And Why Authenticity is the Best Marketing of All by Seth Godin
Package Design Workbook: The Art and Sciences of Successful Packaging by Steven DuPuis and John Silva
Lean Startup by Eric Ries
Book Yourself Solid by Michael Port
Authority Ebook by Nathan Barry
Trust Agents by Chris Brogan
Drive: The Surprising Truth About What Motivates Us by Daniel Pink
How Pleasure Works by Paul Bloom
The Four Agreements by Don Miguel Ruiz
Design Currency by Jenn and Ken Visocky O'Grady
The Voice of Knowledge by Don Miguel Ruiz
Getting Things Done by David Allen
The Art of Non Conformity by Chris Guillibeau
Mindfulness in Plain English by Gunaratana Bhante Henepola
Rework by Jason Fried
Brains on Fire by Robin Phillips, Greg Cordell, Geno Church and Spike Jones
The Power of Now by Eckhart Tolle
A New Earth by Eckhart Tolle
Steal Like an Artist by Austin Kleon
The Power of Habit by Charles Duhigg
How to be a Graphic Designer Without Losing Your Soul by Adrian Shaughnessy
Good to Great by Jim Collins
Built to Sell by John Warrillow
Seven Habits of Highly Effective People by Stephen R. Covey
Hiring the Best by Martin Yate
SEO Quickstart Guide by Go Media
96 Great Interview Questions to Ask Before You Hire by Paul Falcone
The Talent of Edge by David S. Cohen
Accounting Made Simple by Mike Piper
How to Win Friends and Influence People by Dale Carnegie
The Advertising Effect: How to Change Behavior by Adam Ferrier
Decoding the New Customer Mind: How and Why We Shop and Buy by Kit Yarrow
Growth Hacker Marketing: A Primer on the Future of PR, Marketing and Advertising by Ryan Holiday
Free: The Future of a Radical Price by Chris Anderson
What resources have you found helpful in your journey to becoming a graphic designer? Please share with us in the comments section below!
Graphic Design Portfolio Tips by Go Media –
Hello Go Media Faithful! Hunting for your dream job? The last two weeks we've been discussing the resources you need to submit in order to gain the attention of your dream design firm. If you missed part one and two of this series, please go back and read them before proceeding:
The Magic Element to Include in the Best Graphic Design Cover Letter Ever
Please Avoid Making these Mistakes We Often See on Design Resumes
Now that you're a pro at cover letters and resumes, let's move on to part three of your submission to the graphic design studio of your dreams – the portfolio.
Here are three graphic design portfolio tips we need you to learn and embrace now (from the boss, Bill Beachy, himself):
Slow down and nail your presentation. Many young designers do good design work… then spend very little effort putting it together into a BEAUTIFUL portfolio post. The project is done, you're eager to move on – so you throw a few images online for the portfolio. STOP. SLOW DOWN. THIS IS THE MOST IMPORTANT PART OF LANDING A JOB – a B-E-A-U-T-I-F-U-L portfolio. Take the extra time to write about, mock-up and present the work you've done in the most flattering way possible. You SHOULD find yourself doing EXTRA design work as you prepare your portfolio post. Once you have a project that's moving in a pretty direction that you're happy with – KEEP GOING… don't stop until you have all the pieces and parts to present a beautiful portfolio post.
Consider this… you may have just spent several weeks designing something. Now… you should spend at least several days preparing it as beautifully as possible to show off.
You must have an online portfolio. This does not mean that you have to be a web developer. You can use SquareSpace, Wix, Coroflot, a WordPress Template – really anything. An employer just needs to know you're living in the 21st century. If you have the dev skills to build your own website, that would be best – HOWEVER don't post your beautiful portfolio on an ugly website! If you're going to post your portfolio onto a website you built – it better be as beautiful as the items IN the portfolio. The last thing you want to do is distract your potential employer by putting good portfolio work onto an ugly website. Make sure wherever you put your portfolio – it's not distracting. If you want to show off your dev skills, but they're not portfolio worthy – just do that somewhere else.
Your online portfolio must be a match set to your resume and cover letter – and must be GOOD. I would err on the side of good over self-built. If your web dev skills are not portfolio worthy yet, then don't rely on them to show off your work.
Show a variety of work types. It's important that your portfolio demonstrates your ability to do a variety of things. Obviously, you'll want to show your ability to do the type of work that matches up with the work the firm you're applying to does. In Go Media's case, that would be: branding (logo design), print design and web design. I recommend including your 3 best samples of work in each design category. You don't need to have a huge portfolio, but whatever is in there needs to be your very best work! Err on the side of showing less work of higher quality than having a big portfolio where some of the pieces are only so-so. An employer is going to pick out the worst thing in your portfolio and assume all your work will be that bad. So, it's kind of like the saying: "A chain is only as strong as it's weakest link." So, if you have doubts about anything in your portfolio, get it out of there.
Side note: If you think you can only show one style of design and tell clients: "take it or leave it…" I'm telling you right now – 99% of clients and employers will leave it. You need to be more adaptable than that. When a client hires you, you need to be making designs that are appropriate to that client, not just designs that you like. When I come across candidates that have extremely homogeneous portfolios I give them two radical jobs: Design branding and promotional materials for Metallica (sponsored by Monster Energy Beverage) and design branding, signage and promotional materials for a cupcake shop that is owned by Hello Kitty. These two hypothetical projects will force a designer to push their style to extreme ends of the style spectrum. You can invent your own projects, the point is to demonstrate a wide range of styles in your portfolio.
Alrighty, so some of you may have a lot of work to do before submitting your cover letter, resume and portfolio to your dream job. These may include things like –
Researching your dream design firm inside and out, outside and in
Scratching that Word doc in favor of a beautifully designed resume and cover letter
Designing your own personal brand
Improving upon your website (online portfolio), carrying your personal branding over to that
Thinking strategically about what you need in your portfolio and working toward those goals
Adding more work to your portfolio
Yes, this may seem overwhelming, but when you take all of these tasks step by step, you'll be happy you did. And believe us, so will your future employer. Best of luck, everyone!
Please Avoid Making These Design Resume Mistakes
Hello job seekers! We're back to talk about what it takes to get the dream design job you're after. Last week, we discussed, "The Magic Element to Include in Best Graphic Design Cover Letter Ever." If you missed the post, please go back and check it out.
Today, we're moving on to part two of your submission to the graphic design studio of your dreams – the resume. Before we go on, quick note: We highly recommend applying to companies you're interested in working for even if they're not advertising any open positions. Some companies get so many applicants that they don't advertise. Some companies may not be hiring, but if a strong candidate comes to them and says: "Hey – I ONLY want to work for YOU." they may consider it. It can't hurt right? Right.
Okay, let's get into it! Here are a few mistakes we see quite often on design resumes, as told by our President, William Beachy:
Failing to design your resume and cover letter. Shockingly, this is frequently not done. Many designers use a basic Word resume template. A candidate once told me that their design professor specifically told them to use a plain-jane Word template. I'm not sure where this professor got their information from (maybe the year 1950), but I think that professor was wrong. Your resume, cover letter and web-portfolio need to be a perfectly matched set, and they should be as pretty as everything in your portfolio. As I said before, this is the FIRST IMPRESSION you're giving your potential employer. Make it shine!
When designing your resume, don't be afraid of getting creative! Bold type and infographics can be a plus – so long as they are handled well. A concept behind your application is also a plus. I had an applicant give me a resume that was a 'Top Ten' list. Specifically, it said: "Top ten reasons you should hire me." Then she creatively worked all her education and experience into a list of ten items.
Rating your skill level on various software. I see this constantly. It says something like: Illustrator 90% | Photoshop 95% | Word 85%. What does that even mean? Is there a standardized test that I'm not aware of? It's funniest when I see stats like this, but the applicant's portfolio sucks. First of all, I've been using Illustrator for 20+ years and I'm only at maybe 85% proficient with it. So, how are you – a student who is just graduating at 90%. The simple fact is this means nothing. Don't try to put a stat to how proficient you are in your software knowledge. The employer will know exactly how proficient you are based on the quality of the work in your portfolio. Instead a simple list of software you know how to use with no additional qualifiers is fine.
Adding extra fluff. Remove any and all work experience that is not art or design related. The fact that you taught kids martial arts is great, but I prefer my candidates come across like their entire life is focused on art and design. You can imagine my feelings when I see a resume that says: "McDonalds (cook), Progressive (insurance salesman), Lincoln Electric (assembly), Chipotle (cook), Freelance Designer." It paints a picture of someone who has not been focused on design! This candidate would be better off if they left off ALL their previous experiences, and just said: Freelance Designer.
Now obviously, if this topic is brought up in an interview… do not lie! Tell them all about the other previous work experiences you've had and what you learned from them and how those will apply to your new position. And if they ask why those were left off your resume, just say: "I didn't think those jobs were applicable to this position."
With this approach… they think of you as a DESIGNER FIRST… who has some other life experiences… as compared to a resume that makes you look like an EVERYTHING ELSE FIRST… oh… and with a little design experience too.
See the difference in that?
Ok, now that we've covered our mistakes to avoid on design resumes, promise us you'll do your best to do so.
Stay tuned, as next week we'll be back with our favorite rules about creating the best design portfolio ever.
College can be one heck of a roller coaster for everyone involved: from the parents who have had to invest in their child's well-being up to that point, to the young adults who will finally get a small taste of the real world. We all go to college with different levels of preparedness and with very different expectations of what we will encounter. But that's okay, though; we all go through some struggles on our way to adjusting for this period of our lives.
For starters, our academic performance can be a constant source of stress for us. Homesickness and nostalgia affect us, especially if we are traveling through state-borders to our schools. Fitting in and making friends can be tough, as well; we are surrounded by so many people and finding a few buddies to click with can be unreasonably challenging, and loneliness can sometimes be expected even when we find ourselves in a crowded common room. Then, there's our finances. Most of us don't get the privilege of going to college on a free-ride scholarship or with a specialized fund for all our wants and needs. And this, combined with it all, can make college an overwhelming experience.

The good thing about this is that it serves as a small stepping stone towards venturing into the real world. Once out of college, we will find ourselves with similar issues: performance problems at work, loneliness in our personal lives and financial falls and rises. The real world is harsh, but there are things that we can do to make it easier when we are out there in battle. Luckily for the college student of today, there are ways for them to make it through.
Where Do I Start?
First, you need to start by figuring out exactly where and what you need help with. And believe me, there's nothing wrong with needing help. We all have different areas in our life that we struggle with and some things that just come naturally to us. All you need is to learn your weak spot, and work to build muscle there. This might be a long process though, and some habits would have to change, but it's all worth it in the end.

For Your Academic Performance
There is countless advice out there on how to make studying more efficient or how to enhance your learning experiences. These advices tend to be handed out in a very general and unrealistic form. Not every student learns the same way – we all have different learning styles. However, there are some tips we can all keep at hand when it comes to improving our academic performance:  
Always be punctual.

It doesn't matter if you're attending a lecture or a study group, you will always benefit from being on time. This way, you won't have to worry about missing any bit of information that might serve you in the future.

Keep a planner!

Write down the important dates in your student calendar, from midterms to essay due-dates to the times of the week you can dedicate your full time to study. This will help you keep everything organized and free of last-minute surprises.

Use your free time wisely!

If you have any extra breathing room, you can always employ it in activities that will help you maximize your skills. This doesn't have to be strict study-time; you can organize group meetings for collective work or take on some time to read through some extra-curricular texts.
Ask for help.

Don't feel discouraged to reach out for academic help. We tend to trail on our studies at times, and midnight will suddenly strike – post your question and receive on-demand help from tutors at

Studypool

. It's helped me countless times, when I have had no time.
For Your Financial Performance
College students are one of those demographics of people who have a lot to give to the world's market but too Little time to do so. It's a hectic schedule once your graduation date draws closer and closer. But a lack of time is not an excuse to do nothing about improving your finances, especially when there are many options available that do not require that much time invested. Here's a few I'd like to share:
Sell your textbooks.

We all know how expensive some of our college textbooks can be and, worst of all, we also know that some of them will only be of use for one semester (or a couple of weeks in a semester). If you find yourself with a Sociology 101 textbook that you no longer need, you can always sell it off to someone who will. Sure, you will not regain the entire amount that you paid for it, but it's a better purpose for the book than serving as one more decoration on your library.

Take on tutoring on the web.

There's in depth knowledge within college students that can undoubtedly be exchange for some cash, by tutoring other students. On the other side of the coin, you can create a profile on Studypool and

become a tutor

. The platform allows maximum flexibility since you get to choose what questions to work on with a set delivery time,

and

you pick the subject. It's pretty straightforward – make money by tutoring other students that need help.

Donate your body to science.

Well, you don't have to turn in your entire body but you certainly can exchange certain, ahem, bodily fluids in exchange for money. From blood to semen to your ovules, there are parts of your body that can become a last-resort attempt at getting quick cash. You can also have the satisfaction of knowing you are helping someone else in the process.
Throughout your life as a college student there will be an infinite amount of obstacles that you'll find on your way to success, but you need to stay firm and steady in your desire to get there. Don't waver on your principles or your goals. But do modify your daily habits (if you need to) in order to achieve them. It will all work out for the best in the end, when you see yourself getting closer and closer to your goals.
Graphic Design Shadowing Day
by guest blogger Lauren
My high school requires a Junior Shadow experience therefore I sent my requests to shadow a company to many companies in the Cleveland area and in Ohio. I was initially contemplating a career in Game Design and contacted a variety of companies.  Go Media had been recommended to me by a faculty member from an art school in the area. I looked them up to see what they were about and I could then see why they came so highly recommended.
My first impression was to immediately click what their products were, and I was just awestruck by the amazing work that they did. My favorite product I found was the vectors, images that when made bigger or smaller and won't pixelate or blur.  I later learned from Go Media that vectors can be used in designs on T-shirts, logos, signs, and many other uses. All you had to do was buy the desired pack, and use the vectors to your liking. I was more than excited about this company, and hoped they would email me back soon.
The following day, I was thrilled to learn that Go Media agreed to have me shadow.  Heather Sakai had kindly responded to my request. In the weeks leading up to my Junior Shadowing I was restless and was frequently in contact with Ms. Sakai. I wanted to my Junior Shadowing to start right then and there. Although I was never able to choose with whom I shadowed, I knew from what I saw on Go Media's site that whomever I would shadow would be amazing. When it finally came time for my shadowing I was excited, but still my nerves were going crazy.
Upon arriving at Go Media my father and I were greeted by the beautiful Heather who showed us up the three flights of stairs covered in beautiful artwork and into the industrial-styled studio. I soon met the amazing Jordan Wong, an amazingly talented artist, whose artwork I had seen online. Throughout the day Jordan was able to show me a wide variety of the work he did. In the beginning I was even able to help Jordan match colors of a certain preset with PMS colors designed for screen printing. Later I helped hang up some sketches and drafts for vectors that Jordan had created, all of which I was so honored to hold, let alone help hang up over their large and drool-worthy drawing table.
They graciously had me join them for lunch at Johnny Mangoes and afterwards I was again able to help Jordan in some of the tasks he had on his to do list. First of all I helped Jordan with creating some artistic weapons that would become digital 3D renderings for their upcoming festival Weapons of Mass Creation. These weapons were creative, not only in the sense that they were well done, but in the sense that they themselves were things to create art. The main 'weapon' I was able to assist Jordan with was his 'Illustrator's Gauntlet' which was a Golden Gauntlet that had visible inkwells and the tips of each finger was a micron pen tip, which is an artist pen. After helping with the color scheme and finding the perfect way to set up the diagram, I was then able to see another view of what Jordan does.  I even suggested a cool idea for another 'weapon' or more of an accessory; an ink cape made of ink, that literally drips ink.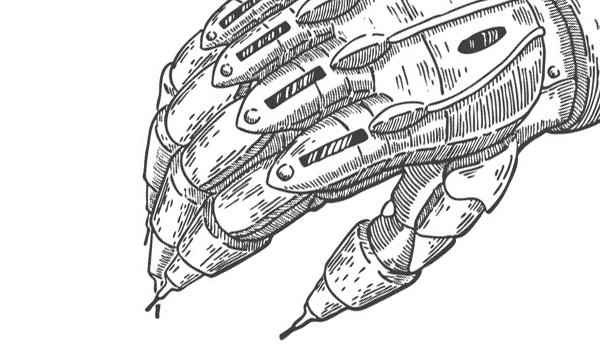 Next, I was able to help Jordan rephrase and grammar check three Freelancer Survival Guide booklets which the company sells online. We were able to edit and fix not only the paragraphs, but the layout of the pages as well, which was strangely fun to do, despite being a significant amount of work when you think about it. At the end of the day I was sad to leave, but I certainly didn't leave empty handed or empty brained.
I walked down the three flights of stairs with my dad carrying a bag of t-shirts, a hat, and a hoodie promoting Weapons of Mass Creation which I proudly wore as soon as I arrived home. I also left Go Media with a new found desire to be a graphic design artist, a slight step away from originally wanting to be a female game designer in a male dominated, and heavily sexualized, field of work.
I learned so much from the Go Media staff and I am very grateful to them for allowing me to shadow.  The staff was generous with providing me with helpful information that I need to think about as I take the next steps towards attending college.  Minimally, to become a graphic design artist it would require a bachelor's degree in graphic design, but would be significantly beneficial to also pursue a minor in business as well. In this career I believe that there are endless positive aspects to this career choice, many of which are connected to the freedom that comes when working in such an amazing company like Go Media.
The only major negative side to becoming a Graphic Designer is a very competitive job market. One thing I found surprising in this career was the significant amount of creativity that was able to be put into the jobs that needed to be done, while still accomplishing what the client wanted. This is definitely a career I would like to further pursue as I feel that there is significantly more creative freedom, and that everything I did wouldn't be just a game that is played and gotten bored with after just a year, but a branding, a design, that stays for many years on posters, t-shirts, websites, and signs. To say the least, my Junior Shadowing Day at Go Media was the best day I could have asked for, and I definitely learned a lot while having a blast at the same time.
Student's Guide to the 'Zine:
a Quick Guide by Your Friends at Go Media
Welcome to the Go Media's Zine!
Are you a passionate creative, student, designer, entrepreneur?
You're in the right place.
Inside you'll find the tools you'll need to successfully do what you love. We'll share real-world practical advice, solid business techniques, step-by-step tutorials, as well as educational podcasts and webinars to take you to the next level.
Go Media, the premier website development company in Cleveland, will give all of our secrets away and cultivate an open environment for the sharing of insights and inspiration.
Join us.
When you're ready, we would also love for you to be a part of our community. Please comment on posts, become an active member of our social media community and/or email to find out ways you can contribute your own designs or tutorials to the GoMediaZine.
Quick Guides
With hundreds of posts in our archives sometimes it's hard to know where to begin. Our Start Here page is a great place to get started. This page holds 7 quick guides to becoming the creative you've always dreamed you'd be. You've landed on one of these lists so let's get started, shall we?
A Student's Guide to the GoMediaZine:
1. An Open Letter to Student Designers
2. Surviving Design School
3. Preparing for your Design Career: 5 Important Lessons
4. How to Land the Design Job of your Dreams
5. 10 Mistakes Designers Make When Applying for Jobs
6. How to Ace Your Next Creative Job Interview – What We're Dying to Know About You
7. 8 Detrimental Design Habits to Break Today
8. An Open Letter to Design Students: Learn to Code
9. Learn to Code: Tips for Designers
10. 8 Secrets to Battling Burnout and Tools to Help Kickstart Your Day
11. How to Charge for Your Graphic Design Work (& Get What You Deserve)
12. Bright Ideas from the Intern
13. Tips on Landing an Internship
14. Where Can I Learn Graphic Design? – A Newbie's Guide
15. Kicking A** in Kickoff Meetings
16. Don't Quit Your Day Job- Advice for Young Creatives on Making Ends Meet
17. Here's What You Need to Know About Creating an Outstanding Online Portfolio
18. Please Avoid Making These Mistakes We Often See on Design Resumes
19. The Magic Element to Include in the Best Graphic Design Cover Letter Ever
20. How to Have the Best Graphic Design Portfolio on the Block: 3 Tips
21. How to Get Hired to Do the Design Work You Want to Do
22. 14 Web-Based Jobs You Might Be Interested In
Part One of Seven Easy Principles to Becoming a Master Designer.
Rules about Using Fonts:
Ok, "master designer" might be a bit of a stretch – but you can at least become a "proficient designer" by following 7 easy principles. This will be the shortest, most informative series of blog posts you've ever read on how to become a better designer. Please note: these principles CAN be broken… these are not laws, they're just general guides that all of us designers at Cleveland design firm, Go Media, typically follow when putting together a design.
Follow these simple design principles and you'll be on your way to artistic excellence.
Principle One: Limit Your fonts. A big part of putting together a good design, as you'll see, is making sure the over-all look is consistent. The best way to accomplish a consistent look to your design is limiting the number
Categorized:

Tutorials

Tagged:

design tip, designer, font, fonts, hand lettering, lettering, rules, student, tutorials, typography, William Beachy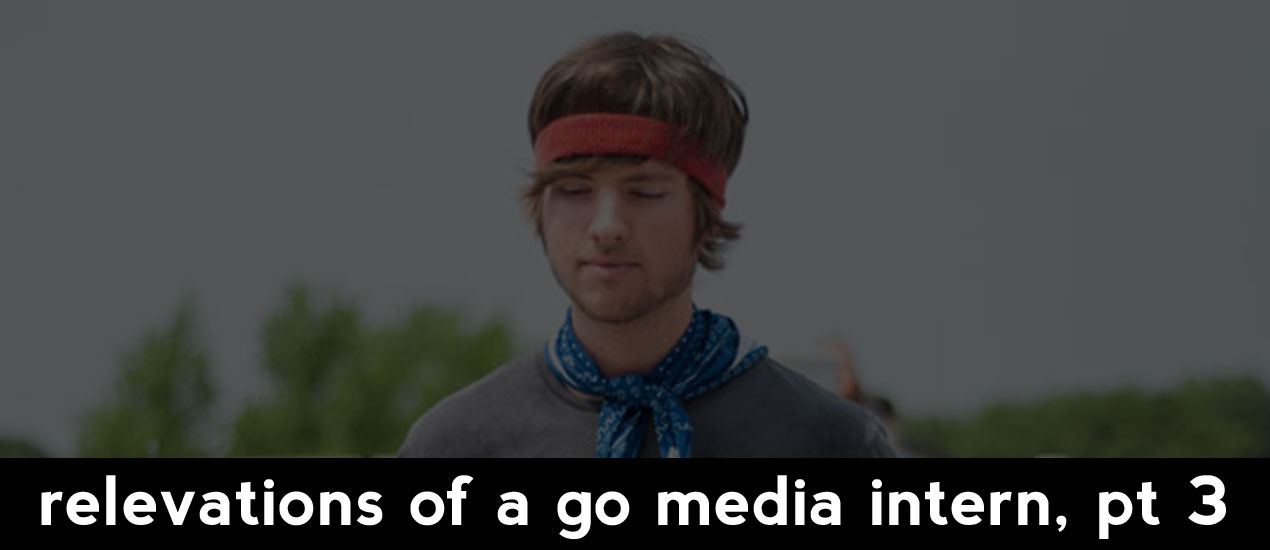 Heyyy. The lessons at Cleveland Design firm, Go Media are abundant, and here are a few more that have been kindly passed along to me by everyone here.
1.Be Proactive
When working for a client or a friend, try very hard to decide what is most important to him or her, and deliver it. Is it timeliness? Rock bottom costs? Nailing the look? If you are confused, communicate.
Soak up the company culture. I'm very lucky to be at Go Media, which values experimentation, progress, quality work, and getting the job done. Once you figure out what your company culture values, be proactive about adding value, even (especially) if it requires you to step outside of your job description. (***Note: If you happen to be stuck in a negative company culture, don't follow this advice but fight tooth and nail for positive change!).