With the rise of the web, people's approach to making purchases has changed significantly. They are now aware of how important they are to small businesses trying to survive in such a competitive marketplace. And, in return for their loyalty, they expect you to provide them with the exceptional buying experience and they won't accept anything less than that.
Your customers not interested in your products only. Namely, they want to know the story behind your brand, as well. They expect you to answer their questions fast, connect with them on social networks, and create relevant and interesting content. They don't want to waste their time, either. If your site takes more than 3 seconds to load, they will abandon it and look for your competitors. The same goes for your navigation, mobile-friendliness, content, and the overall visual appeal of your site.
Given all these facts, here is how you should do digital marketing in 2018.
Prepare for the Google Mobile-First Index
If you haven't heard yet that Google has finally rolled out their mobile-first index, then you're living under a rock. This has become one of the hottest news in the digital marketing sphere, but what does it actually mean? From now on, Google will focus on the mobile version of your site when indexing it.
So, make sure you optimize your site for mobile searchers. After all, 60% of all web searches are done via mobile devices. Make your keywords longer and more conversational to optimize them for voice search. Use Google's AMPs to speed up your site significantly. Your navigation should be simpler, while all important elements of your website should be above the fold. For additional information, take a look at what Google says about preparing your site for the mobile-first index.
Show Appreciation
Do you know that an average U.S. household participates in about 29 loyalty programs? They love them for different reasons- some join these programs to save money, while others want to receive a reward for their loyalty. For some, the availability of rewards programs is the major factor that determines whether they will buy from you or not.
Now, loyalty programs vary and you need to choose the option that works for your target audience. You could give them points or vouchers that can be later redeemed at your stores or offer them exclusive deals for every purchase or referral they make. However, recent studies point out that people have labeled financial rewards or highly targeted incentives far more enticing. So, to make customized loyalty programs, you could offer personalized visa gift cards, with your customers' names on them or even organize a contest and let them win your premium products.
Focus on User-Generated Content
Let's face it- people trust other customers more than you. According to the Local Customer Review Survey, 85% of them trust online reviews as much as their friends, while 73% of them will trust your business more if your customers' reviews are positive.
In light of statistics like this, it's obvious that user-generated content (UGC) is one of those tactics you simply cannot allow to ignore. After all, it's your customers that sell your products today.
Use your social networks to invite people to share their own videos of your products or services.
Boost the visibility of this content by sharing it regularly and creating dedicated hashtags.
Most importantly, you need to know what works for each of the social networks you use. Share live stories and videos on Facebook, post photos on Twitter, while the user-generated content your Instagram account could be the combination of these forms of UGC.  
Use Social Networks to Offer Instant Feedback
In the past, your communication with your customers was based on phone calls and emails. However, the times have changed and, today, your communication channels cannot be observed in isolation. All instant messaging apps, video conferencing tools, social networks, email providers, and telemarketing strategies are highly intertwined, creating what we call the omnichannel approach to communication.
Today, your customers can move from one device to another uninterruptedly. They can find your phone number on your site and call you instantly, not having to switch between different apps. They can scan your QR code that will lead them to the piece of content they want to read or a product they want to buy. They can stumble upon your business on social networks, read the reviews, ask questions, and follow the link to your site to learn more about you.
If you're too busy answering your customers' messages regularly, then hire someone to do so for you. Even better, use a chatbot. Even this is still a pretty new concept, chatbots are predicted to revolutionize the digital marketing industry in 2018. Namely, these AI-powered tools have become smarter and more intuitive. They will provide your customers with relevant, real-time feedback and, at the same time, do all repetitive and time-consuming tasks for you.
You can use social media monitoring tools to keep track of your brand or product mentions. Whenever someone mentions you, you'll get notified. This is called social listening and it's immensely important in providing your customers with real-time customers services and collecting their feedback.
Create Interactive Content
Gone are the days when you could write a 1000-word blog post and generate a bunch of links, shares, and comments. We're living in the era of augmented reality and people expect your content to surprise and excite them. So, update your content strategy with interactive content, the one your customers can actively participate in, such as polls and quizzes. Don't forget about visual content, especially videos, as they're expected to account for 82% of the total internet traffic by 2020.  
Tell your Customers a Story
You're not doing content marketing for SEO purposes solely. You're creating your content for your customers. And, to engage them and get them emotionally involved, each article you write needs to have a good story to back it.
That's what storytelling is about.
Namely, 92% of people emphasized that they expect all major brands to create ads that feel like stories. Stories share a real-life experience, add the human element to your brand promotion, and evoke nostalgia and empathy. Most importantly, as they don't seem overly promotional, they will take your relationship with your customers to a completely new, more personal level.
Over to You
Digital marketing is not about promoting your business and ranking higher on Google. It's also about building and nurturing strong relationships with your target audience. That's exactly what will set you apart from a sea of businesses similar to yours.
Hope these tips help!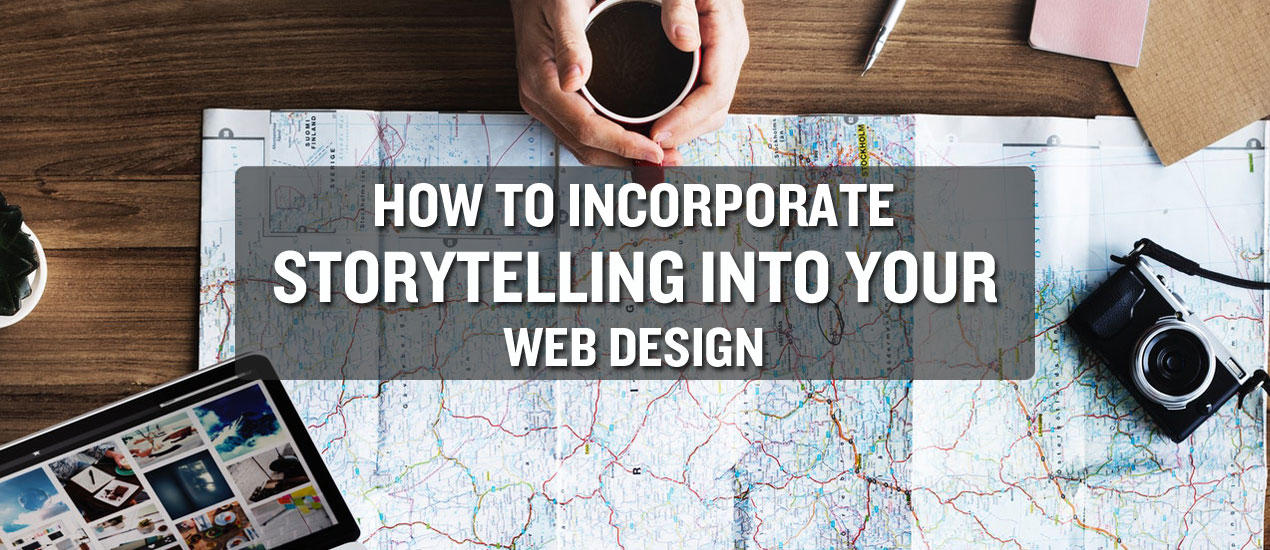 We all love a good story. Have you ever considered incorporating one into your web design? No? Well, you should, because it's become an incredible communications tool in addition to a core component of content marketing.
We'd like you to do something. Close your eyes, just for a moment, and think about all the different brands you know and interact with. Think about their stories. What premise or plotline do they use to reach out to customers, enthusiasts, supporters and even rivals? How has that story evolved since the inception of the brand?
This may all seem like a bunch of nonsense to you now, but you should quickly do away with that mindset if it's how you feel. You see, humans are emotional creatures, and stories — personal or otherwise — are the way we interact with the world and one another. Think about it! Every time you converse, discuss or reach out to friends and family, one thing you'll do for one another is share stories.
This is the same outlook modern brands and organizations have about their relationship with their customers, especially through digital platforms and channels. Social media, for instance, allows brands and company representatives to have much more personal and influential interactions with specific customers. The same can be said of modern customer support tools like one-to-one messaging or IM solutions, and even discussion forums.
Why Use a Story at All?
Because stories help carry a message, they are far more memorable, and that's the idea — a story is not only more engaging but it also remains in a customer's brain, sometimes even influencing how they react or what decision they make.
But stories can also be used to placate the emotions of the viewer, pushing them closer to a product or service you are peddling. They may have had absolutely no clue they needed what you're offering, but your story, the journey, and experience you subjected them to changed their outlook.
For example, wearables tend to have a reputation for being impractical to some people, which has helped slow adoption of the market. These people feel they already own a smartphone, so there's no need to own a smaller device on their wrist that can do the same things. Keep in mind, we're strictly talking about smartwatches and smart wearables here — not fitness trackers.
By delivering a story or personalized experience to those customers, wearable makers can help potential customers not just understand but also desire to have this type of product experience. They can show adverts, content, and media that portrays how practical these wearables actually are, specifically by showing some problems they can fix.
A good story plays to a customer's emotions, opinions, and past experiences and shows them what the product or service can do in their life.
1. Create Characters That Resonate With Your Audience
Whether you use the real-world experiences of customers and personnel on your team or you make up characters, be sure the focus is on someone your general audience can relate to. For example, Progressive uses Flo, the infamous insurance agent, to tell stories about their company and products. She resonates with a lot of folks because of her bubbly personality, desire to help and overall friendliness. But you don't have to make up a fictional character to facilitate your stories.
Airbnb, for example, uses stories from real customers to share their experiences renting properties through the app and platform. You can browse this section, find someone that best matches you and your family and see how they fared. It's a genius approach to onboarding new customers, really.
One company ascertained that parents are 52% less likely to celebrate Valentine's Day after they have kids. This information was used to create a more compelling and engaging story for that particular audience, and by using relatable situations and characters, it turned out to be effective, too.
2. Remain True to Your Personality and Brand Mission
If you're strictly professional, try to put together an experience or story that remains just as professional. If your brand is a little quirkier, you can be fun-loving and whimsical instead. The foundation, or the core concept of your brand and personality, should remain the same throughout, however. That's true no matter what story you tell, what platform or channel you tell it on and how it evolves over time.
The Burt's Bees philosophy to products, for instance, is that what you put on your body "should always be the best nature has to offer." This idea permeates nearly every element of their brand from the creation of their products to the distribution and fulfilment of them. You can read all about how they make this possible on their story page.
3. Embrace Change
Your website, your customers and the world around you do not have to be static. You don't have to spend a vast amount of resources every few years to update the content, stories and experiences. Instead, just keep everything consistent and regular. Embrace change over time and continue telling new stories and providing new experiences to your customers, all using the same basic plot or foundation.
The best way to make this happen — and make the most of it — is through analytics and customer data. If something isn't working like you expected, change it. If a campaign isn't going well or is received poorly, drop it and find another. Just because you are focused on one coherent and seamless story doesn't mean you can't invite change.
Nike is an amazing example of this idea. They've been telling stories to their customers for years, decades even. This can be traced all the way back to 1999, when they released a commercial dedicated to the retirement and career of Michael Jordan. You'll notice that since then, a lot of their stories have been similar but fresh enough to be considered new and different. The FlyEase journey, for example, is a more recent story of a new product they offer.
4. Have a Clear Beginning, Middle and End
Like any good book, your story needs to have a beginning, middle and end that is easily definable for all your customers. They know exactly when the journey has begun, when they're close to being done and when things have completely wrapped up.
The beginning should introduce your characters and players, establishing the main plot and setting. The middle should present the problems or issues your characters are having. In the end, you should be able to see that conflict resolved. This entire process is called the story arc of your story's main character.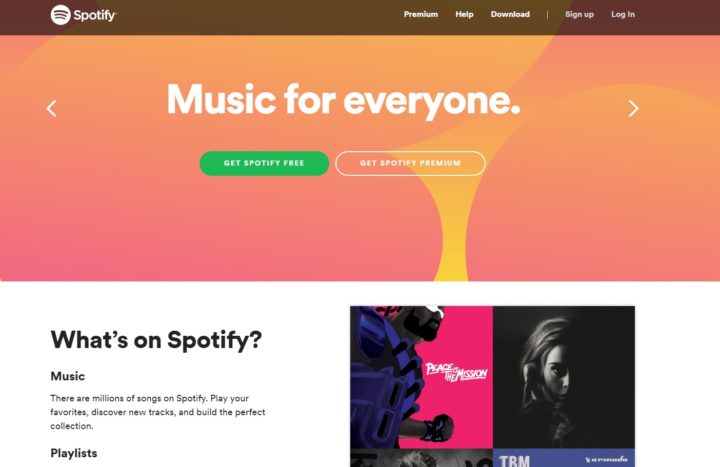 The end of the story, for instance, could be an incredibly effective call to action. Spotify's landing page embodies this idea in full. You land there, see what you can do with the service, how it can help you, what kinds of people rely on it and go from there.
5. Keep Them Hooked
The poker player saying "don't lay all your cards on the table" is a great one to live by, especially when sharing and developing stories. Your stories need to be both compelling and engaging, but you don't want to reveal absolutely everything. You want your customers to be hooked, enticed and interested in coming back.
In other words, keep them hooked and leave them wanting more, but in a good way. This can be achieved through teasers and media releases, viral marketing campaigns, customer sharing and even social media events.
Netflix is an awesome example of this. Even for those who unsubscribe and or never are active customers, Netflix releases plenty of information about new content and new media available through the service. This keeps customers engaged, interested — and most importantly — coming back for more.
Go Forth and Create!
As you can imagine, there's a lot of room for stories to be created, maintained, shared and bolstered, and all of them contribute to the way an audience sees and engages with a brand. It's your goal to come up with a compelling story, but also one that resonates with your target audience. More importantly, you need to ensure the story you're telling — and the goal you're trying to achieve — is efficient and possible. You can do this by deploying and making use of the tips discussed here.
Good luck! Now go forth and create! Tell a revered story that all will love to experience!