Searching for free skull vector goodness? We're here to help. Download our skull freebie at the bottom of this post and check out our brand new Skulls 3 Vector Pack by brand new Arsenal Artist Tom Szorady!
Categorized:

Freebies, Graphic Design Freebies, Vectors

Tagged:

arsenal, free download, free stock vectors, freebie, go media arsenal, skull, skull vectors, skulls, vector, vectors

Skull Vectors for Days
When we first thought to create a new skull vector pack, we thought we'd simply update some of our older stuff. Perhaps add a few new skulls, refresh them and polish them up like a shiny new pair of shoes.
After all, we have some great stuff and skulls never get old, now do they?
But here's what happened – We reached out to some really great friends and kind of got carried away.
What came about was a…
BRAND. NEW. SET.
Ninety eight brand new skulls and related vectors. Yes, completely new content created by seven talented folks we know and love, including Jeff Finley, Steve Knerem, Blake Stevenson, Michael Hinkle, Justin Sobota, Scott Fuller and Go Media's own internal designer Jordan Wong.

The Deets.
With this set, you'll grab these must-have 98 vectors in total. Here's how they shake out:
10 vectors from Steve
12 vectors each from Jeff, Michael, Scott and Jordan
20 vectors each from Blake and Justin
Don't believe me when I say they're incredible? Well let's just let the visuals speak for themselves.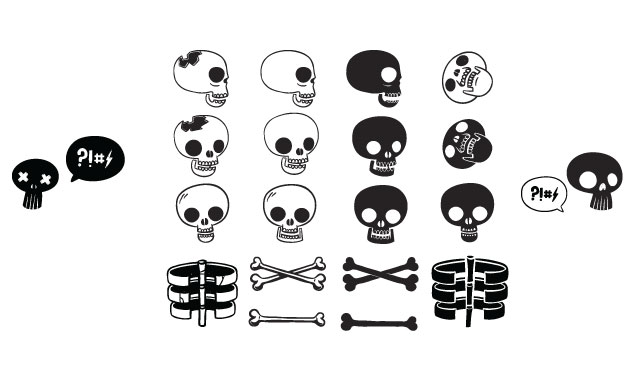 …See! Told you they were awesome!
DO. THIS. THING.
Looking for more awesome products? Hop on over to our Arsenal for more!
How to Design the Perfect Rock and Roll T-Shirt
When creating a rock and roll tee, nothing comes to mind more than a perfectly illustrated, bad ass skull and crossbones with snakes and chains thrown in for good measure. Am I right or am I right?
Get ready to craft up your own original masterpiece with a little help from Marketplace Artist, Steve Knerem, rock and roll tee expert. Steve has created this, the Skull and Snake T-Shirt Design Pack to help in your process. The possibilities are endless with this pack!
Buy the t-shirt design pack now – $17
You'll grab:
All 10 Illustrations including snakes, a skull, angel wings, illuminati eye, flower, brass knuckles, chains, horse head, and more.
the Original .AI file of this design
Men's Triblend Ghosted mockup template
As a bonus, we throw in a sample of Jeff Finley's popular eBook, Thread's Not Dead, the Designer's Guide to the Apparel Industry.
Use the elements in the skull and snake t-shirt design pack in Adobe Illustrator to create your own unique work of art.
You can either use this design as-is without changing a thing or mix and match. We recommend using the detailed snakes, skull and wings to create brand new designs.
Here's what you get:
Now go off and create something great!
Life as a designer can be completely overwhelming. With projects constantly coming through, work piles up and never-ending revisions make for long days and late nights. It isn't like we're not completely thankful, but let's be honest:
Sometimes we just need a break.
Thankfully, we know of a little shortcut sent from heaven. This shortcut cuts precious hours, saves us money and basically makes us look like rock stars.
Introducing the t-shirt design pack.
This little gem of a product is a designer's dream. Why? It includes everything you need to design a great customized t-shirt in no time flat:
All of the vector illustrations (no need to create your own!) by the amazing OK Pants (otherwise known as Aaron Sechrist) 
All original .AI files (including 4 color variations masterfully chosen for you)
A tri-blend ghosted t-shirt mockup .PSD (professionally present your artwork)
And looky here you even get:
How do you start saving your own sanity?
Just click here:
Categorized:

Go Media, Go Media's Arsenal, Graphic Design, Graphic Design, News

Tagged:

aaron sechrist, apparel, arsenal, art, design, motorcycle, ok pants, pants, skull, t-shirt, t-shirt design, vector, vector art, wings