'Custom' Type Treatments for the Lazy Designer
Custom hand-drawn type treatments are quite popular these days. Nothing says hipster-cool like hand lettering your client's chalkboard coffee shop menu. But let's face it – hand lettering requires a certain amount of artistic skill. And time. Lots and lots of time (and we all know not every client has a big budget).
So, what do you do? You want a custom type treatment for your client but you lack either the skills or time to do it right. You need a shortcut. You need a cheat. You need the gurus of Cleveland graphic design services Go Media's (semi-) patented Custom Type Treatment for Lazy Designers technique!
Here's how it's done: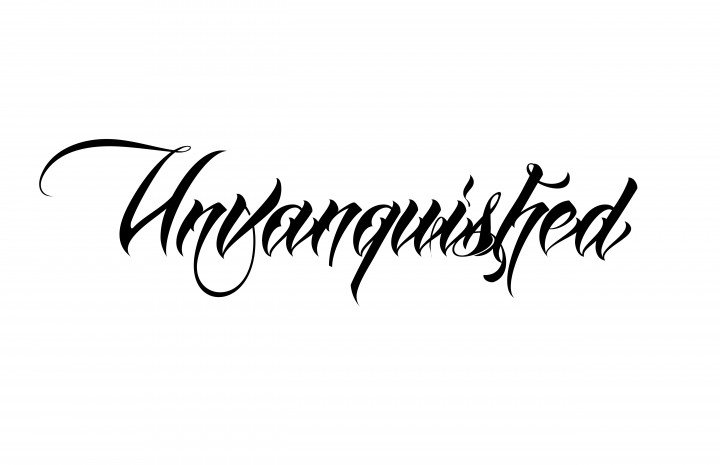 Step 1. Select a font.
This is where all our time savings comes in. Your final product is going to be 85% font, 15% customization. While selecting the font will feel like the easiest step, it's also the most important. Don't rush through this step of the process! I will often times spend over two hours just trying to find the perfect font. Remember the font you select is 85% of the final product and picking a font will be SAVING you tons of time hand lettering – so go slow!
In this case, the project was for a close friend of mine who asked for a tattoo of the word "Unvanquished." While I'm a great illustrator, I'm not great at hand drawing type, so I knew my best result would be to start with a font. I probably spent about three hours finding this one font (Anha Queen VMF Pro).
Step 2. In Computer Modifications: Kerning
At this point I start by converting my type into 'paths' in Illustrator. I will be modifying my letters as vector shapes from here on out.
In my experience, no font's kerning is perfect for every single word. So, once I've typed out the logotype I'm going to make, I fine-tune the letter spacing. When creating a word-mark I've found that you generally want the kerning tighter than what is comfortable for reading – this changes the word into a mark. You can see the adjustments I made with the kerning above.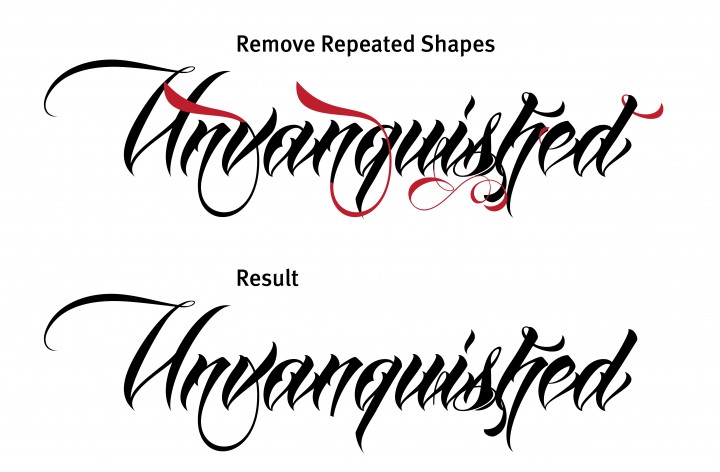 Step 3. In Computer Modifications: Eliminate Redundancies
Frequently fonts will include lots of repeating shapes. Sometimes these can be ugly and a dead giveaway that your type treatment is a font and not original. It's ok if you keep one of these shapes, but remove any redundancy that stands out. I'll also usually use this step in the process to clean out anything that I don't like. This font has a lot of messy flourishes, so I'll clean those up too.
Step 4. In Computer Modifications: Play with Ascenders, Descenders and Letter Size
Fonts tend to have a certain-size perfection. All lowercase letters are pixel-perfect height, line thicknesses are exactly the same, etc. I like to play with all of this stuff to give the type treatment a bit more originality.
Step 5. Hand Drawn Modifications
While hand-drawing this font from scratch was beyond my skill level, adding some hand-drawn modifications is a fun and easy way to further refine your type treatment. For this step, I simply print out my type onto an 11×17" sheet of paper, pull out a pencil and start playing! If you mess up, just throw it away (sorry, I mean recycle it) and start over. Once I've got something I'm happy with I will scan that back into the computer and 'vectorize' the elements that I drew.
In this particular case, all my flourishes made the art a little too tall for my friend's arm, so his tattoo artist modified my design a bit.
Step 6: Sit Back and Enjoy the View
After you've finished vectorizing the elements you've lazily hand-drawn, sit back and enjoy the view. Sarcasm aside, appreciate how, relatively quickly, you've been able to construct a pretty hip custom type treatment. Your client will be equally impressed and their pocket book will thank you, too.
Categorized:

Graphic Design, Illustrator, Tutorials

Tagged:

bill beachy, hand lettering, Illustrator, shortcuts, tips, tricks, typography, William A Beachy, William Beachy
Time Saving Shortcuts
Howdy. This is week five of my series, and here are three more tips. I hope you enjoy them!
1. Time saving keyboard shortcuts: Really, every shortcut I learn makes using illustrator much more natural, but here are two biggies: 1. Ctrl+F pastes directly in front of the copied object 2. Ctrl+B pastes directly behind the copied object. These two shortcuts are really essential in Illustrator, especially when using the pathfinder. Ahh, the pathfinder… Ps- here is the whole list of keyboard shortcuts from Adobe: Keyboard Shortcuts
2. Learning how to use the Pathfinder I had no idea what the Pathfinder did before my intership with Cleveland web design company, Go Media, but I realized very rapidly that I needed to figure it out. My second night back home I sat down with the Illustrator, opened up 'help', started figuring out the powerful pathfinder. The Pathfinder can combine shapes, cut one shape out from another, keep only the shape where two other shapes overlap – and so much more. If you've not exploited the power of the Pathfinder to do more stuff with less effort, now is a great time to learn it.
3. A Richer Gradient: 1. Make a regular gradient 2. Copy the gradient and Paste in Front using Ctrl+F 3. Change the pasted gradient to a solid color that is slightly lighter than the shade in the middle of the gradient. 4. Move the solid color to the back with the shortcut Ctrl+Shift+[ 5. Change the blending mode of the gradient to multiply from the drop down menu in the Transparency pallete. The result is a gradient with richer, and probably darker tones than the original. Many of the technical tips in this series are pretty simple, but when combined and applied they represent the technical tricks I've learned at Go Media to make things look better, faster. And there is still more to come! Till then, happy designing.
Adobe Illustrator Shortcuts
Hello again. These last couple of weeks I've been sharing some of the broad lessons I've learned this summer with Cleveland graphic designers, Go Media, such as learning from criticism, and realizing the importance of presentation.
This week I'm going to get more practical and share some Adobe Illustrator tips that my coworkers have taught me.
We're all in one big open room at the Go Media offices, so I have the freedom to steal glances at the other designer's monitors. In my inexperience I would undoubtedly see them taking an approach I had not been exposed to, or would never think of taking. I started a running list of cool techniques I saw for future reference. I'd like to share some. We use Adobe Illustrator for almost everything here, so the tips are rooted in Illustrator. (Warning: these are revelations of a Go Media intern, so don't be surprised if some of these techniques are less than ground-breaking).
1. Oliver showed me how to do make a radial.
1. Draw something cool (preferably long and narrow)
2. Activate rotate tool by pressing "R"
3. Move anchor point further out from the center of the object
4. Hold Alt and rotate the object by 5-15 degrees
5. Hold Ctrl+D (which repeats the last action) until radial is closed

2. How to Rotate Text Boxes:
1. Text boxes won't rotate as expected when using the handles in Illustrator. Instead, the bounding box will simply rotate while the text remains horizontal.
2. In order to actually rotate the text, you must use the rotate too by pressing "R", not by using the handles.
3. A Richer Gradient:
1. Make a regular gradient
2. Copy the gradient and Paste in Front
3. Change the pasted gradient to a solid color that is slightly lighter than the shade of the gradient.
4. Move the solid color to the back with the shortcut Ctrl+Shift+[
5. Change the blending mode of the gradient to multiply.
That does it for this week. If you're a student like me, I hope you learned something new today. But don't stop here! This is just a taste of what there is to know about Illustrator – and Illustrator is just one design application! I'll be sharing more tips next week, but in the meantime keep educating yourself.