We are pleased to show off the new art print for Weapons of Mass Creation 5!  The lettering was done by the talented Mary Kate McDevitt and the printing is done by Mama's Sauce! What follows is a step by step walkthrough of the printing process by Mama's Sauce.
Weapons of Mass Creation is a 3-day creative conference that will change your life. It takes place on August 15-17 in Cleveland, OH. See speakers, bands, workshops, and more.
01. Ink Mixing.
Hand-mixing the inks for the poster was the first step. We hand-mix every color for all of our custom screen printing projects; this gives us the most possible control over color.
02. Color Proofing.
After the ink was mixed, we tested a small amount of it for accuracy. We always use a piece of the paper that the poster will actually be printed on. Different papers handle ink differently, so it's important to test for every project.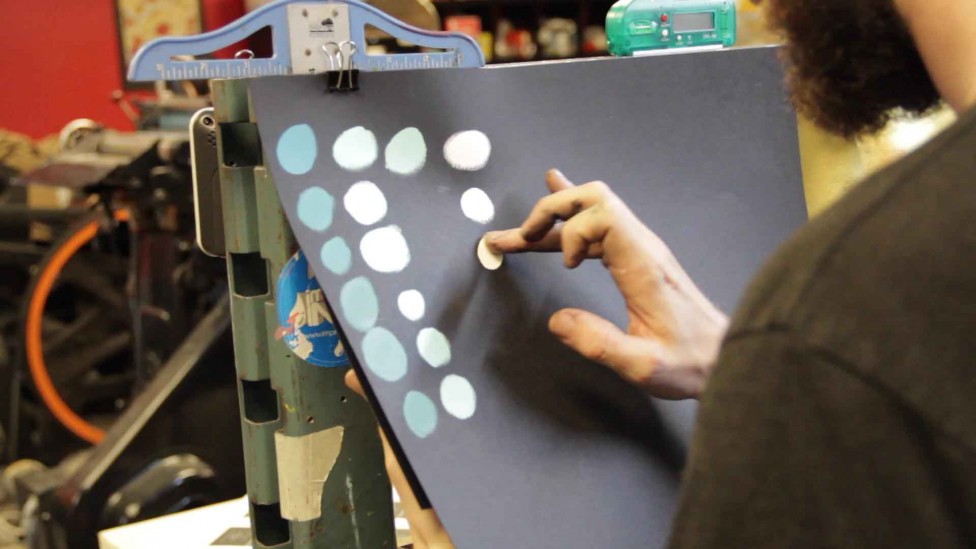 03. Prep the Screen.
Screen printing uses a fine mesh through which ink is pressed. To start printing, we had to burn the image for the poster into the mesh of the screen. This process is repeated for each color in the design. In this case, there were three screens.
04. Printing.
Once the inks were mixed and the screens were prepped, printing could begin. Ink was flooded over the screen and then pressed through the mesh by a squeegee. It's very important that the 3 colors line up perfectly.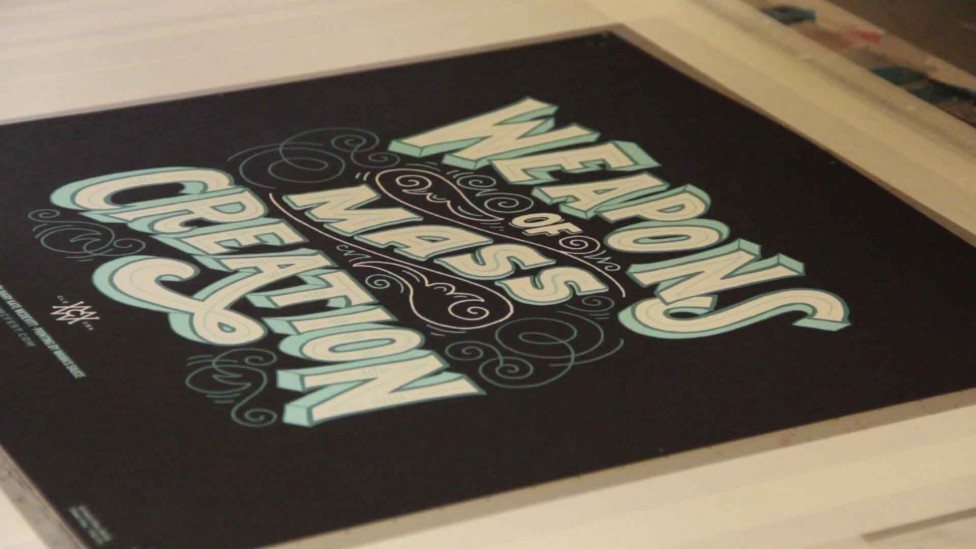 05. Quality Control.
After we started printing, we were very careful to keep an eye out for inconsistencies and defects in the prints. A lot can go wrong on press, so quality control is an ongoing, essential part of custom screen printing.
06. Racking & Drying.
The WMC Fest poster was printed with water-based inks that take a little while to dry. Consequently, each poster was hand-placed on a rack to dry for about 15-20 minutes between each color.
07. Trimming.
Most custom screen printing projects are printed on a sheet of paper that's a little bit bigger than the final size of the piece. This allows room for helpful marks & notes on the press sheet as well as room for us to actually grab the sheet without smudging the artwork. Once the WMC poster was printed, we trimmed it to its final size with a guillotine paper cutter.
08. The Finished Product.
Once each color had been printed, dried, and trimmed, the job was done. At this point, a sigh of relief and admiration surged through the shop.
Hey designers, want way more inspiration? Attend our all-inclusive soul-fulfilling three-day design retreat, WMC: Off-The-Grid, this October 5 – 7th. To learn more, head to wmcfest.com.
When I first decided I wanted to to get into screen printing a few months ago, I really had no idea what was involved. I am an artist and I knew that I wanted to print my own designs but that was about it, so when I first started to look around for screens I went to my local art supply store and they were able to provide me with my first silk screen and a squeegee for a fair price. However, I recommend that you find a screen print wholesaler such as Catspit Productions, LLC. and deal with them directly. This way you will save yourself a whole lot of cash as well as tapping into the supply line for everything you will need.
You can screen print without a carousel.
With the average cost of a screen printing carousel being between $1500 – $2500 I could not afford one to start out. Instead, get a friend to help hold the screen firmly in place while you use the squeegee to apply the ink to the screen then have them lift it away, it really is that easy. Just make sure the screen does not move while you're printing. I use a flat piece of wood slipped inside the shirt to keep it flat and prevent ink from bleeding through to the black layer. A day may come when you are printing the volume to afford a carousel, but to begin with you can get by without one and save a whole bunch of money. As I am writing this I am running my entire operation off one trestle table with the help of a friend to hold the screen when I print, that's it.
How to use photo emulsion on the cheap.
Photo emulsion is easy to use in the right conditions. To use your artwork on your screen as a stencil you will first need to coat the screen with a photo emulsion in total darkness, then dry it in total darkness until the emulsion sets, then finally you can place your artwork transparency onto the screen and expose it to light to make a stencil from your artwork.
Buy a darkroom safe light
The best way to work with the photo emulsion is in safe light conditions. A darkroom safe light lets you work with the photo emulsion in safe light conditions so that you can see what you're doing when mixing the emulsion and coating the screen without exposing it to UV light (sunlight, light from light bulbs). Jump on eBay and find a Kodak darkroom safe light (or equivalent). With everything photographic moving to digital these days, safe lights are no longer in demand and you should be able to buy one for around $20 (I did).
You can buy this directly from your screen print supplier or on Amazon.
Coating the Screen
Turn off all other lights; plug in your safe light. You are now working in safe light conditions. Mix your photo emulsion as specified by the manufacturer. Poor the mixed emulsion into your scoop coater and use it to coat the underside of the screen.
Drying the screen
Now the screen needs to be left to dry face down in a dark place, where no light can reach it. Photo emulsion takes a while to dry so plan for safe light conditions to dry it for a few days away form daylight (or any other UV light). For months I used a large suitcase to store the screen in while it dried. I put some blocks in each end of the case to hold the screen away from the bottom and placed the screen inside face down, zipped up, and then covered the suitcase with a blanket to ensure no light entered and waited until it dried. In winter without heat applied this can take a week to dry properly. In summer it will dry much faster. If you can apply a low heat source (fan heater for example) it will dry much faster. Only check on the screen under safe light conditions and only expose your artwork when the photo emulsion is completely dry, it hardens. I recently got a new laptop to use with Photoshop, and have modified the cardboard box the laptop came in to use as a light safe box for drying photo emulsion coated screens in. It really can be as cheap and simple as a cardboard box well sealed with black duct tape. A few blocks in each end to keep the screen off the bottom, the lid closed up with a blanket thrown over it to make sure it is light safe.
Build a super low cost exposure unit:
If you want to buy a large vacuum sealing exposure unit it will cost from $999 – $2500. I couldn't afford that, I still can't. Here is how I expose my screens, its super cheap and easy.
Buy a lamp for an exposure unit for under $30.
Your local hardware supply store sells 500 watt halogen work-lights for around $30 (cheaper in USA). They generally have a black housing and clear glass lens at the front with a wire grill covering it. Start by removing the grill and glass from the front. It is a UV filter and when you expose your artwork to your screen you will want maximum UV exposure. If you have a shed, attach a piece of wood 32cm from the trestle table you will be exposing your screen on. I attached the wood with a hinge so I can fold the lamp up and away when not in use. If you don't have access to the bare beams of a shed wall to rig up your exposure unit then use whatever is at hand. I have seen people use a guitar stand to hold the lamp the correct distance from the screen while it exposes (32cm).
Next you need to buy some foam rubber to fit under your screen. The idea here is that the foam is slightly deeper than the screen so that it pushes the screen up from the table when the screen in placed under the lamp face up.
Buy 3m of plain black cloth fabric. Cheap as chips. We will use some of this to cover our foam rubber and the rest will be used to cover the area under our screen when we expose it.
Wrap the foam in black fabric so that it is completely covered. I used liquid nails to attach the fabric to the screen as I cannot sew. As long as the foam is covered in the black plain cloth it will be fine.
Buy a piece of 1 quarter plate glass with 0 UV rating (or the lowest UV rating you can get so that it will let the maximum UV rays though possible). Measure it so that it is big enough to cover your artwork holding it down flat onto the screen. Slightly larger than the inside edge of the screen works fine. Have the edges of the glass sanded so that you can handle it safely without getting cut. Any glass supply store can do this for you.
And that is all the kit you need to get started. You will have some black fabric left over, when you are ready to expose your screen start by covering the table area with the remaining fabric.
How to expose a screen
I recommend doing this procedure at night. Parts of the process need to be done in safe light conditions. For washing out the screen you will need a garden hose with a pressure or jet nozzle, or you may want to use a water blaster or pressure washer if you have one.
Kill all the lights and turn on your safe light. Now in safe light conditions get out your screen which is already coated with now dried photo emulsion. Put the foam packing in the underside of the screen. Place the screen in the centre of the black cloth, foam down, screen up. Place the artwork on the screen paying attention to which way the art will print, place the glass over the artwork so that it holds it flat against the screen. Turn on the 500 watt work-light and expose the screen for 5 minutes.
After five minutes turn off the 500 watt work-light. Turn your safe light back on. Take the screen and wash it out, I recommend doing this process at night to eliminate light from affecting your screen result. Start by soaking your whole screen in water on a soft spray, and then turn up the pressure and blast away the unwanted emulsion from your new stencil. It can take a while to get the emulsion to wash out using just a garden hose, be patient or use a high pressure washer to speed things up.
Dry your screen off and your screen is done, you are ready to print!
For more useful information on screen printing check out Catspit Productions, LLC. Also I recommend reading Threads Not Dead, by Jeff Finley of Go Media for an in-depth look at apparel industry and how to launch your own clothing line. They even sell screen printing starter kits out there.
I got into this for the love of art and to earn some side income, chances are it's the same for you to. Earning some cash along the way is good too. One day I hope to launch my own clothing line and go big time. In the mean time I try to simplify the print process so that it is manageable and affordable while I am still working a day job. I hope you have found some value in these methods.
When most of us want to add additional flair to our print project, we automatically look for elaborate finishing processes to help us accomplish this, forgetting that a well-designed spot varnish can really take the perception of quality and design up a few notches. Unfortunately, most people look to spot UV to hit this mark, since it's immediately recognizable based on its high-gloss, wet-look appearance.
Spot UV's Dirty Little Secret
While spot UV truly does produce a beautiful product, it's sort of like the Las Vegas of the print world…..all the glamor and glitz, with lots of dirty little secrets. First, it's a petroleum-based product, and the last thing any of us need is for your postcards, business cards, or annual report to further our dependency on foreign oil. Second, spot UV can be very expensive and typically runs off-line, as an additional process.
So, why bring it up if I'm only going to talk you out of using it? Because I can offer you a comparable, but much greener process!
Go Greener with a Strike-Through Varnish
Here's how it works: The contrasting glossy vs. matte effects are accomplished using our water-based coatings and a strike-through varnish, printed as an ink, inline on our presses. First, the dull/matte strike-through varnish is put down with a traditional printing plate in the areas that are to stay matte. At the end of our presses, an overall flood of our gloss aqueous coating is applied.
As it cures, the gloss coating is dulled down in the areas where the strike-through matte varnish had been applied. Also, since we're using a traditional printing plate in a standard print unit on our press, we can achieve as much detail as we want. Otherwise, you have to cut a coating blanket specifically for the areas where you want glossy, and that blanket can only be used for that press run or project.
When designing for this, remember that, because it's a water-based setup, the contrast is not as dramatic as the petroleum-based UV. However, keeping the varnish design on a darker, solid-color background will ensure you get the maximum amount of visual appeal out of this process.
Get The Guides
For more info on how to setup your spot varnish files, download the PDF of your preference:
While working on the poster for DIT Fest last week I managed to create an impressive text effect that I will likely reuse for awhile. It's very subtle and does not look like a filter. I'm simply adding a slightly aged, worn, or screen-printed look to any typeface. You can even apply this effect to any solid color shape or vector graphic for a hand-made screen-printed look—all done in Photoshop.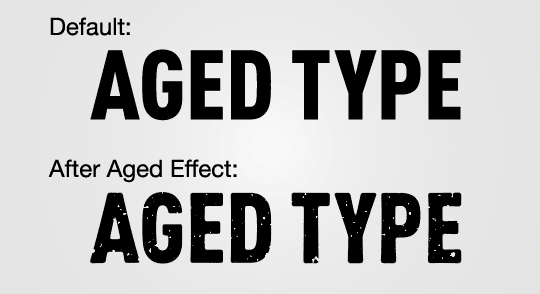 Create your type as you normally would
Rasterize the type
Add noise, around 25%. Be sure the check the 'Monochromatic' checkbox.
Adjust the Input Levels, bring the black level up to about 70
Run a very slight Gaussian Blur on your type – like 1 or 2 px
Run Smart Sharpen to remove the blur but keep some of the organic distressing / softening that occurs. Like 200% for the amount and about 15 for the radius.
Adjust Levels again – bring black up to about 50 and white down to 69.
Or just download the  and never have to remember how to do it again.
If you want to take it further:
Buy our Stamp Effect action – more info
See example images:
Interested in starting your own clothing line? Or maybe you just want to get an edge on some of the other designers on the major social t-shirt sites. Either way, there is a world of resources to be discovered that can help you do both.
This post will help you find all the tools and resources you need to start your own clothing line. By doing so, you will be entering the ranks of such super stars as P Diddy, Martha Stewart, and that model who sells clothes at K-Mart.
In the links below you will find resources for t-shirt designers all across the web. While a number of the tools and tutorials can be found right here at Go Media, we have also included a great number of other off site resources. After all, this wouldn't be the ultimate resource for t-shirt designers if we just stuck to this site now would it?
Well, maybe it would, but that's for another day. So, here you go, the ultimate collection of resources for t-shirt designers.
Books
This collection of books and e-books can teach you just about everything you wanted to know about printing shirts, cutting shirts, selling shirts, and more.
Thread's Not Dead – $47 – Amazon
Widely considered the "Bible" of t-shirt design, this is a must have.
Full for Design (Website: $37)
One of the most up to date e-books about starting your own online clothing line.

Generation T: 108 Ways to Transform a T-Shirt (Amazon: $10)
Teaches you a bunch of really cool ways to cut up your shirts to make them even more unique.

300% Cotton: More T-Shirt Graphics (Amazon: $20)
The third in a series of books that showcase the art of t-shirt designs.

Simple Screenprinting: Basic Techniques & Creative Projects (Amazon: $20)
Includes over 20 different screen printing projects on shirts and other surfaces to help you learn how to screen print.

T-Shirt Factory (Amazon: $17)
A showcase of over 300 outstanding t-shirt designs.

Vintage T-Shirts: MORE THAN 500 AUTHENTIC TEES FROM THE '70S AND '80S (Amazon: $17)
A celebration on popular vintage t-shirt designs from the 60's and 70's.

Vintage Rock T-Shirts (Amazon: $20)
Showcases fan made and non-commercial use t-shirt designs used to promote singers and bands.

Print Liberation: The Screen Printing Primer (Amazon: $17)
The complete DIY guide for learning how to make your t-shirts.

Photoshop CS3 for Screen Printers (Amazon: $30)
Teaches you how to use CS3 to create better images for screen printing.

Do It Yourself Screenprinting (Amazon: $8)
Uses drawings and illustrations to teach you step by step how to screenprint.

How to Print T-Shirts for Fun and Profit (Amazon: $40)
The best book on the business of starting your own t-shirt company.

Where to Sell Your Designs
Social t-shirt sites are popping up all over the place these days. This is great for both professionals and wannabe professionals because it offers more outlets for you to sell your designs. But, which of these t-shirt sites are worth getting involved with? Below are some of the more popular t-shirt communities.
Threadless
One of the original t-shirt community websites.

Design By Humans
T-Shirt community site that works on public voting.

Red Bubble
Artistic community where you can upload your design and Red Bubble takes care of the rest.

Cafepress
Upload your design and Cafepress will market, sell, print, and mail your shirts for you.

Big Cartel
This is a cool site that lets you create a really nice online store in just a few minutes. I highly recommend this one.

Spread Shirt
This is another site that is extremely similar to Cafepress.

Odicca
No public voting here, Oddica gives artists 41% of each shirt sold.

Tee Tonic
Allows you to submit your design to be voted on.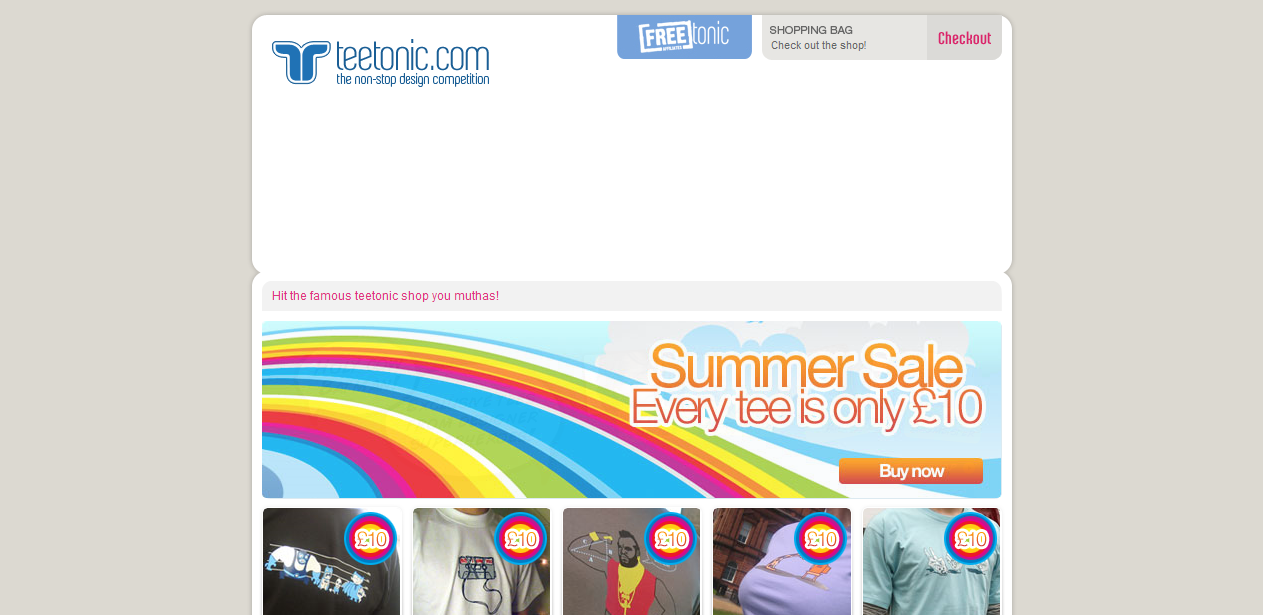 La Fraise
This is kind of like the French version of Threadless.

Enclothe
These guys don't accept unsolicited designs, but they are always on the look out for new artists. Feel free to send them a link to your portfolio.

Blank Clothing, Vectors and Templates
Spend any time looking for these online and you will realize just how hard they are to find. Luckily we've created an awesome blank t-shirt pack. If you have happened to miss this, you should seriously check it out. Aside from the product shout outs, there are also some round ups of free t-shirt vectors and more.
Included in this list are some great site for finding quality vectors, both free and paid, for helping you create your killer design.
Inspiration
Are you having a tough time coming up with an idea for your next t-shirt design? Then check out this collection of some of my favorite t-shirt designs. These designs have come from a variety of designers and websites. Hopefully they will get your creative juices flowing.
Zombi Zombie

The Old Man in the Sea

The Audacity of Joke

Altitude Sickness

Pen Tool Sun

Royal Hush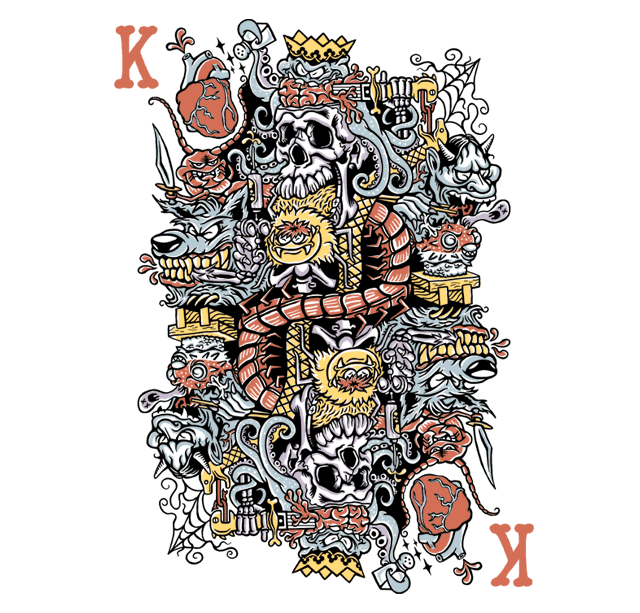 Ninjas vs Luchadores

Flowing Inspiration

Amazon Addiction

Tutorials
Looking to up your t-shirt design skills? Or maybe you are just learning the ways of the business. In this collection of tutorials everyone from the advanced designer to budding newbie should be able to find something interesting.
Add to the List
What do you think? Do you have or know of any other great tools and resources for t-shirt designers? If so, lets us know by leaving a comment below.
I talked with Marc Hemeon, one of the brilliant minds behind the t-shirt design contest site Design by Humans. If you can remember, they were the only company able to pull off the impossible Bold is Beautiful shirt a few months back. Oliver had also won Shirt of the Month with his Concentric Downpour tee.
So, just how does one go about making winning tees at DBH? Marc gives us 5 tips to give yourself the best chance of winning the next Shirt of the Day.
1. Prepare Artwork at Final Production Size.
On our design submission page we have a footnote which reminds artists to have a high-res print ready version of their artwork ready to go if their artwork is selected as a winner. We get pretty bummed out we contact a winning artist only to find out he or she does not have a high-res version of their artwork ready for print.
Many artists work exclusively in Illustrator or other vector based program which allows for the greatest flexibility when it comes to sizing and placement of the artwork without losing quality of the design.
If you are designing exclusively in a pixel based program like Photoshop then you really need to ensure you are designing your artwork at the correct resolution. For example, if you were to design a center chest graphic and the design was 12 inches wide by 14 inches tall then your Photoshop file should be set to 300 dpi (300 dpi is the minimum resolution we will accept for final artwork) or 3,600 pixels wide and 4,200 pixels tall.
Double check how your artwork will be represented on various t-shirt sizes (view the size chart of the tees you are designing for). The canvas size varies greatly between a small girl's shirt and a XXL men's shirt. Occasionally we will create a separate set of screens for the girl's shirts to shrink the artwork to accommodate the smaller t-shirt size. Producing your artwork for the largest t-size allows us to easily size the design down to create a second set of screens for the girls version. Sizing up low res artwork creates a big hot pixilated mess.
2. Push your design with the reasonable use of mixed media.
There is a huge trend right now in graphic tees to include various mixed media elements to enhance the underlying illustration. Mixed media is a broad term to include the various bonus techniques currently offered by the more advanced t-shirt printing companies. Some examples include burnout, discharge, embroidery, appliqué, metallic and foil inks.
One caveat, using mixed media in addition to your illustration is a bit like learning how to make drop shadows with Photoshop – meaning just because you CAN use mixed media does not mean you necessarily SHOULD.
Mixed media should enhance the artwork and drive home the theme and feeling of the design. One effective way of calling out mixed media is representing the shapes, lines and placement in a separate layer when working with Illustrator or Photoshop. Use one layer for each type of mixed media, labeling your layers by the mixed media type.
For example your design could call for an appliqué a of a silk screened heart on top of a silk screened t-shirt attached with thick embroidery. The embroidery stitching can be displayed to represent brush like strokes and texture into your designs. So, say you have a cool illustration of Tom Selleck on a tee, you could use embroidery for his hairy chest, giving a nice tactile feel.
3. Know and call out your colors (Pantone please!)
Bottom line, if an artist has not called out their specific pantone colors then we are left to match against the artwork we see on our computer screens. For the most part we are pretty good at getting colors correct when we have to interpret the colors for the artist (well we should say our color separator, Dan, is excellent at identifying color).
Not everyone has access to a pantone book, we get it, but do your best to identify your colors so there is no misunderstanding. Sometimes we have to make a judgment call based on the design submission and what we think the artist would have wanted. If artists can be very specific in their desired colors then our job of producing their vision is a bit easier.
4. Have your own style
Artistic expression is awesome. We read quite a bit in the blogs and forums about where a design "fits" in regards to finding a home for the design. For DBH we are really excited when we see a fresh voice and style and an artist being true to themselves and not catering to what they think will get the votes. Our suggestion is to use the DBH contest as a forum of expression and to explore yourself as an artist and create meaningful artwork for yourself – we find these pieces resonate more with the DBH community rather than something stereotypical of the latest winning designs. And of course, do not under any circumstances copy someone else's design (its okay to be inspired by someone, but make it your own).
5. Be Awe-and-then-Some
This last point isn't regarding art prep per se, but a reminder to spend the time necessary to make your piece as awesome as possible to speak volumes at first impression. T-shirt designs are judged in a split second when they are first seen and for most people there is a bit of a love it or over it mentality when it comes to t-shirt design.
We have seen many great concepts which fall short with the execution of the artwork. Get feedback on your designs in the various online forums and subject yourself to the critiquing process. You and your artwork will only get better.