Seasonal Sales Techniques for Small Business Owners
By the time the holiday season arrives, most business owners aren't prepared. There are so many aspects to running a business and staying afloat that it's difficult to find time to prepare for any one season.
The average person spends around $900 on Christmas gifts each year. Holiday sales are predicted to increase to as much as $729.89 billion in the United States. If you don't find the time to focus on seasonal sales, you can be sure your competitors will, and they'll snatch some of that potential holiday profit away from you.
No matter what type of business you own, there are some seasonal sales techniques you can use that will draw in the holiday shopping crowd. Here are six key ways to incorporate seasonal sales into your business just in time for the holidays.
1. Tap Into the Spirit of the Season
The last two months of the fiscal year are known as the "giving season" because people give about 24 percent of their annual giving in November and December. Part of the reason is a look forward to tax season and the ability to deduct donations to 401c and 501c classified organizations. However, another reason people give so much more during the last couple months of the year is that they're in the holiday giving spirit.
You can tap into the spirit of the season by calling on the emotions of your customers and figuring out how to give back as a business.
WestJet taps into the holiday giving season by offering a screen that features a Santa. As people step in front of the screen, they receive various prizes, some big and some small. The video on YouTube shows the reaction of the recipients and taps into that warm feeling that people associate with the holidays.
2. Remember Your Current Customers
It's easy to get caught up in the drive to gain more customers, but your current customers are of a higher value than a new lead. The chance that a current customer will buy from you is 60 to 70 percent, while the change that a new lead will buy is only five to 20 percent. Current customers are also more likely to try new offerings and spend more on each purchase.
As you can see, your current customers are quite valuable and should be a big part of any holiday sales planning. Spend time looking at what your current customers typically order, and figure out what new products might most interest them during the holidays. Items that complement what they already own but give that item a seasonal twist are popular. However, you should also offer exciting new products to current customers and give them special offers no one else receives.
3. Choose Your Season
Even though we talk about the winter holidays a lot in this article because of the sheer amount of business done during that time of year, Christmas isn't the only time when you can incorporate seasonal sales. If you run a pumpkin patch, fall is your hot season, and you should put most of your focus there. If you run a romantic Italian restaurant, your season might be Valentine's Day.
Choose the season that works best for your business, and focus on that for now. You can always add other seasonal sales throughout the year.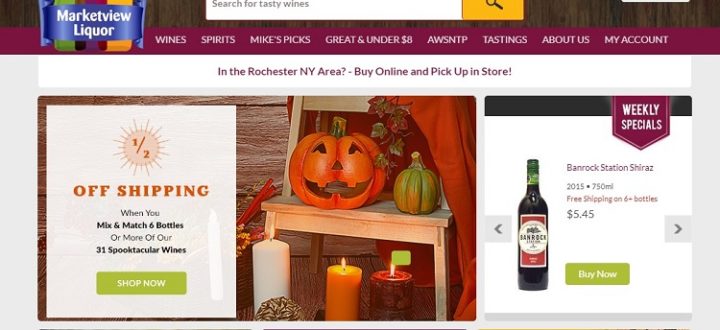 Marketview Liquor does a nice job of featuring special items for each holiday season. Take a look at their fall selection, featuring images of pumpkins and deep fall colors. They also offer a 1/2 off shipping discount if you order a certain amount of product. Finally, they offer a weekly special, sometimes tied to the season. If you're looking for a gift for any occasion, you'll find that they offer a special "gift set" section on their website.
4. Plan Your Social Media Marketing
To tap into the extra business sure to come your way during the holidays, plan out your social media marketing campaigns in advance. A multi-channel approach often works best to drive traffic to your special sales, so think through where your target audience spends their time and how you can best grab their attention on those social media platforms.
A holiday social media calendar is a great idea. You can also schedule out posts and offers in advance using a program such as Missingltr (free) or Buffer.
5. Turn a Negative Into a Positive
At some point in your business career, you'll make a mistake or receive criticism. One of the best things to do is to tie it into your overall seasonal efforts and embrace the error. You can, of course, fix the error, but also own up to it. If the problem was something serious, then a sincere apology might work best. But if the criticism is something lighter, you can turn it into a joke.
Reese's received quite a bit of criticism about their tree-shaped Christmas candy. People began posting on social media that the trees look more like human excrement than Christmas trees. Reese's embraced the criticism and started an #AllTreesAreBeautiful campaign. The screenshot above is an example of a candy tree seeing itself as the perfectly shaped Christmas tree. They released a series of #AllTreesAreBeautiful ads on Twitter.
6. Handling More Orders
Figure out now how to manage the extra workflow more orders bring to your business. It won't do you any good to have an absolutely brilliant marketing campaign that brings in thousands more in sales if you can't fulfill those orders and wind up with angry customers. When people order during the holidays, they expect those items to arrive quickly. Some might be presents they've purchased and need for a holiday gathering.
Hire on more staff, make sure you have enough inventory and streamline your shipping processes well before the holidays hit.
The Best Season Ever
Planning ahead allows you to take advantage of seasonal specials. Push your new products, clear out old inventory by offering deep discounts and show new customers that you have the best customer service on the planet. With a little prep work, the holidays can be a time when your business grows instead of fails.
Right now, you are one click away from making a profitable sale.
A call to action is, perhaps, one of the most important areas of your website. It doesn't matter if you've poured blood, sweat and tears into your website content, if a user reaches your call to action but doesn't feel compelled to click, it will have all been for nothing.
Writing a call to action that connects with an everyday user's digital impulse is no easy feat, but there is a foundation of considerations to remember to give you the optimal chance of doing so.
Today, we're going to explore everything you need to know about writing these effective calls to action, allowing you to maximise your sales and conversions rates.
Note the Benefit
The first and the most important, element you need to consider in your call to action is the benefit that the user is going to get from clicking on your CTA. For example, when signing up for Netflix, the red CTA simply reads;
"JOIN FREE FOR A MONTH"
This is a powerful call to action because the user knows exactly what they're getting and why they should be clicking it, ensuring high conversion rates.
Start with a Power Verb
The very first word in your call to action needs to be powerful and directive for the maximum effect. In the Netflix example, the word is 'join', suggesting that you're becoming part of a community of watchers.
Other words could be anything you choose, but for some ideas, you could use words like;
Enhance (your marketing plan)

Meet (the very best)

Sign-up (today)

Be (the best)

Start (your journey)
Keep Things Short & Sweet
Another important factor to consider is the length of your call to action. Of course, if you've got a lot of information to say, by all means, say it, but a call to action is most effective when it's short and powerful.
"Keeping things short and sweet maximizes the impact it has on the reader (especially since your call to action will stand out from the rest of the page) and the content is, therefore, easily digestible," shares Jennifer Goodson, a content writer for Paper Fellows.
Writing the Perfects Calls to Action
Since many calls to action will only include a brief amount of text, a couple of sentences at most, the chance that a mistake or error will stand out is high, damaging the credibility of your website and business. Thankfully, there are many online tools you can use to ensure quality;
Be Direct
When a reader reads your CTA, they should know exactly what they're doing by clicking on the button. There shouldn't be any questions or doubt in their minds. In some cases, if your website has a lot of content, the user may not be sure what the button does, therefore potentially losing you a sale.
Instead, the reader should know exactly what the next step of their journey is and what clicking your call to action will achieve.
Implement Urgency
Another effective CTA tactic is invoking a sense of urgency in the reader, making them want to click now, rather than thinking about it and coming back at a later date.
For example, if you run an online clothing store and you're running a sale, asking the user to 'Click here before the sale ends' is a great way to tempt the reader into taking action now.
Yeah yeah yeah, you've heard the old cliche a million times – "ABC – ALWAYS BE CLOSING!" If only it were that simple. True, when selling your design services, you want to maintain a clear objective, and follow every deal to its proper conclusion, but not at the expense of honest-to-goodness interpersonal relationships. Take time to stop and smell the roses, together. But always be conscious of other people's time. And when it's all said and done, heck, you might even want to send your clients a dozen roses.
On that note, maybe the old adage should be updated to better suit the times: "ABC – Always Be Courting." Hmm. Now there's a novel idea. Court your clients. Show them some love. Hear what they have to say. Get to know their goals, aspirations, and concerns. Let them feel like you're taking care of them, and get them to home plate, safe and sound. We know, we know, it sounds a bit kinky, and we're certainly mixing our metaphors here a bit. But, bottom line is, you're not going to succeed at either of these approaches unless you train yourself to be a closing pitcher. And your objective as a closing pitcher is not to strike 'em out, but to ensure that all parties involved are swinging for the fences, and heading for home! OK. Now we're double [maybe even triple] mixing our metaphors here. Just bare with us.
Here are 3 useful training tips for you on how to be a closing pitcher in design sales, courtesy of Go Media, your Cleveland Design Service experts.
1. The Wind Up – Have a clear objective going into any negotiation. Keep the tone of the meetings brisk and the preliminaries brief, but don't rush it. Keep your story fresh, and avoid using the same anecdotes every time. Don't bring hooch to a baby shower as it were, or caviar to a Super Bowl party. Adjust your pitch to suit the situation. Every client is a little different. This doesn't even require that you memorize your own schtick. On the contrary. You don't want to be too scripted. But you certainly don't want to sound one dimensional either. Clients can pick up on tired, worn out yarns. It's more about paying attention to where the conversation is going, following your own lead, looking for signs & shifts in the conversation and making it work. Always leave a little room to shoot (or

Pitch

) from the hip.
2. The Pitch – OK. Now everybody's settled in and it's time to get down to brass tacks. Wind it up and let 'er rip, slingshot! Have your value proposition buttoned down, and simply articulate how you intend to deliver. Introduce a level of collaboration to the proceedings too, but not to the detriment of closing the deal. It's important to give your clients the impression that you're in the driver's seat, and they can just enjoy the ride if they so choose. Somebody has to drive. Might as well be you.
3. The Wrap Up – Okay. Party's over, and all signs point to a decision. This is not a pressure tactic. This is reality. Time is tight, at a premium, and very precious in any negotiation. So get to the point. If the meeting ends with an "

I'll get back to you

", there's a 50/50 chance you're sunk. The narrative should always be pointing toward the finish line, home plate. Be the narrator. Take the lead. Any good closing pitcher worth his or her salt intuitively understands this. Avoid loose ends during the wrap-up, and minimize the number of unanswered questions before everyone hits the showers. Don't let the deal hang out there like an unsolved riddle, and don't encourage your clients to take the time to think it over. One common way closing pitchers succumb to this pitfall is by giving their clients too much wiggle room and too much homework at the end of a meeting. This is just an invitation to stall.
People want to feel like you're taking care of them. They want to hire you to handle the heavy lifting. If you depend on your clients for too much additional information, you're just encouraging them to drag their heels. This is not to suggest that you should be pushy, no. Simply keep your eyes on the ball, steer things home as much as you possibly can, and remain conscious of other people's time.
Give your clients the tools they need to seize the day, swing for the fences, and make a commitment. Deliver the right pitch, custom made for their business, for everyone's sake. Good Luck!
The Eccentric's Guide to Cold Calling in 5 Simple Steps….
Last month we discussed the oft forgotten virtues of peddling your wares door to door, a daunting enough task to be sure. In this installment we'll explore the redheaded stepchild of marketing, the black sheep of self promotion, the dreaded cold [phone] call. They don't call it the COLD call for nothing either. It's true. Everybody dreads it. You do. They do. I do (And I love to "BS" with people).
There's something about the process that feels unnatural for both persons on either end of the line. It's cold, indeed. Cold enough to give both the caller and the person being called the shivers. It's the Mt. Everest of sales tactics. You could be the most outgoing, confident person in the world, but picking up that phone and finding the strength to dial that number takes some doing. Here at Go Media, Cleveland's premier Design firm, we believe in you. Your will is strong, and you've already got the know-how. You just need some motivation. So here we go…follow our lead!
Today we're going to add warmth and personality to the cold call process in 5 simple steps. We'll debunk some of the mysteries behind it, get the skunk on the table, look it in the face, and overcome our fears together to help you get your foot in the door and grow your business.
Fear is the optimum word here, people. More specifically, fear of rejection. It's at the core of our collective dislike over cold calling. That, and it just seems unnatural. No one likes to have their day interrupted with a phone call from someone they hardly know. Being the person who has to make that call can be intimidating. If you're like me and you hate being solicited, then you're going to hate being the solicitor. You're bound to feel some bit of self loathing, maybe even self hatred. To this I say, resist the temptation. Keep your chin up. You've got something valuable to share. And, besides, it has to be done. You can hide behind a smokescreen of emails forever. But pretty soon you'll find that your business is suffering. There's always room for some good old fashioned one-on-one conversation with people to perk things up a bit. We're only human after all. It's okay to feel some trepidation with the process. But it's that personal touch (the very humanity of it all, if you will) that makes it such a reliable form of communication.
Step 1: It's all about overcoming objections. Cold calling is a contact sport. You're going to run into a lot of resistance. Just remember that you're not a shyster, and you've got something important to offer.
Q: How does one overcome objections?
A: With confidence.
Q: How does one gain confidence?
A: Well, you either got it, or you don't.
But if you've got it, and it's hiding under a layer of uncertainty, then do your homework. Learn as much about the company you are attempting to reach before you make that call. Seek to understand what it is that the company does. Get to know them inside and out. Identify possible needs that they may have, and fill in the gaps with the value that you bring to the table. This will help build confidence. And nothing thwarts resistance more than exhibiting confidence.
Step 2: Develop a personal approach. Conversation is an artform. You can talk AT people, past people, or wait until the other person is done talking, so that you can start talking too. None of this makes for good conversation. Be prepared to let people speak. Learn to savour the silences and pauses in a conversation. They're gifts. In a world full of noise and distraction, it's nice to let things fall naturally. Resist the temptation to fill in the gaps, and don't worry if the person on the other line is about to interrupt you or dump you down the booby hatch. Throw caution to the wind. You're not a snake oil salesman. You've done your homework. You understand their business, and you've identified a need. Share it, naturally. And, by all means, let the other person have the last word.
[Note: Here's an extra bit of oddball advice for further instruction…Check out some old Youtube videos of the great talk show hosts, like Johnny Carson, Dick Cavett, or Tom Snyder. This may sound highly unorthodox, and it may even strike you as being a bit silly. But, fact is, these were three of the world's' greatest conversationalists, able to naturally shift gears and effortlessly follow the rhythm of any conversation with just about anyone. And how did they achieve this? By being genuinely curious about other people. So open your mind. Get over yourself. And get ready to do more than just talk. Get ready to listen, learn, and share. Before you know it, you too have become a brilliant conversationalist.]
Step 3: The yogic approach. No kidding. One of the biggest hurdles to the cold call is physical tension and nervousness. Nothing calms the nerves more than simple breathing. And nothing jumpstarts breathing more than a little physical activity. Try doing some stretches before you call, some forward bends. Get the blood flowing, and let it rush to your head. If if helps, and you have the mobility, get up from your chair, and walk while you talk. It's more natural than sitting at a desk with a phone glued to your ear.
Step 4: Get passed the gatekeepers. You will encounter them over the phone. Some of them are downright suspicious of everybody. Most of them, however, are ordinary people just doing their job. Don't be discouraged. And, for goodness sake, don't be rude. Talk to them the way you yourself would like to be talked to. Show them the same courtesy you would to the receptionist at your dentist's office. Chances are they'll warm up to you.
Come clean with who you are and why you're calling. You're seeking a moment of someone else's time. Be up front about it. It's nothing to be ashamed of. The gatekeepers are trained to sniff out the sneaky ones. Don't be sneaky. And most importantly, always remember, before they connect you, to ask for the direct extension of the person you are trying to reach. That way, next time you call in, you can bypass the gatekeeper entirely. Unless of course you hit off. If so, more power to you.
Step 5: So you've had a nice brief chat with the gatekeeper/receptionist, and it has been determined that you do not pose any imminent threat of wasting anyone's time. Congratulations! The finer attributes of your personality have really shown through! "I'll connect you now," says the receptionist. And just like that, you're in.
That went well. Before you know it, you're on the air. And it's not a voicemail, but an actual person you're speaking with. Remember to pace yourself. Your cold call is getting warmer. Speak in a manner that reassures the person on the other end of the line that you're not a kook. Tell them upfront, right out of the gate, who you are, why you're calling, and ask them if now is a good time to talk. Regardless of their response, this is your cue to provide a little bit more detail behind who you are and the purpose of your call. The person on the other end of the line is listening. You've got their attention. Deliver a short pitch, ask a question or two about their business, and settle in for the conversation.
At this point the conversation could go just about anywhere. If they insist on speaking with you at another time, accept it. Be prepared to offer a specific alternate date & time to follow up with them. In the meantime, offer to send them more information on your business. This will illuminate your next conversation.
So there you have it. You've cleared the biggest hurdle in the process – finding the motivation to pick up the phone, get passed the gatekeeper, make that personal connection, and establish familiarity with your clients. The rest is up to you. Good luck!
How to Run A Successful Design Business:
a Quick Guide by Your Friends at Go Media
Welcome to the Go Media's Zine!
Are you a passionate creative, student, designer, entrepreneur?
You're in the right place.
Inside you'll find the tools you'll need to successfully do what you love. We'll share real-world practical advice, solid business techniques, step-by-step tutorials, as well as educational podcasts and webinars to take you to the next level courtesy of the best web design company in Cleveland, Go Media.
We give all of our secrets away and cultivate an open environment for the sharing of insights and inspiration.
Join us.
When you're ready, we would also love for you to be a part of our community. Please comment on posts, become an active member of our social media community and/or email to find out ways you can contribute your own designs or tutorials to the GoMediaZine.
Quick Guides
With hundreds of posts in our archives sometimes it's hard to know where to begin. Our Start Here page is a great place to get started. This page holds 7 quick guides to becoming the creative you've always dreamed you'd be. You've landed on one of these lists so let's get started, shall we? Read on:
Tips to Launch and Run a Thriving Design Business
1. How to Launch your Freelance Business: 9 Simple Tips
2. Moving beyond Freelancing: 4 Insights to Growing your Design Firm
3. A Designer's Guide to Pricing
4. How to Charge For Your Graphic Design Work (& Get What You Deserve)
5. 12 Tips for Flawless Service & Happy Clients
6. Beating Busters: How to Identify and Avoid Bad Clients
7. Accountants, lawyers, and doctors, oh my! A designer's guide to business.
8. Everything You Need to Know About Dealing with Difficult Clients
9. Thoughts on Design Integrity. Getting what you want from your client
10. Secret to Success: Track Your Metrics!
11. On Developing a Dedicated Sales Team
12. The Number One Myth of Hiring (& How You Can Overcome It)
13. 10 Mistakes Freelancers Should Avoid Today
14. How to Make (and Save) Money as a Graphic Designer
15. How to Build a Stand-Out Brand: Whys and Ways to Stand Out
16. How to Land and Maintain Big Clients: 11 Absolutely Essential Tips
17. 6 Questions to Consider When Rebranding Your Company
18. Networking Tips: Secrets to Networking Success
19. F#@% Your Function, Find Your Fire
20. Want to Get Comfortable Charging What You're Worth? Start Shifting YOur Mindset about Pricing Structures. Here's How:
21. The Biggest Surprise When Starting My Design Business
22. Invoicing Clients for Graphic Design Work: How-To
23. Answers to Your Top Questions about Pricing Your Design Work
Building a Sales Team You Can Trust:
One of the best part of our jobs here at Go Media is connecting with fellow creatives.  Recently, Jeff Gapinski, Co-Founder and Creative Director at Huemor Design in Farmingdale, New York, reached out us. Jeff had some great feedback about Drawn to Business, as well as some questions about developing a killer sales team.
We thought we'd share the exchange with all of you. Enjoy and please feel free to continue the conversation with us in the comments below!
Lead Your Sales Team to Success
Jeff Gapinski:
First and foremost, I would like to thank you for the time and effort you took to put together the book "Drawn to Business".  I honestly wish I would have had the book when I started out, it would have made my journey to this point a bit easier, but none-the-less there was still insight to be gained from the read, even though we're slightly beyond start-up stage.
I often found myself going YES YES THAT'S EXACTLY HOW I FEEL throughout the book, which was extremely reassuring because:
1.  It made me feel like I'm not crazy
2.  I'm not alone
3.  I have to be doing something right if I'm following the same path
That being said, I do have a question that perhaps you could shed some further light on. Towards the end of the book you discuss always having an active sales team, and I have to say, in terms of my business, it's definitely a weakness of mine.  We've been lucky enough to always be busy from the start, but it's a huge fear of mine that the work will run out, and when it does, we won't be prepared.  My question specifically is, who did you seek for your sales roles?  Did you find individuals with a background in sales for our industry, or did you find someone with a knack for sales and show them the ropes?  I'm finding it especially difficult to find qualified individuals I feel are worthy of being the "face" of my brand that aren't myself, or my business partner.  Problem is, we both wear a lot of hats, and it's especially difficult to actively pursue new leads on top of our 100 other tasks.
William Beachy:
Hey Jeff! Thanks for the feedback. I'd be happy to shed some light on the latest and greatest insights I have on using and developing a sales team. Let me start by saying I was also terrible at developing and properly using a sales team. It's only been in the last two years that I've gotten it right. 2013 saw a 75% growth in design services – directly attributable to our new sales team and how I used them.
You should be afraid of running out of work! That's healthy. It's easier now, while you are busy, to ramp up your sales efforts than it will be if you run out of work. Being out of work and trying to spur sales is a stressful place. Make this a priority now! Use your strong cashflow to get marketing and people in place to push sales.
Find a good salesperson, not necessarily someone who knows the design industry. At the end of the day, sales is about communication, relationships, being competitive/self-motivated and having a knack for closing. None of these traits are specific to the design industry. Go Media's top sales person didn't have a background in design. We had to teach her. Of course, it's a bonus if you can find someone with that knowledge base, but it's not necessary. I would recommend finding someone with sales experience. Ask to see their track record and talk to their previous managers. And of course, all new employees need to be a cultural fit for your company.
Turn your salesperson into a clone of yourself. I completely hear your concern about your salesperson not being "worthy of being the face of your company." So, here's the solution: MAKE THEM WORTHY! You don't hire a salesperson, give them a little dull sword and throw them into the lion's den! You have to spend a long time training them. By the time they go sell for you on their own, they should have a full suit of armour, battle ax and mace! I think the best way to do this is to have them mirror you. Take them on sales calls with you. CC them on all your client e-mails. Have them on the phone with you. The salesperson needs to learn your "pitch." They need to learn your personality, style, company culture, company story, anecdotal business stories, jokes – everything. Your salesperson is going to become a mini-you, a clone. This doesn't happen overnight, but we're starting from the premise that your sales pitch is working. So, you want to teach them what's working. Did you see the movie The Wolf of Wallstreet? He became successful because he taught other sales people his pitch – he gave them a script!
So, how does this look in the real world for your sales team? The salesperson starts as an assistant to you. They take notes in the sales meetings. They listen and learn. They write the proposals – which you review. Bit by bit you let them do more and more of the sales work. Every step of the way you read what they write and listen to how they talk. You give feedback on what's good and what needs modified. And of course, you teach them about the design industry. Once you're confident in them, you start letting them lead the sales meeting and you simply sit and listen. Eventually they start going out on sales calls without you.
Over time a good salesperson will shed some of your personality and infuse their own. They will learn ways to get sales that you didn't even think of. The education will go back and forth between you and your sales team. But your sales team needs to learn the rules before they can start breaking them. In the past I failed at building a sales team because I "put them on an island" and expected them to just sell without my help. That was completely wrong. Now I hold their hand, put words in their mouth and teach them all I know. The results have been dramatic.
Not chasing down all your leads is leaving money on the table! The owner of a company will ALWAYS be wearing many hats. I also have a hard time chasing down leads. This is exactly why you need a person (or two or three) that are only wearing one hat – the SALES hat. This way, when you are out networking and someone offhand mentions a slight interest in your design services – a lead that you might otherwise let pass you by, now you have someone to pass that lead along to – a hungry salesperson!
Don't forget about developing your existing customers! Chasing down new leads is important, but even more important is developing the customers you already have. If you're too busy to chase new leads (and wearing your many hats), then you're probably not developing your current customers fully. How often do you call to check in? How often do you ask them what upcoming needs they have? How often do you pitch them on new services? Are you being a proactive salesperson or a responsive salesperson? If you only send proposals when your customers ask for them – you're leaving money on the table.  This is where your dedicated sales team shines. This is exactly the kind of work that you don't have time for, but a dedicated sales team does.
More about Jeff: Corporate Portfolio | Behance | Dribbble | Twitter
A big hello to you all! I'm Lauren, Account Services Manager (a.k.a. 'sales girl') here at Go Media. I'm thrilled to be connected with such an amazing community and look forward to sharing my contributions.
Moving from a Customer Service to a Product Oriented Service Firm
Out of a desire for company growth and expansion, Go Media has recently shifted to a product-based system of selling design services. What does switching from being a custom service firm to a product oriented service firm look like?
1.  Narrow your service offerings so you only do a few key things, but do them better than anyone else!
2. Build production processes around those few key offerings so they can be taught easily. The goal is to refine your process to the point that even a mediocre designer will achieve spectacular results when following your process.
3. Build strong marketing around those key items, following steps from the likes of Roxanne Carah Marante. Create sell sheets, e-newsletters campaigns, POS pages and the like that effectively communicate the process, benefits, and value!
4.  Build templatized proposals around those services so you spend less time writing and more time selling. Writing custom proposals for custom services can take a long time, not to mention that they often require the specialized or expertise knowledge of a few select employees.
The Benefits
The designing itself is still custom, but everything around the designing itself is extremely structured! For all of you artists out there who own a business or freelance, there are some HUGE benefits to selling your design service offerings like products.  Benefits include:

Selling a project that has such a clear definition is significantly easier to sell! The sales team can easily walk a client through the branding process. Proposals can get churned out faster and negotiating is objective. Having clearly defined products streamlines our internal processes and ensure that our entire team, from sales to project management to production, is on the same page from start to finish.
Teaching your process and offerings to employees becomes seamless! They learn easier and FASTER. Specific to a sales team, instead of needing the expertise of one or two people in order to write a proposal and land a project, sales people can work more independently while the creative team focuses on production! For the entrepreneurs out there, having a product-based business model means that your business can thrive without you if you have a sales team that knows the process and products like the back of their hand!
Teaching your client about what's being offered is just as paramount and also becomes effortless! Point of sale and marketing pieces can easily be created, outlining all of the features and benefits clearly and concisely. While it's essential that you and your sales team have this knowledge, stand-alone marketing pieces that will effectively delineate and communicate your value to the audience is hugely beneficial!
As mentioned in #1, a well-defined system with outlined deliverables from the onset of the sales process helps to keep customer expectations in line. The client knows what to expect at each stage throughout. Specific to Go Identity mentioned above, the steps, deliverable(s), and amount of revisions are clearly defined from the onset, leaving no gray area, or unrealistic expectations, as to what is being delivered.
The design service industry is easily susceptible to earning little to no profit margins based on amount of hours worked versus the cost of the project. Having a standardized process and selling defined products at strategic price points helps to ensure that projects stay on scope. Selling services like products help to avoid the common 'blackhole' of the sometimes never-ending revision, feedback, revision, feedback cycle.
_________________________________________
Moving from a custom-oriented service firm to a  product-based firm has benefited Go Media in numerous ways. Share your experiences with us below!