Not many Adobe Illustrators are aware of the plug-in functionality of Adobe Illustrator. I don't believe it's promoted very well. There's not a good one-stop shop to find plug-ins in one place, with reviews and user feedback. And it's a shame, because there are many killer plug-ins out there for Illustrator.
Today I want to introduce you to a plugin that in some ways goes beyond my notion of a plug-in, since it adds so many features that you wouldn't ever expect to be able to do within Adobe Illustrator: Phantasm CS.
Developed by Astute Graphics, Phantasm CS can best be summed up by saying it offers Photoshop-esque functionality to Illustrator. Want to apply Levels? Check. Need to access the Curves? Got it. Need to adjust Hue/Saturation? Bingo.
Phantasm CS is available for both Mac and Windows running Adobe Illustrator CS2, CS3, CS4 or CS5, and offers the user an insane array of extremely well-implemented features that you may have since long given up on having within Illustrator. To be honest, I haven't used Phantasm CS very much because my mind says "you can't do that in Illustrator". With Phantasm CS, you can.
The main feature set that is available across all three versions includes the following:
Brightness/Contrast
Curves
Desaturate
Duotone (including monotone, tritone and quadtone)
Halftone (vector)
Hue/Saturation/Lightness
Colorize mode
Invert
Levels
Shift to Color
Swap Channels
Temperature/Tint
Applying any of these is easy enough: select the art you want to tweak, then head to the Effects menu and then to the Phantasm CS sub-menu. From there you select the effect and a dialog box comes up, with the option for basic or advanced settings.
Convert your art to grayscale, whip up a color vector halftone (seriously!), convert your colors to a duotone, adjust levels, curves, brightness/contrast — everything you think you need to do in Photoshop is now at your fingetips in Illustrator and remains editable vector art. It's freaking cool.
And the effects don't stop at vector art, you can also edit and tweak embedded images if you spring for the Studio or Publisher version upgrades.
If you are a seasoned Illustrator user, trust me you will have a tough time getting used to the fact that you can do all of this right within Illustrator. As I mentioned above, your brain will tell you "can't do that" and you will need to re-learn that you now have the capability. That's probably the biggest learning curve for Phantasm CS.
Phantasm CS has a trial version which gives you basic Brightness/Contrast control as either a Filter or Live Effect. This trial version does not expire and any Brightness/Contrast Live Effects saved with your file remain completely editable in both the trial and full version.
Astute Graphics has an extensive features page on their site so you can learn in-depth about everything Phantasm CS has to offer. Pricing starts at just £49.00 (approximately $75/€58) and for what you get, this seems more than reasonable.
I highly recommend you head over to the site, download the trial and give it a whirl. I don't think you'll be disappointed.
Photoshop is the workhorse of the design industry. It's an industry standard. But even Photoshop's biggest fans will admit it can be quite daunting for basic tasks.
So what to do for either users who don't need the full version of Photoshop or have a limited budget? Quality, low-priced pixel-based image editors on the Mac are surprisingly rare.
Enter Acorn
Flying Meat Software has a fantastic alternative: Acorn. Priced at only $49.95 (and read on for details on the free option). It's a suprisingly powerful app with some features Adobe could learn a trick or two from.
The Basics
If you've used Photoshop, or any image editor, you'll get up to speed quickly with Acorn. It's got everything you'd expect, and some things you won't.
I'd have to say Acorn's "signature" feature is it's all-in-one Tools panel. Here you access all the standard pixel editing stuff: Move, Zoom, Crop, Brush/Pencil, Eraser and the like. I wasn't expecting to also have vector shape tools.
The tools panel consolidates not only your tools, but also your Layers. Again, I was surprised to find not only Layer Groups, but also a huge range of blending modes for layers as well.
All the tools for which you'd want tablet support indeed have tablet support, although I'd have to say Photoshop comes out on top here. The anti-aliasing is limited to a checkbox. Opacity levels can be set for drawing/painting tools as well.
I didn't find the pressure sensitivity to be all that great, and I also experienced brushstroke lags at times. I'm working on a dual quad-core MacPro with 14GB of RAM, so I have plenty of power.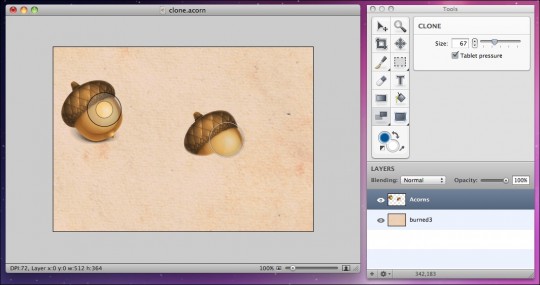 The Awesome
Live Filter Preview Animations: This blew me away—open up the Filters window, and start clicking around. A small preview window in the panel will show you an animated preview as the filter is run through the gamut of it's option. So much easier to see what a potential candidate filter will do to your image. Big thumbs up here.
Screenshots: Acorn has a lot of excellent tools for taking screenshots and having them pop open right into Acorn for editing. And need to grab a quick snap from your webcam? Acorn has you covered. And even more amazing, Acorn can grab a layered screenshot, where every last element on the screen is saved into it's own Layer/Layer Group. Impressive.
The Brush Editor: Acorn has a pretty full-featured Brush editor, with plenty of flexibility as far as what you can tweak. Not as full-featured as Photoshop, but more than enough for the target users of this software.
The Not-So-Great
Drawing tools & Tablet Support: As I mentioned above, I didn't find the drawing tools to be standout. They do the job, but there's no way I could use Acorn as a replacement for Photoshop for my main drawing/sketching software. At least not as-is. Too much lag, and the tablet support is passable. That said, this isn't a power-user app so I can't be too hard on Flying Meat.
Web Export: a big disappointment was the Web Export feature. Acorn seems like a perfect app for prepping a screenshot, however there was no way I could find to resize the image when exporting for the web. Seems you need to resize the document itself before saving for the web, which to me is a big downer.
Photoshop compatibility: I have no idea if it's even possible for Flying Meat to offer the ability of saving layered files in a .psd format, but if so it's not there. It's stated on the Help that Acorn can open some very basic Photoshop files, as long as nothing fancy is going on with the image/layers etc. No layered TIFF files either. Again, I'm not sure this is a major issue for the target customer of the app, but it's worth noting.
Guides: There are none. As of version 2.3.1, just enable the Rulers and then you can drag down guides just as you can in Photoshop.
Keyboard Support: while there are extensive keyboard shortcuts throughout the app for choosing tools and applying commands, one odd omission is the ability to toggle numeric fields up on down using the up/down arrows on the keyboard. You need to either enter the specific number, or drag the slider.
A Mighty Oak
Sure, Acorn has it's limitations if you're making a one-to-one comparison to Photoshop. But considered on it's own, Acorn is a mind-blowingly awesome pixel editor app for $50. If you don't need Photoshop or the full Creative Suite but do have a need for a pixel-based image editor at times, Acorn is an absolute no-brainer.
The number of features that are packed in to this seemingly simple graphics editor is really quite amazing the more you start working with it and digging into everything it offers.
Free?
As I mentioned at the start, Flying Meat is offering up a reduced set of features for free after the 14-day trial period runs out. You can still open images and crop, filter, rotate, add layers, add text, and touch up images. Here's what's disabled in the free version:
Web Export
Brush Designer and Brush tool (the Draw/Pencil tool is still enabled)
Layered Screen Shots
RAW Image Import
Copy Merged
Clone Tool
New Layer Groups
Free and Perspective Transform tools
Custom Plug-ins
Levels
AppleScript support
Bézier Curve tool
Shortcuts for adjusting layer opacity
Start Window always comes up at launch
I'd have to say that's a pretty generous list of features that are still included in the free version. Head on over to Flying Meat and download Acorn. I think you'll be quite impressed.
PhotoKeys for iPhone [iTunes App Store link] is an interesting app. In short, it turns your iPhone into a small touch screen to access the Photoshop tool palette—Move, Marquee, Lasso, Magic Wand and so on—as well as other common functions such as Copy, Paste, Undo, Save, etc. You get the idea.
Let's get the first question out of the way: why? Well, I can see a few situations making this app useful: laptop users and graphics tablet users who don't sit hunched slavishly over their Wacom all day (like I do). Many times I have been using my Wacom with my MacBook, and lurching back over to the keyboard to swap tools with the keyboard can ruin the creative flow. Yeah, I'm a keyboard junkie.
After downloading the app to your iPhone, you'll need to install server software on your Mac or PC (Mac version—using Photoshop CS4—tested for this review). The server software is free, but of course useless unless you've purchased the $4.99 iPhone app as well. Also, you'll need to have your iPhone set up to access the same local wi-fi network as the computer you are running Photoshop on. After installing, Mac users will find a new item in their menubar, and I assume PC users will find a new icon in their taskbar tray. Without configuring anything, and also without relaunching Photoshop, PhotoKeys sprung to action without a hitch.
Tapping tools in PhotoKeys resulted in an instantaneous switch within Photoshop. Impressive.
The tool icons on the 'Tools' screen are reminiscient enough of the Photoshop analogs that even a casual Photoshop user will have no trouble determining which button does what. At first raw glance, the 'Edit' screen was less intuitive as far as which buttons performed which actions. Some were obvious enough, but others not so much. I jumped in to this demo without reading any documentation to see how far I could get without needing to do so. I like to see how intuitive software is without having to read a manual or a getting started guide.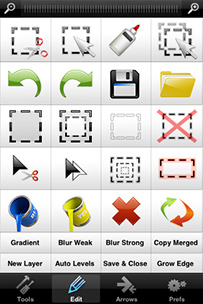 The third screen—'Arrows'—is basically a giant set of arrow key buttons. I found a bit of a lag when tapping the arrows repeatedly. The Arrows screen offers three modes: Nudge, Move and Clone. All worked as expected by their names, albeit the lag mentioned above. The lag seems to be more pronounced by a repeated tapping of the arrow keys as opposed to just holding down the direction you want to move the layer. Also, I couldn't really determine a difference between the speed or distance of the Nudge versus the Move mode—both seemed too slow to me. Also, one needs to already have the Move tool selected, and there is no way to activate the Move tool from the 'Arrows' screen. I think a Move tool button on this screen would be a welcome and handy addition.
One thing that as a Photoshop CS4 user I have come to love is the "Spring-Loaded Keys" feature. If you aren't already aware, Photoshop CS4 allows you to not only switch tools using single-letter keys on the keyboard (M for Move tool, B for the Brush tool and so on), but also to temporarily access these tools by holding down the respective key. Just as the Spacebar for time immemorial has allowed you to access the Hand tool and then bounce right back to the previous tool you were using, now all tools have that feature—just hold down the key, as opposed to tapping it to do so. A tap with still switch to the tool if desired. An extremely handy new feature in Photoshop CS4. Unfortunately, PhotoKeys does not offer any such functionality. I'm not sure if this is even feasible in PhotoKeys, but for me it would be a must-have.
PhotoKeys also seems to only offer the "standard" tool and edit set of Photoshop—in other words, the tools that are most common with most versions of Photoshop. You won't find new CS4 tools, such as my fave—the Rotate View tool.
Omnipresent on all PhotoKeys' screens is the "Zoom Bar" at the top of the iPhone window. this is probably my favorite feature, as it gives one instant gesture-based access to the Zoom tool at any time. It works smoothly and flawlessly. Very cool.
As someone who primarily works in Photoshop on a desktop computer extensively using keyboard shortcuts, I'm not sure PhotoKeys fits into my particular workflow. That said, the execution of this app is impressive and well-done. If anything in this review caught your attention as useful or handy for your workflow, I'd have to say PhotoKeys would be a worthwhile purchase.
We didn't get a chance to beta test Photoshop CS4 here at Go Media, but it looks like a worthy upgrade. Here's a collection of previews & feature lists of the latest & greatest Adobe Photoshop.
If you're in a rush here is the meat of what I gathered from picking through these previews:
Photoshop CS4 will..
use the graphics card more aggressively, allowing for smooth zooming, canvas rotation, and other cool 3D effects with good performance
have the same UI enhancements as the rest of the creative suit: tabs, frames, etc.
include intelligent scaling, like the kind we've ooo'd and ahhh'd about for the past year
be more flexible because of non-destructive editing via new adjustment options
may possibly have multi-touch support
have better masking.
Previews & Feature Lists
Camera Town Preview
This is one of the best previews I could find. Really comprehensive, but long. Looks to be straight from the horse's mouth.

Pop Photo Hands On
A nice down-to-earth look at some helpful features.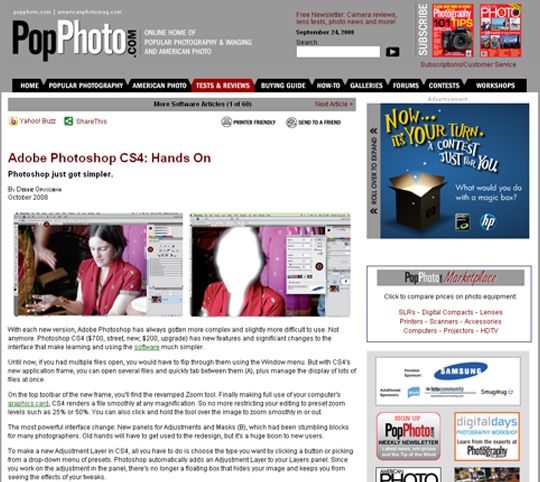 Macworld previews the content-aware scaling
Macworld talks about how cool this feature is. Does anybody remember that this technology was developed a year or more ago, and bought by Adobe?

MacNN Multi Touch
MacNN lets us know that Photoshop will support multi-touch with certain hardware. Cool. Useable?

ZDNet Photoshp CS4 First Look
The ZDNet flavor of Photoshop CS4 preview. Nice, but could use some screenshots.

Videos
Sneak preview from Photoshop World Orlando

New 3D Effects

Content Aware Scaling (yawn)

Smooth zooming & rotating

Thirteen versions and twenty-one years after the very first Illustrator, Adobe is rolling out beta versions of Illustrator CS4. After so many iterations, you might wonder what Adobe could possibly do to make Illustrator CS4 worth the cost of the upgrade. In this preview, I am going to highlight the most noticeable changes with big scoops of screenshots and video to give you a real taste of the new Illustrator. Note: this preview is done on the Windows version of Illustrator CS4 Beta.
Lets start with the obvious:
Really?
Think about it: What if every time you wanted to jam to your Summer 2001 Playlist you had to re-construct it from your mess of mp3s in a folder called "downloads"? Well, you don't, because iTunes doesn't organize your tunes by folder, it organizes them by metadata: artist, album, genre, playlist.
Adobe bridge does the same thing – digital asset management. Basically it's a supercharged file explorer. Adobe bridge is made to handle every digital file that any Adobe software could create. Besides the basic PSD, AI, EPS and INDD, this also includes RAW Camera files for photographers, Premier files for the video guys, and Audition files for recording engineers. But since this is a graphic design blog, we're going to focus on managing vector and raster design files.