We are excited to share the website design we completed for Without Bounds Educational Services, a phenomenal education service that provides young students with the tutoring they need to master concepts and prepare for exams. They work with the most talented and qualified educators to offer tutoring in over 25 subjects. From core classes like Algebra and Grammar to 4 levels of foreign language, Without Bounds is ready to take on the unique needs of every student.
Go Media had the pleasure of helping Without Bounds grow their network by designing a website that showcased all of their offerings on a contemporary responsive platform.
Here are a few previews of the work we did. To view the full project, head to the full project.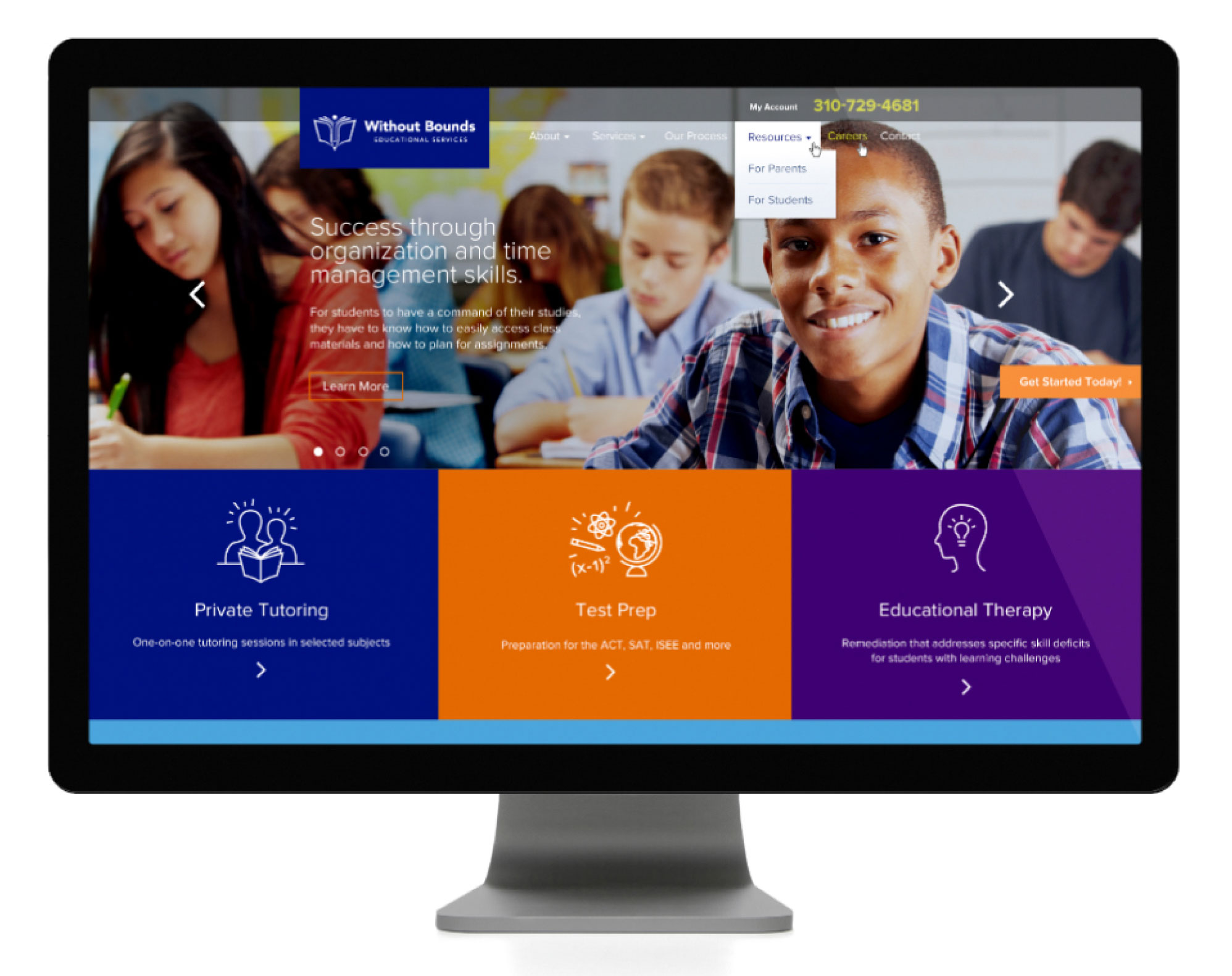 Responsive Website Design Cleveland
Icon Design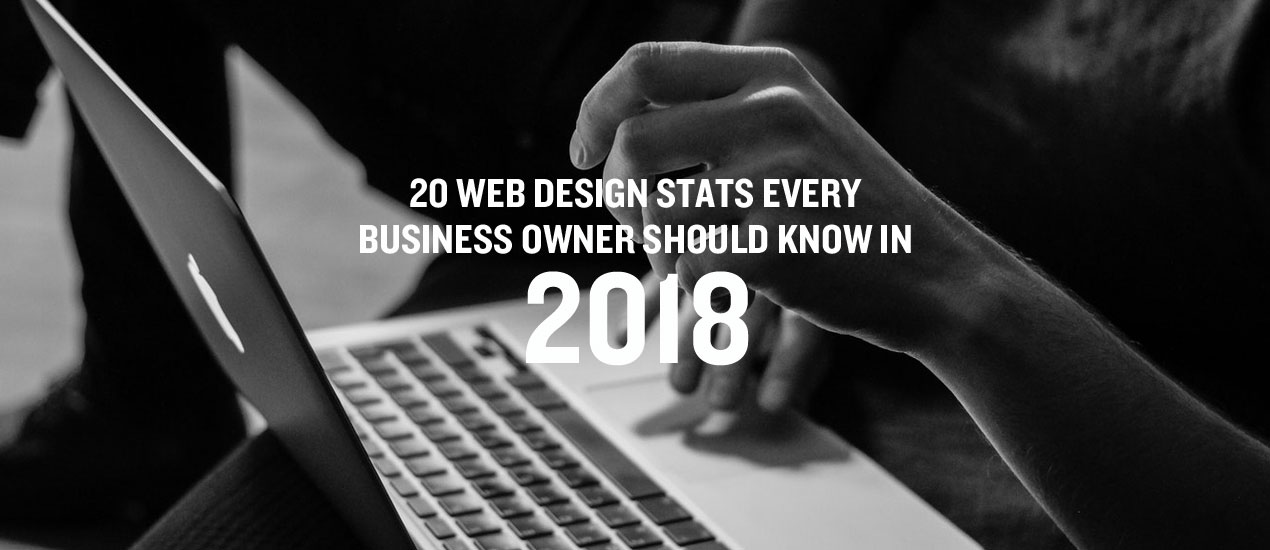 Web Design Stats 2018
A business website is a veritable necessity today, and you may have been thinking about creating a new website for your business this year. These are some of the top web design statistics for 2018 that could help you to create an amazing and truly beneficial website.

Having a Website
1. As many as 29% of small businesses have not yet created a professional website. – Clutch.co
2. Small businesses with less than $1 million in annual revenue are 30% less likely to have a website than businesses with higher annual revenue. – Clutch.co
3. Approximately half of website visitors are interested in the "About Us" page on a business website, and 65% view the business's contact information. – Vendasta

The simple fact that your business has a professional website can be a boost to your business activity. For example, a website legitimizes your business to potential customers who are not familiar with it. It also makes your business visible through SEO and provides your contact information in the same way a phone book did a few decades ago. More than that, a website is always accessible to provide information to potential customers even when your office is closed.

User Experience (UX)
When designing a new business website, understand that the user experience that you create is just as critical as the visual identity that you establish online. Your website should be functional and easy to navigate as well as pleasing to the eye. An innovative website will be veritably useless if your customers do not know how to interact with it.

4. The customer experience that you provide will be the most important branding feature, passing both price and product by 2020. – VisionCritical
5. 95% of users indicated that a positive user experience is the most important factor when they visit a website. – Econsultancy
6. Your website's conversion rate could increase by 200 to 400% with a well-designed interface. – Forrester
7. There is a $100 return for every dollar that your company invests in your website's user experience. – Forrester

If you are not sold on the importance of investing in user experience, be aware that ESPN.com saw an astounding 35% profit increase after updating their homepage design based on user feedback.

Website Speed
Consumers today want instant gratification when using the Internet, and they can become very frustrated with websites that load slowly. If your website loads too slowly, your users may click away before even seeing your full website design.
More than that, Google uses your website's load speed in part to determine its ranking. Specifically, if your server takes more than two seconds to respond, Google will reduce the number of crawlers that visit your website. These are a few website speed statistics to focus on:

8. Slow loading times for images cause 39% of users to stop engagement with a website. If delays are encountered during peak traffic times, 75% of users will click off the page and head to competitors' websites. – Adobe
9. The problem of slow website speeds results in $2.6 billion in annual lost sales. – Econsultancy.
10. 47% of users believe that a website should not take more than two seconds to load. – Akami
11. Your conversion rate can decrease by seven percent if there is even a one-second delay. On the other hand, if you increase load speed from eight seconds to two seconds, your conversation rate could skyrocket by 74%. – Akami

To learn how fast your current website's load time is, use PageSpeed. This is a free analysis and reporting tool offered by Google, and it provides separate reports for your desktop and mobile users.

Website Design
As important as load time and the overall user experience are, the overall aesthetics are also critical. Users may make a decision about whether or not to do business with your company within less than a second of viewing your website. An appealing website design will encourage your visitors to spend more time browsing it. Take note of these website design statistics:

12. The first impression users have of a website are as much as 94% design-related. – Northumbria and Sheffield Universities
13. A single bad experience on a website makes users 88% less likely to visit the website again. – Gomez
14. 75% of user judgment about your business's credibility is based on your website's design. – University of Surrey
15. Approximately 38% of users who believe imagery or layout are not appealing will stop engaging with the website. – Adobe
16. Approximately 55% of users look at lists without bullets, and 70% of viewers look at lists with bullets. – Vendasta

Responsive Design
A responsive website is one that provides the same user experience on any type of device. These are a few statistics you should know regarding responsive design:

17. 90% of consumers use multiple devices to visit the same website. – Google and IPSOS
18. 39% of a user's time is on a desktop platform, and 61% of a user's time is on a mobile platform. – Global Mobile Report
19. As many as 74% of users may return to a website again if it is properly optimized for mobile usage. – Google
20. 61% of users may develop a better opinion of a company if its website delivers a positive mobile experience. – Vendasta

The bottom line is that your business can suffer if your website is not responsive on both mobile and desktop platforms. More than that, your website may have better search engine rankings when it is appropriately optimized. This is also critical for a positive user experience and a faster load time.

At first glance, you may think that designing a great website for your business is about having an e-commerce platform or an informative site about your company's services. While these factors are important, you can see that many elements of website design are critical. These factors can have far-reaching effects on your business's bottom line.
You don't have to be hip, trendy, or in an arrantly dynamic new market to pique our interest here at Go Media. We love the challenge of working with clients who have a long history in business but are in need of what I like to call a Marketing Makeover. This could amount to any number of things: from re-imagining a logo, to a complete brand refresh, to freshening up your communications with copy that sheds new light on your business while adding a singular twist to the ongoing dialogue you enjoy with your customers.
Fact is, there are many seasoned and vibrant company's out there looking for a little TLC, commercially speaking. From re-introducing you to the world with a beautiful, new, fully responsive website, to employing a comprehensive inbound marketing strategy [complete with SEO and social media marketing], the potential for engagement with your audience is staggering nowadays.
And from our perspective here at Go Media, there are few things more rewarding than taking the scattered brand assets and outdated communications of what we like to call a legacy company with a notable history and updating them for today's marketplace. The process is kind of like treating you to a long weekend at the spa while we rummage through the attic of your house for old family photos, heirlooms, and clues to your family history.
As a copywriter, I particularly enjoy the challenge of updating a company's overall communication strategy. The task of casting a company's vision in a new light with a fresh new narrative is one that I relish. And no matter how conventional, or seemingly mundane the subject matter, the prospect of making a company's communication strategy comprehensible and appealing across new and different platforms (website, blog, social media, etc.) is exciting and should be handled with gusto.
Case in point, Allied Tool & Die [a 70+ year old, Cleveland-based manufacturer of metal stampings for Automotive, Medical, electronic, and commercial industries worldwide] approached Go Media in early 2017 requesting a marketing makeover themselves: new Web Design, Inbound Marketing services (SEO), Upgraded Logo Design, and comprehensive Copywriting Services. Fortunately, the good people at Allied gave us the keys to their "attic" and free reign to rummage.
The Go Media team went for a more acute, contemporary approach to an otherwise fixed industry traditionally accustomed to staying in their own lane. And like a duck to water, we dove in and delivered punchier communications for the pages on their website (Capabilities, Services, Equipment, etc.). Then we launched it all on an intelligently designed, fully responsive Go Media Designer Site complete with artful photos and video presented on a cinematic scale. Phew! Now that's one stunning Marketing Makeover!
If you know of a company that you'd like to recommend for a Marketing Makeover, or you suspect the company you work for could benefit from one too, give us a nudge!