Fonts. What designer doesn't have too many? And we are always on the hunt for more.
The internet is a goldmine for fonts, but it's not always easy to find just the font you're looking for. It's always good to have another font tool in your arsenal, and with that in mind we're giving you a heads up on the Adobe Font Finder.
Adobe's Font Finder works in a similar fashion to many online font tools, but in this case it's wrapped into a slick Flash presentation that works fast and looks sharp.
Enter a bit of text for the samples to display in, check a few of the many font options to narrow down your search — and voila!
The fonts I checked out from my initial review of the site all seemed to lead to paid fonts, and clicking on any of the search results will take you to Adobe's online font store.
Of course, you may want/need to purchase on of these fonts, but it's also easy enough to use the tool to get some inspiration, or even find a font you may already have buried in your own type collection already.
I've included some screenshots below to give you an idea of the range of font attributes you have the ability to search by. They are pretty extensive compared to many of the free font sites I've used, but then again they do want you to buy something from them.
Have a great font resource of your own? Please share it with us in the comments section below.
Pantone has recently released myPantone, a new color guide app for the iPhone and iPod Touch.
The $9.99 app allows you to choose from these PANTONE color system libraries:
PANTONE MATCHING SYSTEM (coated, uncoated and matte)
PANTONE Goe (coated and uncoated)
PANTONE Pastels (coated and uncoated)
PANTONE FASHION + HOME (paper and cotton)
Includes sRGB, HTML and L*a*b* for all colors
You can capture and extract colors from photos and snap to the closest PANTONE Color using images loaded on your iPhone or directly from images taken by your iPhone camera. The app will automatically generates harmonious color combinations, and you can use it to cross-reference PANTONE colors to other PANTONE color libraries. Once you have created your color palettes you can then share them via e-mail an HTML image of your palette or e-mail color palettes that can be used in the Adobe Creative Suite (.ase files), QuarkXPress and CorelDraw. Users can also upload to the myPANTONE.com palette sharing web site.
Other features include text and voice annotation of palettes, posting of notifications of new palettes to Twitter and Facebook and GPS tagging of palettes.
The disclaimer on the iTunes App Store states: "PANTONE Colors displayed here may not match PANTONE-identified standards" so this is probably best used for a reference on the go as opposed to a full-fledged swatch solution. One plus side to the iPhone is that Pantone knows the exact screen the colors are displayed on, so they have a better chance of calibrating what's seen on screen to their actual colors.
I haven't yet had a chance to demo the app, but once I do I'll compare to my physical swatch books and see how they hold up. Even if they were close, it would be very handy to not have to lug around swatch books when meeting with clients, even if just to choose general families of color swatches.
If you're ready to plunk down your ten bucks, you can head over and pick up a copy of myPantone at the App Store.
Design Solution: we give an imaginary project at the Go Media designers, and ask them to give us an overview of how they would approach the project. Not so much a tutorial on how to create the artwork, but rather how to tackle all of the logistical details. This installment features Go Media's Adam Wagner.
The Project:
The indie coffee shop liked your WordPress design so much that they have asked you to design their corporate identity. They don't have a huge budget, but are interested in experimenting with different printing techniques and on different papers. They're also going to use this logo on their site.
The Solution:
When designing an identity for a business, I usually do not start on any of the print or web based material until the system is established. However, this situation is somewhat unique in that I would have already designed collateral material, the WordPress design, before I created the identity system.
• Do your research
Under normal circumstances, my first step would be to have a consultation with the client about their business. I would find out as much as I could about how the business functions and what their business does, who their customers are, who are their competitors, what their future plans for the business were, and why their business matters. In general I would just collect as much information as possible about the company. In this instance, a lot of this information would probably have already been collected in preparation for the WordPress site design.
• Concepts
Next, I would brainstorm and try to come up with some interesting concepts for the identity. These could be informed by the way the company operates, what their name is, or their specific industry as well as numerous other aspects of their business. I would narrow the ideas down until I had one to three directions to explore further.
• Sketches
The next step would be to start doing some rough sketches of the various logo concepts. I typically like to set up a page with multiple boxes and in each box I sketch a unique mark based on the concept. The most important thing when sketching logos is to never erase. Even if you make a huge mistake, just move to the next box or section of page and keep sketching. This process helps you get as many ideas out on the page and lets you weed through the bad ones and refine the good ones until you have a few really solid directions. Sometimes I find something interesting in forty sketches and sometimes it takes many more to hit on something interesting.
• Refine your sketches digitally
When I have my sketches narrowed down, I then scan the pages into Illustrator and begin roughing out the shapes. At this point I may have a more developed idea in my head as to how the mark is going to come together, or it may come together naturally as I am working on it. I also start thinking about pairing faces for the mark if I haven't drawn a custom treatment for the logo.
• Present logo to the client
Once I have the mark to a point that I am satisfied with, I would propose the concept to the client. We would begin the revision process, if necessary, and refine the mark until we are both satisfied with the outcome. In this case the end result would probably be a one color logo, because the client has a tight budget and needs something that will work both on the web and in print.
• Expand the identity
With the logo being finished, I would then move on to the creation of all the collateral material. In this case it would probably involve menus, table top cards, cup sleeves, cups, parchment paper, take away bags, and environmental graphics. The most important thing to remember when designing these items is that they are all part of the system and should relate to the feel and tone of the branding and the logo. Since a lot of waste is involved in the daily functioning of a coffee shop, from an environmental standpoint, I would seek out sustainable materials and eco-friendly inks to use in printing. I would go through the entire design and review process with the client until all the materials were completed and approved.
• Double check everything
Before I sent anything to print, I would review the website and make sure that it is totally integrated with the system I created for the rest of the store's branding and graphics. If there were any inconsistencies, I would correct them before there was a costly printing mistake. After everything looked great, I would pass the final proofs by the client for approval. If everything went well, I would send it all to print. Don't forget to ask the printer for proofs, and check them carefully to make sure there are no mistakes or things that need to be changed. When the project is done being printed, make sure to ask for samples to add to your portfolio.
• Send files
After all the printing was complete and the project was fully paid off, I would send the client all the final files for everything in the identity system. It never hurts to send a thank you note as well to let them know that you appreciate the opportunity to work on their project.
For all you brush junkies out there: Brush Pilot is a brand-new piece of Mac OS X software for previewing Adobe Photoshop and Adobe Photoshop Elements Brushes (.abr files), Brush Pilot allows you to instantly preview your brushes without having to load them into Photoshop.
Brush Pilot was created by Jay Hilgert, the designer and blogger behind design tip blog BittBox.com.
Brush Pilot automatically finds every brush file on your hard drive, just launch it and let it do it's thing. Brush Pilot also knows what version(s) of Photoshop you have, and the interface separates your installed brushes from the rest. You can Trash unwanted brushes, reveal the .abr file in Finder, and even install selected files into all versions of Photoshop on your system with a single click, menus, Control/Right + Click, or keyboard shortcuts.
If your Photoshop brush library is out of control, Brush Pilot looks to be worth the $15 price tag. And keep your eyes peeled—we'll be doing a giveaway soon with some free licenses for Brush Pilot for the lucky winners!
We've also got a brief interview with Jay Hilgert, the creator of Brush Pilot:
Tell us a little about yourself and your background
I'm a graphic/web designer, blogger and now, I guess I'm in the software business. I started out at a small design firm in St. Louis and now I blog full time, design fonts, and do freelance web design.
What inspired you to create Brush Pilot?
I got tired of Googling and searching for a tool like Brush Pilot, so I decided to take matters into my own hands. Not only could I make a tool for myself, but I could provide an affordable, and useful tool to the global Photoshop community. In short, I wanted a brush previewer really bad, and I thought there would be plenty of people just like me, who've waited for years for a decent solution to brush management on the Mac.
How long did it take to create Brush Pilot?
A little over a year (not working full time though).
Any interesting things that you learned about Photoshop while developing BP?
Actually, yes. I had no idea that there were 2 locations on your mac where you can store brushes. I've always just installed brushes in the Applications > Photoshop CS3 > Presets > Brushes Folder. Turns out that individual users have their own folder in User > Library > Application Support > Adobe > Adobe Photoshop CS3 > Presets > Brushes, although, not all versions of Photoshop use this location.
Future features/plans for Brush Pilot?
Definitely drag and drop for version 2. I'd also like to have the ability to Shift + Select files for installation/deletion, and a full size PNG export.
We're also thinking about moving the brush names and pixel dimensions from a tooltip to displaying them under each preview.
I'm also open to suggestions.
For every great Mac app, there's the inevitable question: will there be a Windows version?
I haven't even thought about it yet. It's my first app, so I'm taking baby steps.
Here's a quick tip for all you Adobe software users out there: The Adobe Exchange. What is it? The Adobe Exchange (which seems to have recently been renamed to the Adobe Marketplace & Exchange) is a community resource to share and download lots of extras for your Adobe software products: Actions, Brushes, Custom Shapes, Displacement Maps, Filters, Flash Panels, Gradients, Droplets, Patterns, Plug-ins, Scripts, Styles, Templates, Symbols, Patterns and lots more. Just about every piece of software offered by Adobe has it's own section, and of course Photoshop, Illustrator and InDesign are covered.
Interested in starting your own clothing line? Or maybe you just want to get an edge on some of the other designers on the major social t-shirt sites. Either way, there is a world of resources to be discovered that can help you do both.
This post will help you find all the tools and resources you need to start your own clothing line. By doing so, you will be entering the ranks of such super stars as P Diddy, Martha Stewart, and that model who sells clothes at K-Mart.
In the links below you will find resources for t-shirt designers all across the web. While a number of the tools and tutorials can be found right here at Go Media, we have also included a great number of other off site resources. After all, this wouldn't be the ultimate resource for t-shirt designers if we just stuck to this site now would it?
Well, maybe it would, but that's for another day. So, here you go, the ultimate collection of resources for t-shirt designers.
Books
This collection of books and e-books can teach you just about everything you wanted to know about printing shirts, cutting shirts, selling shirts, and more.
Thread's Not Dead – $47 – Amazon
Widely considered the "Bible" of t-shirt design, this is a must have.
Full for Design (Website: $37)
One of the most up to date e-books about starting your own online clothing line.

Generation T: 108 Ways to Transform a T-Shirt (Amazon: $10)
Teaches you a bunch of really cool ways to cut up your shirts to make them even more unique.

300% Cotton: More T-Shirt Graphics (Amazon: $20)
The third in a series of books that showcase the art of t-shirt designs.

Simple Screenprinting: Basic Techniques & Creative Projects (Amazon: $20)
Includes over 20 different screen printing projects on shirts and other surfaces to help you learn how to screen print.

T-Shirt Factory (Amazon: $17)
A showcase of over 300 outstanding t-shirt designs.

Vintage T-Shirts: MORE THAN 500 AUTHENTIC TEES FROM THE '70S AND '80S (Amazon: $17)
A celebration on popular vintage t-shirt designs from the 60's and 70's.

Vintage Rock T-Shirts (Amazon: $20)
Showcases fan made and non-commercial use t-shirt designs used to promote singers and bands.

Print Liberation: The Screen Printing Primer (Amazon: $17)
The complete DIY guide for learning how to make your t-shirts.

Photoshop CS3 for Screen Printers (Amazon: $30)
Teaches you how to use CS3 to create better images for screen printing.

Do It Yourself Screenprinting (Amazon: $8)
Uses drawings and illustrations to teach you step by step how to screenprint.

How to Print T-Shirts for Fun and Profit (Amazon: $40)
The best book on the business of starting your own t-shirt company.

Where to Sell Your Designs
Social t-shirt sites are popping up all over the place these days. This is great for both professionals and wannabe professionals because it offers more outlets for you to sell your designs. But, which of these t-shirt sites are worth getting involved with? Below are some of the more popular t-shirt communities.
Threadless
One of the original t-shirt community websites.

Design By Humans
T-Shirt community site that works on public voting.

Red Bubble
Artistic community where you can upload your design and Red Bubble takes care of the rest.

Cafepress
Upload your design and Cafepress will market, sell, print, and mail your shirts for you.

Big Cartel
This is a cool site that lets you create a really nice online store in just a few minutes. I highly recommend this one.

Spread Shirt
This is another site that is extremely similar to Cafepress.

Odicca
No public voting here, Oddica gives artists 41% of each shirt sold.

Tee Tonic
Allows you to submit your design to be voted on.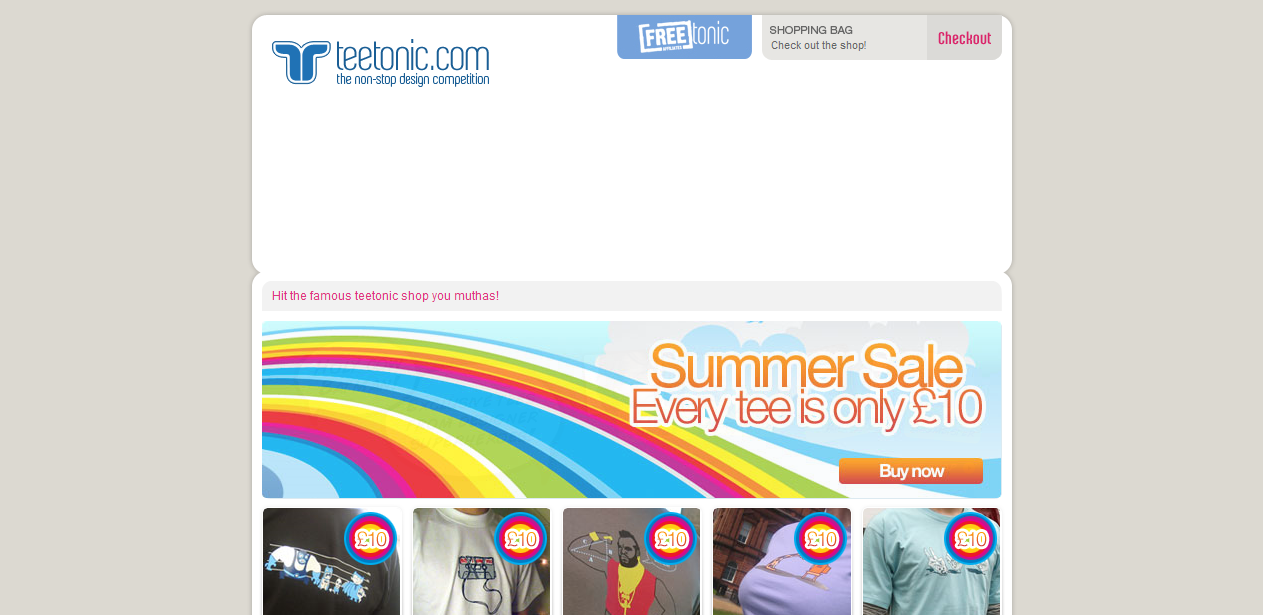 La Fraise
This is kind of like the French version of Threadless.

Enclothe
These guys don't accept unsolicited designs, but they are always on the look out for new artists. Feel free to send them a link to your portfolio.

Blank Clothing, Vectors and Templates
Spend any time looking for these online and you will realize just how hard they are to find. Luckily we've created an awesome blank t-shirt pack. If you have happened to miss this, you should seriously check it out. Aside from the product shout outs, there are also some round ups of free t-shirt vectors and more.
Included in this list are some great site for finding quality vectors, both free and paid, for helping you create your killer design.
Inspiration
Are you having a tough time coming up with an idea for your next t-shirt design? Then check out this collection of some of my favorite t-shirt designs. These designs have come from a variety of designers and websites. Hopefully they will get your creative juices flowing.
Zombi Zombie

The Old Man in the Sea

The Audacity of Joke

Altitude Sickness

Pen Tool Sun

Royal Hush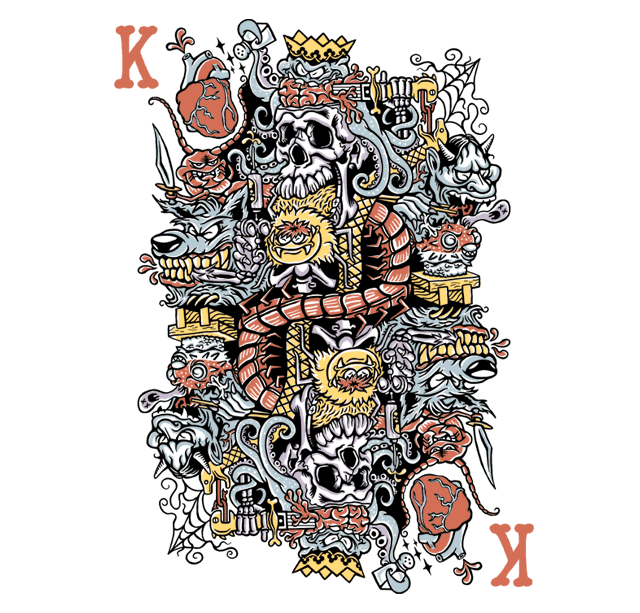 Ninjas vs Luchadores

Flowing Inspiration

Amazon Addiction

Tutorials
Looking to up your t-shirt design skills? Or maybe you are just learning the ways of the business. In this collection of tutorials everyone from the advanced designer to budding newbie should be able to find something interesting.
Add to the List
What do you think? Do you have or know of any other great tools and resources for t-shirt designers? If so, lets us know by leaving a comment below.
Ever since I first heard about Yahoo Pipes more than a year ago, I've been looking for reasons to put it to work for me. But for some reason or another, it always ended up in the "cool but of little use" category. Today I really hunkered down in the Pipe builder and set out to create the ultimate Design Resource RSS feed.
Here's what'll be happening in this post:
1. How the Pipe was built
2. How to customize the Pipe for yourself
3. I don't care – just feed me design candy!
1. How the Pipe was Built
I was searching around for a hairy Illustrator art brush, and came to Deviant Art's Illustrator Brush page. There were some cool brushes (and a lot of crap), but I made a mental note to visit the page more often to build my collection of Illustrator brushes. But really, let's be honest, that was never going to happen. There are just two many squeaky wheels of coolness around the web these days for me to really have the time to check Deviant Art more often. Yahoo Pipes to the rescue!
So after many false starts, and a little help from from a fellow pipe builder, I was able to use the "Feed Auto Discover" module to fetch updates to a bunch of Deviant Art's resource pages as RSS feeds with preview images. By default, Deviant Art's RSS feed is text only, kinda defeating the purpose.
To add to Deviant Art's resources I added another module, "Fetch Feed" and added design resource feeds from the Go Mediazine itself, Brusheezy, Vecteezy, and IHeartVector.
I piped all of these feeds into a "Union" module, then to a "Sort" module that sorted the resources by date published. Output to RSS and voila – a huge RSS feed of graphic design resources. Here's what the final Pipe looked like:
And here's what the output looked like in my trusty Google Reader:
The beauty of this feed is that I can stay up to date on new design resources published on all of these pages at once, and they come to me in one feed. That's also the curse of it – too much to handle (and scrolling past a bunch of crap to get to the good stuff). That's where customization comes in.
2. How to Customize the Pipe for Yourself
Well first you're going to have to have a Yahoo account. If you have a Yahoo mail account or a Flickr account, you've got one already. So let's get started and sign into Pipes:
Now, in the search box go ahead and type "Design Resource". The Design Resource Megafeed should be the first result. Click "View Results".
Now you should see a list of results returned from the Design Resource Megafeed. But you want to customize this, right? Then click on "Edit Source".
Alright, we're almost there. You should now see that mess of boxes and tubes like in the first screen shot in this guide. Here is where you'll be editing the sources of the pipe so that it only outputs stuff you want to see. Don't care about getting latest scoop of Illustrator Actions from Deviant Art? Then click the little 'minus' button to the left of the Illustrator Actions source.

Note: You'll have to select the URL and scroll to the left to see the whole thing and figure out which is which.
Of course you don't have to stop at removing sources. Add in your favorite sources not on this list to make it your own.
If you want to get real fancy you can set up a filter. In the left menu under Sources and and User Inputs, click Operators to unfold the modules. See 'Filter'? That's what we'll use to further limit the list of design resources based on your preferences. Drag it into the editing space.
Personally, I don't want to see any of the anime crap that Deviant Art is famous for (sorry anime fans). So, I set up my filter to block any posts that contain "anime" in the description.
Once I got the filter set up, I grabbed the output tube (Pipe) from the 'Sort' module and dragged it into the input circle of the 'Filter' module. Then, I connected the 'Filter' module to the 'Output' module in the same way.
And there you have it – your own customized design resource feed! This is what my final customized Pipe looks like:
3. I Don't Care – Just Feed me Design Candy!
Okay already! Click for the Design Resource Megafeed
Click the RSS Button shown in the screen shot below to add to your favorite reader (which of course is Google Reader, right?).
Hope you enjoyed this little guide to Yahoo Pipes. If you use this Pipe to make an even sweeter mashup, be sure to link it here in the comments!
Hey folks! This is the Go Media User Link Feed. Everyone is allowed to submit a link and give a short description. It will show up in the sidebar on every page on the GOMEDIAZINE. However, all links submitted must be approved by us first. We want to make sure only quality links make it live.
All links must be design or art related. Such as:
Tutorials
Articles
Resources
Inspiration
Sure, you can post links to your own site or portfolio, but it must be good! We have a high standard for quality on this site, so don't send us junk.
Submit your link via the form below. Give us 24 hours (usually less) to approve it.
Lately I've been reading a lot about lucid dreaming, keeping a dream journal, watching Waking Life, and generally trying everything I can to take control of my dreams. The first thing I'm going to do in a dream – FLY! Us ground dwelling humans seem to be pretty consumed by the idea of taking flight – there's just something immortal about it. So, there's no wonder that wings are a perennial favorite design element.
Good news is that there's lots of resources out there to help you incorporate some wingage into your designs. I've divided the resources up into three categories: Photoshop Brushes, Vector, and Texture / Reference Images. Most are free, but be sure to read each resource's usage blurb before you use them on the next cult hit tee.
Photoshop Brushes
Here's a nice set of Sumi-e style wings from wab-sabi-ways


Falln-Brushes on Deviant Art has a great collection of Brushes, and features Wings in quite a few. Here are few winged highlights. Just click the previews to go to the download page.

Pretty Brush and punksafteypin also have some very nice winged brushes. Click the image to download.
Here's a few more deviant art winged brush sets to feast on if you're still hungry.
Wings Photoshop Brushes by Debi Chiru
Wing Brushes 2
Wing Brushes 3
While Brusheezy is an awesome collection of Photoshop brushes, it could definitely use a few more wings. Here are the only wings on the site,some cool bat wings:

myPhotoshopBrushes.com mixes grunge and wings in a messy set of Splatter Brushes.

Vector Wings
Vector Wings are even harder to come by than Photoshop brushes, and harder to make. They're also a lot more useful! Vector wings have more detail and enjoy all kinds of vectory goodness like subtracting, intersecting, etc. Here are some of the juiciest vector wings we could round up on the web.
Well hey, this is Go Media's blog, so we've got to include our very own vector wings. While not free, we think you'll agree that the quality is way beyond what you'll find out there free of charge. Go Media has two wing packs from Set 1 and Set 2. There's also a really badass wing included in Ornate from Set 7.
Unfortunately you can't really see all the detail in these wings from the previews. Check out the mad detail by trying out our sample pack, which happens to have 4 pretty sweet wings.
Ok, ok, on to the free stuff. Jimiyo posted some nice free vector wings on his blog last month:

Chemist2dio Labs made some simple but very usable wings. There are four different wings, two solid silhouettes, and two with outlines.

I Heart Vector has some cool wings and a few birds (which are close enough) for free.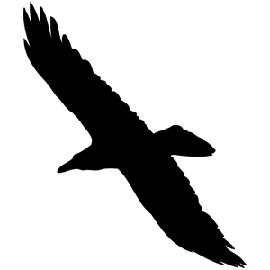 Again, trusty Vecteezy needs more wings! Ben Blogged has the only good wings on Vecteezy with the Wings – Coat of Arms with a ton of downloads.

Textures & Reference Images
Here are some references images that could be used as textures. When you get brave enough to fire up that pen tool or wacom and start making some of your own vector wings, these photos will come in handy! Also, if you want to use these images as low-res brushes you can make your own brushes in Photoshop. Just go to Edit > Define Brush Preset with the image loaded.

Share
Well that rounds out this collection of winged design goodness. Share your best spots for finding wings in the comments. I look forward to revising this list with your suggestions. Take care!