How to Know It Is Time for a New Logo
One question we get all the time here at Go Media is: "How do I know it's time for a new logo?" Today, our President, William Beachy, is addressing this complicated issue.
Here are some points to consider should you be wondering if it's time for a new logo:
What is your current brand equity?
Whether you realize it or not, your customers know you by your current look, so whether you do a brand refresh or redesign, you need to consider what are the implications are / how your customers are going to react to this change. If you have a sterling reputation and everyone loves you, your customers may not react well to any drastic change. If you decide you want to move forward with a new look, you may want to consider that this brand refresh be a small step in an evolution of your overall appearance. This will ensure you don't lose that recognition factor.
Starbucks has done a great job of this – they've been slowly tweaking over a very long period of time – so much so, that the changes are almost difficult to recognize. If you have a bad reputation, the rebrand could be a good thing. For example, airlines that have had major tragedies have completely rebranded to change their look and reputations. Sporting teams with long histories of losing have rebranded themselves, built new stadiums and hoped that that will usher in a decades of winning. Sometimes it works, sometimes it doesn't.
What will the impact be?
Consider that changing your branding may impact a lot of your sales collateral, your website. It's going to take a lot of work (and money) to replace these items. If you're ready and your brand needs this update, however, you do not need to make the investment up-front. For example, you can update your website first, then worry about your brochures later down the line.
What number of modifications are you looking to make?
There are many components that make up a brand – the mark (what people call the logo), the logo type (the name of the company), the color scheme, and all the collateral elements around that. Sometimes, the mark, the logotype and the color scheme look great and it's just the collateral elements that looks dated. When you update the collateral, everything suddenly looks much better. Sometimes, however, everything does need an update. It just depends on the quality of the branding work.
How will your staff react?
Ask yourself how the family, ownership and staff will react to a refresh/re-brand. Many times, there will be intense backlash within the company itself in regards to a re-brand. If the branding was created by the company's grandfather on the back of a napkin, there is often a lot of history and heart there. So if you move forward, you really need to explain to your crew why the re-branding needs to take place and keep them engaged in the process. Other times, a re-brand could bring a big moral boost to the company. Either way, keep your employees engaged and you'll be much better off.
Now that you've considered those points, here are some quick do's and don'ts when considering a new logo.
Do consider a new logo if if no longer reflects your company's persona.
If your business has been in business for a long time, and your type treatment/mark no longer feels modern or beautiful, that is a great opportunity to do a brand refresh.
Do consider a new logo if if the branding is just bad: Ugly, overcomplicated, not easily recognized from a distance, etc.
If the brand clearly needs to be rebuilt, we will do the work. In these cases, we often mine design elements from the company's history. These often help us bring bring their past to the present. In this case, we educate the company about how to introduce the new brand to the company's customers/clients to ensure there is a smooth transition.
Do NOT consider a new logo if your branding is simply boring you.
If you want to do a refresh/rebrand only because you're you're sick of staring at it everyday, resist the urge. Keep in mind that your customers aren't looking at it as often as you are. They might only see it every three months, six months, every year. Brand consistency is very important. So, just being bored with your brand isn't a good reason to change it up.
We hope this information helped you to know when it's time to contact Go Media, the Cleveland logo design firm you know and trust, to help you create the new logo and branding you've been jonesing for.
Watch our Facebook Live on this topic:
Have more questions for our team? Please submit them to us at [email protected] and we'll try to answer them here on our blog or on a Facebook Live.
I am passionate about branding and have learned a lot while helping businesses develop their brands. There is a lot more to a logo than just your company name and there are some important factors to keep in mind when branding, or rebranding, your business:
Trust a professional
Don't go into the logo design process blindly. You should have a clearly defined idea of who your company is, where you're going, the audience you're serving and the vision you're trying to convey before venturing into the logo design process. Once you're ready, it may be tempting to go with a designer who's the least expensive, because identities are pricey, but it's important to hire a professional. We've been trained to do more than push pixels and can help you narrow down ideas, show you new options and help you maintain your brand direction.
There are 7 different types of logo marks to consider.
Discuss with your designer the option that works best for you.
1. Lettermarks (monogram logos)
2. Wordmarks (company name logos)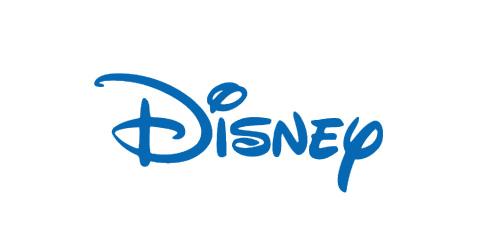 3. Pictorial marks (logo symbols, no words, works best for large companies)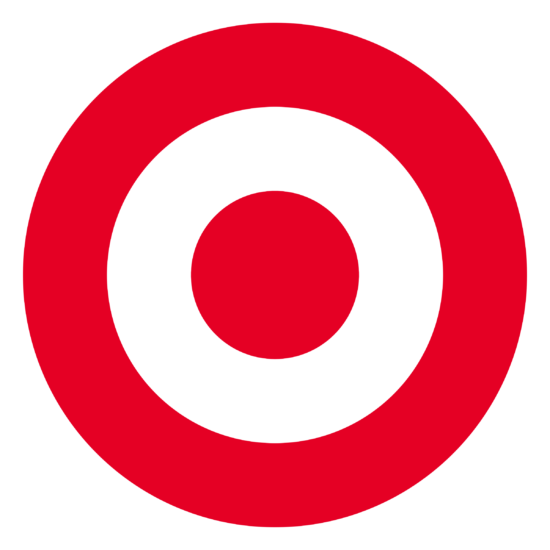 4. Abstract logo marks (a specific non-recognizable abstract design that represents your business)
5. Mascots (think sports teams)
6. The combination mark (logo comprised of a combined wordmark or lettermark and a pictorial mark, abstract mark, or mascot)
7. The emblem (badges, seals, crests etc.)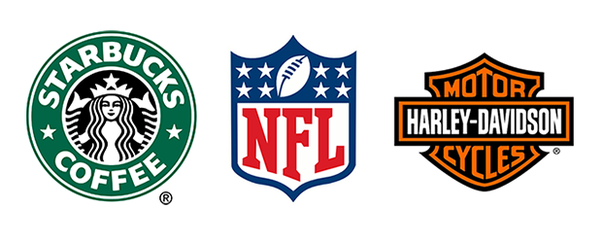 Consider whether or not your idea can be executed.
Your logo might look great on a billboard, but when we shrink it to a postage stamp size, is it still working? Answer some of these questions before choosing your mark:
1. Does it translate from small to large & vice versa?
2. Does it work in black and white? (Your logo MUST be able to translate to greyscale!)
3. Can it work as a PNG? (transparent background)
4. Does it convey my brand's identity?
5. Is it balanced or is it too detailed?
Lets talk details…
It doesn't matter if your logo is unique or intricate if nobody can tell what it is. Have you thought about adding your tagline, address or other information to your logo mark? There are times you may want to have those extras on your mark, but they should not be on your standard, every day logo. You can have these 'companion pieces' created as extras to compliment your logo and use them as needed.
Stop Following the Fads. Be a Trendsetter.
Fad is, in one word, short-lived. Trends have a much longer lifespan than fads. In fact, they can continue to be fashionable for years and even decades. Digging into what is now and fun is fine, but consider how will it impact your business in 1 to 2, even 5 years. What does a watercolor splotch have to do with your business? Why is there an ilustration on your mark that has nothing to do with your business? Is there a reason for the over the top flourishes at the beginning and end of your name? Your logo should mean something to you. Avoid adding things just to add them; know when you know it's time to edit yourself.
Setting trends and setting yourself apart means you don't have to be overly obvious with your mark. If you're a preschool, your logo does not have to look like it was written by a child. It should convey childhood and immediately let you know it is for children. Keep in mind, it is not targeted to children, it's targeted towards their parents. Know your audience!
Avoid simply using your business name.
Think you don't need a logo and can get by with just typesetting your business name? Think again. This gives off an unprofessional air and doesn't translate across all media. Your name will be written in so many different types, that it will not be instantly recognizable like it would be if your logo mark was standard across all materials.
Are you guilty of being a fad follower or are you more of a trendsetter? Help drive your client's specific direction with these helpful logo tips. Have more to add? Let me know!
The recent, radical rebranding of Uber had many wondering if the company had taken wrong turn.
Millions scanned their smartphone screens last month for that familiar black-and-white icon to access the ride-sharing network. But overnight, the mark vanished. What they discovered instead were one of two geometric shapes: Circle for riders and hexagon for drivers.
Black, white and gray tones were scrapped for an array of vibrant colors and a wide range of dynamic patterns, tailored to each of the 65 countries in which Uber operates. For example, in the U.S., the logo is now dark teal. In China, it's red. In Ireland, it's green (of course).
CEO Travis Kalanick told Wired.com the tech firm wanted a more flexible brand experience that could evolve as it attracts new customers and develops new products.
It was a major shift in gears for a company that has built a fervent following in recent years. Many derided the choice. At the same time, Uber had somewhat of a unique challenge in that its brand is both global and local. The ride-sharing market in Shanghai is much different than that in Cleveland, and the brand needed to reflect that.
So, how do you know if your company will benefit from a rebranding or if you should just ride it out with the one you have?
The very first step to answering that question involves meeting with the experienced Cleveland web design team at Go Media. We can help offer direction. The fact that you are launching a new website or an updated product line doesn't necessarily mean you need a total overhaul. Still, it's a good time to hit the brakes and consider whether it makes sense.
Every situation is going to be different, but in general, we recommend a rebranding in cases where:
Your brand fails to reflect your current vision. This is fairly common. What seemed like a good choice for a name 10 years ago is no longer doing your organization justice. Other times, there is a shift in the cultural context of the name or symbols or colors. The bottom line is the brand should be propelling you forward, not dragging you down.
It's tough to differentiate your firm from the competition. If all your branding is too similar to the competition, you may want to consider branching out. After all, the whole idea of branding is to carve out a competitive edge.
You shy away from doling out your business card or website address. If your website is stale and outdated or the brand just looks unoriginal or boring, you should probably consider an update.
The business strategy or model has changed. Evolving technology and previously unforeseen opportunities can alter the way your business operates. You should make sure your brand is aligned with those changes.
You're in the midst of an acquisition or merger. Anytime there is a merger or acquisition, it should be seen as an opportunity to consider a rebranding effort.
Your current brand carries a negative connotation. In this age of digital media, a single social media misstep can result in serious consequences for the brand. In some cases, rebranding is the cleanest remedy.
And of course, don't overlook the possibility that your firm might benefit from a brand refresh versus a total rebranding effort. A brand refresh allows you flexibility to:
Shift the look, but keep the logo.
Update the colors and add messaging.
Expand the design system.
Update, yet still retain visual connection.
If you are considering rebranding, our skilled team of designers will advise you of the best route.
Contact the Cleveland brand experience experts at Go Media by calling 216.939.0000 or contact us online.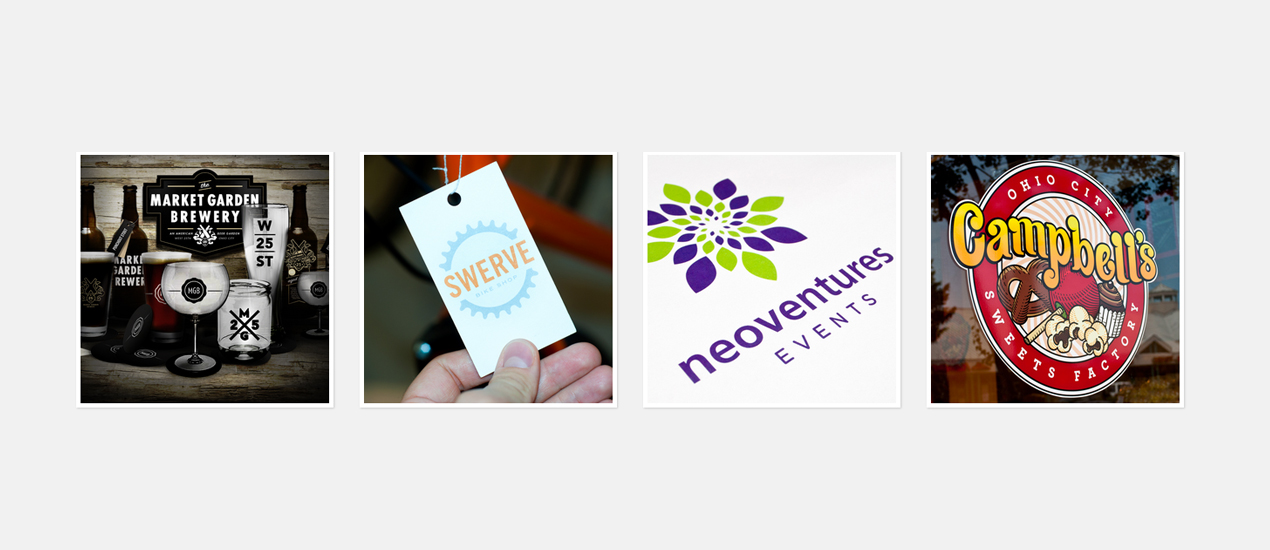 More than just a logo.
When you think of great products or companies, the visual image that forms in your mind is probably that of their mark; McDonald's golden arches, Nike's Swoosh and Coca-Cola's wave. The inherent value of a quality brand is at the core of everything. At Go Media we believe the process of building memorable brands that last is based on more than just a logo. Taking the time to build a solid brand identity, the heart and soul of your company, is incredibly vital to your company's growth and survival.
Notes William Beachy, Go Media President, "Having a strong brand identity allows customers to recognize you. Without recognition, there is no brand loyalty. Imagine every McDonald's had a different name and logo. Would you know McDermont's in Iowa was the same restaurant as McDoogles in Ohio? Of course not. So consistency of brand builds loyalty. Of course, a strong brand can hurt you if your service or product sucks. If you have a lame 'knock-off' product or service, it might be best to blend in – look like the leading competitor. But, if you have an amazing product or service, you want to stand out, be different and have really strong brand consistency."
How do you introduce, then engage and captivate your customer?
We asked some of our colleagues, with very unique and stand-out brands, for their advice on the whys and hows of building a personal brand.
What does branding mean to you?
"I'm a true believer that a brand represents an actual human emotion or quality. Your brand is the persona or character for your company." – Kumar Arora, Founder, Rogue Eyewear
"Branding is not about a great design, amazing packaging or even a great website, branding means value. We often think value is gained by the facade of "branding", such as design, packaging, user experience or a great website. These are elements of a great brand but branding is the values of a company or individual. Where your values are, your brand will also be." – Jordan Schiller, Director of Business Development, Real Thread
"I think of it as a way communicate who you are publicly and what you are trying to do in a way that people will get it and (hopefully) people will respond. Effective branding does it in many ways; by being concise, funny or just feel real. It's kind of a process to get there, so it seems like everyone's branding efforts are in various stages of being full-realized, which I think is cool to see." – Christen Carter, Owner, Busy Beaver Button Co.
Branding is the essence of your company. A customer should be able to look at your branding and totally understand what you have to offer and who you are trying to reach. What makes great branding is saying a lot with very little. It has to be simple, scalable and meaningful. For us branding isn't about quantity of projects, it's about quality. We constantly push ourselves to create new and unique ways of looking at problems to find dynamic solutions." – Katie Major, Co-Owner, Fizz Creative
"Branding is your identity. It's what you're known by, who you are. Everything you do must be done with this in mind. It's like your reputation personally, it's all you have." – Tony Madalone, Owner, Fresh Brewed Tees
Why is it important to build your own, unique brand?
"I struggle with this question a bit. Building a unique brand is important because it shows the world where you've put your value and that means everything." – Jordan Schiller, Real Thread
"In my opinion, because it's important to be honest about who you are and what you are trying to do. Although, there is a little fake it 'til you make it, too. In which case, it sets a tone for what you want to be." – Christen Carter, Busy Beaver Button Co.
"It gives your clients a sense of security in that they can look at what your brand and understand who you are. Creating a unique brand matters so you can differentiate yourself from others. The most important aspect of building a brand is being authentic to who you are. If you aren't cultivating something you love and believe in, it will show to your clients." – Katie Major, Fizz Creative
"Branding for both of our companies has been important to us since day one. Starting from scratch we asked "How do we want to be viewed by customers?" and "What will our look and feel say about our custom products?" Since our business is printing custom stickers at StandOutStickers.com and custom buttons at PureButtons.com, we offer a blank canvas for anyone to put their design on. So what does our branding say to an artist or company with their own image they're putting on our products? Of course we want it to say that we're professionals, that your designs are in good hands, and that we know what we're doing. We also want to let the customers know that we're real people, and your work will be handled with care and not just churned out by thoughtless machines. So our branding had to have professionalism with a human touch.
We stress over the details of making our products better than the rest, better printers, better finishes, quicker turnaround, but that all means nothing unless our branding and presentation convinces customers to make an order. Then we hope our product speaks for itself once the customer gets it in-hand. If we hadn't taken care of our branding from step one, there would be less of those opportunities." – Josh Hippley, StandOut Stickers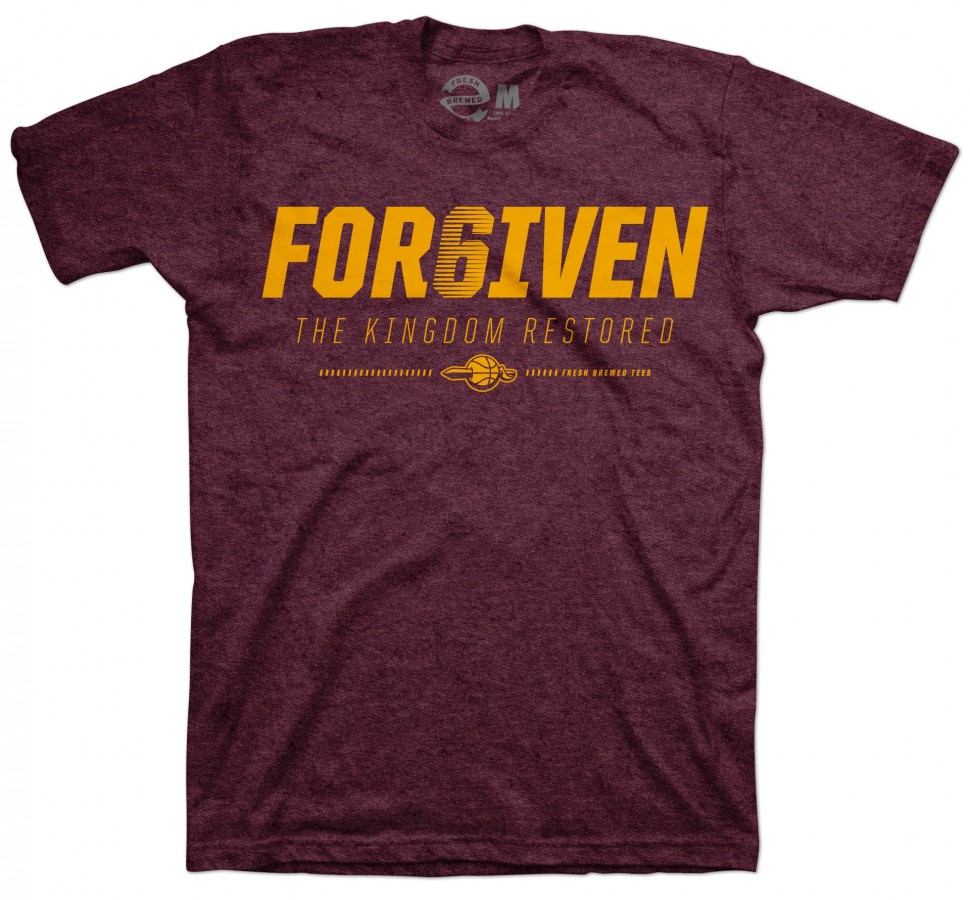 "It's important to build a unique, personal brand because you're competing every second for attention. The average person is bombarded by thousands of ads from hundreds of brands daily. In order to stand out, you must be different. People also are more likely to engage with a company that's more personal. The friendlier the brand, the stronger the brand." – Tony Madalone, Fresh Brewed Tees
How did you build your brand?
"Like the development of a child, you have to give your brand attributes that you want it to grow up with. In the case of my different ventures, each of them have different ideologies, beliefs, thought processes, and so on." – Kumar Arora, Rogue Eyewear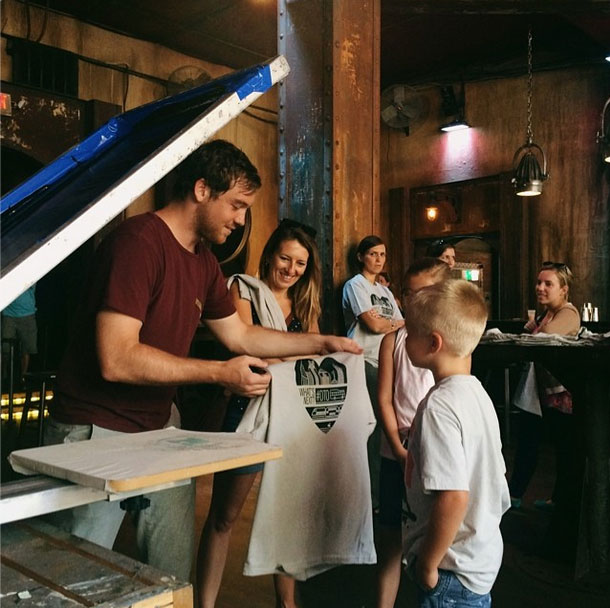 "Honestly, no one person can build a brand. Building a brand has to be more than a mean to acquire a status or success. It requires passion, a passion to build up those around you, improving and empowering their state of life. If you're writing a blog, developing a product, or offering a service it has to be about other people and building them up.  Moreover, it also has to be about the team that your working with more than any one individual. Alone, you are able to go fast. Together, you will be able to build a more sustainable brand that will continue to empower your user's state for years to come." – Jordan Schiller, Real Thread
"It's a very closely held operation, so it's really developing as I develop and as the company/vision develops. It started off, I thought of it as just asking people I liked to help with illustrations and then me just making and  photocopying flyers. But now, I realize now it's kind of everything; how people around the organization (inside and out) are treated, how we communicate in words and images, how we make decisions, what we decide what is important…. it's kind of endless and hard to fake! It really takes regular digging in to think about what I want to do and what issues are coming to us and then putting them out there and responding in ways that feel natural and within our more focused efforts. I mean, we really want people to express and share their ideas through buttons, so we do whatever we can to make this happen in a friendly and supportive way. So, with this in the forefront of our minds, the overwhelming nature of branding being everything is simplified." – Christen Carter, Busy Beaver Button Co.
"Jasen and I built our brand by knowing who we wanted to target and what we wanted to say about ourselves as designers. We also knew the kinds of projects we didn't want and stood firm on that. These days everyone will first check out your website before they decide to call you. It's important that your website shows the kind of work that you want so you can attract those types of clients. Jasen and I knew we wanted to create clean and sophisticated designs that had meaning. Our brand started as a custom diecut letterpress business card. This may be expensive, but it showcases our name in a unique way, and makes a strong impression with clients. I believe this card showed our first clients our attention to detail and quality. Those first projects snowballed into more projects and referrals as we put good work out there. We never take a single project for granted, and make sure that we always are able to give our clients our absolute best.
We have continued to build our brand through online merchandise as well as selling through retail boutiques. We sell Ohio and Michigan themed products like T-shirts and glassware. Many of our items also have our website so clients can see our name and find us in different markets. We have found a way that people will actually pay us to do our marketing. It is great because our merchandise is a great way to show not only our design work, but our attention to detail with our products. We have high standards of quality and only work with printers who uphold those standards.
When considering building your own brand we recommend you start by creating a personal manifesto for yourself. What are the guiding principles for your business and how do you want others to see you. The key again is being authentic to who you are. After that, making sure that you follow through consistently to keep your standards high. Once you have your foundation you can build on it through networking, the projects you choose to accept, and the personal work that you develop. We have found that having a good mix of both personal interest projects and client work really helps to keep your creativity moving as well as help you build a stronger client base by showing your versatility and passion." – Katie Major, Fizz Creative
"While we've established a strong brand, I believe it's still being built. Every day is a step closer. We try to build our brand on experience. That's why we opened a retail t-shirt truck instead of a store front. People don't connect with a product/service as much as they connect with an experience. The more unique experiences we can provide for our customers and fans, the better." – Tony Madalone, Fresh Brewed Tees
"For our custom buttons company, PureButtons.com, we started with the idea that our product is relatively playful. Knowing that, we needed to choose a color scheme that represented our company and set it apart from all others. We chose a bright orange value that has remained in use from day one. The secondary brand color is bright blue and various shades of cool brown for a warmer / softer visual feeling than if we went with gray values. The rest of our products are represented by other colors that fit this playful theme. We incorporate a few illustrated characters around our site to serve as product mascots. While we've moved away from these as we develop, the bright colors and bold graphical representations of our products are important to our identity. This is important for us because when we do advertising, we want the visuals to be immediately recognized and jump off the screen.
For our Custom Stickers company, StandOutStickers.com, we originally began with a more muddy, military green and cream color scheme, with vintage slogans and an aged look. This was in an effort to speak to an alternative artist community of potential customers, but as we grew, we realized that it didn't present our company in a way that matches our very professional and clean custom stickers. So about a year ago we started over, cleaning up the logo to be bolder, cleaner, but with the same basic footprint, and reworked our color scheme and website colors to be fresh, bright and professional. Our sticker company branding uses less bells and whistles than our button company branding does, but we feel like it's the right fit for the customers we serve right now. To put this branding vision in one word would be "Precision". Adding graphical elements to our designs like light background grids and blocks of color reminiscent of a cmyk test print, we wanted to express our skill and our high-end printing and cutting machinery with our new look. Since launching our new design along with a redesigned checkout system, our daily and repeat orders have increased significantly.
Finally, with both companies being owned and operated from the same facility in Medina, OH, we have been pushing the 'Made in USA' and 'Made in OHIO' tags. We feel that this kind of addition to our identity is important to reinforce to consumers; that what they're investing in is a quality product made by real people that take pride in their work. When you get to the top of the search results you're competing for page rank with much larger businesses that offer a wide variety of products and churn out orders in a much larger capacity and in a more automated way. We feel that letting people know where we're at speaks to a few of these ideas and adds value to our brand.
As time goes forward we keep an eye on emerging design trends and are open to adjusting our look to remain current, but is important that every facet of our company matches in its professional presentation, so there is no mistaking us when we come across your screen. There is a lot of competition in our industries and really working on our brand identity has been one of the keys to our success." – Josh Hipply, StandOutStickers
Thanks to our contributors!
Learn more about Rogue Eyewear | FB | Twitter | Pinterest | Instagram
Real Thread | Instagram | Twitter | FB | Vimeo | Google+
Busy Beaver Button Co. | Pinterest | Twitter | FB | YouTube |
Fizz Creative  | FB | Twitter
Things to consider before rebranding your company.
Here at Cleveland creative agency Go Media, we take branding very seriously. We have helped many companies, who've undergone natural growth and change, take necessary steps to transform the face of their company for the better. Consider these six simple questions when rebranding your own company and you'll be on the road to success.
1. What is the goal?
Don't rebrand simply just because. You should have a specific set of goals driving your rebrand. Perhaps, for example, you are a tech company who needs to modernize a logo designed in the 70's. Ask yourself why you are rebranding and give yourself an excellent answer. Don't have one? It may not be time.
2. Is brand boredom the reason for the rebrand?
Many times business owners will rebrand because they're suffering from brand boredom. They're looking at their brand all day long, every day. Brand boredom, on the part of the business owner, is normal and only natural. This, however, not a good reason to rebrand! Remember that clients are not coming into contact with your brand as frequently as you. They need to become familiar with your color schemes, fonts, mark. This can only be accomplished through consistency.
3. What is your brand equity?
Is your brand equity good or bad? When customers come in contact with your logo, do they remember the amazing work you've done for them? Or, do they instead only recall a negative experience with you? If you believe your brand to have a positive brand equity, this is extremely valuable! Hold onto that value! If you feel a change is in order, a brand refresh, is what we recommend. With a brand refresh, you'll use enough new elements to move the brand forward while keeping enough old elements to maintain brand recognition.
Consider your brand to have a negative equity? You may want to try something new, so far as considering a new name and a new brand. You'll want to completely break any negative association with your brand if needed. For example, imagine you owned an airline that had a 50% incidence rate of plane crashes over a one year period. Your brand equity would call for a complete change to say the least.
4. What costs are involved?
When thinking about doing a rebrand of your company, you must consider all of the costs involved. Your brand is more pervasive than you may at first think and if you're considering a rebrand you'll have to replace everything relatively quickly. This includes your letterhead, your website, building signs, ads, etc.  Hesitate to do so and your customers will be seeing two brands for an extended period of time. Focus on primary touch points first, then go from there. Also, possibly hold off on a rebrand until you have exhausted your stock of items with old branding. This way, when you've rebranding, you can restock and be all ready to go!
5. Have you considered your whole brand?
Keep in mind that your brand is not only a logo, but that your brand also embodies your company in its entirety. Your brand is your personality, its messaging, copy. Your brand is what you say and how you say it. Your brand is your company's vibe, the music you play, your uniform, the furniture in your office. Consider a rebrand and how these elements may be impacted.
6. How will you transition the rebrand?
The rebranding process can be very disruptive if not handled with finesse. Making major aesthetic shifts or changing your names can confuse customers. Consider how you'll educate your customers about the transition to your new brand. Some examples? Place your old brand next to your new brand, or explain very clearly to customers that "ABC Company is now XYZ Company."  Take some time to let things sink in.
Considering a rebrand? Don't forget to consult your friends here at Go Media!