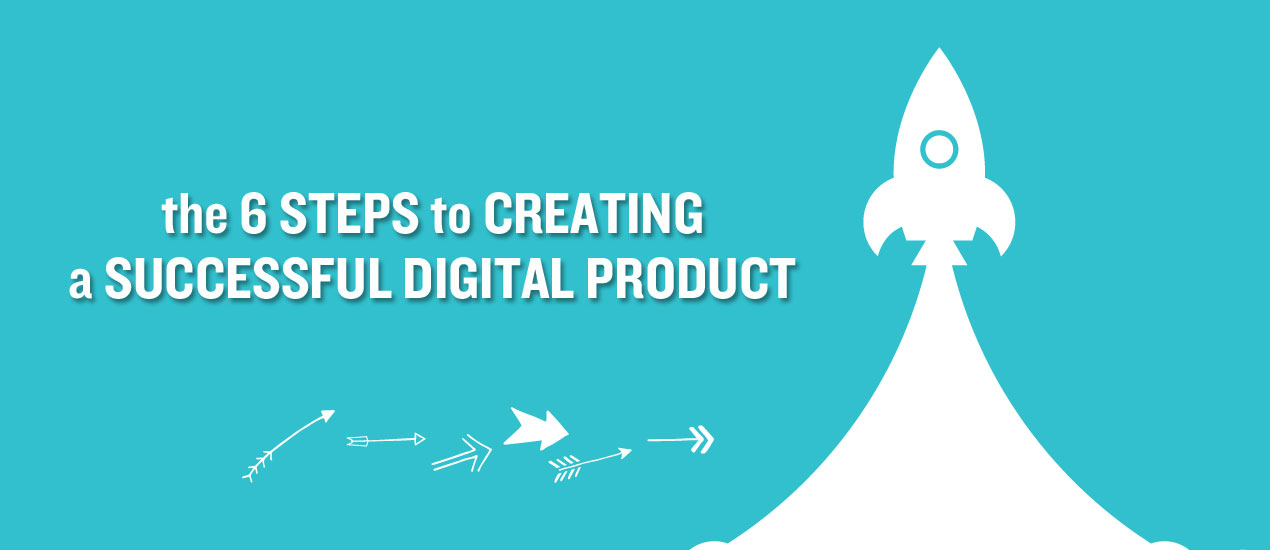 Digital Product Development Process
When creating a digital product, whether its an app or simple website, it is important to follow a consistent process in order to produce a consistently successful product. This is going to be a high-level overview of a process that can be adjusted to scale successfully to any project size and complexity.

Step One: Discovering the Problem
Firstly, it is the UX team's job to understand the problem that is going to be solved. This part of the project involves meetings with the client or product owners, researching the competitive landscape, performing business analysis and analyzing any data that can be provided by previous iterations analytics. When it comes down to a digital product, like a website, it is also important to understand the people using the product, why they are using it and the type of technology they are comfortable with, as this will help the UX team define the best answer to the problem's question.
Step Two: Defining the Best Answer
Next, the UX team is responsible for using the information discovered in step one to come up with the best solution to the problem discovered. Generally speaking, this second phase is marked with lots of sketches and initial concepts that can be quickly tested and iterated upon to drive towards the best answer to the problem. Wireframing, storyboarding, site-mapping (and information architecture), sketching and whiteboarding are routine elements that make up this phase of the project.
Step Three: Designing the Solution
Typically the design phase is what most non-industry folks picture when they think of when they hear digital product design. This is when the solution that was defined in Step two is crafted into a form that resembles a completed digital product. This means applying branding elements and styles to the structures defined in the wireframes, crafting a seamless digital experience that feels very much a part of the brand. This third phase is also when interaction design is created and generally involves working closely with the development team to ensure a seamless handoff into the next phase, development.
Step Four: Developing The Product
The fourth step in this digital product creation process is the actual building of the application using code, also known as development. Here the final designs that were crafted in step three are turned into front-end code (HTML, CSS & JavaScript) and hooked into back-end databases, CMS's or APIs. Development is also when the actual interaction design is implemented, as well as any transition or loading animations, giving the digital product some life and allowing it to be tested in terms of user delight.
Step Five: Deploying the Final Product
The fifth and final production step of the process is deployment. Here, the final developed product is transitioned from its development environment to the live internet, where it can be accessed by the masses. Generally, this migration is taken care of via the modification of the Domain Name System (DNS), pointing URLs to their correct indexes. This phase can be completed with relative ease, however, a number of situations can arise when moving digital hosting and each deployment should factor in time to allow for bug fixes and code adjustments.
Step Six: Optimization (Constantly Improving the Product and Process)
The final step, optimization, isn't a typical phase of the digital product production process. This is because Optimization should take place throughout the project and takes a number of different forms. In the initial discovery phase, optimization takes the form of user surveys and interviews to test the assumptions the team is making while performing research. In the second and third steps, it takes the form of prototype user testing, allowing users to interact with wireframes and mockups to test concepts and workflow ideas. In development and deployment, optimization takes the form of quality assurance (QA) testing, making sure to note and quash bugs as they are discovered. Finally, optimization even takes the form of a project post-mortem, analyzing the overall project to see how elements of the process can be improved to provide solid digital solutions in the future.
Customer Chat Tips & Features
Live chat has quickly become a top feature that consumers expect out of a website experience. As of 2017, 48 percent of consumers prefer to communicate with a business via a live chat than any other form of communication. However, just having a live chat feature and delivering an amazing experience via live chat are two totally different things.
The same study discovered that people don't mind if the chat is conducted through a chatbot or artificial intelligence (AI) as long as they get the help they need and have a good experience.
There are some key things your chat feature should offer, whether you are staffing your live chat with real people or with computers. Nail these seven items, and your chat feature will be much more effective than you thought possible.
Key Customer Chat Tips & Features
Offer Support, Not Hard Sales
Your chat support should be just that — support. If you use every single opportunity to just try and hard sell, you are going to turn customers off. Your focus should be on how you can help the customer rather than on how they can help you. Yes, you are in business to sell things, but the customer who takes the time to live chat is already interested in buying. Your job is to make sure they have all the information they need.
This also means you need to be strategic in where you feature your live chat option on your website. For example, it should be on the landing page, but do you really need it on your About page?
A good example of a site that does chat support well is Aid in Recovery. It has a chat at the bottom of the landing page that reads "Need help finding a rehab? Chat anonymously with a live agent." The chat is available 24/7. Since people landing on the site are likely wanting help, this is an excellent use of the live chat option — placing it front and center.
Email a Follow-up Transcript
Carefully choose your chat software so you can keep a transcript of conversations. Customers may have multiple questions about your product or services. By the time the conversation is over, they may forget every fine detail that was discussed, but they might also be too embarrassed to ask again. Keeping a transcript allows you to later email that transcript to your lead and remind them of everything that was discussed.
This also gives you an opportunity to touch base again and show them you care about whether they are satisfied with the chat experience or not.
Make sure everything is labeled clearly for your site visitor. He or she shouldn't have to hunt to find the chat feature. Instead, make sure it is easily found and looks the same on every page. Once the chat box is engaged, it should also be clear where the user needs to type and how to enter the text.
One clear example of a well-labeled chatbot can be found at Conestoga Log Cabins and Homes. A box pops up that has clearly labeled entry boxes and a box stating "enter your question."
Chatbots are one way to staff your chat without spending money hiring an actual body to run the conversations. Instead, businesses purchase the software once, input all the basic information the chatbot needs based on what past customers or site visitors have asked, and lets the artificial intelligence do its job.
A word of caution here — if you plan to run a chatbot, be sure you offer an option for customers to contact you via email or some other means. A chatbot can't possibly answer every question there might be, so at some point you're going to have to input additional info the chatbot doesn't have. Update it each time you run into a question such as this, and the bot will become more and more efficient with time.
Social media is an excellent way to reach consumers, particularly the younger crowd. Allow customers to tweet you for a response, but be sure you have someone readily available to respond. Responses should take minutes, not hours. If you only want to staff social media responses for a certain amount of time, then you can clearly lay that out on your social media pages and your website.
One example of a site that uses social media to interact with customers is Chegg, which is a company that provides textbooks and rentals to college students. Whenever a student has a question, he or she can tweet out the question and tag @CheggHelp. Staff will answer promptly during business hours.
Offer Multilingual Chat Options
We are living in a truly global economy, so offering multiple language options for your chat is a great idea. If your target audience speaks English or Spanish, then you'll want to staff your live chat with both types of speakers and train them thoroughly on your products and policies. You would then use routers to send the consumer to the appropriate chat technician.
Another thing you can do is trigger live chat when a customer is on a specific product page. This requires making each chat highly targeted to that item. So, if a customer is searching for boots and lands on a page for rain boots, the chat might pop up and ask if the customer wants tall or short rain boots. It might ask what the customer will use them for and give a specific product recommendation.
An example of a site using this type of targeted live chat is Ruffwear. The company sells active wear and other items for canine companions. You will find things such as lifejackets, winter boots and vehicle restraint harnesses. Knowing which item to choose can be daunting at times. During business hours, chat boxes will pop up as you browse through the site, offering help with various things, such as finding the right boot and fit for your pooch.
The number of companies offering live chat continues to increase from month to month. New AI advances and increasing competitors in the global market make providing excellent customer service more important than ever. If you pay close attention to your live chat features, you can stand out from the competition by using them in a creative way that puts your customers first.
Lexie Lu is a freelance UX designer and blogger. She enjoys researching the latest design trends and always has a cup of coffee nearby. She manages Design Roast and can be followed on Twitter @lexieludesigner.