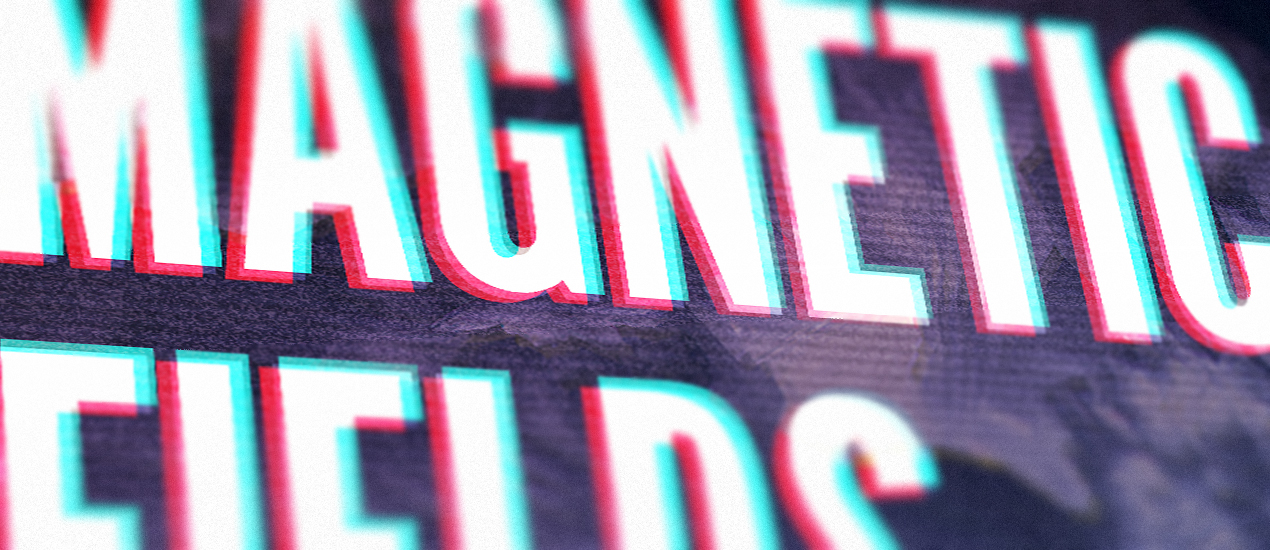 Introducing the cosmic fractal storm texture pack
Hello everyone! It's Simon again on this end of the keyboard. I'm returning for another tutorial, and boy, do we have a treat this week. Dustin Schmieding gifted us with yet another fantastic texture pack, the cosmic fractal storm texture collection.
The set is composed of three-dimensional scenes, resembling cloud formations, or landscapes. Each texture is 4,000×2,700 pixels @ 150 ppi. This gives us plenty of pixels to work with, even for big size print applications (posters, flyers, and more).
DOWNLOAD THE COSMIC FRACTAL STORM TEXTURE COLLECTION
Arsenal Members, you get this pack at no extra charge! (Feels like your birthday, doesn't it?)
Using the pack: let's play!
These assets are at home in a variety of contexts. They can be used as stand-alone assets, as background elements, as textures… We will explore some of these uses while we embark on the creation of a poster for a (fake) EDM event called Magnetic Fields.
The tutorial will have us explore tips and tricks to recreate a "VHS-like" effect, for all that analog glitch goodness.
We'll use primarily Photoshop for this tutorial, as manipulating textures is easier with it, and because we won't engage in complex type manipulation.
We are going to work extensively with textures. It's a good time to remind you guys of a few base rules, and processes:
Don't know what a clipped layer is? Glad you asked! This means that the layer is only visible/applies to the layer directly below it. You can very quickly do this by holding ALT down on your keyboard and clicking between the two layers. Here's a quick demonstration.
Every time we'll work with textures, we'll follow this simple process: place as smart object, sharpen1, desaturate, enhance contrast with levels, and modify the blending mode.
Placing the textures as smart objects, and using adjustment layers to tweak them, allows us to stick to a non-destructive workflow. We've explored in depth the numerous pros and few cons of such a workflow in this past tutorial: "How to Use Textures The Right Way."
Notes: 1 – accessed through the Filter > Sharpen > Sharpen menu.
With this in place, it's time to get started!
The concept
As hinted at during our walk-through of the product, these textures feature digital "landscapes" that make no mysteries about how they have been generated. In order to stick to the theme, we are going to give this poster a "Lo-Fi," CRT-like screen effect. Think of VHS artifacts: scan lines, slight warps, etc.
The concert is being branded as Magnetic Fields, and will take place at the Tate Modern gallery in London, and more specifically in the Turbine Hall. It's a beautiful industrial space, and hosted a Kraftwerk performance in the past. It's perfectly fitting.
(Images via Tate.org/Marcus Leith/Tate Photography – © all rights reserved)
We'll split our document in two columns to fit all the text (one side main event announcements, one side for the band names). The copy will read "Magnetic Field – 02.06.16 – Tate Modern – Turbine Hall – London, UK," "Performances by chp_tnes – nu_drds – cbalt – qwerty – & lw_ram," and "Tickets & information at www.magneticfields.com."
The two typefaces we'll use for the poster are League Gothic, and Droid Serif. They are both free for commercial use, so grabbing them is a no-brainer. They even feature an extended set of weights, for even more flexibility.
All of our band names are inspired by electronics/robotics/computer science jargon:
chp_tnes (chiptunes)
nu_drds (new droids)
cbalt (cobalt)
qwerty (look at your keyboard)
lw_ram (low RAM)
The event is to take place on February 06th, 2016.
Photoshop Abstract Texture Tutorial
Document setup
Even though our event will take place in the United Kingdom, we will use an 18″x24″ canvas. Designers in the UK would typically use ISO paper sizes, like pretty much the rest of the world. Let's just say that the performing acts all come from the USA, and that the poster is put together by an American concert promoter.
As mentioned before, we'll split our canvas in columns, three to be exact. We'll also mark a one inch security margin around the edges of our poster. Photoshop CC's New Guide Layout feature is priceless to generate these rapidly (View > New guide layout).
Note: if you don't have the CC version of Photoshop, you can leverage the power of GuideGuide to accomplish the grid-related tasks quickly. The current version isn't free, but older versions are.
With the preparation work done, we can finally start to tackle the real thing.
The background
The background will be the base for our VHS effect. The first asset we need is GoMediaArsenal-CosmicFractalStorm-03.jpg, from Dustin's texture pack.
It needs to be placed as a smart object at X: 0.5″, and Y:12″, scaled up to 135%, and sharpened (Filters > Sharpen > Sharpen).
Once in place, it looks like this.
Starting the magic
The VHS-like effect that we will create in a few steps rests on the power of levels, and of blending modes. First, we need three copies of our texture smart object.
Using clipped levels adjustment layers, we are going to "kill" the output of selective color ranges for each of the copies. Let's start with GoMediaArsenal-CosmicFractalStorm-03 copy. Using the clipped levels adjustment layer, we are going to change the output of blue hues to zero. This will result in a layer turning to yellow hues. Pro tip: note that the additional copies have been hidden for clarity each time.
Using the same technique, the second copy GoMediaArsenal-CosmicFractalStorm-03 copy 2 will see its greens disappear, leaving us with a set of saturated purples.
Finally, we'll get rid of the reds on GoMediaArsenal-CosmicFractalStorm-03 copy 3.
With that done, here's our layer stack so far.
Next, we are going to create a few layer groups: one is for the copies and their adjustment layers, the other one for the background elements in general.
Now, we are going to change the blending mode of each copies to exclusion @ 100% opacity (the copies only – not their adjustment layers!).
The result is slightly underwhelming at the moment, but we are going to address that shortly.
Out-of-synchronization frames, part one
Next, we need to carefully offset each of the copies from the original smart object. For instance, instead of GoMediaArsenal-CosmicFractalStorm-03 copy being positioned at X: 0.5″, and Y:12″, it should be positioned at X: 0.55″, and Y:12.1″.
GoMediaArsenal-CosmicFractalStorm-03 copy 2 can go from its original spot to X: 0.495″, and Y:11.95″.
Finally, GoMediaArsenal-CosmicFractalStorm-03 copy 3 can migrate to X: 0.485″, and Y:11.97″.
The effect is taking shape: we just established the basis for out-of-synchronization frames, or tape damage. To make things more legible, we are going to lower the opacity of the copies to 50%.
Out-of-synchronization frames, part two
To make the effect more believable, we are going to alter a portion of it. Let's start by creating a merged copy of everything so far (CTRL/CMD+ALT/OPTION+SHIFT+E), at the top of our layer stack. The generated layer should be called Shear.
We are now going to apply a shear filter to it (Filter > Distort > Shear). The effect is controlled through the small curve in the effect window. Clicking on the grid adds controls points (but no handles). Holding ALT/OPTIONS allows you to reset the manipulation. Wrap around loops disappearing image parts on the opposite side of the canvas. Repeat edge pixels stretches the pixels at the limit of the canvas to the image's edges.
After creating a curve directed to the bottom right corner of the canvas, our result is pretty dramatic.
Using our guides, we are going to create selections that we'll use to mask parts of the sheared layer.
With the selections active, we can head to Layer > Layer Mask > Reveal selection.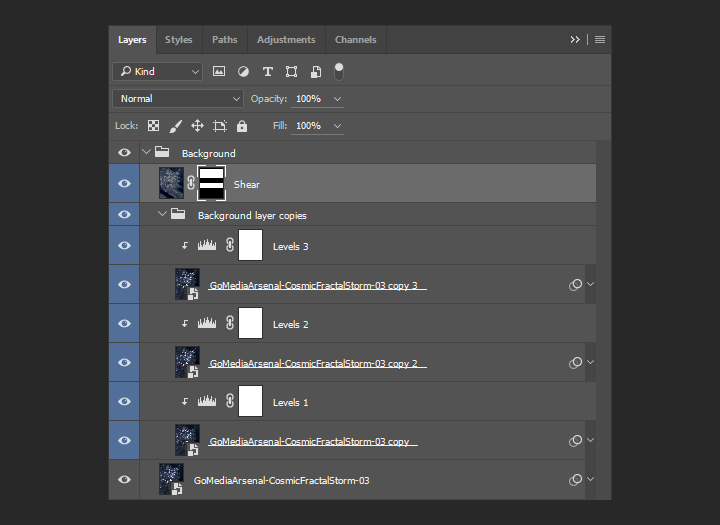 With that done, we can change the blending mode of the Shear layer to color dodge @ 35% opacity.
Additional touches
To complement the effect, we are going to add some thin horizontal lines at the edges of our selections. These lines will each be 1 point thick, run the full width of the poster, be colored in 50% gray (#808080), and perfectly aligned with the edges of the visible parts of the Shear layer. These lines should be created with either the pen tool (P), or with the line tool (U).
The settings options offered by Photoshop CC 2016 allows to customize the stroke. It should be noted that aligning the stroke to the outside produces the best result.
Once one of the lines is created, it can be duplicated and positioned to the appropriate locations.
Once in place, the lines' blending mode can be changed to screen @ 25% opacity.
And after some layer organization, our background layers start resembling something.
Icing on the cake
Because our background needs to not compete with our type elements later, we are going to darken it. We'll use a levels adjustment layer for that.
After one last look at the layer stack, we're ready to move onto type!
Type
The foundations
Now that our background is in place, we can start shaping our text blocks. The first one is the main one: "MAGNETIC FIELDS / 02.06.16 / TATE MODERN / TURBINE HALL / LONDON, UK."
The type is set in League Gothic Condensed, that is 300 points tall, with a line spacing of 272 points, colored in white, and with kerning set to optical. These settings make the copy fit the two left columns of the grid, leaving the right column for the additional information blocks.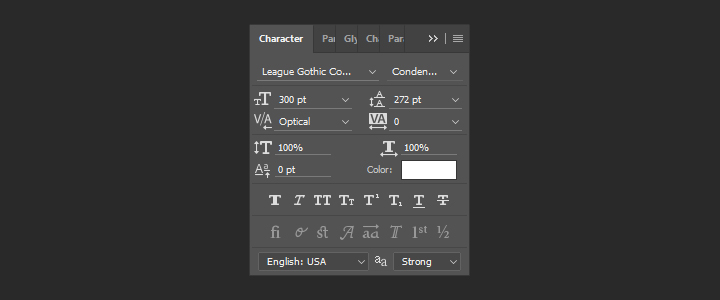 The next block is "Performances by // chp_tnes / nu_drds / cbalt / qwerty / & lw_ram." The type is set in Droid Serif Bold, that is 54 points tall, aligned to the right, colored in white, and with kerning set to metric. These settings make the text block fit snugly in the top right corner of the poster.
The third and last text block is for the miscellaneous information: "Tickets & information at www.magneticfields.com." It is set in Droid Serif Bold, that is 30 points tall, aligned to the right, colored in white, and with kerning set to metric. These settings make the text block fit snugly in the bottom right corner of the poster.
The result is interesting, but it lacks depth.
In order to address that, we are going to replicate the VHS effect we gave the background to the main type block. Let's start by creating three copies of the type element.
Instead of using levels adjustment layers, we are going to assign hues directly to each type elements. This works because the type is a solid color object, as opposed to the visually complex texture we applied the effect to earlier.
The bottom copy, MAGNETIC FIELDS 02.06.16 TATE MODERN TURBINE HALL LONDON, UK copy 3, should be assigned the base blue color #0000ff.
The middle copy, MAGNETIC FIELDS 02.06.16 TATE MODERN TURBINE HALL LONDON, UK copy 2, should be assigned the base red color #ff0000.
The top copy, MAGNETIC FIELDS 02.06.16 TATE MODERN TURBINE HALL LONDON, UK copy, should be assigned the base green color #00ff00.
The top text element (the original one) should stay white.
From there, we can change the blending mode of the three copies to exclusion @ 100% opacity, and of the original element to overlay @ 100% opacity.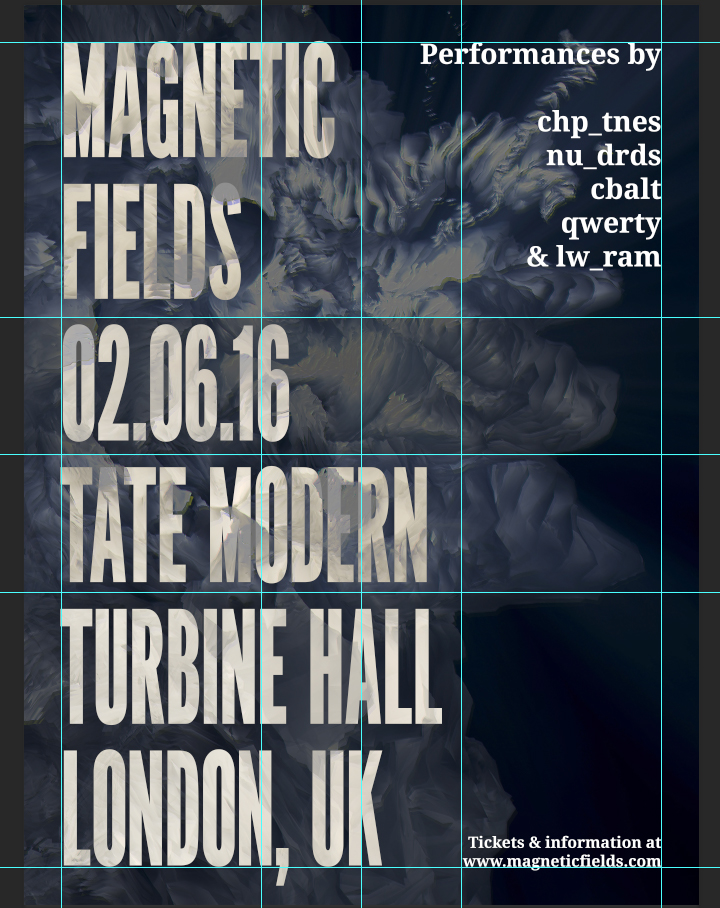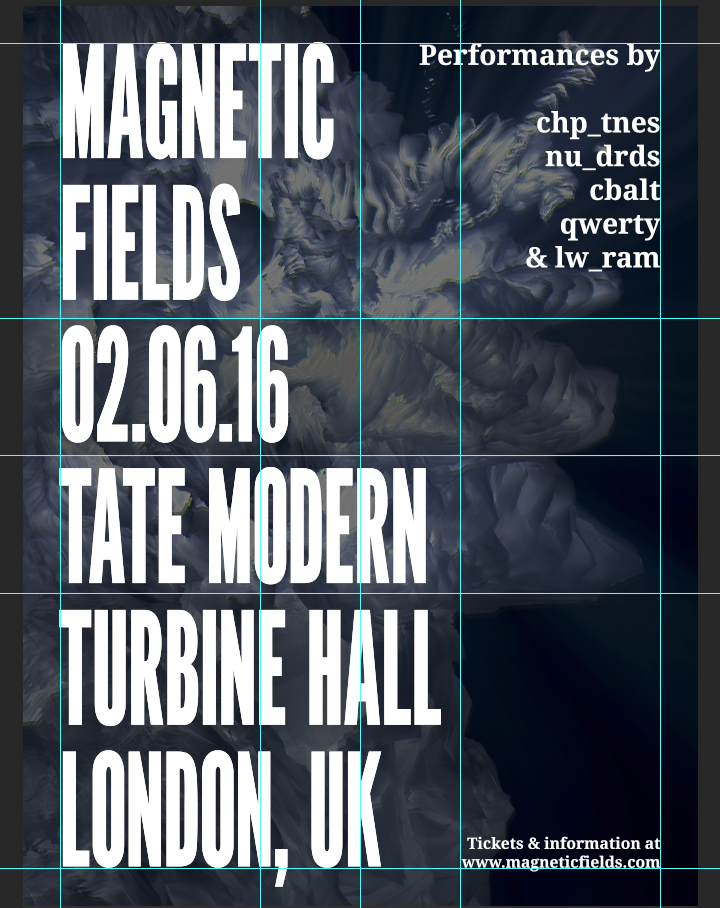 Now, in order to complete the effect, we simply have to offset the three copies in separate directions, using the arrow keys on our keyboard.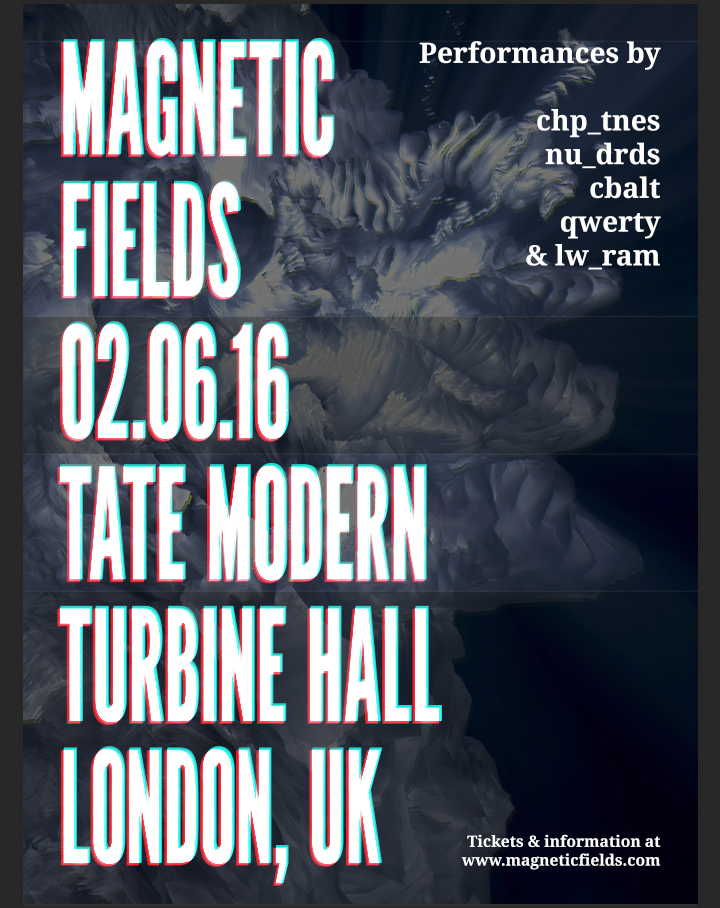 And with that done, we can move on to the last step: textures. Below is a look at our layer stack so far.
Textures!
Things to grab
Before we get moving, here are three assets to grab. They are all free. The first one is photocopy by clarisaponcedeleon, via DeviantArt.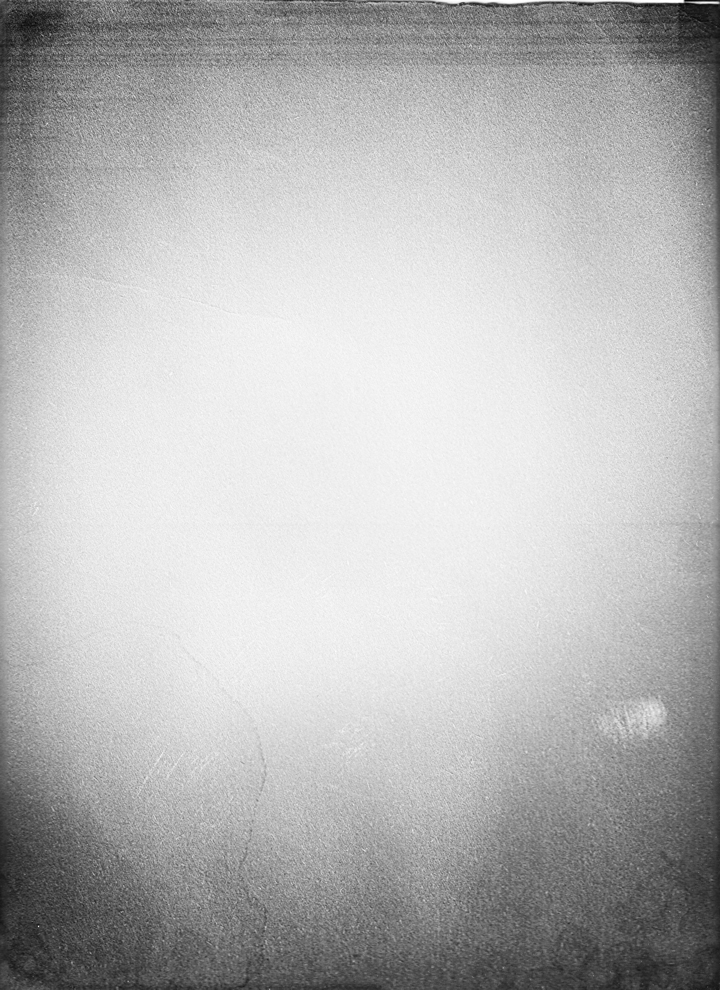 The second is Film texture – grain explosion by JakezDaniel, on DeviantArt.
The third texture is vintage-paper-textures-volume-01-sbh-005, from the Vintage Paper Textures, Volume 1 set. It was made available through the "cute robot" book cover tutorial freebies.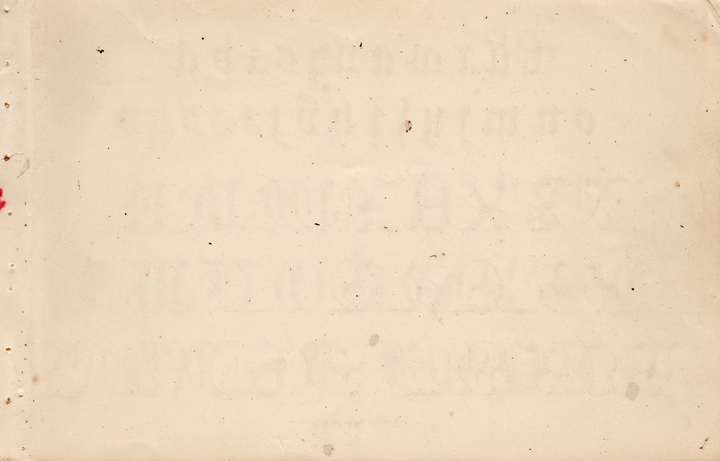 DOWNLOAD THE CUTE ROBOT TUTORIAL FREEBIE ARCHIVE
The last asset is this pattern tile, that we'll use for scan lines. You should download it by right-clicking on it, and using the Save image at menu.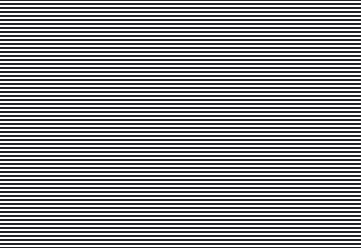 Putting things in place
The first texture we'll use is the film noise texture, film_texture___grain_explosion_by_jakezdaniel-d37pwfa.jpg.
It needs to be placed centered in the canvas, rotated of 90° clockwise, and scaled down to 80% so it covers the whole piece.
From there, we can change its blending mode to color dodge @ 15% opacity.
The next texture is the scanline pattern. Let's open the file.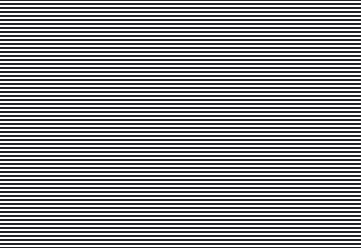 With the file open, we need to head to Edit > Define pattern. This will ask us to name it, and to validate. Once that is done, our pattern will be ready to use in our piece. Let's close the pattern, and head back to our main file.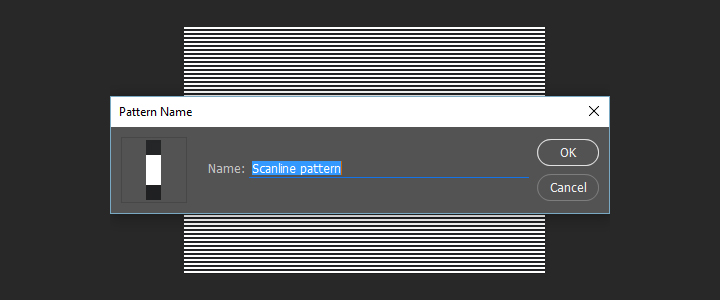 Back in the main file, let's create a new, empty layer at the top of our layer stack.
We are going to apply the pattern using a layer style. First, we need to fill our layer with a solid color. Which one won't matter, it is just to make sure the effect shows up. 50% gray is a good default choice in these cases (#808080).
Next, we can open up our layer style palette by double-clicking on the layer thumbnail in the layer panel.
Let's navigate to the pattern overlay section. It's a simple interface. We can control the pattern tile roughly the same way we can control a layer: blending mode, opacity, scale, etc.
Let's use the drop-down menu to select our scanline pattern.
Finally, we can dramatically scale the pattern up to make sure the lines are visible (900%).
Our pattern is applied, but we need to give it an additional touch for more veracity. Let's convert the layer to a smart object (Filters > Convert to smart filters).
Next, let's assign a 2 pixels gaussian blur to the pattern layer/smart object (Filter > Blur > Gaussian blur).
Finally, let's change the blending mode to overlay @ 10% opacity.
With the scanlines in place, we can move to a slight color alteration. We are going to use a gradient overlay for it. Just like before, we'll need a layer filled with 50% gray (#808080).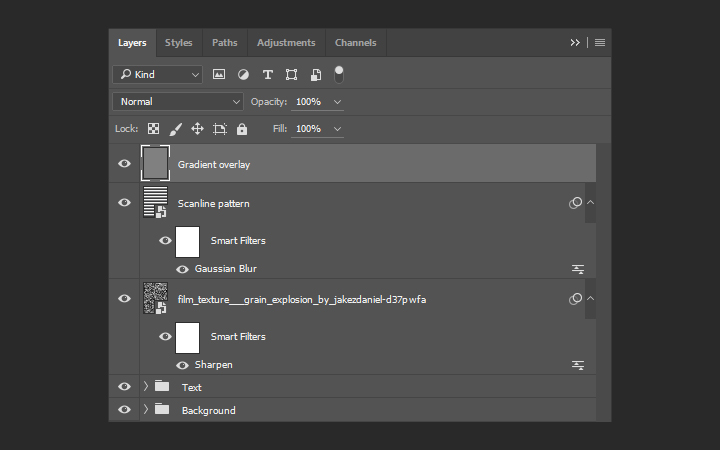 Next, we are going to change the layer's fill to 0%. This allows to hide the layer's pixels (the gray), but to let any effects applied through the layer style panel to shine through.
Let's open the gradient overlay side of the panel.
In the gradient drop down menu, let's select the spectrum gradient.
Let's change the blending mode of the gradient to overlay @ 15% opacity, and change the angle to -50°.
This gives us a nice added depth to the colors of the piece.
The next to last texture is vintage-paper-textures-volume-01-sbh-005.jpg, from the cute robot tutorial freebie archive.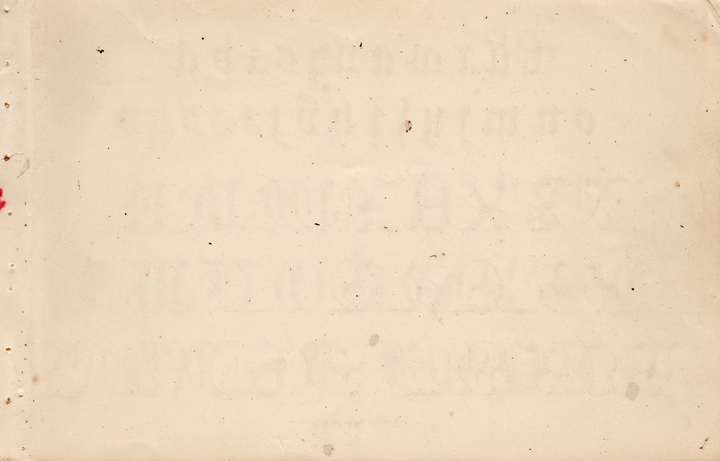 It needs to be placed centered in the canvas, rotated of 90°, and scaled up to 440%.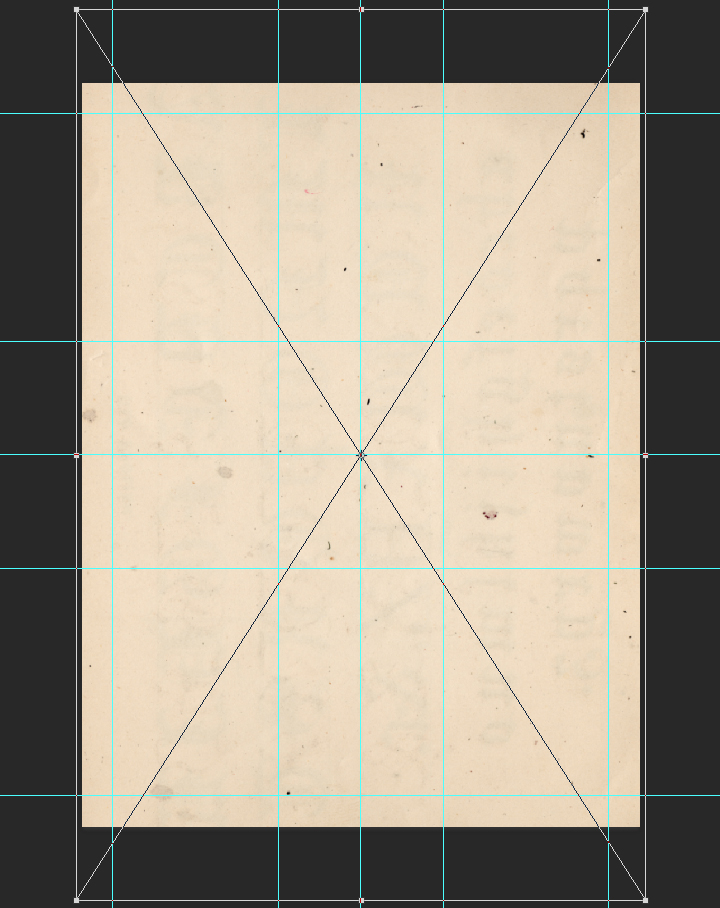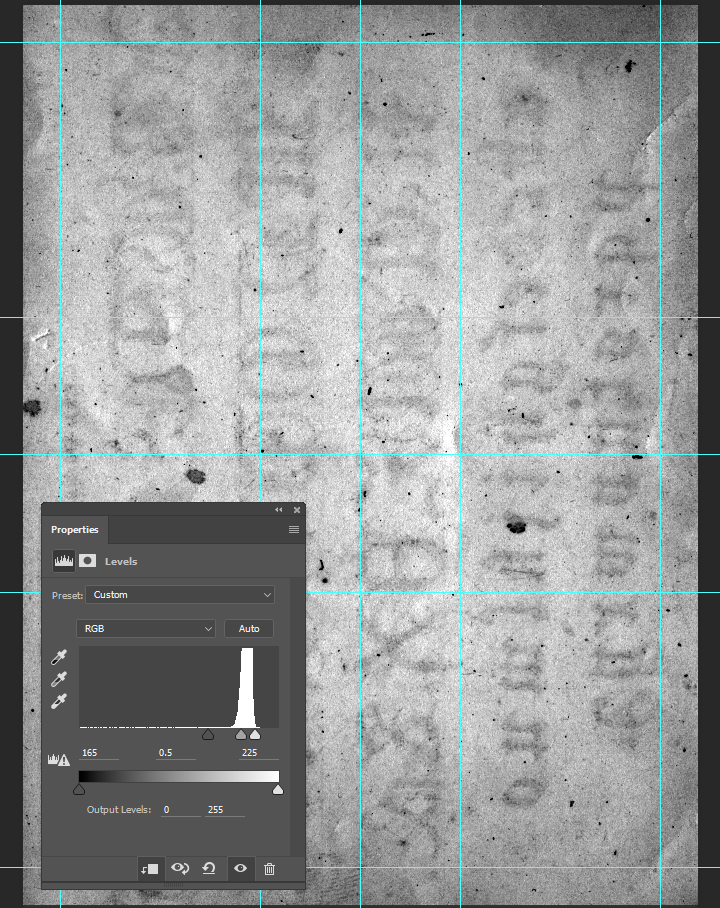 Blending mode: soft light @ 25% opacity.
The last texture is photocopy_by_clarisaponcedeleon.jpg.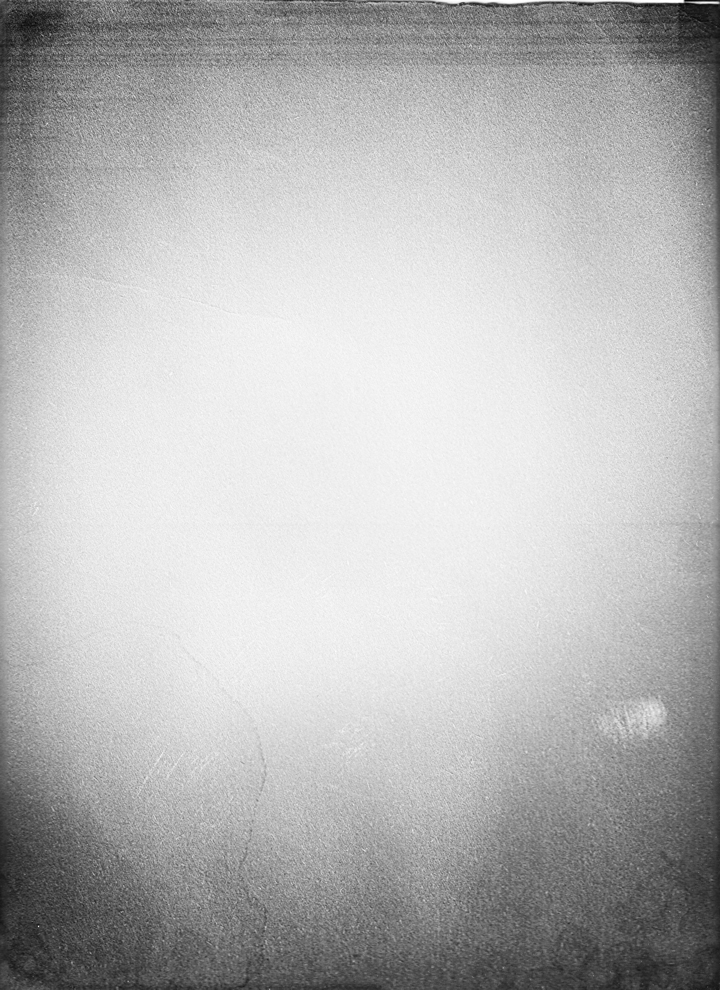 This one needs to be centered in the canvas, and slightly distorted (width: 212%, and height: 208%).
Levels adjustments.
Blending mode: soft light @ 75% opacity.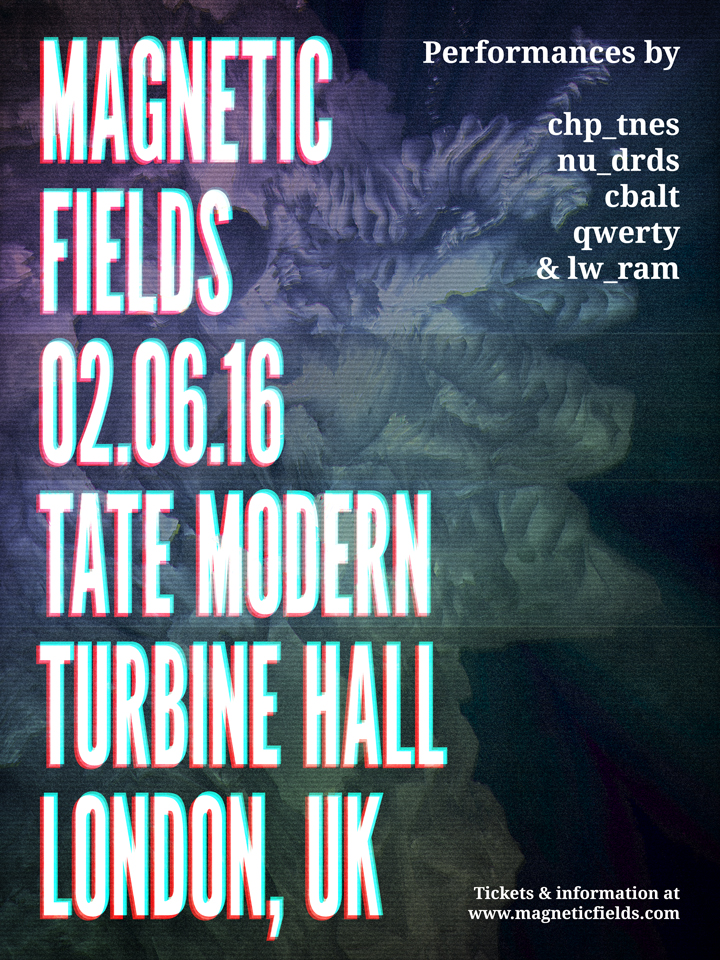 And with that, our piece is complete! After a last go at organizing our layers, here's the full layer stack.
Wrapping things up!
Phew, that was a long one! I hope that you enjoyed following along with the tutorial as much as I enjoyed creating it, and that your outcome matches the goals you set for yourself before diving in.
Did I leave anything unclear? Any suggestions? Don't hesitate to reach out in the comments below! I'll be happy to help out.
We'd love to see your tutorial outcomes! Please share them with us on the Go Media Facebook page, or on Twitter at @go_media.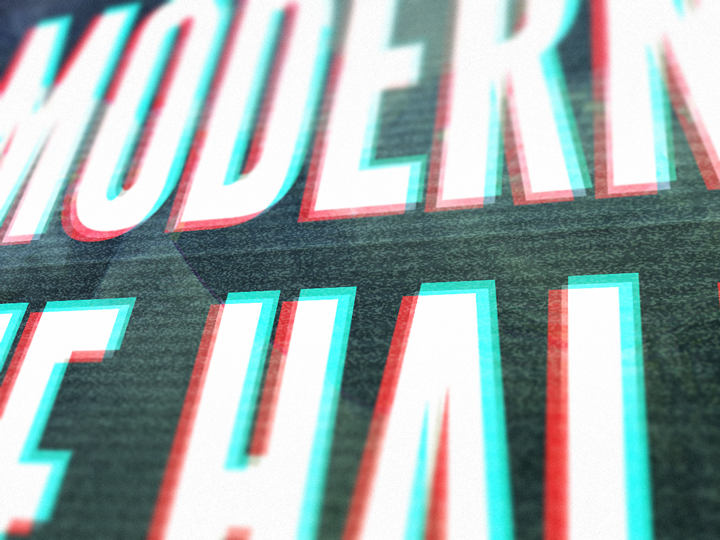 And finally, I hope that this gave you a preview of the cool things you can achieve with the cosmic fractal storm texture pack, by Dustin Schmieding. The pack is available for download now!
On that note, that's all for me today. Until next time, cheers!
Categorized:

Go Media's Arsenal, Photoshop, Tutorials

Tagged:

1980s, 80s, Adobe Photoshop, Dustin Schmieding, EDM, education, glitch, Photoshop, poster, poster design tutorial, print design, retro, SBH, scan line, textured, The Shop, tutorial, VHS, vintage
Educate yourself: Here's why this is important
Ladies and Gents, it's time we all took a moment to honor our good friend, print media. Print media includes a wide range of techniques that challenge us as designers to go back to basics and work with our hands. It is a nice way to take a step back and do some design work without the help of our beloved computers and advanced technology. Although, if you want to stick with the computer AND get that handmade print feel, Go Media has something for you too!
So I'm lost, please explain what this is?
Allow me to focus on a few types of print media: letterpress and printmaking.
Letterpress focuses on mostly typesetting. Using both metal and wood type, a designer can create tons of different print materials with an old world feel. Shout out to Gutenberg for this one. From menus to postcards, you can try out an assortment of print materials. Even though this process uses an abundance of type, imagery can be used as well by carving linoleum blocks.
Printmaking, on the other hand, is the ability to create limited quantity prints that are unique created by use of ink and different techniques. These are original designs and are not photo realistic replications. Here are some of the different ways to go about printmaking:
Monotypes: This is the equivalent of painting. Only, the printer paints with ink and once printed, the image is backwards.
Etching: You can create an image by carving or using acid to eat away at a zinc plate. The image can then be printed two different ways. You can simply roll the ink on a create a solid background/reversed out object or you can rub the ink into the etched lines to allow only the linear elements to show up.
Aquatint: This technique is when you let large areas of a zinc plate to be eaten away by acid, creating different values according to the length of time it is exposed.
Screen Printing: This one works a bit differently.  With this method, you create your design with different screens that display one color. Each screen is prepared to have small holes that allows ink to flow through. To create the final product you will need to layer each color or your design. Aside from being a totally different process of printmaking, screen printing allows you to print on a variety of different mediums. From textile patterns to paper prints, you are set!
Save the press: Try it out!
People say print is a bit of a dying breed. However, more and more people are heading back to this form of design and its popularity is slowly regaining strength. Not familiar with how this all works? Give it a try! There is nothing quite like a little bit of first hand experience. And trust me designers, sometimes stepping away from technology and reverting back to working with your hands can really set you up for success.
My own trials

I am definitely a long way from being a master printer, however I loved trying out these different mediums of design. it is a really nice way to get in touch with the roots of graphic design, while still creating something fresh and new!
A word of caution…
Before you leave the computer to go make some prints, take a second and make sure you know all the proper techniques when it comes to handling equipment. Print techniques have been around for hundreds of years, and often times so has the equipment you are using. Let's be honest, when is the last time you found a brand new press for sale? .. That's what I thought. Take care of your materials and be nice to your press.

Second tidbit of advice: Clean hands is key. Ink gets everywhere and smudgy fingerprints can turn a beautiful project into an eyesore in seconds. Don't let this happen to you!
Lastly, don't forget that everything you do before you print needs to be backwards. As if it wasn't a tricky process already. This is especially crucial to remember when dealing with text and lettering.
Not feeling challenged? Try diagonally setting type or give aquatint prints a try. Need more color? Tryout a blend roll. Enjoy!
Some favorites to inspire you:
Get pumped to print! The possibilities are endless.
Printers to look up:

Pressing On Video/ Kickstarter

This is a sneak peak at an upcoming documentary all about letterpress, its origins, and its survival. Check out Pressing On via their website as well.
https://www.youtube.com/watch?v=BpsU5435nxs
Happy Printing Designers! 
Brewing Company Branding: Boss Dog Brewing Co.
Brothers Josh and Jason Czernek (and Mom) visited Go Media looking for a Cleveland design firm who could help bring their dream brewery to life. Their concept revolved around the name Boss Dog Brewery — Discovering how best to visualize the brand's voice, aesthetic, and most literally how the dog looks, was the first step in getting this brand up and running (no pun intended).
Go Media's Art Director, Chris Comella, reflecting on his work, which encompassed everything from mascot, print and logo design, to branding and illustration, typography to brand management, noted one of his biggest rewards connected with the Boss Dog Brewing Company project.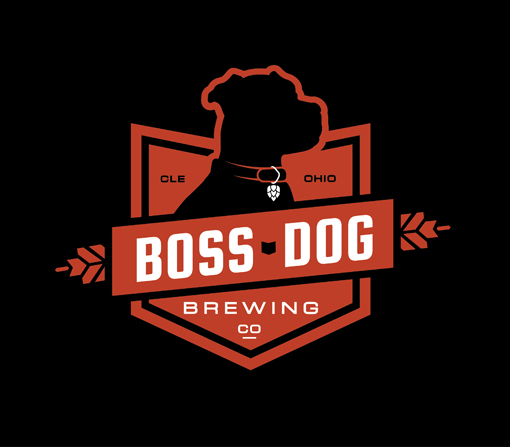 "One of the things we focus on in our design process is presenting multiple concepts. This allows us to get really creative, while at the same time vet different approaches to achieving our goals. With this project in particular, the three concepts approached visualizing the dog (which was a main focus for this brand) in different ways. The final product is a photo-realistic stance, whereas the other two options were a more iconic version, and an illustrative version. Although it's simply one facet of the brand at large, being able to guide the client through those options and end up in a place that's custom tailored for them is a very enjoyable experience."
Designer Carly Utegg reflects on the project fondly, "We started off the project with a photo shoot of the clients beloved dog Stella. Once we were certain that Stella would become the face of the brand, this unique opportunity to bring her into the studio was one we couldn't pass up."
While this experience filled the office with laughter, Chris admits, "In terms of what was most challenging specifically, I'd have to say the photo shoot. It's not easy under those bright studio lights, but Stella pulled through and got us some great shots to work with."
At the end of the day, the tight-knit team was proud of their results.
"One of the main goals with the Boss Dog brand was to portray our canine mascot in a way that wasn't overly masculine, notes Carly. "Finding this balance was something we worked through during the branding process, exploring a range of styles until we decided on a silhouette as the best solution. What we have as a end product is a brand that while it has a workman or firehouse feel to it doesn't cross the line of being overly bold and masculine. I think this identity will serve them well and I'm excited to watch the identity grow as we continue to work with the clients on applying it to their various applications in the near future."
From all the tail wagging, we can tell that Stella is happy with the results. The Boss Dog crew and Go Media can certainly cheers to that.
Paper & ink are woven into the fabric of Go Media. Dreamers and doodlers, our Cleveland Graphic Design staff believe illustration is one of the quickest, deepest, most meaningful ways to convey your message to the world.
Custom Illustration is a talent and differentiator Go Media is recognized for. Ask and we'll gladly illustrate a new flyer, poster or print piece for your brand, event or campaign. 
Until then, we thought we'd blow the dust off of our old portfolio and share some of our favorite early illustrations with you.  We hope you'll enjoy.
Vintage Go Media Illustration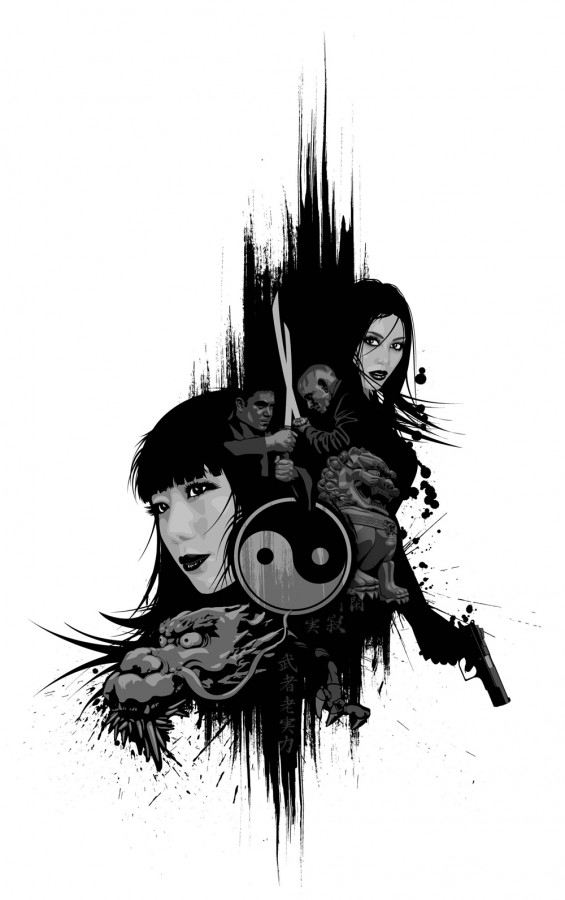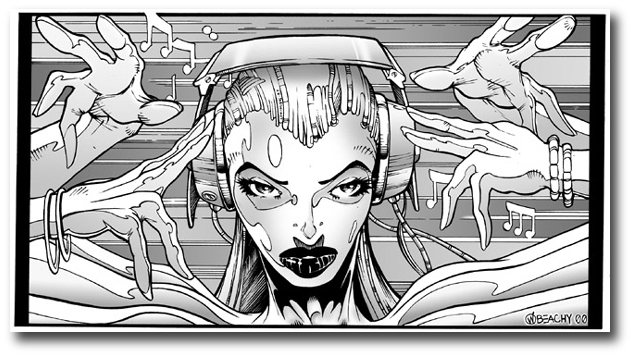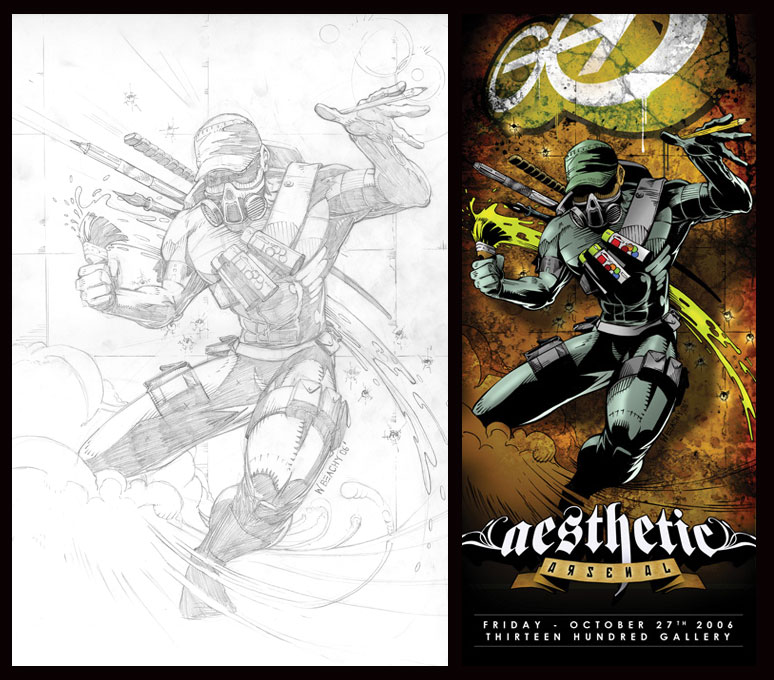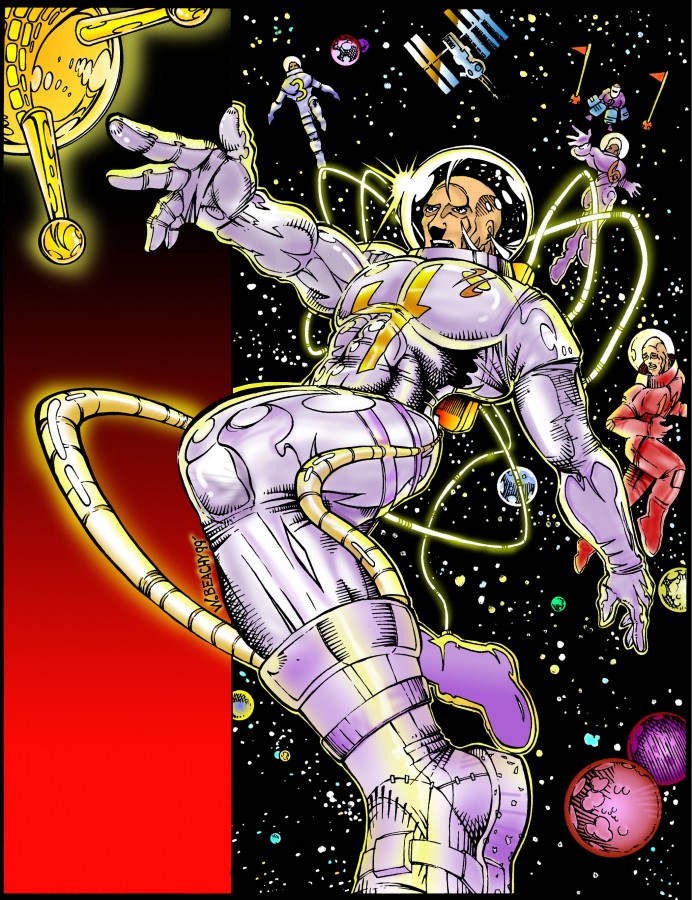 Show off your own designs at our Flickr Pool Showcase. If you used a product from our Arsenal, you have a chance to win a monthly feature in our 'Zine as well as a $50 Arsenal Credit. More details here.
______________________________________________________
For more information on Go Media and all of the services we offer, head to gomedia.us!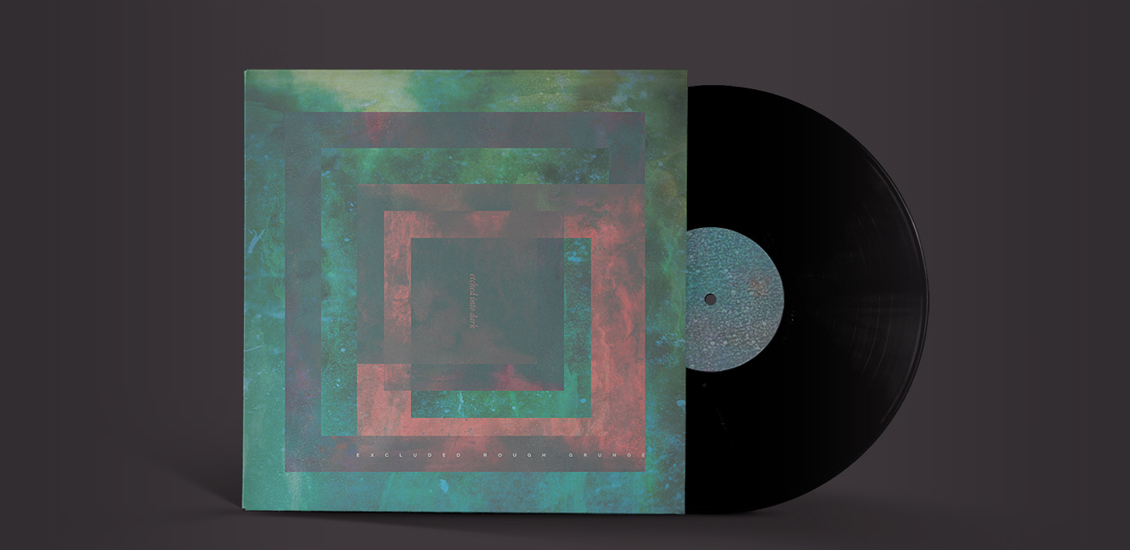 Excluded Rough Grunge and Etched Into Dark Texture Pack Tutorial with Maarten Kleyne
Maarten Kleyne, a freelance graphic designer from the Netherlands, feels music. Kleyne believes wholeheartedly that music is a key element in the creation of his final product. Inspired by the works of Steven Wilson and Lasse Hoile, his portfolio is filled with images including cd packaging, posters and collaboration artwork. Recently, WMC Fest alum Maarten cranked up his stereo, picked up his camera and created some texture packs for Go Media's Arsenal. We are so proud to add his texture packs into our resource library.
We've asked Maarten to create a tutorial based on these textures, in order to demonstrate how you might like to apply them.
— Heather, GMZ Editor
---
Thanks for the introduction Heather and hey everyone! A while back I was wearing my crazy ear-to-ear grin the entire day, because the lovely people from Go Media asked me if I was interested in doing "some stuff" for them again. It's no secret that I'm a huge fan of everything Go Media so I obviously said yes.
The first parts of my work have recently launched on Go Media's Arsenal as the two texture packs: "Excluded Rough Grunge" and "Etched Into Dark". Now – like the introduction said – I'd like to show you one way to apply these in a design through a quick and simple-to-follow tutorial. There are many other ways you can utilize the textures we'll be using. This tutorial simply highlights one of those; a way I personally use textures quite often when creating a design.
Note: If you want to follow along with this tutorial, you will need to purchase the new packs. If you don't you will probably still get something out of the tutorial, because I'll try to keep it general. You will, however, get the best results from using textures from the set(s). Grab the "Excluded Rough Grunge" and "Etched Into Dark" texture packs while they're still hot!
For this tutorial I chose to go for a 12 inch vinyl cover format. I'm truly stoked to see the vinyl record make something of a comeback, if only for the bigger canvas space we designers have! Now, back on-topic: In order to keep a focus on the texture usage, we'll be creating an abstract – perhaps somewhat psychedelic – front cover. Here's a preview of the final design we'll be creating in this tutorial:
Good to know: Throughout this tutorial you can click on most of the images to enlarge them.
We'll take our time and go through this step by step. Don't worry, I've kept it a simple-to-follow tutorial. (I just use a lot of words, sorry. It really is simple though.) There's a whooping total of 10 steps we'll go through.
Some steps only cover the essential basics because I advocate experimentation, I want you to go beyond just following the steps if you don't mind. Just try and experiment with the things that'll pass along and I'm sure you'll get a truly amazing and unique design because of it.
Feeling reluctant to experiment? You can still create the same thing by following the steps. I would, however, like to emphasize that you should try and experiment with things to create something different. It's one of the best ways to learn, in my opinion.
Ok, so here it goes:
Step 1: Set up your Photoshop document
Open Adobe Photoshop. I'm using version CS6, but I'm sure any version will do for this tutorial. Now go to File > New and setup your new vinyl sleeve document with the following dimensions: 12½ x 12½ inch on a 300 DPI resolution. The ½ inch is just some safety bleed space I'm keeping. You can use CMYK or RGB color mode for now. I find RGB easier to work with at first, you can always convert it to CMYK at a later point. If you go to print that's obviously something you shouldn't forget.
Step 2: Purchase and download one or both new packs
If you haven't already, take a minute to purchase and download the texture packs we'll be using from Go Media's Arsenal. Download the "Excluded Rough Grunge" and/or "Etched Into Dark" packs. We'll use both, so in order to get the best results I'd advise you to get both too. You can skip this step if you already have some textures you want to use. However, this tutorial is meant to show you a way to apply those from the Arsenal.
The benefit of using the premade textures from the Arsenal is that it saves you time and can help you achieve professional results. I frequently use textures myself.  Basically, there's not a single design that I make without the use of textures. Sometimes I'll use textures in a very subtle way and sometimes quite heavily to form a complete design. That first case will be the thing I will highlight in this tutorial; the subtle addition of textures. What you'll hopefully come to see is that the vinyl sleeve we're making couldn't go without those subtle additions. They're essential.
Step 3: Create a 'foundation'
Before we actually start using textures we'll need to make a basic 'foundation', or 'composition' if you will. First, fill the background with a color of your liking. I chose to go for a darker greenish (#5f7463) color.
Next, place or paste a photo/texture of clouds on a new layer and have it fill the entire canvas. Then use the filter: Filter > Distort > Polar Coordinates > Polar to Rectangular (yes you can actually find a use for this).
Place or paste the same original photo/texture of clouds on another new layer. This time flip it a 180 degrees before applying "Polar Coordinates".
Set the blending modes of these two cloud layers to: Overlay.

Step 4: Add the "Excluded Rough Grunge" textures
In this step I've used "Excluded Rough Grunge" textures 7 and 13. Place them into the document and have them fill the entire canvas. Add texture 7 first and set its blending mode to: Screen.
This is something I often do with greyscale/black and white images. It only pops the whites. This way we quickly start adding roughness to the artwork.
Add texture 13, canvas filling and blending mode set to Screen as well. Duplicate the texture 13 layer and rotate it 180 degrees. Perhaps move these 3 layers around a bit to find a suitable spot for the white rough spots. Add other/more textures if you feel like your design needs them.
Step 5: Bring in another color
Next, add a contrast color, something truly opposite from the green you have chosen. I used some orange colored clouds. Don't worry, this color will not be seen later. The point of that will become obvious.
Add this color in whatever way you prefer, just make sure it's not a solid color. It has to have a bit more variation to it. A good choices here could be to use water color, lens flare or colorized clouds textures. Or you can go mad with a brush yourself. Just make sure it has some dynamics to it. Don't overthink it though, because like I said: it'll be used in such a way that the colors itself will not be shown.
Place this new color layer on top of the others and set its blending mode to: Difference. (Doing this will directly show you why the color did not appear)
Step 6: Add the first "Etched Into Dark" textures
In this step I've used "Etched Into Dark" textures: 1 and 10. Place them into the document and have them fill the entire canvas. Add texture 1 first, invert its colors by pressing CTRL/CMD+I or by going to Image > Adjustments > Invert. After that set its blending mode to "Overlay" and its opacity to 30%.
Now add texture 10 and invert that as well (CTRL/CMD+I). Set its blending mode to "Divide" and its opacity to 35%.
Try experimenting with other/more textures and opacity levels to see which result you like best.
Now we're going to add a ton of minor details by placing texture 1 all over the canvas, multiple times. See those little dotted spots on this texture? Add this texture with inverted colors to your document again. Set its blending mode to: Overlay.
Add a layer mask to it and brush away all the white parts until only those dotted spots show.  In order to make it blend into the background well, remove all the white stuff surrounding it. You can also try using different opacity levels.
Now scale it down a large bit to make those spots turn into little dots, or stars if you will. I call them "sparks," and I've added them about 25 times all over the canvas.
Step 7: Transform the 'foundation' to several blocks
Ok, so now we have quite a nice 'foundation', right? Let's copy it around and transform it into "something more". Merge a copy of all visible layers into a new layer by pressing: Ctrl/CMD+Alt+Shift+E.
Now you have a new layer that's an exact copy of what you've (visibly) made so far. Resize that layer to about 80% of the canvas size by pressing CTRL/CMD+T and changing the width to 80% at the top menu bar. Be sure to check the chain icon to have the transform maintain the aspect ratio. After that set the blending mode of this layer to: Exclusion. (Yes, this can also turn out pretty neat for a change. Right?)
Duplicate this newest layer (CTRL/CMD+J). Transform the duplicated layer to 80% of its original size as well. Re-select the original block layer, the one you made before this newest one. Now make a selection of the duplicated layer by holding CTRL and pressing on it in the layers panel. (Still following? I do hope so.)
Invert the selection (CTRL/CMD+I) and add a layer mask to the original block layer (that you should've selected). This should cutout the duplication layer from the original.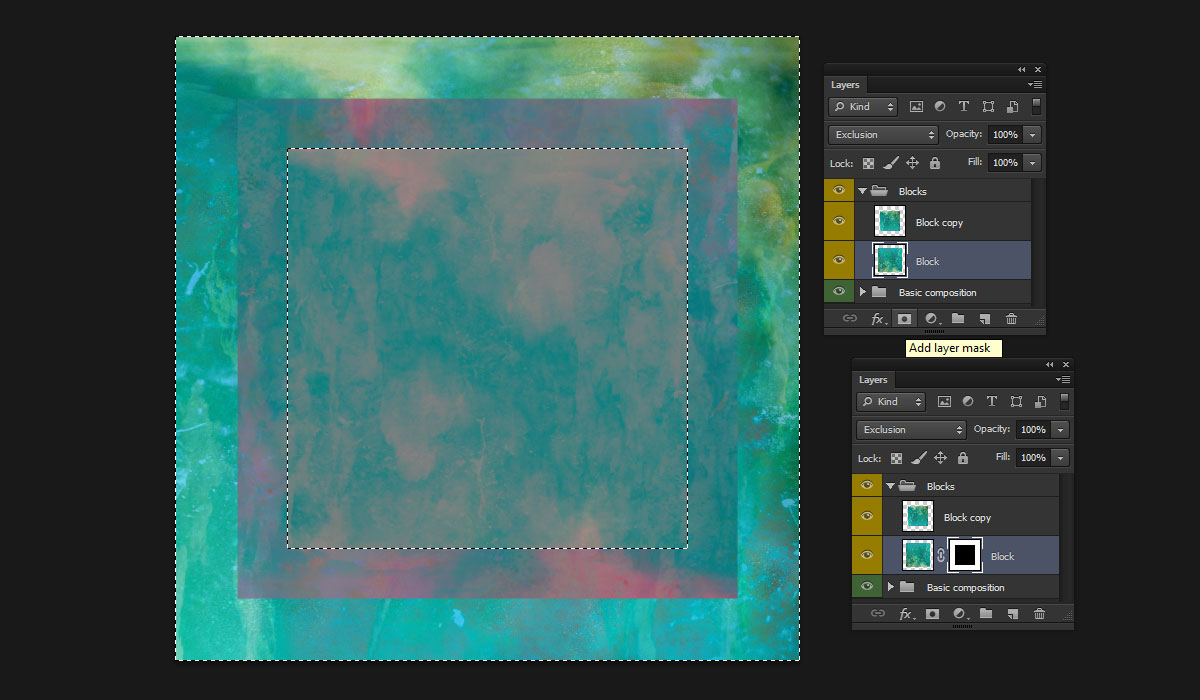 Now invert the colors of the duplicated layer by (selecting it and) pressing CTRL/CMD+I.
Go through this process a few times. Duplicate the duplication, cutout a part of it that's smaller and invert it or not. Why "or not"? Well, sometimes the non-inverted results look better. I'll leave that up to you to judge.
While going through this process be sure to rearrange the duplicated blocks here and there. Or not. Also, don't cutout all the blocks. Keep some of them entirely visible. You can also try and delete the first duplication after you've cut it from the original. Then, you can duplicate the cutout version and re-size it as you see fit. Also, try different percentages to decrease the layers with.
There are plenty of ways to go here, all resulting in different compositions. Play with it, experiment!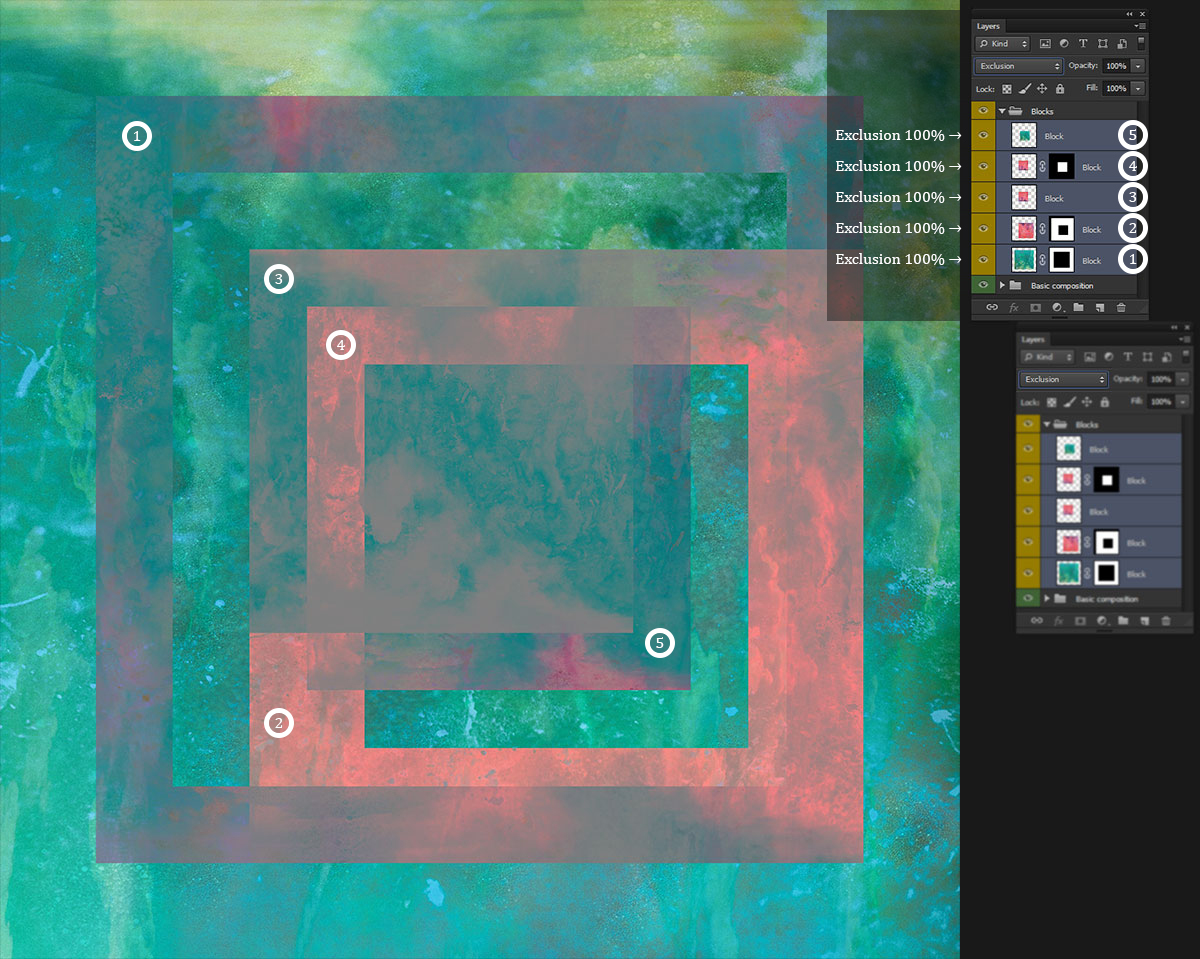 Step 8: Add even more "Etched Into Dark" textures
Remember those spots/stars/sparks/whatever we added back in step 6? Well, if you like things "rich with details"; add a whole bunch more. Add them on top of all the rest though. So not inside the basic composition, but on top of the block copies. By doing so you'll enhance the blocks themselves some more as well.
Here's about 25 more of them added, however subtle they may be: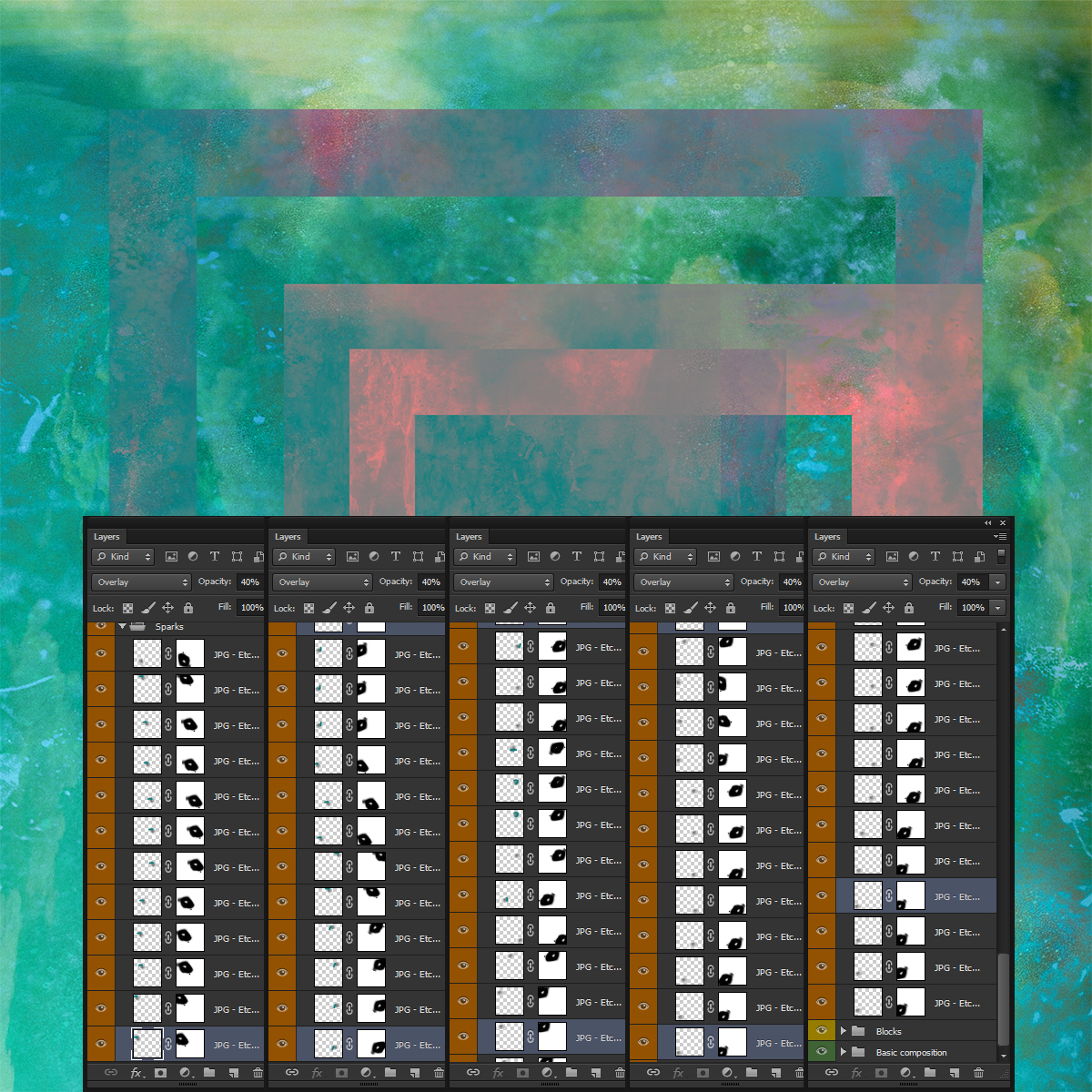 Step 9: Add some final touches
Most of the time I use adjustment layers to add a certain "final touch" to a design. In this case I added three to enhance the artwork an extra bit. The adjustment layers I added were: "Curves", "Gradient Map" and "Vibrance". See the image below for the settings I used.
Now, add some text to it in whatever way and font you see fit. It will be a vinyl cover after all! Of course you don't have to do this. When you've done that (or not) and you deem the design ready, do one last thing. This is something I always do to bump up the sharpness of a sleeve and to make all the little details pop out just a wee bit more. In print that might be lost a bit, which is exactly the reason why I do the following:
Merge a copy of all visible layers into a new layer by pressing: Ctrl/CMD+Alt+Shift+E. Use the filter: Filter > Other > High Pass with a radius of 5,0 (or any other value). Set the blending mode of this layer to "Overlay" and change the opacity to something more of your liking. I changed it to 50%. Try experimenting with this little technique. Try different radius values and opacity levels.
Step 10: Present it
To help place this vinyl sleeve into context, try creating a mockup for it in order to make it look like a physical sleeve. You can easily do this via Go Media's vinyl record mockup templates or their online mockup creation tool at MockupEverything.com!
Creating a mockup preview is an awesome way of presenting your design for a lot of reasons not stated here. It could even help you persuade clients about a design. It gives them an idea of how their product will look like as a real-world product, in this case the vinyl sleeve.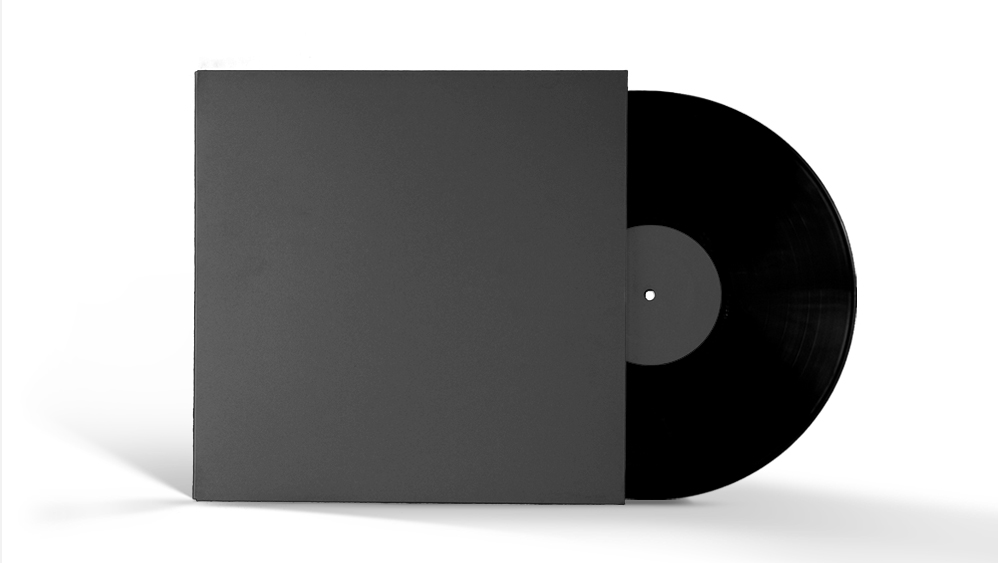 So what should you use, templates or the web tool? It's a personal decision, yes. On one hand, the vinyl record mockup templates will give you a (near) print-ready image. You could print it out and show it to a client while meeting. If you're sending the preview over via email or a website then http://mockupeverything.com/ is probably best for web-ready presentation. It also keeps the file size lower. Clients might like that. It saves them some space, and makes sure it won't max out their inbox quotas (and yours!).
In case you don't know how to use Mockup Everything or the templates, Go Media has put some neat demo material together on how to use Mockup Everything.
Mocking up the artwork we just made – in my case – results into this:
That's it, you're done!
You should now have applied some quick techniques while using the textures from the new "Excluded Rough Grunge" and "Etched Into Dark" texture packs to create an abstract 12 inch vinyl sleeve.
Hopefully this tutorial was simple to follow, helpful and even inspirational. Aside from that, I hope the textures will prove of great use to you in many designs. If you create(d) your own sleeves, or something else, using these textures, I'd love to see it. I'm very curious to find out and see how you apply them, so feel free to share those designs. There's actually a special Go Media place for that!
Show off your results
On the Arsenal Facebook Page, you can post the images you created using Arsenal vectors, textures, fonts, etc.  Please show me how you've used these products in the real world. It's not often that we – as in Go Media – see the work you create with Arsenal products, so take this as a call to action to share it with us on the Facebook page.
For even more exposure, you can post your image in the GoMedia User Showcase on Flickr and/or comment on this tutorial below and link us to it!
Thanks for your attention and time! It's much appreciated.
— Maarten
And You Say Print Is Dead!
For years, we've heard people say "print is dead" and "it's all about the web," but as far as we can tell, print design isn't going anywhere. From business cards to postcards, from invitations to menus, print design is far from dead, it's alive and thriving. Just check out the showcase below if you don't believe us.
The Showcase
And You Say Print Is Dead!
For years, we've heard people say "print is dead" and "it's all about the web," but as far as we can tell, print design isn't going anywhere. From business cards to postcards, from invitations to menus, print design is far from dead, it's alive and thriving. Just check out the showcase below if you don't believe us.
The Showcase

A short introduction
This summer I released an eBook called, The Wall: Modern Day Music Posters. It contains some of the posters seen below, with 91 designers contributing some of the best posters of the last 3 to 4 years. But coming up with 100 of the greatest music posters was no easy task. First priority was to narrow the range down and focus on the last half a decade; otherwise it would be impossible to ensure any truly great posters weren't missed out. There's no shortage of books available that cover older posters many times over. Secondly, I needed to acknowledge that these will be based on my own opinion and personal taste in poster design. Nonetheless, I had to try not to let my attraction to certain posters be the sole reason they are a part of this list.
What is a great poster?
A great poster is one that makes you kick yourself that you didn't or couldn't think of an idea quite like that. Where no matter what the band is and your previous feelings towards them, you cannot help but enjoy the visual feast that they have more than likely commissioned for us to enjoy. But a great looking poster isn't necessarily a successful one. Music posters need to put their message across and put it across well. Whether it's advertising a gig, a tour or a new album, you need to get the information across to the viewer quickly and clearly. While putting the book together, I came to see that to do a great music poster you don't necessarily have to be a seasoned professional. Even some newer, up and coming designers can get it just right as long as they know what they are doing. But being an experienced designer in the field does help, as a lot of the posters below will testify.
Personally, I find that some posters, while the idea behind it might not be groundbreakingly original, can still look fantastic. When the imagery and type come together and are done just right, either in a subtle or plainly obvious way, in theme or color, it can turn a good poster into an amazing piece of design.
The selection
Here are 100 examples of the amazing work being made from around the world today.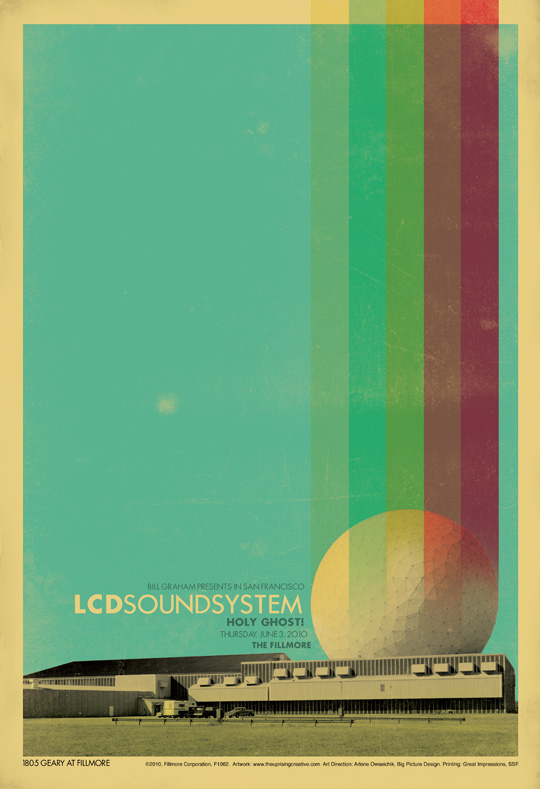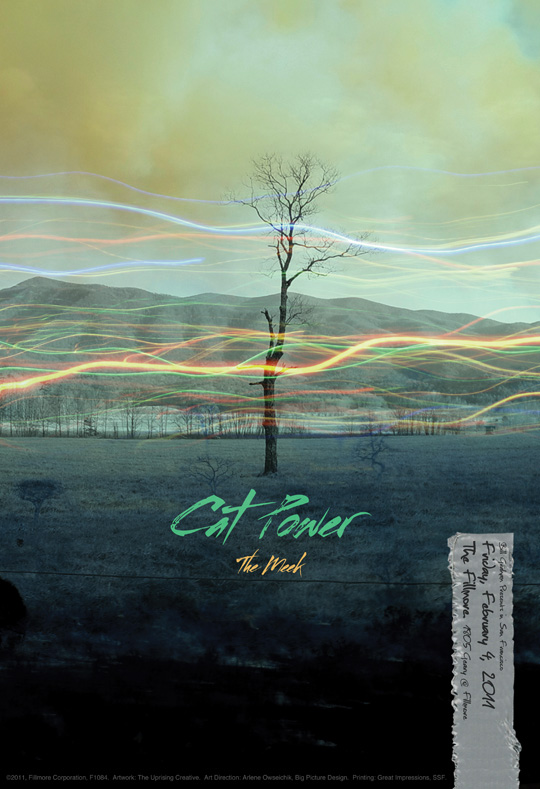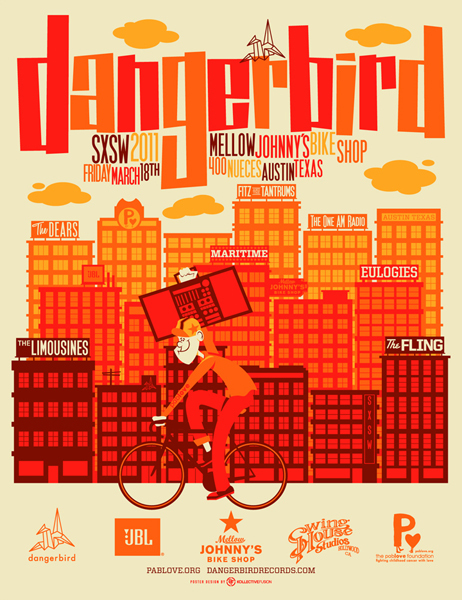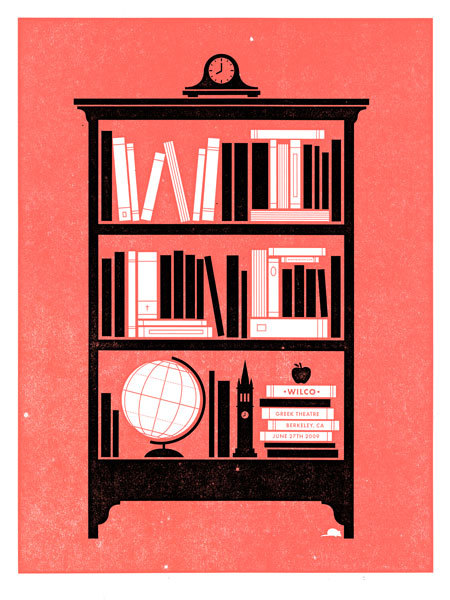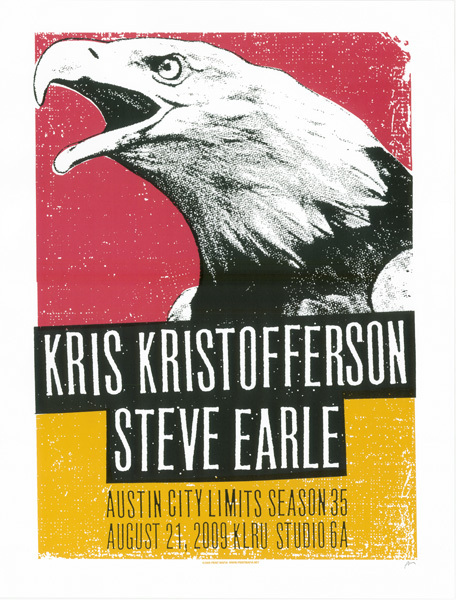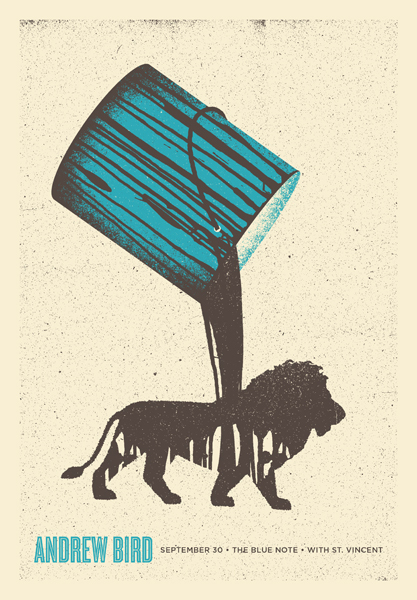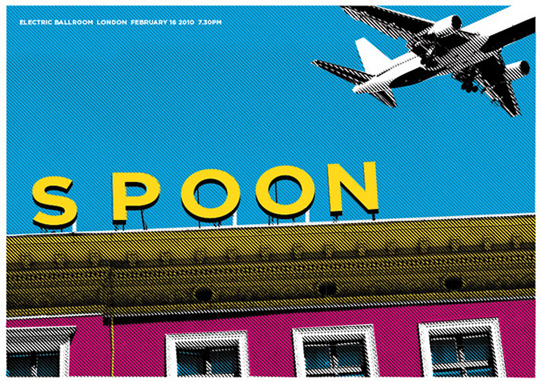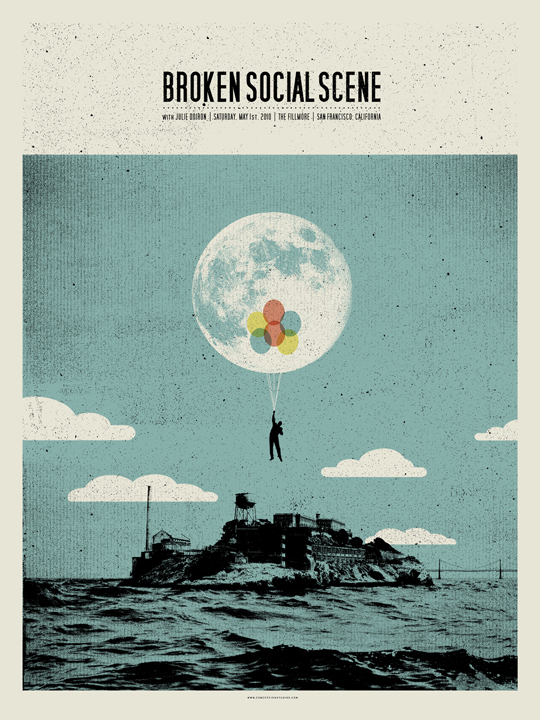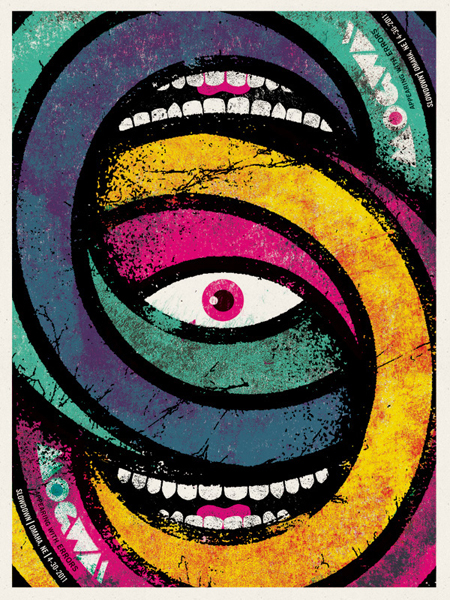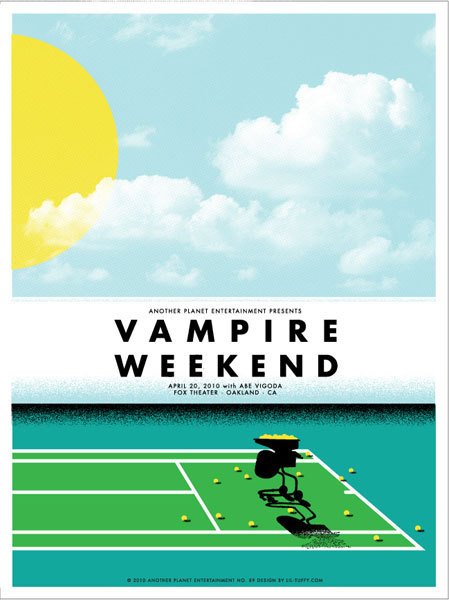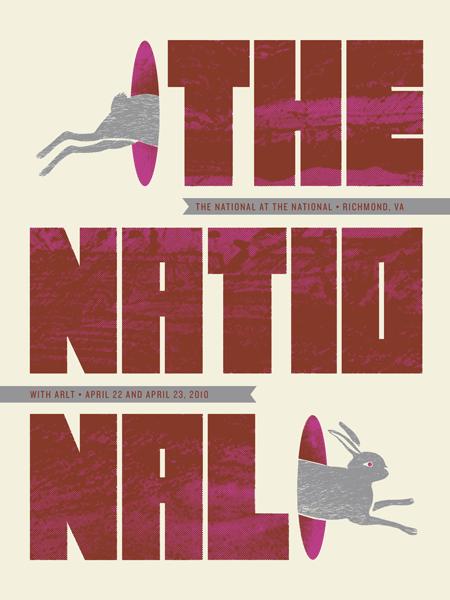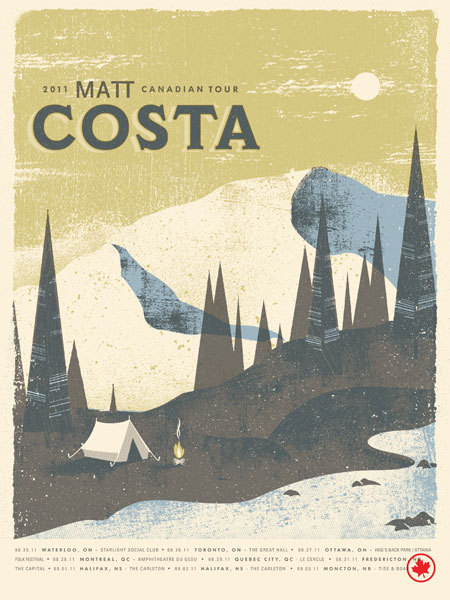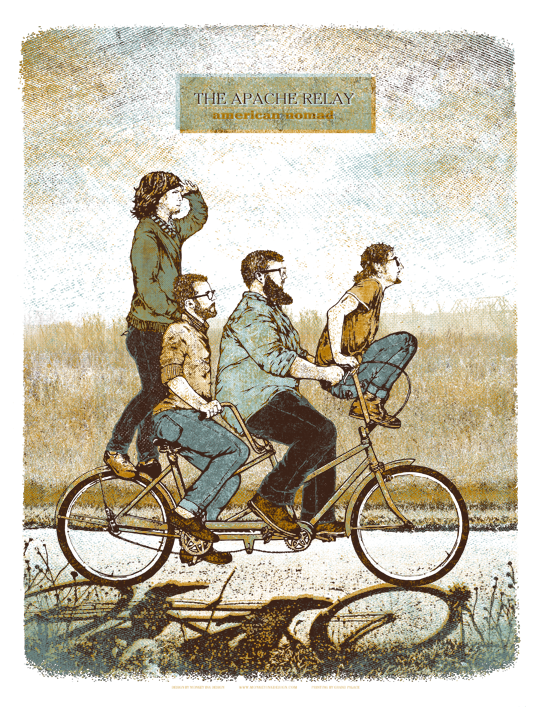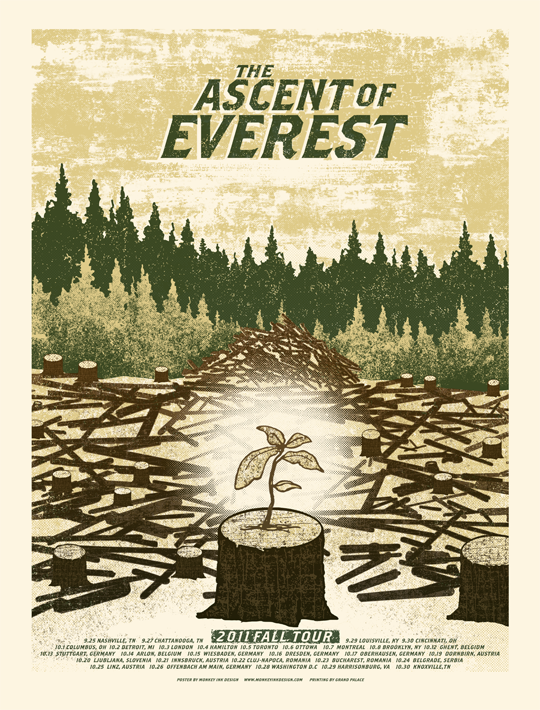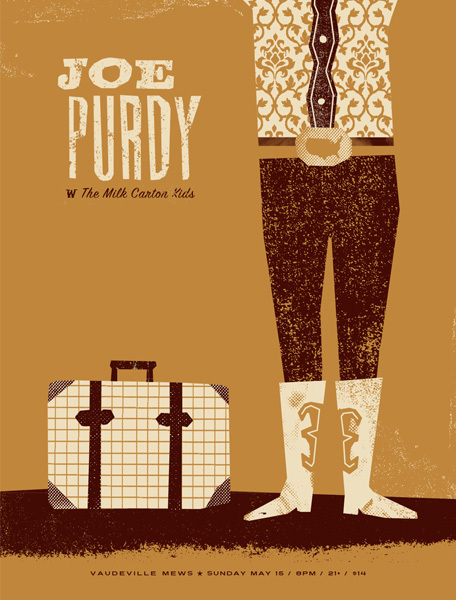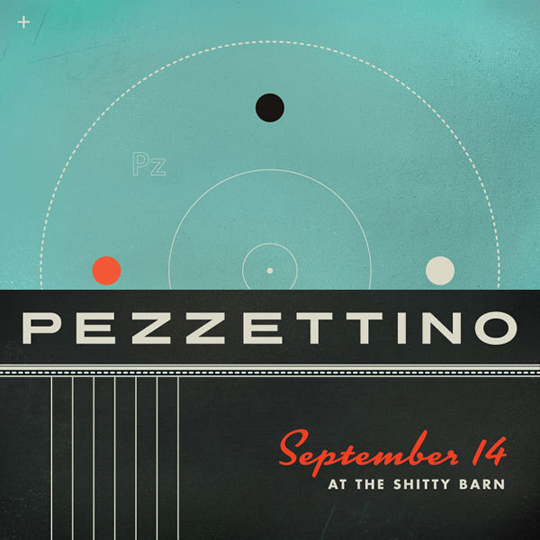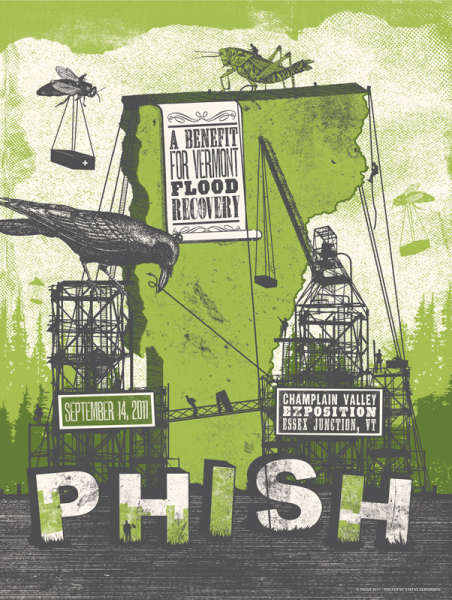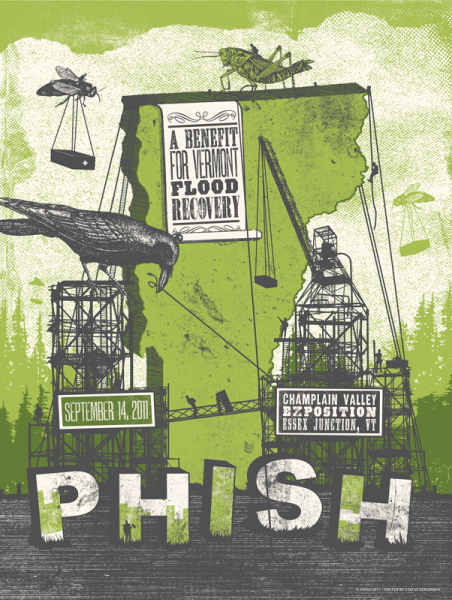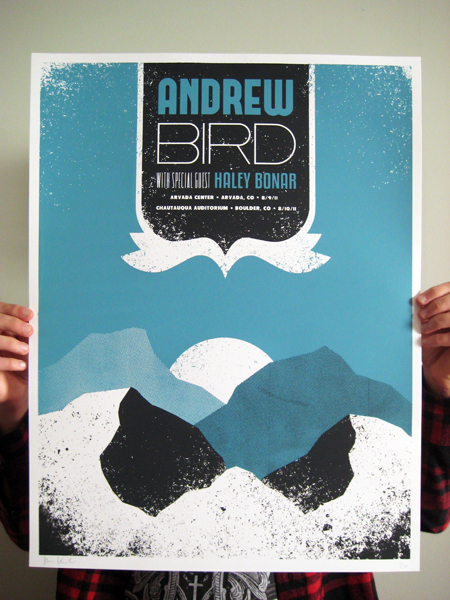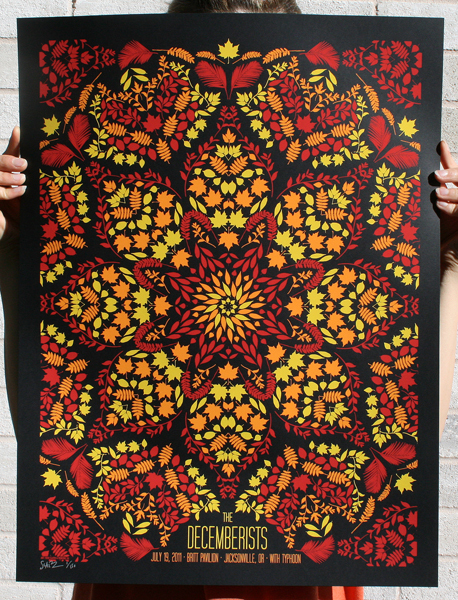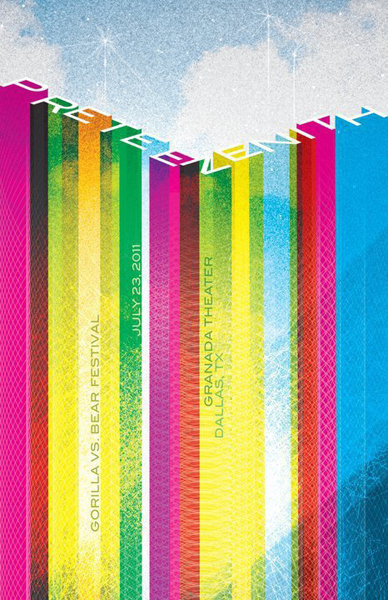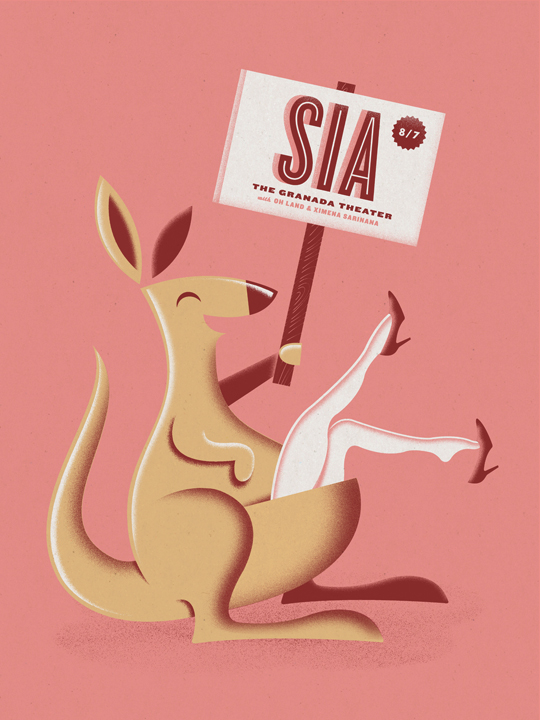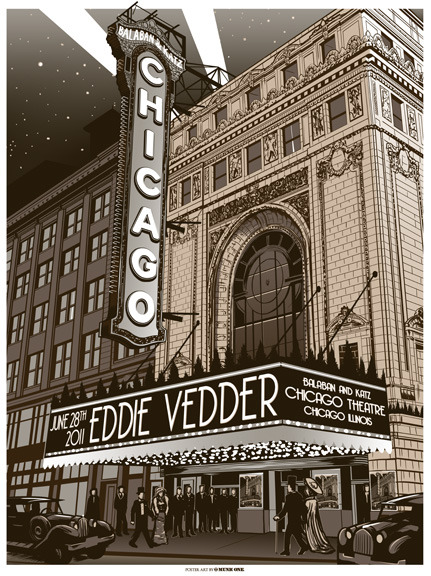 Written by Tom Booth. (Slightly) edited by Simon H.
When most of us want to add additional flair to our print project, we automatically look for elaborate finishing processes to help us accomplish this, forgetting that a well-designed spot varnish can really take the perception of quality and design up a few notches. Unfortunately, most people look to spot UV to hit this mark, since it's immediately recognizable based on its high-gloss, wet-look appearance.
Spot UV's Dirty Little Secret
While spot UV truly does produce a beautiful product, it's sort of like the Las Vegas of the print world…..all the glamor and glitz, with lots of dirty little secrets. First, it's a petroleum-based product, and the last thing any of us need is for your postcards, business cards, or annual report to further our dependency on foreign oil. Second, spot UV can be very expensive and typically runs off-line, as an additional process.
So, why bring it up if I'm only going to talk you out of using it? Because I can offer you a comparable, but much greener process!
Go Greener with a Strike-Through Varnish
Here's how it works: The contrasting glossy vs. matte effects are accomplished using our water-based coatings and a strike-through varnish, printed as an ink, inline on our presses. First, the dull/matte strike-through varnish is put down with a traditional printing plate in the areas that are to stay matte. At the end of our presses, an overall flood of our gloss aqueous coating is applied.
As it cures, the gloss coating is dulled down in the areas where the strike-through matte varnish had been applied. Also, since we're using a traditional printing plate in a standard print unit on our press, we can achieve as much detail as we want. Otherwise, you have to cut a coating blanket specifically for the areas where you want glossy, and that blanket can only be used for that press run or project.
When designing for this, remember that, because it's a water-based setup, the contrast is not as dramatic as the petroleum-based UV. However, keeping the varnish design on a darker, solid-color background will ensure you get the maximum amount of visual appeal out of this process.
Get The Guides
For more info on how to setup your spot varnish files, download the PDF of your preference:

I spot die-cut
Assuming you're in the print or design community, I'm sure you can appreciate my hyper-awareness to the massive amounts of die-cut materials sprinkled throughout our every day lives.  Scattered around my kitchen, I'm seeing cereal boxes, pizza cartons, even the regular mail is filled with standard #10 envelopes that had to be die-cut before they could be glued and converted into plain old envelopes.  So much engineering and craftsmanship in such a neglected and undervalued piece of paper.  Right in front of me, I'm looking at an iPhone, beautifully constructed of round-cornered components, all masterfully die-cut and stamped parts.  Next to that sits my wallet, stuffed with die-cut credit cards, gift cards, my health insurance card, drivers license, various permits, and even my Blockbuster card has round corners.  Whether it's for aesthetic value, functionality, or even the protection of the piece, it serves a purpose.
So, why is it then that when most clients look to design or print marketing materials, they don't all choose to customize their project with some fancy die-cutting?
The bottom line is usually the bottom line, right?  Cost.  Especially in this economic climate, if every company, large or small, had it's own "trending topic" Twitter list, cost consciousness would always sit at the top.  While many clients surely see die-cutting as an added, unnecessary expense, I think few truly understand the real value that it brings to the table.  Typically, it's more cost effective than you think, especially when you think about the big picture.  With the amount of time, energy, and money you spend to acquire leads, prospects, or clients, shouldn't you seize that opportunity to communicate with them as effectively as possible?  Of course you should!  Think about how much printing you see every day and then realize what it really takes for something to really jump out at you.  It takes more than a rectangle and some stock photography.  So, like I said…die-cut it.
Let's walk through the process of die-cutting and then we'll discuss how to setup your file.
1. Die-creation
This starts with a dieline, which most of the time starts with you.  Once the dieline is submitted, it's converted into a .dwg (AutoCAD) file for the die to be engineered.  Typically, a blank sample is cut to ensure that the piece works.  This is especially important if the die-cutting provides functionality.  Many times, for cartons and other packaging, numerous samples are made with the exact paper being used for the job, until it's perfect.  Once the dieline is good to go, a large automated table cutter uses various tool attachments to drill and carve an incredibly precise copy of the dieline into a 3/4″ thick pine board.  Once the board is cut, the die rule is cut and formed to fit the curves of the die, so that it can be inserted into the carved slots and then pounded in securely and perfectly even for cutting.
If you reorder the same piece later, this process only happens once. Assuming no changes need to be made to the die, then your die cost is a one-time expense and this die will be re-used.
2. Die-cutting
The die is setup on the machine and locked into place.  The machine is sheet fed, so individual sheets feed into the press and are pressed against the die with a precise amount of pressure.  The operator must pay constant attention to the  pressure being used and the registration of the cut to the crop marks and printed piece.  If this job is a piece of packaging or has other folding, conversion or functionality, the operator will strip the piece out and certify that it completes properly before running the full quantity of the job.
3.  Stripping
Once the job is finished die-cutting, it's still in full-sheet form.  You may be a little confused at this point, but this is because, if the machine cut the piece completely out, you'd have odd shaped die-cut paper pieces flying around loose in your machine.  Not a wise move when you've got sheets cranking through that press by the thousands.  There are larger presses that can handle stripping on press, but they're much more expensive, so, as you'd expect, they're used for larger jobs.  Smaller jobs are hand stripped, which can leave small "nicks" on the printed piece, from the tiny strands of paper that kept them fastened to the rest of the sheet for delivering out the back of the press and stacking neatly.
4.  Additional Finishing
After this, if there is additional finishing to be performed, it will commence.  Typical examples are folding, gluing, applying fugitive (booger) glue and gift cards or promotional coupons, tipping (inserting) in product samples, bindery, etc.  If none of these processes apply, the job is packed and shipped.
5. Setting Up Your File
Now you know more than the average joe about die-cut techniques – now put them into practice! Watch this short video to learn how to set up an Illustrator file that's ready for die-cut production.


Business cards are one of the elements of corporate design that should be pushed beyond just graphics, and converge with several processes to become what they should be: a memorable, collectible and impressive piece to be carried away everywhere. The following are perfect examples, and have overcome the graphic-only component of the piece by using different materials and techniques. A recognizable pattern in all these designs is the use of die-cuts.

One heavy piece: A print-sticked application directly on a metallic-emboss treated plate, Duffy And Partners business card. Duffy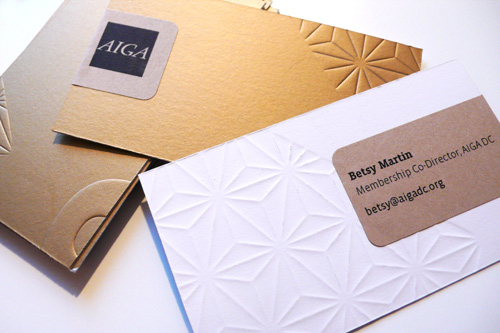 Print applications on inset embossed paper; multiple textures in one piece.

Print with golden / silver special inks. You can feel the texture of this piece just by looking at it. Design by NothingSomething NY

A soft-looking print applied on top of printed hard-paper for Photographer John Bragg. Design by Funnel.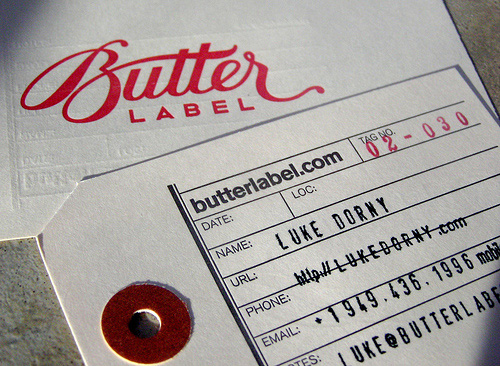 Inset embossing; die-cut with application on-top of it. Design by Luke Dorny.

Print application applied to a lapping-treated acetate. Easily modified for multiple employees and and their job description. Design by Catalyst Studios

Speaking of heavy, this business card has completely re-thought the concept into a metal token reflecting the goods of the product design company: Dashdotstudios

Showing the love towards former racing Greyhounds and the issues revolving around them, this dog-tag metallic embossed plate + tampography for the business cards of the National Greyhound Adoption Program is quite an achievement. Laurie DeMartino

Each of these card is unique, the result of a hand-made process by Ethan Martin

Barkley Evergreen & Partners developed this multi-textured, thick business card for 40 Sardines Restaurant. Delicate inset embossing and on-top applications.Barkley Evergreen & Partners.

Die-cut, soft foil emboss for the logo with printed paper application and a even subtler background pattern for the business card body. Design by Honest Brothers

Patterns and thickness are the main visual elements in this business card for Le Club Fez; again, a label die-cut applied to the body of the card allows for easy replacement for new data. Design by Hook USA.

A very unique design created with die-cut paper and a wrinkle texture. Design by the Michael Strauss himself.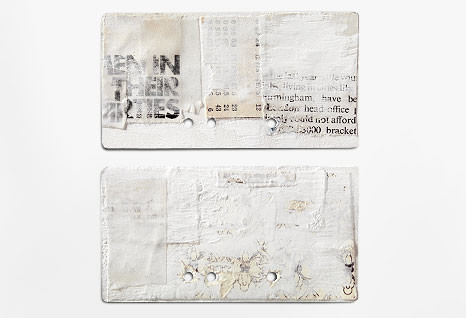 Art with an industrial approach to a corporate field; very experimental business cards with different and unique results. Design by Sonner Valle

Space150 is recognized for their well-designed and executed business cards. Dry cuts, neon inks and inset emboss makes part of the main ingredients for this pieces. Design by Space150
Bonus
Another examples of business cards well-executed, with lots of textures and alternative printing processes helping stand out from the common: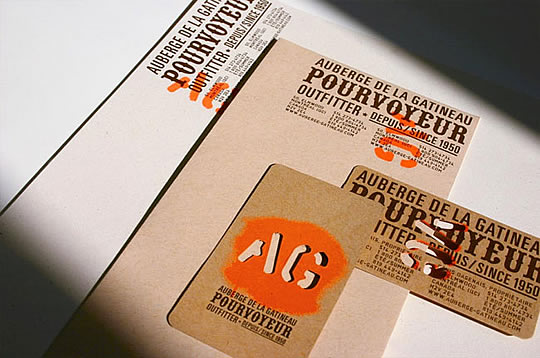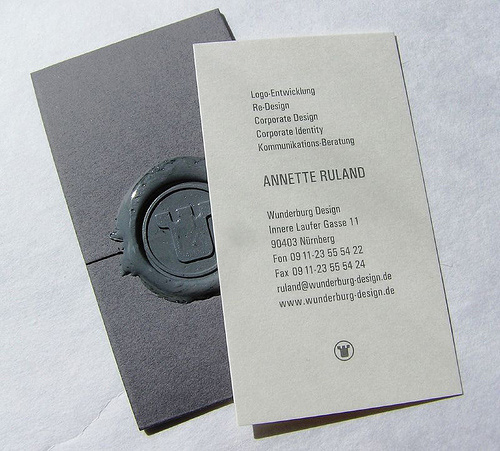 So you just spent 10 or more hours creating a crazy t-shirt design and your client has officially signed off…so what now?
You may have created stellar photo-realistic mockups and used tons of really cool colors- but none of this means ANYTHING if your screen printer can't clearly interpret your vision!
I find that many of my clients have had bad experiences with low-budget designers in the past who have been able to create great art, but don't know the first thing about how to put it on apparel. This can end up costing the client a lot of time, stress, and additional set-up fees at the printer. Over the years, I've found that a client truly appreciates the fact that my designs come ready to hand-over to the screen printer that very same day – with no questions asked.
The best rule of thumb when preparing files? Leave nothing to chance and pretend that your screen printer is about 6 years old. (As you establish a working relationship, you may be able to edit out some of these steps once your screen printer knows your file 'style'. Remember that, like designers, every printer is different!)
This tutorial will set out to give you step-by-step instructions for ensuring that your files are properly set up and ready to go to print! (AKA: Creating a 'Tech Pack') Hold on, 'cuz it's long, but once you get it down, your clients and printers will love you!
This Tutorial will Cover:
File Preparation for Apparel
Creating A Full-Size Blank Shirt Template
Setting Up Your Tech Pack Template
Completing Technical Callouts
Full-Size Screen Separations
Double Checking Your Work
Equipment needed:
Adobe Illustrator
Pantone solid coated booklet (or use Adobe Illustrator's included PMS swatch set and take your chances)
Any linked files or fonts
Any additional artwork (neck labels, custom rivet art, pattern swatches, etc)
An actual blank apparel body that your client wants to use, or a clear photo and accurate measurements (shoulder-seam to shoulder-seam and top to bottom)
Digital camera
Ruler
Step one: File Preparation
For this particular tutorial, I have decided to use a t-shirt design for one of my more recent clients- the Nastia Gold line by Olympic gold-medal gymnast Nastia Liukin for Vanilla Star Jeans. Though a little girly and basic for Go Media style, it works well for the purposes of this tutorial.
We are already assuming your shirt has been broken down into halftones, bitmap files, etc and brought into Illustrator.
The first thing that I like to do is to change my document size to be about the size of a real-life t-shirt. In this case, for a standard girls' tee, I know that I need a document approximately 24″x 30″ in order to leave plenty of room for call-outs, headers, and all the other things we will go into later.
Before diving in, I go to my 'Links' menu and highlight all of my links, which makes sure that no layers are locked. Click the arrow at the top right, and select 'Embed Image'.
If I had used any special fonts (mine happen to be hand-lettered), this would also be the time to make sure that you select them, go to the 'Type' menu and click 'Create Outlines'. This ensures that your printer won't be calling you looking for attached files or fonts later.
Next, in a separate file, I like to create an accurate template of the blank t-shirt or hoodie I will be using to gauge correct size and placement. This way, I don't have to waste time trying to print out my artwork and re-sizing it until I get it just right. Instead, I take a clear photo of the blank garment that my client wants to use, or ask them to send me one. Keep in mind that you generally want to use a middle-of-the road size shirt (Medium is good), as your art has to fit on both a size S and XL.
For this particular client, they didn't have a blank supplier picked out yet, so I used an existing template that I had already traced from a photo. Simply drop your garment photo into Illustrator, set the image transparency to about 75%, and using your pencil tool, trace around your blank garment. (It doesn't have to be super accurate, as different shirts will have different wrinkles and curves)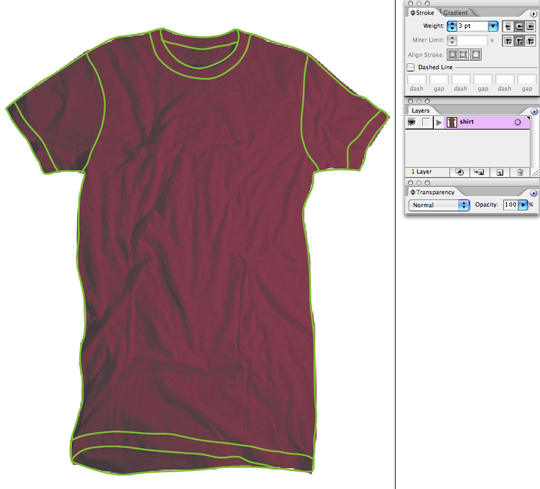 Once you have traced your shirt and created an accurate template, enlarge it to real-life size using a few key measurements. Measure the distance from the top of one shoulder seam to the other. You may also want to measure the distance from the top of the shirt (top of shoulder) to the bottom (hem). For this garment, my shoulder-to-shoulder distance is approx. 12″ as this is a juniors tee. I make sure that my "Rulers" are turned on, then size my template accordingly.
Save this file for future use as a shirt template, or click below to download the one that we have provided for you! Now you are really ready to begin!
[download#42#nohits]
Keep this template on it's own layer called "Shirt" and lock it. Now in your layers palette, create another layer called "Art". This is the layer that you will be playing in- doing all of your masking and sizing. Also create a third layer and call it "Details"- we will get into this layer last.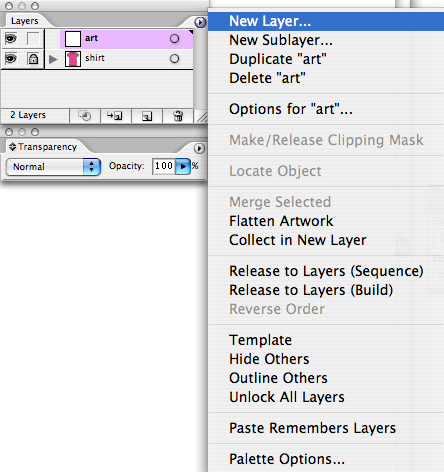 From here, copy and paste your original art into your "Art" layer. Begin playing with placement, seeing which parts of the design may run off the edges, how they might align to the collar or seams, etc.
Once you find a placement that you are happy with, unlock your "Shirt" layer, and using your white arrow, select only the main body area (not the lines representing seams) and copy and paste it into your "Art" layer. You can now use this as a clipping mask to make your art look like it is bleeding off of the edges. The main body area of the shirt should appear to cover the art in your "Art" layer. Under your "Layers" palette, click the little circle to the right of the layer named "Art". This will select everything in your "Art" layer. Then simply hit COMMAND+7 or Object>Clipping Mask>Make to mask out your art.
Step two:SETTING UP YOUR TECH PACK TEMPLATE
Now that you have your art where you want it, lock both your "SHIRT" layer and "ART" layer. From here on out, we will be working only in our "DETAILS" layer until we do color separations. I like to start setting up my tech pack by copying and pasting my client's logo into the top left corner of the document. I then align my type to the left and right underneath the logo I type in all caps:
SHIRT PRINTER
SHIRT BRAND
SHIRT COLOR
SCREENPRINT COLORS
Next, I align my type to the top right and type in all caps:
NAME
JOB #
From here, fill in any and all information that you know.
Your printer is the name of the client's chosen screen printer (if you know it).
Your shirt brand would be, for example, American Apparel.
Color is self explanatory. Name is the name of that particular design.
Job # will most likely be given to you by your client, if they have one.
Once you get to screenprint colors, you will want to grab your trusty Pantone Solid Coated book to accurately choose your colors. In my experience, this is the book that most printers use to accurately show inks. There are also separate Pantone books just for metallics, neons, etc, but we will stick with the basic book for now.
After selecting my colors, I create little boxes with my rectangle tool to act as little swatches for each color. Next to each swatch, I list the name of the color- for example, my first color is PMS (Pantone Matching System) 7499 C (Coated).
TIP: if you use the Pantone swatches that Illustrator provides, they will look very different on the screen than in an actual Pantone book. Always go off of the book, and try to make the ones on your screen look like the book, instead of the other way around.
Also note that even though I can see that PMS 871 C is a metallic gold in my Pantone book, I made sure to note that I wanted it to be metallic foil, not just metallic ink. The more information you can provide, the better.
STEP THREE:COMPLETING TECHNICAL CALLOUTS
Now we want to really get into calling out any special art placements, special treatments, etc. I begin by calling out that it is OK for the PMS 7449 C color art to run off the sides. I show this by drawing a clean line using my line segment tool, and writing exactly that.
"PMS 7499 C ART CAN RUN OFF EDGES"
Next I want to point out that it is OK if the art runs off the collar and prints on the inside back of the t-shirt, since I know we will have a neck label sewn in over the top. So again, I call that out:
"INK RUNS OFF COLLAR. OK IF INK GETS INSIDE OF SHIRT."
I also decide that I would like my art, for the most part, to appear centered. This is up to the eye of the printer, but lets him know that I will be looking for that. So I add that in:
"ART CENTERED".
Hopefully, by this point you are starting to get the picture. The more info that you can provide your printer, the better. I also always like to provide at least one measured point of reference – in this case, I would like the top of the black screen (the top of the rose) to be approx. 2″ from the base of the collar. So again, I draw a line pointing to that place and write:
"BLACK SCREEN BEGINS APPROX. 2″ FROM BASE OF COLLAR".
Finally, I know that my client has custom neck labels that they would like sewn into the neck of these t-shirts. So I copy and paste the neck label art, placing it in a red rectangular box so that there is no confusion about which label goes with which shirt. (You'd be surprised). If there is an associated ID# for that particular label, go ahead and include it. If your client wants to screen print neck labels, go ahead and include that art too, just in case. Or, at the very least, make mention of the fact that it needs to be there.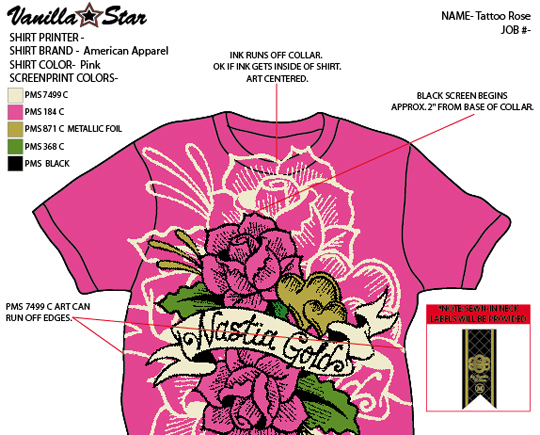 Don't forget to include any other custom treatments such as: contrast stitching, various garment treatments and washes, rivet or rhinestone embellishments, embroidery, etc.
STEP FOUR: FULL-SIZE COLOR SEPARATIONS
Hang on guys, you are almost there! While many printers are smart and able to figure out how to 'unmask' your "Art" layer to make separations, many aren't. To eliminate any confusion, I like to provide color separations at the bottom, off of the art board, but on my "Art" layer. Lock your "Details" layer, and unlock your "Art" layer. Select everything in that layer and copy it. Now paste that art directly below the art board and unmask it (ALT+COMMAND+7) Delete your mask, leaving just the art.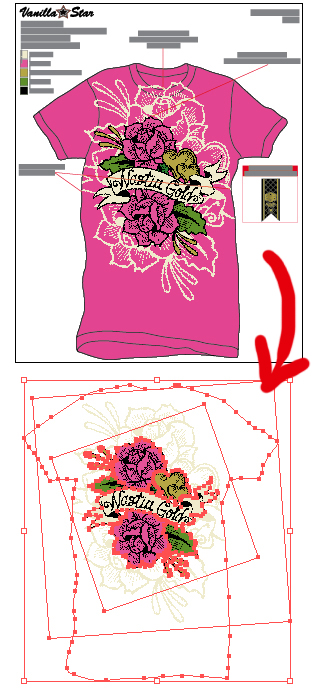 This next part gets a little tricky, so pay attention! Depending on how many colors your art has, this will determine the number of separations that you need to make.
My particular file has 5 colors, so I need to make separations for 5 separate screens. The way that I approach this (and others may do it differently) is to copy and paste the art that we just unmasked 4 more times in a row. I then write each Pantone color's name above each separation, like this:

Now – PAY ATTENTION – depending on what color you are separating (my first color is 7499 C)- wherever that color is shown in the art, it needs to be made BLACK. Every other color in the art needs to be made WHITE (so that it won't show up).
As you click on each piece of the art, turn it the appropriate color and then LOCK IT! This should leave only the areas that are 7499 C showing!

NOTE: This will mess with your brain, since you are used to thinking in terms of colors, not translating those colors into black-and-white. But I promise, it gets easier.
Proceed to do this for every color, leaving only the areas that are that specific color showing. IE: If you are on the 'green' screen, then all areas that are 'green' should be black when you are done with separating that screen. When you get through every color, you will have screen print separations!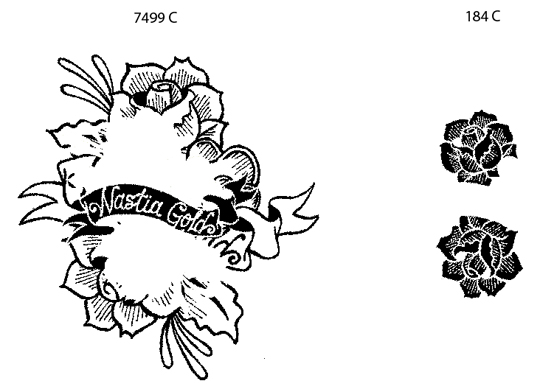 STEP FIVE: DOUBLE CHECK YOUR WORK!
Double check everything, send a JPG to your client for final approval with all of the callouts shown (in case the client has any revisions), and off to the printer it goes! Send a copy of the final AI file to the client, and kick back until the samples roll in! Whew, you made it!
Conclusion
As a full-time art director for the new skate apparel line Self-Destruct (www.teamselfdestruct.com), as well as full-time freelance designer for my own firm (www.marenkellydesign.com) I know the 'tech-pack' can seem like a lot of extra work that you may not think you have time for. But once you get the process down, it really shouldn't take you longer than 30 minutes, and it acts as a major selling point to your clients. In my experience, it even helps to justify a slightly higher, flat-rate per design, since the client knows they are getting quality, print-ready art!
Thanks to these easy-to-understand files, I have also gotten a lot of work over the years from screen printer referrals. Remember- everyone loves someone who makes their job a little easier, and it will payoff in the end!