The WMC Fest Creators. Doers. Makers. Series
Our new video series highlights remarkable makers and designers that inspire and motivate us to create greatness. Episode Three puts the spotlight on Michael Cavotta, a featured speaker and workshop leader at the best creative conference of the summer, Go Media's Weapons of Mass Creation Fest (2015).
Weapons of Mass Creation Fest is presented by Cleveland web design, logo design and graphic design studio Go Media.
The Creators. Doers. Makers. Series, directed by Aaron Freeder, will be back with more videos highlighting your favorite Weapons of Mass Creation Fest artists. Continue checking back here on our blog or over at wmcfest.com for more great features.
Watch the Video Now:

About Michael:
Michael Cavotta is a Cleveland-based personal branding coach, award-winning photographer, and ass-kicking agent of authenticity who thrives on bringing people face-to-face with their exceptional selves.
Prior to a career reboot in 2009, Michael had been a serial entrepreneur and venture consultant with over 10 years of experience helping launch a long list of exceptional start-ups, including iPod® accessory maker, Mophie. Along the way, he picked up a camera and taught himself how to use it. He started shooting food and interiors for Cleveland Magazine in 2006, but over the next four years, his focus would shift—and not just in terms of his photography.
In 2010, Michael traded the mercenary work of branding opportunity for the missionary work of branding people. Six months later, he was an Associate to renowned NY headshot photographer, Peter Hurley. By 2013, the distinction between Michael's on-camera craft and off-camera coaching had all but disappeared, prompting his certification as a Reach® Personal Brand Strategist under William Arruda. In the years that followed, Michael's original thoughts on image and authenticity—what he likes to call the You Quotient™—have been published around the world.
While he's not busy boosting his clients' YQ, Michael lives with his wife and two kids in a renovated schoolhouse loft guarded by a lovable 30lb pit bull named Kitty.
A Chat with Film Photographer Polly Chandler
Polly Chandler grew up in Southern Illinois and graduated with an MFA in photography from Southern Illinois University.  She has exhibited her work nationally and her photographs have been published in magazines such as PDN, Rangefinder and B&W Magazine.  Polly now lives in Austin, Texas and continues to make photographs as well as strives to challenge herself in her work.  She is forever seeking to make images that filter and render her experiences, emotions and search for personal meaning through her photography.
While many, in our digital age, have strayed from the days of darkrooms, film photographer Polly has held firm.  Among her favorite tools, Polly lists large format camera Toyo 45CX and Polaroid Type 55 Positive/Negative film, the latter of which she stockpiled when Polaroid's end was imminent.
"In 2008, I got wind that Polaroid may be going out of business so I took out a credit card and bought all I could afford."
Fascinated by Polly's haunting beautiful, largely black and white work and her steadfast dedication to film, I asked her to discuss her process behind one of her works, entitled, "Take Back These Wings," from her collection: You Build It Up, You Wreck It Down.
In Polly's Words
My latest project is a series of narratives based on my personal interpretations of the music and lyrics by the singer-song writer, Tom Waits.
All of the images included in this project were taken with a Large Format Toyo CX45 View camera using Polaroid Type 55 film.
When creating a piece, first I develop a concept for an image. I begin by forming an idea. In this particular series, called "You Build It Up, You Wreck It Down", I chose a line from a song by the singer/songwriter Tom Waits, and location scout.
These snapshots were taken at the location I had in mind with my iPhone, which allowed for me to print them out on a page and draw on top of them.

After location scouting, I get back to the sketching board to work my ideas. The wonderful thing about photography is that you can make several different frames, compositions, and re-work ideas all in one shoot.
In the field, I'll process my film in the chemistry on location, photographing until I get the shot that is just right.
It is important to me that my decisions in my image making are done in the field.  Nothing is an afterthought; everything is done in-camera.
My photographs represent, among other things, my experience and interpretation of a particular place and moment in time (ultimately representing myself).  All of my images are done through the camera, there is no digital manipulation aside from some levels adjusting.
For me, part of challenging myself as a photographer is to create the image I'm looking for while in the field, creating in the camera and exposing on the negative.
Next I'll scan in the negative using an Epson 3200 Flatbed scanner that allows for scanning 4X5 negatives.  I now have to scan my negatives since I no longer have a darkroom.  The printer I use is an Epson 3800 model.  And it's a great printer, but what really makes the difference is the paper.  I use many different papers depending on what I am printing for.  But my favorite paper is Hahnemuhle.
In the darkroom, I dodge and burn, a technique used during the printing process to manipulate the exposure of a selected area(s) on a photographic print, deviating from the rest of the image's exposure. In a darkroom print from a film negative, dodging decreases the exposure for areas of the print that I wish to be lighter, while burning increases the exposure to areas of the print that should be darker.
Lastly, I clean up the dust and print. I only do in Photoshop what I can do in the darkroom. What you see in the final print is what I saw in-camera. I am a "straight" photographer, in other words I do not manipulate my image in post-production.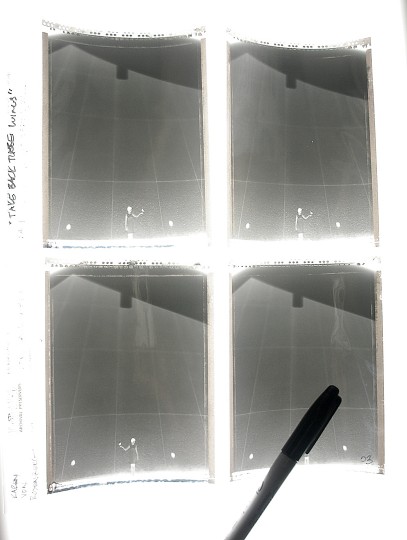 I print full frame (meaning I do not crop the edges of the negative) to show that I pay close attention to every detail within my frame; including the very edges.
Nothing is an accident.  Photographing this way does slow everything down and the subject has to pay close attention to the process of making the photograph along with me, so it's a very collaborative process, which I like.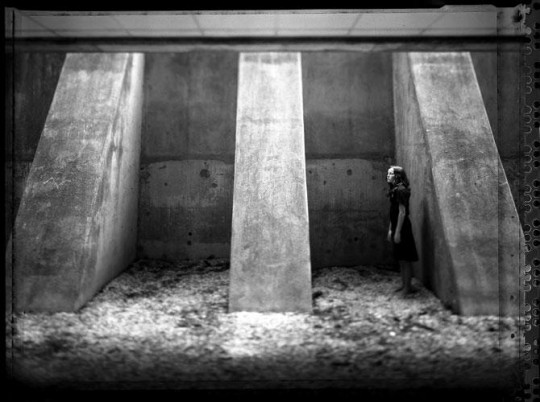 In photography, I found my passion; which for me does not always equate to joy. It's as close to a purpose as I will ever get, and with that can come strife, hardship and frustration. But on the other side of that hard work is a creation of my imagination, and nothing is more satisfying.
For more of Polly's work:
Polly Chandler.com | Facebook | Flickr
Capturing a clean, crisp, accurate image of the work you've spent so many hours to achieve is one of the most vital elements of pulling together your portfolio.  Miss the mark and you may lose the job.
Since there is so much skill and expertise associated with product photography, unless you are well equipped and well educated, you may be misrepresented. Professional Cleveland photographer and extended Go Media family member Dan Morgan, of Straight Shooter, recommends designers leave it to a professional.
With over 30 years of photography experience under his belt, Morgan has learned to shoot and light every kind of product conceivable. Beginning his career at his father's photography business, Morgan Studio, Dan has worked for the likes of Bonne Bell, Sotheby's in New York and Kate Spade. He has photographed everything from the jewelry Marilyn Monroe and Katharine Hepburn once doned to fishing lures and Ferraris.  Dan has come to specialize in shiny objects, arguably one of the most difficult products to shoot.
Dan talks to us today about some of the challenges he has faced as a product photographer, as well as some of the tricks of the trade.
Challenges and Rewards
Preparation of Product
Sometimes there is much work to be done before the photography even begins.
"The unique characteristic of this shot is that I had to construct the folders before I even got them in front of the camera," notes Dan, who uses items like cardboard spacers, glue, wax and putty to style and prep the product.  Once prepared, the challenge becomes accurately and flawlessly presenting the product per the client's wishes. In this example, Dan used string to hang the folders, giving them a floating effect; string was removed in post-production.
Dan recommends, "building things strong enough to last as long as they'll need to last" to withstand the hours you'll spend photographing your product. Haste, as they say, makes waste.
Volume
One huge challenge of product photography Dan deals with regularly is that of volume. It's easy, when presented with a large quantity of items, such as print material or the Mill-Rose brushes pictured above, to feel frustrated right off the bat. "It's my job," notes Dan, "to take that which is intimidating to my client and carry that intimidating item out of the office and deal with it myself."
How did he accomplish it?  "First, I laid out the palette, which in this case was a white 12 foot wide piece of paper on the floor. I mounted my camera to a step ladder and shot straight down on the subject and lit it in such a way that the legs of the ladder did not show up in the shot. A number of technical things: the lighting, physically of it, the space and the height I needed to accomplish this shot was a part of the challenge, and the composition: making the colors pop, creating shadows, was another."
In this situation, Dan discloses, it's all a matter of time, a tremendous amount of patience and an eye for design.
Reflection
"Lighting objects is a lot of what it's about, especially when you're dealing with shiny objects," notes Dan, who recently photographed this ceramic elephant by local artist Andrew Simmons.
"Instead of pointing direct light at the subject, try pointing white cards backed up away from the subject," Dan suggests. "Light the white cards instead."
"This is key to softening shadows," Dan continues, "and even when you'd like shadows to exist, this trick makes the shadows more interesting, as they are falling forward from the product towards the camera. This concept and many other true lighting techniques are contrary to what you would think starting off. You don't point bright lights at the object or keep pointing brighter lights at it. It's about quality of light over quantity of light. It's not direct light; it's indirect light."
Multiple Elements
For this industrial photo, Dan worked closely with the client, who had multiple desires; she wanted to see her company's logo combined with smoke and color and a beautiful product shot to boot.
Dan quickly realized that he would needed to pull three photographs together to grant this wish. The first was a piece of glass Dan had etched with the company name, highlighted by smoke and light. The second, the smoke itself, was created by dry ice Dan gathered from Checker Bar Ice Cream here in Cleveland. The third was the product shot separately on a white background.
Why shot separately?  Dan notes, "If I had tried to light the product with the glass in the shot I'd have reflections on the glass showing up and all kinds of mess that would take a lot of time to clean up in Photoshop; more time than it would take to shoot them all individually."
Taking time with each of your individual elements, per Dan's example, is essential to pulling together one beautiful product shot.
Depending on the circumstances, Dan often recommends designers or art directors work hand-in-hand with their photographer, on site. Two heads, as they say, are sometimes better than one.  In this case, per Dan, "a client being organized and knowing what they want is critical."
With some patience, and the experience of a seasoned photographer, there is no limit to what you can achieve.
Have you tried your hand at product photography? What challenges did you face? What worked?
Find out more about Dan Morgan of Straight Shooter
Find Straight Shooter on Facebook | Instagram
Hey designers, attend our all-inclusive soul-fulfilling three-day design retreat, WMC: Off-The-Grid, this October 5 – 7th. To learn more, head to wmcfest.com.
A little bit of context
Hello all, Simon here. Welcome back to the design blog built by Cleveland's finest graphic designers.  You know me as a designer that loves to create posters with a lot of textures. I mean, just check the Lost and Taken poster tutorial, or the Do androids dream of electric sheep one. I've also used similar techniques in the tutorial I wrote when we released the Go Media building texture collection.
Well today, I want to talk about another one of my hobbies: photography. More specifically, iPhonography. I'm an avid Instagram user. But even better than Instagram is VSCO Cam. Purchasing the whole set of filters in that last app was so worth it. I'm a sucker for these often over-the-top film vibe images. Knowing that I don't shoot too much film these days (despite owning a couple of Polaroids and an old Fujica ST 705), it's kind of the closest I'm getting to it.
Been living under a rock for the past few years and don't know what Instagram and VSCO Cam are and what they do? Here's my Instagram profile, and my Grid™ profile. I've also shot images at the Cleveland  Zoo, at the Aquarium, and during Signal Midwest's WMC Fest set.
But editing images on a small screen isn't always the best and most practical. So, our quest today will be to create an editing workflow that brings us similar results, but by using Photoshop. I personally use Photoshop CC, but I'm fairly certain that you'll have access to the same tools than I do starting with Ps CS3.
Oh, and it looks like the folks at VSCO Cam like it:
Let's have a look at what kind of effect VSCO Cam produces
I'll use some of my own images here as examples:
As you can see, we get a "faded" look ("crushed" colors), some grain, and some strange saturation mixed with cross-processed tones.
The faded look is the signature feature here. We'll be exploiting the power of curves to accomplish some of that stuff. The grain can be either generated by Photoshop's noise functionality, but we'll probably use a real film grain and/or dust texture for added realism, and the saturation and cross-processing will be done using adjustment layers. The adjustment layer bit is crucial in order to keep a non-destructive workflow. This will allow us to, by turning a few layers off, to always get back to the original image.
Let's get to it, shall we?
Source images
I'm using three images that I've grabbed from sxc.hu. They're called Path in forest, Misty morning, and Tuscany farm and fields. I'll start with the Tuscany image. After that, I'll apply the same effect to the two others to see how transferable it is.
Step one:
This is very straight forward: open your image, and double click the background layer to make its own layer.
Step two: lightening the image a bit
The second step consists of lightening the image a bit. You could use a Brightness/Contrast adjustment layer, but I decided to use a Curves layer instead. Curves are much more flexible and powerful.
Just click on the center point of the curve, and drag it upwards. I've dragged it until my input value reads 130, and my output value reaches 140.
Step three: boosting the contrast
The contrast adjustment might not be necessary, depending on your starting image. Doing it here allowed to bring more intensity in the hay, and in that building in the left of the image. I could have used a curve adjustment layer to execute this step, but since I didn't need much refinement, the Brightness/Contrast one works just fine.
Step four: let's spruce up the colors
In my opinion, here's where we really start to "cheat" with the digital image. A lot of cheaper digital cameras have sensors that don't render a color spectrum as extended as, say, a pricey high end DSLR. By adding a Vibrance adjustment layer, we can fix this a little. I pushed the slider to 35. If you feel happy with the color rendition of your image, feel free to skip this step.
That being said, the various films brand that became iconic rendered colors differently as well, and the specific way some of them reacted (more saturated, more green, more blue, etc.) got them really sought after.
Note: you can read much more about the vibrance functionality over here, along with visual examples.
Step five: emulating the "color profile" of film
This fifth step is where we twist the colors around to give them the film feel. We're using a Selective color adjustment layer. We'll be touching up the yellows, the greens, the blues, and the blacks. See the values below:
Yellow: magenta +75, yellow +25
Greens: yellow +50, black +100,
Blues: black +25,
Blacks: black +10
If you know how certain type of films render colors (shadows greener, highlight yellow-ish, etc.), this would be the step to apply their "color profiles." Looking at my result, I'm going to venture that we're trying to emulate the M4 or M5 preset of VSCO Cam. But you should experiment here. For instance, try reducing the magenta to -25 or so in the blacks. You'll see that your shadows will take a green-ish hue. Following that logic, you could easily recreate a lot of different color palettes.
Step six: the all powerful fade
As we saw when we looked at the example images earlier, the "faded" look, with the washed out and "crunched" colors is key to emulate a VSCO Cam image. After tinkering with using the Exposure/Gamma correction adjustment layer and a Curve adjustment layer, it seemed that using a fill layer (Layer > New fill layer > Solid color) of the color #4e4e4e put on Lighten for the blending mode gave me the best result.
Want more fade? Duplicate the layer, and toy with the opacity of the copy. Want less fade? Reduce the opacity of the original layer.
Step seven: a hint of cross-processed colors
Cross processing "is the procedure of deliberately processing one type of film in a chemical solution intended for another type of film. As particular chemical solutions are optimized for specific kinds of film, you will get unpredictable and interesting results when they are combined differently" (read more about real cross processing on the site of the same name or on Wikipedia).
Luckily for us, the Curves adjustment layer has a "Cross process" preset. Select it.
As you can see, the effect is quite strong. But it brings that interesting green hue in the dark and black zones of the image. To make this a bit more presentable, I just lowered the opacity of the layer to 10%.
Step eight: a bit more saturation
After all this color craziness, I'm going to add a Hue/Saturation adjustment layer to my layer stack. The slider is at 5, but this is enough to give a little "kick" to our image.
Step nine: let's amp the temperature up
Another trick that VSCO Cam lets you do is to toy with the temperature of your image. So I went ahead and added a Photo filter adjustment layer, using the Warming filter (LBA) preset. I've left mine as is, but there's plenty of head room in the Density slider and layer opacity to refine the effect. Just make sure that the Preserve luminosity checkbox is checked.
This is technically it
This is it! If you've followed the tutorial until now, you've emulated the look and feel of (one of the presets of) VSCO Cam. Just look at the source image, and at the result side by side:
But you know me. I love texture, grain, and dust speckles too much to stop there. The next two steps, that are absolutely up to you, will show you how I added some grain and dust speckles to my image.
Step ten: grainy
As I wrote earlier, you could just fill a new layer with white or a neutral gray, and add noise to it (Filter > Noise > Add noise). But real analog grain will be so much better. So after scouring the internets for cool grain textures, I found this fantastic, high resolution one (9000 x 7200 pixels @ 300ppi) on DeviantArt, called Grain explosion. It's been provided to us by JakezDaniel. Careful though, as it's apparently only for non-commercial use (unless you get his permission).
The process is quite simple: import the texture in your design (File > place), and size it appropriately to cover your whole canvas. This one is so high resolution, that even at 26% percent of its size, it did the trick. Put the layer on Soft light at 15% opacity, and you've got yourself some sweet film grain.
Step eleven: dusty
Another bonus step is to add dust, scratches, and other artifacts to the image. Well, JakezDaniel strikes again, because he has another sweet texture in his library called Film 400TMY. Same restrictions on its use, so don't come and pretend you've not been warned. This texture features some subtle grain, and plenty of speckles of all sorts of dusty goodness. I also placed it in my document, sized it at 45%, put the blending mode of the layer on Screen, and tadaa!
And there you have it! First with textures, and then without them.
Now what?
Well, the whole point is to see if this is an editing workflow that could be reused for a whole set of images. See below the before and after comparison of the other source images I've mentioned at the beginning. The layer stack has been moved as-is to them. The only thing that changed is how much I've resized the grain and dust textures. Their opacities and blending modes remain the same. These are at 100%. Just click on the image to see it in very big.
On that foggy landscape picture, you can see that the result is very satisfying. The fade works wonders, probably even too well. I suppose that the color edits could be different to fit the mood of the image better.
For our second image, the result is a bit more intense, if not too intense. So I think that the color manipulation step is going to be the one step to adapt every time to the source image.
Note: this image had to be resized down to be able to upload it through WordPress. You can see the full size image over here.
Bonus: "tilt-shift" blur
Editing images using VSCO Cam is great, but only Instagram allows you to do that quick blur effect. It can be used either to recreate that sweet "tilt-shift" effect, or to highlight a specific part of your image. After a little bit of play time with the lens blur effect and documentation reading, I think I managed to create a satisfactory Ps equivalent. In our Tuscany fields scene, we're more going to highlight a part of the image rather than do some tilt-shift goodness.
Step one: preparing the document
The first step I've taken is to create a composite of all my layers so far. The shortcut for this is CTRL + ALT + SHIFT + E (CMD + OPTION + SHIFT + E if you're on a Mac). This creates a new layer at the top of your layer stack with a merged copy of what your document looks like so far. This is an immensely useful shortcut. You'll notice that I renamed my layer "composite."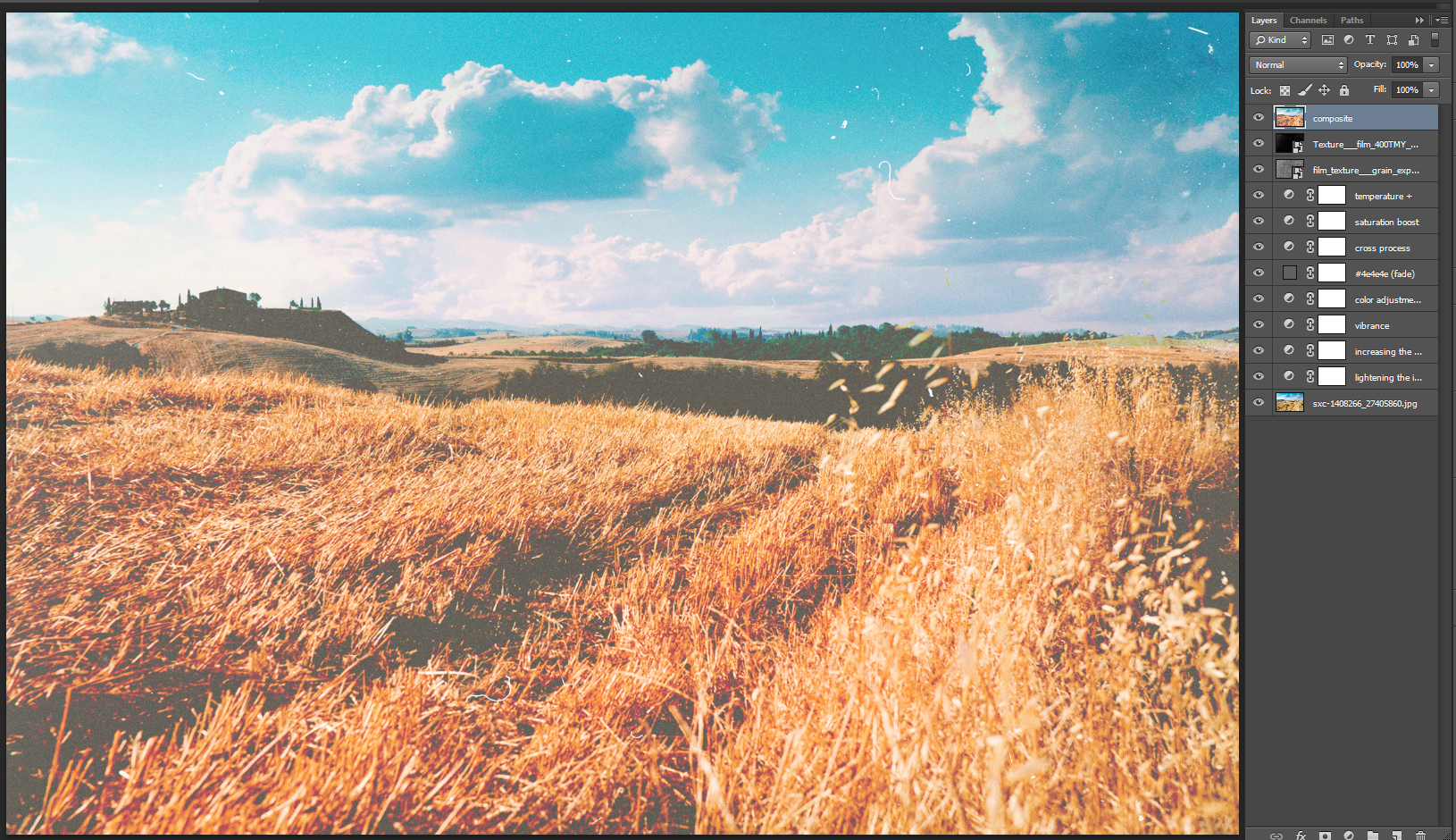 Step two: adding a layer mask
This is pretty straight forward. You can either add the layer mask from Layer > Layer mask > Reveal All, or from the handy little layer mask button at the bottom of your layer palette, with the correct layer highlighted.
Step three: painting the layer mask
This step is where you decide what will be blurry in your image, and what won't. You can either use the gradient tool to paint on your layer mask, or a big, soft brush.
The gradient tool will help you to nicely emulate real depth of field. Just be remember to choose the right gradient type for the shape of blur that you're looking to accomplish (radial or reflected). The brush will allow much more control in zoning where the blur will happen. Since my image doesn't have a very straight line of things I'd like to highlight, the brush made sense for me over the gradient. My brush is 250 pixels wide, and its hardness is at 0%.
Time to paint away! Note that what will be white, will be blurry, and what will be black will be left  as-is. I've chosen to highlight that zone at the middle of the image, and to make the sky and field right in front of us blurry. I followed roughly the hills' edges. The brush's soft edges allow to somehow emulate a gradient. The second image highlights where the blurred out areas will be.
Step four: lens blur!
This is where the real fun happens! Go to Filter > Blur > Lens blur. You'll see the following screen:
The following image shows my settings. I'll explain below what they mean.
You obviously want to have Preview checked. It'll allow you to see the effects of your tinkering.
The depth map part is why we actually created that layer mask before. You'll want to use the drop-down menu to highlight Layer Mask. And at that point, you should see the blur starting to follow what you've painted in the layer mask. If you've painted in reverse (it happens often when using the gradient tool), you check the Invert box to reverse how the filter will read your layer mask.
The Blur Focal Distance slider should be set at 0. This one works as follows: 0 is in focus, 255 is fully blurry. Since we have a predefined depth map, we do have to worry too much about it.
The Iris set of settings is where you can how the blur will look like. I chose my shape to be an octagon, but I noticed that an hexagon works as well. I do believe that this emulates the shape of the shutter in a real camera, but don't quote me on this. The Radius slider is where you'll determine how blurry the blur gets. For this example, 15 seems just right. The Blade Curvature and Rotation sliders produced very subtle changes when I played with them. I assume that would be where you could recreate the "profile" of a lens and/or of a shoot's circumstances by matching its physical characteristics.
The Spectacular highlights settings are where to tinker if you want to play with bokeh. They seemed to me to react exponentially rather than in a linear fashion, so I'd say they are to be used with caution.
Noise is pretty straight forward. It adds noise to the blurry part of the image. I chose to put that slider to 2, and to have the distribution set on Gaussian. You could have some RGB noise in there, but Monochromatic looks better in my opinion.
Once you're happy with the settings, time to hit that OK button at the top and to render the lens blur effect.
Tadaa!
And we're done. Let's not forget to turn the layer mask off (Right click > Disable layer mask) to truly appreciate the result.
One thing that I'm noticing now is that the blur also blurred the dust and other film artifacts that I've added to the image with the help of the textures from JakezDaniel. The solution is quite easy: let's recreate my composite layer in order to only include the stack of adjustment layers, and not the two texture layers, copy the layer mask over, and re-apply the lens blur effect with the same settings. And here you'll have a lens blur effect and preserved textural effects.
Something to note is that how the layer mask looks like is really what makes or breaks the effect. My painting was really rough and quick, mostly to demonstrate the effect. A more refined job would have made things a bit more subtle and believable. A gradient truly is what will emulate depth of field the best. Here's a visual demonstration of this:
It's a bit softer, and much more believable.
On that note…
That's all for today folks! If you have suggestions, comments, or ideas to perfect this, please let me know in the comments. And don't forget to share the results of your experiments in the Go Media Flickr pool!
Lastly, make sure to check out our Arsenal Membership, which hooks you up with our huge product library for only $15 per month. Yes, seriously.
Sitting down with Dan Morgan of Straight Shooter
Filterstorm, PhotoGene, Camera+, iDarkroom, Instagram.  With a flick of a finger, a simple effect, a toasty filter can bring a dull photo to life. In the age of the iPhone, such easy access to the camera itself, combined with photo-editing software gives us power and confidence we've never had.
Professional Cleveland photographer Dan Morgan of Straight Shooter, who has been in the business for over 30 years, has embraced the recent explosive advances in his field. Go Media sat down with Morgan to talk about Instagram and related software programs.
Morgan notes, "That same rapid-fast forward in technology that has made it so everyone can take pictures, has made it so professionals can take better pictures."
Spending the majority of his time as a commercial photographer, these new advances have broadened the scope of what he offers to his customer.  He tells Go Media, "The type of photography I do today I never attempted to do back in the day because I'm able to experiment more and see how things look."
Instead of simply offering catalog items, he offers varying options including food and notably, architectural photography.  In the past requiring a big and bulky 4×5 camera with very sensitive and specific adjustments made at time of shooting, Morgan can now take his digital SLR and make all changes with ease in Photoshop and other software programs.  He reports: "Architectural photography is one of my best sources of income now."
Morgan's experience capturing images of jewelry has been expanded as well. Recently published as the sole photographer for Brandon Holschuh's book "The Jeweler's Studio Handbook" where he captured stunning images of custom made jewelry, Morgan came across more advances in technology, making his process easier.  One application of note creates a reflection of the jewelry, at the click of a button. This would at one time be a frustrating, multistage process involving multiple artists.
"All the fine art experimenting that I did in the last 15 years are now, with the assistance of technology – those effects are being achieved immediately," Morgan comments, emphasizing that  this technology not only impacts the quality of his technology, but the speed at which he can produce as well.
Morgan stresses that the decisions made within Instagram and other software programs should not be made randomly.  "Those apps, all those tools that everybody can use – it's all about applying them and having a method to the madness. It's having that trained eye that's important."
He not only enjoys the options available to him in post-production, but also uses them to his advantage before he even presses the shutter. "I've been able to take pictures with my Canon Mark II, that yields a really sharp picture, into an Instagram picture.  I photograph these knowing that I would put an Instagram filter onto it.  The effect that I'm creating now by doing that same amount of work is getting me that much farther."
Morgan shared some additional photos with us, exemplifying the power of this new technology, and how it has advanced his own work.
"Here's something I concocted based on Instagram." I knew the effect that Instagram gave, but I also knew that I could apply that effect from a good quality picture to begin."
"Earlybird is my favorite Instagram filter because it doesn't take it too far away from the original look, but it darkens the photo around the corner."
"I shot this on a cloudy day so it was a really neat picture to begin with, but playing around with filters and it was the ah-ha!  I got the energy coming from the tower."
A vintage photograph of Morgan's father, "the original Mad Man!"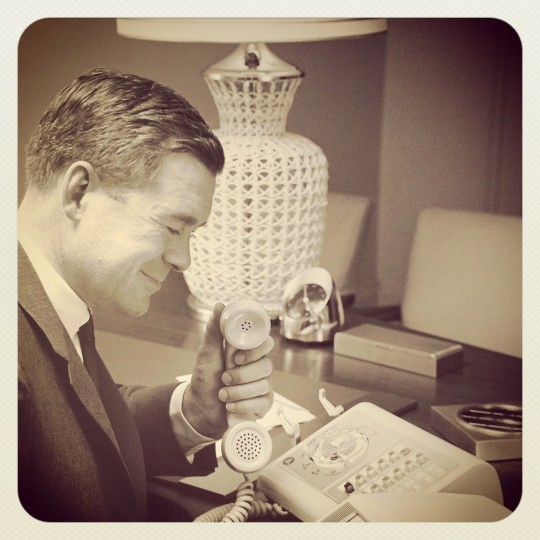 Is there downfall to all this technology?  "Having the tools," Morgan cautions, "is not enough. It's good that the tools are out there, because people are given the motivation to see that you can go places with it." But there will always be a place for professional photographers in this world.  Morgan emphasizes, "you still have to have that eye."
Find out more about Dan Morgan of Straight Shooter
Find Straight Shooter on Facebook | Instagram
Photography Innovator: Ian Ruhter
Last week, one of our fans pointed us to the article on Fast Co. Create about photographer Ian Ruhter. The article featured a video showcasing Ian's process and his incredible hand-built camera. Through some online digging I found numerous videos and articles, chronicling the photography process of Ian Ruhter. He actually built his own camera in a truck that looks similar to the ones you ran after as a kid, hoping to spend your saved lunch money on a Screwball or Choco Taco.
His handmade camera has been dubbed the largest in the world and it involves a photography process called collodion, which is a wet plate process that creates a unique look to the photographs (as you will see below) as well as the ability to develop these large scale photographic plates from any locale. This has led Ian to traverse the good ol' US of A capturing America through his own visual lens.
American Dream from Ian Ruhter : Alchemist on Vimeo.
The Interview
The GoMediaZine was lucky enough to get to speak with Ian Ruhter about his process and what his hopes are for the future.
GoMediaZine:
How did you come up with the idea for doing wet-plate photos in a truck?
Ian Ruhter:
As my career progressed, "technological advances" in the digital image-making process replaced the "old" way of making images and I ended up spending all of my time in front of a computer editing code rather than capturing life.  I began to lose all connection to the search for the most important component of the photographic art. This all changed when I began working with the wet plate collodion process.  The silver used in this 19th Century process reflects light in a way that no other film can.
GoMediaZine:
How did you learn about the collodion process and what drew you to this method of photography?
Ian Ruhter:
I was searching for the old film that I had once loved. I realized that it was no longer available. When I found the collodion process I realized I would be able to make my own film and no one would be able to take that away from me again.
GoMediaZine:
I know you said in the video "silver & light" that what draws you to the collodion process is that you get to use your hands, are/were there other artistic mediums that you also practice?
Ian Ruhter:
When I started in photography I was shooting with black-and-white film. I learned to develop the film and make prints using my hands.

SILVER & LIGHT from Ian Ruhter : Alchemist on Vimeo.
GoMediaZine:
What draws you to photography as a medium?
Ian Ruhter:
As a child, I had a hard time communicating my thoughts and feelings to the world.  My dyslexia left me feeling like I didn't have a voice.  I was treated differently than other kids.  The moment I found photography I found the missing piece I was looking for my whole life.  This was the moment I began sharing my feelings with the world.
GoMediaZine:
In your portraiture, what do you hope to capture within the person being photographed?
Ian Ruhter:
In my portraiture I tried to tell a story about the subject I'm Photographing. Sometimes I do this through a series of photos. One example of this is the homeless man I photographed in Los Angeles.  The series starts out with the photograph of the LA River. The LA River shows the geographic location of where this man is from. The bridges are used to link his story to another person's. In this photograph there is a shopping cart in the right hand corner. Then in next photo a man is shown with a shopping cart. The last photo is an up close portrait of him. This photo allows the viewer to become more intimately connected to the subject. The idea behind the series is you look at something from a distance and you slowly become drawn in closer and closer until you meet the person face-to-face.
GoMediaZine:
I know you are travelling around taking photos throughout the US, what are some of your favorite stops so far and why?
Ian Ruhter:
Los Angeles is my favorite so far because it took me 2 years to build the camera truck. I was living in LA at the time walking around picking out locations to photograph. I didn't even know if the camera truck would work.
GoMediaZine:
What stops are you hoping to make in the future?
Ian Ruhter:
As of now I'm focusing on the south. I would like to go to New Mexico, Texas and Louisiana. I have a few leads for good stories out that way. With the winter months coming we want to go where it is warmer.
GoMediaZine:
What do you see for the future of your photography adventures?
Ian Ruhter:
I would like to keep pushing myself to create better works of art.
GoMediaZine:
Do you ever step in front of the camera?
Ian Ruhter:
The silver in my project gained so much attention that magazine and TV networks wanted to come out and take my photo and tell my story. This has been quite an interesting experience.
GoMediaZine:
Who are some of your favorite artists?
Ian Ruhter:
Leonardo da Vinci, Chuck Close, Richard Avedon, Carlton Watkins, Robert Frank to name a few. These are the books I have laying out on my coffee table today.
GoMediaZine:
Where do you draw inspiration from?
Ian Ruhter:
I draw my inspiration from my dreams and the dreams of others.
GoMediaZine:
What are some of your favorite images that you've captured?
Ian Ruhter:
I'm really attached to the LA skyline photo. To tell you the truth I like them all, each image is a part of me.
Links
ISO
ISO is one aspect of photography that is not exactly the same in the film and digital realms, but they are related. In film, ISO referred to the films light sensitivity or speed. This meant  shooting 100 film would allow for a finer grain than shooting with 800 film. Typically the recommendation or guideline I followed was to shoot with 100 film in daylight and 400 film inside or in lower light (evening) like the image below.
In the digital age, ISO is still related to light sensitivity, but since you are not dealing with film it is the image sensor that is sensitive to light. The numbers mean the same thing in digital as they do in film, so the higher the number, the more grainy the image. Not too confusing once you start experimenting and comparing the images with different ISO settings. Many photographers don't recommend going over 1600 unless you are purposely going for the grainy look. When photographing families and kids as I enjoy doing on evenings and weekends, I aim to keep my ISO between 100-400. If I'm shooting indoors, I'll bump it up to 500-800 if needed.

This article does a great job explaining ISO as well.
Aperture
Aperture is possibly one of my favorite settings to play with when I take proper time between shots because it can impact an image in dramatic ways. Aperture refers to the size of the lens opening which dictates how much light reaches the film (SLR) or image sensor (DSLR). Aperture does not impact an image on its own, it works in combination with shutter speed. Shutter speed is another very important component because it governs how long the shutter stays open, exposing light to the film or image sensor. When I studied film photography in high school and college, the general rule of thumb for shooting without a tripod was to not go below 1/60 for your shutter speed (1/60 refers to 1/60 of a second). Anything below 1/60 could be blurry from camera shake, you know since we're human and all. Currently I don't shoot with that low of a shutter speed when photographing kids, have you noticed how fast they can move? Staying higher than 1/100 is usually a good bet for me. I don't mind some good motion blur, but if I'm going for a focused shot I don't want that blur on every image.
Back to Aperture… Once you have your shutter speed determined, you can go about setting your aperture or vice versa if you're shooting in aperture priority, the A setting. I tend to shoot in aperture priority mode when photographing kids because I like to make sure that the my depth of field is exactly as I want it for my subject. Depth of field is directly related to aperture – the lower the aperture, the shallower your depth of field, the higher your aperture, the deeper your depth of field. The following image is an example of a wide depth of field.
In simple terms, when your aperture or f-stop is low (f-stop 1.8, 2.2, 2.8) the items in the background are blurry, and when your aperture is high (f-stop 11, 16, 22) the items in your foreground and background are both in focus. For example, this photograph of a newborn was shot with a low aperture setting to ensure that anything in the background would not distract from the main focus, the baby's head and hair.
When I'm shooting a group or a family, I will often increase the aperture so that one person is not out of focus and another person is in focus. I'll often ramp up that aperture if the background will add more interest to the image as well.
So there it is, a crash course on ISO, Aperture, depth of field, and shutter speed. What part has confused you the most since you picked up your SLR or DSLR camera? What is your favorite setting to lead with ISO, aperture, shutter speed? Are any of these settings still a mystery?

A little bit of background
If you're into design, you may have an interest in photography at least on a basic level or if you're like me, you love photography (I specialize in family portrait photography). Some of you may have started a passion for photography when film was still the most popular medium. Some may have just picked up photography in the last year or so now that digital is the predominant medium. Either way, there will be some helpful tips in this post for you.
We live in the era of Photoshop which makes it easy to think we don't have to worry about what the image looks like in our camera, but that does take some level of satisfaction out of the process. If you're interested in challenging yourself in the photography arena, I recommend learning to love your images SOOC (straight out of camera). Others may disagree on this, especially anyone who is extremely proficient with Photoshop photo editing, so this is purely one photographer's opinion. Feel free to decide what is best for you, but for the purposes of this post I will be sharing tips to create the best image SOOC. Cool?
1st tip – Read your manual
Seems obvious, doesn't it? Your camera comes with a manual, so perhaps it contains some helpful information? Yet, for some reason it took me quite a while to actually crack that sucker open. Why? It might have something to do with my tendency to avoid directions of any kind. If something looks simple enough I will try to put it together on my own or I will try to figure it out without consulting the directions (and no, I am not a dude).
Here are some important basics that you can learn in your manual (I will talk about these items in additional posts):
Aperture, f-stop settings
Shutter speed
ISO
White balance
Focal points
Each of these items can really help you get to a place where you are satisfied with your SOOC images.
In my case, much of what I had learned when shooting with film transferred over to digital. However, my figure it out ability reached its limit and I couldn't learn anymore just by playing with my DSLR. I decided it was time to turn to my manual to discover the best way to white balance my images (this is one area that is very different in digital v. film). Once I spent the time learning how my specific camera handles white balancing, I was once again excited to see what she (my Canon 50D) could do. In my experience, this was one important step in the process of being happy with my SOOC images. When you get to that point with your images, any post processing is minimal. The images I included here were shot in full sunlight with the ISO set at 200 and the f-stop set at 18. The white balance and exposure were spot on, so the only post processing I performed was slight hue/saturation and curves adjustment and increased sharpness. We'll discuss ISO and Aperture more in the next post, so bring on the questions!
What have you done to improve your knowledge of your camera? Is your manual your best friend? Or are you still trying to figure out how to get out of auto mode? Let's chat!

A presentation
Hello folks. Simon here. Today, I want to introduce you to the visual world of Flickr member Les Brûmes (The Mists in English). I came across her work via some inspiration post on Abduzeedo or another blog out there a while ago, and haven't stopped following it since then. I invite her to add her work to the Go Media Flickr pool, which she does regularly.
Linda is a visual artist from Quebec, Canada, born in 1965. I don't think I'll be able to let you know more, for the only reason that I don't know more. She politely declined my interview request, explaining that it was pretty hard for her to put words on her own work.
The reason why I wanted to share her work with you is quite simple: it's beautiful. She mostly work using the collage technique: assembling bits and pieces of images, text and other elements to create often dark and mesmerizing works of art. Each of her pieces has various layers of meaning.
Alongside her photography work, that I'll showcase some examples as well, she managed to build a coherent yet extremely varied body of work.
Her photographs are really poetic, giving a new and almost dream-like dimension to the environment of day to day life. It seems to me there are other underlying themes in her work, such as death, time that passes and can't be recovered, aging…
The selected works
Some of her photo series
"Octobre et ses dentelles"
"Dans notre maison, il y a…"
"Les liens"
"Eau"
"Noir et blanc"
Some additional notes
This concludes this feature of Linda's work. I hope you liked it and had as much interest discovering her universe than I did. Also, you should check out some of her texture sets…
For this installment of Blank Canvas, Go Media Zine would like to get some reader feedback on stock photography. Do you use it? What's your favorite site? Do you sell your own stock photography?
For the most part, when stock photography comes up for a project, I tend to use iStockPhoto. They have a pretty decent selection of both photography and illustration, and it seems easy enough to find what you are looking for.
That said, I think the primary reason I've used iStock is because the prices are low, the quality is decent for what you pay and I've just been using them for so long it's easiest with an account and credits set up already.
I've dabbled with some other stock photography sites such as BigStockPhoto.com, but that's about it. To be honest, I'm not too familiar with any other competitors out there.
As far as contributing, I've never contributed photography, but I have done so for some illustration work. I'd be curious to hear from any readers who do contribute photography to a stock photo site — let us know what your experience has been as far as exposure, pay/income and what seems to be the most popular.
It seems to me the way to make any decent money is to have a lot of stuff uploaded, since the royalties aren't that high.
If you don't use stock photo sites, where do you get your photography from? Shoot your own photos? Hire a photographer? An alternate resource we may not be aware of?
Go!
Maybe you've noticed the Go Media staff photos popping up in our twitter profiles or facebook pages. Well, we don't always look that cool; rock 'n roll photographer extraordinaire Chris Cassella was the man behind the lens & the magic maker. He's been cool enough to write about his experience & share some tips for making the most of your photography career.

Written by Go Media client & photographer Chris Casella
If you are like me, you read this blog regularly. I am drawn to the visuals and the trailblazing that goes on at Go Media. That is the exact reason I contacted them, I thought we might have something in common. I found that we do; a strong work ethic and a never ending desire to do what we want, at a high level and be successful doing it.
When I "reached out" to Jeff, I thought that we could both benefit from some kind of working relationship. We appreciated each other's work, so we agreed to meet and talk about the possibilities there may be for us working together. We met up at their space in Cleveland where I was introduced to Bill, another driving force and partner in the business. I felt that I had found someone I could work with that had a similar outlook on business, design and aesthetic. Through our conversations it was decided we would trade some work. They would design some logos and branding for me and I would photograph the staff of Go Media for their needs, publicity and otherwise.
Before I knew it I was looking at proofs of my logo, presented in the smartest manner I have ever witnessed. It wasn't just my logo on a two dimensional white background. They had actually presented it to me in different situations, in a three dimensional form, making it possible to see what it would look like on paper, on business cards and even on a bus stop with one of my images. What an awesome way to make a client realize some of the potential of their branding! Now it was my turn.
I traveled to Cleveland and photographed the staff the same way I do rock stars. I mean, they are rock star designers, right? I felt it was the best way to portray them. The images turned out great and I think bring out some of the personality I encountered. It was a whirlwind afternoon, but well worth it. It is the way I like to work. Stay focused, no nonsense, get the job done.
I love this Job!
Growing up I never thought I wanted to photograph rock stars, I wanted to be one. I ripped images form magazines and plastered them to the walls of my bedroom. Nikki Sixx and Slash were the coolest guys I did not know. When reality hit and I left high school and went to college that dream died. I had a scholarship to the Columbus College of Art and Design. I knew I would pursue art and thought I would be drawing skulls (too funny, considering who's blog this is) for t-shirts in no time for bands like Metallica and Motorhead and the covers of metal albums.
But life takes strange twists and turns. I had always liked photography and when it came time to choose a major, for some reason, I went with my gut. Over the next three and a half years I was schooled in commercial and fine art photography. I had pretty much given up on the idea of a cool job in rock and roll & started thinking about making a living instead. When I got out of school, it was me and my 4X5 camera and buildings and their interiors. I didn't despise it, but it was just not enough action or excitement. Then I photographed a friend's band. That was in 1993. That was all it took. I got an itch that I still can't scratch.
I have had the pleasure of working with publications, writers, record labels and PR companies. I have been on tour with musicians and seen my work displayed on the cover of a magazine in the UK. I have met and hung out with rock stars big and small, even my boyhood hero Slash. I want to work constantly and love what I do. That is why the dark side (hard work and internet networking) of all of this isn't so dark to me. If you want something, you have to go after it and get it. Nobody is going to give you anything in this world, especially in the nooks and crannies where the creatives dwell. There are a few things that need to be considered if there are any future photographers out there that are looking to do what I do or what Ross Halfin or Robert Knight did before me.
You want to Photograph Rock Stars? Do This.
Learn how to shoot correctly and understand what you are doing. I know there are some savants out there, but for the most part, you will need to know how to get a good exposure. I learned back in the dark ages before digital, with film. I feel bad that a lot of people don't use it or learn with it. I found it incredibly beneficial when it came to shooting digital so my exposures were where I wanted them.




Don't depend on anyone. Do things yourself and follow up. Promises are rarely kept in the music world so it is up to you to make things happen.
Don't think you need the most expensive gear there is. You should own pro level equipment, but save some money and get middle of the line not top of the line. You will get large images that can be printed for any publication on the planet.




Shoot all the time. Shoot local bands, for local rags, anything and everything you can.
Get connected and network. Research who to contact about the show or whatever you want to shoot. Local zines and rags can get the much coveted access you desire.




Lastly, once you get to shoot that band or musician, do not be a fanboy! Don't ask for autographs or guitar picks or drum sticks or anything. That is the quickest way to lose their respect, gain the ire of your fellow photographers and never get hired again. You have to show people you deserve to be there working and making a living by the quality of your images and your character.