Introducing our Shop Sign Mockup Templates Pack!
Ever wanted to see your designs mocked up brightly and boldly on shop signs, just as they'd be in real life?
We have.
That's why Go Media, your Cleveland brand design services specialists created a Shop Sign Mockup Templates Pack, dedicated to displaying your work just as it would appear in an everyday environment.
This pack includes 5 PSDs, including 1 Curved Shop Sign, 1 Oval Shop Sign, 2 Rectangle Shop Signs and 1 Round Shop Sign. As needed, some of mockup templates are smart object enabled, which means that with just double click on the smart object's thumbnail in the layer palette, and a little bit of pasting and re-sizing, your art will automatically adopt the correct perspective, lighting, shadows, etc. Read more about smart objects here.
Here's what you get in our Shop Sign Mockup Templates Pack:
Curved Shop Sign
Oval Shop Sign
Rectangle Shop Sign 1 (Smart Object Enabled)
Rectangle Shop Sign 2 (Smart Object Enabled)
Round Shop Sign
Smart Object Instructions
Take a Peek: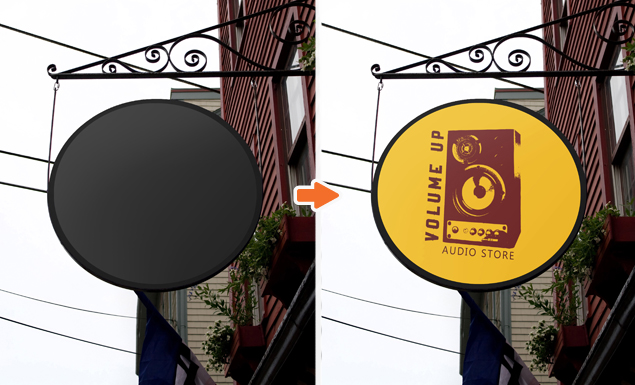 ______________________________________
You may also like our:
City Advertising Mockup Templates Pack
Categorized:

Go Media's Arsenal, News

Tagged:

arsenal, coffee shop, curved, oval, rectangle, restaurant, round, shop sign, sign, store