One of the top questions we've been asked recently is: "What tools, resources and programs do you use in your everyday lives over there at Go Media?"
Our creative studio here in Ohio City is filled with awesome, handy tools that keep us cranking out creativity, programs that keep us organized, and treats that keep our energy pumpin.'
Here's a list of our favs.
Physical Tools
Windsor and Newton #2 Paintbrushes and Higgins Fountain Pen India Ink: Bill's go-to tools for work like this.
Wacom Intuos 3 Tablet: Gotta have it.
Microns: Awesome for detailed work
Strathmore Bristol Vellum paper and
Staedtler Mars technico mechanical pencil with HB leads: paper and penning
Canon Rebel T3i: Photo and video of the days of our lives
Dell Optiplex 9010 and Dell Optiplex 980: our PCs
Dual Dell Ultrasharp 24″ Monitors
Dell mice and keyboards
Targus Lap Chill Mat: Laptops stay cool with the help of this and two USB powered fans and elevated air circulation
Cisco phones: chatting with clients
Murphy Chair Co. Swivel Office Chair: vintage sweetness
Urbanears Forest Green headphones: Chris's favorites
Logitech h800 with customized vinyl ear pads: All of Wilson's tunes and calls are delivered via Bluetooth or Wireless USB via these headphones
Sony MDR NC7 Noise Cancelling Headphones: When the office gets out of hand…
Field notes: Filled with brilliant ideas…
Post-it notes
Sharpies
Gettin' Shit Done
WordPress: For every site we produce that will be updated on a semi-regular basis
Zurb Foundation: Greatest HTML/CSS/SASS/JS Framework ever
Notepad++ with various plugins: for all coding and writing needs
Netbeans: Preferred IDE of our VP Wilson Revehl
TortoiseSVN: Super easy to use
XAMPP: Free, super popular PHP dev package
FileZilla: A free FTP solution
MySQL GUI Tools: Integrated tools environment
Google + WP Codex + Stack Overflow: Used at least 50x per day. Takes up majority of our browsing history.
Chrome and Chrome Developer Tools: See bugs, fix bugs, in browser
Rackspace Cloud: For hosting applications and websites
Beanstalk: Code hosting
Amazon Web Services: Durable, reliable
Adobe Master Collection CS5: We get asked this a lot and yes, Adobe is our go-to
Final Cut Pro 7: For making nonsense like this: Make It Bigger
Audacity: for all audio editing and recording of our Go Media Podcast
Pipedrive: our #1 sales tool!
Smartsheet: For anything and everything: general project planning and organizing our lives in general.
Outlook: Our email solution
Google Calendar: Super helpful for scheduling client reviews, keeping track of deadlines
Google Hangouts:  For inter-office communication
Trillian: Inter-office communication choice 2
Google Drive: This is where we hub all of my client meeting notes, proposals and more. And, it allows for easy collaboration with team members.
Google Keep: For organizing lists, notes and photos
Skype: For chatting with our Arsenal guest artists and other friends
Dropbox: Sharing is caring.
Proof Lab: For assigning projects, sharing designs with clients, & logging time (Exclusive to Go Media)
Open Office: the rival to Microsoft Office. It's free folks!
Hightail: For file-sharing goods like Drawn to Business and Thread's Not Dead
TeuxDeux: a great to do list app!
Quickbooks Pro: The best in bookkeeping
Basecamp: Project Management, great to-do lists
Stamps.com: Super easy postage printing
Primo PDF: PDF converter
Mailchimp: Huge fans of these guys. All of our emails are created here.
Gumroad: Super easy way to sell our products
PayPal: Easy exchange of money
Daily Vices
Flickr: Where we go to check on our Go Media User Showcase (so much inspiration!)
Design Cuts: Amazing dudes. Awesome deals.
Feedly: All the feeds we need
Sidebar: The 5 Best Design Links of the Day
Blog.Spoon.Graphics: Check in daily to this one just because we love Chris Spooner.
IFTTT: Have a recipe that any post I save to Feedly is emailed to, so I'm reminded to go back and read it.
Tweetdeck for Chrome: Allows for the seperation of @mentions, lists and important search queries
Google Now: For quick access to set reminders, check the weather and see traffic
Team Treehouse: For those of us in the office learning code
Hootsuite: The dashboard of a social media manager's dreams
Buffer: For scheduling posts. As easy as 1 – 2.
Shirt Mockup: A Go Media resource we love
Mockup Everything: Avoid design disaster. Mockup your designs and send them over to clients in seconds.
Go Media's Arsenal: We're working on the Arsenal V3 daily. Making it better, smoother, sleeker. What do you think?
Behance: We not only update our page, but check out all the talent and often grab some to showcase on our social media channels and the GoMediaZine
Social Media: We love talking to the community, so we have to mention: Go Media's Facebook | Arsenal Facebook | Twitter | LinkedIn | Instagram | Google+ | Pinterest, all of which are monitored by Google Analytics

Favorite People and Places
Jakprints: Our go-to printing company
Kelley Green Web: Sales and marketing gurus
Muse Content Group: Brand positioning and content strategy
Sharon Toerek: A reliable lawyer is an absolute must.
Straight Shooter Photography: Dan Morgan is our favorite photographer. #highlyrecommend
Reference
How to Draw the Marvel Way by Stan Lee
Logo Lounge by Catherine Fishel and Bill Gardner
Drawn to Business by William Beachy
Thread's Not Dead by Jeff Finley
Making and Breaking the Grid: A Graphic Design Layout Workshop by Timothy Samara
Logotypes and Letterforms: Handlettered Logotypes and Typographic Considerations by Doyald Young
(for more of our favorite references, purchase Drawn to Business)
Lean Startup
Book Yourself Solid by Michael Port
Authority Ebook by Nathan Barry
Trust Agents by Chris Brogan
Drive: The Surprising Truth About What Motivates Us by Daniel Pink
How Pleasure Works by Paul Bloom
The Four Agreements by Don Miguel Ruiz
Design Currency by Jenn and Ken Visocky O'Grady
The Voice of Knowledge by Don Miguel Ruiz
Getting Things Done by David Allen
The Art of Non Conformity by Chris Guillibeau
Mindfulness in Plain English by Gunaratana Bhante Henepola
Rework by Jason Fried
Brains on Fire by Robin Phillips, Greg Cordell, Geno Church and Spike Jones
The Power of Now by Eckhart Tolle
A New Earth by Eckhart Tolle
Steal Like an Artist by Austin Kleon
The Power of Habit by Charles Duhigg
How to be a Graphic Designer Without Losing Your Soul by Adrian Shaughnessy
Good to Great by Jim Collins
Built to Sell by John Warrillow
Seven Habits of Highly Effective People by Stephen R. Covey
Hiring the Best by Martin Yate
96 Great Interview Questions to Ask Before You Hire by Paul Falcone
The Talent of Edge by David S. Cohen
Accounting Made Simple by Mike Piper
How to Win Friends and Influence People by Dale Carnegie
To Get Us Through:
LastFM: Jams
Spotify: Bryan's daily routine: every day, I grab new albums from Pitchfork's Review app and add them to a "Listen Today" playlist. Slowly building a "Garvin in your ear" playlist.
And Kim has been working on an electronica playlist.
Rhapsody: Heather and Bill's chosen music player
Numi Savory Teas: For keeping warm during these freezing afternoons
Campbell's popcorn: We did the logo for this delicious Cleveland sweets factory and now we're addicted.
Keurig: Keeps us trucking!
Nutella: Breakfast, lunch and dinner
Thermos Vacuum Insulated 18-Ounce Hydration Bottle: Gotta keep hydrated!
Love…
What tools are in your everyday arsenal? Please share with us in the comments below!
Categorized:

Graphic Design, Graphic Design, Graphic Design Inspiration, Web Roundup

Tagged:

advice, behind the scenes, cleveland, design, design tip, organization, productivity, staff picks, tips
It's a new year. A great time to look at what's been working for us here at Go Media, as well as what hasn't worked and what we'll be doing better in the year to come.
We do this in the most accurate, meaningful way possible, one that benefits us ten-fold.
Ready for the simple, yet essential key to Go Media's success?
We track our metrics.
What, you say, are metrics?
As Bill Beachy describes in Drawn to Business, metrics, are "key measurable components of your business" tracked by way of a dashboard (i.e. spreadsheet).
They are imperative.
Think of it like this, Bill visualizes, "when you drive your car down the street, how do you know how fast you're going? You look at your dashboard—a collection of gauges that give you the most important pieces of information you need while driving your car. The speedometer tells you how fast you're going. The odometer tells you how far you've gone. The gas gauge tells you how much fuel you have left. These readings such as miles per hour, fullness of your gas tank and total miles are known as "metrics." Can you imagine driving your car without a dashboard? It's certainly possible. But you might get a speeding ticket, run out of gas or burn your engine up because you didn't change the oil on time."
"Running your design firm without metrics and a dashboard is very much like driving a car without one. It's possible, but sooner or later you're going to get yourself into trouble. Not only will metrics and a dashboard keep you out of trouble, they'll also let you know when you're doing well, when you need to hire more staff or when you deserve a bonus!"
They will drive your decision making.
"Tracking your metrics over time will also give you valuable information that will drive your decision-making. Imagine if you started tracking the realized rate of all your design projects. And through this tracking you learned that your realized rate on branding projects is $200/hour, but your realized rate on web projects was $75/hour. What might you conclude with this information? Maybe you want to sell more branding work. Or, maybe you realize that you're overestimating your branding work and under estimating the workload for website development. The point is, you can't make informed decisions about your company if you don't have the data to base decisions on. This data comes from your metrics and dashboards."
They can be kept simple.
Once you have your system down, tracking your metrics can be quite simple.  Like anything else, start small, go slow and build as you see fit.  As Bill notes, "At Go Media, the data recording that goes into our metrics is running every day. Employees are logging hours, invoices are being made in QuickBooks, sales leads come in through our website, etc. But we only gather this data and reflect on it once a month. We have a spreadsheet where we drop the data at the conclusion of each month. This way we can look back at the month-by-month performance of our company."
What do I track?
Here are some examples of what we track, how we track them and what's important about them:
Bank Balance: it's as simple as looking at your bank statement!
Sales: this is the monthly total of cash in the door.  We use our bank statement for this one too. Go Media runs our books on a cash-basis accounting method: we only count actual dollars in and out the door as real.
Expenses: again, this is real basic stuff. We pull this number off our bank statement: dollars out the door.
Net profit/loss: sales minus expenses. Did we lose money or make money this past month?
Leads: how many new inquires did we get? It's also critical that you track where these leads are coming from. Ask your customers!
Proposals sent: we track both the number of proposals we send out and the total dollar amount. Over time we've been able to calculate our "close rate."
Hours networking: this is a metric specific to the sales team. I've learned over the years how important it is to get out from behind your desk.
Stress level: how are we feeling? Don't forget that you are not a machine. Keeping track of your team's stress levels will let you know in advance if someone needs help.
Web traffic: we keep an eye on all the website traffic to our different properties. For this we use Google Analytics.
Project realized rate: your realized rate is the hourly amount you actually earn on a project. Calculating this is very simple. It's the amount paid divided by hours worked.
Estimation accuracy: estimate accuracy is closely related to project realized rate. Except in this case we are only looking at hours. Did the hours estimated for the project match the hours projected? To calculate this, we divide the hours estimated by the hours worked.
These are the main metrics we track.  Find what works best for you and your company.  Remember, as Bill reminds, "the more information you gather over time on your company, the more informed your decisions will be. And as I stress over and over, you need to be making decisions based on knowledge. You need to gather your facts, gather your customer feedback, gather staff input and then decide how to move your company forward. Your dashboards are an important part of that."
Learn more Metrics, Dashboards and Business systems by picking up Drawn to Business. If you'd like to download our Dashboards for your own use, be sure to pick up either the Plus or Pro packages.
We want to know…do you track metrics? What do you track? Are we missing something? Please leave your thoughts in the comments below!
This post was originally written on my personal blog Maker/Mistaker and I thought I should repost it here.
So you call yourself a night owl huh? Most creative people I know (myself included) felt like they get in the zone after midnight. All is still and quiet and you can finally focus on your work. And if you're not working, you're doing something until the wee hours of the morning. If you're like most night owls, you dread getting up in the morning.
That was certainly me. My wife too. Over time our bed time kept getting pushed back later and later because there was always "something to do" that we just had to do. We weren't tired and going to bed felt like giving up on the day.
A Night Owl No More
I have been getting up at least one hour earlier for over a month now. In fact, the past two weeks I've been getting up two and a half hours earlier than normal. The night owl in me would ask, "Why the fuck would you ever get up before you have to?"
This getting up early habit has led to a month-long streak of wonderful habits including exercise, walking, meditation, mindfulness, journaling, and reading to name a few. Each of those has tremendous benefits on their own.
Those are all things I never "had time for" no matter how many extra hours I stayed up. Typically, staying up extra hours just meant more time on the computer. Am I right?
If I Could Only Get Up Early
I didn't have the ambition to do all those things at first. All I started with was a desire to get up early just because. If I can regularly do that, then I'll fill it with things to do I'm sure. So I started small with just the cue (or trigger), routine, and reward system to get my ass out of bed. Something I learned from the Power of Habit book.
Cue: Alarm goes off.
Routine: Get out of bed, crawl to couch.
Reward: Cup of coffee while I watched TV on my laptop.
I made sure to add this to my Lift habits so I could keep track. This worked great until the very next day when I forgot to set my alarm and woke up late. Dammit. I woke up early the following morning to get back on track. Then it was the weekend; which of course I slept in and stopped caring about my goal. Then I read The Miracle Morning and that changed everything.
The book stressed how it's totally ok to be as simple and small as you need to be. The author even described how you can do the Miracle Morning routine in just six minutes! Who doesn't have time for that?
The book refreshed my inspiration on meditation and personal development. I started following Hal's suggested routine of waking up, chugging a glass of water, sitting in silence for five minutes, doing some mild exercise, journaling, etc. I tried it out and eventually started customizing it to suit my needs.
My Morning Routine
I use the AM Routine app to help me stay on track. You set your desired end time (like when you have to leave for work) and you add habits with time estimates to your routine. It will calculate exactly when the built-in alarm should go off to give you enough time to do your routine. It even has a handy dashboard to show you what task you should be on, how much time is left, and what's coming up next. This is brilliant for those foggy mornings. You don't have to think at all!
6:30 AM: alarm goes off. My phone is across the room and I have to get up to turn it off. This prevents me from snoozing.
Get dressed, brush and floss my teeth, feed the rabbit: 5 minutes
Drink a glass of water and/or make coffee:  5 minutes
Meditate: 10 minutes
Read affirmations: 5 min
Watch a show on my computer: 30-60 minutes
Write in my journal: 10 minutes
Go for a walk and listen to audiobook: 25 minutes
Push-ups, sit-ups, pull-ups, baby-freeze (breakdance move), lift weights: 5 minutes
Shower and get ready: 15 minutes
Eat Breakfast: 15 minutes
Pack lunch, get the mail: 5 minutes
So that's my routine. Sometimes for breakfast I'll make a chocolate super-food smoothie that I got from The Miracle Morning book, so I sip it throughout my routine. I'm getting a little bored of this routine already and might want to shake things up. I'm adding in 10 minutes of writing in my blog and slowly eliminating my TV watching time. The beauty of this is that I can do whatever the fuck I want. It's my morning routine.
Jeff's 5 Tips for a Killer Morning Routine
Start small. Remember, pick up the goddamn weight, don't worry about lifting yet. Just do as little as possible so you can check it off and feel good about it. Small wins are the only way you'll feel motivated to keep going.
Do something pleasurable. For me that was watching a new episode of a tv series. It could be video games. Think of how you felt on Christmas morning as a kid, you couldn't wait to jump out of bed. As an adult, what would give you that type of excitement in the morning?
Don't let yourself think. In the morning, your willpower and decision making ability is extremely low. You need to build up a routine that is dead simple especially right as you step out of bed. For me, this means turning off my alarm clock, unplugging my iPhone charger and stumbling over to my dresser where I have my morning routine outfit already ready in my top drawer. Plan out your entire morning routine in advance so you don't have to make any decisions in the morning. Even a zombie can do it!
Set things out the night before. I wear the same shorts and shirt every day. Deciding what to wear is hard when you're groggy. Even my breakfast smoothie is created the night before. The glass for my morning water is always in the same place. It requires no thinking to get going. This is key!
Focus on personal development. Do not work! Resist the temptation to check email or social media. Do not start working on a project right away without first spending time working on your own personal development. You have the rest of the day to worry about checking stuff off your to-do list. Do not feel guilty about being "unproductive" and do not feel selfish for focusing on yourself. You deserve to have time to develop the life you want to live.

Although it rarely happens to me, I see tons of Twitter friends posting about their Adobe software crashing while working on a file. InDesign has a pretty robust temporary file feature that usually saves what you were working on, however that's only useful if you work in InDesign. What about Illustrator and Photoshop users?
Enter ForeverSave.
ForeverSave is a clever application that does versioned auto-saving of your open files. ForeverSave isn't limited to Adobe software, but it's the primary reason I was interested in the app. It works silently behind the scenes, yet instantly accessible via the menubar icon. Very customizable, not only the app itself but also on a per-application basis. This is a sign of a developer who knows their potential customers well.
Read on for more about how this very handy piece of software can improve your workflow, and as a special treat to Go Media readers, we're teaming up with Tool-Force Software to give away a limited number of free licenses to our readers.
The Basics
The "Control Center" allows you to turn ForeverSave on or off, and is the access point to add/remove and configure which applications you wish to monitor. Each application can be tweaked manually.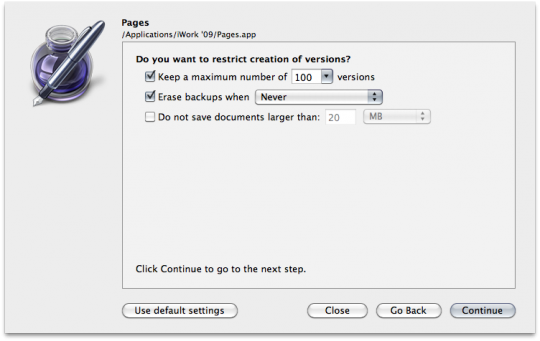 I love the fact that on a per-application basis I can set how many versions I want to keep, when to erase old backups and also excluding extra-large backups. Concerned about disk space? You can choose where the backup database is stored. Throw it on that external drive with tons of space instead of your startup drive if you want.
Customizable hotkey support is also a welcome feature for power users.
What It Does
So how does this all work? Simple: run ForeverSave, and based off your settings (per-app), ForeverSave will silently keep backups of your files according to the schedule you've specified. Sure, Time Machine is great for files you've already saved, but ForeverSave goes one step further and makes it easy to go back in time with files you're actively working on.
The big key to the awesomeness of ForeverSave is the fact that it can be set to not overwrite your current file — it saves a separate copy to allow you to revert if you choose. This is not some generic "hit the Save command every 5 minutes" solution only. ForeverSave allows you to work on your file and save a copy every so often in the background.
Go Back In Time
So what happens if you do need to go back to one of your backups? ForeverSave has a very intuitive backups interface to do just that: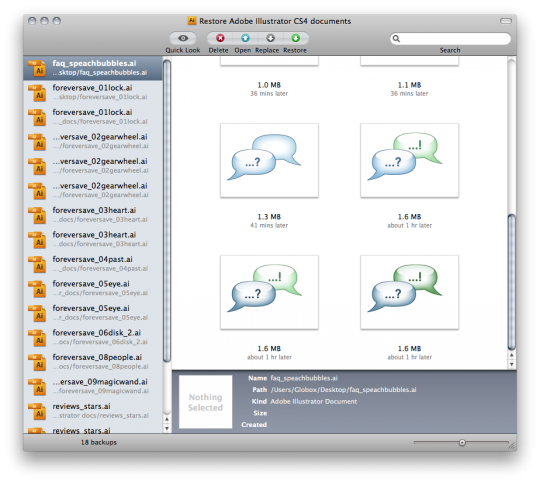 Each software application has it's own backups window which allow you to browse the files it has been monitoring (left-hand panel) and the versioned backups for each file (main area on right). Click on a backed-up file on the left to see the versioned backups for that file.
Each backup is date & time stamped, and full info can be gathered by clicking on one of the backup files and checking the info panel at the very bottom. Each backup file has the option to Delete, Open, replace or Restore, and everything works nicely with OS X's Quick Look feature.
Works Great
I've been demoing this software for a while now to prepare for this review. I wanted to make sure it ran smoothly, worked as advertised and fit into my workflow. I am very happy to recommend this software to any Mac user, but specifically to my fellow illustrators and designers out there. This really should be a part of your Mac workflow.
I'm a big fan of backup/security when it comes to my computer as I find it's part of the creativity process — if I don't have to worry about my tools and my files, it leaves more flexibility to concentrate on the creative side of things. ForeverSave is a tool that helps me achieve this.
Get It Now!
ForeverSave is available from Tool-Force Software for the insanely reasonable price of $14.95. There's also a "lite" version, but it doesn't offer most of the features reviewed above and I recommend just going for the full version. The first time you need to access a versioned backup of a file you thought you lost after a Photoshop crash will more than pay for the price of ForeverSave.
Tool-Force Software has also graciously agreed to bestow some free licenses to our loyal Go Media readers. The first 10 to reply in the comments will get a free license for the full version of Forever Save.
Be sure to have some way for us to contact you. I'd suggest a cleverly obscured email address within the comment itself (name [at] domain dot com usually works). If we can't contact you easily, we'll need to move on to the next.
Often times when it comes to preparing files for a printer it can get really complicated really fast. Often times when I'm creating a design there are a lot of elements that I use in a file, most of which are images and fonts. It's so complicated to remember EVERYTHING you put into a file so I discovered this cool trick you can use in InDesign to help package up all of your information for you! That way you don't have to worry about missing anything. The function is called packaging. Here is how to package a file and what it does exactly.
*Note that this refers to InDesign CS4; CS3 refers to the "Packaging" feature as "Preflight". Preflight has been expanded upon in CS4.
To get the process started go to File > Package. Or if you love the keyboard shortcuts its: Alt + Shift + Ctrl + F (Mac: Option+Shift+Command+P). This will bring up a dialog box that gives you all the information about what is going to be packaged. What packaging does is put all your resources (links, fonts, Pantone colors, as well as a copy of the InDesign file) into one folder for the printer to easily access the files and information quickly. This way you don't have to worry about a ticked-off printer coming back to you upset that your files weren't all included with your submitted InDesign file.
You can go through the other sections below "Summary" to make sure everything is good to go. These tabs show everything that is going to be packaged into the document. Once you have reviewed this information click "Package". This will take you to a Printing Instructions window. I always put my information in the document for the printer, one never knows if they may need to contact you. There is also an area for you to write specific instructions for the printer as well. This can come in quite handy if you want to use a special printing technique.
After clicking "Continue", a "Package Publication" window will pop up. Here you will choose a location on your computer to save a folder with all the InDesign file information and fonts and files used within the layout. Navigate to where you want the press ready folder saved and click "Package". This will start the packaging process.
Once the computer has finished saving your file, go ahead and navigate to the folder. If you look in the folder you'll see your file is there with a separate folder for fonts and links.
Can't get much easier than that! Next time let your computer do all the heavy lifting.
Judging by the welcoming response to last week's review, I'll go ahead and continue with this one. You suggested that I keep posting the reviews because it reminds you that you're either a) slacking off and need to get to work or b) "oh, i'm not as much of a slacker as I thought!" Here's what I got accomplished this week.
Worked on a simple wordpress theme with Adam Law for a redesign of Red Ferret
Did some sketches for a few illustrations for Complex Magazine. Oliver and I start final concepts this week.
My Trivium Design from last week along with some from Dave and Oliver all got approved. See below for those.
Assigned a job for Chris Comella. Write an article about the why packaging design is awesome.
Worked on a tee for New Kids on the Block. I might need to do some more this week.
Successfully participated in my second "Jam Night" – I played drums with a couple other musicians on Tuesday nights. It's fun to get out and play with people I've never met that are 30 years my senior.
Started working on Phase 3 of the Arsenal. The customization of the "My Account" section.
Cleaned one of the toilets at Go Media for my chore. We use Chorebuster around here to keep things tidy.
Published part 1 of the 15 mistakes article that you have probably already read. I spent time promoting the article as well. Can't wait for part 2.