A navigation bar is common across nearly every site on the Internet today. It is the way that site visitors orient themselves to what is on your page and where to find it. It can set the tone for your entire landing page. One could argue it is one of the most important elements on your website.
Upon reaching a company website via referral, about half of site visitors use the navigation menu to figure out where they are and where they want to go next. There is no denying your site's navigation is one of the most important features of your website.
However, your nav bar might lack in a few key things. Below are six possible ways in which your navigation might lack and how to fix any issues. Your site might be lacking:
1. Search Box
The search box is a handy tool for those who know specifically what they are looking for and don't want to go through several steps to get there. Around 59 percent of website visitors state they use a site's internal search engines to look for something specific. A search box keeps the site visitor on your page instead of them hopping away to Google or some other search engine.
TD Ameritrade offers a search function right at the top of their landing page. This is an excellent way for users to find information on a specific stock. Think about some of the big websites you visit and how they use the search function to help you navigate their site. Some big ones that come to mind include Facebook and Amazon.
2. Simplicity
It might be tempting to add all types of fancy designs and tools into your navigation bar, but for something that should simply be functional, the basics are often the best. Place the bar in an easy to locate spot and keep the colors and designs simple. Even the font you use should be easy to read and should translate well on different screen sizes. You'll also want to narrow your categories down to as few as possible. You can always add sub-categories under your main category headers.
3. Easy to Find
As people navigate through your website, they'll want to know they can count on a couple of elements to move back to previous pages or to choose other options. Your navigation bar should be located in the same location every single time and quick and easy to find. Things such as linking up your logo to your homepage or adding a sticky bar work well to keep the user organized as he or she navigates your site.
When people read on the Internet, they use an F-pattern where they scan across the top of the page horizontally and then down the page on the left before returning to the middle of the page. This means your navigation bar needs to be near the top of your page at all times.
Take a look at the Reynolds' website navigation menu. Not only does the website and their 24-hour emergency services toll-free number appear at the top, but as you scroll down the page, it becomes sticky and follows along making it easy to find as you navigate through various elements of the website.
4. Distinct Wording
It can be tempting to try to turn to words that are creative and cute. Naming different areas of your site might seem like a fun way to draw in users, but the truth is that not everyone will get your humor or sense of style. It is better to stick to the basics when choosing the words you use for your navigation headings.
Instead of calling your online shopping area, the "Fashion Zone," simply title it "Shop" or "Products." Once the user lands on that page, you can show off your sense of style and creativity, but until the user navigates to where you want it is best to keep things simple and to the point.
5. Mobile Responsiveness
Ninety-five percent of Americans today own some type of cellphone, and 77 percent own a smartphone. That means more and more people use their mobile devices to browse online. When designing the navigation for your website, have you considered how that navigation will function for those using smaller screens?
Ideally, your navigation will become condensed. This will likely mean limiting yourself to a couple of categories and then adding a hamburger menu that the user can expand if needed. This type of style allows even those on very tiny screens to move around your website easily.
Disney's website is a great example of taking the same information and condensing it for mobile. At the top of their mobile website, you will simply find three choices and a search function. There is a link to each major theme park in the United States and a link to shop. They then present the hamburger menu at the top left, near the logo, so you can make additional choices. Or, you can use the search function to navigate where needed.
6. Images Paired with Words
When a relevant image is added to words, 65 percent of people remember that information as much as three days later. If you can add images to your navigation, not only will the overall affect be visually appealing, but your site visitor may be more likely to remember your site and return again. Consider adding a small flat icon along with the words for your content areas, for example.
Improving Your Navigation Bar
Even though it is smart to try new colors, designs, different wording on your call to actions and other elements within your navigation bar, it is equally as important to be a bit predictable and simplistic with this important feature. Place the navigation where it is easy to find and make it as intuitive as possible for that user.
Always test any changes side-by-side with the old version to see how they are converting with your target audience. With a little forethought and care, your navigation bar will serve its purpose and help drive conversions.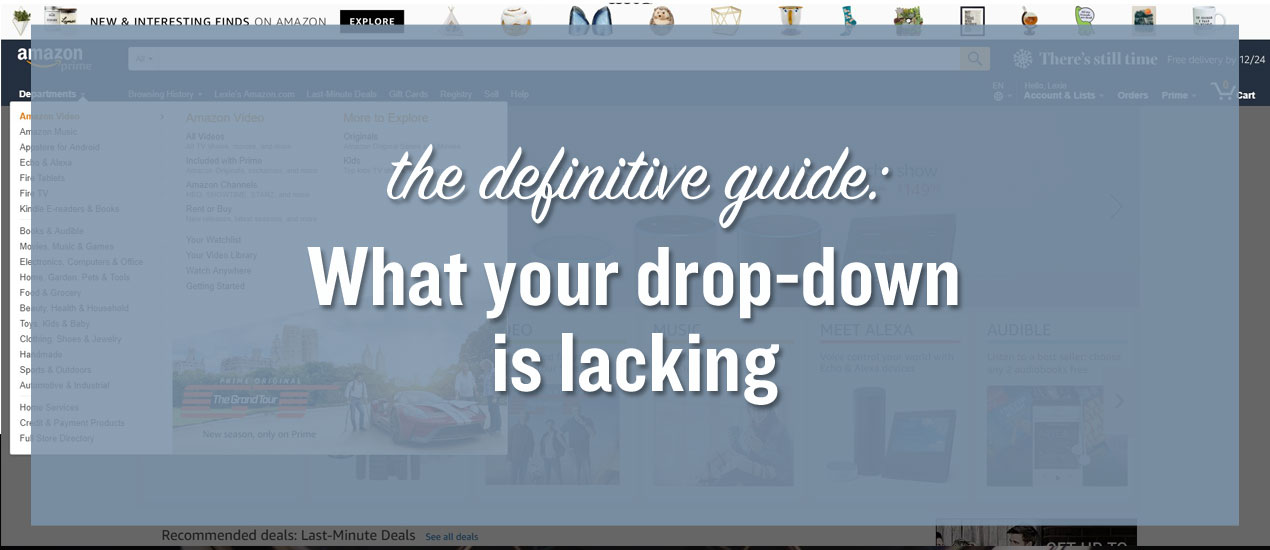 How to Improve Your Drop-Down Menu
The navigation menu is central to the user experience on a website or mobile app. When we visit a website, we have a particular goal in mind. We want to get somewhere on the site as quickly as possible. Usually, the drop-down menu is the most efficient way to do that.
Optimizing your navigation menu should be a top priority. Here are some things you should do to optimize it, plus some you shouldn't.
Do Kill the Clutter
Keep your navigation simple. You may have tons of sub-pages and a variety of product categories, but you don't have to include them all in your main navigation. There are other ways to set this up. Alternatively, you could create a top-seated breadcrumb-style menu to offer easier navigation through lesser sub-pages, while keeping all the juicy stuff in the main nav.
When you open a nav menu, you don't want it to take up the entire screen. Many retailers and e-commerce sites do this, and it's poor design. You want navigation to be quick and easy, but that also means keeping a lid on the box. If you add too many options, things get cluttered and confusing. This is especially true on mobile, where the screen is much smaller.
The restaurant Denny's did this with their newer design. The menu displays the most important categories first. When you select one, it opens to reveal sub-categories or additional options.
Do Use Borders or Shadows
Adding a subtle border or drop shadow to your menu helps it stand out from the rest of the page especially if you're using a lighter background. This isn't so important when you have plenty of negative space below your menu foldout. However, if you have images or text content, sometimes these elements can make the menu harder to differentiate.
Do Consider Applications
When browsing on desktop, it makes sense to have the drop-down menu or main nav take up the width of the page. On mobile, however, where there's much less space to work, a collapsible menu is the better choice. Consider the applications for your menu, such as how and where they will be used. This makes a huge difference when it comes to the function, style and even layout of your design.
Do Include Images or Icons
Most menus are text-based, which is a shame because many devices can display high-quality HD content. Why not spruce things up and make your menu more engaging? It's okay to add images, icons or even visual indicators to your menu alongside text labels.
An auto seller or manufacturer, for example, might consider putting images of the vehicle next to the model name. As a bonus, this can also help when people know visually what they're looking for, but don't know the model.
Formula Boats gets this right with their visually appealing dropdown menu. Open it up, and you can see all their boat models, making it easier to choose between them.
Do Use a Column or Grid-Based Design
Column or grid-based navigation menus are better organized, simple to understand and easy to create. Keep your dropdown menu structured appropriately, especially since consumers and internet users are so used to this design technique.
Don't Have a Disappearing Menu
Ever notice when a site uses a dropdown menu, it remains visible and follows you down the page? This is good web design, especially on mobile. The main navigation menu is always only a tap away, no matter how far down you scroll. This is important for infinite or lengthy scrolling sites.
Amazon has one of the best examples of this anywhere. While their menu doesn't collapse, it is a mega menu with a dropdown design. It's visible no matter where you are on the site, on both desktop and mobile versions. Customers retain quick access, to any section of the site.
Don't Use Unclear Headings
With a dropdown menu, you're going to have quite a few menu items in view. That's alright, so long as you have clear headers to differentiate the varying categories and pages.
For example, an electronics retailer might have categories for home theater, laptops and PCs and printers. The correct way to structure this is to bold the headers of each category so they stand out. The improper way to do this is to list all the options in the same font, color and weight. Then you end up with one list of items, and that's confusing.
Take a look at the official Columbia site. Pay attention to their mega dropdown menu and how it's structured. Notice how the header for each category stands out from the rest? Now imagine if all those fonts were the same. Even with the columns separate, things would get confusing.
Don't Forget to Test
You may prefer Chrome over Microsoft Explorer, or maybe you use Safari. Whatever the case, the worst thing you can do is assume everyone has the same preferences as you. One of the biggest mistakes you can make with web design is not testing your setup on multiple platforms.
Before you roll out the final design for your drop-down menu, check it out on multiple devices, browser types and resolutions. The content may scale differently on certain platforms, which could ruin your perfectly crafted menu.
Look no further than IWC Schaffhausen. Open their site on desktop, and you see a drop-down menu with high-quality images of their watches. This makes sense considering you want to choose a watch that looks good. But on mobile, the menu acts differently. Instead of a full menu that takes up the entire screen, you only see a few of the watches, and you must scroll left or right to see the rest.
Don't Neglect a "Best Sellers" Section
One of the beneficial aspects of a drop-down menu is when you structure it appropriately, you will have some wiggle room — some space to be innovative. Instead of doing something wild, include your popular or best sellers here. Your customers can jump to your most popular product or service right from the get-go.
Don't Make It Sluggish
You want your site to look beautiful, and that means including animations, visuals and effects. But you don't want to hinder the experience by creating something that takes too long to load. It is possible to bog down a drop-down menu, making it sluggish in the process. More importantly, you have control over open and close times, where it appears on the page and how hover elements work. Keep this in mind when designing your menu.
The same is true in the opposite direction, too. If a user is moving their mouse over a menu, you don't want it to pop open and block another element they're trying to interact with. Find the sweet spot — usually a half a second — before that menu shows up.
Time to Overhaul Your Menu
If you noticed one or two things on this list that conflict with your drop-down menu, you may want to head back to the drawing board. You see, the navigation menu — dropdown or not — is central to your customers' experience on your site.
Think of it in terms of a brick-and-mortar storefront. When you go into a grocery store, the building is laid out and organized. Each aisle has a purpose and is properly labeled. If you want something specific, you can usually find the aisle quickly. Now imagine if all those signs were gone. It would be utter chaos.
Your nav menu is the equivalent of those signs in digital form. Not only do you need them to direct traffic, but your customers need them to understand your design.
Lexie Lu is a freelance UX designer and blogger. She enjoys researching the latest design trends and always has a cup of coffee nearby. She manages Design Roast and can be followed on Twitter @lexieludesigner.
Categorized:

Graphic Design

Tagged:

application, desktop, drop-down, dropdown, e-commerce, ecommerce, headings, icons, images, menu, mobile app, navigation, optimization, website