Album Design Inspiration
If you're a fan of the 'Zine, Cleveland's best website designers, Go Media, and Weapons of Mass Creation Fest, you've heard the name Troy DeShano. No stranger to the design community, Strong Odors Artist and Illustrator, Troy is constantly creating, collaborating.
A few of his projects include the Old and New Project, a growing biblical art and design collection he runs with fellow artist and designer Jim Lepage, a photography project highlighting his cancer diagnosis and journey, and speaking engagements including his recent time on the Weapons of Mass Creation Fest stages.
Troy's most recent work, a collaborative design project called FUTURALBUM, invites top international graphic designers to contribute re-imagined cover art for any album they choose. The goal of the project is to give the artists an opportunity to design something "just for fun" – a rare treat for those of us often bogged down with design work tasks.
Let's check in with Troy, as well as some of his contributors, who will tell us a little more about this exciting project.
Troy:
I'm not sure exactly what "inspired" FUTURALBUM, other than the fact that when I first discovered Flickr's Internet Archive Book Images it blew me away.
I definitely wasn't planning to start another personal project. The last thing I needed was one more distraction with no paycheck to show for it. But some recent soul searching had shifted my focus into music design, and here was this super cool resource I wanted to share with all my peers—so the idea just kind of grew out of that.
I had enough experience running Old & New with Jim LePage over the past few years, I knew how much time a project like that requires from both organizers and contributors. So I decided to keep it very, very simple. Invite friends, collect designs, post designs. That's it.
I just wanted FUTURALBUM to be fun.
With constant anxiety around client approval, and growing peer pressure to always create hand-drawn lettering, illustrations or even your own fonts for every single project, I thought this could be a great outlet for a bunch of us to create something just for fun—like we did before graphic design became "work."
I give each contributor great freedom to create the art they want. They choose the album, and can do multiple designs if they feel inspired. Some get a kick out of throwing a bunch together in an hour, while others invest major time into a single album cover design. By adding a few simple but strict "rules," it challenges each to exercise that creative muscle in the way only possible when working with limited resources.
My favorite Milton Glaser quote: "The next time you see a sixteen-color, blind-embossed, gold-stamped, die-cut, elaborately folded and bound job, printed on handmade paper, see if it isn't a mediocre idea trying to pass for something else"
When I set out to do a painting, I know it would be easier if I had this nice big canvas with which to begin, but I have the extreme limitation of my non-existent budget. In fact, I'm totally broke and can't justify spending even a dollar on paint or brushes or especially canvas. So I draw from that folk-art spirit and just create the best work I can using whatever happens to be nearby.
What is really amazing, and I know most fellow creatives can attest is how those limitations naturally force me to be creative. We just sadly forget it sometimes, because we imagine eliminating the frustration with added resources will make the work easier—and therefore better.
Here's another case where "life imitates art," right? We imagine the benefits associated with more money, fancier phones, faster food, and less work will make life easier—and therefore better. What we're really doing, however, is robbing ourselves of the conflict, the struggle, the wrestling that makes life interesting and fun and exciting and worth living. It's in the act of overcoming (or struggling with others to overcome), in which we discover purpose and joy and satisfaction.
It would be a lot easier to paint on an actual canvas, but would that resource miss the inspired quality I might unearth by nailing a bunch of boards together for mine?
Of course for all this talk of the valuable impact of limitations to spur creativity, I'm a firm believer that rules are obviously made to be broken. Can't wait to see the exciting ways the rules of FUTURALBUM are challenged by these incredible artists this year!
Check out the designs and short interviews with the designers below:
Tame Impala, Lonerism
Design by Karen Kurycki
Go Media: What inspired you to create your piece?
"I love this album by Tame Impala. Their music is defined as "Psychedelic rock" and reminds me of something you might listen to while tripping on acid in the 70s (not that I've experienced an acid trip in the 70s) but you can imagine what it might be like if you did. I wanted something that conveyed the idea of floating through space or a tunnel; or like the way a kaleidoscope works—with multi-colors and dimensions—so when I was searching for an image in the Flickr album I was looking for something that might reflect that idea. I stumbled upon this picture which was actually some sort of cellular/amoeba structure and thought it might work perfectly, so I combined it with some of my watercolors and multiplied the layers in Photoshop. I had a lot of fun working on it, thank you Troy for inviting me to participate!" – Karen Kurycki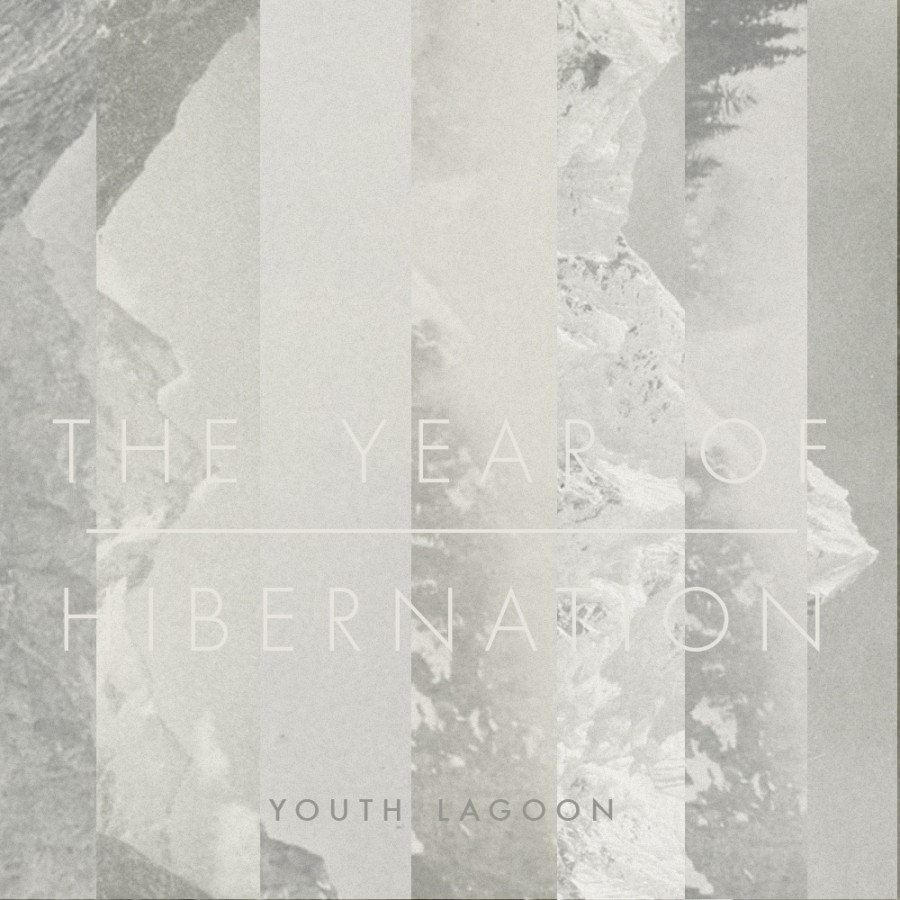 Youth Lagoon, The Year of Hibernation
Design by Liz Schaeffer
Go Media: What inspired you to create your piece?
"I think the nostalgia, that listening to this album always give me, was my first source of inspiration. The album, The Year of Hibernation, totally brings me back to a winter where I was hibernating in my apartment and binging Trevor Power's (Youth Lagoon) music."
In what ways does music inspire you as a designer?
"I have tendency of indulging in genres of music at a time and what is most inspiring while doing so, is how an on going playlist can help me get into a flow state while I am designing, drawing, whatever the task at hand may be – it helps me lose track of time, in the best way." 
How did limitations spur creativity in this project for you?
"I actually love having limitations while designing – it is like solving a puzzle. Troy's limitations, especially, I think prompted some really great and unexpected results, which leads me into the next question.."
What what most exciting for you in this process?
"Using Flickr's Internet Archive Book Images was exciting for me. First, to search around through what in the collection resonated with me and my nostalgia with the album. Then, figuring out a way to manipulate these photos of concrete things (in my case, old landscape photos) into the abstract disposition that the album and winter, gives me." –  Liz Schaeffer
Flaming Lips, Yoshimi Battles the Pink Robots
Design by Anne Ulku
Go Media: In what ways does music inspire you as a designer?
"Music creates a visual language in my mind. When listening, I imagine abstract graphics, colors, or patterns that might associated with the sounds or story of the lyrics. Music is a way to stretch my imagination as a designer. Even if the design may not be fully executed, listening is still a good creative exercise." – Anne Ulku
Ellie Goulding, Bright Lights
Design by Christine Gerhart
Go Media: How did limitations spur creativity in this project for you?
"The limitation of this project pushed me to strip away all that was unnecessary and get to the essence of what I felt the album was about. It was harder than I expected, but once I finished once design, I couldn't wait to do another one." – Christine Gerhart
Go Media: What inspired you to create the piece?
"I actually got stuck on the idea of Radiohead being such a mecca for designers, like it was an obvious choice. BUT. The title "In Rainbows" immediately felt like it could be all sorts of images, and I was excited to play with something colorful like a rainbow, so that's why I decided to work with this album in the end." – Margot Harrington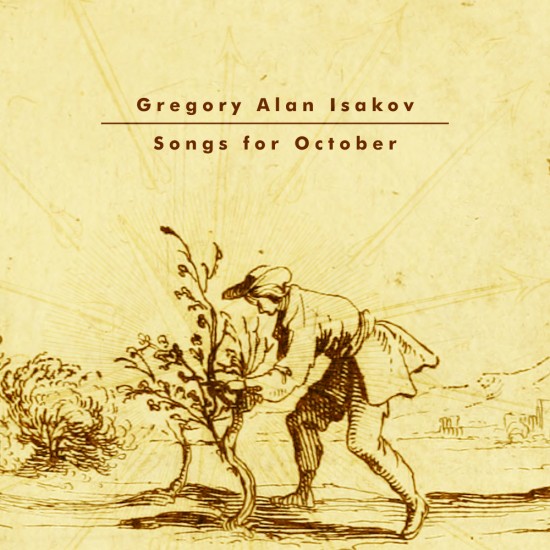 Gregory Alan Isakov, Songs for October
Design by Nick Evans
Go Media: What inspired you to create your piece?
I have such a wide scope of music taste that it was hard to really nail down an album cover that I wanted to refresh with my design. So what I did was cycle through my Spotify list and found some artist that I have been listening to for a while and looked at their artwork and was like, "Hey, this could look a little better if we went with this." One of the things about this project was that there were two things that were required, using the photos from the Flickr album and the font Futura, which is one of my all time favorites. So with that in mind it was a matter of finding those images that I thought could go together and really go great with the album of choice. It took a while to search through the site, but I landed on a couple that I knew in my mind that they would work. I put the album on and started putting it together. The music really helped in the process as well, especially in the coloring.
Go Media: In what ways does music inspire you as a designer?
Music does a LOT for me when I design. It really sets the mood and pace of my creative runs. Like I said I have a wide range of taste of music and so it really kind of depends on what mood I am in. Right now I am in a rock funk, so its a lot of hard hitting stuff, and that really gets the juices flowing. I would say it's a big part, because there is not a time that I am not doing work and not listening to tunes. Its not cool not having music playing…just not right.
Go Media: How did limitations spur creativity in this project for you?
I think it really helped narrow the focus a TON. Not saying that I don't like creating something new, but with this one, it harked back to one of my favorite design "genres" of using classic or old artwork. Growing up and becoming a designer I always enjoy seeing how other designers used classic photos and images with album art or ads, or whatever. So this was like a dream project for me. I embraced everything about this project's limitations.
Go Media: What was most exciting for you in this process?
I think it was being a part of a community of designers that I look up to or envy and see my work next to theirs. You have to respect those who inspire you. It made my day when I had some fellow designers recommend me for the project, I couldn't thank them enough for doing that. So I just am so honored to be on this page. I have always wanted to participate in a community design project, so this has been an EPIC experience. I also really loved the part when they tweeted out the link and said that the artwork was up on the site. I was like, YES, and the other great thing that they are doing is including the artist of the album as well. Very sweet! I think that is great of them to do that, might lead to other opportunities for the artist to maybe get noticed or be able to do some work. Two fold.
Killer Mike, R.A.P. Music
Design by David Sizemore
Go Media: What inspired you to create your piece?
"My inspiration was primarily informed by the volume of visual assets I needed to acquire. Because I wanted to do more than just a cover, I needed a series of images that would compliment each other."
In what ways does music inspire you as a designer?
"I normally can't listen to albums I'm not extremely familiar with unless I'm doing rote production work. I only have a dozen albums I "design to," augmented by songs I'll listen to on repeat for hours. So when music inspires me, it happens distinctly away from the design process. I like it that way."
How did limitations spur creativity in this project for you?
"Limitations are great. When you don't have to consider your typeface, you can focus on layout and composition. I was able to find base images and produce all my pieces in just a couple hours because the boundaries honed and expedited the process."
What was most exciting for you in this process?
"Freedom from client input combined with a clear brief excited me. It was an exercise, and exercises can be very rewarding when approached with the right mindset." – David Sizemore
Go Media: What what most exciting for you in this process?
"The most exciting aspect was Troy allowing me to make three separate covers for Rancid's "…And Out Come the Wolves". I enjoyed making my first cover so much and thought it'd be an interesting challenge to make two additional versions, much as you would with any design project. It's great that Troy designed Futuralbum to have a minimal amount of requirements, allowing designers the room to bring their own ideas to the project." – Alex Griendling
For more Troy: Strong Odors | Facebook | Twitter
Follow FUTURALBUM: Official Site (Tumblr) | Twitter | Instagram
Categorized:

Design Community, Graphic Design Inspiration

Tagged:

album, album design inspiration, art, collaboration, deshano, design, Flickr, futuralbum, inspiration, music, troy, troy deshano
Best Spotify Playlists for Creativity
Hey Go Media Faithful! It's the new year and time to fulfill those creative resolutions. Why not start now? Get motivated by pressing play below.
Today's Spotify Playlist was created by Lauren Hudac, our Account Manager here at our Cleveland design firm, who is known around our office for getting sh*t done. So let's take follow her lead and do this thing. Enjoy everyone!
Lauren Hudac's Creative Flow
More Go Media Staff's Spotify Playlists for Getting Sh*t Done:
Volume 1, William Beachy


Volume 7, by Heather Sakai
Christmas has come and gone and so it's time to get back in the game. If you're feeling sluggish and need an extra boost to focus and face the day with gusto, we're here to help.
Simply grab your headphones, press play, and prepare to get some sh*t done.
Sakaipowered
Today's playlist was created by Heather Sakai, Arsenal and Community manager here at Cleveland Graphics Firm, Go Media. It's certain to inspire while get you dancing in your seat. Enjoy!
Best Spotify Playlists Ever.
Music Monday, ya'll! Our Office Manager, Kim Finley, is here to hook us up with the perfect playlist for when cash is flowing and making money is the order of the day in custom Cleveland web design. Put the cash in my hand! There are currently 23 songs on the playlist and more will be added over time.
Songs fall under the rap, EDM, or trap category. Get ready for a money makin dance party!
Kim Finley's Money Makin Playlist
Check out Kim's blog, Surprise, It's Kim, where she'll treat you to more music deliciousness. | Kim on Twitter
Creativity Boost
It's that time again, folks. Music Monday! You're in for a treat, 'cause our beloved Go Media Graphic Designer Aaron Roberts is here with an eclectic collection of songs certain to kick your week into high gear. Headphones on high, friends. It's time for a Creativity Boost!
From Aaron: When I really need to focus, I'll almost exclusively listen to ambient music. The music that fills the rest of my waking hours has funk, groove, twang, and is sometimes downright strange.
Diggin' Aaron's Creativity Boost Playlist? Listen to more of our:
Go Media Staff's Spotify Playlists for Getting Sh*t Done:
Volume 1, William Beachy


______________________________________________________________________
Follow Aaron on Behance | Twitter | LinkedIn | Flickr | Google+
Music Monday, Go Media Style
It's that time again, fellow creatives! Arguably, the longest day of the week. Never fear, Music Monday is here.
Up to the bat this week is Cleveland web designing company, Go Media Partner, VP, Web Developer and resident Chief Geek, Wilson Revehl.
So kick back, crank that volume up and get ready for:
Wil Revehl Amplify
Wilson says: This is my audible caffeine to keep me pressing on with a project. No lyrics, because I'm easily distracted. Being a web developer, my projects require a ton of critical thinking. I prefer EDM to power up on and my favorite is super aggressive dubstep. Enjoy!
More Go Media Staff's Spotify Playlists for Getting Sh*t Done:
Volume 1, William Beachy

Volume 2, Bryan Garvin

Volume 3, Jeff Finley

Volume 5, Aaron Roberts

Resident Partner, Designer, Breakdancer, and one of the architects of Cleveland Graphic Design Firm, Go Media, Jeff Finley, is here to get you in the workflow with his Spotify playlist, "Pop Punk Favs." So press play, pop open that pen and let the magic begin.
Jeff Finley's "Pop Punk Favs"
Music for your Monday
Today's Best Spotify Playlist for Getting Sh*t Done is brought to us by Go Media web designer and front-end developer, Bryan Garvin.
If you want to be productive this Monday, may we suggest allowing that beard into your ear.
Bryan Garvin's "Beard in Your Ear"
From Bryan: This is some new stuff I've been listening to as of late as I get lost in my code. From Lo-Fi to Funk, Motown to Grunge, Rap to Acoustic, as well as a dash of Zeppelin and Beach Boys, I like to vary. Anything to keep me on my toes as I dance at my standing desk.
More Go Media Staff's Spotify Playlists for Getting Sh*t Done:
Volume 1, William Beachy


Volume 3, Jeff Finley


Volume 5, Aaron Roberts


Volume 4, Wilson Revehl

If you've ever entered Go Media headquarters,  you'll most likely be blown away by one thing – quite immediately.
The sound of complete and utter silence.
It's something I first noticed when I first stepped my foot onto the third floor of this, 4507 Lorain Avenue, and something almost everyone comments on upon entering.
Quickly though, you'll come to understand the reason. More often that not, each and every one of us has our headphones on, being inspired and motivated by our favorite music.
Getting it done.
We thought it would be fun if we each constructed a Spotify playlist for you, dear readers. Each is chock-full of songs that put that creative fire in our bellies.
You can find these playlists each and every Monday here on the 'Zine. We're kicking off our favorite Spotify playlists with one from William Beachy, President of Cleveland website designers, Go Media.
William Beachy's "Go Media's EDM Work Playlist"
The name says it all. I slowly pieced together this playlist over an entire year. This is just over two hours of high energy, bad-ass, bass thumping, soaring vocal, punch-you-in-the-face dropping electronic music. If you like Electronic Dance Music, you'll be head bobbing and chair dancing yourself into a blissful state of productivity. If not, welp, you gotta go if you don't like techno.
See you next time!
First off, let me start off by saying, I am a lover of Album Cover Artwork.  And I don't mean some dump-ya-after-3-dates kinda lover, but a put-a-ring-on-your-finger kinda lover.  ;)  I have read a crazy amount of books on the subject, studied designers and artists that I love, and now I am attempting to build a shrine in their honor and using this post as my medium.
Album cover artwork has come a long way throughout the years.  We all are probably used to the computer made designs of today, but we can't forget the album cover artwork created before technology made things easier.  My attempt with this showcase, is to illustrate that album cover artwork has been awesome for decades, so check out this post for album cover artwork from the 1940s to present day.
1940s
1950s
1960s
1970s
1980s
1990s
2000s
For further reading, check out these publications:

Weapons of Mass Creation Fest: J-25
Ladies and gentlemen, Weapons of Mass Creation Fest 3 is less than a month away! This means that the frequency of Fest-related content published here will slowly but surely increase in the next couple weeks. We'll be introducing the speakers, designers and bands that will be part of this exciting adventure.
Music, music, and more music!
Today, we want to share with you a solid preview of the bands you'll be able to hear this year. Like last year, Jeff contacted the bands that will be playing to put together a sampler album. It's available to download for free on Bandcamp! How cool is that? There are 23 tracks of awesome music on this release, ready to punch your bad mood in face and to get you pumped through your next all-nighter on that personal project of yours.
But if you don't want to download the music, you can also stream it straight from Bandcamp (or here). And if you're still not happy, we also asked the good peeps at Designers.MX to host a smaller version of the sampler.
We hope you'll enjoy this fine sounding compilation, and hope to see you all around the stages at WMC Fest!
Dave is a guy that has always impressed me. He manages to run a site that produces all its own video and audio content, play in 5 different bands, do freelance design/coding, and have a social life. This interview probes deep into his brain and covers everything from being an entrepreneur, a designer, and a musician. Something a lot of our readers, including myself, struggling with keeping them balanced. — Jeff Finley
GoMediaZine: Tell us about who you are and a little info about IYMI site. Do you do it from your apartment? Who else is part of IYMI?
Dave: Hey, I'm Dave Garwacke and I run this little website out of my apartment in Clinton Hill, Brooklyn, NY. IYMI is a support mechanism for the bands I love. I figured if I archived enough footage and created enough content, people would start to notice some of these bands on a more global level.
I get a lot of help from friends, especially these 4.
Eric Ayotte and Dominic Armao contributed heavily to the Series section, and have stepped up to record a handful of shows on the site. Jeff Ledellaytner has helped me out so much with technical advice and creating bumpers for each section. My roommate and great friend Katie Pallatto has also been a godsend in helping me with Pink Couch recordings and filming the bands that I've been in.
GoMediaZine: Why did you start IYMI? Were there any other sites out there like it? I remember punkrockvids.com was out there for one… Did you know about it? If so, what was your opinion of those other sites?
Dave: I started the site about 3 years ago when I saw a complete lack of documentation of the scene around me. I lived in a house in New Paltz, NY where we had tons of bands come through, but we never really thought to catalogue what we had done. When I came to New York, I decided to make sure that people saw how amazing some of these bands are.
As far as shows go, I never really checked out sites like punkrockvids. What really drove the site was France's La Blogotheque and their Takeaway shows. I loved the idea of showing the bands in a different way that wasn't a music video, but was still visually interesting. It got rid of the visually interesting part and focused on the awkward times in between. If you haven't checked them out, you should. They are doing some awesome things over there, and their high contrast look is being copied all over the web.
GoMediaZine: How was IYMI designed and developed? Who designed it? Who coded it? Is it based off WordPress? Custom developed?
Dave: The website started off as a WordPress theme designed by IAMWW. After a while I decided that WordPress was way too limiting, and that I couldn't write, so I moved over to custom backend that I coded.
IYMI is on it's 3rd 4th iteration right now, and I think it's the most stable it's ever been. The backend runs off of PHP and a large MySQL database hosted by a MediaTemple DV, which helps with a lot of the load. I have a lot of fun adding modules to the site, and utilizing jQuery to spiff the site up. Recently I added in a Vanilla forum and WordPress Blog, which shares a unified login throughout the site.
Currently I've decided to jump back on the all WordPress bandwagon, and started developing the site locally. It's going to take some time to merge all the tables, but in the end it'll be a lot leaner, and meaner.
GoMediaZine: Tell us about Twin Cuts, the design collective you share with Pat Schramm, one of my favorite drummers.
Dave: I approached Pat and Jeff [Rosenstock] about pooling together our work into a single portfolio. I figured it be a good way to present ourselves, and all share our collective contacts. Unfortunately, no one could really project manage, or deal with money. Currently we are all working on projects alone, and sort them out as they come through the contact system.
GoMediaZine: What kind of bands/artists have you featured that people would know about? What about some of your favorite "unknown" features?
Dave: Some of the bigger bands that have been on If You Make It have been The Bouncing Souls, Maps and Atlases, Kevin Devine, Good Old War, Bridge and Tunnel, Defiance,Ohio, Andrew Jackson Jihad and Bomb the Music Industry.
There are couple of awesome videos/bands that people need to check out including Ultra Dolphins, where the guitarist plays a second drumset while fingertapping out his parts. The Brainworms video is also amazing from ABC No Rio. All the Kickball videos are also great and they were also some of my first. Francois Virot of Clara Clara did an amazing Pink Couch for a song called Dummies, which everyone should watch. His playing/singing style is definitely different and really interesting.
GoMediaZine: What made you start the intimate musical sessions known as the Pink Couch?
Dave: After filming a couple of shows, I realized that the majority of the audio sounded like trash. I needed to have some way of controlling the sound, so I took one look at my big ugly couch, invited some friends over and started filming. I figured the couch could be iconic, and saw an opportunity to provide something different. I pulled a lot of inspiration from what La Blogotheque was doing.
GoMediaZine: Tell us about the short film series… That's the part I know least about and truthfully don't have as much of an interest in. Why should I be interested?
Dave: The short film or series section is mainly filled out by work from my friends, Eric, Dom and Jeff, who are all extremely creative and funny. A lot of the videos are from a DVD they put out last year, where they had to make 31 movies in the 31 days of October. They competed with a team from Gainesville, FL, headed up by Chris Clavin of Plan-It-X Records.
Between Resistance & Community: The Long Island DIY Punk Community from Joe Biel on Vimeo.
A lot of the time, the Series section gets shelved and neglected. Fortunately I'm trying to remedy that by starting to contact people who want to fill in the cracks. I'm hoping to fill that section with programs that are updated often. It'd be great to have some interviews, music lessons, and a cooking program. Right now I'm working with some friends on a write-in cooking show that could be produced and edited quickly and feature music from the site and the local scene.
GoMediaZine: What's the Gadabout Film Festival? How does it relate to what you do and why should we care about it?
Dave: Eric Ayotte started the Gadabout Film Fest about 7 years ago as a way to bring great short films to some places that would never see them. With the advent of YouTube, there is so much junk shoved down people's throats that they sometimes miss the gold. I can't imagine eating gold to be that great, but Eric does an amazing job at making it palatable. He travels around the country with videos from all over the world and created a community amongst some amazing filmmakers.
Eric is a great friend, and has always been a supporter of what I've been doing with the site. Right now he is working on a monthly short film movie challenge called "Instant Gratification". You can find out more at gadaboutfilmfest.com
GoMediaZine: You also play drums in multiple bands and always going to shows. Tell us how you balance your time with work (where do you earn your money btw?), bands, IYMI, and still have time to have a social life both online and off?
Dave: My one dream in life is to sustain myself through my work on this site. Unfortunately that idea is looking less and less likely. It's a lot of hard work to maintain and update the site on daily basis. To offset the cost of the site, I do freelance work for a small boutique firm called 3 Rings Media, which is based in Manhattan. I usually have a lot of work coming through, but never projects that take up too much of my time.

Photo by Twinkleaira
Another way I balance the time is through merging all of my work together. I work on record label sites (like Plan-it-x.org), and record covers, go to and play local shows where I film for the site. IYMI is basically a calendar of my life at any given point, you can see the places where I've been, and pick apart the gaps when I'm too busy to bother with it.
With the free time that I have left, I spend it on playing in a bunch of side projects. I don't really have the time to be in anything full time, so it's nice to be in something that's low pressure and sporadic in nature. Unfortunately I have to play in 5 bands to approximate the output of one normal group.
Currently I play drums for Kudrow, Thousandaires, Halo Fauna, State Lottery, and The Golden Age of Radio. I also used to play with Air Raid Barcelona and He's A Cop?! during my years in New Paltz.
Halo Fauna – Blame a Bird for your Shortcomings from If You Make It on Vimeo.
GoMediaZine: If you could get anyone to play on IYMI for a pink couch, who would it be?
Dave: I have always wanted to have John K. Samson of the Weakerthans over. I recently contacted their guitarist Stephen Carroll, about coming over during their recent jaunt through New York. Unfortunately it did not work out, although I was just as happy to see them play in Brooklyn.
My list of must-haves include Mike Kinsella of Owen, Ted Leo, Hutch Harris of the Thermals, and Ben Gibbard of Death Cab for Cutie. When I first start IYMI, I had a link to email and tweet Ted Leo, but I took it down soon after realizing how annoying it could be. Some day Ted… some day.
GoMediaZine: I consider you a pioneer of documentary, especially in the punk scene. It reminds me of the Decline of Western Civilization films by Penelope Spheeris where she documented a certain aspect of the underground punk scene as it was at that point in time. It wasn't trying to say anything, just documenting the scene. Have you seen the Decline films? Do you have any inspirations for continuing to document the punk scene? What are your ultimate plans for this type of venture?
Dave: I have seen those films, and it's a real complement to be compared to them. Outside of the bands I choose to shoot, I'm not trying to interject my feelings into the things I capture. Hopefully in the future, someone will look back and be able too look back on the site with fond memories.
My ultimate plan for this is to have the Pink Couch Sessions be more regular, and put them out twice a week, all year long. Financially it's nowhere near that point, but I can still try.
GoMediaZine: Do you plan to make a feature length documentary on the scene? With more than just live shows – like talking heads, interviews, the what and they whys? I've been waiting for the Plan-it-X documentary to come out, but I can see you actually doing something of your own and releasing it.
Dave: As much as I would love to do something like that, I don't think I have the time or patience for something of that magnitude. As far as the scene goes, the goal of IYMI isn't to localize a group of music, but to generate interest for bands that I believe in or whose music I love.
As far as filming goes, I am talentless. Work on IYMI is just scratching the surface of what you can do with video and audio. I'd love to work on larger scale project, but it'd be in more of a producer/director capacity. I have a bunch of friends who are great at this kind of stuff, it's just coming up with an idea to base it around.
GoMediaZine: Where do you live and how would you describe the music scene you're involved in locally? From my perspective, it seems like a great scene – lots of musicians and friends playing in each other's bands. Tell me about your local music scene.
Dave: For the duration of IYMI, I've been sequestered in the small hamlet of Clinton Hill in Brooklyn, NY. The scene here is pretty crazy and all over the place, I mean it's New York. We have a group of friends from all over the state that tend to recycle themselves into new bands all the time, but slowly we're pulling in new people from outside our friend circle.
There are tons of awesome bands in New York, and there are shows every single night here, especially if you have broad musical tastes. I would name some of them, but it seems almost pointless, because I have 100% chance of forgetting someone.
Currently we have a handful of great spaces to play in the Brooklyn area, which we are eternally grateful for. Some of the places that regularly host shows include the Silent Barn, Death By Audio, The Glass Door, Tompkins, Lulus, Tommy's Tavern, 538 Johnson, The Fort, The Boneyard and many more.
GoMediaZine: A drumming question – how long have you been drumming? Where do you get your inspiration? How do you learn new techniques? Any advice for an up and coming drummer in the scene?
Dave: I started drumming 15 years ago, when I started playing snare in concert band. I never really took it too seriously, even though I went on to play in the high school marching band. Once I moved to New Paltz, I started practicing more, and bringing together everything I learned. I get a lot of inspiration from friends and my brother. If I had a 1/10th of the skill my brother has at the guitar, I'd be happy.
Kudrow – Favreau from If You Make It on Vimeo.
Drums are all about tempo, you can play the craziest parts, but if you speed up and down to much it'll never matter. The most important thing to do is play to a metronome and work on your sense of rhythm. I need to follow my own advice.
GoMediaZine: Songwriting questions – In all of your bands, how have YOU been involved in the actual songwriting process. Do you normally come to practice with material or do your band mates? How do you then integrate your drumming into the music. Do you typically write music or lyrics first? Talk to me a little about your songwriting techniques.
Dave: My main contribution to the song writing is mostly in the form of tweaking parts. I never really have anything, but I tend to have a lot of ideas on how to transition between parts, and work out rough spots. My main objective is to try and force myself to play something different on each song, although with 5 bands, it's getting sort of hard. Prog-metal time?
GoMediaZine: By playing in bands, touring, and doing IYMI, you've met a lot of people, some good, some bad. In general what's your outlook in the scene itself? Are you jaded? What disappoints you? What gives you hope?
Dave: I've been around the US a couple times with Halo Fauna a couple of times, and it's always been a mix of good and bad. In the end though, I just love spending time with my friends and meeting new people. Generally I'm pretty happy with the way things are going, as social networking increases, it seems like the distance between bands, people and their respective scenes decreases.
It's exciting to keep contact with the people you meet on tour, and I think it makes everything more personal. Working on IYMI has helped me interact with a whole new set of people all over the world who I would never meet, or interact with.
GoMediaZine: If you could change 1 thing about the punk scene, what would it be and why?
Dave: I wish we could all get along. Friends?
For more information on Dave, the bands he plays in, or his site ifyoumakeit.com, send him an email or follow @ifyoumakeit on Twitter.