9 Marketing Myths
When it comes to marketing, you'll hear a lot of different advice. One expert will say to always do A, while another expert says to never do A. At the end of the day, you have to take in all the advice you read and hear and figure out what works for you as a small-business owner.
One study showed that around 70 percent of marketers are not handling the era of big data well and a mere 3 percent said their data was aligned with their marketing efforts. One of the reasons marketing and business goals aren't aligned may have to do with the many marketing myths business owners face.
Here are nine marketing myths you shouldn't believe and what you should do instead:
1. The ROI of Inbound Marketing Isn't Measurable
You may have heard that it's impossible to measure the ROI of inbound marketing, but it's actually quite easy to track analytics and see where your traffic comes from. If you seek leads from sources such as social media, they have their own analytics to show you which ads are most effective.
In fact, marketing teams who used automation software and checked analytics a few times a week saw 20 percent more ROI than those who didn't. Instead of assuming you can't control inbound marketing, stay on top of your results. Study what works and what doesn't to convert browsers into leads.
2. It's Impossible to Set Specific Goals
You might think it's impossible to set specific marketing goals, because you never know how a campaign might go, but this simply isn't true. Those who set goals are 429 percent more likely to find success, and top marketers document the processes they use and determine which ones are successful and which ones aren't.
Instead of avoiding goals until you see how successful a campaign is, set specific goals for what you want to achieve and then figure out how to get there.
3. You Can't Buy Their Love
You may have heard that promotional products don't work. People who want something free will take your products and you'll not get any return from it. However, people tend to view a brand more favorably if they receive an eco-friendly or made-in-America product. About 85 percent of consumers remember a brand that gave them apparel, such as a T-shirt or hat.
Promotional products do work. The key is finding the item your customers will keep and display proudly. This turns the customer into a walking billboard for your brand.
4. Local Businesses Don't Need Online Marketing
If you run a small mom-and-pop shop, you may assume your online presence doesn't really matter. After all, most of your business is foot traffic, right? Not having an online presence, even for a small local business, is a mistake.
About 30 percent of all mobile searches tie to a location, and around 28 percent of searches for something near the person turn into a purchase. Instead of ignoring your online presence, figure out where your target audience spends their time and reach out to them via social media.
5. All Millennials Think Alike
Millennials often get a bad rap for being self-absorbed and broke. While they have faced some challenges generations before them may not have, today's millennials are simply savvy with their money. They also can't all be pigeonholed into a single description.
Instead of assuming you can create a blanket marketing campaign that covers all millennials, take the time to get to know your customers on a personal level. Understand they are each unique and must be marketed to as individuals.
6. Mobile Readiness Doesn't Matter
Mobile internet traffic is about 51.2 percent, and some users only access the web via their mobile devices. As more people purchase smartphones and wireless networks adopt 5G and faster mobile internet service, expect to see the percentage of mobile users creep up even higher.
Mobile readiness matters, and Google even penalizes your site for not being friendly to smaller screens. Instead of ignoring your mobile presences, embrace the small screen.
7. Email Marketing Is Dead
Some business owners think email marketing isn't a wise investment of time and resources. Thanks to loads of spam, people just delete any email that lands in their inbox, don't they? The truth is that email has a high ROI compared to other forms of marketing. You just have to take the time to get the tone and the offers right.
About 77 percent of consumers prefer email as the No. 1 method of communication by 68 percent over the next nearest method. An email list also belongs to you rather than being controlled by a social media platform. If you aren't building an online mailing list, you should.
8. Get on All Social Media Platforms
Myth No. 8 says you need to have a presence on as many social media platforms as possible. If you're going to post on one, you might as well post on them all. However, each platform is a bit different in tone and audience, so a post you created for Facebook may not translate well on LinkedIn.
A presence on social media takes time and resources. Instead of trying to be everything to everyone, choose the social media site that attracts your typical customer type. You can always expand into other platforms later.
9. Every Lead Is Valuable
This myth states you need to just collect leads. However, this isn't true. A good lead is someone who is right in your target audience and most likely to purchase your product or service. Simply gathering names is a waste of time and money.
Instead, narrow down your focus so you attract only those people who are most likely to be interested in what you have to offer. If a lead will never buy your product, then it isn't worth your time.
Overcoming Marketing Myths
Whether the myths you're following are from other marketing experts or personal truths you've adopted over time, spend a few minutes thinking through which ones are accurate and which ones should be ignored. With a little foresight, your marketing will rise to the next level and you'll avoid the pitfalls other marketers disappear into.
Mobile devices became an important part of people's private lives, but the increasing usage of smartphones also forced companies to invest in this segment of the business. Mobile browsing already makes more than half of Internet usage globally, which is why 61% of marketers use responsive web design as part of their mobile SEO strategy.
If you want to build a sustainable and long-term business, you have to embrace the same concept and optimize a website for the mobile experience. In this post, we will show you the best mobile SEO rules you need to remember making an app design, for this using resources online such as Boston Bill SEO Agency could be really helpful for this.
Simple Design and Clear CTA
A mobile user interface is relatively small, so you need to create a simple design to avoid confusion. Make a small display adding relevant information only. This means you have to reduce and shorten menu items and also highlight CTA links or buttons. It's the only way to ensure easy navigation through the user interface, allowing visitors to engage with your content.
Mind the Keywords
Regardless of the device, keywords represent an essence of SEO. Your content needs to fulfill basic keyword principles to be discovered by search engines:
Keyword rich text

: Make sure to add enough keywords and theme-related phrases to the content. Online tools and services like

aussiewritings.com

can help you write content that satisfies state-of-the-art SEO standards.

Add keywords to titles

: Each title must contain a primary keyword near the beginning to boost the SEO potential of your posts.

Images

: Write keyword-based image descriptions to enable search engines to recognize the visual content.  
Design for Big Fingers
It may sound strange, but you have to pay attention to this detail as well. It would be perfect if everybody had thin and gentle fingers, but in reality you must design apps that work well for people with big and wide fingers, thumbs in particular. Doing so, you don't chase away a large portion of visitors who don't feel comfortable with app design.
Page Load Speed
Page load speed is paramount for mobile optimization. Traditional websites have been designed to fit the needs of laptops and desktop computers, so they underperform on mobile devices. Most users give up opening a website if they have to wait for more than 3 seconds, which means that you must dedicate extra attention to mobile performance. In order to avoid this issue, we suggest you test load speed on all devices before launching a site.
Create Landing Pages
As a serious business, you will probably run a lot of marketing campaigns to expand the base of customers. But you can't keep adding new elements to the existing pages, so you should create a special landing page for each one of your campaigns. This helps you to keep all pages simple and minimalistic, but also appealing enough for the users to take action.
Eliminate Pop-Ups
Mobile pop-ups recently became one of the search engine's biggest enemies. Bearing in mind the size of the user interface, Google realized that intrusive pop-ups make the situation even worse. That's why they decided to knock down the ranking of all websites that use this kind of advertising. The only thing you are allowed to use is age check or similar forms.
Limited Forms and Inputs
Pop-ups are not the only problematic element in the mobile design. Although not forbidden, registration forms and similar inputs will burden your app in case you don't position them properly. You should not add more than one form on any given page, but even then you should try to save space by limiting the size of those inputs.
Compress Multimedia Content
Multimedia features such as videos or audio content can drastically slow down website performance, especially its mobile version. For this reason, you should create shorter videos or podcasts and compress them to make the least impact possible. It's even better if you can avoid this kind of content, but if not – make sure to optimize it for the mobile experience.
Test on All Devices
The user interface looks different on different devices. Display size varies from smartphone to smartphone, while data processing depends on the software version. It can distort content and make it useless, so you have to test performance on all devices. Once the analysis is over, you can officially publish your mobile app.
CONCLUSION
Mobile usage drastically increased in the last decade, opening a brand new marketing battlefield for modern companies. Today, it is impossible to build a successful business without a good smartphone app. In this post, we showed you the best mobile SEO rules you need to remember making an app design.
Did you already implement these tactics? Which one plays the most important role in your business?
With the rise of the web, people's approach to making purchases has changed significantly. They are now aware of how important they are to small businesses trying to survive in such a competitive marketplace. And, in return for their loyalty, they expect you to provide them with the exceptional buying experience and they won't accept anything less than that.
Your customers not interested in your products only. Namely, they want to know the story behind your brand, as well. They expect you to answer their questions fast, connect with them on social networks, and create relevant and interesting content. They don't want to waste their time, either. If your site takes more than 3 seconds to load, they will abandon it and look for your competitors. The same goes for your navigation, mobile-friendliness, content, and the overall visual appeal of your site.
Given all these facts, here is how you should do digital marketing in 2018.
Prepare for the Google Mobile-First Index
If you haven't heard yet that Google has finally rolled out their mobile-first index, then you're living under a rock. This has become one of the hottest news in the digital marketing sphere, but what does it actually mean? From now on, Google will focus on the mobile version of your site when indexing it.
So, make sure you optimize your site for mobile searchers. After all, 60% of all web searches are done via mobile devices. Make your keywords longer and more conversational to optimize them for voice search. Use Google's AMPs to speed up your site significantly. Your navigation should be simpler, while all important elements of your website should be above the fold. For additional information, take a look at what Google says about preparing your site for the mobile-first index.
Show Appreciation
Do you know that an average U.S. household participates in about 29 loyalty programs? They love them for different reasons- some join these programs to save money, while others want to receive a reward for their loyalty. For some, the availability of rewards programs is the major factor that determines whether they will buy from you or not.
Now, loyalty programs vary and you need to choose the option that works for your target audience. You could give them points or vouchers that can be later redeemed at your stores or offer them exclusive deals for every purchase or referral they make. However, recent studies point out that people have labeled financial rewards or highly targeted incentives far more enticing. So, to make customized loyalty programs, you could offer personalized visa gift cards, with your customers' names on them or even organize a contest and let them win your premium products.
Focus on User-Generated Content
Let's face it- people trust other customers more than you. According to the Local Customer Review Survey, 85% of them trust online reviews as much as their friends, while 73% of them will trust your business more if your customers' reviews are positive.
In light of statistics like this, it's obvious that user-generated content (UGC) is one of those tactics you simply cannot allow to ignore. After all, it's your customers that sell your products today.
Use your social networks to invite people to share their own videos of your products or services.
Boost the visibility of this content by sharing it regularly and creating dedicated hashtags.
Most importantly, you need to know what works for each of the social networks you use. Share live stories and videos on Facebook, post photos on Twitter, while the user-generated content your Instagram account could be the combination of these forms of UGC.  
Use Social Networks to Offer Instant Feedback
In the past, your communication with your customers was based on phone calls and emails. However, the times have changed and, today, your communication channels cannot be observed in isolation. All instant messaging apps, video conferencing tools, social networks, email providers, and telemarketing strategies are highly intertwined, creating what we call the omnichannel approach to communication.
Today, your customers can move from one device to another uninterruptedly. They can find your phone number on your site and call you instantly, not having to switch between different apps. They can scan your QR code that will lead them to the piece of content they want to read or a product they want to buy. They can stumble upon your business on social networks, read the reviews, ask questions, and follow the link to your site to learn more about you.
If you're too busy answering your customers' messages regularly, then hire someone to do so for you. Even better, use a chatbot. Even this is still a pretty new concept, chatbots are predicted to revolutionize the digital marketing industry in 2018. Namely, these AI-powered tools have become smarter and more intuitive. They will provide your customers with relevant, real-time feedback and, at the same time, do all repetitive and time-consuming tasks for you.
You can use social media monitoring tools to keep track of your brand or product mentions. Whenever someone mentions you, you'll get notified. This is called social listening and it's immensely important in providing your customers with real-time customers services and collecting their feedback.
Create Interactive Content
Gone are the days when you could write a 1000-word blog post and generate a bunch of links, shares, and comments. We're living in the era of augmented reality and people expect your content to surprise and excite them. So, update your content strategy with interactive content, the one your customers can actively participate in, such as polls and quizzes. Don't forget about visual content, especially videos, as they're expected to account for 82% of the total internet traffic by 2020.  
Tell your Customers a Story
You're not doing content marketing for SEO purposes solely. You're creating your content for your customers. And, to engage them and get them emotionally involved, each article you write needs to have a good story to back it.
That's what storytelling is about.
Namely, 92% of people emphasized that they expect all major brands to create ads that feel like stories. Stories share a real-life experience, add the human element to your brand promotion, and evoke nostalgia and empathy. Most importantly, as they don't seem overly promotional, they will take your relationship with your customers to a completely new, more personal level.
Over to You
Digital marketing is not about promoting your business and ranking higher on Google. It's also about building and nurturing strong relationships with your target audience. That's exactly what will set you apart from a sea of businesses similar to yours.
Hope these tips help!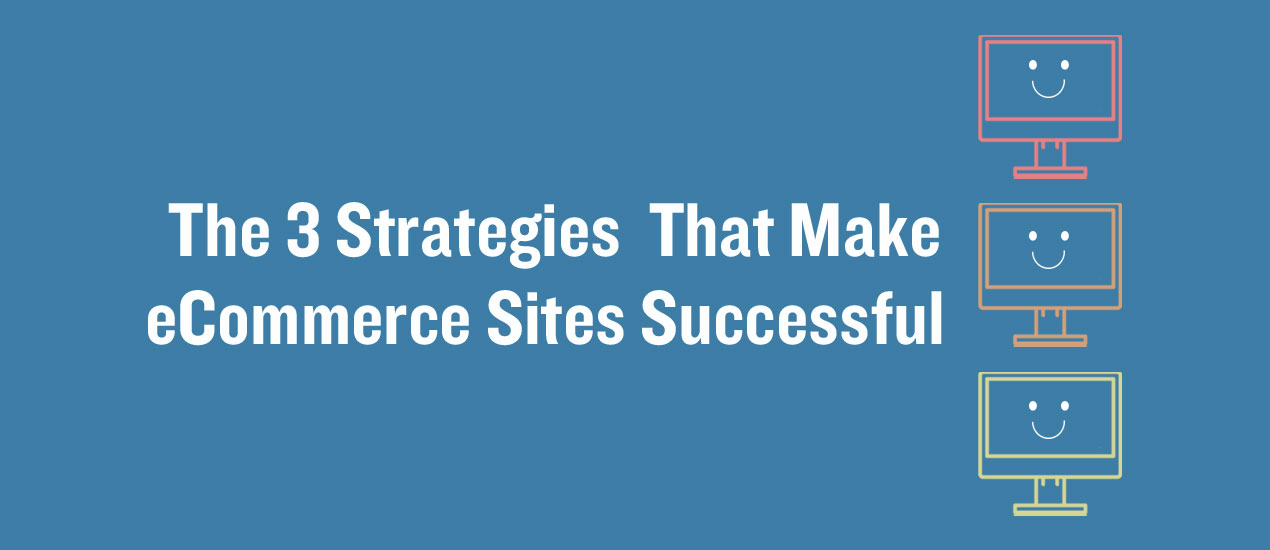 eCommerce websites are becoming more and more popular and prevalent by the day, creating a thriving and competitive market. Although the market is growing, the competition means that it can be difficult for new and existing eCommerce businesses to break through the barrier and get themselves seen and heard. Unfortunately, this can only inevitably lead those businesses to be pushed out of the market. We've put together 3 strategies that will make your eCommerce website stand out, and be successful. As with most businesses, time and effort are required, but it will certainly pay off in the long run.
1. Choose the right web host: First and foremost, you must ensure that you choose the right web host for your eCommerce site. There are many web hosting companies to choose from, all offering similar plans and features, but knowing which one is right for you can be difficult, especially if the thought hadn't even crossed your mind! Here are a few things to consider when deciding on your web host:
Uptime guarantee – Ensure that your web host has an uptime guarantee, or at least a very good uptime record if they can't provide a guarantee. Providing your customers, as an eCommerce website, with a site that is available at all times is essential to maintaining a loyal user base, and encourages more traffic to your business's website.
Speed – It's a well-known fact that website visitors are impatient; if your website doesn't load within 3 seconds, your users and your conversion rate will rapidly decrease. If your web host's servers aren't up to scratch or don't perform well, this could be a huge detriment to your eCommerce website.
Features – Does your web host offer 1-click installs, such as WordPress, Shopping Carts, etc.? Getting the most for your money is obviously important when purchasing any product or service, but is especially true when choosing your web host. If you're just starting out your eCommerce journey, you may be surprised at how easy it is to create a website with an online store, with integrated cart and payment facilities all from your web host.
Choosing the right web host is often not something that's on the top of every eCommerce business' list, but it really should be. If your website doesn't load fast enough or isn't visible to your users, how are you going to generate any business to ensure your eCommerce site is successful? If choosing a web host is a bit of a minefield, there are plenty of hosting reviews available and designed for you to make an informed decision.
2. Implement and update SEO: As we've already mentioned, the eCommerce market is rapidly growing and is very competitive, so implementing a solid SEO strategy and keeping on top of it is another high priority task to ensure your website is successful. SEO can be complicated, but there are lots of guides on the internet to help you get on your way.
One of the key things to remember is to keep your SEO updated; we can't stress this enough. If your SEO is not updated, then your conversion rates will decrease, as well as traffic to your website, and potentially your customer base. Google's SERP factors are constantly evolving, so your SEO strategy must evolve with it. What you thought was successful last year, may get penalized this year, so research is a must. If SEO is not your specialty, or you're finding it too hard to keep on top of, don't be afraid to reach out to others for help. There are plenty of SEO professionals available to take your eCommerce website to the next level, and are certainly worth investing in, even if it is to get your feet off the ground.
3. Optimise for Mobile: As of January 2017, Statista confirmed that 90% of Japan's mobile phone users were using their phones to access the internet; with 87% in the U.K., and 73% in the U.S. Those figures are quite extraordinary, but they pack a punch, and shouldn't be taken lightly. When over 70% of a country are using their mobile phones to browse websites, you'll want to make sure that your eCommerce site is mobile optimized.
If your eCommerce site is not mobile friendly, you could be losing out on a huge customer base, and giving away potential users to your competition – don't let that happen! Responsive website design doesn't have to be difficult; in fact, most CMS providers, such as WordPress, have themes and templates at the ready with very little effort required from you. Once created, there are a range of tools available on the internet to confirm how well your eCommerce website is optimized for mobile, outlining areas for improvement if required.
How Strategic Branding Can Help your Business
One way to stand out from the competition and make a mark on the internet for your business is through strategic branding. You've likely noticed branding via offline platforms, which is when companies use a tagline or some other identifying tactic to keep the brand in the mind of consumers. Think about some of the billboards you pass on a typical day, for example. However, branding on the internet is an entirely different game.
With so many different choices on methods for branding online, it can be difficult to know where to start. Fortunately, there are some tried-and-true ways to brand online that will benefit your business and not cost you much out of your overall marketing budget.
Street teams originally started out as a way for the music industry to promote artists, but has developed into a method that all types of businesses use. About 33 percent of consumers say they trust a message from a company, which isn't great, but 90 percent of consumers trust a recommendation from someone they know, even if they just know the person in passing.
This is where your street team comes into play. You should have a database of fans who will go out and tell others about your company and products. This can include social media influencers, people who have been customers for many years and brand ambassadors who you send free products in exchange for their word-of-mouth advertising.
Red Bull utilizes a street team/brand ambassadors to get the word out about its product. The way it has implemented its strategy is to have tiers within the team all the way down to student ambassadors who will recommend the product to their friends.
91 percent of B2B marketers use content marketing to promote to potential clients, making it one of the most popular B2B online marketing methods. You've probably heard that content is king, and in some ways, this still holds true.
However, you have to ensure the content speaks to your target audience and provides some value to them. Gone are days where businesses could keyword-stuff a page, drive traffic and find success. Today's savvy business owners expect and demand value for their time.
Small businesses need a convenient way to get active online and begin building that brand image. One key thing is figuring out how to connect with other small businesses, but statistics show that businesses with better listings receive as much as 347 percent more searches than those with subpar listings. A company called Manta helps with Google AdWords placement, figuring out SEO for local listings, social media timing, online reviews and preparing for mobile search traffic.
One example of a company using this platform is Mericle Commercial Real Estate Services. The company specializes as a developer of industrial sites and office buildings, so the ability to connect with other businesses is a real help.
Get everyone in the company versed in how to use social media to promote the business and then allow those who seem to be savvy to promote on your behalf.
Studies show that leads that are generated by employees via social media are about seven times more likely to have high conversion rates. The key is training employees on what to say and what not to say or to simply ask them to retweet and share.
Customer Service on Social Media
Every day, there are 2.1 million negative social media posts about U.S. brands, which means people are very likely to go online and voice their complaints. Since your goal is to please your customer and show others you care about your customers, it is a smart move to hire customer service specialists to handle social media complaints. The reps simply reach out to those complaining and offer to fix the issue.
JetBlue airlines is an excellent case study of how to use social media to respond to your customers in a pleasing way. When customers complain, it immediately responds, asks for flight info and provides an update.
A person has to see your branding approximately five to seven times before they remember it, as a rule of thumb. Of course there are exceptions to that rule, but it goes to show that you need to put your eggs in more than one basket when it comes to online marketing. Think about where your target demographic hangs out online. If most of them are on Pinterest and a specific crafting site, then that is where you'll advertise, as well as by using AdWords with a similar keyword range.
The number of people using mobile devices to access emails has risen by 180 percent over a three-year period. With more and more people using their mobile devices to get online, it is a smart practice to take those emails you've collected and send out a message here and there. You can offer stories about your company, discounts, free shipping, customer testimonials, etc.
Groupon sends out emails several times a week that are segmented to offer specials that particular group of subscribers would be interested in. This highly targeted form of advertising has been quite effective for the site. Those emails are also mobile friendly and can be easily read on a personal computer or a smartphone.
If your company isn't focusing on branding online yet, then you can see why it is vital that you do. You can easily expand your customer reach by doing online marketing. The key is to be smart about where you spend your marketing dollars. Even though online marketing is a fraction of the cost of traditional print advertising, you can still waste a lot of money if you don't go into it with a very specific strategy and marketing plan.
Lexie Lu is a freelance UX designer and blogger. She enjoys researching the latest design trends and always has a cup of coffee nearby. She manages Design Roast and can be followed on Twitter @lexieludesigner
Categorized:

Business Philosophy, Graphic Design, Small Business

Tagged:

branding, content marketing, customer service, emails, internet, marketing, mobile, mobile friendly, seo, street team, traffic
Why Your Business Should Go Mobile with 8 Tips
Waiting for the subway. Procrastinating at work. Going to the bathroom. Relaxing on the couch. Sitting on a bench at the park.
What do all these events have in common? You're on your phone for all of them.
It's 2016, and people live their lives through the screen on their smartphone. Everything from social interactions to business transactions take place in the palm of your hand. The world now runs through mobile devices, which means your business should as well.
If your business hasn't made the transition to mobile, then now is definitely the time to do it. Here are eight tips for helping your business go mobile:
1. Serve Your Customers
Simply having an app or mobile website isn't beneficial for your business if it isn't useful to your customers. Make sure you focus on your customer's needs when designing your new mobile platform.
Why do customers visit your website or call your business? Do they want to set up a reservation? Do they need a quote for a project? Maybe they want to be informed? Figure out the reason people visit your company's website and feature that on your mobile platform.
For example, restaurants could provide the ability to make a reservation at the top of their home page. Just be sure it's clear and easy to use. If it's not, your customer may get frustrated and go elsewhere.
Make sure you keep the customer in mind when you make your business go mobile.
2. Responsive Website Design
There's nothing worse than going to a website on a tablet, only to find it's really small because it's designed for a phone. This problem will turn away customers because your design isn't aesthetically appealing.
You don't know which device your users will be using to access your website, so your company's mobile website should have a responsive design that changes size based on the device being used. If someone is viewing your website on a tablet, the site's size and orientation will automatically adjust based on the user's screen. If the user in on their phone, then your website will shrink and be just as readable.
Your website should be able to function on any device. A responsive website design is the best way to accomplish this.
3. Create an App
Apps dominate the mobile landscape. There are apps for games, social media, online shopping and much more. It's possible your company might need an app instead of a responsive website.
An app can be your company's hub to make orders, provide content, create a community and become more in touch with your audience. Having an app will entice more users to interact with your company, because the icon on their phone will act as a constant reminder. Your business will always be in the back of their mind.
You also have more freedom of designing an app than you do with a website. Apps can be a creative way for your business to truly connect with customers.
4. Outsource the App Development and Maintenance
Don't worry about learning code or different design styles. Instead, outsource the job of designing your app and leave it up to the experts.
In fact, making an app is easier than ever. There are many companies that can easily create a basic app that gives you every feature you need. However, the best route might be to find a freelance designer on a site like Upwork and hire them to design an app that's best for your company.
Maintaining your app is simple as well. There are companies that will test your app for bugs and fix them for you. You only have to pay for the bugs that were found and fixed.
By outsourcing the job of app or website creation, you're making sure you have the best finished product. It also gives you more time to focus on your business.
5. Embrace the Mobile World
Going mobile doesn't mean you can just create a website, publish it and then completely forget about the Internet. Your business has to be completely active in the mobile realm. This means being active on social media and continually interacting with customers.
Create social media accounts so your business can interact with customers. You can also update your audience on any news about your business.
Also, becoming mobile means you should be more available. Users can visit your website at any time within a split second, so you should be able to respond instantly at any time. Have an instant messaging option for your customer support page. Your business can't truly go mobile if it ignores the other mobile platforms and features available to it.
6. Advertise Your New Platform
Some companies use apps or innovative web designs as a way to attract new customers. In a way, your app is a marketing attribute. However, your app or mobile site can do much more than get new eyes on your business. It can be an extension of your business' service.
Advertise your new platform to your existing customers. Put up posters in your store or send a mass email to anyone who has made a purchase. Your mobile platform can become an integral part of your customers' lives. It can create brand loyalty because your app is always there for your customers. Make sure people know about your business going mobile.
7. Simple Is Better
Simplicity is key for any design. If blocks of text are popping up, and letters are scrolling by in bright, flashing colors, then all you're doing is distracting your user from the purpose of your website or app.
Your mobile website or app should be as simple as possible — plain colors, easy-to-read fonts and no movement. The user isn't interested in your company because you know how to code a text box that flashes a yellow color. Your users want to learn more about your business or take part in a transaction. Make this easier for them by having a simple platform.
8. Focus on Usability
The most important aspect of your new mobile platform is that people can actually use it. When creating this platform, make sure you focus on usability.
The key to successful usability is easy navigation. The user should be able to find the information they want to find. This is why it's important to understand your audience and know what they're looking for. That way, you can feature this information and make it easy for your customers. You should also make sure your website runs smoothly and quickly.
Test different pages and get feedback from your users. Find out what they like, what they don't like and how they feel your website can be improved. Look for problems they might come across when using your website or app. Then do everything you can to fix these problems and make sure visitors have no issues with using your platform.
Time to Get Mobile
Now is the best time for your business to go mobile. Make it a reality so your business can reap the benefits.
Lexie Lu is a freelance UX designer and blogger. She enjoys researching the latest design trends and always has a cup of coffee nearby. She manages Design Roast and can be followed on Twitter @lexieludesigner.